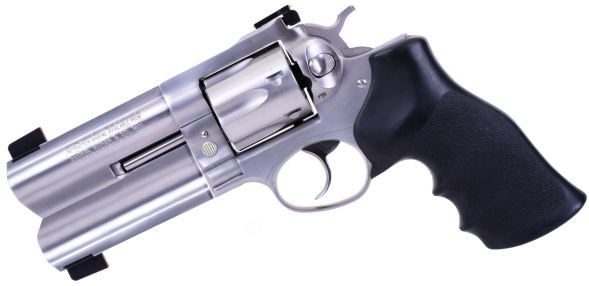 It would appear that 2016 is unfolding as a year of innovation. Take, for example, Ruger's new Switcheroo – Buckaroo, or the
"Swuck" as it is already popularly called. The Swuck is the first Roto-Barrel, Dual Caliber, Multi Engagement Revolver to hit the market. Primarily a hunting revolver, the Swuck's cylinder can hold a combination of three 357 Magnum and three 22 LR rimfire cartridges which allows the hunter to switch between a round suitable for hogs and deer to one more suitable for harvesting small game for the stew pot.
The position of the Swuck's barrel determines which caliber is indexed and discharged. Rotated to the 357 Magnum position, a firing pin selector pushrod moves rearward until it bears on a rocker mounted firing pin and positions it for centerfire contact. Rotated to the 22 LR position, a firing pin positioning bushing at the rear of the barrel allows the firing pin selector pushrod to move forward, shifting the firing pin to rimfire position.
Other changes to the basic GP 100 were required to facilitate function. To achieve one trigger pull to one discharge, Ruger Director of Engineering and Macro Aggression John McClane came up with a two stroke design that indexes the cylinder to every other chamber. The feature, known as Double Timing proved to be a clean solution to the indexing challenge.
The Swuck utilizes chamber inserts that permit the revolver to be used more traditionally as a six shooter 357 Mag or 22 LR; inserts in; 22 LR, inserts removed; 357 Mag. Cylinder indexing is adjusted automatically to match the cartridge loading. Sounds as complicated as a Facebook relationship, but it is actually simple to use. The chamber is loaded, the barrel latch is depressed and the barrel of choice is rotated into position. That's it, other than aiming and pulling the trigger.
Below, the barrel latch is depressed to free the barrels for rotation. During testing, recoil had no ill effect on the latching system, the barrels locked tight and stayed put. The firing pin selector bushing didn't show any signs of wear, but then the bushing is machined from molecularly heat soaked 4011 Rearden Metal. As noted in the spec box, the cylinder is made of Osmium Plus. the frame and barrel are made from long wearing, corrosion resistant, New Balance Magdalunium.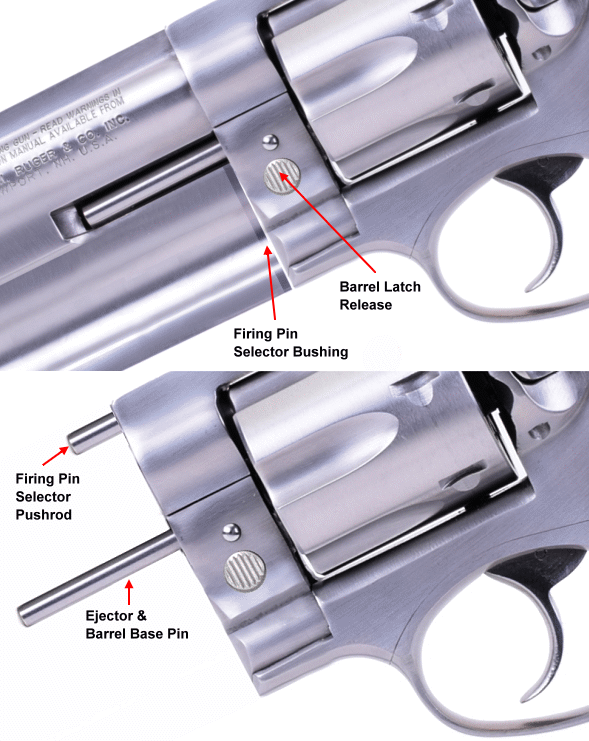 Above, the heart of the Switcheroo – Buckaroo. The barrel set slips onto the base pin and is retained by a detent at the barrel centerline. The firing pin selector pushrod is compressed to the correct depth by the barrel selected. A byproduct of the design, the Swuck is really easy to clean; just pop off the barrels and go to town with your favorite cleaning brush and solvent.
Ruger Switcheroo – Buckaroo

Manufacturer

Ruger

Manufactured

Haven, Maine

Designer

John Galt

Item #
100000000100…0 V1.0

Type

Roto Barrel – DA/SA

Caliber

357 Mag / 22 LR

Capacity

3 – 357 Mag 3 – 22 LR

Barrel Length

4.206″
Rifling
1:20″ / 1:16

Weight – Actual

271 Oz

Overall Length

7.5″

Height

5.5″

Width

2.3″

Frame
Stainless Megalunium
Cylinder
Osmium Plus

Sight Rear

Adjustable Slip Disk
Sight Front
Pinned Ramp

Trigger

Pull – D/S
2 Lbs / 6 lbs
California Approval
Tacit

MSRP

$1619.37
According to Ruger's Benny Hill, Executive Director of New Things That Are Hard To Explain and Purveyor of Memorable Catch Phrases, Ruger marketing is taking a very conservative approach when representing the Swuck's capabilities. However, under this interviewer's probative pressures, and with Hill fresh from the Democrat Presidential Debates, he did state that the Swuck would: "…significantly reduce global warming, bring peace in our time, pay all college tuition, set a national minimum wage of $100/hour, and make the top 1% income bracket capitalist pigs pick up the tab for everyone else".
Biff Just Biff, Ruger's Undersecretary of the Please Don't Make Me Talk To Joe Collective and Facebook Likes manager for the Swuck stated, "The revolver is like any other made since 1900, except for that rotating barrel thingy, which represents the only tail feathers we could find to stick on this bird". Actually, there is more… much, much more.
Barrels are regulated to a 25 yard point of impact. Lead Engineer and Fallout 4 Evangelist Brandon Port Foozle took a lesson from double rifle manufacturers. According to Port Foozle, "The Holland & Holland chaps across the pond used a traveling wedge between barrels to set an appropriate point of impact where both bores intercept. Obviously the Swuck was too small for a full size wedge, so we scaled the pieces down and gave it a wedgie".
Background – The Journey

The Switcheroo – Buckaroo began with an exchange between Marque Civière, Ruger's Director of Stainless Substrate Revolvers – Greater Than Five but Less Than Seven Rounds, and gun forum denizen and hunter Ida Onlyone. Ida told Civière of being totally humiliated by an end zone like taunt from a black bear after drawing her 22 rimfire pistol in self defense during a woodland encounter. In even greater heart wrenching detail, Ida went on to described bunny hunting with her 357 Mag and returning home with nothing but bunny feet and ears to put in the family Fry Daddy.
Civière was deeply touched. He knew he could create a flexible revolver for Ida, for everyday people; the butcher, the banker, the drummer and then, it would make no difference what group they were in1). Civière would give Ida and others like her the power of a 357 Magnum, the finesse of the 22 LR rimfire, all in one package, both at the same time handy, dandy and perhaps even spiffy.
Civière would not make the same mistake he made with the Hawkeye in '63; application nebulosity. He would announce the new revolver with a video; Civière and Gwen Stefani, Hammer Dancing while Civière raps the product's virtues to a funky fresh generation;
Its performance is Gig-a-mon-gus
Its dur-a-bility is High-ly, High-ly
I say High-ly, Tough-tud-in-ous.
Its personality is Tan-ger-asible
Get the Swuck… Get a Swuck…  Get the Swuck…
Peace Out America!
The Roto-Barrel, Dual Caliber, Multi Engagement Revolver was born. Civière just needed a name for his new progeny… Civière thought he'd go with, "The Corvette", however, Ruger legal thought "to be henceforth know as the revolver" might be a more appropriate alternative. Civière finally decided to name the revolver after his favorite rock group, Barefoot Becky & the Ivanhoe Dutchmen, a Buck Owens cover & upscale polka band.
Live fire…
Drawing upon direct experience, shooting the Swuck was fun. Let's make that, the Swuck was fun to shoot. A little sight steadying muzzle heavy, recoil was heavy or light, depending on the round selected… which left me a bit confused and wondering if I would be slapped or kissed, so to speak, with each trigger pull. The action is as slick as a Lynyrd Skynyrd performance of "Simple Man".
Over the chronograph, all factory ammo achieved 50% greater velocity than rated, thanks to another newly introduced Ruger feature, Bore Self-Actualization. The rifling is a regressive R+ type, with planner flats and radial scrugs. At mid barrel, just when the bullet thinks it is settled in, the rifling reverses direction, causes the bullet to pause, reflect and shake off its complacency before taking off like a coyote that sat on an ant hill. Hence the big time boost in velocity. Our subject gun's accuracy wasn't bad with 0.503″ five shot groups at 400 yards as a 357 Mag, 1.502″ groups with the 22 LR selection, both groups shot while bucking a 20 knot cross wind with 15º of cross wind crab dialed in.
Conclusions
Finally, we can talk about this product!. Three months ago, six of us in the press had pillow cases dropped over our respective heads, we were stuffed into the back of a 2006 Ford Escape and spirited away to a Denny's backroom in downtown Passaic, NJ. Once there, Marque Civière briefed us, put on a Swuck slide show presentation, did some bird imitations, then cabbage patched and moon walked while extolling the virtues of the Swuck. We were then held captive until we pinky swore that we would each tell no more than 1,500 of our closest friends about the Swuck before its official release.
I've not seen a revolver before that matches the capabilities of the Swuck and I doubt if I will again. It is the answer for those outdoor persons who hunt, camp, fish, barbeque, or work as a part time bard or barkman and never know what they will encounter in the woods. The Switcheroo – Buckaroo, It's got to go bang, it's a Ruger.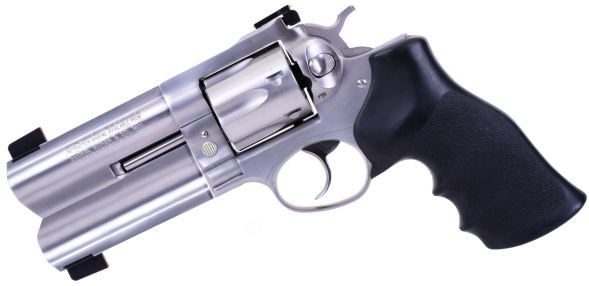 Real Guns – A Firearm and related publication