Rock Island Auction Company is pleased to announce Bid Ahead, a new, easy-to-use online bidding option designed to help you win more lots and never miss out on an item.
Benefits
Bid Ahead allows bidders on RIAC Live to place bids on lots not yet offered by the auctioneers. Using Bid Ahead ensures that if a bidder has to step away from their console or tablet, or faces technical issues, that bids will still be placed on their behalf. This is similar to a "cover me" bid for our clients using phone bids. No more missed lots for live bidders!
Bid Ahead also places bids much faster than standard live bidding, giving users a competitive advantage.
Bid Ahead can even be used to help stick to a price you have in mind for a gun, but still gives that extra flexibility in case one more bid is needed to win the gun you want.
With your Bid Ahead bids placed, you can just sit back and enjoy the auction. It's like cruise control for live bidding.
How Do I Use It?
Users of RIAC Live, Rock Island Auction's real-time bidding service, will see the Bid Ahead option on the webpage. Bidders must create an account and be approved to bid live prior to participating via RIAC Live.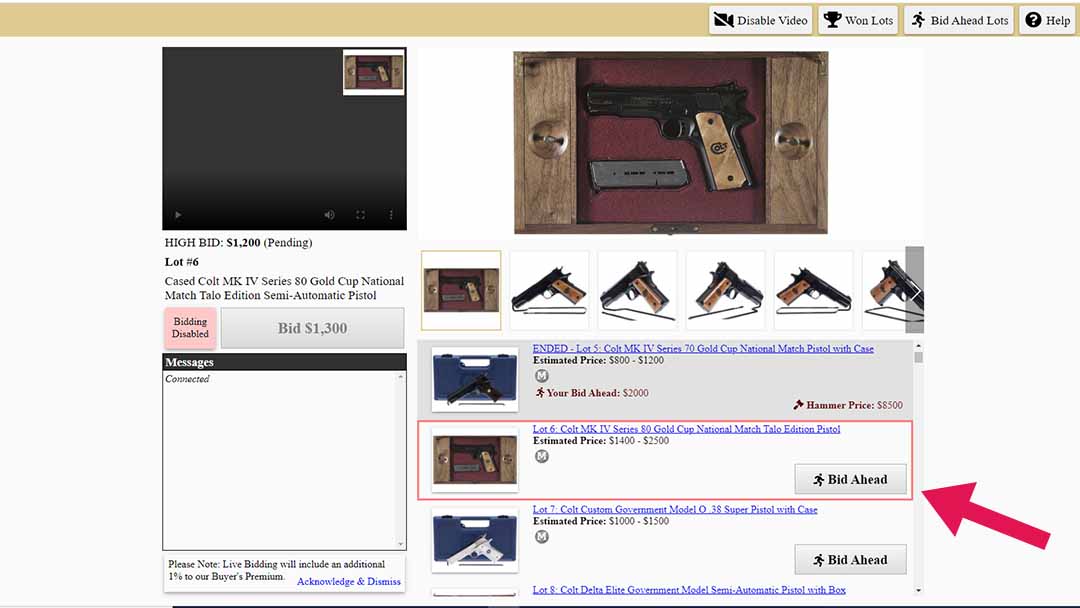 Once RIAC Live is active, you can go to any lot not yet offered and place a bid on it before it goes up for auction. Start the brief process by clicking on the Bid Ahead button for the desired item.
The Bid Ahead option is available on RIAC Live once the service starts for that day's auction. Once active, bids can be submitted at any time for any item not yet offered that day. In a multi-day auction, like our Premier or Sporting & Collector auctions, the Bid Ahead system will only be available for the current day's lots.
To Bid Ahead, find the desired lot on RIAC Live and click on the "Bid Ahead" button. Bidders will be asked what their maximum bid is. Once entered and confirmed, the bid is placed. Bid Ahead has safeguards to ensure the bid amount is correct. A message will appear if the bid entered is more than two times the lot's high estimate.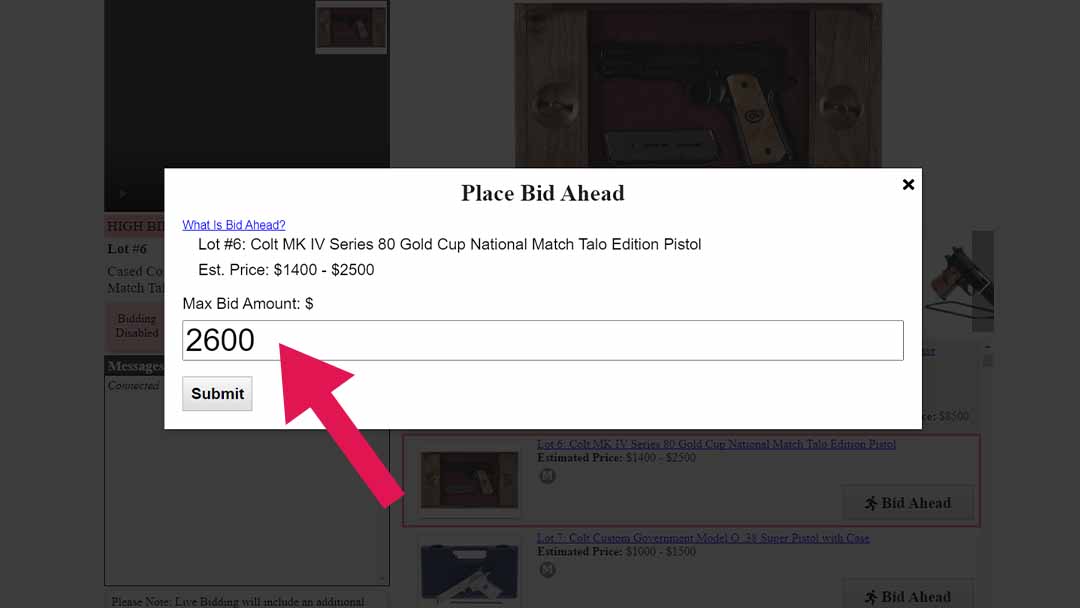 Place your high bid for the item in the field indicated by the arrow.
Once entered, your bids will be executed on your behalf by our console operators in our auction hall. The bid button on RIAC Live is disabled while you have the top bid on the item through Bid Ahead.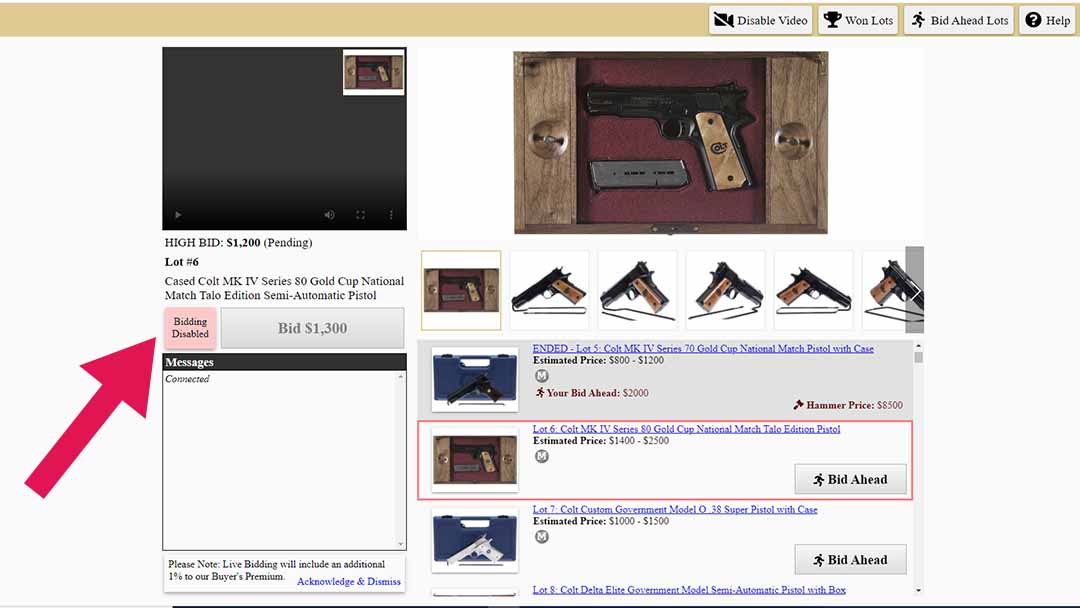 As long as you have the high bid on the item, the bid button on RIAC Live is disabled.
Other Options
To review your lots using Bid Ahead, simply click the "Bid Ahead Lots" button at the top right corner of the RIAC Live screen.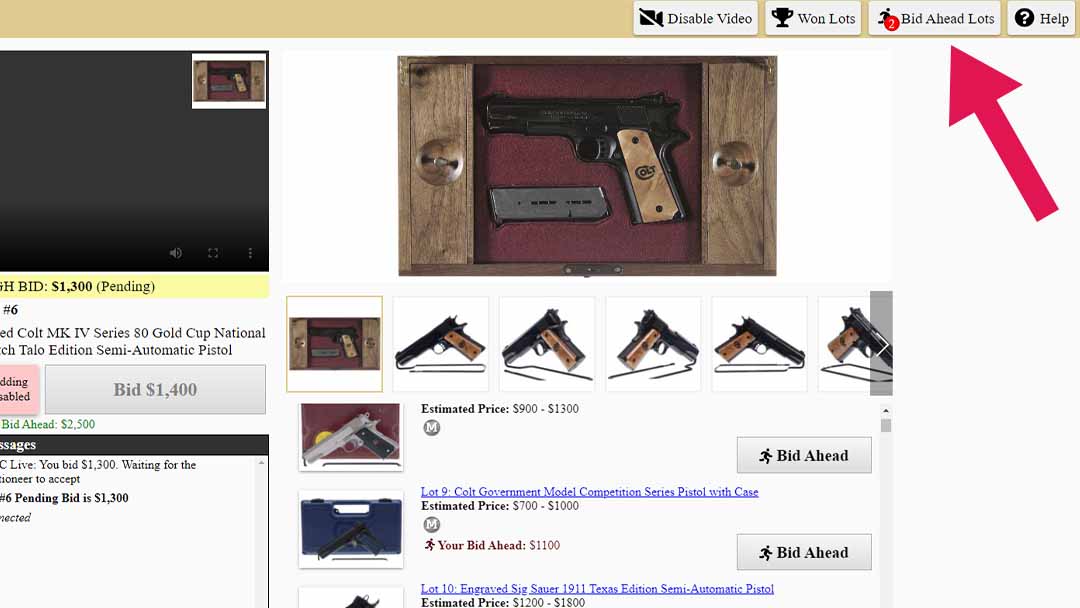 Manage your bidding by clicking on the button in the top right corner of the website that says "Bid Ahead Lots."
A sidebar will appear showing all the lots on which you currently placed a Bid Ahead bid.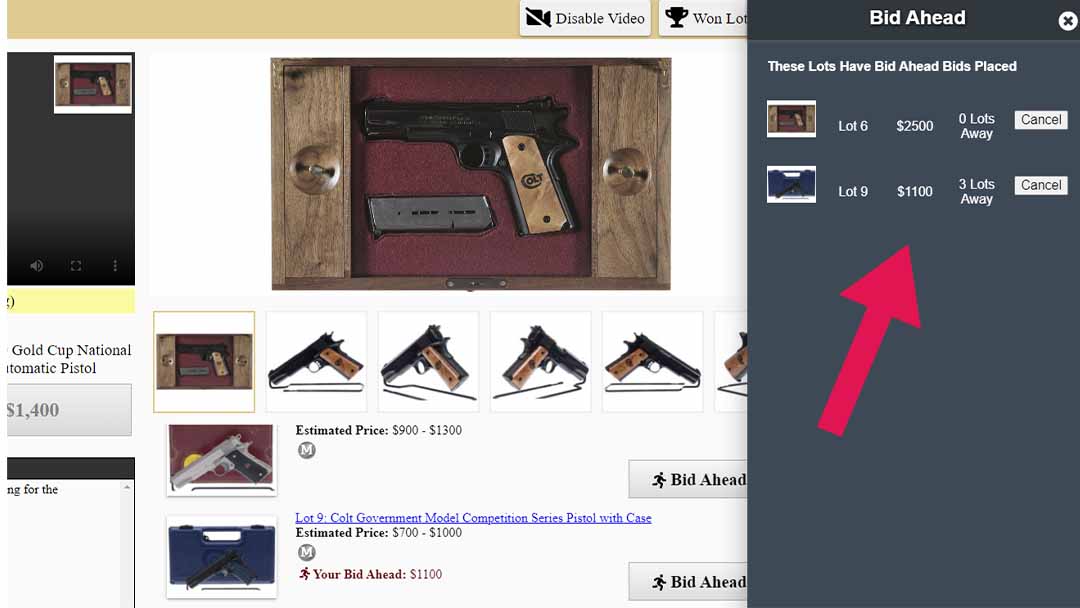 After clicking on the "Bid Ahead Lots" button a drop-down menu will display your active lots so you know how many you have and, if you need to, cancel them.
A bidder can easily cancel a bid, but must be done before a lot comes up for auction. To cancel bids, simply click on the Bid Ahead Lots button in the top right corner and it will show a drop down menu showing active bids. Click on the "cancel" button for the lot in question.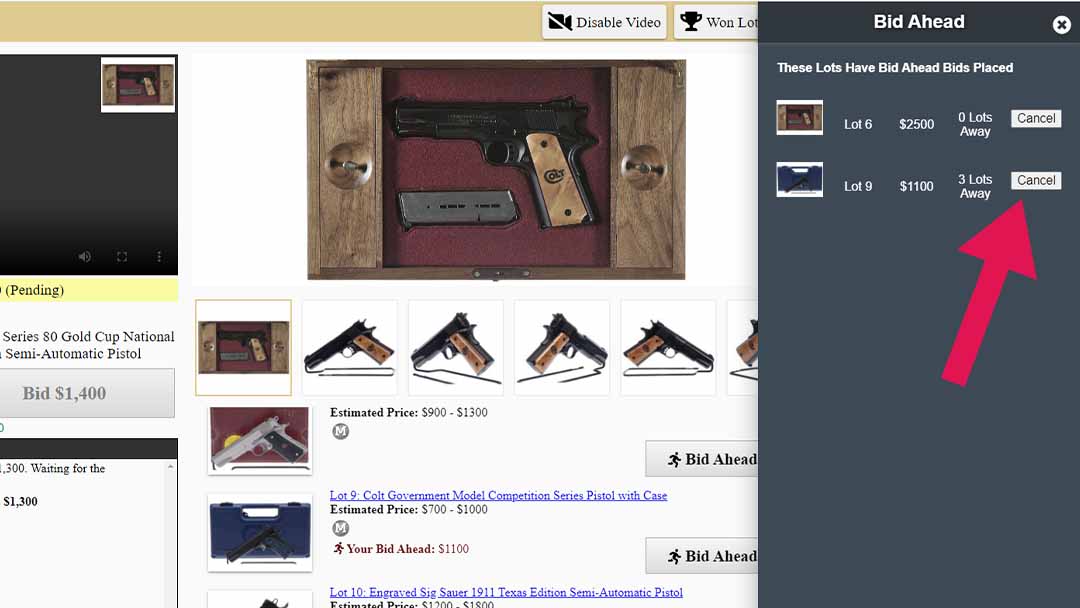 To cancel a bid, go to the drop-down menu, find the bid you no longer want, and hit the cancel button next to it.
FAQ
Q: Why should I use Bid Ahead?
A: Bid Ahead helps avoid missing any lot during live bidding.
Bid Ahead places your bids faster than manually entering them in, making your bids more competitive. It's easy to use and, if necessary, bids are also easy to cancel.
Budget conscious RIAC Live users can use it to bid a firm amount. Others can use it who have a price in mind, but also want the flexibility to bid again if needed.
It's another option and convenience for the quickly growing number of users who choose RIAC Live.
Q: Can I use Bid Ahead on my phone?
A: Yes, but for best experience, we recommend that RIAC Live users continue to do so on desktops, laptops, or tablets.
Q: How can I cancel a Bid Ahead bid?
A: Cancelling is easy and can be quickly done for any lot that hasn't been opened by the auctioneers. Click the Bid Ahead Lots button at the top of the RIAC Live screen, find the bid you wish to cancel, and click the "cancel" button. Simple as that.
Q: Someone else won the lot for my maximum Bid Ahead bid. How?
A: That is the nature of a fair auction, and it can be caused by any number of things.
1. Someone else bid that amount first.
2. You may be winning at $1,900 with a max bid of $2,000. If someone else places a bid for $2,000, we cannot bid over your max bid to beat them. When this occurs we recommend placing an additional live bid for the next bid increment.
Q: Can I win for less than my maximum Bid Ahead?
A: Absolutely. We will only execute your bids as high as required to beat competing bids. If your Bid Ahead is for $1,000, but the next highest bid is only $500, you would only need one more bid to beat them. Thus, you would win the lot for $550.
Rock Island Auction Company