Rock Island Auction Company's Sporting & Collector events are the best gun shows you've never been to, and October's 4 – 6 S&C Auction promises to be the finest firearms show of the fall. It's a gun show unlike any other, a museum you can touch.‌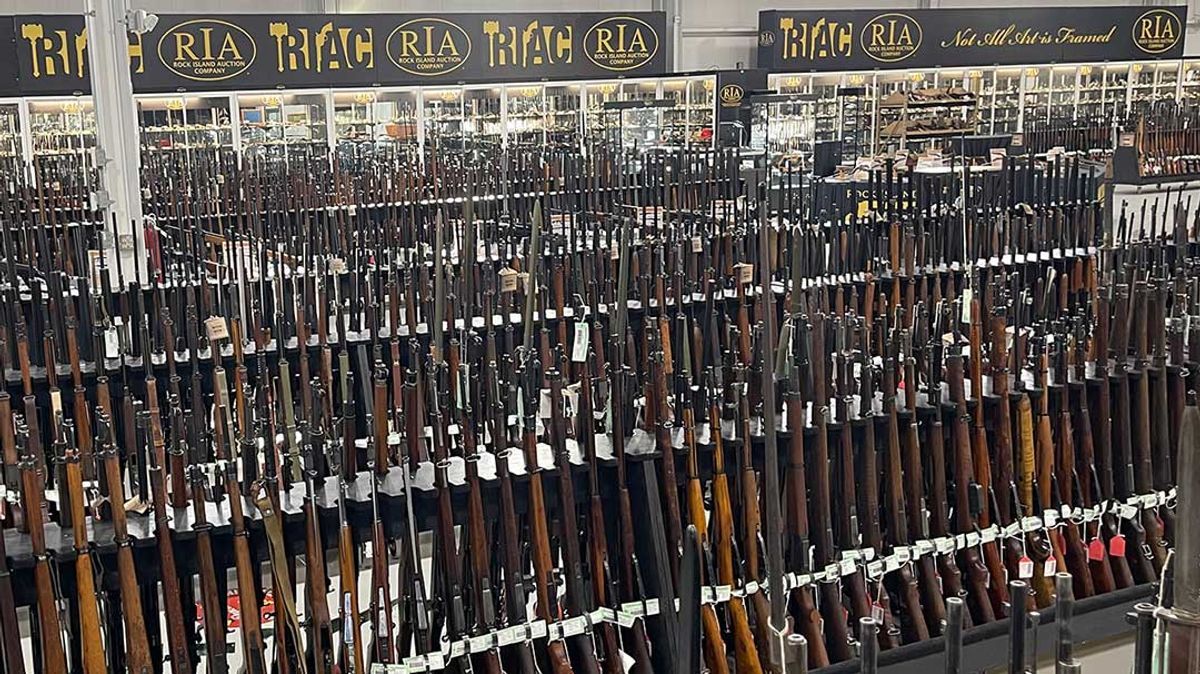 October isn't just the season's biggest gun auction, it's one of the best gun shows of 2023.
RIAC's Preview Hall opens to the public at 9:00 a.m. on October 3rd, the day prior to auction, where gun enthusiasts from all corners of the country are invited to stop by and handle their dream guns firsthand and take in one of the most expansive selections of collectible arms displayed in a single location. Everyone is encouraged to attend and admission is free of charge!‌
Come for the Gun Show, Stay for the Auction
Auction weeks at RIAC are designed by the gun enthusiast for the gun enthusiast. Imagine browsing more than 5,000 firearms exhibited on endless rifle racks and glistening display cases while you mingle with a welcoming community of seasoned veterans and aspiring collectors. October's Sporting & Collector event contains everything relevant to firearms collecting without some of the extraneous elements plaguing many modern gun shows.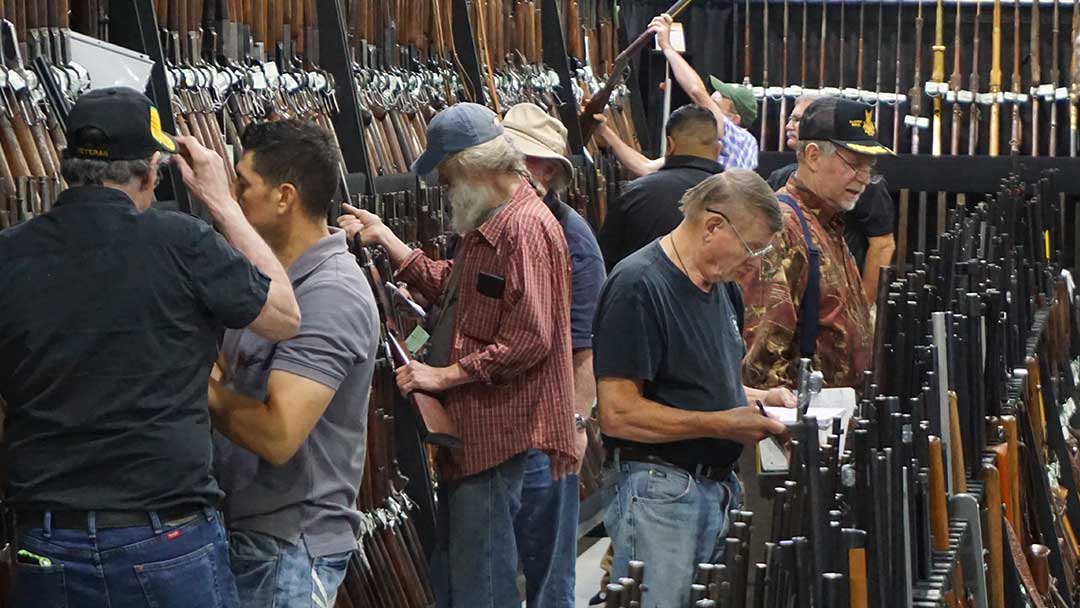 Forget the toys, magazines, and stun guns cracking off every minute. You came for the guns, and that's what RIAC's Sporting & Collector Auctions deliver.
October 3rd's Preview Day is singular in terms of the sheer number of affordable rarities and quality military arms on display, and the three-day auction to follow promises to be even more thrilling. With so many lots available and virtually no reserves, you'll discover no shortage of deals to be had to make your trip one to remember.
From antiques to military arms, October's auction has it all!
In-person attendance can provide an unmatched sense of rhythm for the sale and reward the patient gun enthusiast with some downright bargains on rare and desirable firearms. And there's also an indescribable thrill to live bidding that can't be experienced remotely. The anticipation, the suspense, and the excitement of hearing the hammer fall after squeaking out a hard-earned victory. When it comes to heart-pounding drama, nothing beats participating in a fast-paced auction at RIAC.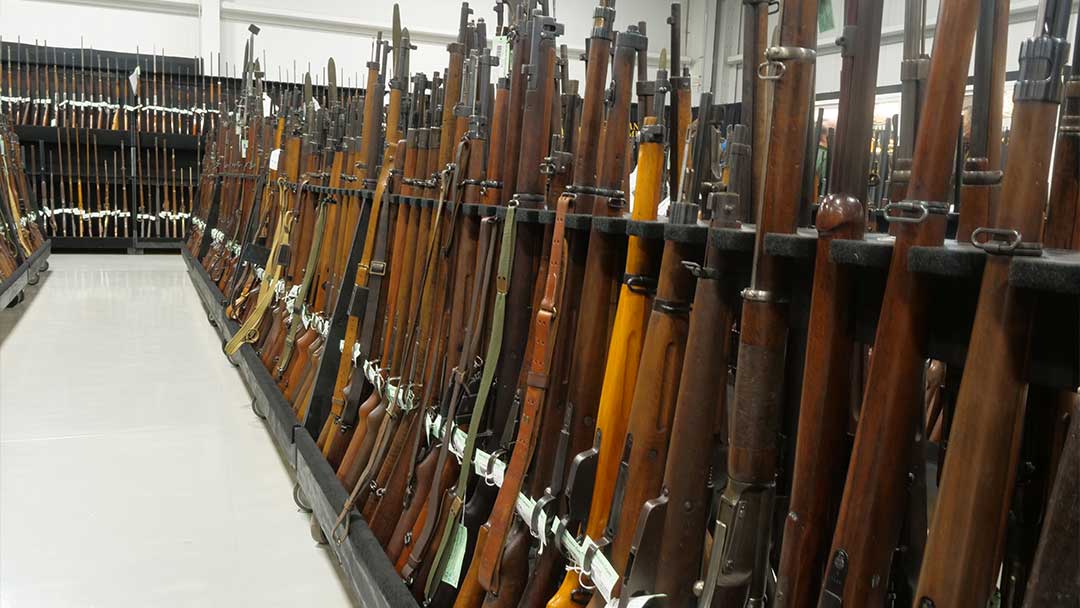 Find rifles, shotguns, revolvers, and pistols of every era at RIAC this October.
Rock Island Auction Company offers discounted hotel rates for our guests, so consider staying for a while and enjoying the Quad Cities area. Whether you're interested in sampling some of the region's craft beer, playing a game of slots or a hand of Blackjack, or visiting the newly renovated Rock Island Arsenal Museum, we're happy to answer any questions to help with your planning and travel arrangements.
So Many Guns, So Little Time
October's 4 – 6 Sporting & Collector Auction offers an unrivaled abundance of firearms. Every era, genre, and arms collecting niche is well represented, including rare variations to fill holes in your collection. Outside of Tulsa, where else are you going to see more than 5,000 collectible guns in one place?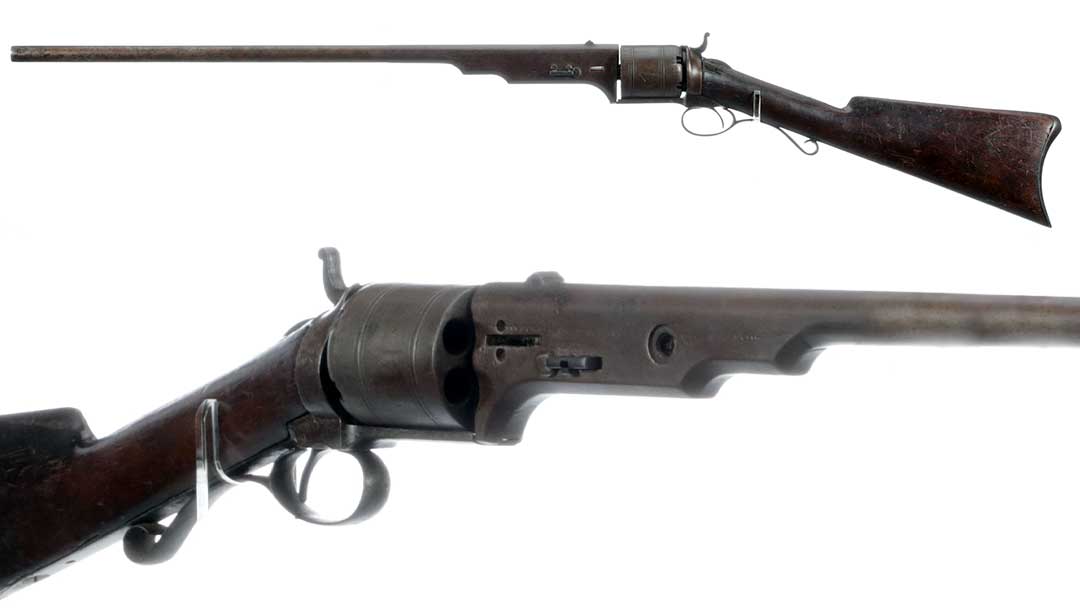 A Colt Paterson Model 1839 revolving smoothbore carbine, one of only about 950 manufactured between 1838 and 1841.
The sheer inventory packed within Rock Island Auction's 15,000 square foot Preview Hall is vast and varied, with hundreds of lots containing groupings of two, three, four, or more guns. Whether you're in the market for classic pistols, Old West revolvers, or European military arms, you'll never find more opportunities to start an instant gun collection.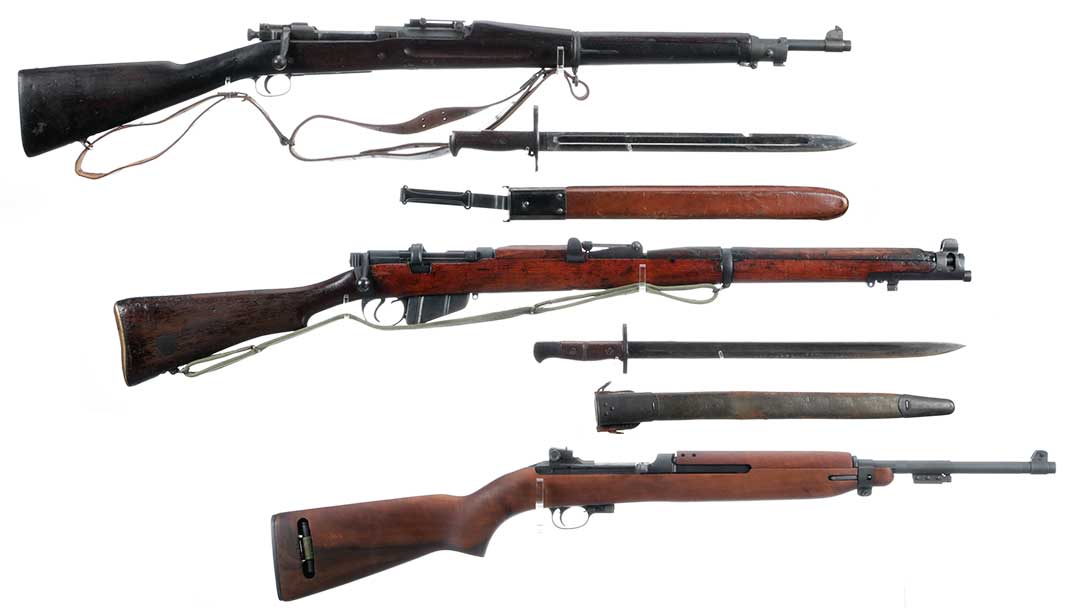 One lot, three military long guns from around the world.
Though collectible guns are the stars, don't forget to check out the fantastic assortment of swords, blades, firearms accessories, vintage ammo, bullet molds, and other highly collectible militaria offered this October. And for the arms enthusiasts with a dedicated gun room, plenty of classic gun ads, frontier photography, and unique bronze sculptures will also be featured this fall.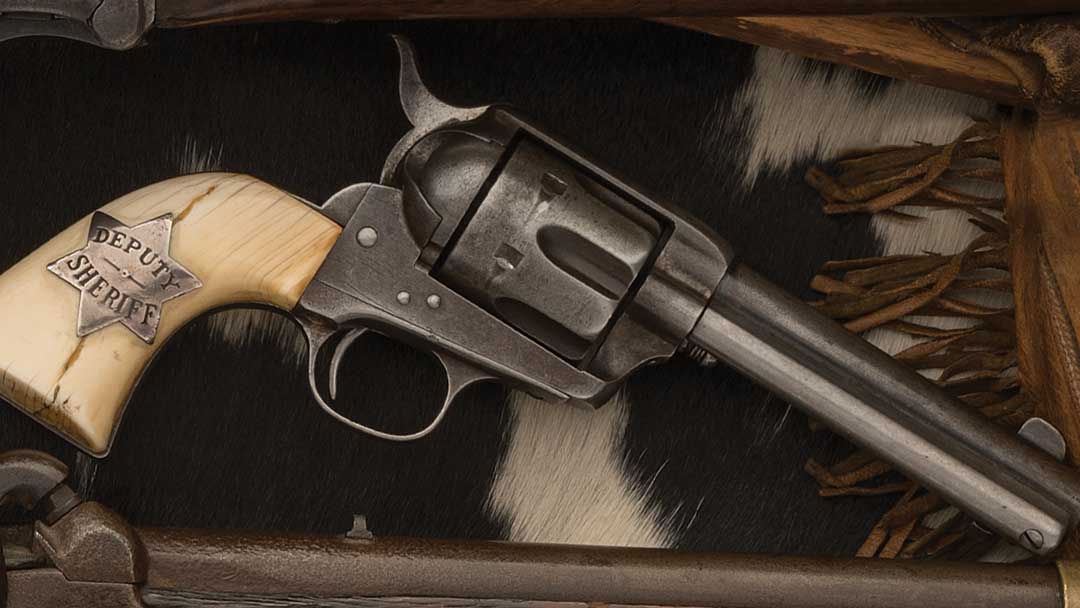 An antique Colt Single Action Army, just one of many treasures to be found this October.
Affordable Treasures from the Finest Collections
October's auction includes numerous lots from some of the most noteworthy names in the gun collecting community, including a multitude of desirable examples from The Dr. Robert David Beeman Collection. Dr. Beeman shaped our modern perception of airgunning and assembled a compressive grouping of antique air guns that a collector would be hard pressed to find anywhere else, including the intriguing example below.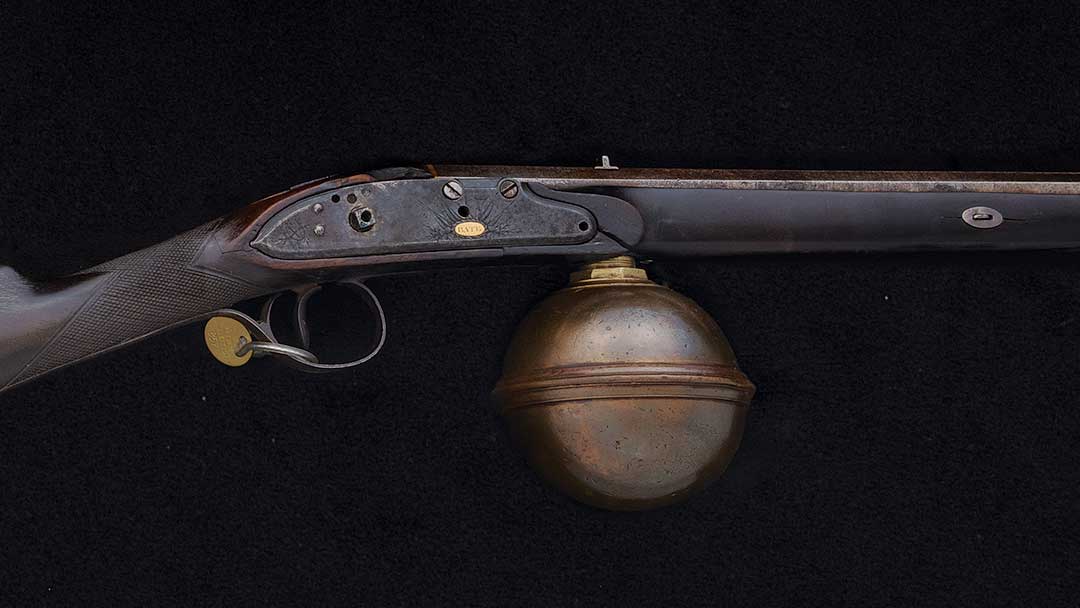 An 18th century engraved English ball reservoir air gun by Edward Bate of London, from The Dr. Robert D. Beeman Collection. Estimated price: $2,000 – $3,500.
Selections from The Dave Ballantyne Collection are also available this October. Ballantyne served on the Smith & Wesson Historical Foundation and assembled one of the finest and most historically comprehensive collections of the Smith & Wesson genre. October's Sporting & Collector sale features one of only 310 manufactured Australian Colonial Police contract Smith & Wesson New Model 3 revolvers. The included factory letter lists the current configuration when it was shipped in a group of 60 revolvers on September 3, 1886, to McClean Brothers & Rigg of Sydney, Australia, as the agent of the Australian Government.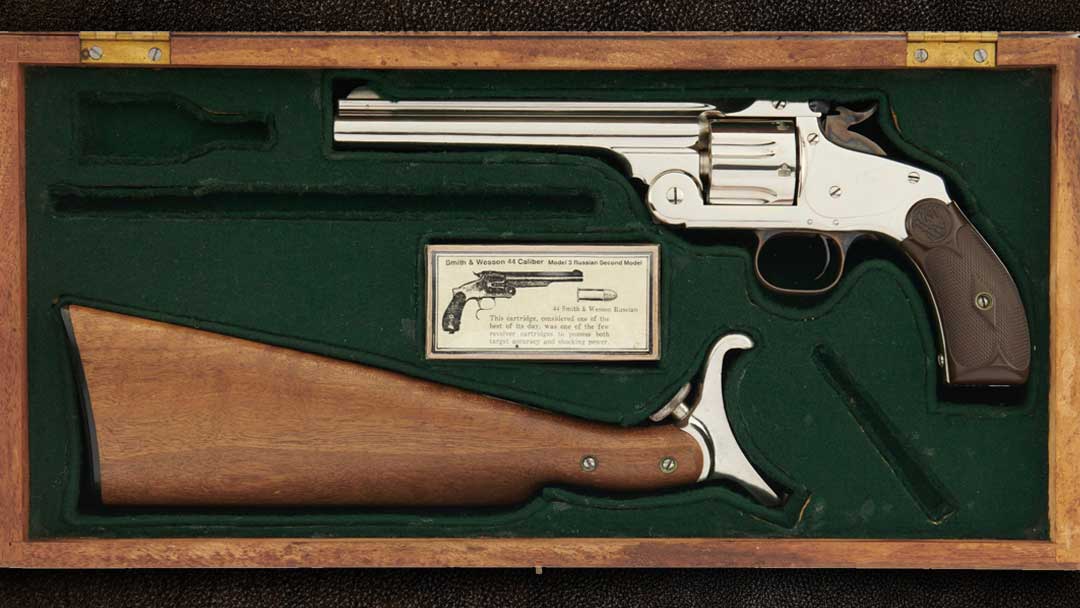 An Australian Colonial Police contract Smith & Wesson New Model 3 revolver with stock, stock holster, and its factory letter. Estimated price: $3,000 – $4,500.
Wildly Unique Guns
Though classic names like Colt, Winchester, and Remington tend to steal the show, Rock Island Auction Company's October 4 – 6  Sporting & Collector Auction event also includes some truly unique and curious collectibles available at prices attainable for the everyday gun enthusiast.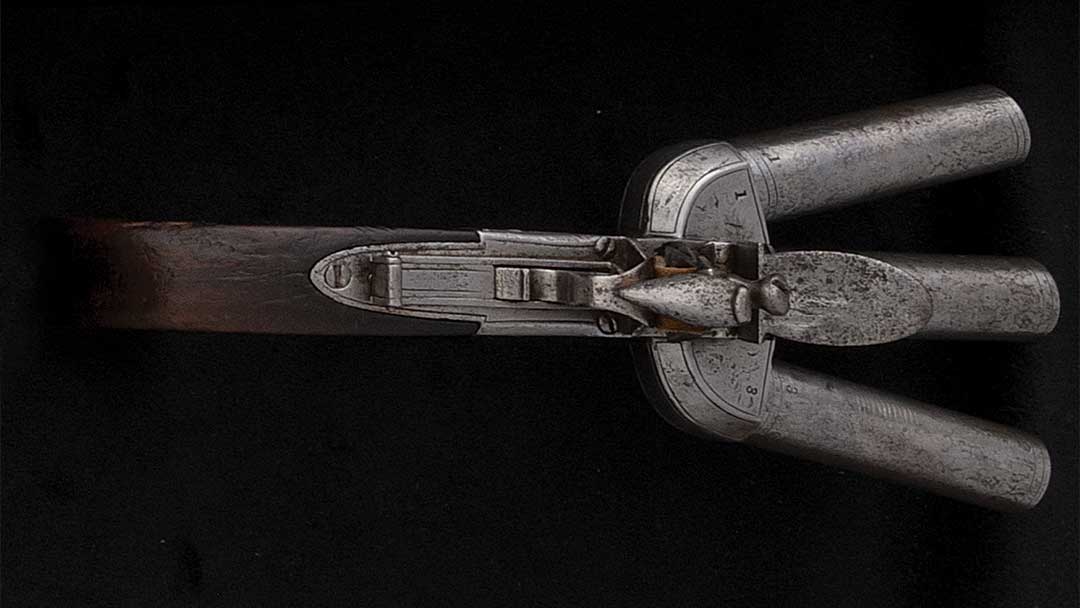 A scarce Mays boxlock flintlock "Duck Foot" pistol. In this example, three screw-off barrels numbered 1-3 at the breech fire simultaneously when the trigger is pulled.
This October you'll discover some absolute rarities that would be absent from even the most popular gun shows. Where else can you find 18th century wheellocks, scarce Civil War carbines, and 20th century military arms like the M1941 Johnson rifle sitting on a rack waiting for attendees to pick up and inspect?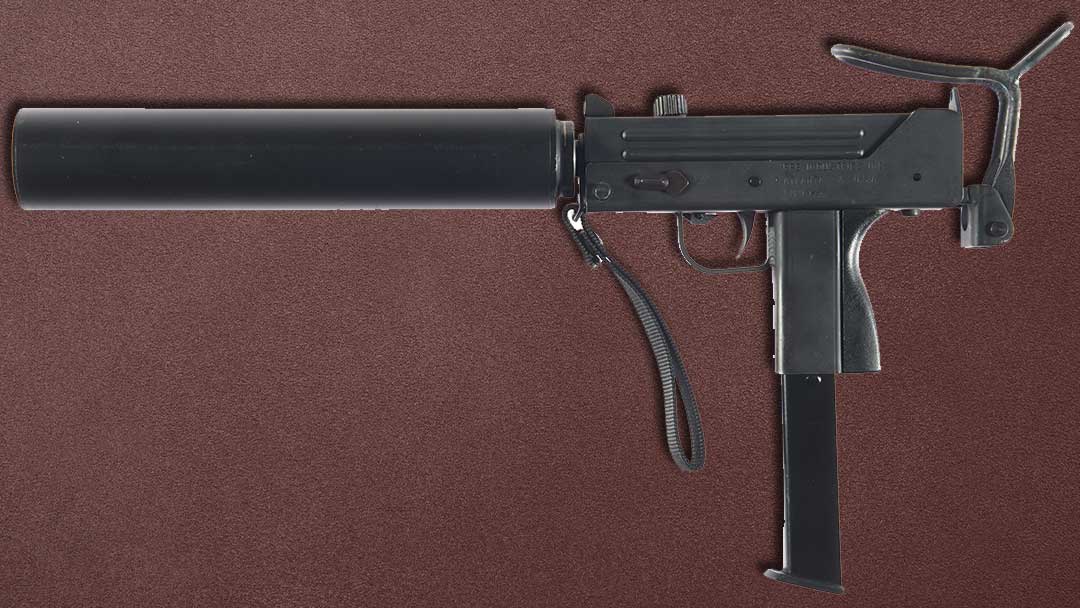 For the gun enthusiast looking for heavy firepower, a MAC M11 submachine gun and silencer offers full auto fun in a compact package.
From the Elgin Cutlass percussion pistol to the Bergmann Simplex, Rock Island Auction Company's October event has more than a few surprises in store. Whether you're in the market for an M1 Carbine with an infrared scope, an M79 grenade launcher, or a Galbrath line throwing cannon, the unmatched range of collectible weapons offers something for every niche.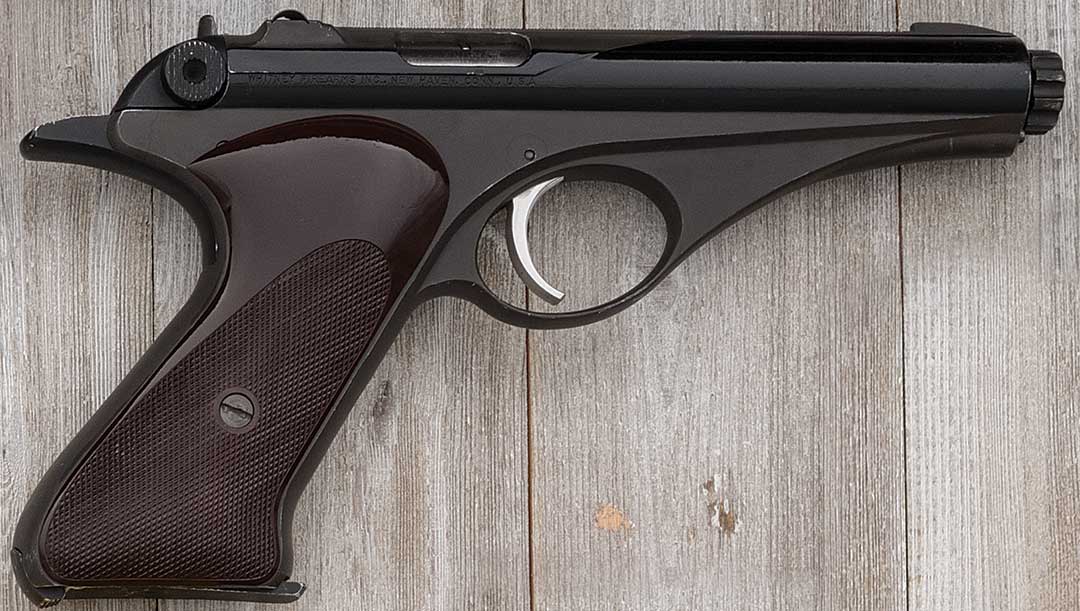 The Whitney Wolverine is a gorgeous piece of engineering with a standout look that belongs in every firearms collection.
History in Your Hands
Rock Island Auction Company Preview Days are an interactive museum, and October's event features no shortage of guns tied to historic figures, important events, and notable eras in military history like the example pictured below. This Colt Model 1860 Army revolver was part of a 300 gun shipment to Georgia on December 27, 1860, less than four months before President Lincoln's Union Blockade stifled the flow of arms heading into the South.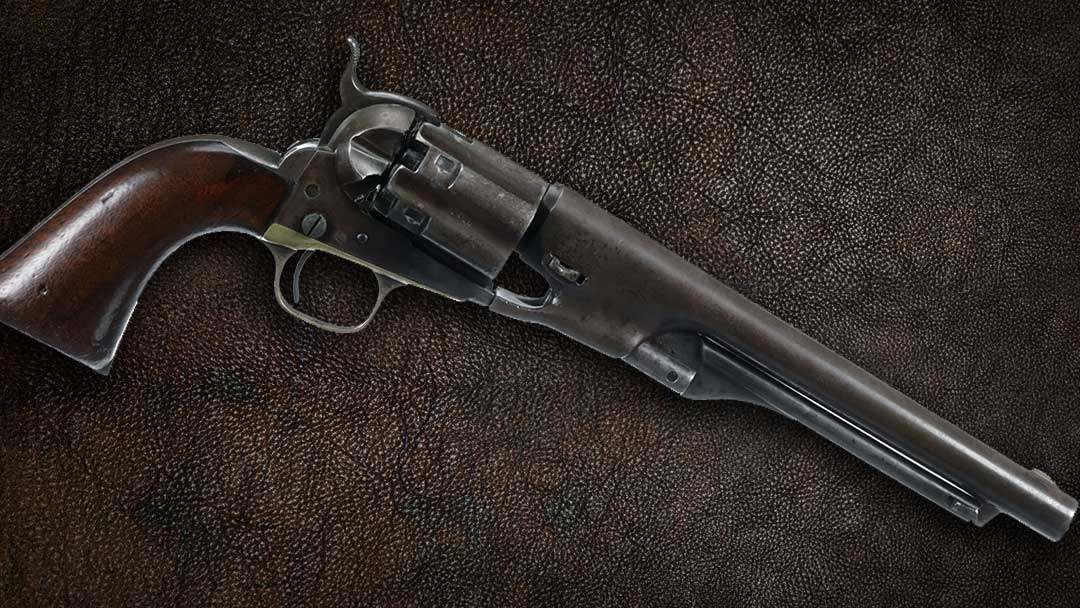 A documented Georgia shipped Colt Model 1860 Army percussion revolver with its factory letter.
Gun designer Kijirō Nambu developed a number of weapons for the Japanese arsenal during WW2. The scarcest of Nambu's production pistols was the Type B, or "Baby Nambu." The 7mm compact pistol ultimately proved too expensive to be formally adopted for military service. Of the only 6,500 Baby Nambu produced, virtually all were purchased by senior-ranking Japanese officers, making the rare pistol a desirable collector's piece for the gun enthusiast lucky enough to find one for sale.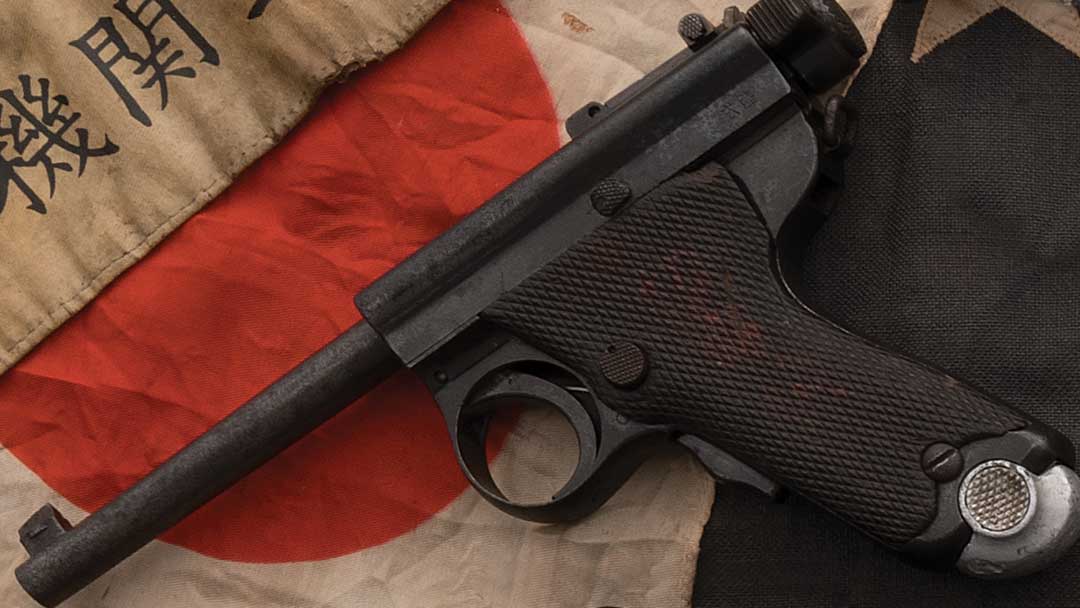 A scarce Japanese Tokyo Arsenal "Baby" Nambu pistol.
When it comes to Western collectibles, it doesn't get much better than lever guns associated with Wild West showman Pawnee Bill. Trapper, cowboy, land boomer, and businessman, Gordon William Lillie earned international fame as the proprietor of his Wild West show, "Pawnee Bill's Historical Wild West, Indian Museum and Encampment."  The rifle below was manufactured in 1891 and has an etched panel on the right side plate reading, "PAWNEE BILL'S/FRONTIER/EXHIBITION." The lot also includes a Bowie knife with "PAWNEE BILL" etched on the right side and "MAJ. G.W. LILLIE 1893" on the left, a framed print of Buffalo Bill's and Pawnee Bill's "Two Bill's Show" ensemble, and three banners from Pawnee Bill's various tours.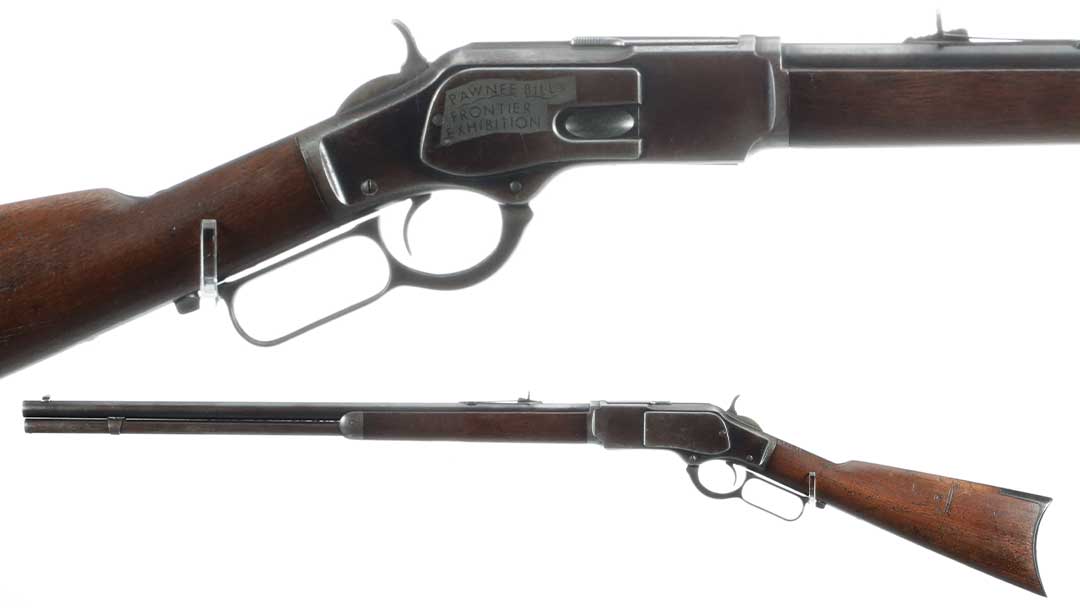 "Pawnee Bill's frontier exhibition" etched Winchester Model 1873 rifle with a "Pawnee Bill" etched Bowie knife, along with three banners and other memorabilia.
October's Best Gun Auction
Rock Island Auction Company's October's 4 – 6 Sporting & Collector Auction provides an inviting venue for every type of gun enthusiast, from the lifelong collector to the inquisitive greenhorn. Where else can you experience a free look at such a jam-packed lineup of rare and desirable firearms offered in a range of attractive price points?
Three days, thousands of guns, one place: Rock Island Auction Company.
Mark your calendar, plan your trip, and stop by this October to see why Rock Island Auction Company has been the world's #1 firearms auction house since 2003. Whether you're interested in affordable antiques, classic sporting and hunting arms, lever guns, revolvers, pistols, or military rifles, October's auction offers something for every gun enthusiast to get excited about. We can't wait to see you here!
With over 5,000 guns for sale during October's three-day auction event, there's something for every gun collecting aspiration.
Subscribe to the weekly Rock Island Auction newsletter to receive new gun blogs and gun videos covering October's extravaganza and our fantastic slate of gun auctions to come. If you can't make the event in-person, our online auction catalog offers an easy-to-navigate search tool where you can browse and bid from the comfort of your own home, and you can follow the auction live on RockIslandAuction.com.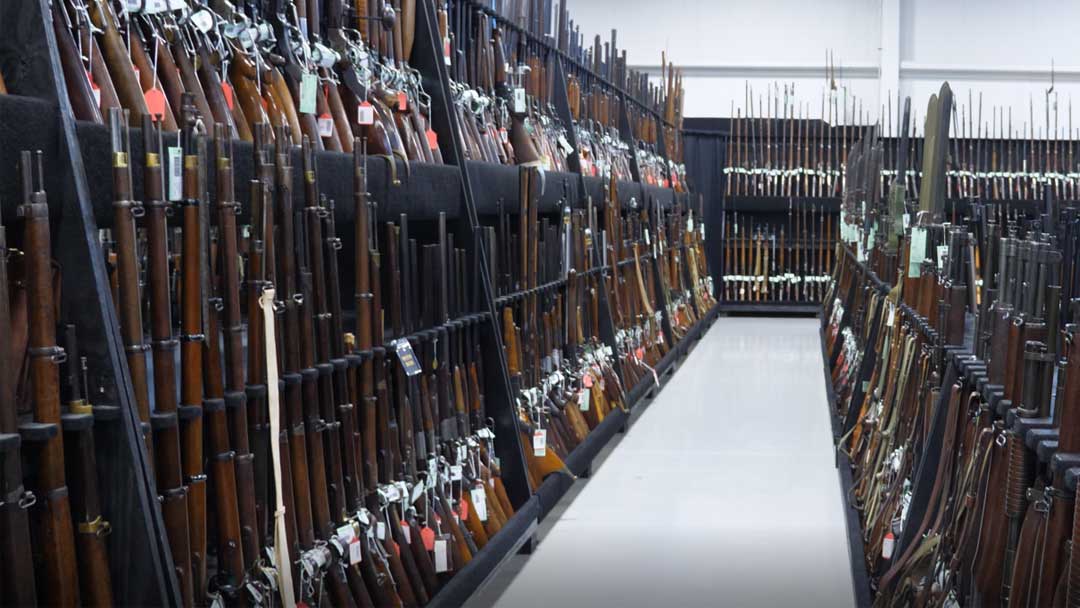 Rock Island Auction Company's October spectacular covers every genre a gun enthusiast could ask for and then some.
Rock Island Auction Company