As the world's number one firearms auction house, Rock Island Auction Company plays host to some of the finest guns in the industry. Choosing a single benchmark example in any genre is subjective to say the least, especially when the best looking guns available are a mainstay at Rock Island Auction, but sometimes a standout emerges that looks like it did when it left the factory.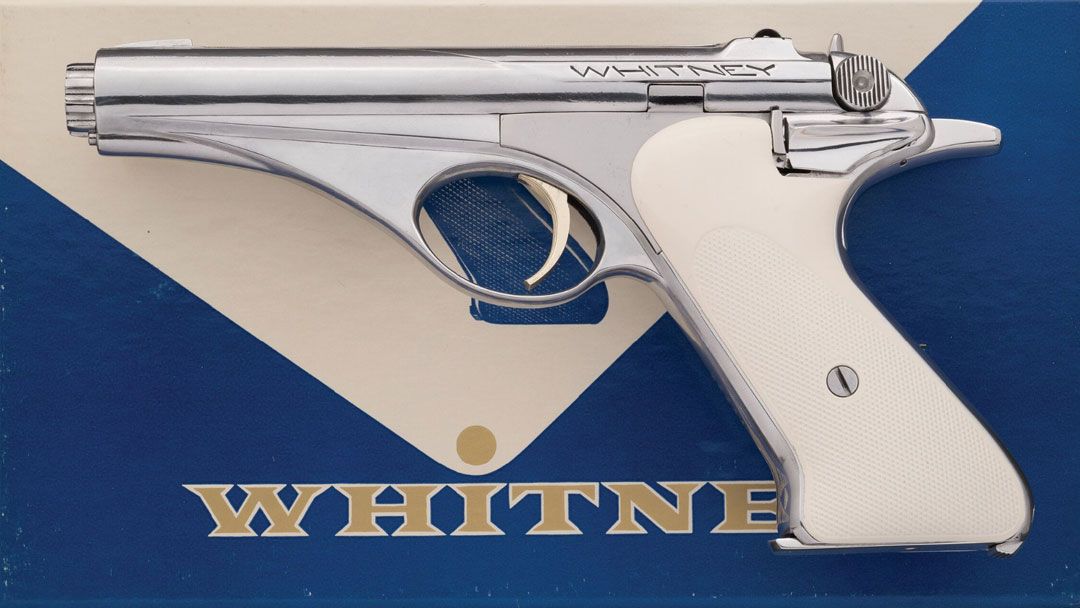 Near mint is a rating scarcely seen in vintage gun collecting, and this high condition Whitney Wolverine is the finest sold at Rock Island Auction.
The guns we'll list below exemplify the high condition pinnacles of their genre and include price tags to match their pristine quality. We're talking all original, near new, and in un-issued, factory-delivered condition that would be very difficult to improve upon. In short, only the best firearms from across the ages.
Only the Best Colt Firearms
The Colt Paterson No. 1. The No. 4 Ehlers. The "Baby" Paterson. Whatever nickname you choose to call it, serial number 170 of this rare model has been through some of the world's top collections and is the best-known example of its type. This stunning revolver is all original and appears to be un-fired. The hammer and loading lever retain nearly all of the casehardened finish. The frame, grips, and factory case exterior are excellent, as are most of the accessories.
If one crafted a list of only the best firearms, Colt or otherwise, the "Danish Sea Captain Walker" would be an obvious inclusion. It's the highest condition Walker known. At the time, it was the only known civilian Walker still in its original case. It comes with a record hand-written by Samuel Colt himself. A milestone piece in the history of Colt firearms, this Walker has all of the historical significance, rarity, provenance, and elite condition that a gun collector could wish for.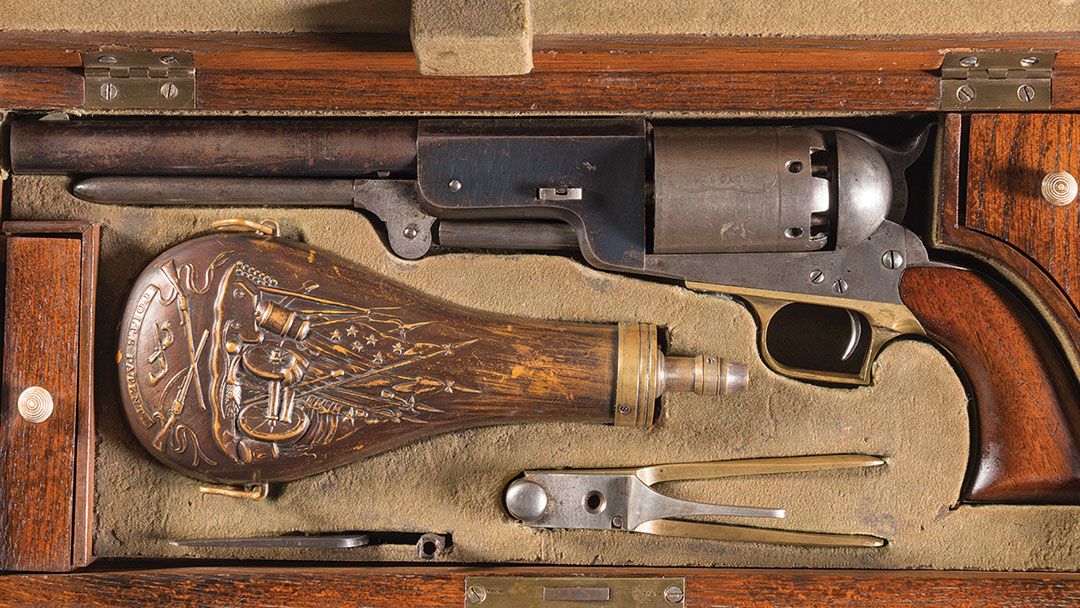 Known by the collecting fraternity as the "Danish Sea Captain Walker", this gun collecting cornerstone sold in April of 2018 for $1.84 million, one of the most expensive guns ever auctioned.
The McClatchie Root, a factory engraved Colt presentation 1855 Sidehammer Pocket revolver is a true time capsule of quality that retains 99 percent of its original high gloss factory blue presentation finish and 99 percent of its original case colors on the loading lever and hammer. It's little wonder that this magnificent Colt has been lauded by countless collectors, writers, and firearms historians over the decades. Author R.L. Wilson states "The McClatchie Root is one of the finest Colt percussion (cased) sets in existence, and remains in unfired condition."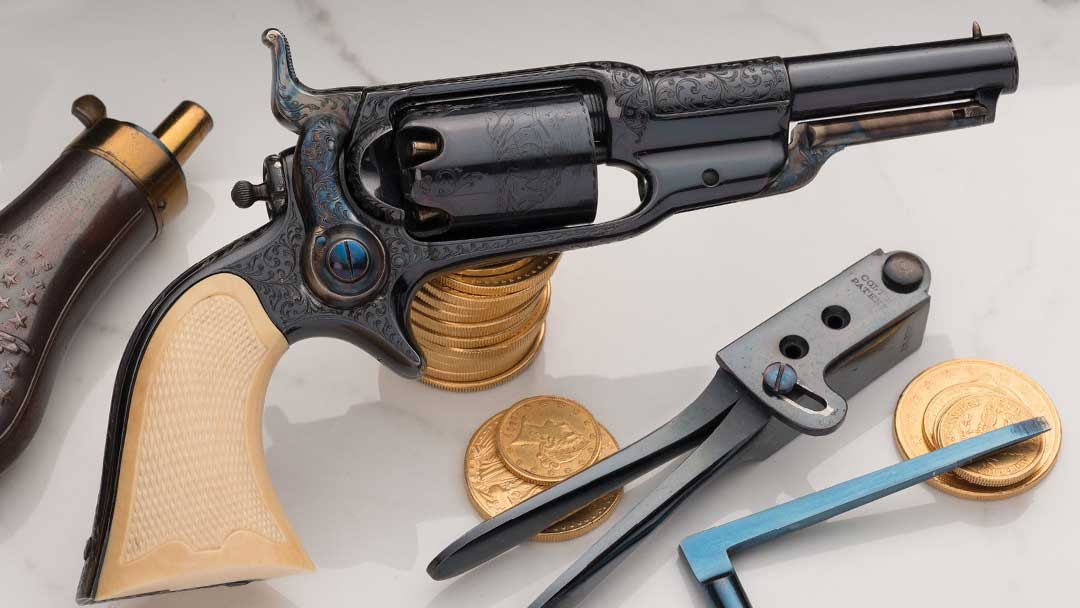 This Colonel Colt presentation factory cased and engraved Colt Model 1855 Sidehammer revolver, one of the best firearms of its kind, hammered for $323,125 in August of 2022.
The Millikin Dragoon is a virtual superstar in Colt collecting. With its perfect storm of immaculate condition, Gustave Young's master engraving, and a provenance that is above reproach, the Millikin Dragoon is one of the finest guns Rock Island Auction Company has had the privilege to share with the world. No firearm of this pedigree would feel complete without an equally impressive presentation case, and the Millikin Dragoon delivers on that front as well. When you think of treasures in gun collecting, this historic dragoon checks all the right boxes and then some.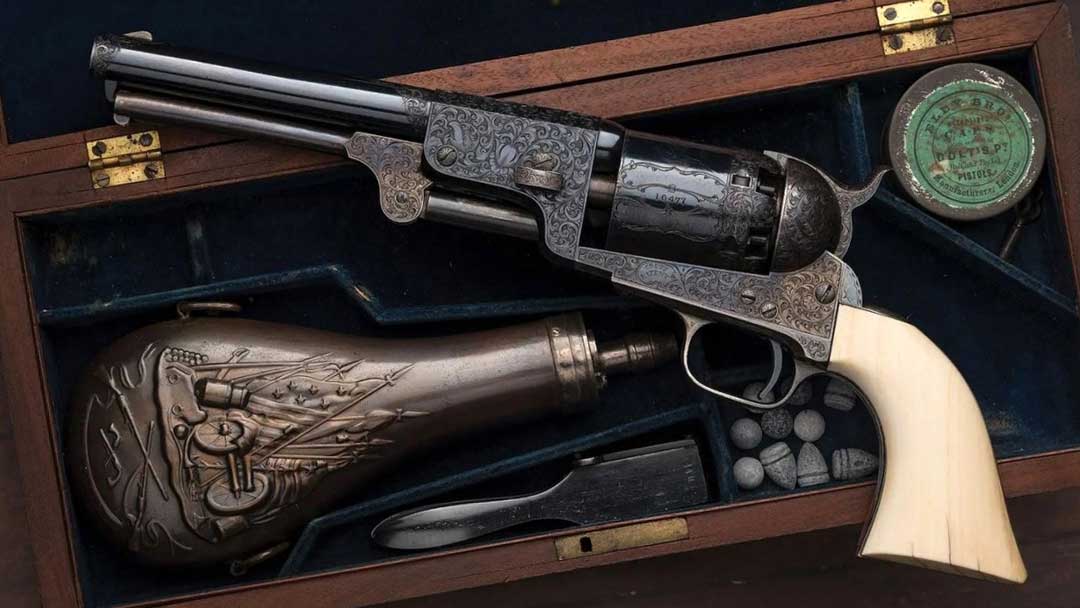 This iconic Gustave Young master engraved cased Colt Third Model Dragoon revolver sold for $1.67 million in May of 2019.
Everyone loves the Colt Single Action Army revolver, a wish list wheel gun and Hollywood's favorite Old West firearm. While Rock Island Auction Company has featured a stunning selection of Colt's most famous antique sixshooters, this Rinaldo A Carr inspected Colt SAA Cavalry Model is undeniably one of the best in class and looks as spectacular today as it did when it was manufactured in 1891. This extraordinary revolver remains in "as issued" and unfired condition with 99% plus original high polish blue and vivid casehardened finishes.
Only the Best Winchester Firearms
Any conversation involving only the best firearms will need to include some antique lever action Winchesters, and Rock Island Auction Company has presented some of the finest known examples. First up is the famed Winchester 66. If you've ever wondered how a Winchester Model 1866 appeared when it left the factory, look no further than this stunning specimen. The brass frame, butt plate, barrel, and lever are phenomenal, showing only limited storage wear. Some guns just speak for themselves.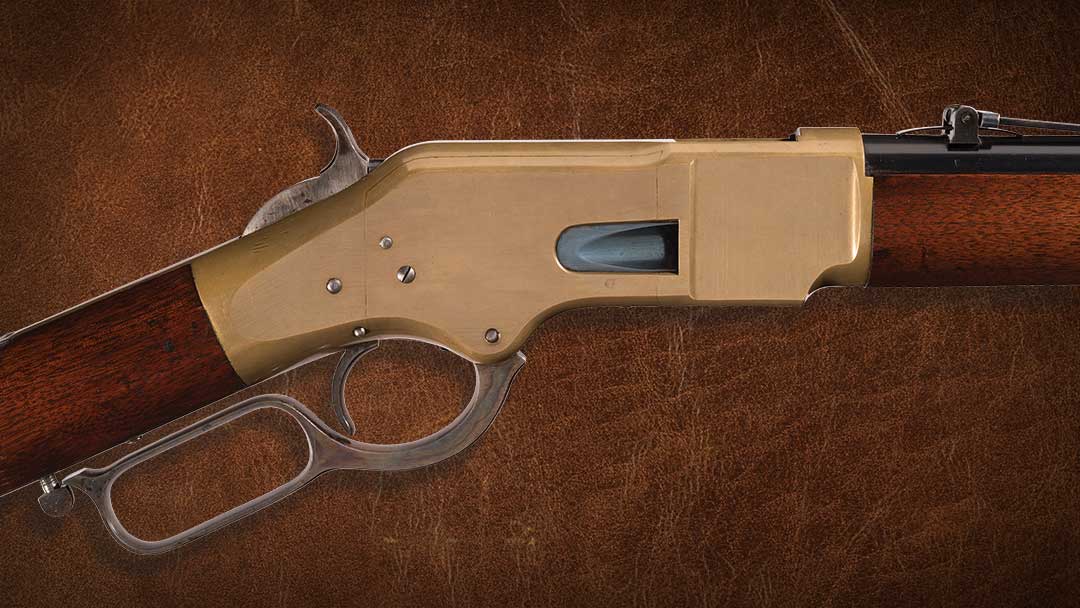 This extraordinary "near new" Winchester Model 1866 lever action musket pulled in $49,938 in August of 2022.
Most Winchester '73 rifles were working guns that saw hard use on the frontier. High condition examples of the gun that won the West are already uncommon, with gold inlaid and factory relief specimens excessively scarce. This John Ulrich signed and engraved Winchester Model 1873 rifle is a one-gun tour de force that transcends fine arms collecting and distinguishes itself as an artistic masterwork. The phenomenal looking rifle served as a factory display piece for the 1876 Philadelphia Centennial Exposition and was later presented by Winchester to the President of Honduras Marco A. Soto. Add in the fantastic condition and depth of engraving and you have a true icon in the discipline of fine firearms collecting that ranks high on any list of best of the best.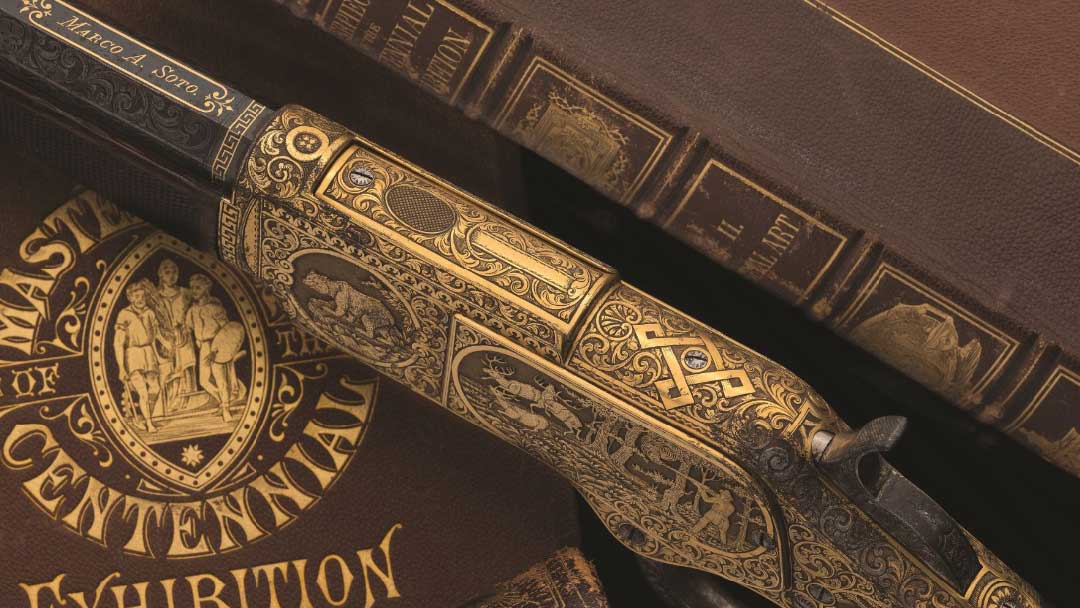 One of the highlights of RIAC's May 2021 Premier Auction, this John Ulrich engraved Winchester Model 1873 rifle garnered $718,750.
The untouched nature of this Winchester Model 1876 rifle is evident throughout. The barrel and magazine proudly exhibit 98% plus original blue finish, the scroll engraving and checkered stock remain exceptional, and the rifle's vivid receiver case colors and near-flawless condition are breathtaking throughout. Simply put, this is the finest known special order, deluxe Winchester 1876 rifle that would be next to impossible to improve upon
The next spectacular rifle is the finest factory engraved Winchester Model 1886 Express Rifle known and represents the absolute peak of 19th and early 20th-century factory craftsmanship. From the vaunted Mac McCroskie Collection, this John Ulrich Signed masterpiece has been pictured in 'Winchester Engraving' by R.L. Wilson and 'Winchester Highly Finished Arms Catalog C. 1910' and stands as a benchmark in high condition lever action rifles.
Declaring any gun "mint condition" is not a claim taken lightly at Rock Island Auction Company. Even in this article focused on only the best firearms, a mint level of preservation is scarcely observed, let alone on rifle that's more than a century old. This mint Model 1894 rifle is a paragon of artistry that's been pictured in numerous books, including R.L. Wilson's "Winchester Engraving" and George Madis' "The Winchester Book", and cited as a showcase example of engraving, condition, and craftsmanship, all qualities highly valued by gun lovers.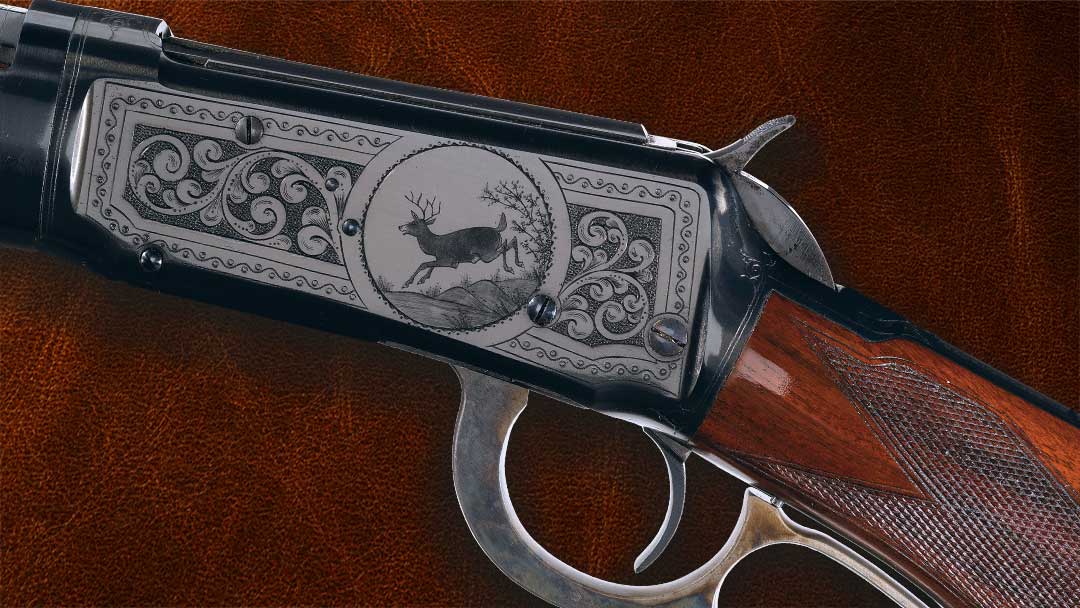 In September of 2021, this factory engraved Winchester Deluxe Model 1894 Takedown Rifle garnered $103,500.
This mechanically excellent, stunning example of fine Winchester craftsmanship combines beauty and rarity, as well as showcasing John Ulrich's superb skills as a master engraver. The typical Winchester 1895 rifle was put through its paces in the field and a scarce few retain their original condition like the remarkably engraved Model 1895 below. When you consider the gun's unmatched original condition, its sterling reputation, and the gun's remarkable provenance to American icon Zane Grey, a one-of-a-kind rarity begins to emerge.
This monumental, well-documented, Ulrich signed masterpiece Winchester Deluxe Model 1895 Takedown rifle Inscribed to famed Western author Zane Grey is offered by Rock Island Auction Company in May of 2023.
Only the Best Firearms of the Civil War
The 800 U.S. Contract Henry rifles issued to the 1st DC infantry regiment were the only U.S.-issued Henry rifles used in combat during the Civil War. Most of the rare surviving specimens show signs of hard use, yet this documented U.S. Contract Henry rifle remains in substantially the same condition as when it was issued to Pvt. Henry Bowie of the Veterans Volunteer Infantry in May 1865. This remarkable lever action rifle is a true miracle gun and the finest known of its kind.
The Sharps rifle is one of the most iconic American guns, and this spectacular Civil War Sharps New Model 1863 percussion carbine stands out as the best quality Sharps of its model and configuration. The Sharps was an exceptionally popular longarm, seeing action both on the battlefield and out west after the Civil War. It's remarkably rare to find a Sharps rifle or carbine that doesn't bear the marks of heavy handling, but this firearm retains 97% of its original finish and is as close to an "as issued" appearance as you're likely to find.
This phenomenal Sharps New Model 1863 percussion carbine reached $94,000 in December of 2022.
The American Civil War saw an explosion of arms development innovation, and the Spencer rifle was one of the most successful new designs to emerge from the conflict. Usage and attrition rates were sky-high, with few of these early repeating firearms escaping the war unscathed. So how did this Spencer rifle remain in such pristine condition? One reasonable theory is that the Spencer was sent to Springfield Armory as a demonstration piece and thus spared the harsh conditions of combat. The inspection mark near the rifle's wrist supports this likelihood. Today, this immaculate rifle represents one of the pinnacles of Spencer rifle collecting.
Only the Best Sporting Arms
No discussion on the topic of only the best firearms would be complete without including some prestige sporting guns. With the finest vintage double guns from giants like Purdey, Greener, and Holland & Holland offered at Rock Island Auction Company over the years, it's difficult to narrow down a single exceptional example, but this inscribed Parker Brothers AAHE Grade 20 Gauge double barrel shotgun exhibits all the right qualities. A true celebration of artistry, history, and golden age craftsmanship that's been cared for by generations, this magnificent Parker represents one of the finest in its class.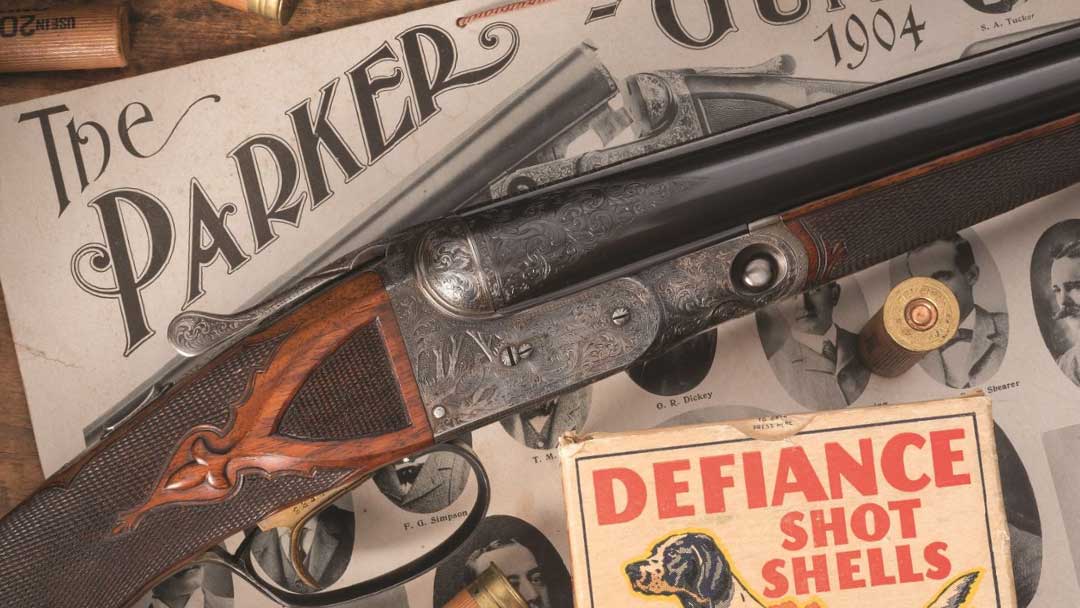 This inscribed Parker Brothers AAHE Grade 20 Gauge double barrel shotgun earned a phenomenal $207,000 in May of 2021.
When searching for a best of the best antique sporting rifle, it's hard to think of a more laudable candidate than this Monarch Grade Savage Model 1899. Pound for pound this may be one of the finest firearms ever auctioned, displaying near-mint quality from muzzle to butt plate. This elite Savage rifle is as handsome as it is new, and as well pedigreed as it is rare, a canvas of steel and walnut showcasing the talents and vision of Savage Master Engraver Enoch Tue.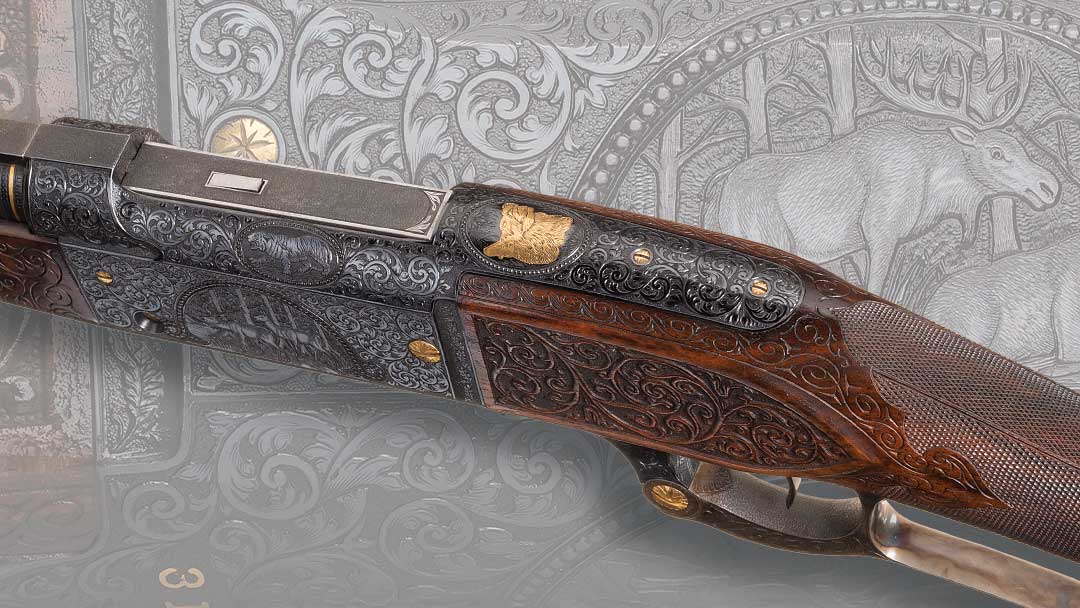 In December of 2018, this magnificent Monarch Grade factory relief engraved, gold inlaid and relief carved Savage Model 1899 rifle achieved $540,500.
Rock Island Auction Company frequently features some of the finest contemporary sporting arms as well, with pinnacle works from modern artisans like Ken Hunt and the Brown Brothers making several recent appearances. While it's challenging to choose a single standout from such an exquisite selection of modern masterpieces, the gorgeous Rizzini shotgun below exemplifies the highest level of artistry in the luxury arms pursuit.
Only the Best Military Arms
The 500 1911A1 pistols produced by Singer Manufacturing Co. under Educational Order W-ORD-396 in 1940 are considered one of the pinnacles in military arms collecting. Primarily issued to the U.S. Army Air Corps squadrons, these pistols are already as rare as they are valuable today, so a Singer that retains 99% of its unique high gloss blue finish and is hands-down the best condition example of its kind is going to turn some heads.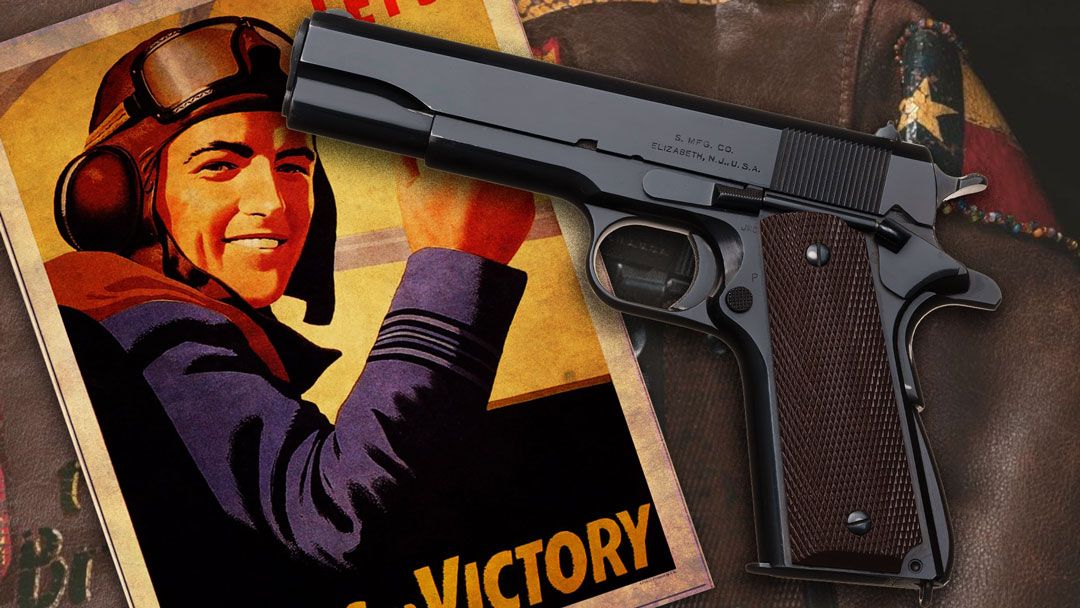 Documented finest condition U.S. Singer Manufacturing Co. Model 1911A1 earned an astounding $414,000 in Rock Island Auction Company's December 2017 Premier sale.
When you think of the finest firearm genres, the rugged 1903 Springfield rifle usually doesn't top the list. Most were used hard in military service or on the civilian market, and finding anything close to original condition is rarely encountered. In 2018, RIAC offered a stunning "NRA" marked U.S. Springfield Model 1903 bolt action rifle that exhibited almost no cycling or firing wear. These early Springfield and Rock Island Arsenal sales rifles were all hand selected specifically for their beautiful blue and casehardened finish with excellent wood components and were sold to National Rifle Association members between 1912 and 1917, and the piece below reflects that same quality today.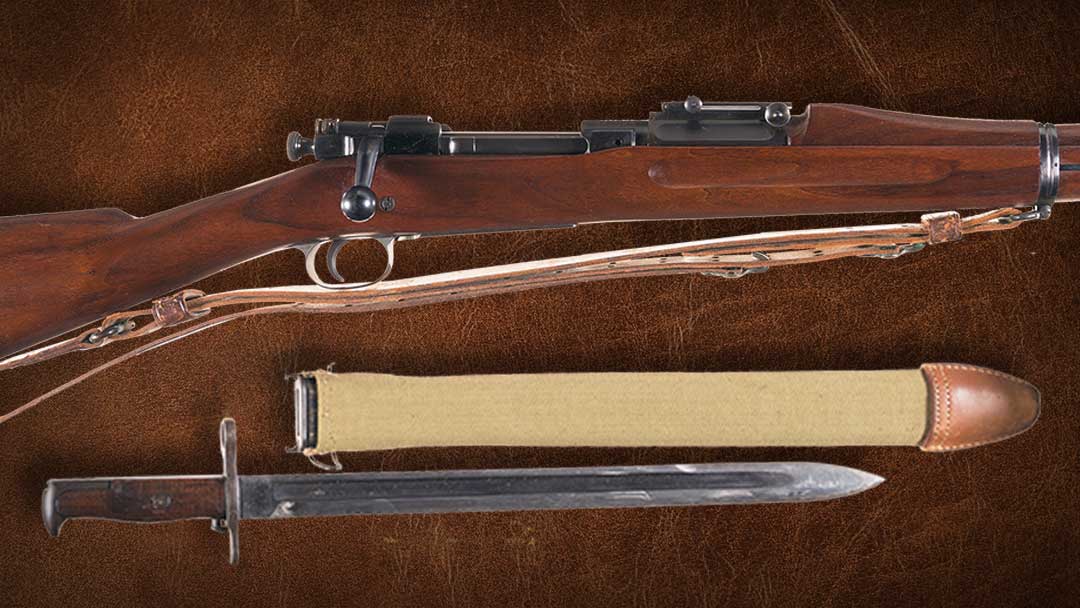 Outstanding "NRA" Marked U.S. Springfield Model 1903 Bolt Action Rifle Dated 1915 with Bayonet realized $8,625 in September of 2018, a phenomenal example of a near new condition collector's gun for under a five-figure price tag.
Only the Best Flintlock Firearms
Finding a pair of flintlock firearms in near-issued condition might seem next to impossible given their age, but Rock Island Auction Company has offered several top-tier contenders in the genre. This cased pair of silver-mounted flintlock dueling pistols crafted by John Manton, the greatest London gunmaker of his era, is exceptionally documented and widely considered the finest dueling pistol pair known to exist. The set was certainly a presentation piece belonging to a high-ranking member of British society and has been exceptionally maintained over the centuries.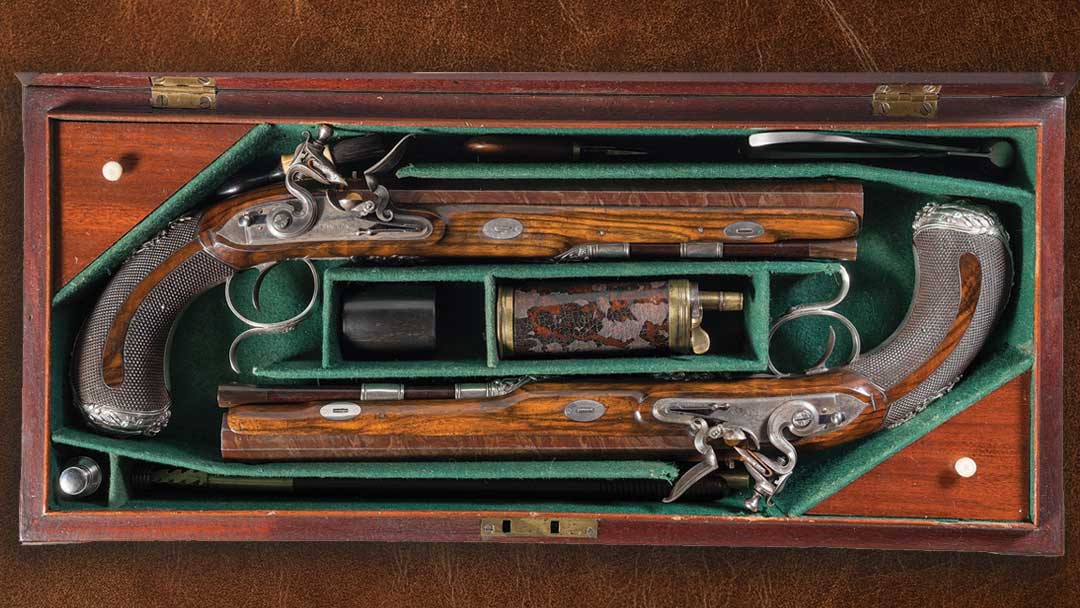 This documented cased pair of silver mounted John Manton flintlock dueling pistols made a statement in May of 2017 with a hammer price of $103,500 and joined an exclusive list of candidates that could be accurately christened as only the best firearms in the collecting pursuit.
Our forefathers were outstanding craftsmen, producing exquisite firearms that were decorated to rival the finest painting and sculptures. A prestige pair of flintlock pistols was meant to be admired and cherished, like this opulent set of gold-mounted French Empire officer's flintlock pistols by Nicolas Noël-Boutet. Boutet's work stands tall in the world of antique arms collecting, and these masterpiece pistols retain an outstanding level of original condition and make a strong case for themselves as one of the truly elite, historic, and world-renowned firearm pairs available in any genre.
It's easy to get overwhelmed by immensely historic treasures like the historical sword and garniture commissioned by the French Directory for General Napoleon Bonaparte in 1797. With the garniture's nearly full-coverage embellishment by Boutet and the artisans of the Versailles Manufactory, you have not only one of the most significant pieces ever offered by Rock Island Auction Company, but a crown jewel of fine art in steel, gold, and walnut the remains in exceptional condition today.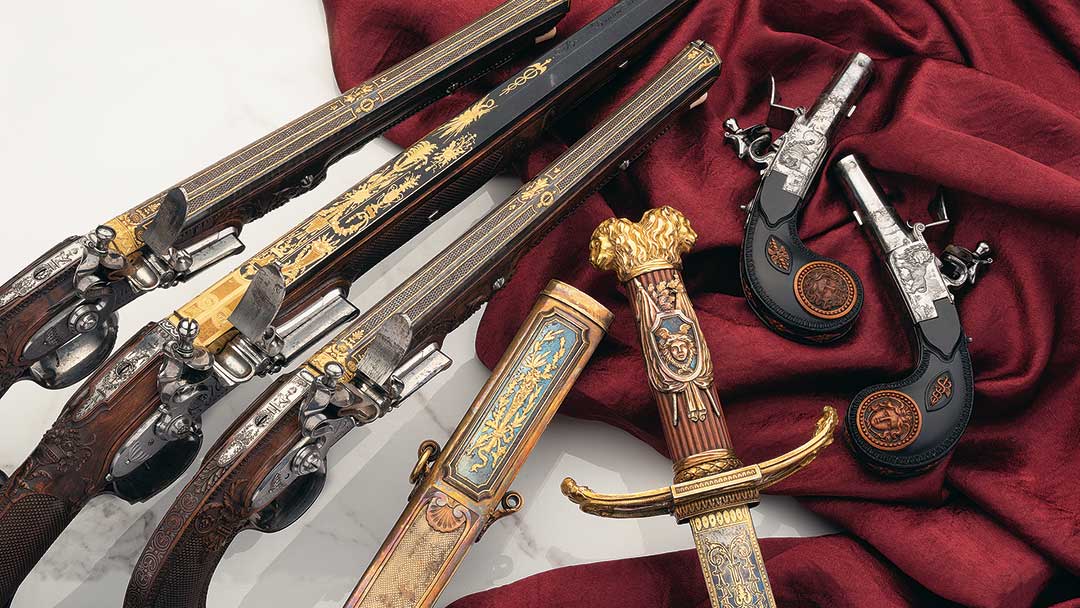 Napoleon Bonaparte's garniture earned 2.875 million in December of 2021 for its high condition and historic significance.
Only the Best Firearms
As the gun collecting hobby swells in popularity around the globe, collectors at the highest level of the pursuit seek to own the best of the best in each genre. As the examples above illustrate, impressive condition leads to impressive prices. Whether you're looking for the finest in antique sporting arms or military guns that look like they've just left the factory, you're likely to find an exceptional example offered during one of Rock Island Auction Company's Premier Auctions.
Only the best firearms are found at Rock Island Auction Company, and the best is yet to come. Subscribe to the weekly Rock Island Auction newsletter to receive new gun blogs and gun videos on all the firearms genres covered here and more.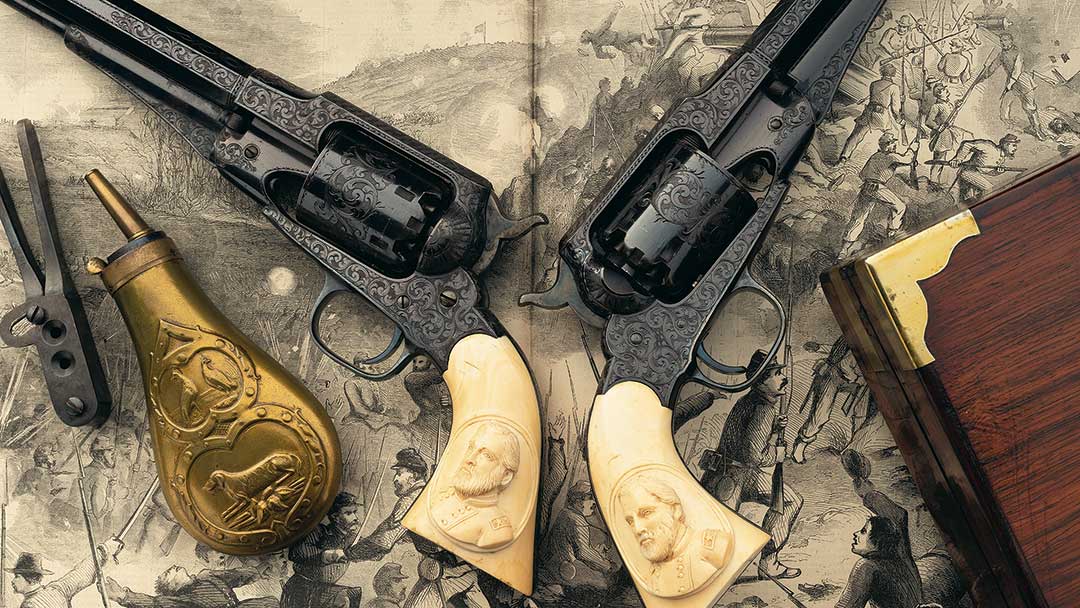 Gen. Ulysses S. Grant's cased Remington revolvers were not only the most expensive guns ever sold by Rock Island Auction Company, but also some of the finest known Remington New Model Army revolvers around.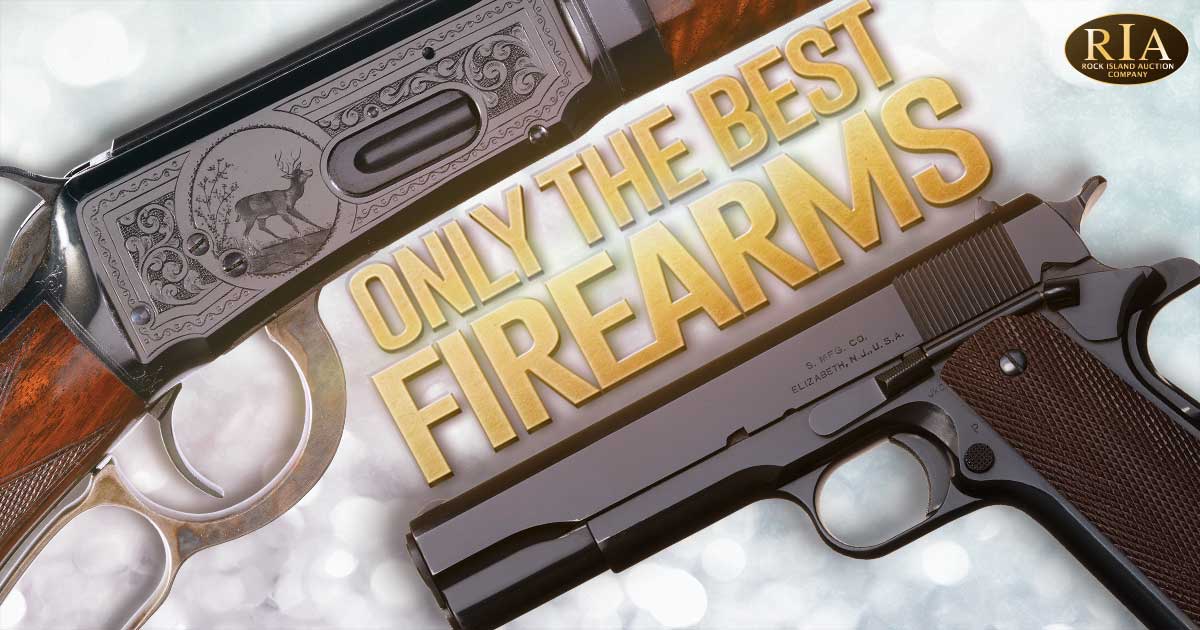 Rock Island Auction Company