Arm School Employees to Protect Our Children
Very soon, Senator Doug Mastriano will be introducing SB 1288, the "Enhancing Classroom Security" Act.
This bill takes the necessary steps to arm willing school employees in order to ensure the safety of our children from mass public shootings. When seconds count, help cannot be minutes away, let alone up to an hour like in the Uvalde, TX massacre.
SB 1288 does the following: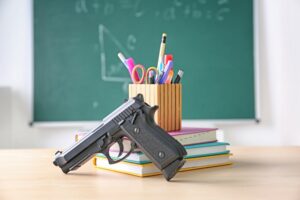 Ends Pennsylvania's "gun-free school zones" law by giving the option to arm teachers and staff.
Provides for current school employees who have a license to carry firearms (LTCF) to carry at school after completing a training course.
The training course includes information on the protection of students, interactions of license holders with first responders, tactics for denying an intruder entry, safe handling and storage of weapons, and operating defensive weapons under duress.
Already, the Pennsylvania State Education Agency (PSEA, the teachers' union)  is opposing the bill in the name of "safety." But the facts on arming teachers and staff prove that it is not only safe but effective:
There has not been ONE mass public shooting in a school that has armed teachers and staff.
Lost or stolen firearms have not been an issue.
Of the 28 states that have similar programs, research shows there was only ONE accidental discharge incident and no one was injured. For perspective, there are more accidental discharges in police departments.
81% of police officers agree that teachers and staff should be armed (PoliceOne survey, 2013)).
86% of police officers believe armed citizens are a deterrent to mass public shootings (PoliceOne survey, 2013)
So, instead of pushing for gun control that violates the constitutionally protected rights of all Pennsylvanians, the PA General Assembly should pass SB 1288 to really ensure school safety. Our children deserve to have the same level of protection as politicians, banks, and government office buildings.
That's why I need you to send a message to your state senator by using the form above. Urge him or her to co-sponsor, support, and pass SB 1288, the "Enhancing Classroom Security Act." Just use the form above to send a message right away and be sure to share this alert with your pro-gun family and friends.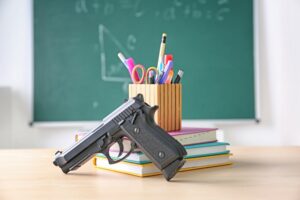 GOA