Born Gordon William Lillie in Bloomington, Ill., on Valentine's Day in 1860, Pawnee Bill was a rival of Buffalo Bill Cody before joining forces with the legend in the business of selling the Wild West.
Pawnee Bill was an Indian interpreter, trapper, cowboy, land boomer, and businessman, but was best known as proprietor of his Wild West show, "Pawnee Bill's Historical Wild West, Indian Museum and Encampment."
A Savage Model 1907 inscribed to Wild West showman Pawnee Bill.
His family moved to Kansas when he was a boy. That is where he met the Pawnee people and became an interpreter to the U.S. Indian Agent who worked with the tribe, earning his nickname. In 1883, Buffalo Bill, already larger than life, was putting together his "Buffalo Bill's Wild West," a circus-style extravaganza, and hired Pawnee Bill to translate and coordinate with the Pawnee troupe in the show. Within a few years, Pawnee Bill had a Wild West show to rival Buffalo Bill's.
An incredibly rare, factory engraved Savage Model 1907 semi-automatic pistol inscribed to Pawnee Bill is available in Rock Island Auction Company's May 19-21 Premier Auction. The Wild West artifact, similar to one owned by Buffalo Bill, is documented and includes a factory letter.
Pawnee Bill and May, A Love Story
War and death often accompany stories about guns, but any talk of Pawnee Bill's Wild West adventures should include his wife, May. They met in 1884 when Buffalo Bill's Wild West Show encamped in Philadelphia. She was 15 and the daughter of a doctor.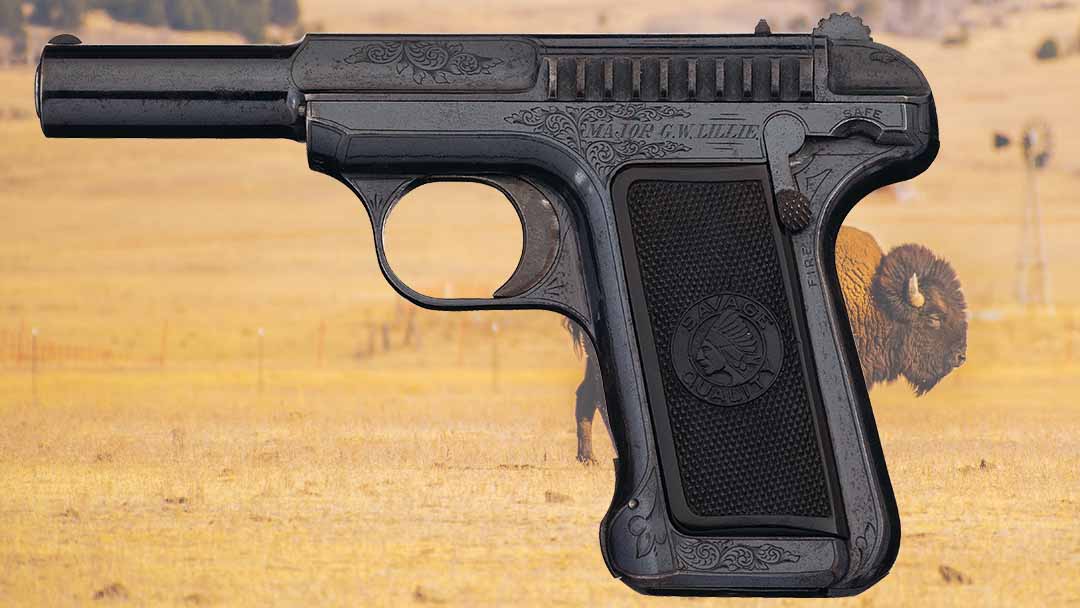 Incredibly Rare, Historic, Documented Factory Engraved Savage Model 1907 Semi-Automatic Pistol Inscribed to Famed Wild West Showman Pawnee Bill.
She caught his eye as the Wild West troupe paraded. They courted long distance for two years before marrying in August, 1886. Pawnee Bill gave May a Marlin .22 rifle and a pony as wedding gifts.
She would go on to perform as the "Champion Horseback Shot of the West," help run Pawnee Bill's Wild West shows, and manage their Oklahoma ranch. Newspaper reviews of her performances called her the "Princess of the Prairie."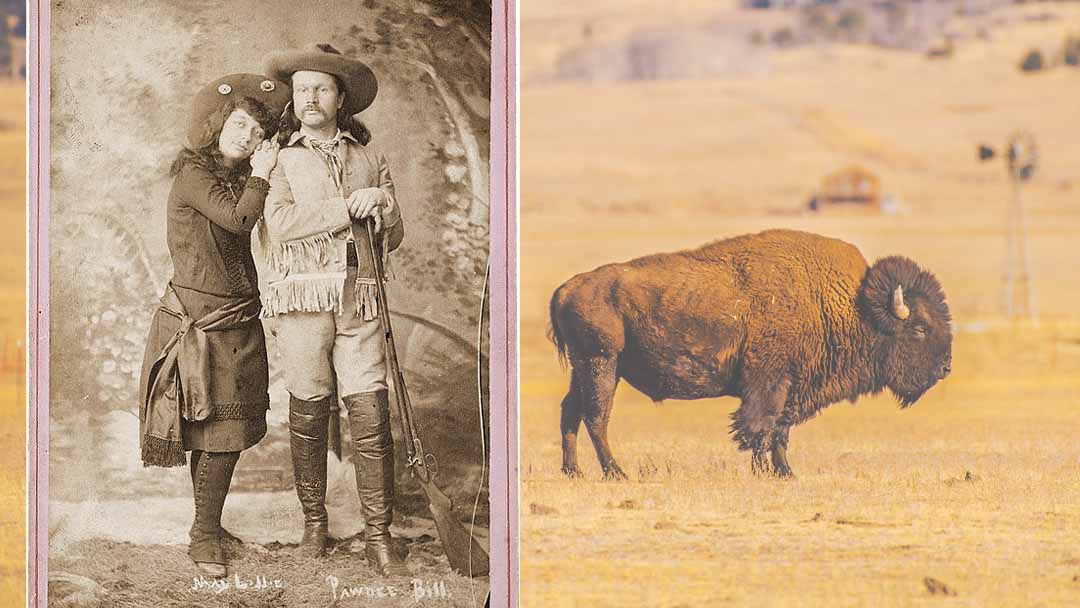 Pawnee Bill with his wife May. The couple was married for 50 years.
Oklahoma Land Rush and Pawnee Bill
May's parents urged their son-in-law to start his own show, which toured in 1888 as Pawnee Bill's Wild West. The season proved to be a financial failure.
That same year, Pawnee Bill moved to the forefront of the Boomer movement, dedicated to opening Oklahoma's Unassigned Lands to white settlers. In 1889, the 1.887 million acres of land ceded by the Creek and Seminole Indians following the Civil War was opened to non-Native Americans.
Pawnee Bill led 4,000 settlers in the land run of April 22, 1889 into Kingfisher County. His role settling the central part of the state and leading the land rush thrust him into the national spotlight. Taking advantage of his newfound recognition, "Pawnee Bill's Historical Wild West, Indian Museum and Encampment" traveled the United States and Europe with his wife, May, as one of the stars.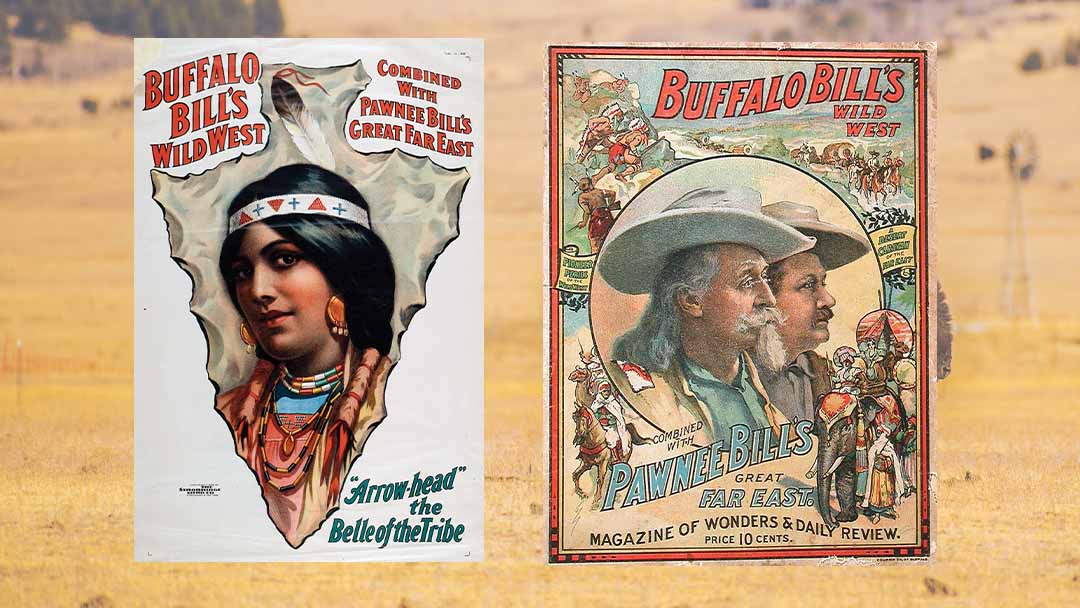 Show posters from Buffalo Bill's Wild West and Pawnee Bill's Far East combined shows.
The show featured a grand parade, western enactments like a stage coach heist, Native American dancing, trick roping and riding, as well as May putting on a riding and shooting exhibition.
At its peak, Pawnee Bill's show employed 645 people and traveled with 400 horses and steers, a herd of 20 buffalo, carriages, and elephants.
Pawnee Bill's show evolved and prospered, thanks in part to May's money management, and by 1907 was touring as Pawnee Bill's Wild West and Great Far East Show, with Mexican cowboys, Pawnee and Sioux scouts, Chinese and Japanese performers, and Arab jugglers.
The following year, Buffalo Bill's show was struggling financially. Pawnee Bill bought a one-third interest in Buffalo Bill's Wild West Show and eventually owned the whole endeavor. The two Bills' shows merged to become Buffalo Bill's Wild West and Pawnee Bill's Great Far East.
May opposed the partnership. She considered Buffalo Bill as a poor businessman and disapproved of his reputation for drinking and womanizing. She returned to the couple's buffalo ranch that was established in 1902 near Pawnee, Okla.
The two Bills' show went on until 1913 when it went bankrupt.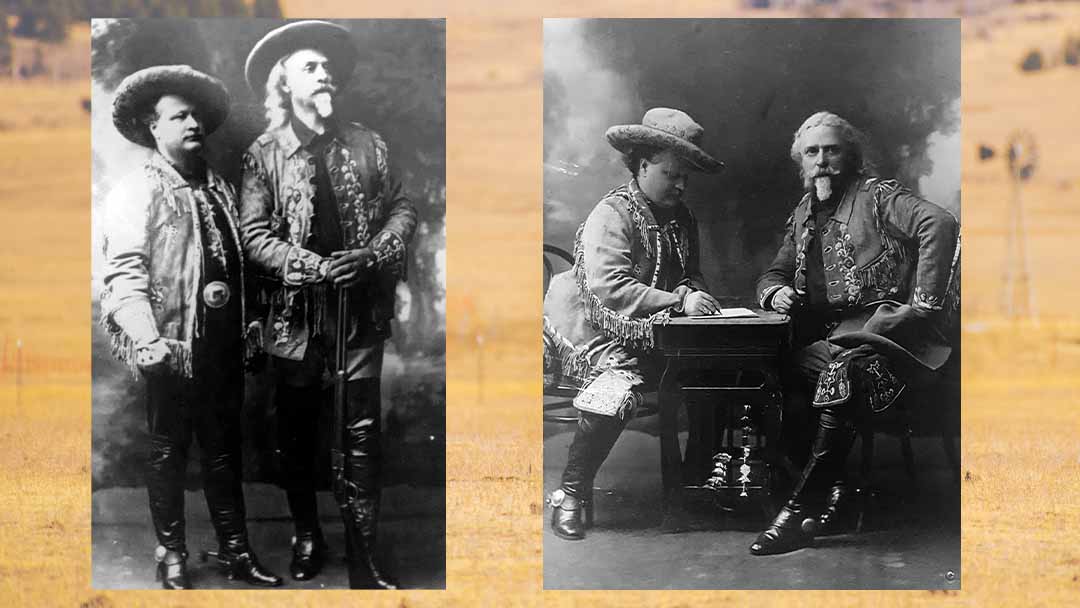 Photos of Pawnee Bill and Buffalo Bill who were partners in a Wild West show shortly after the turn of the 20th century.Pawnee Bill is on the left in both photos.
Pawnee Bill Ranch
In the meantime, the couple had built a 14-room mansion at their ranch, located northwest of Tulsa. The buffalo herd grew. The house had running water and electricity powered by a generator. In 1916, the couple adopted a baby boy, named Billy.
The couple diversified, opening an oil refinery, raising cattle on the ranch, and starting a movie production company. They also invested in real estate and banking.
Tragically, young Billy died in an accident on the ranch when he was 8.
Buffalo and a Highway
Pawnee Bill was passionate about bringing back the American Bison – or buffalo, and did more than just build a buffalo herd on his ranch. He also lobbied Congress to protect the animal. His work led to the establishment, in 1901, of the Wichita Mountains National Wildlife Refuge located southwest of Oklahoma City. It is the oldest managed wildlife facility in the U.S. Fish and Wildlife Service system.
Early on, Pawnee Bill saw the future of automobiles in America and modern highways. He served as the president of the Highway 64 Association. The section of U.S. 64 that runs through Oklahoma – and past the ranch — was named after him.
He later built "Pawnee Bill's Old Town and Trading" not far from their ranch as a tourist destination. It featured rustic cabins for rent, restaurants, and buffalo grazing. It burned down in 1944.
A view of the very rare engraved Savage Arms of Wild West showman Pawnee Bill.
Fatal Car Crash
Pawnee Bill and May celebrated their 50th wedding anniversary in Tahoe in 1936. A short time later, the couple celebrated with friends after returning to Oklahoma. On the way home from that celebration, Pawnee Bill lost control of the car and crashed. May, "Princess of the Prairie," died from injuries in the crash. She was inducted into the National Cowgirl Hall of Fame in 2011.
Eleven days before his 82nd birthday in 1942, the spectacular showman and promoter of Wild West legend died. The couple's amazing mansion and ranch are now The Pawnee Bill Ranch and Museum housing family memorabilia and Wild West artifacts. A buffalo herd still roams the grounds. It is now owned by the Oklahoma Historical Society and hosts a re-creation of Pawnee Bill's original Wild West show every year.
Pawnee Bill's Savage Arms Pistol
Rock Island Auction Company had the most recent pleasure of selling a Savage Arms Model 1907 pistol inscribed to Buffalo Bill Cody in September, 2021. The gun was inscribed "Col. W.F. Cody" with engraved scrolling on the backstrap and original and rare pearl grips. Advertisements showed Buffalo Bill's fondness of the Savage Arms pistol and he ordered five of them engraved with the names of friends.
Pawnee Bill's gun is not among those ordered by Buffalo Bill. The factory-engraved Savage Arms Model 1907 pistol bearing Pawnee Bill's name, Major G.W. Lillie, shares similarities, but differences, too. Modest coverage of the engraving on the barrel and around the grip are similar. On the side of the gun — rather than the backstrap like Buffalo Bill's – is prominently engraved "Major G.W. Lillie"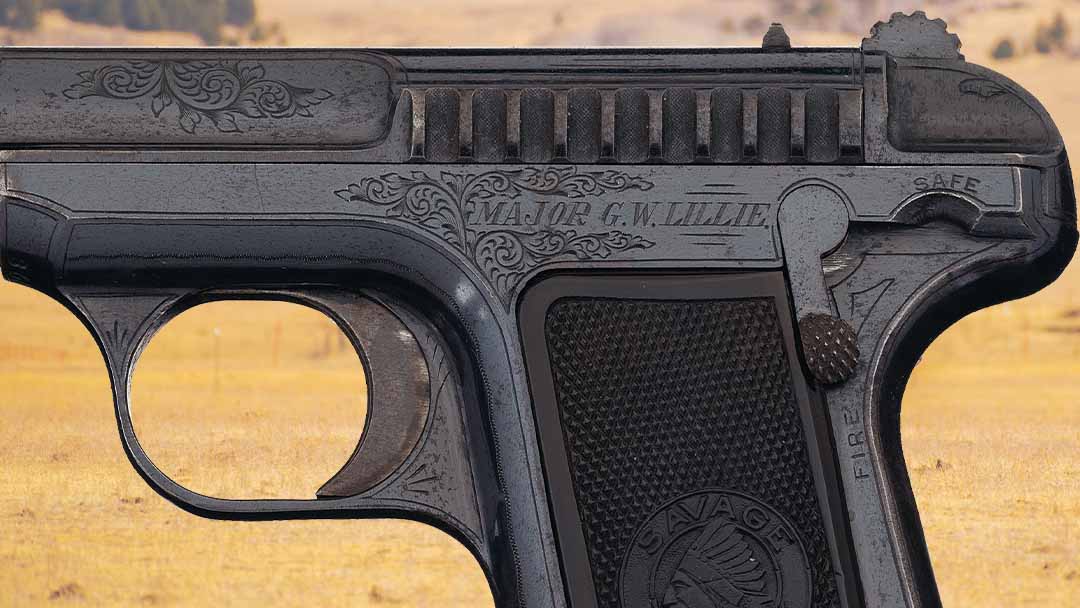 A closeup of the engraving of the very rare Savage Arms Model 1907, with Pawnee Bill's given name on it, G.W. Lillie.
Pawnee Bill was a Wild West showman on par with Buffalo Bill whose path through a colorful life included translating for native Americans, joining in the Oklahoma land rush, conserving buffalo, and promoting the highway system all while enjoying the lifelong love of a woman who was amazing in her own right.
The Savage Arms 1907 pistol is a rare western artifact of Pawnee Bill, who stood alongside an American legend in creating the spectacle of the Wild West. It is available at Rock Island Auction Company's May 19-21 Premier Auction.
Sources:
Oklahoma Historical Society
Pawnee Bill – Another Wild West Showman, Legendsofamerica.com
National Cowgirl Museum and Hall of Fame
Wild Woman Wednesday: May Manning Lillie, by Chris Enss, Cowgirl magazine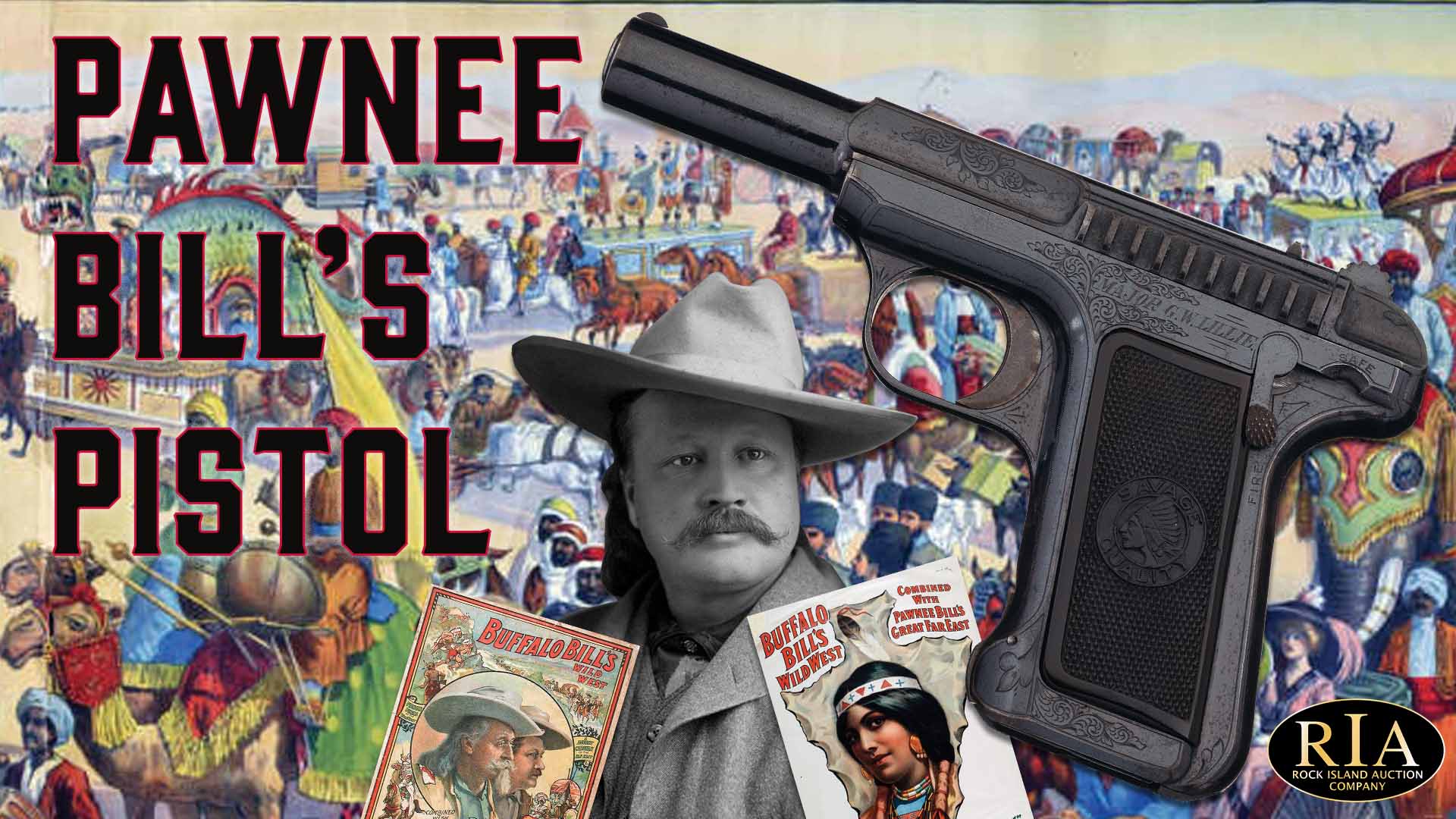 Rock Island Auction Company