Definition: A pinfire gun is a firearm that utilizes pinfire ammunition. In a pinfire cartridge, a small pin protrudes from one side of the case. When the pin is struck by the hammer of the firearm, the pin strikes a primer inside the cartridge causing a small primary explosion that ignites the black powder inside the base of the cartridge and propels the bullet/shot.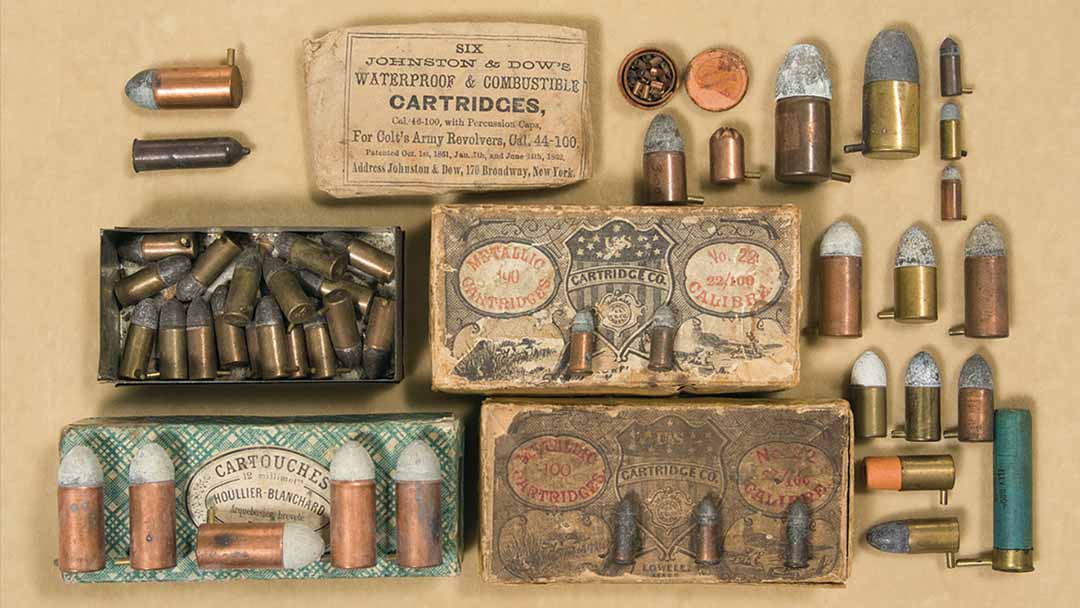 Various examples of pinfire ammunition.
Invention of the Pinfire Cartridge
French gunmakers were highly influential in the development of self-contained firearms ammunition. Pinfire ammunition was designed by French gunmaker Casimir Lefaucheux in the 1830s and patented in 1835. The pinfire cartridge was the first widely used self-contained cartridge type and made breech-loading firearms significantly more practical. Initially, the pinfire cartridge utilized paperboard cases with brass bases, but full-metallic cases were developed by Benjamin Houllier, another French gunmaker, in 1846 shortly after Louis-Nicolas Flobert patented the first rimfire cartridges.
Lefaucheux and his son Eugene designed many of the most prominent firearms that used these cartridges, but the design of the pinfire cartridge somewhat limited options due to the protruding pins. The most common firearms designed for pinfire cartridges are revolvers like the Lefaucheux Model 1854 and rotary underlever breech-loading shotguns. Theodore Roosevelt's first gun was a Lefaucheux double barrel shotgun, and RIAC previously sold his uncle Cornelius Van Schaak Roosevelt's Lefaucheux double barrel shotgun in 2021. Some pinfire revolvers were designed with enormous cylinders to hold 20 or more cartridges. There were also pinfire versions of the famous LeMat "Grapeshot" revolvers and carbines. On the latter, the central "shotgun" barrel remained percussion, since the system could not be readily designed to accommodate pinfire ammunition. Some muzzleloading firearms were also converted into breechloaders for use with pinfire ammunition.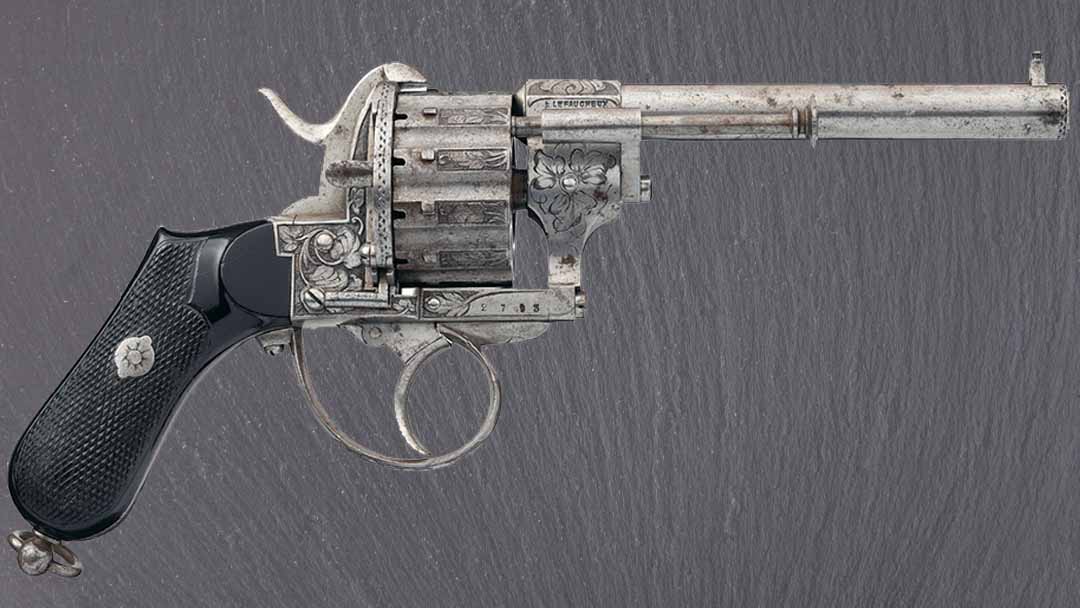 A pinfire revolver. Lot 299 in Rock Island Auction Company's May 13-15 Premier Auction is this J. Chaineux Lefaucheux Brevete 12-Shot Pinfire Double Action Revolver.
Pinfire guns were primarily manufactured and used in Europe, and many of the examples we see were manufactured in Belgium, France, or Spain. In addition to faster loading by removing the need for separate priming, pinfire ammunition was more waterproof. The pins were the main disadvantage of pinfire systems since an accidental strike of a pin could set the gun off, and even rough handling of the pinfire ammunition could be dangerous or damage the ammunition, not an ideal situation to say the least. Nonetheless, the French military adopted Lefaucheux revolvers, and Lefaucheux Model 1854 revolvers were imported for issue to the Union Armies during the American Civil War.
A pinfire shotgun. Lot 274 in Rock Island Auction Company's May 13-15 Premier Auction is this Game Panel Scene Engraved and Gold Inlaid M. Mach Backaction Pinfire Cape Gun Two Barrel Set.
The advent of rimfire and centerfire ammunition rendered pinfire firearms largely obsolete by the end of the 1860s, but pinfire firearms continued to be manufactured in Europe into the 1870s. Rimfire and centerfire cartridges did not have the protruding pin to deal with and were sturdier ammunition overall. Some of the higher end pinfire shotguns were converted for centerfire ammunition, but many were instead replaced in time with centerfire firearms.
This Westley Richards Bar-in-Wood 8 bore double barrel hammer shotgun that sold in Rock Island Auction Company's December 2021 Premier Auction is an example of a firearm converted from pinfire to centerfire ammunition.
Buying and Selling a Pinfire Gun
Rock Island Auction Company is the world's leading auction house for antique and collectible firearms. We sell more guns each year than anyone and regularly feature pinfire and other antique firearms in our Premier, Sporting & Collector, and Arms & Accessories Auctions each year. You will primarily find pinfire revolvers in the Sporting & Collector and Arms & Accessories sales, but you will find particularly rare and high condition pinfire shotguns and revolvers in our Premier Firearms Auctions as well.
If you are interested in buying a pinfire gun, please view our various auctions throughout the year. If you are thinking of selling a pinfire gun, Rock Island Auction Company is the #1 auction house in the world for antique and collectible firearms and we are happy to help you sell your gun, whether you have a single firearm or an entire gun collection.
To receive new gun blogs and gun videos every week, subscribe to the Rock Island Auction newsletter. We cover everything from modern military guns like the Colt M16 to the evolution of antique firearms like the matchlock, the wheellock, the flintlock, and more.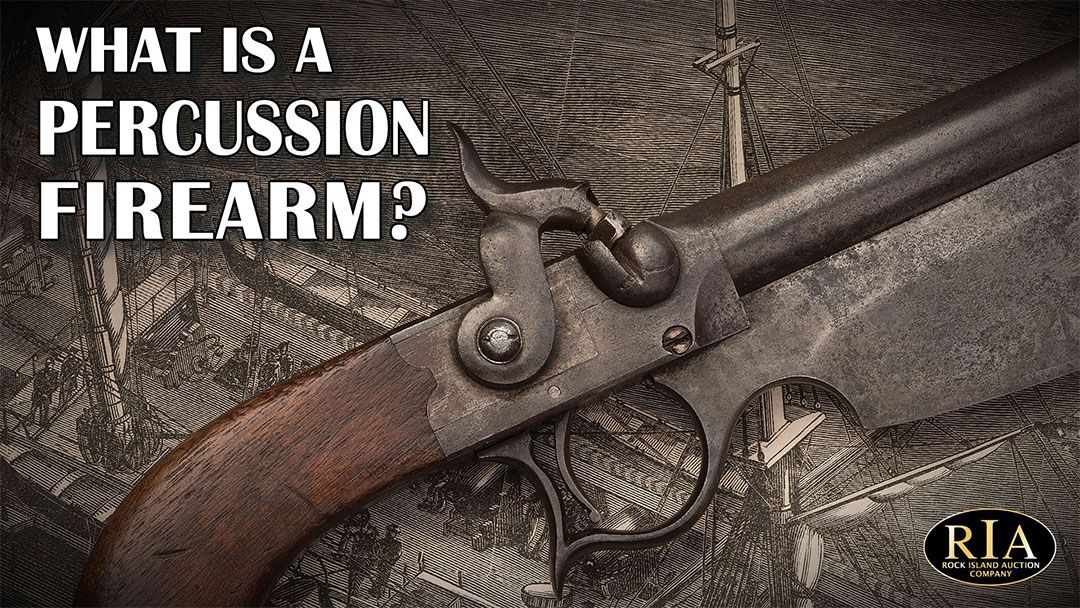 As always, if there are any questions regarding consignment, registration, or future auctions, please contact Rock Island Auction Company today. Our 2022 auction schedule is now posted on our website, so be sure to go through the listing and start making your plans to visit. We can't wait to see you here!
Rock Island Auction Company