Gun rights advocates and the owners of pistol stabilizing braces are scrambling to stop a rule by the Bureau of Alcohol, Tobacco, Firearms and Explosives (ATF) that will make possession of the brace a felony after May 31.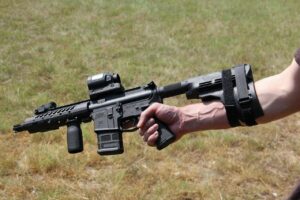 "I think this is going to be a very fluid situation over the next week or so," William Kirk, a Second Amendment lawyer, YouTuber, and president of Washington Gun Law in Washington state, told The Epoch Times. "I would recommend my clients find a reliable news site and check it a couple of times a day."
On May 31, the ATF's 120-day amnesty period for pistol brace owners will end. Pistol brace owners who don't destroy, register, or surrender the braces to the government by the deadline will possess contraband and be subject to arrest, according to the ATF.
"Our members are going to start going to jail," Aidan Johnston, director of federal affairs for Gun Owners of America (GOA), told The Epoch Times. "Our members are extremely concerned."
GOA and other gun rights groups have filed lawsuits to stop the rule from taking effect. A National Rifle Association spokesman said this is why such groups were formed…
The ATF's erratic rulemaking on pistol stabilizing braces epitomizes government overreach and abuse for many gun owners, advocates argue.
The ATF did not return a call seeking comment. But ATF Director Steven Dettelbach attempted to address some of those concerns during an April 26 hearing before the House Judiciary Committee.
Dettelbach has steadfastly claimed that ATF is enforcing the National Firearms Act as it was written and passed by Congress. He said the ATF has one objective.
"Everything we do begins and ends with public safety. We must do that while respecting our citizens' constitutional rights, and we can," Dettelbach said.
But gun owners say the ATF has waffled on whether the braces are legal accessories for large-format pistols or if they convert those pistols into short-barreled rifles (SBR), which are illegal under the NFA.
The pistol stabilizing brace was invented in 2012 to assist the disabled and others who may need help shooting large-format pistols built on the AR 15 and similar platforms. The stabilizing brace attaches to the rear of the pistol and the shooter's forearm. This allows the shooter a steadier aim while holding the pistol with one hand.
The ATF issued several open letters stating that the braces did not change pistols into short-barreled rifles. However, the rule published in January said that changes in the braces' design and videos on how to use them make clear that the items convert the large format pistols into prohibited SBRs.
Estimates on how many gun owners are affected range from 3 million to 40 million…
Read more at The Epoch Times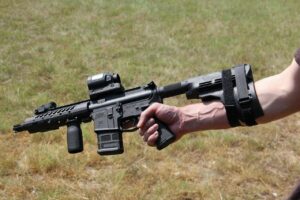 GOA