A person's gun collection almost always takes on their interests and often times their personality. The collector may enjoy the history that comes with a flintlock, percussion revolver, or lever action rifle. The firepower of Dust Bowl outlaws and the men who tamed them may be tempting to gather, as are the weapons used during the American Civil War, or World War 2. Or, they may want to feel the raw power and thrill of machine guns.
Police guns are another strong area of interest for collectors. They can connect to a place or person of history, might feature interesting or unusual markings, or fall into a sub-genre of gun makers or military service.
Rock Island Auction Company's Feb. 14-17 Sporting & Collector and May Premier Auction offers plenty of examples of police guns and the fascinating connections that come with them.
Police Guns From Around the World
Whether they're from Asia, Europe, or South America, police guns find their way to Rock Island Auction Company. RIAC's Sporting & Collector Auction features Siamese Police Contract Lugers, Bavarian Forestry and Rural Police-marked M1 Carbines, a Royal Irish Constabulary Webley & Scott Double Action revolver, a Buenos Aries Police-marked DGFM Model 1927 pistol, and a Colt Police Positive revolver that was carried by an officer of the Municipio de Medellin.
The markings can be very subtle like the small markings on the back of the frame of the Siamese police Luger,  the small marking on the left side of the frame of the Irish Webley & Scott, and the "Bavaria Forestry Police" on the receiver of an M1 Carbine.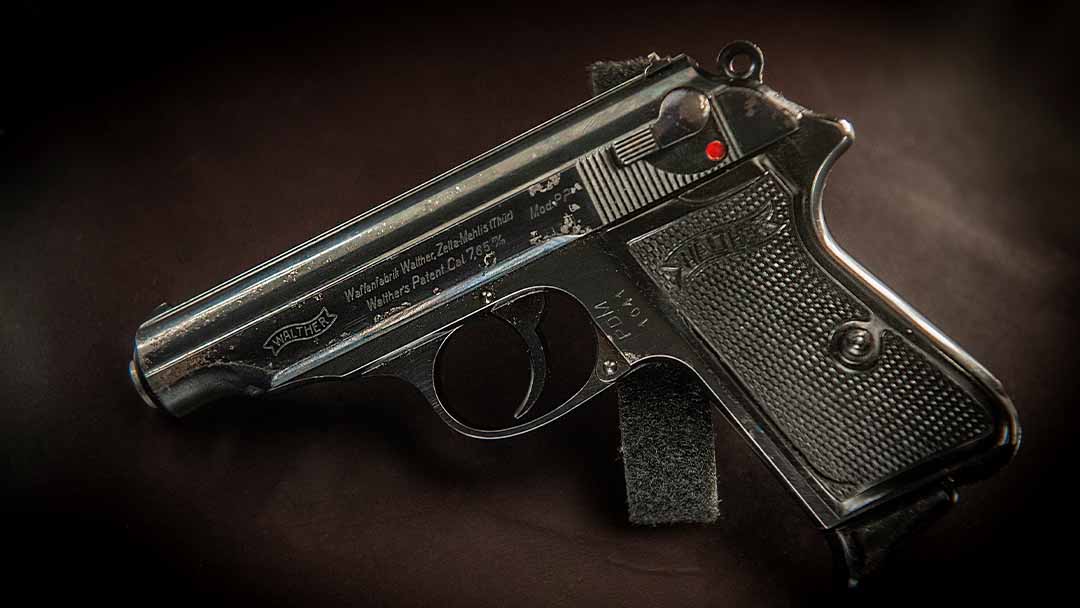 Lot 2619 A: This Walther PP with holster was manufactured in 1934 and is marked PDM/1041 just behind the trigger. The bottom release magazine catch and strengthened fluted muzzle is only found on these Munich police pistols.
Police Guns From Across America
Collecting police guns from U.S. departments is easier than finding international variations, but that doesn't always make it easy. Some police departments destroy service weapons when they've outlived their usefulness, making them significantly more difficult to acquire than those departments who sell them off as surplus. Smaller localities won't have issued as many sidearms, making them harder to locate, and some departments might not mark their guns, depending on a reliable paper trail to document their service at all.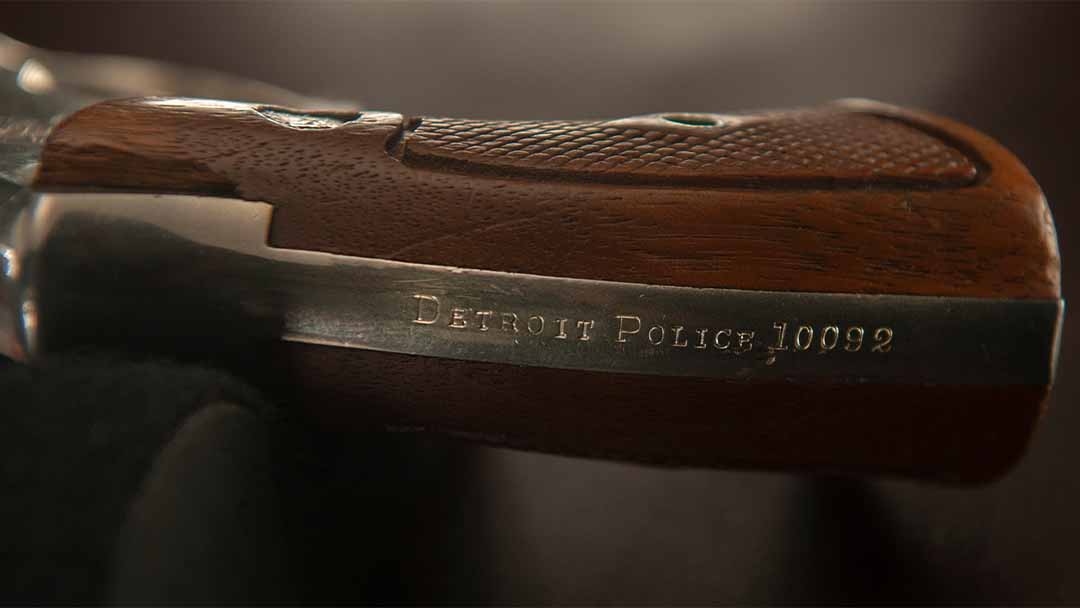 Lot 6652: A pair of Smith & Wesson Double Action revolvers are marked with the Detroit Police Department across the guns' backstraps. One is a 38 Military & Police revolver manufactured between 1948 and 1951, and the other is a Model 10-5 manufactured in 1969-70. Both are chambered in .38 Special.
Rock Island Auction Company recently offered police marked Glock 22 pistols in past Arms & Accessories Auctions showing that collecting police guns is a hobby that can apply across continents as well as centuries.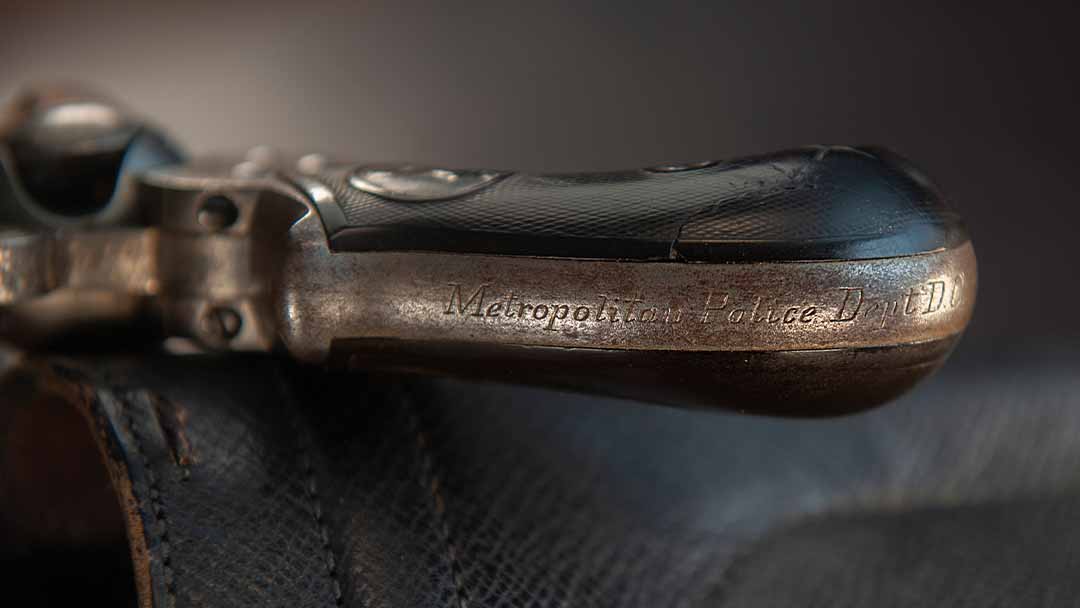 Lot 301 is a scarce Model 1877 Colt Lighting revolver. The gun is marked for the Washington D.C. Metropolitan Police across the backstrap. It was part of an 1877 shipment of more than 250 Lightning revolvers that went to Metropolitan Police Chief Major Thomas P. Morgan. A leather holster is included.
Rare Police Guns
Revolvers and police were definitely a thing for many, many years, but New York Police Department acquired about 800 of Colt's Model 1908 Pocket Hammerless early in the 20th century. The gun also notably saw service with the Shanghai Municipal Police with hundreds shipped to famed lawman, marksman, and eventual British SOE soldier, Eric Anthony Sykes.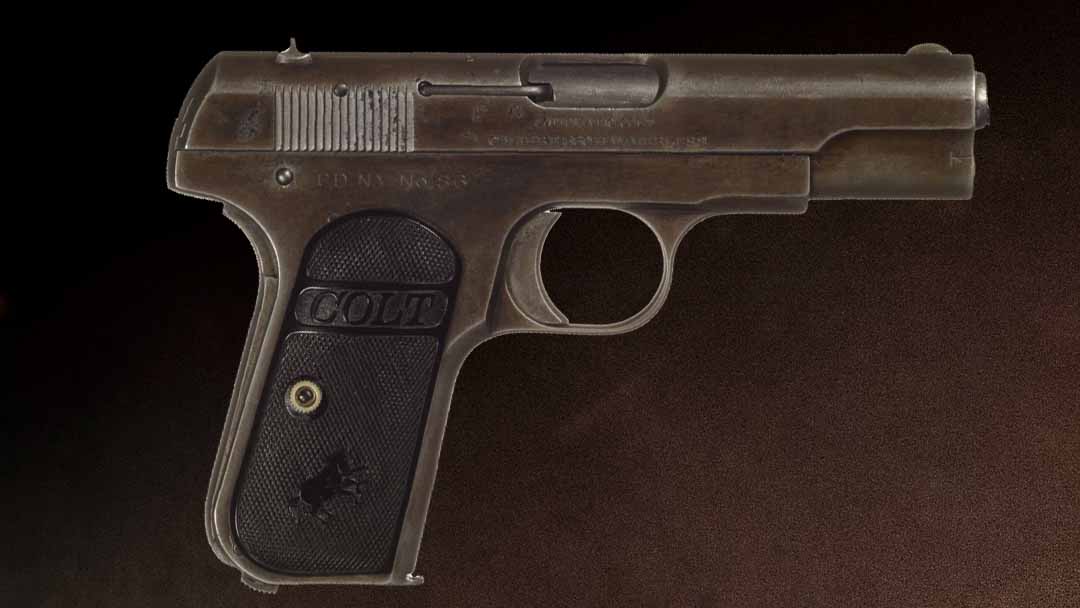 Lot 698 is a Colt Model 1908 Pocket Hammerless chambered in the common .380 caliber marked P.D.N.Y #86 on the left side of the frame that was shipped to the City of New York Police headquarters on Nov. 11, 1913.
That might be rare, but rarer still are guns that are police marked antique revolvers. Upcoming in Rock Island Auction Company's May Premier Auction is a true grail gun for Smith & Wesson collectors.
Only 32 Smith & Wesson No. 3 American First Model revolvers were made for the Nashville (Tenn.) Police Department in 1871. This is the first time in more than a decade that Rock Island Auction has offered one of these guns. A factory letter confirms the gun was sent to K.I. Morris, the mayor of Nashville on May 6, 1871.
Police Guns as Long Guns
Police also use long guns, but since every almost every officer has a gun on their hip, but not every officer is issued a rifle, they're a far rarer prize for collectors. Most officers today have assault rifles as part of their protection package. Shotguns, like this Idaho Department of Law Enforcement-marked High Standard Riot 18-7 Model K-1200, were popular with police officers and still find some use with lethal and non-lethal rounds. World War 2 surplus can also find their way into police arsenals like M1 Carbines marked for the Bavarian Forestry Police. Guns used for training, like a New York City Police Department Winchester Model 52 bolt action rifle manufactured in 1933, might also be offered as surplus.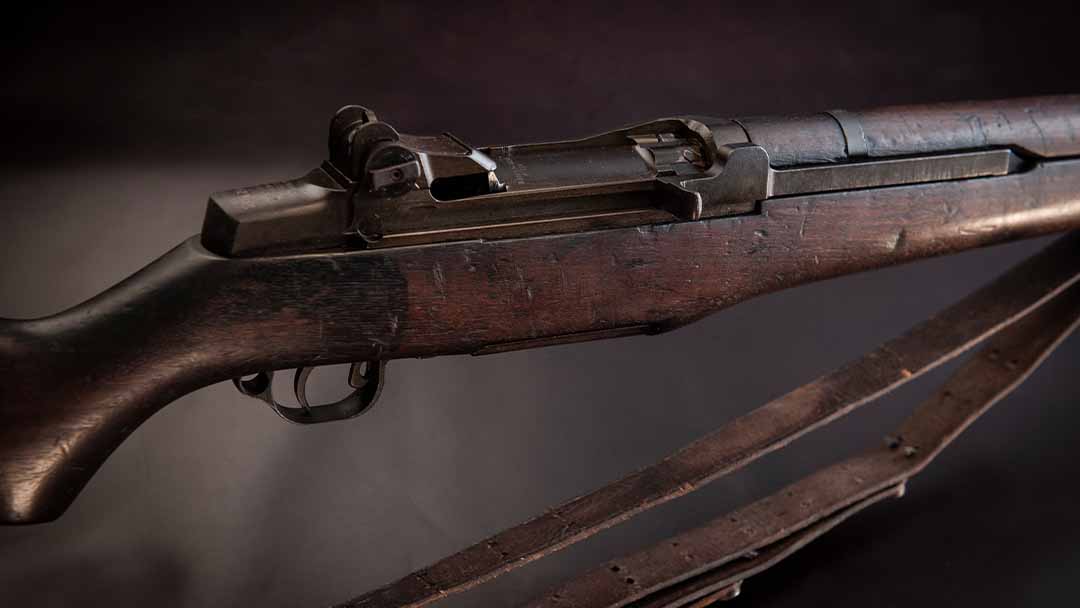 Lot 600 is a Guam Police U.S. Springfield Armory M1 Garand with a bayonet and a certificate of authenticity. Made in 1943, this is one of 30 Garand rifles used by the Guam Police following the island's liberation and beyond the end of World War 2. Those Garands might have some military history attached to them as weapons used by the 77th Division in the Battle of Guam before becoming police issue.
Famous Police Officers
Not all law enforcement officers can be nationally and historically famous like J. Edgar Hoover or Jim Courtright, but they might have some regional recognition in the law enforcement community as a sheriff or a lawman who always got his man. Maybe they just have a really good story.
Other times police guns meet so many of the collecting touchstones — rarity, beauty, history, published, and condition — they are simply desirable. Period. The cased Colt Model 1877 Lightning revolver of Hartford (Conn.) Police Officer Lyman Smith is just such a gun. Smith wore his department's badge No. 1. Popular with his fellow officers and Hartford residents, Smith arrested deserters during the Civil War and thieves after that, even getting stabbed with a pitchfork during one bust. In 1888, as a detective, he won the Colt Lightning, likely donated by the Hartford-based company, as a prize of a popularity contest that was part of a fundraiser for building an armory in Hartford.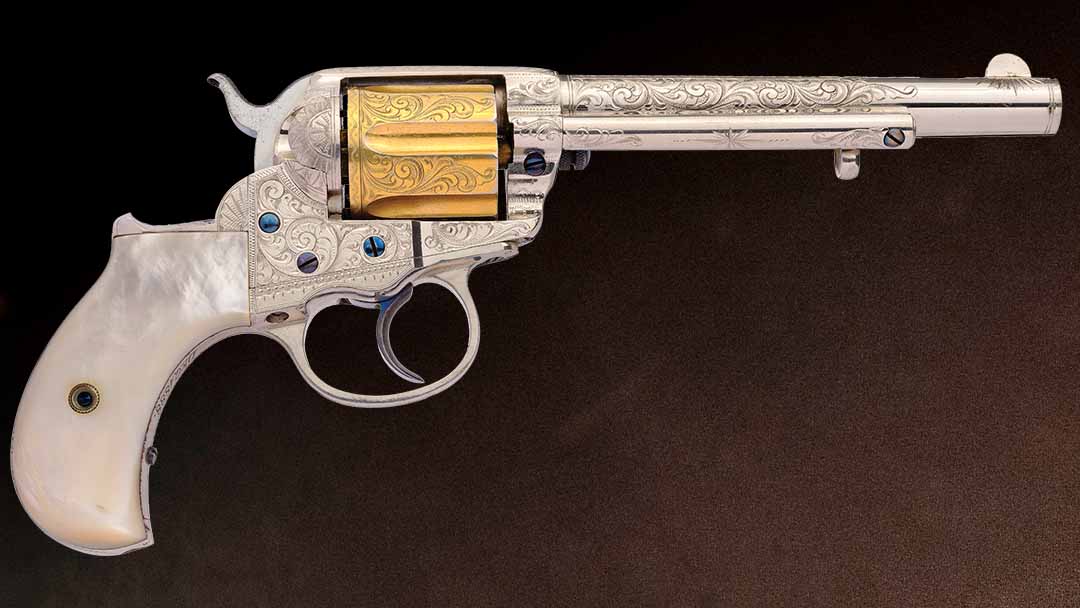 Coming to Rock Island Auction Company in the May Premier Auction is the Cased Colt Model 1877 Lightning of Lyman Smith. The stunning Cuno A. Helfricht-engraved gun was finished mostly in nickel with a gold-plated cylinder and pearl grips. It was pictured in "The Colt Engraving Book Volume 1" by R.L. Wilson and is in outstanding condition.
Police Guns for Sale
Police guns from around the world and across the United States are a draw for many collectors. Visit Rock Island Auction Company to look at these Asian, European, South American, or American police guns at the full-day preview day on Feb. 13 to see the unique markings, condition, and historical provenance. Stay around for the exciting Sporting & Collector Auction action From Feb. 14-17. There are plenty of chances to add a police gun or two in this event as well as the May Premier Auction.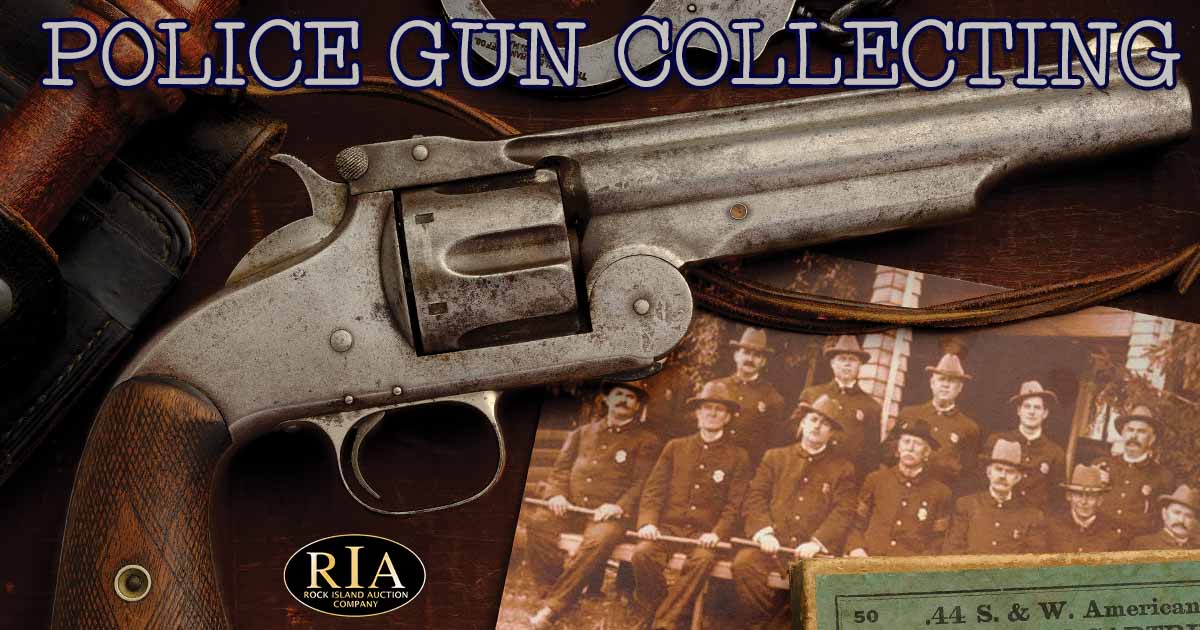 Rock Island Auction Company