Matthew Quigley continues to make an impression with Western fans around the world, and his custom Shiloh Sharps Model 1874 Long Range rifle has become one of the most celebrated guns in cinema. This iconic onscreen "Quigley Down Under" rifle, created for and carried by Tom Selleck in the film, is up for sale in Rock Island Auction Company's December 8 – 10 Premier Firearms Auction.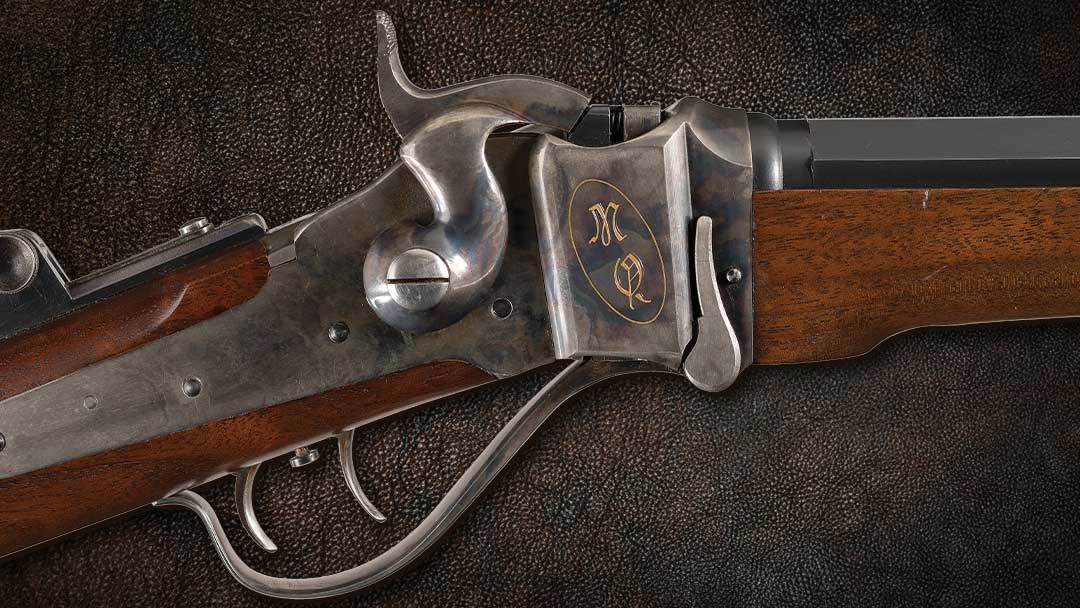 One of Tom Selleck's three onscreen Sharps Rifles from the "Quigley Down Under" film, and one of only two designed for the shooting scenes. Available this December.
Like John Wayne's Colt and Han Solo's iconic blaster, Quigley's rifle is an icon of the silver screen. The gun has often been called the co-star of the movie alongside Tom Selleck, and the history of Quigley's legendary Sharps is as intriguing as the film it starred in.
What is the "Quigley Down Under" Rifle?
In MGM's Australian Western "Quigley Down Under," Tom Selleck uses a Shiloh Sharps Model 1874 single shot falling block rifle, one of three custom guns produced for the film. An accompanying letter states that the rifle pictured below was sent to MGM Grand of Hollywood, California in 1989 in preparation for the film, and that the gun sported a smooth military-style buttplate and a special straight-grained, custom-fit American walnut stock elongated to 15 ¼-inch length of pull to accommodate the lank 6-feet, 4-inch Selleck.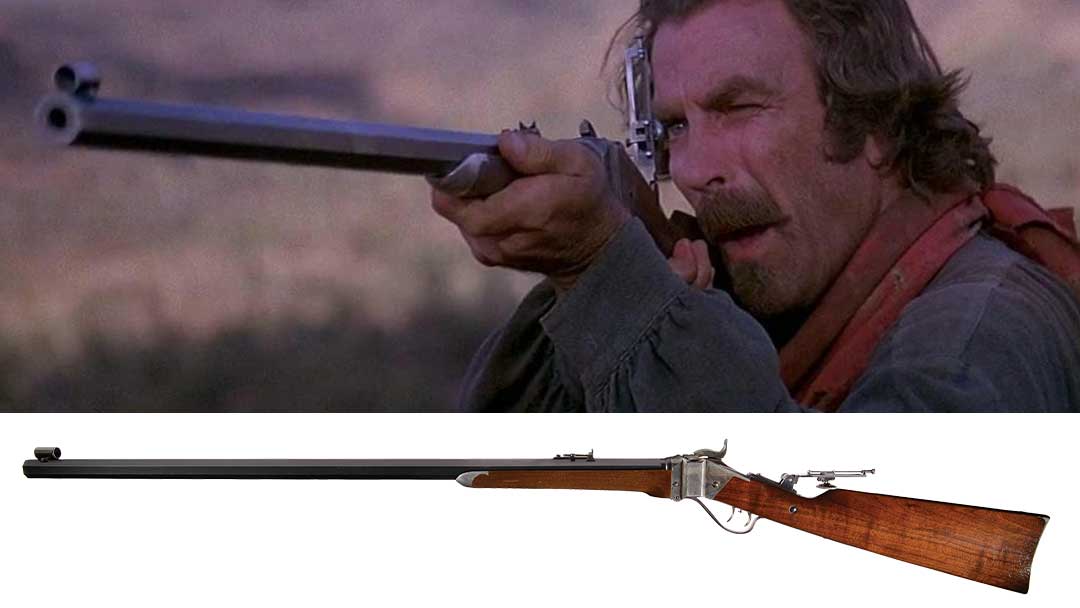 "Usual barrel length is 30 inches. This one has an extra four." Available this December.
The iconic Sharps rifle for sale at Rock Island Auction Company this December is just as Matthew Quigley described the gun in the movie, a "lever action breech loader" with a 34-inch blued octagonal barrel. The receiver is case-colored with a gold inlaid monogram "MQ" encircled on the right side of the frame, standing for Matthew Quigley.
This "experimental weapon with experimental ammunition" has a hooded post and ball front sight and a Lawrence patent notch, semi-buckhorn folding ladder rear sight as well as double set triggers and an adjustable 1,200-yard long range Vernier tang-mounted peep sight. Like the Civil War era percussion Sharps rifles, Quigley's gun also includes a custom casehardened steel patch box in the stock and a pewter-tipped forearm. The rifle also received an antiqued finish for the movie.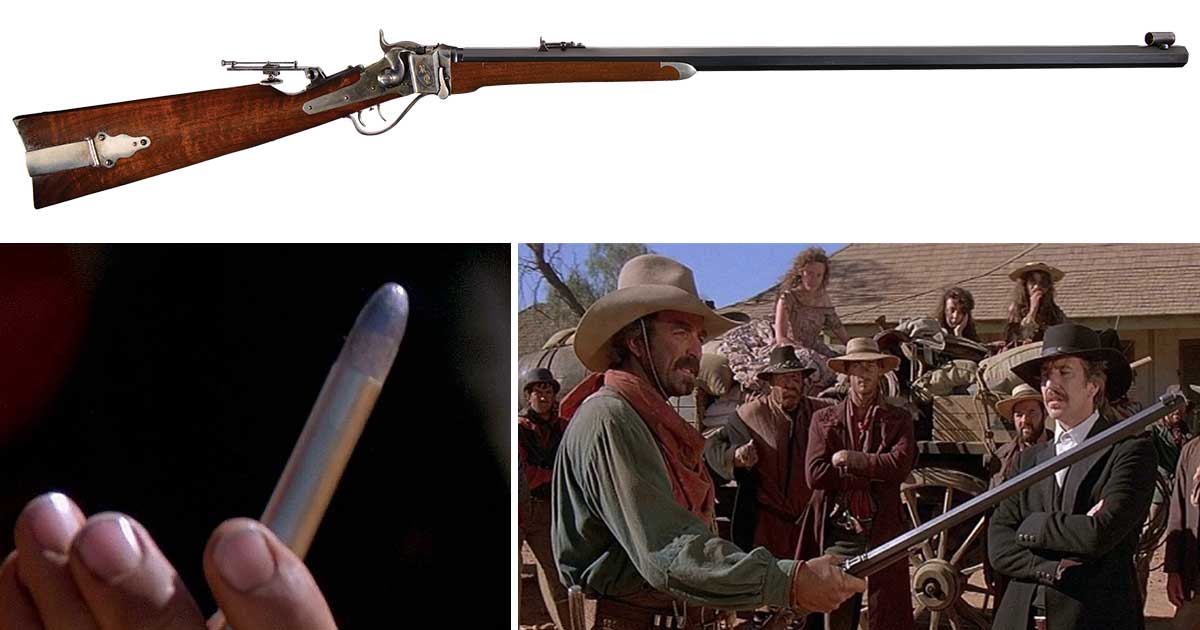 "It is converted to use a special .45 caliber, 110 grain metal cartridge with a 540 grain paper patch bullet." Available this December.
"The legendary Sharps," as Alan Rickman describes Quigley's rifle model, has a famed history as a long-range sharpshooter. In the movie, Quigley's rifle is essentially an extension of the character himself. Quigley's exceptional marksmanship with his Sharps absolutely dominates the action scenes of the film.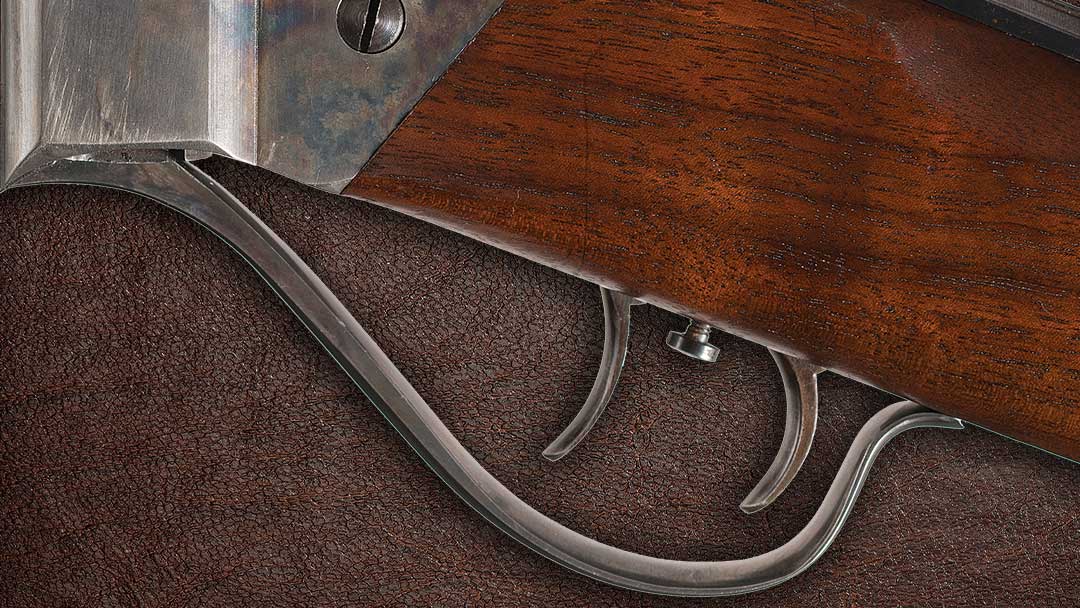 "It's fitted with double set triggers." One of Tom Selleck's onscreen Sharps Rifles from the Quigley Down Under film. Available this December.
In addition to shooting buckets at considerable distances and taking out criminals terrorizing Aboriginal Australians, Quigley's Sharps rifle also serves as a utility belt of sorts for the main character. Quigley uses the gun for much more than shooting, and the rifle's hefty weight of 12 pounds, 14.1 ounces makes it a sturdy club. At one point, Quigley uses his gun to pull himself up through a window.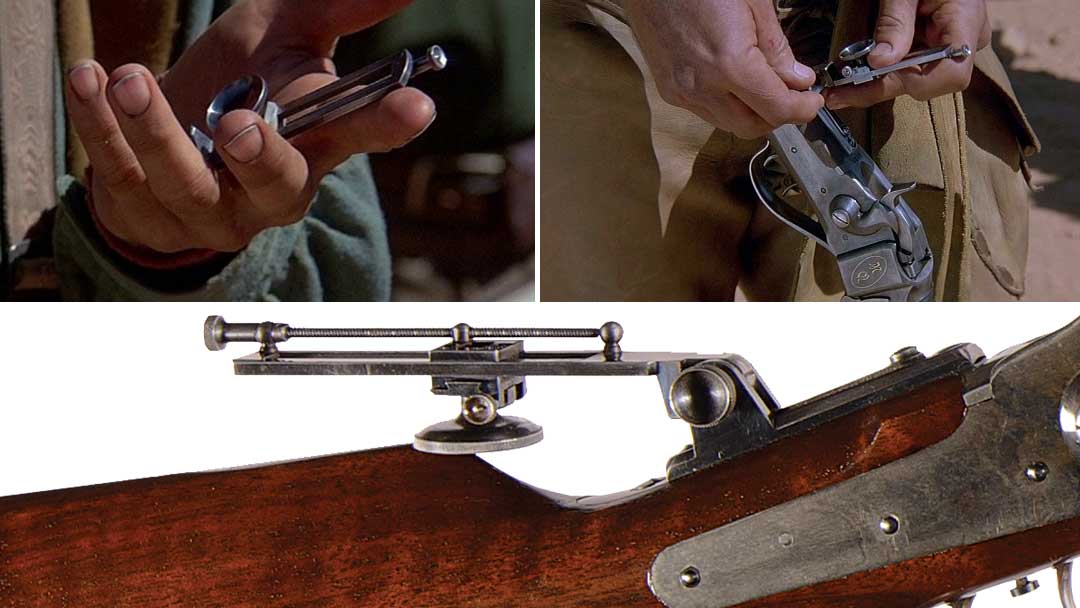 "It's marked up to 1,200 yards. This one shoots a mite further." The adjustable vernier tang-mounted peep sight on Quigley's rifle was produced for Shiloh by The Riflesmith of Sheridan, Montana. Available this December.
The Guns of "Quigley Down Under"
As far as the film's other guns go, Matthew Quigley "never had much use for" six-shooters. In contrast, Elliott Marston and his henchmen carry a variety of percussion revolvers, as well as numerous muzzle-loading rifles and carbines like the Hawken. The weapons reflect the film's premise of an Old West gunslinger in the strange yet also strikingly familiar setting of Colonial Australia. Though Quigley's rifle is the only specific gun from the film up for bid this December, many historic examples of the firearm models depicted in "Quigley Down Under" can be found at Rock Island Auction Company such as the antique Colt revolvers pictured below.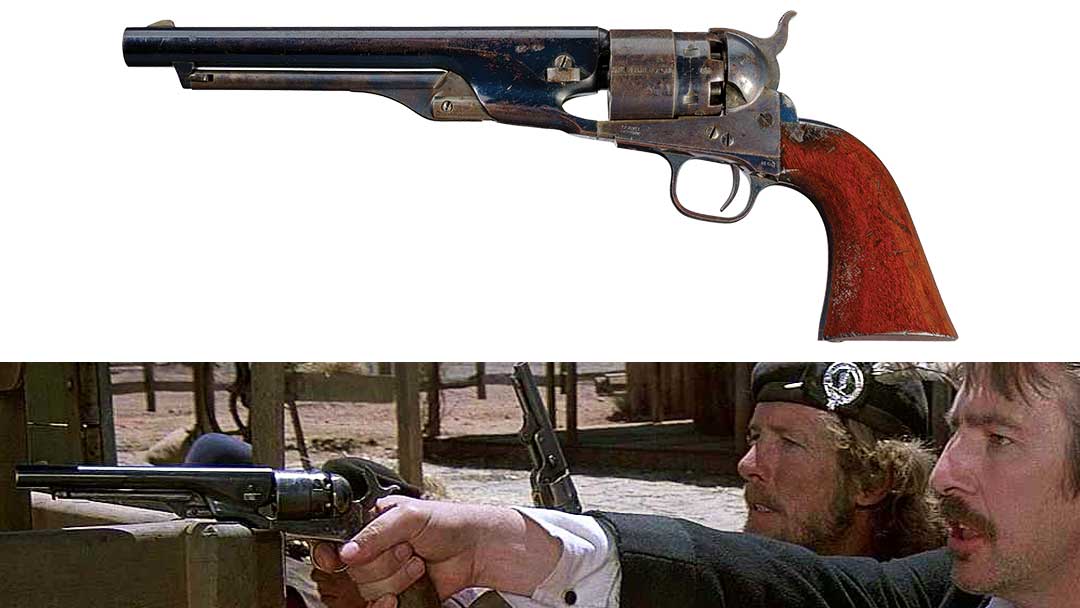 Alan Rickman totes a Colt 1861 Army revolver, but as Quigley points out, "This ain't Dodge City and you ain't Bill Hickok." Available this December.
On the guns of "Quigley Down Under," Tom Selleck stated, "I wanted the movie to be accurate. You see a film like Vera Cruz, that takes place in the 1860s, and they're using 1892 Winchesters and Colt Single-Action Armies, which were not even around then."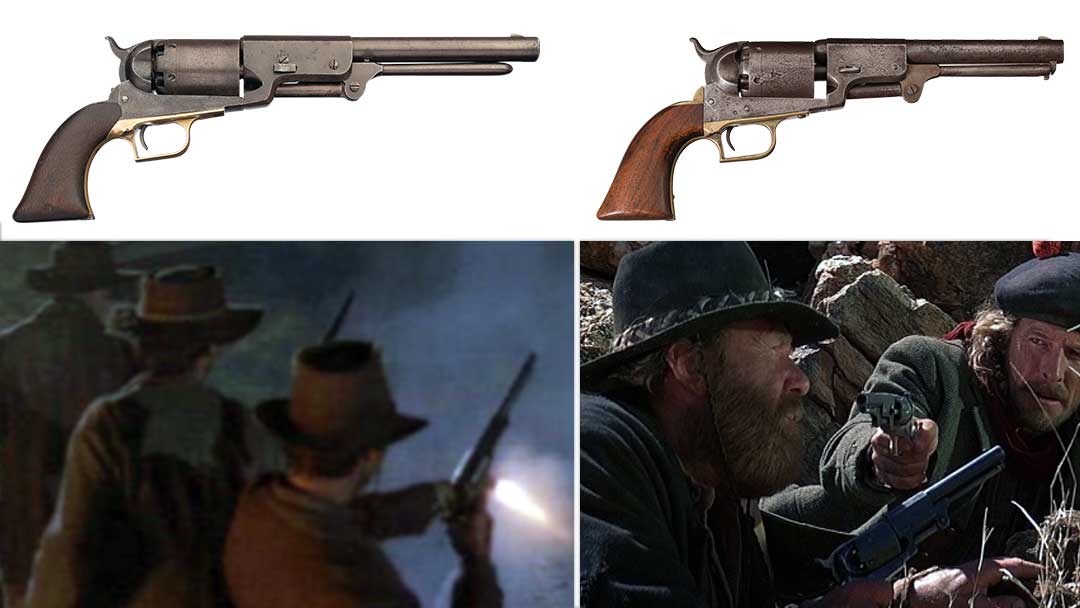 "God made man, Sam Colt made them equal, more or less." A wide range of real Wild West guns like the Colt Walker and Colt Dragoons are available in RIAC's December Premier Auction.
Veteran gun writer Phil Spangenberger advised on the film and helped steer the producers toward period-correct firearms. "I received a call from the movie's production company, asking me what type of circa 1850s-1860s percussion breechloader could shoot accurately at over 1,000 yards. I suggested it could be easily set in the early 1870s, so they could use an 1874 Sharps metallic cartridge rifle, which was actually introduced in 1871. They liked my suggestion and asked where they could obtain such rifles."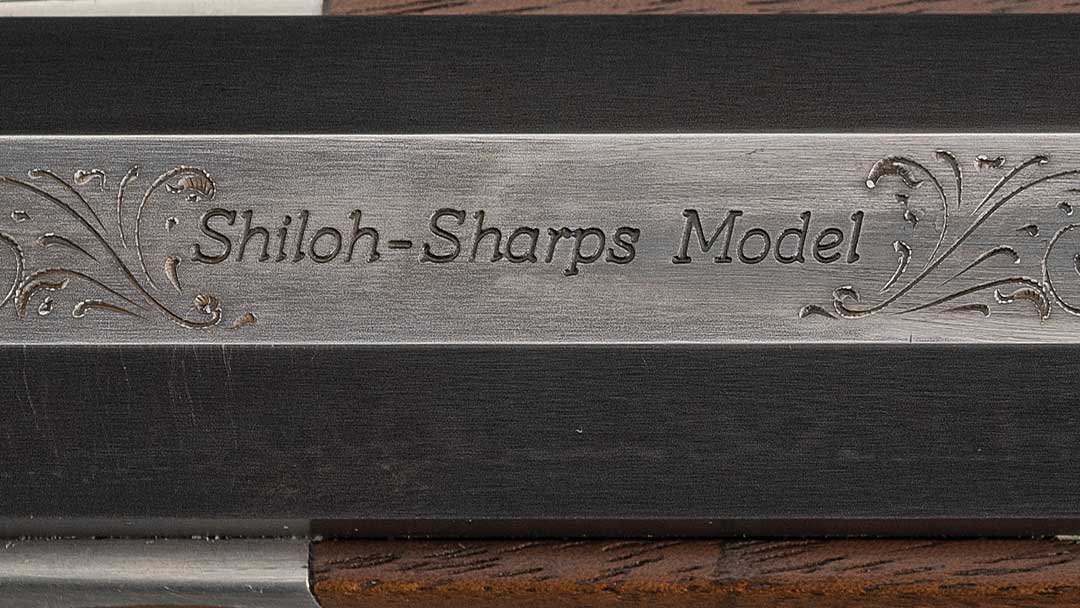 The included factory letter lists Quigley's rifle as a custom made piece produced by Shiloh Rifle Manufacturing Company in Big Timber, Montana, one of three rifles created for the film. Available this December.
The Sharps Rifle and Quigley's Gun
More than any other western, "Quigley Down Under" has been responsible for kindling popular interest in long-range shooting with black powder cartridge rifles and Sharps rifles like the special order Quigley Sharps used in the movie. While films like "True Grit" and "The Good, The Bad, and The Ugly" featured the Sharps rifle, "Quigley Down Under" made the gun a star.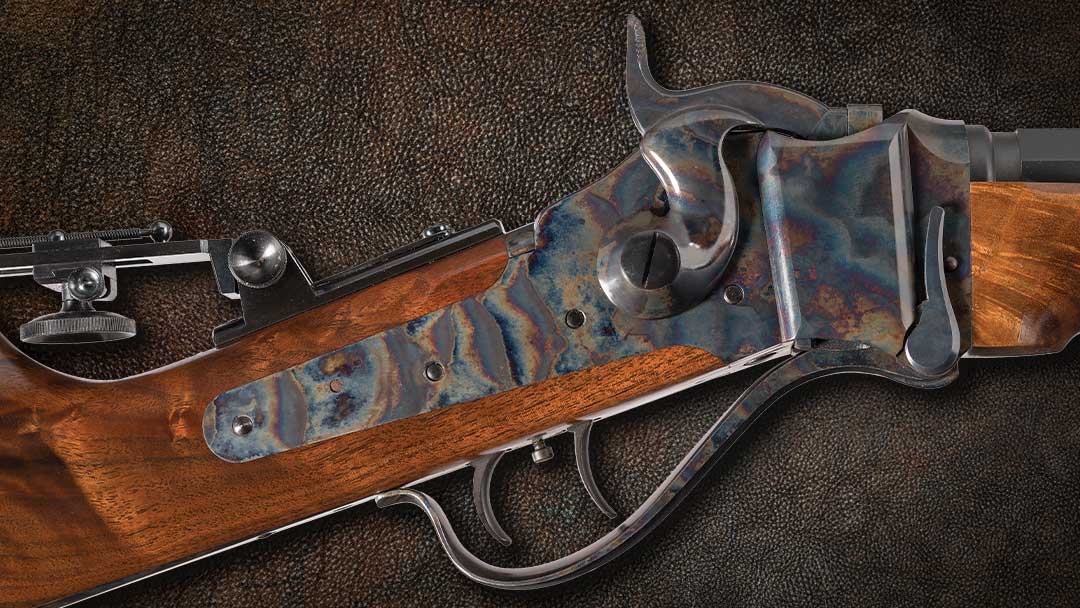 A Shiloh Sharps Model 1874 single shot falling block rifle for sale this December.
The Sharps Model 1874 traces its lineage back to Christian Sharps' patent in 1848 for a breechloading rifle. It is similar to the Sharps New Model 1859, 1863, and 1865 rifles and carbines used during the Civil War but differs primarily in being adapted for use with centerfire metallic cartridges. The updates include a simplified lock since a percussion priming system was no longer necessary and a new breechblock with a firing pin instead of a percussion nipple and flash channel.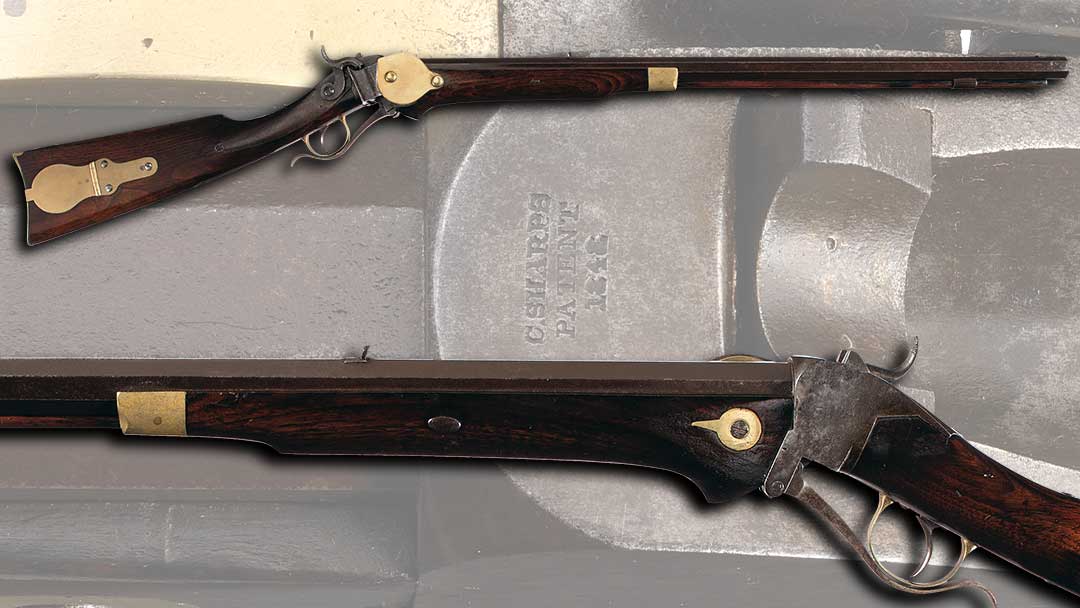 A rare Sharps Model 1849/First Model "Nippes" breechloading sporting rifle, serial number 25. Available this December.
The various Sharps rifle and carbine models manufactured from the Antebellum Era and into the late 19th century during the Indian Wars are some of the most celebrated firearms of the American frontier. From John Brown, Brigham Young, the Union's elite Berdan Sharpshooters, to the cowboys, outlaws, and gangs that roamed the Wild West, these rifles remain very popular with hunters, target shooters, and collectors today as well.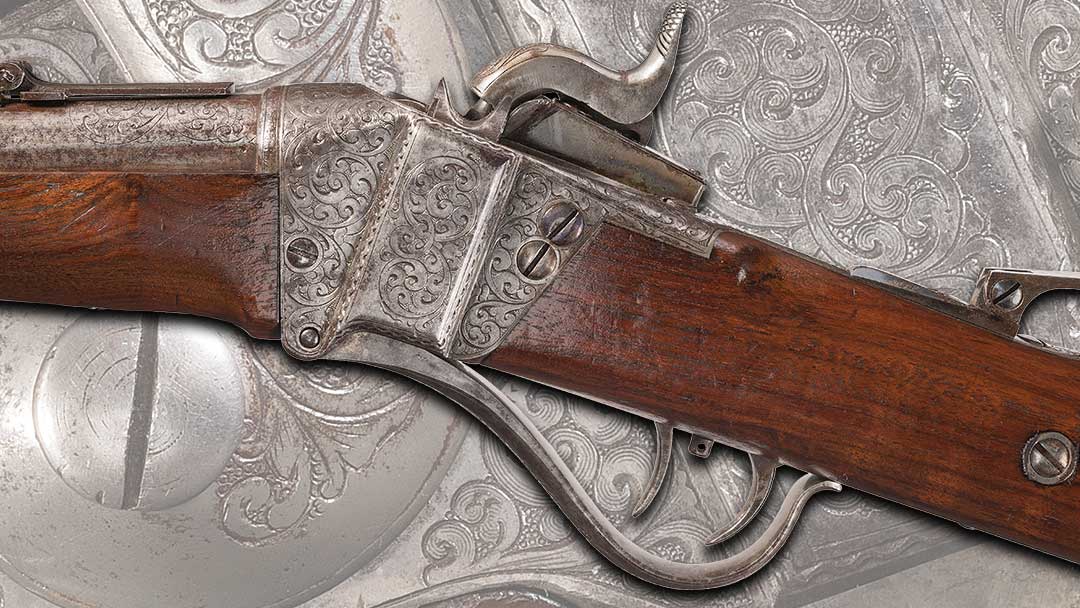 An incredibly scarce documented Sharps Model 1853 slant breech percussion sporting carbine with a factory letter. Available this December.
Christian Sharps had left the company long before the "Old Reliable" Model 1874 was debuted in 1871 (the Model 1874 moniker came later). As shown in "Quigley Down Under," the Sharps Model 1874 was favored due to its reliability, its capacity to chamber powerful cartridges, and the rifle's ability to accurately hit targets at great distances.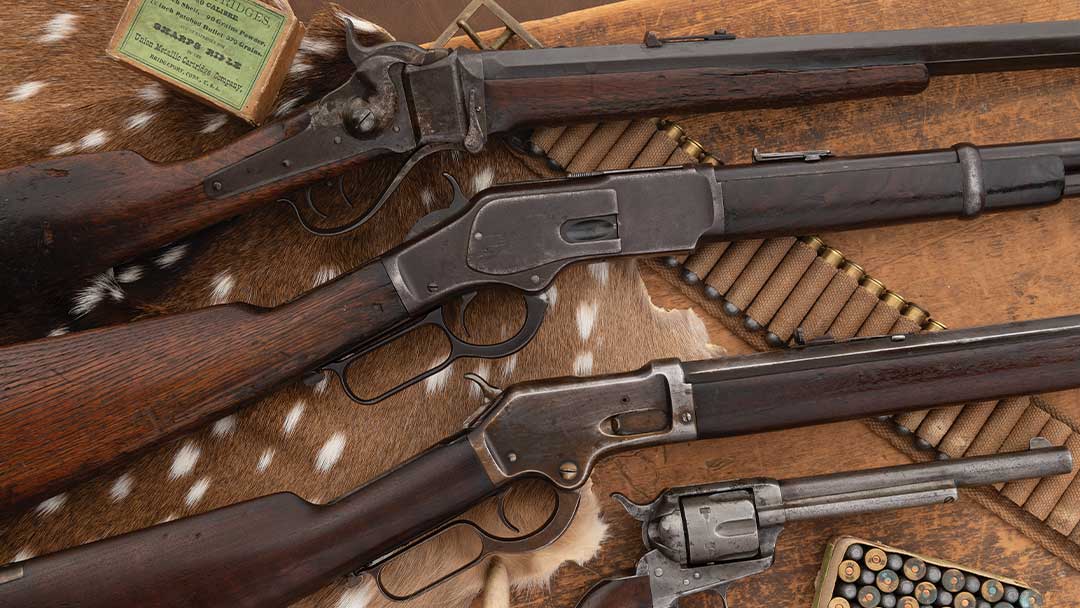 The guns that won the West. From top to bottom: A Sharps Model 1874, a Winchester Model 1873, a Colt Burgess rifle, and a Colt Frontier Six Shooter SAA. Available this December.
Sharps rifles and carbines were manufactured in a dizzying array of configurations, both official sub-models and many, many special orders. Customers could be very specific and order an array of barrel lengths, weights, calibers, sights, triggers, stock configurations, engraving, and more. This helped inspire the "Quigley Down Under" gun, a unique custom rifle that Sharps would have been more than happy to provide a Montana marksman in the 1870s.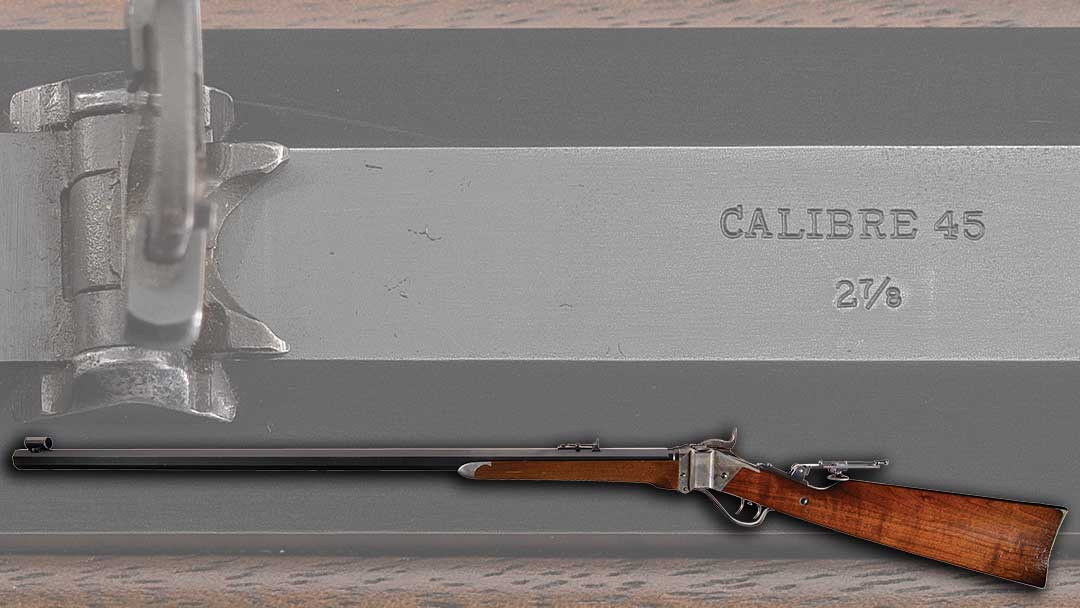 Weighing in at 12 pounds, 14.1 ounces, Tom Selleck's Shiloh Sharps, serial number 8887, was patterned after a Hartford model 1874 Sharps. Available this December.
Why Are Quigley Sharps Rifles Valuable?
More than three decades after its release, "Quigley Down Under" continues to inspire Western fans, gun collectors, and lovers of frontier firearms worldwide. The film has left a lasting impression on pop culture as a whole. Today, snipers refer to the act of killing two targets with a single bullet as a "Quigley" directly because of the movie.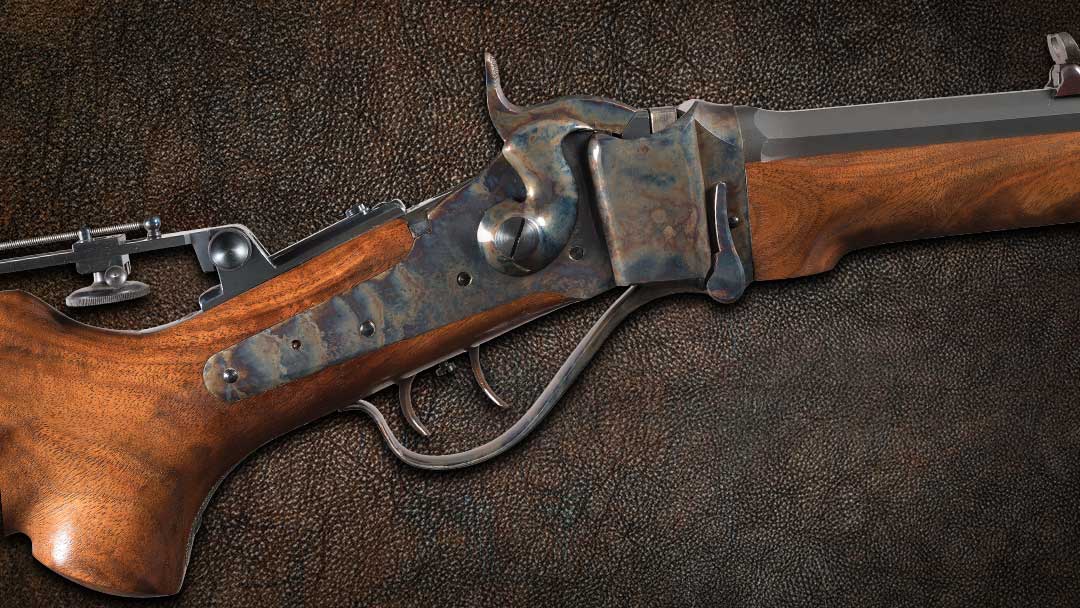 An excellent left-hand configuration Shiloh Sharps Model 1874 rifle. Available this December.
Quigley Sharps rifles are among the most popular Sharps models and configurations sold by modern gunmakers. Shiloh Rifle Manufacturing Company produces similar guns to the movie rifle dubbed the "1874 Quigley", with the option for customers to have their own initials gilded on the receiver. A. Uberti offers an "1874 Sharps Down Under" model, and Davide Pedersoli manufactures an "1874 Sharps "Q" Down Under" model.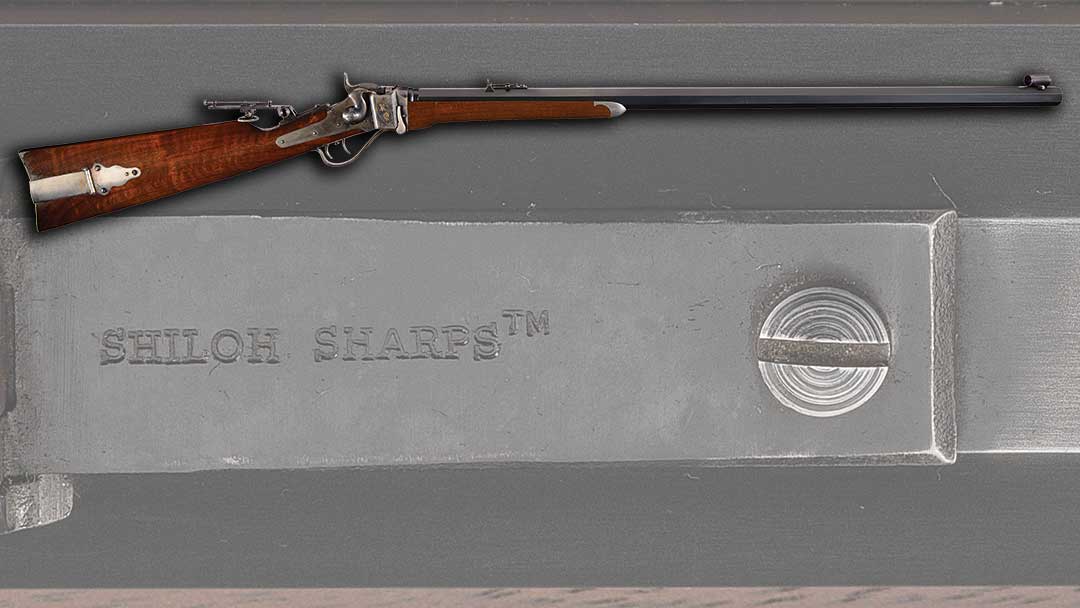 Why buy a replica Quigley gun when you can own the real thing? Available this December.
Both reproduction and antique Sharps rifles are used annually at the Matthew Quigley Buffalo Rifle Match, "the biggest rifle shooting event in Eastern Montana since the Custer Massacre." Many antique Sharps rifles are still in excellent shooting condition and are offered at Rock Island Auction Company at a range of price points. Note that any antique firearm should be inspected by a qualified gunsmith before it's loaded or fired.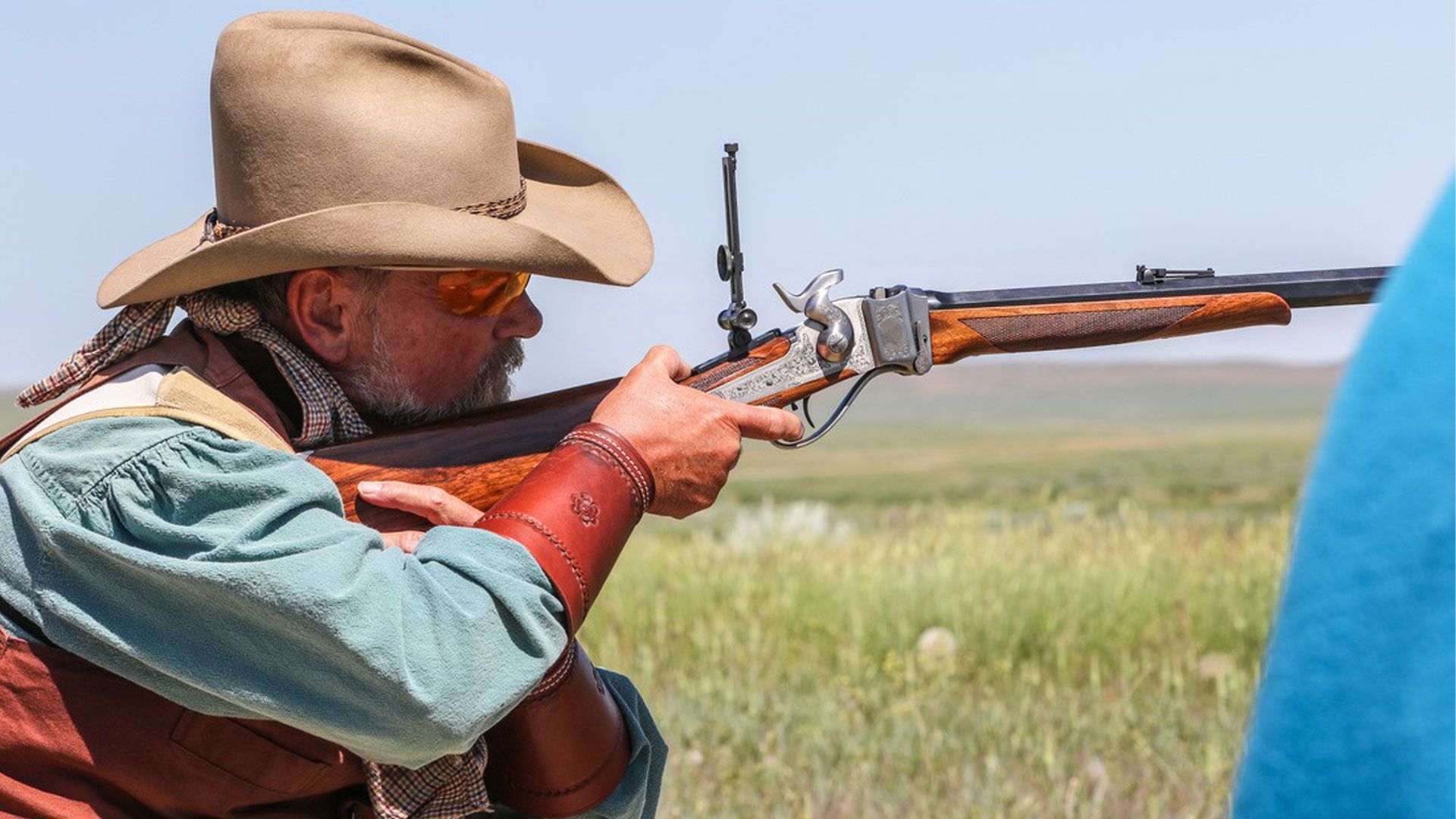 A competitor at the 2016 Matthew Quigley Buffalo Rifle Match.
Quigley's Rifle and the Guns of Hollywood
As a gun owned by and customized specifically for Tom Selleck and fired on-screen during one of his most celebrated films, Quigley's rifle checks all the right boxes when it comes to top-tier arms collecting and is a must-have gun for rare firearm collectors, Western fans, and anyone interested in owning a legendary piece of Hollywood history.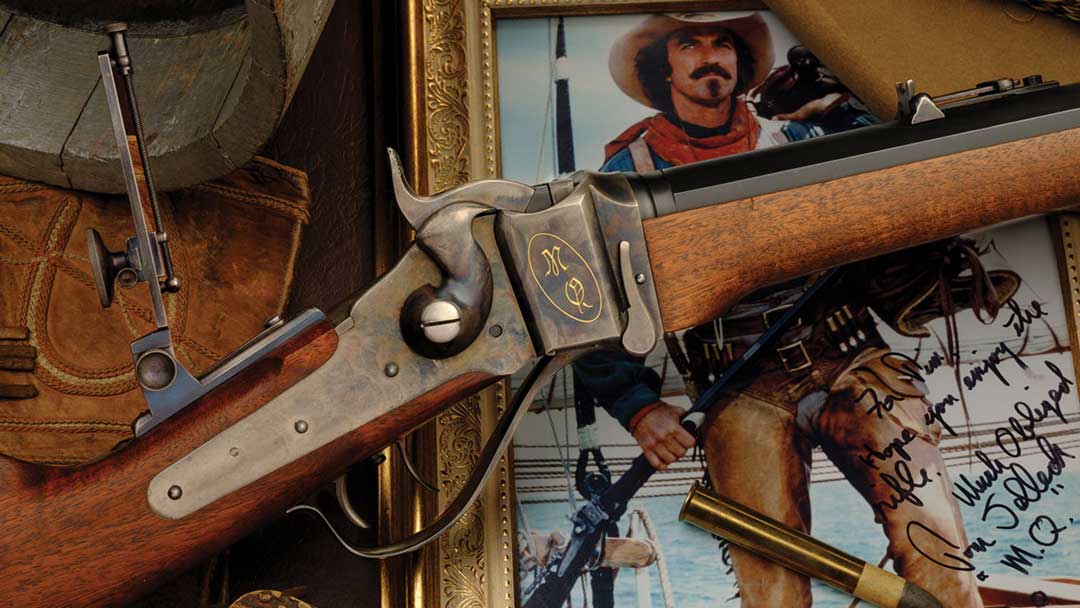 Matthew Quigley's gun is a Hollywood icon carried by the immortal Tom Selleck. Included with the rifle is a signed photo of Tom Selleck in costume as Matthew Quigley. Available this December.
The guns of "Quigley Down Under" and other popular film and television properties are hot items in the collecting community right now, as are guns owned by the legends of the silver screen. Rock Island Auction Company's December Premier, the inaugural event for its new facility in Bedford, Texas, features firearms from cinema icons such as Gary Cooper, Jerry Lewis, Sammy Davis Jr., and the "King of the Cowboys" Tom Mix, as well as a special trio of pistols from Tom Selleck's personal collection.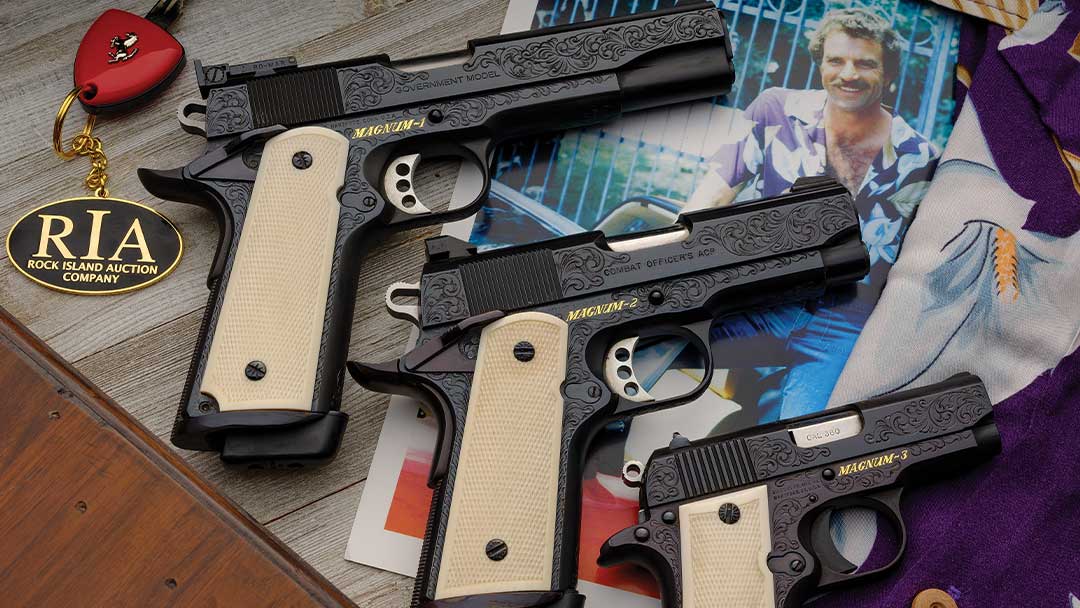 While Quigley didn't have much use for pistols, Thomas Magnum certainly did. A three-gun set made for Selleck from the Colt Custom Shop will be available in December. Available this December.
Pop culture and arms collecting have always gone hand in hand, so check out the weekly Rock Island Auction newsletter to receive new gun blogs and gun videos on some of your favorite Hollywood-featured gun models. From classic movies such as Winchester 73, Indiana Jones, and Star Wars, to more recent productions like John Wick, Tomb Raider, Peaky Blinders, the Walking Dead, Bass Reeves, and Yellowstone and its prequels, we explore the most popular and intriguing guns of Hollywood.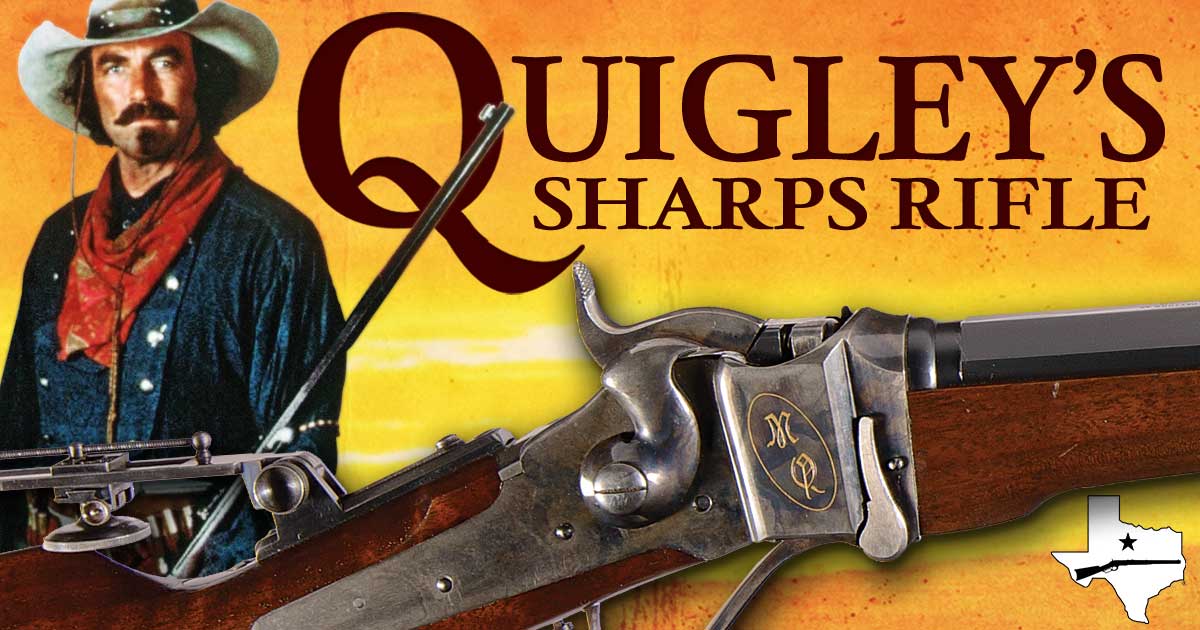 Rock Island Auction Company