When it comes to rare gun collecting, early serial numbers are viewed as particularly desirable, and there's nothing more singular than a serial number 1.  There's a clear appeal in owning the first gun of its kind, whether it's a firearm that set the standard for a popular production run or the initial gun in an experimental class that never took off.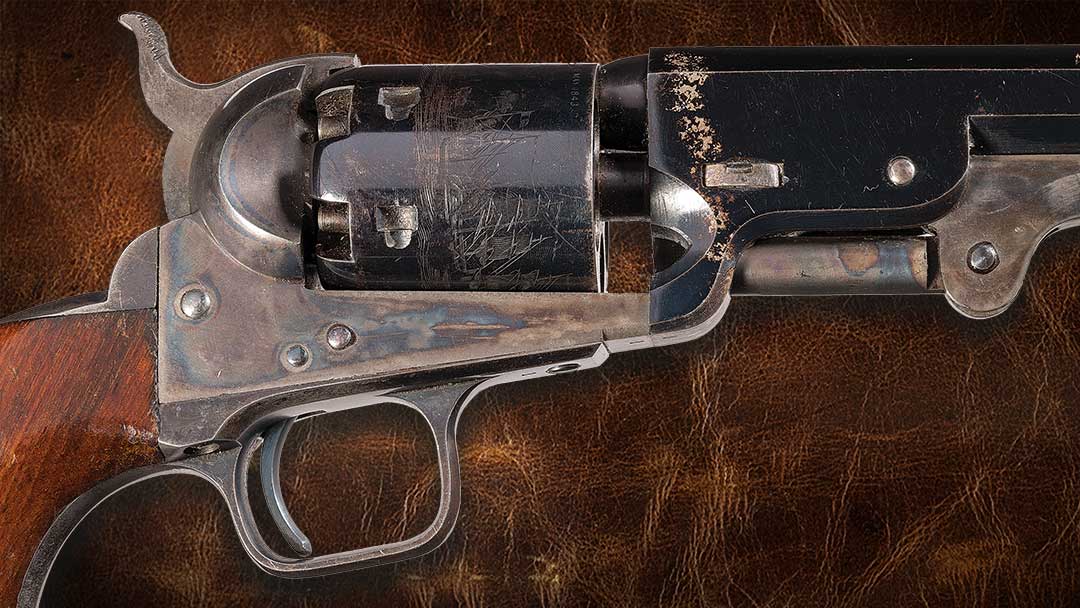 An exceptionally fine, Colt Model 1851 Navy experimental prototype .40 caliber percussion revolver, serial number 1, one of the rarest guns in Colt collecting.
A compelling variety of serial number 1 guns are up for sale in Rock Island Auction Company's December 9-11 Premier Firearms Auction. Some of these rare guns have been featured in books and museums. Many also hail from the gun collection of Jim Supica, who specialized in collecting serial number 1 guns from every genre he could find. The examples highlighted below range in value and cater to every level of gun collecting, so if you're looking to own a rare gun with a unique story to tell, December's selection will not disappoint.
Rare Revolvers
When it comes to rare gun collecting, a .40 caliber Colt Model 1851 Navy prototype is going to turn heads. The Colt Navy was a popular .36 caliber revolver, but it didn't deliver the stopping power of its Dragoon predecessor. Before Samuel Colt developed the Model 1860 Army revolver, he experimented with four .40 caliber prototype revolvers on the 1851 Navy frame. Noted Colt historian R.L. Wilson states that this high condition, .40 caliber Colt Model 1851 Navy "is rarer than any other model" and "one of the most interesting Colt percussion firearms known. Its excellence of condition, pedigree, documentation, and combination of rare features make it a 19th-century firearms artifact well worthy of the finest private or museum collection."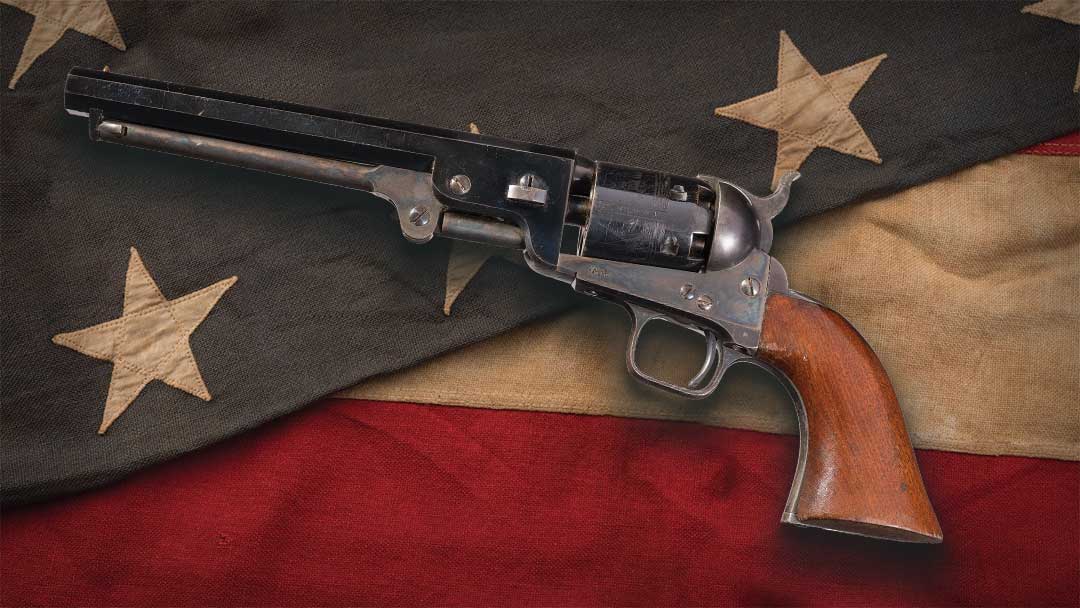 An extremely rare, historic, well-documented Colt Model 1851 Navy experimental prototype .40 caliber percussion revolver, serial number 1, formerly of the Colt Factory Museum Collection. Matching serial number 1 markings are visible on the loading lever, cylinder, barrel, frame, trigger guard, and back strap.
An early competitor to the Colt SAA, the Smith & Wesson First Model Schofield revolver was introduced in 1875 as an improvement to the No. 3 American. These big iron, .45 caliber revolvers became popular across the American frontier for their fast reload and found a market with outlaws like the notorious Jesse James. With a production run of only 3,000, the Schofield First Model revolver is already among the rarest guns of the Wild West. Offered below is the first production gun, Smith & Wesson Schofield serial number 1, an award-winning piece that has been featured in numerous books, museums, and television segments.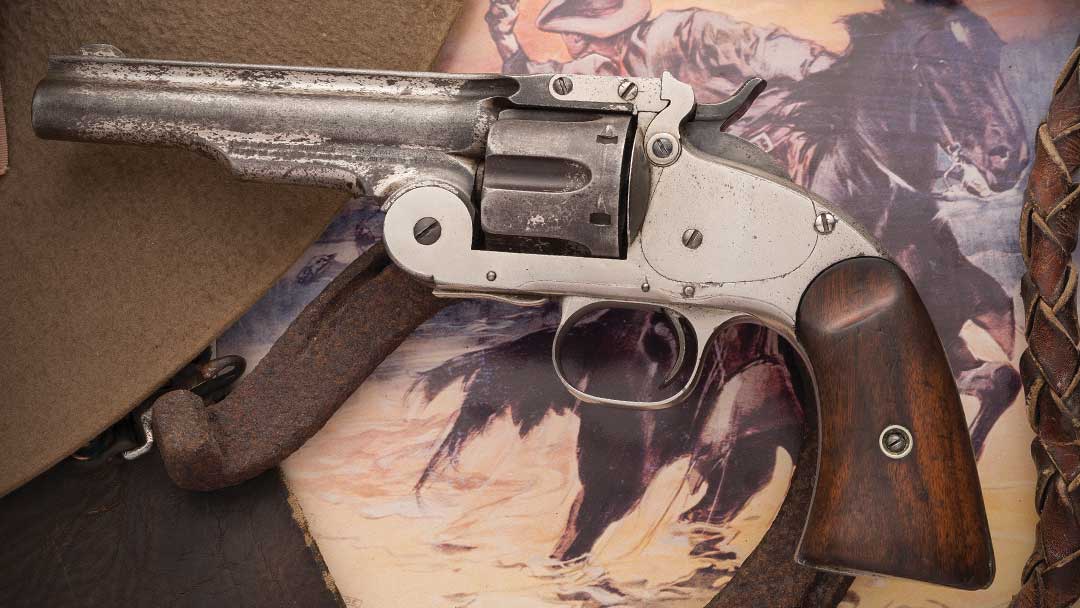 An NRA Silver Medal award-winning, serial number 1 Smith & Wesson U.S./Wells Fargo First Model Schofield single action revolver, a truly rare gun from a legendary lineage. As the first production gun, this Schofield almost certainly saw military service during the Indian Wars before finding its way into civilian service with the famed Western express and banking enterprise Wells Fargo.
Introduced in 1878, the Smith & Wesson New Model No. 3 became a hit around the globe, garnering praise from American legends Theodore Roosevelt and "Buffalo Bill" Cody and finding success with champion shooters such as Ira Payne and Walter Winans. But while most New Model No. 3 revolvers were chambered in .44 S&W Russian, a scant 74 were produced in .38-40 Winchester. A legendary gun in a scarce chambering is already a head-turner, and serial number 1 in that production line becomes an instant gun collection must have for a determined revolver collector.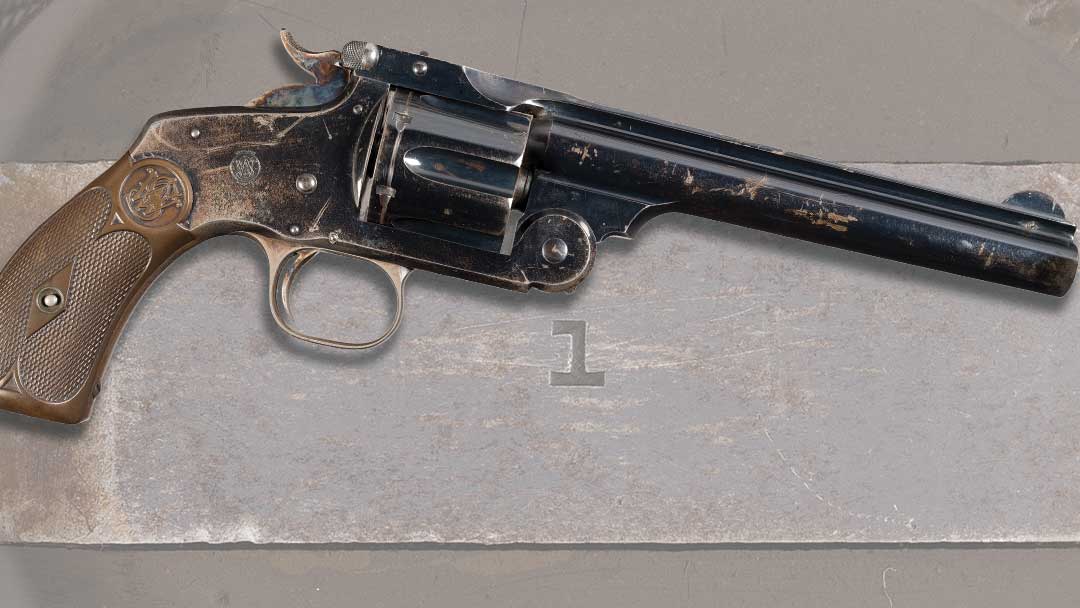 Serial number 1 Smith & Wesson New Model No. 3 in .38-40 Winchester, an ultra-rare gun for any collection. Matching serial number 1 markings appear on the butt, cylinder, barrel, and barrel latch.
Jumping ahead a century with another rare gun, we have the first revolver ever manufactured by Charter Arms. In an included letter, Charter Arms founder Douglas. S. McClenahan states that he built this revolver in July of 1965 after he left Sturm, Ruger, and Co. This rare revolver is the first of fifty pilot-run pistols used to start the company. The revolver features near full coverage floral scroll engraving with "DESIGNED BY DOUGLAS S. McCLENAHAN" inscribed on the backstrap. Gold inlays include a band at the muzzle, gold inlaid scroll accents, dots on the frame and cylinder, "#1" on the front of the right side of the frame, and band at the rear of the cylinder. The engraving and inlay were executed in 1966 by Colt Master Engraver Al Herbert.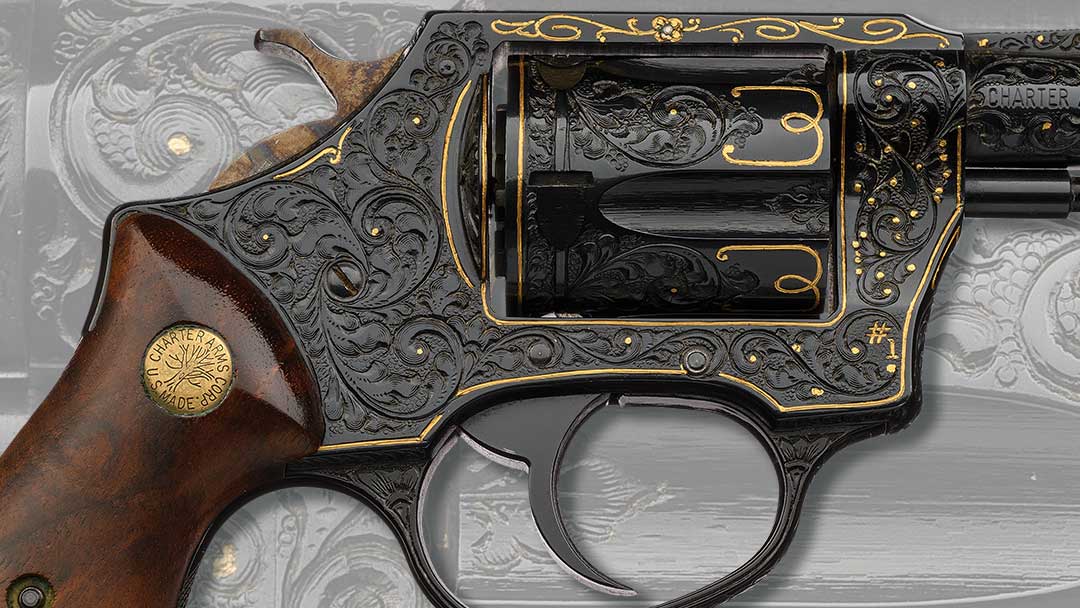 Serial number 1 Al Herbert engraved and gold inlaid Charter Arms Undercover DA revolver, Jim Supica's first serial number 1 gun.
Rare Rifles
There are rare guns, and there are ultra-rare prototypes with single-digit production numbers. The Pedersen Model GX self-loading prototype rifle was chambered for the .30-06 Springfield cartridge and intended to compete with the legendary M1 Garand. Celebrity gun inventor John C. Pedersen created several rifle concepts leading up to the adoption of the M1 Garand rifle and continued to refine and improve his prototypes in the years to follow, hoping to win over the U.S. Ordnance Department by addressing perceived flaws in the Garand's design.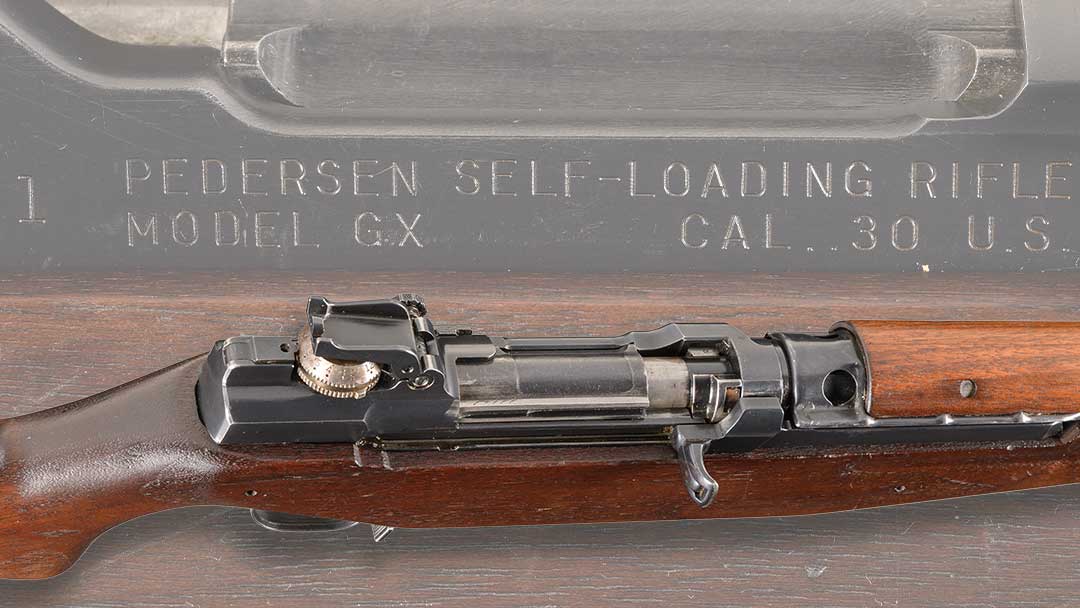 The serial number 1 prototype Pedersen Model GX self-loading rifle, one of the rarest guns in the military arms collecting pursuit.
In his book, 'The M1 Garand Rifle', author Bruce Canfield states that John Pedersen developed the GX rifle circa 1939 and submitted the rifle to Springfield Armory for testing in 1943. Below is the first Pedersen Model GX rifle, a rare gun collecting treasure of the highest order.
The Sharps rifle is a legendary frontier gun, and this serial number 1, Second Type Model 1870 Sharps rifle is the first of a rare production run of 300. After the Civil War, the U.S. military assembled a small number of Second Type Sharps as they searched for a metallic cartridge, breech-loading rifle design to replace the percussion muzzle-loaders of the 1860s. Eventually, the Springfield rifle won out, but the Sharps continued to see heavy use in the American West. The Second Type Model 1870 rifles helped pave the way for the Sharps Model 1874, which famously appeared in 'True Grit' and 'Quigley Down Under.'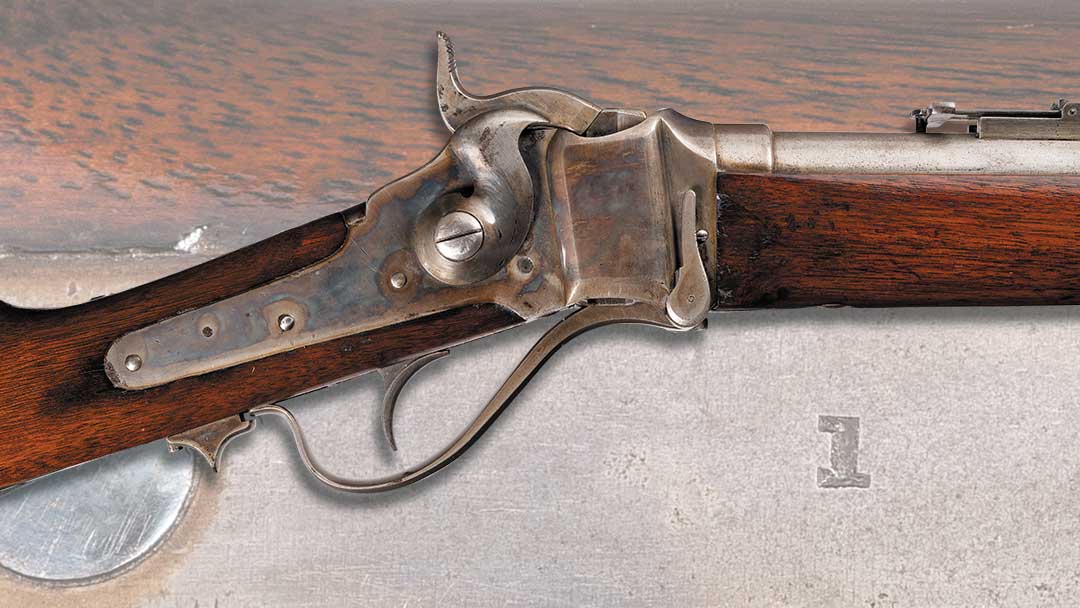 A stunning serial number 1 example of a U.S. Springfield-Sharps Second Type Model 1870 rifle.
Rare Carbines
Firearms advancement ran rampant in the mid-19th-century, and these experiments in innovation often resulted in some of the most distinct and rarest gun designs around. Gun inventor Parry W. Porter's turret carbine certainly looks the part. Upon studying this Third Model P.W. Porter percussion turret carbine from the Jim Supica Collection, firearms author George Moller stated, "You may want to tell Jim that his Porter rifle is identical to one of mine. The serial number of his is '1' and mine is '9'. I think these two are survivors of the ten Porter rifles purchased by the Ordnance Department in the late 1850s. They were sent to the San Antonio Ordnance Depot, then disappeared from government records following the outbreak of the Civil War."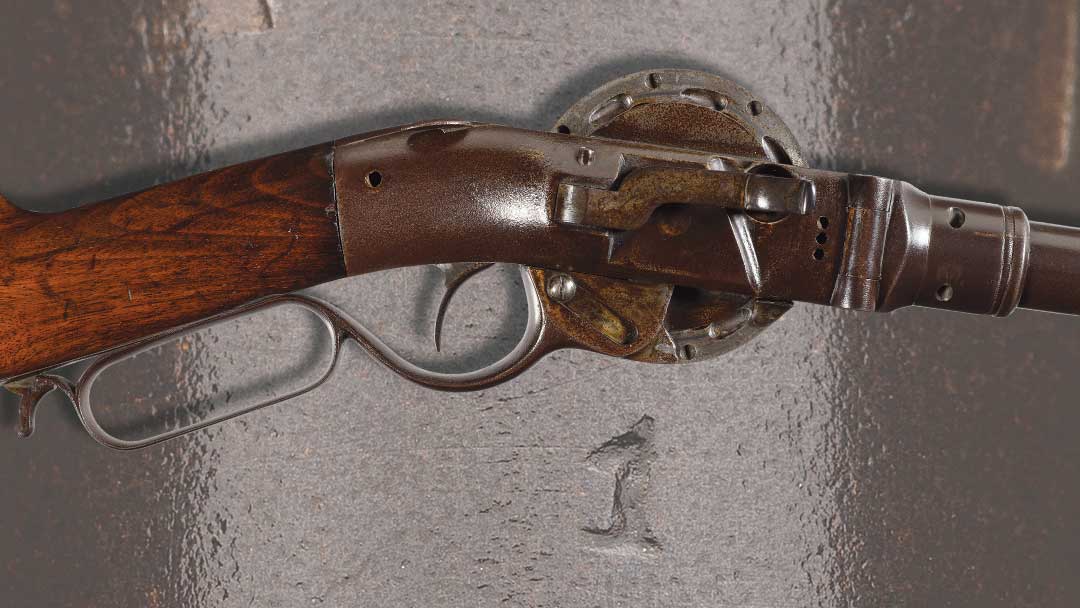 A well-documented Serial Number 1 Third Model P.W. Porter percussion turret carbine. Serial number 1 is marked on the bottom of the barrel, frame, removable cylinder, and other componentry.
Manufactured circa 1958-1962, the Dardick 1500 uses a novel combination of a fixed in-grip magazine, an open-sided auto-ejecting three-chamber cylinder, and a proprietary plastic-cased triangular cartridge dubbed the "tround." The resulting weapon sits somewhere between the pistol and revolver in terms of attributes, while also bringing in some novel features like a capability for near-instant caliber changes and an option for rapid conversion to a stocked carbine, as illustrated by the first production carbine conversion model below.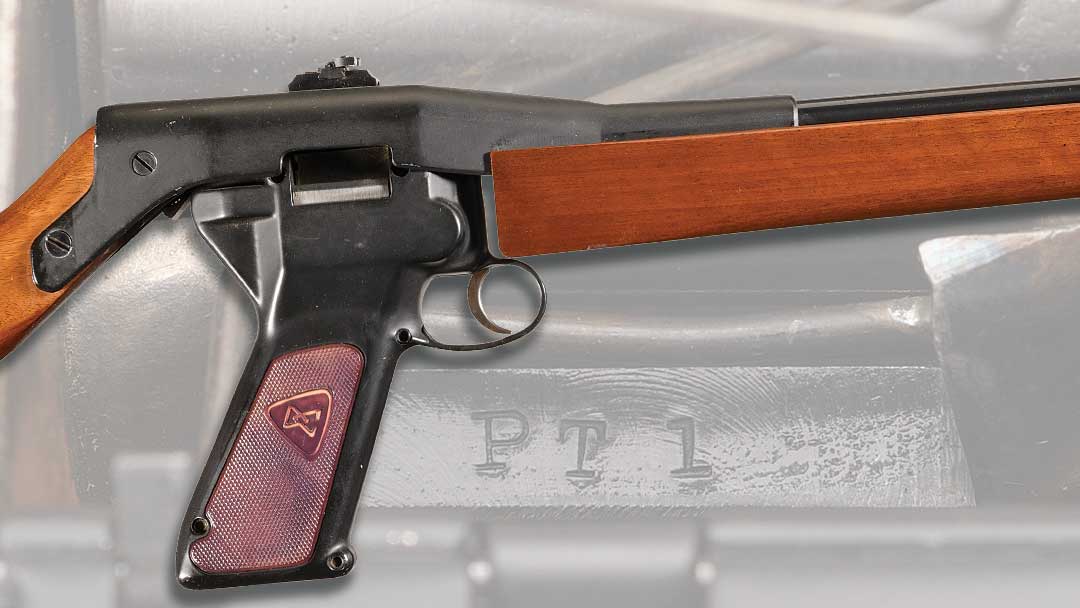 Serial number PT1 can be seen inside the grip behind the follower. Surviving Dardick 1500 autoloading revolvers are sought-after pieces in the rare gun collecting field, and the carbine conversion units are even more scarce.
Rare European Military Arms
In the early 1960s, the Soviets supplied the Egyptian government with both the training and machinery needed to assemble the AKM rifle, a semi-automatic variant of the classic AK-47 automatic infantry rifle. Factory 54 was constructed in Cairo, where the Maadi Company for Engineering Industries began pairing AKM components with laminated wood furniture to create some of the finest AKMs in the world. In 1982, Steyr started importing Maidi ARMs into the United States, and the Egyptian rifles were featured on screen two years later in MGM's famous WW3 cult classic, 'Red Dawn.'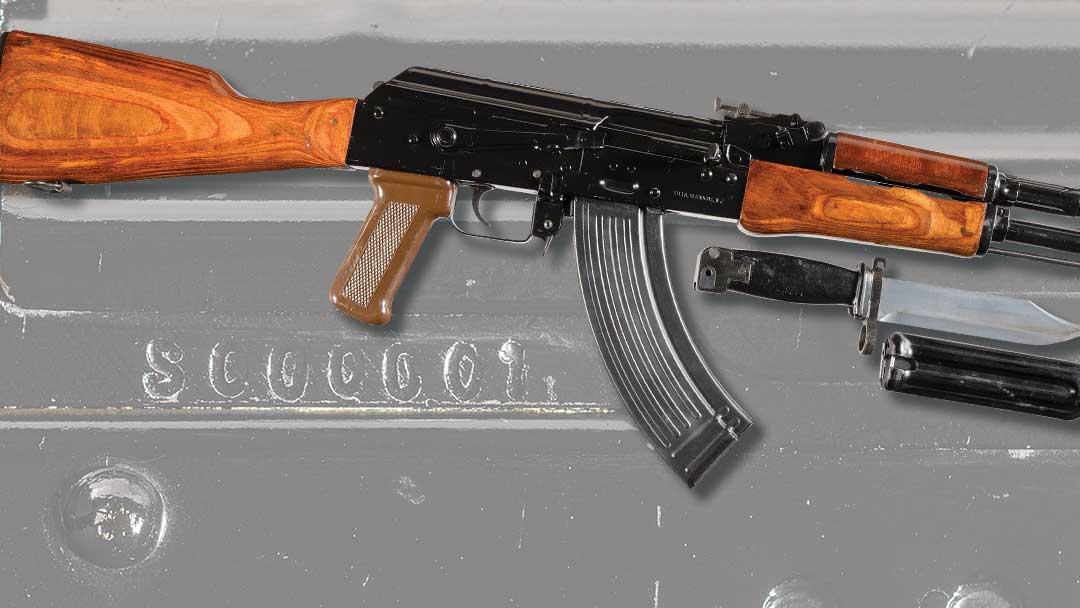 A pre-ban Maadi/Steyr ARM rifle, serial number S000001, in excellent condition.
The Polish Army tested a number of prototype pistols in the 1930s developed by engineers Piotr Wilniewczyc and Jan Skrzypiński. The resulting Vis 35 pistol went into production in 1935 at the Fabryka Broni (arms factory) in Radom and was officially adopted by the Polish Army one year later. After the Nazis invaded Poland in 1939, German occupation forces grew to appreciate the accuracy and reliability of the Polish pistol. Production was resumed under the name 'P35' and the pistol was equipped to German paratroopers and military police. Surviving German occupation Radom Vis 35 pistols are already rare guns, so this first production pistol is an especially intriguing find.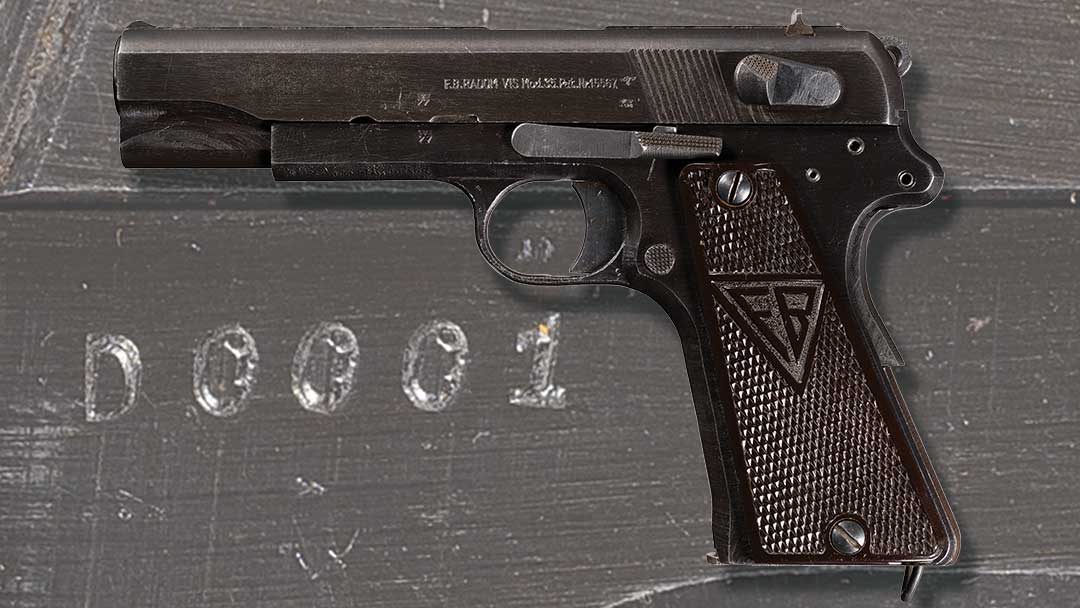 Unique serial number D0001 WW2 German occupation Radom Vis 35 semi-automatic pistol with holster.
While the Mosin-Nagant is far from the rarest gun genre, notable examples like this serial number "A000001" Chinese Type 53 pre-production trial carbine are highly valued by the gun collecting community. This rifle's authenticity is confirmed by an accompanying letter from Navy Arms President Val Forgett, and another letter from historian Lin Xu which states, "It should be one of the very first pre-production rifles off the production line. The Chinese letter at the end of the serial number means 'Trial' or 'Test'. Prefix letter 'A' is a Russian style numbering on early products."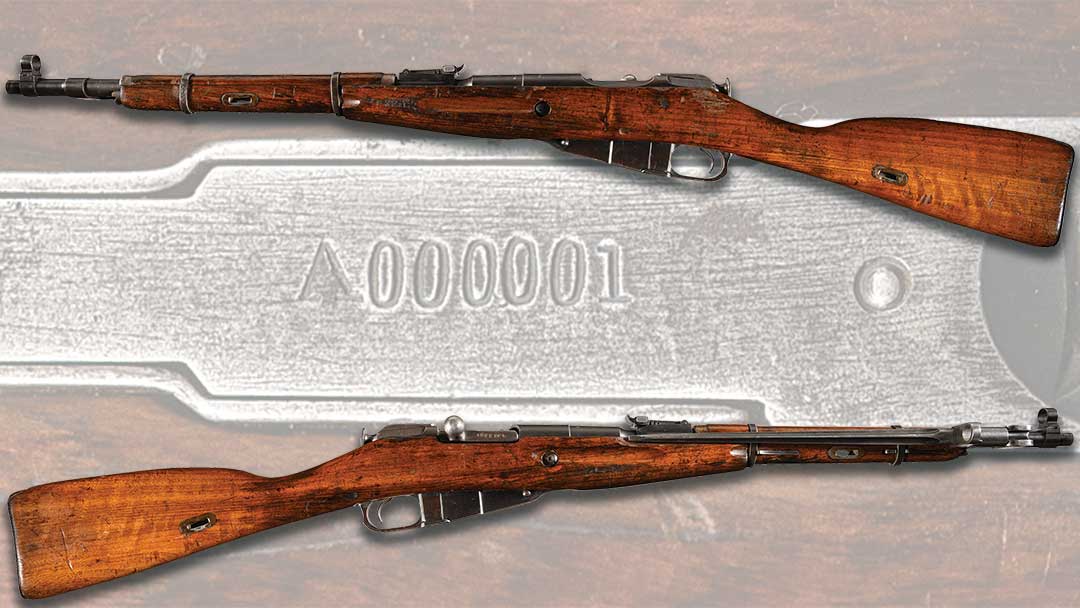 Pre-production serial number 1 factory 296 Chinese Type 53 Mosin-Nagant trial carbine with bayonet.
A battle-proven gun design and a Cold War classic, the SKS rifle in 7.62 mm is a favorite for many shooters and gun collectors around the world. Originally designed in the Soviet Union by Sergei Gavrilovich Simonov as a replacement for the Mosin-Nagant in 1945, the Chinese would adopt the weapon in the mid-1950s and begin producing millions of SKS rifles for the next two decades. The Norinco Type 56 SKS rifle was sold to numerous countries in Asia, including Korea and Vietnam.  As the first production gun in such a long-running and influential line of semiautomatic rifles, the Norinco SKS semi-automatic, serial number 001 holds broad appeal for any serious military collector.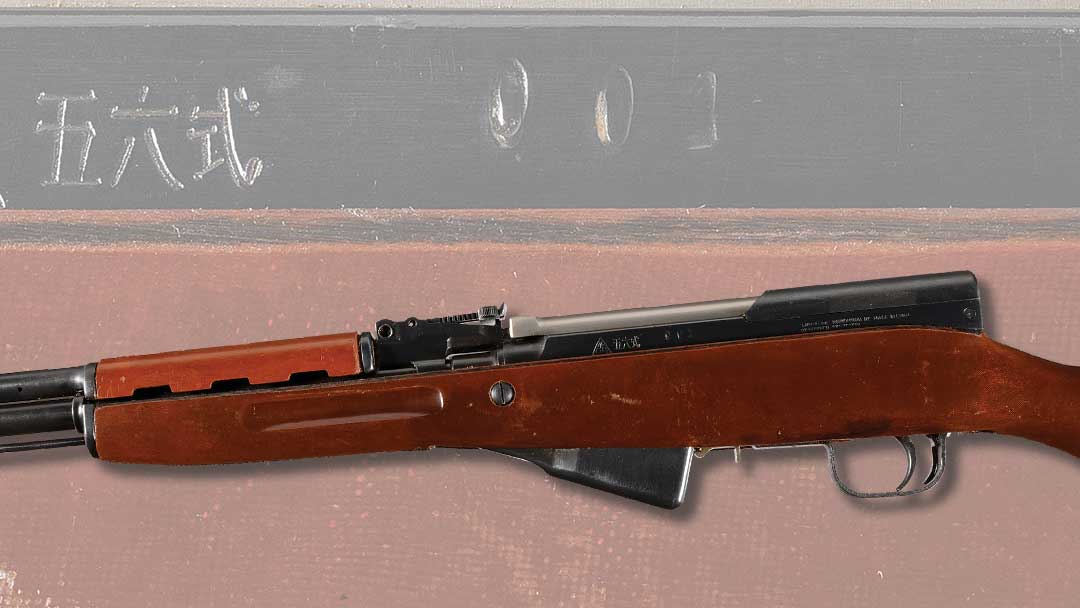 Norinco SKS semiautomatic rifle, serial number 001.
Rare Marlins
Released in 1923, the Marlin Model 37 slide action rifle was the spiritual successor to the Marlin Model 20. The Model 37 was the last Marlin pump action .22 rifle and a true working gun. As Marlin's 1924 catalog states, "Everybody needs a .22 Repeater – the universal rifle – for rabbits, squirrels, hawks, crows, foxes, and all small game and target requirements." With only around 12,000 rifles produced during the Model 37's ten-year production run, this rare gun model has become a collecting favorite, and serial number 1 represents an important piece of Marlin's pump action legacy.
A Marlin Model 37 slide action rifle, with the desirable serial number 1 marked on the lower tang.
Before turning his attention to the lever action rifles that would later define his brand, John Marlin produced several types of derringers, single shot pistols, and revolvers in a tiny shop in Hartford, Connecticut. Around 19,500 No. 32 Standard 1875 revolvers were manufactured by Marlin between 1875 to 1887, and offered here is the first production revolver of this model, serial number 1. The revolver was on display at the NRA National Sporting Arms Museum from 2013-2022 and is pictured in the book 'Guns of the NRA National Sporting Arms Museum' on page 200.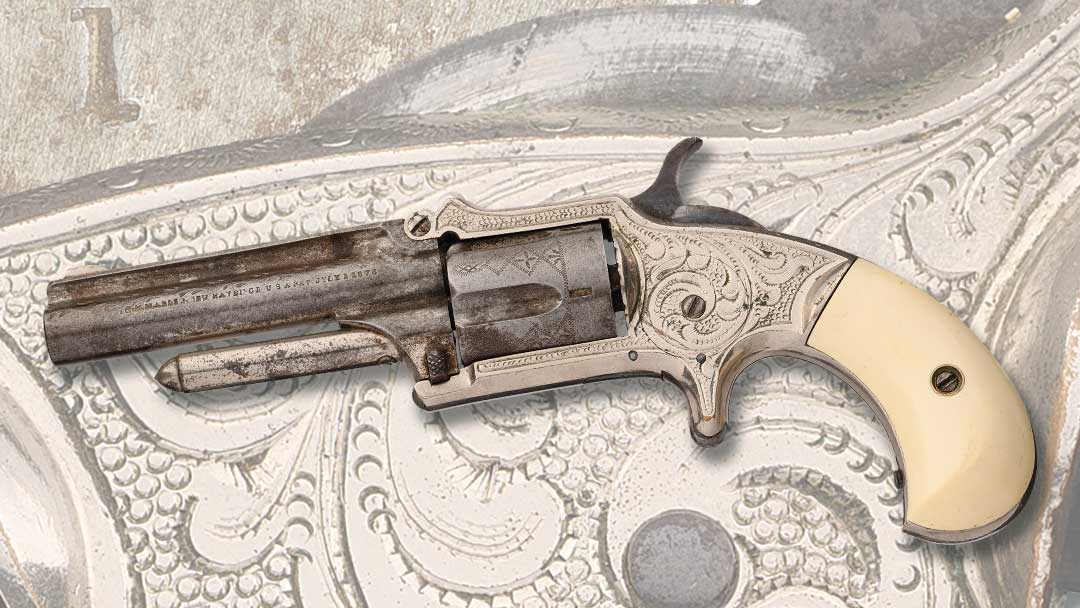 Handguns were John Marlin's main source of livelihood during the early days of his career, like this rare gun, a factory-engraved Marlin No. 32 standard 1875 revolver, serial number 1.
Rarest Guns: Serial Number 1
From experimental models to popular mainstays, each serial number 1 gun holds an important place in firearms history. The first production gun represents the foundation of a legacy, a new model emerging from the blueprints and being accepted as the cornerstone for an entire line to follow or an experiment in arms innovation cut short of its full potential.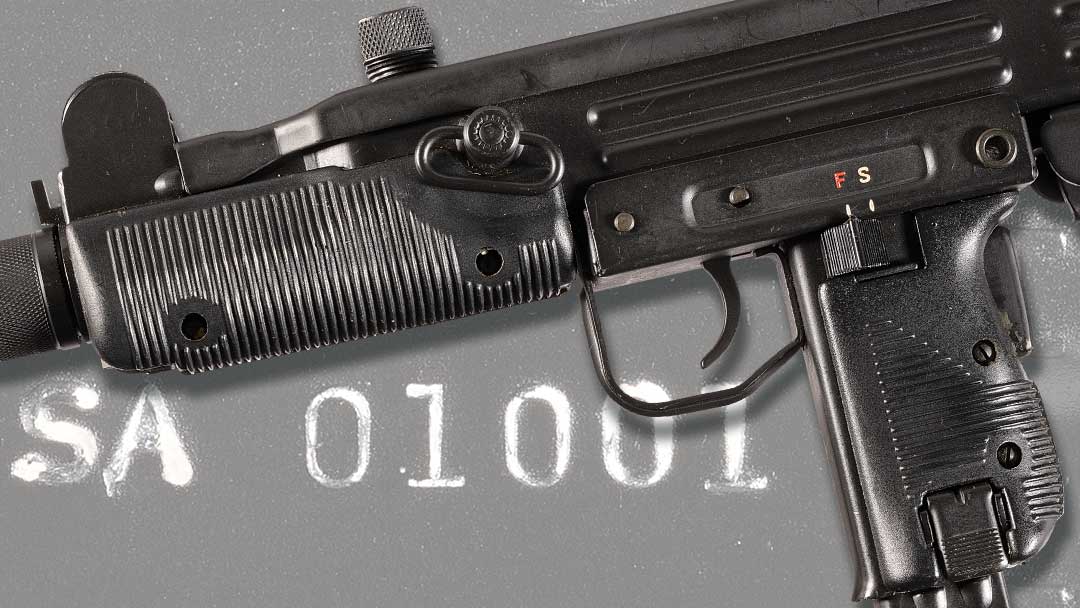 Documented "first in" IMI/Action Arms UZI Model A semiautomatic carbine, serial number SA01001, with box and correspondence. It is the first commercially available standard Model A.
As the world's number one gun auction since 2003, Rock Island Auction Company has featured some of the rarest guns in the fine arms pursuit. Subscribe to the weekly Rock Island Auction newsletter to receive new gun blogs and gun videos each week that dive deeper into gun collecting rarities like the Winchester 1 of 100 rifle, the Gatling gun, the Borchardt C93, and more.
The first KD prefix serial number Colt King Cobra DA revolver with a Colt heritage box. Colt had already used the single prefix "K" with their Colt Python serial numbers, so "KK" was originally chosen when the King Cobra was introduced, followed by other two-letter prefix combinations throughout the revolver's run.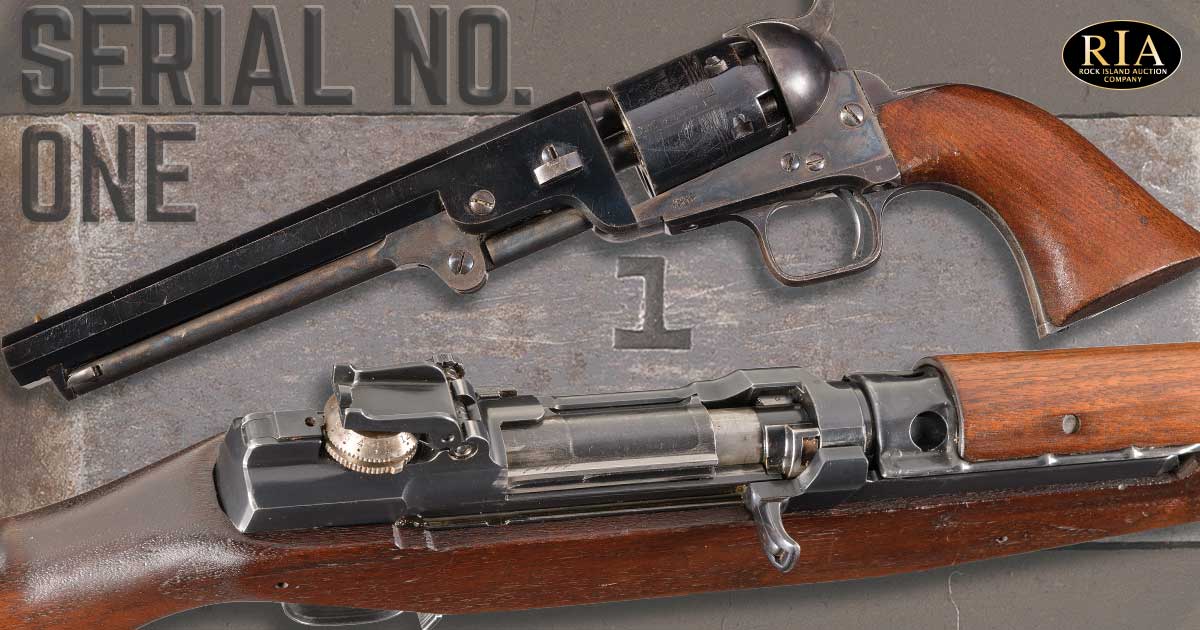 Rock Island Auction Company