Gen. Leonard Wood's military trademark was preparation.
He thoughtfully prepared to equip the Rough Riders of Theodore Roosevelt, and he thoroughly prepared to become governor of Moro Province in the Philippines by learning as much as he could about the many religions and beliefs practiced there.
As Army Chief of Staff in the early 20th century he preached preparation in the lead up to World War I, though the U.S. Army often didn't practice what he preached.
Wood's military career spanned four decades, rising from a surgeon on the chase for Geronimo during the Indian Wars in the Southwest to Washington, D.C., where he served as physician to Presidents Grover Cleveland and James McKinley and befriended an Assistant Secretary of the Navy named Roosevelt, to the disease ridden jungles of Cuba, and the rebellions of the Philippines.
A Smith & Wesson .44 Double Action First Model revolver shipped to Wood, a Medal of Honor winner and one of the most significant American military leaders of the late 19th century and early 20th century, will be on offer in Rock Island Auction Company's Dec. 9-11 Premier Auction.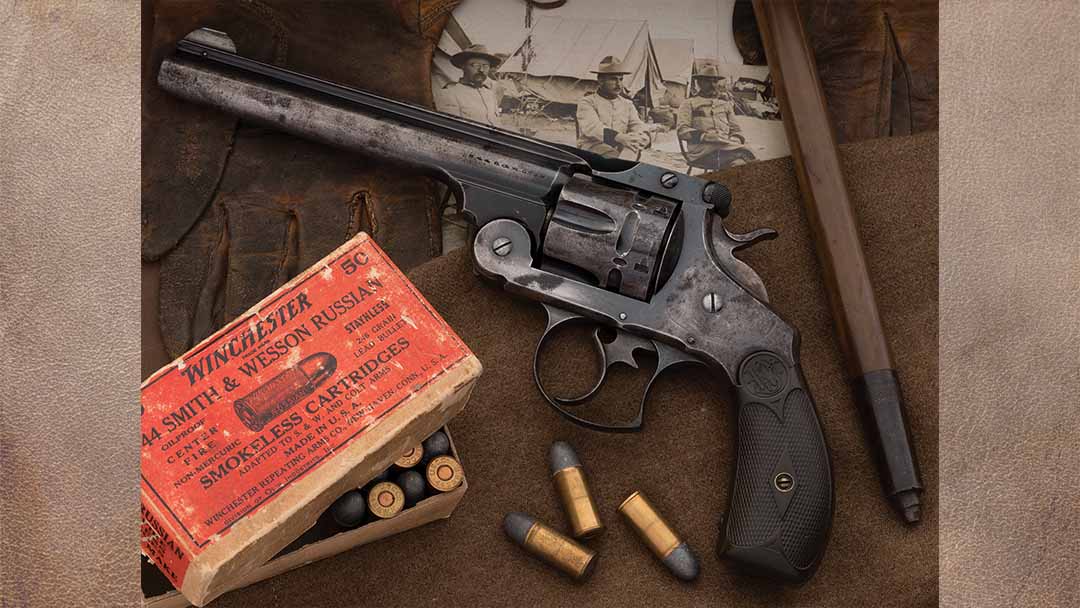 This Smith & Wesson Double Action First Model revolver in .44 caliber was shipped by the company to Medal of Honor recipient and Rough Rider commanding officer Leonard Wood when he was governor of Moro Province in the Philippines.
Leonard Wood's Early Career
Wood was born Oct. 9, 1860 in Massachusetts, and hoped to attend the Naval Academy but failed to receive an appointment. Though his family wasn't wealthy, a benefactor paid for his education at Harvard University where he graduated with a medical degree.
He practiced medicine in Boston for about one year when he chose to continue his career in the Army. Wood contracted as an assistant surgeon in the summer of 1885 and was sent to Fort Huachuca, Arizona where he was immediately thrown into the search for Apaches Geronimo and Natchez.
It was during this expedition that Wood earned his Medal of Honor. After completing a 20-mile march, Wood's commanding officer asked for a volunteer to ride to the nearest telegraph station to get further orders. Wood volunteered and made the dangerous nighttime journey to and from the telegraph station, a 70-mile round trip. Wood's unit immediately set out for its ordered destination, another 30-mile march. Some in the Army didn't think Wood deserved the Medal of Honor since his action didn't occur during wartime.
Wood took over the 8th Infantry detachment and continued the hunt for Geronimo who was eventually worn down by the 2,000-mile chase through the Sonoran Desert, hungry and nearly out of water.
At the time, Wood was described by a commanding officer as "a young officer, age twenty-four, a native of Massachusetts, a graduate of Harvard, a fair-haired, blue-eyed young man of great intelligence, sterling, manly qualities and resolute spirit. He was also perhaps as fine a specimen of physical strength and endurance as could easily be found."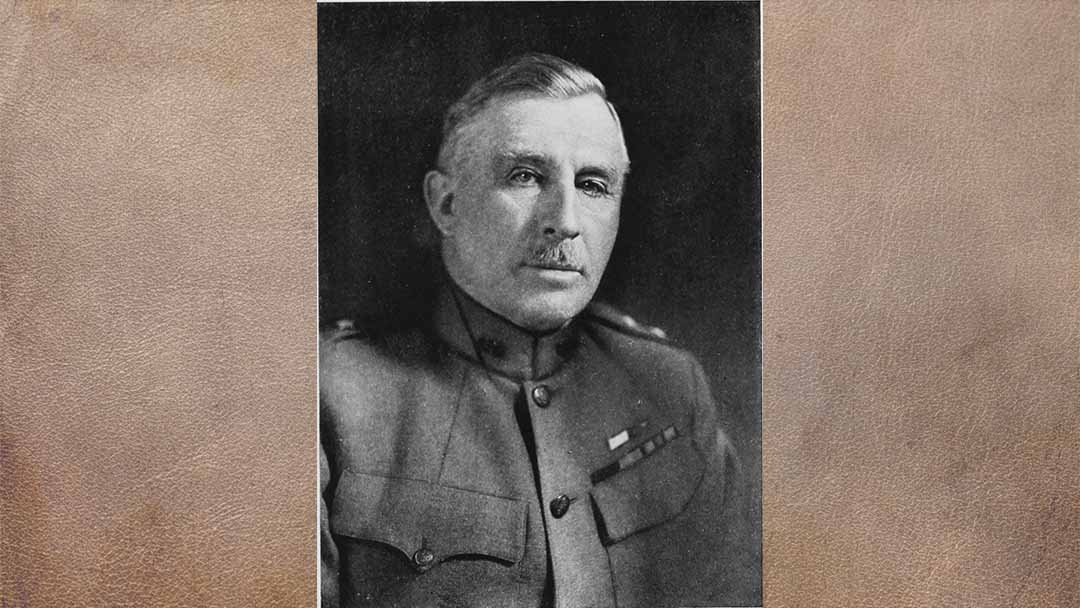 Gen. Leonard Wood as he appeared later in his career. He fought in the Indian Wars late in the 1800s, served in the Spanish American War, and trained troops during World War I.
He was transferred to California where he was a staff surgeon and met his wife. While in Los Angeles, he was called upon by Gen. Nelson Miles to save his leg after a horse fell on it. The initial surgeon recommended amputation to the gruesome injury. Miles called for Wood who was able to save the leg.
He was transferred to Fort McPherson in Georgia where Wood trained with and played on the Georgia Tech football team, beating the University of Georgia team for the school's first win.
Meeting a Future Rough Rider
From Georgia, Wood was ordered to Washington, D.C., as assistant attending surgeon to serve the president. As someone who enjoyed the outdoors, Washington wasn't the most exciting post, but there he met a kindred spirit, Theodore Roosevelt. As men of action, they enjoyed competing against each other, running, hiking, and horseback riding.
At one point, tiring of the Washington scene, Wood considered going west to take up sheep ranching. By 1898, the drumbeats of war were getting louder. Both Wood and Roosevelt hoped for war with Spain and the two men were known around Washington as "the War Party."
Roosevelt's superiors wanted to keep him out of the action and in Washington, but he refused. He was offered the rank of colonel in a cavalry unit but declined because of his lack of military experience. He did accept the rank of lieutenant colonel if Wood agreed to serve as the colonel of the 1st Volunteer Cavalry — the Rough Riders — which he did. The unit was commissioned in April, 1898 and would muster in San Antonio.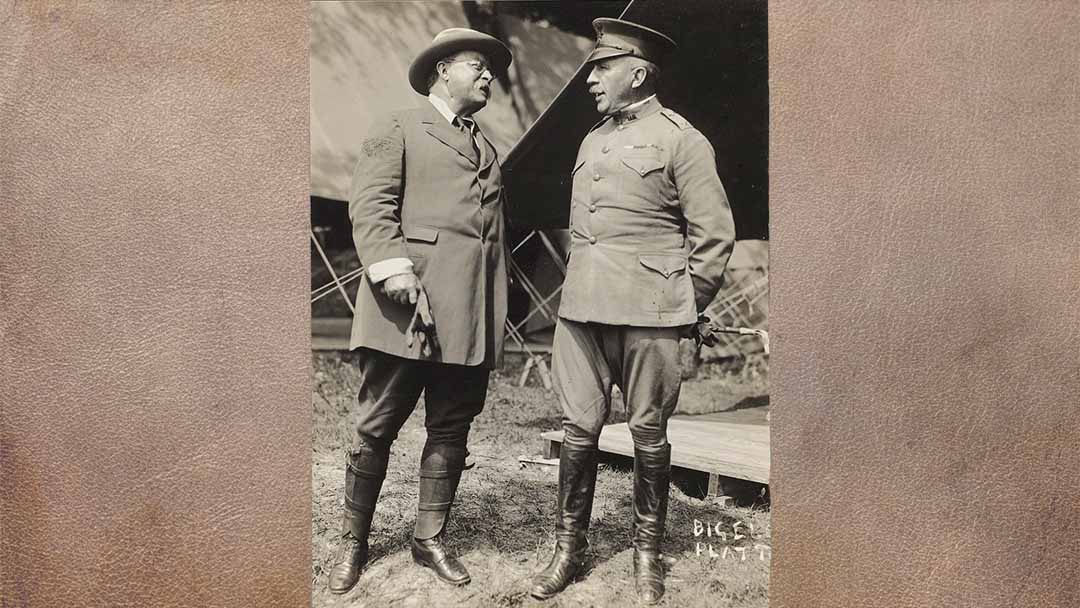 Theodore Roosevelt and Leonard Wood in conversation. Wood served as commanding colonel for the Rough Riders while Roosevelt was second in command.
Leading the Rough Riders
Wood set to work requisitioning uniforms, rifles, and equipment for the Rough Riders, and proved adept at cutting through red tape. When regular uniforms were unavailable, canvas work clothes, more comfortable in tropical conditions, were accepted. Though difficult to find, Wood requested Krag-Jorgensen rifles. Despite the difficult request it was granted. Rather than cavalry sabers, Wood requested a different bladed weapon — machetes. Machetes would be more utilitarian for the Rough Riders, allowing them to hack through the jungle as well as providing a fearsome combat weapon.
After mustering the Rough Riders that came from diverse backgrounds, as cowpokes in the west or Wall Street bankers, they were put through their paces with cavalry drills in San Antonio before heading east to Tampa. Next stop, Cuba.
The Rough Riders landed in Cuba outside Santiago on June 23 and went into action the next day in the first land battle of the Spanish-American War at the village of Las Guasimas. The Rough Riders acquitted themselves well and pushed the Spanish back as they fought on the left flank.
A full frontal attack by the U.S. forces allowed both sides to claim victory. Historians criticized the American strategy as did one Rough Rider, who said "It is a good thing we are not at war with England, or Germany, or France, for we should not last a week."
At one point after the action, word came to Roosevelt that his friend died in the fight. Believing himself the commanding officer, grieving his friend, and trying to consolidate the Rough Riders line, Roosevelt came across Wood, still very alive. A Rough Rider who looked similar to Wood had fallen in the battle and was mistaken for their commander and his death relayed.
Following this first engagement and as the Americans prepared to move toward Santiago, Gen. Samuel B.M. Young fell ill with fever so Wood received a battlefield promotion to brigadier general, now commanding the volunteers. He led the volunteers — including the Rough Riders— to bloody, hard-fought victory as they charged up first Kettle Hill where they engaged in hand-to-hand combat, and then San Juan Hill on July 1.
A painting of the time depicts the Rough Riders charging into battle in Cuba during the Spanish-American War.
Leonard Wood in Santiago
The U.S. Army entered Santiago on July 17 and the war was over about a month later with the U.S. Army suffering significantly from mosquito-borne illness. Wood was made military governor of Santiago which also had its sick and suffering with 16,000 of its 50,000 inhabitants ill along with 2,000 sick Spanish soldiers. Dead people and animals were lying in the street. Bodies were ordered burned and the city was disinfected. Wood also instituted reforms to the custom house, jails, and hospitals. He ordered price freezes on meat.
President McKinley appointed Wood governor of Cuba in December 1899 with orders to prepare the country for self-government with a good school system. Schools were modeled after systems in Massachusetts and Ohio. Improvements to sanitation and roads were made and the Cuban railway system was constructed. Property claims with the Roman Catholic Church were settled and both church and civil marriages were recognized for the first time. The United States turned Cuba over to its people in May 1902.
Roosevelt wrote of Wood's tenure in Cuba:
"Leonard Wood four years ago went down to Cuba, has served there ever since, has rendered services to that country of the kind which if performed three thousand years ago would have made him a hero mixed up with the sun god in various ways; a man who devoted his whole life through those four years, who thought of nothing else, did nothing else, save to try to bring up the standard of political and social life in that Island, to teach the people after four centuries of misrule that there were such things as governmental righteousness and honesty and fair play for all men on their merits as men."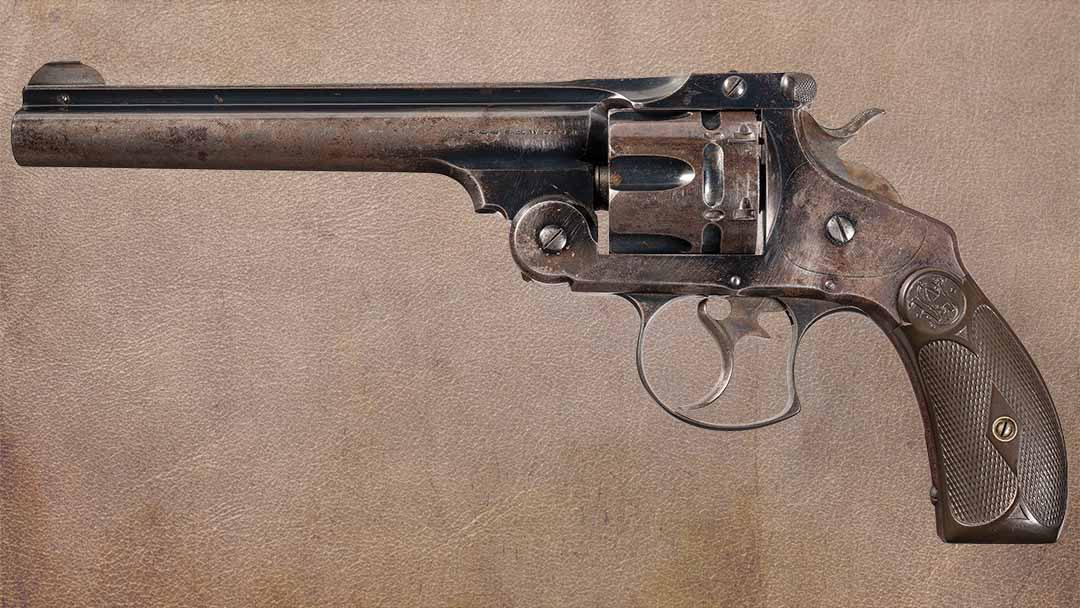 This Smith & Wesson Double Action First Model revolver was shipped in 1905 to Gen. Leonard Wood who was governor of Moro Province in the Philippines.
On to the Philippines
After departing Cuba, Wood traveled to Europe where he observed several militaries, including Germany's and learned that the United States was sorely unprepared for future conflict. He was called again to serve as governor of Moro Province in the Philippines in 1903.
As the provincial governor he still had military responsibilities and was involved in more than 100 engagements with Moro rebels. He faced resentment from the officers there who believed he was appointed because of his political connections. Wood slept where the soldiers slept, ate what the soldiers ate, went hungry when they went hungry, and toiled alongside them, eventually winning them over.
His promotion to major general also faced political hurdles because of perceived political connections, rather than merit. In 1908 he was transferred to New York City as commander of the Department of the East and two years later was promoted by President William Howard Taft to Army Chief of Staff.
He implemented several training programs, including one that would be the precursor to the Reserve Officers' Training Corps (ROTC), and the Preparedness Movement knowing that a nation must be ready to resist attack in order to live in peace. He published a pro-preparedness book, "The Military Obligation of Citizenship" in 1915. His doctrine went against that of then-President Woodrow Wilson.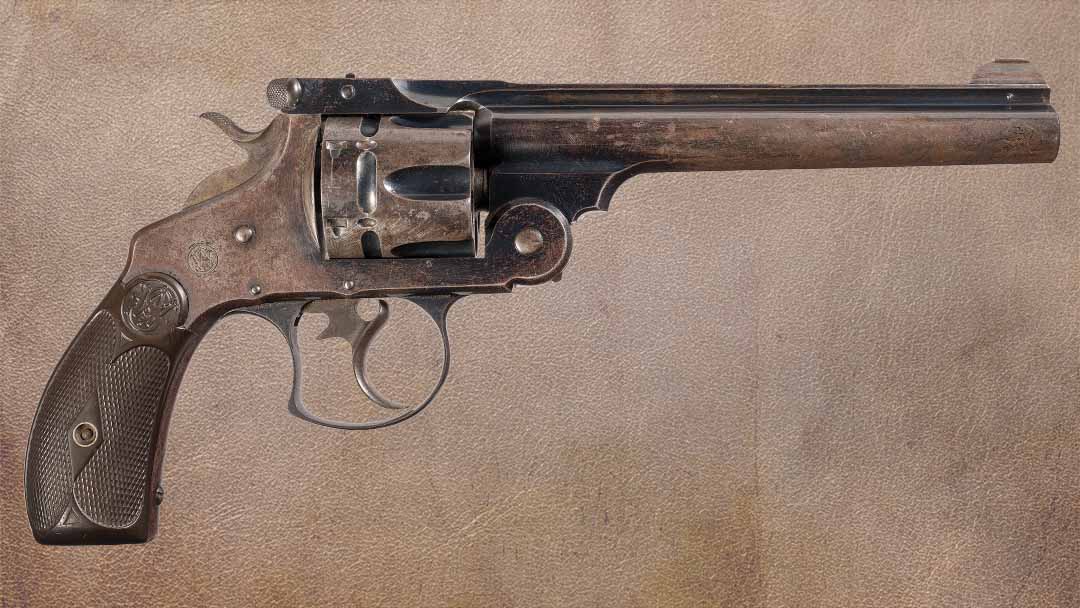 This Smith & Wesson Double Action First Model revolver was shipped to Leonard Wood who was governor of Moro Province in the Philippines.
Leonard Wood in World War I
On the eve of World War I, a commander was needed for the American Expeditionary Forces. Wood was pushed by a number of Republican politicians, but because of his criticism of Wilson he was passed over. Wood served in a number of stateside roles. He briefly led the Southern Department before being transferred to train the 10th and 89th Infantry Divisions in Kansas.
During a trip to the front in France, Wood observed an artillery demonstration that went awry, killing several people and leaving him slightly injured. He didn't get the chance to lead either of the divisions he trained. He was relieved of command of the 89th Division as it prepared to leave for France in May 1918.
Leonard Wood after World War I
Following the war and as commander of the Central Department, Wood saw the need to help returning soldiers find jobs so he set up employment centers in the region's major cities: Chicago, Cleveland, Kansas City, and St. Louis.
Wood was a contender for the Republican presidential nomination in 1920 but didn't win. He retired from the Army in 1921. That year he received a one-year appointment as governor general of the Philippines where he served until his death in 1927 at the age of 66. He had traveled to Boston to have surgery to remove a recurring brain tumor and died from surgery.
In December 1940, a training camp was established in south-central Missouri that was named after Wood early in 1941. Fort Leonard Wood continues to serve as a training center for the U.S. Army.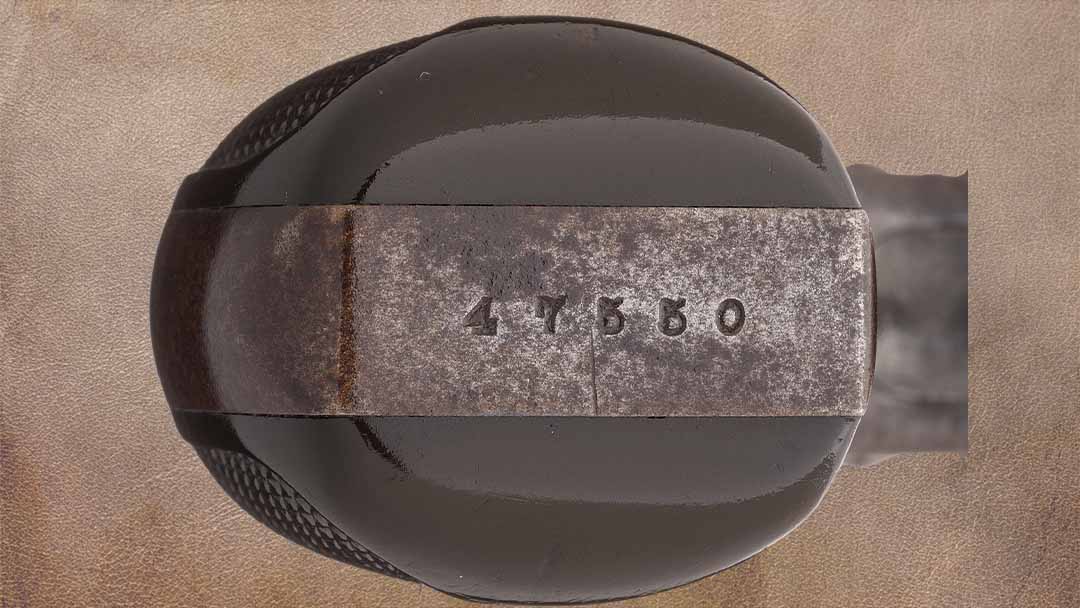 The underside of the grip of the Smith & Wesson Double Action First Model revolver shows the serial number.
Leonard Wood's Smith & Wesson Revolver
A Smith & Wesson .44 Double Action First Model revolver with a 6 1/2 inch barrel, blue finish, and checkered black hard rubber grips is documented as being shipped directly to Wood on May 20, 1905 when he was governor of Moro Province in the Philippines and facing rebellion. The direct shipment is a rarity as Smith & Wesson policy was to ship directly to the company's distributor. A Smith & Wesson New Model No. 3 owned by Theodore Roosevelt that also appears in this auction was another gun the company shipped directly to the purchaser.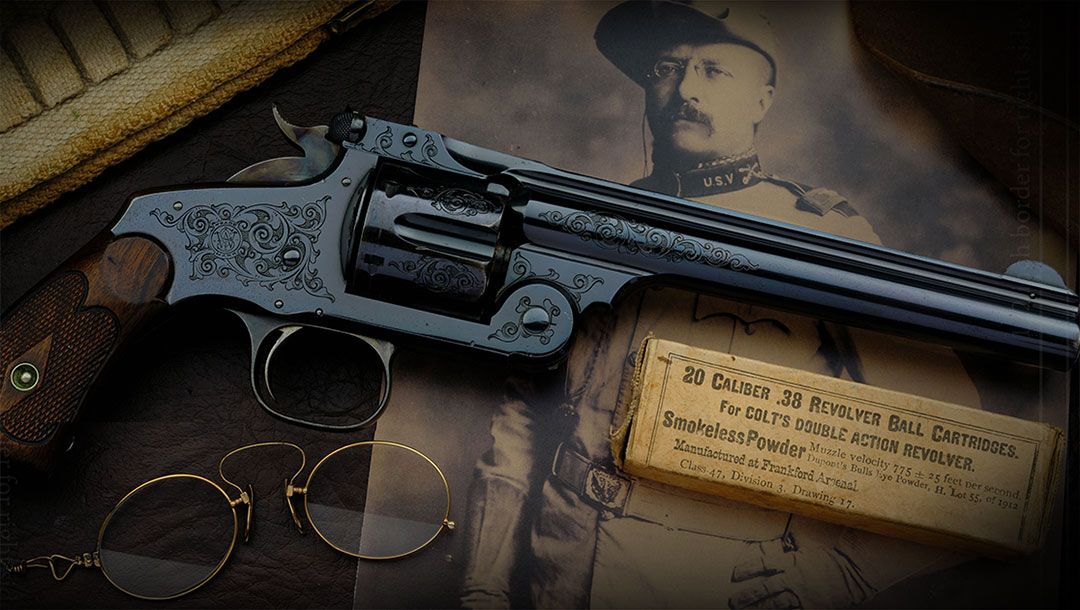 An American gun from one of the most American legends of all time, an engraved Smith & Wesson New Model No 3 revolver documented to the future 26th president of the United States, Theodore Roosevelt.
Wood's revolver has appeared in a number of publications, including "Guns of the NRA National Sporting Arms Museum" on page 88, the July 2017 issue of "American Rifleman" on pages 90 and 91, David Chicoine's "Smith & Wesson Six Guns of the Old West" on page 400, Dean Boorman's "The History of Smith & Wesson Firearms" on page 110, and Jesse Hardin's "Old Guns and Whispering Ghosts" on page 175. It has been displayed on loan to the NRA National Sporting Arms Museum.
The gun is an antique — as the frame was made prior to 1899 — and a true historic article of a soldier, statesman, and healer who had a miraculous career that brought him into the orbit of three presidents (Grover Cleveland, James McKinley, and Theodore Roosevelt), and healers like Walter Reed. Wood's career had a brilliant arch of its own that took him from chasing Geronimo through the Sonoran Desert to the jungles of Cuba and the Philippines to the halls of power in Washington, D.C. This Smith & Wesson is the revolver of a true nation builder and not to be missed.
Sources:
The Career of Leonard Wood, by Joseph Hamblen Sears
Medal of Honor Monday: Major General Leonard Wood, by Katie Lang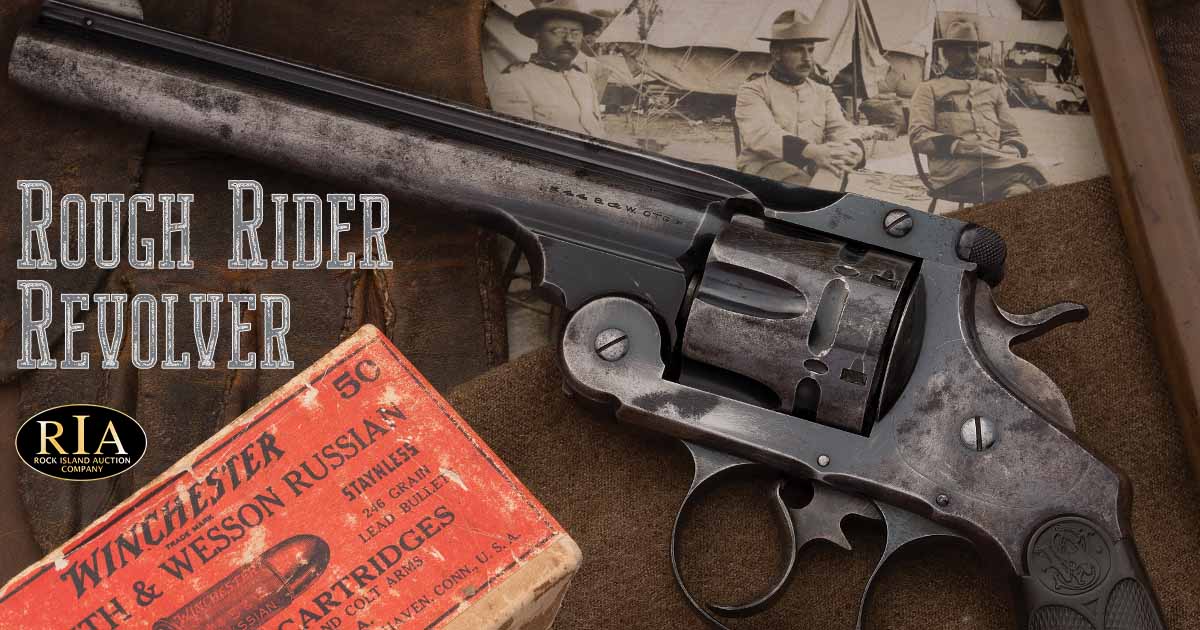 Rock Island Auction Company