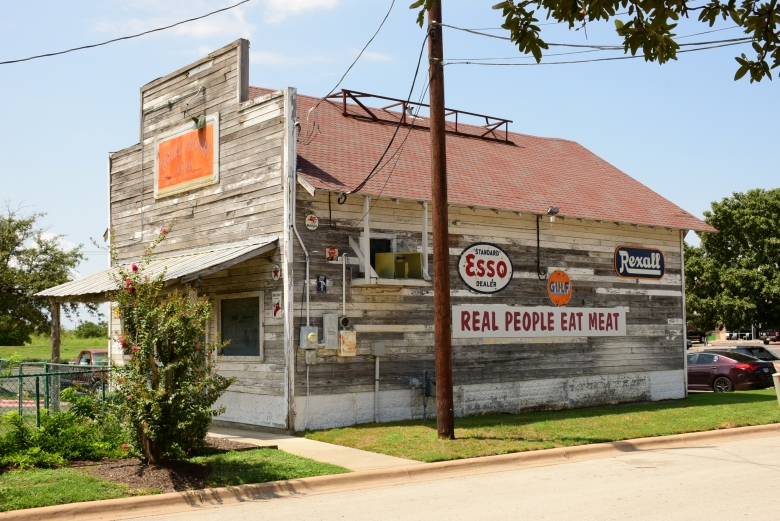 September 19, 2021 – Last night I was sitting in Rudy's Real Texas Bar-B-Q in Round Rock, sharing brisket, ribs and sausage with family. Two sons and two grandchildren present, a visit and conversation that are unfortunately all too rare.
I envy these younger generations. Lots of enthusiasm for challenges. Lots of exploration in the life that lies ahead of them. Respectively: career challenges, entrepreneurial challenges, starting a career, and excelling in high school to assure entry into a good college.
In the absence of fictional privilege and secret handshakes, government and institutions holding doors open for them and taxpayers picking up their debts, they all work hard and deservedly take pride in accomplishments. I am so proud of them. Unlike news headline depiction, this is life for most Americans. Glad to be home, looking for another get together soon.
Ruger should take a bow. Obviously part of an industry that is under attack from a misguided White House, supported by a highly politicized Department of Justice, Ruger keeps boldly introducing and manufacturing a broad spectrum of quality firearms for people who live under the U.S. Constitution. They also maintain the commitment to American labor and resources and a responsibility to customers.
Capturing the spirit of the modern sporting rifle

AR15s are generally chambered for anemic cartridges or shorter range, straight wall cartridge heavier hitters. Moving up to a 308 Winchester capacity cartridge with the AR10 platform for use on larger game, or increased effective range, often results in significant size and weight penalties.
Ruger scaling a 308 Winchester chambered firearm down to near AR15 size and weight, giving it an adjustable gas system to accommodate a full range of ammunition and setting a price point nearly half that of competitors is quite an aggregate accomplishment.
Ruger Small Frame Autoloading Rifle


Manufacturer

Sturm, Ruger & Co.

Point of Manufacture

Mayodan, NC

Model#

5610 / 5611


Caliber

7.62 NATO / 308 Winchester

Operating System

Gas Impingement – 4 Position Adjustable


Mag Capacity

20 Round

Barrel Material

4140 Chrome-Moly Steel


Barrel Length

16.1″/ 20.0″, 5/8″-24″ Threaded


Rifling

1:10″ RH 5 Groove


Weight

6.8 Lbs / 7.3 Lbs

Overall Length

34″

–

37.25″

/

38″

–

41.25″

Stock

Magpul® MOE SL®

Receivers

7075-T6 Aluminum Forging

Receiver Finish

Type III Hard Coat Anodized

Barrel & Gas Block

Matte Black Oxide

Length of Pull

11.00″ – 14.25″

Sights

None As Shipped – Full Length Picatinny Rail

Trigger


Ruger Elite 452® Two Stage 4.5 Lb Pull

Safety

Rotating

MSRP

$1229.00
A hybrid, but no batteries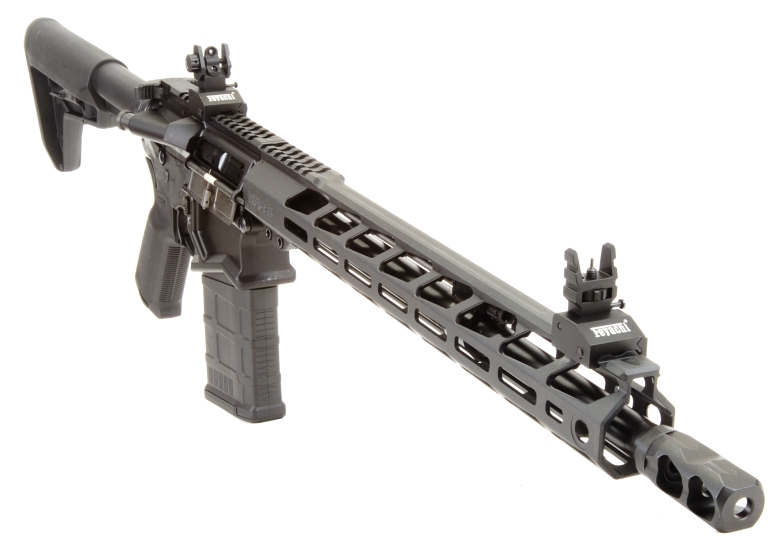 The Ruger SFAR is a hybrid blend of AR10, AR15 and Ruger proprietary components.
AR15: stock, grip, handguard, fire control group, carbine buffer, charging handle, and dust cover.
AR10: magazine, mag latch, bolt catch, barrel, 0.750 journal gas block, muzzle device (5/8-24)
Proprietary: upper and lower receivers, barrel extension and bolt, bolt carrier group, and buffer spring.  The bolt and barrel extension are paired at the factory, should not be separated. Neither is available as an individual part or as part of a set.
The design works for me. I don't think this is the type of firearm that is purchased with the intent of tossing most of the factory core assembly and replacing it with constantly changing aftermarket pieces.
There are enough parts and assemblies in the AR10 and AR15 compatible categories for personal optimization and trend setting sight systems, tactical lights, slings, C type USB ports, and other accessories.
As an example, the SFAR is not supplied with sights, so I installed a set of $20 Feyachi flip up sights to get up and running. my apologies to the SFAR.
The Ruger SFAR's being AR15 size is not an overstatement

I have a friend who often wonders what happens to the 3 hours lost when traveling from east coast to west coast, "I mean, do they just go away? Are they returned when traveling east. Am I 3 hours younger? Will I age on return. It's quite a mystery". Please see Canadian Sir Sanford Fleming.
I feel the same sense of mystery about where the SFAR is hiding a significantly larger 308 Winchester cartridge in a near AR15 size package.
The 223 Remington/5.56 NATO has a maximum assembled length of 2.260″ and a body diameter above its extractor groove of 0.376″.
The 308 Winchester/7.62 NATO has an overall length of 2.810″ and a body diameter above the extractor groove of 0.470″.
Below – Putting the 16.1″ barrel Ruger SFAR under a 16.1″ barrel conventional AR, it is tough to spot the dimensional differences that permit the SFAR to be chambered for the 308 Winchester.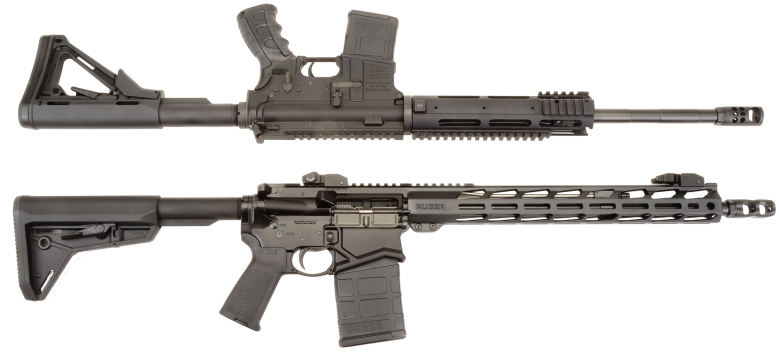 The SFAR is only 3/8″ longer in overall length. The receiver length is 1/4″ longer. The height, rail to mag well just ahead of the trigger guard, is the same. The ejection ports are the same length at 3 1/8″, but the SFAR's port is taller. The SFAR weighs only 2 ounces more.
Is that Mike Rowe?
Ruger does a great job of providing information about their products. The SFAR is no exception with an overview of features, as well as disassembly and cleaning instructions. Very good presentation.
So let's do a walk around, front to back so I hopefully won't miss things. I'm sure you will tell me if I do.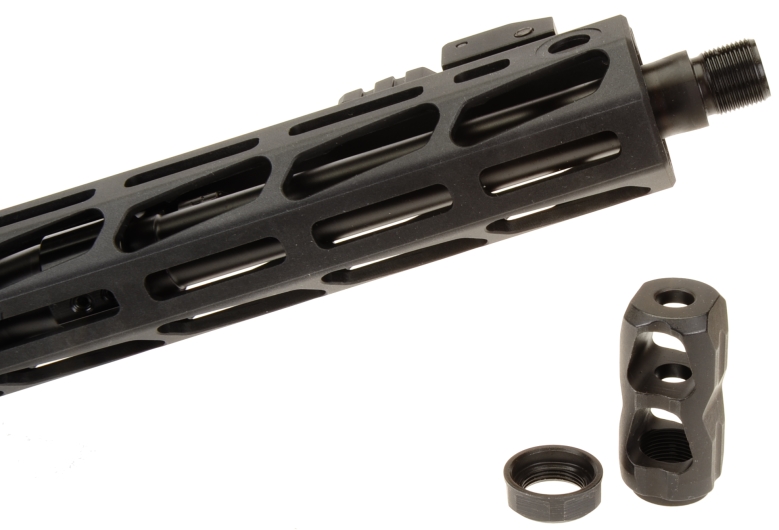 Mounted at the front is a Ruger® 2-port Boomer muzzle brake, attached with 5/8-24 barrel threads. The brake does a good job of redirecting gasses to cut down on jet effect recoil and to stabilize the muzzle on discharge. I like the jam nut. The approach makes brake timing easy and it does not require a vise for removal.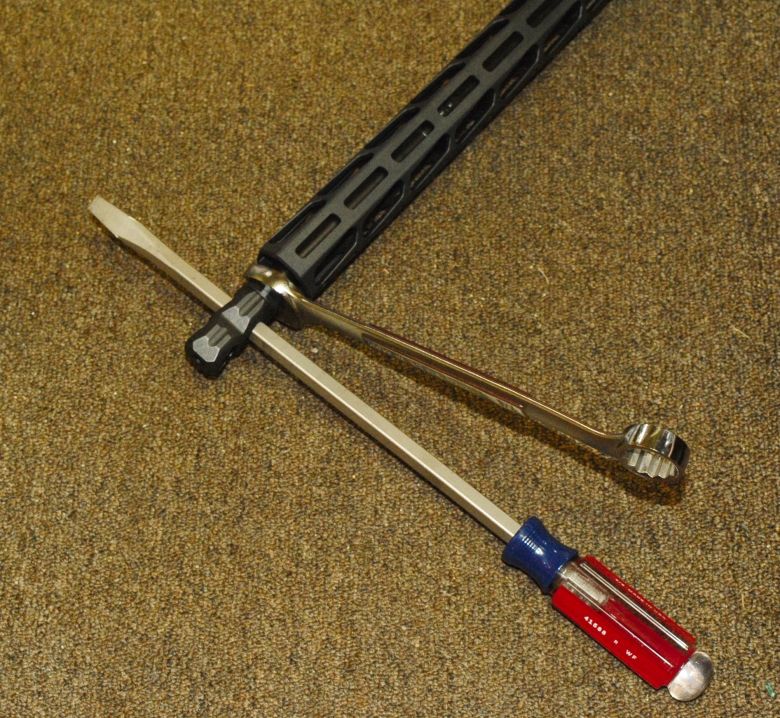 Removing brakes is a varied and, sometimes, challenging process. In fact, just to accommodate such tasks I installed wall to wall carpeting in the shop work bench area so I would be comfortable sitting on an AR handguard while breaking a… brake loose. Fortunately, as an old man with little anatomical padding, the jam nut is a welcome approach.
So a BAS with the correct shaft contour is placed through a brake port to prevent it from turning, while a 7/8 wrench is turned first clockwise (front view) to break the jam nut loose, then both brake and jam nut are turned counterclockwise for removal.
Handguards, gas and barrels
The 15″ floating Lite aluminum handguard has M-Lok attachment slots along its length at 3 o'clock, 6 o'clock and 9 o'clock positions. Picatinny rails are present at the front and rear of the handguard. Sockets for QD attachment are located at the front.
The gas system is mid length and adjustable. A 3/16″ ball end hex wrench, required to make adjustments, is stowed in the grip at the factory.

 The heavy profile 16.1″ barrel is made from chrome-moly steel, cold hammer forged with 5R rifling, with black nitride finish.
Upstairs, downstairs…

The SFAR utilizes the Ruger two stage Elite 452® trigger. Pull is approximately 4.5 lbs. The hammer spring is full strength and the hammer is light weight to assure proper ignition and short lock times.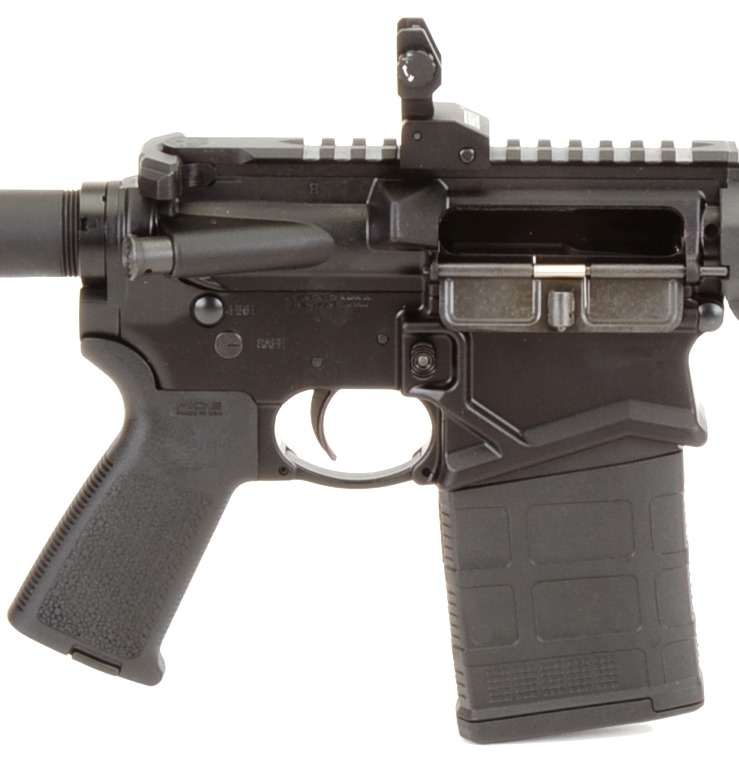 Upper and lower receivers are 7075-T6 forgings, hard coat anodized. The upper receiver includes brass deflector, dust cover, forward assist, and full length Picatinny rail. The ejection port is enlarged, height more so than length. The lower receiver's magazine well is flared to ease magazine insertion. Magazines are AR10 standard.
I finally have a name to identify the presence of a radiused groove that runs down the center of a Picatinny rail, "docked". It's purpose is to reduce weight and… improve grip access. It looks good as a touch of finesse. I will no longer refer to it as an MSR philtrum.
Ruger's center of 308 Winchester gravity…
The SFAR carrier/bolt assembly is very similar to a 223 Remington MSR bolt on the broad strokes; overall length, carrier diameter, bolt, etc. There are, of course, differences to accommodate the 223 Remington Vs 308 Winchester rounds.
The bolt face is approximately 0.374″ for the 223 Rem and 0.468″ for the 308 Win SFAR. The relief cuts behind the titanium firing pin are different and the 308 Win bolt carrier gas key is shorter and secured with 1 fastener, rather than 2. The 308 Win bolt carrier front width measures 0.990″ compared to the 223 Rem, which measure 0.931; beefier.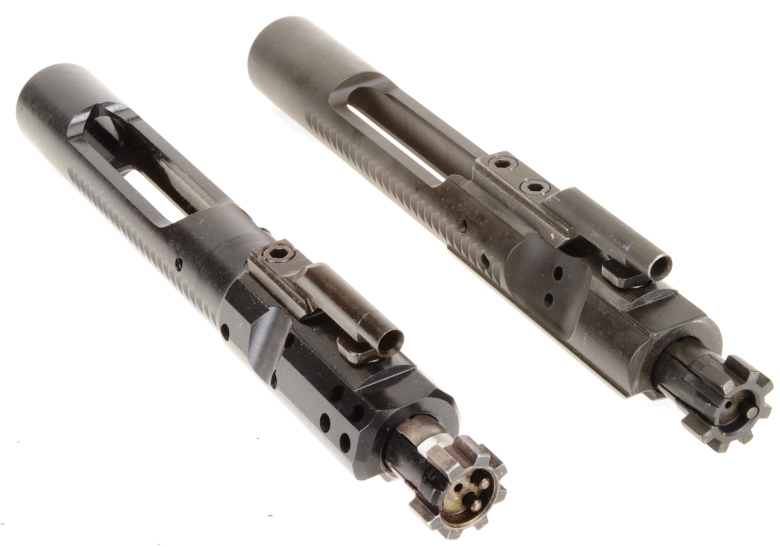 The SFAR has dual ejectors and an optimized extractor. The 8620 bolt carrier is chrome lined with a staked nitrided gas key. The SFAR bolt and matching barrel extension are fabricated from super alloy steel, an aerospace developed material.
There are various types of super alloy steel, but all are intended to function reliably at temperature extremes close to the material's melting point. They are highly resistant to corrosion and oxidation and they are strongly resistant to creep… metal deformed under stress and at high temperature over the longer term.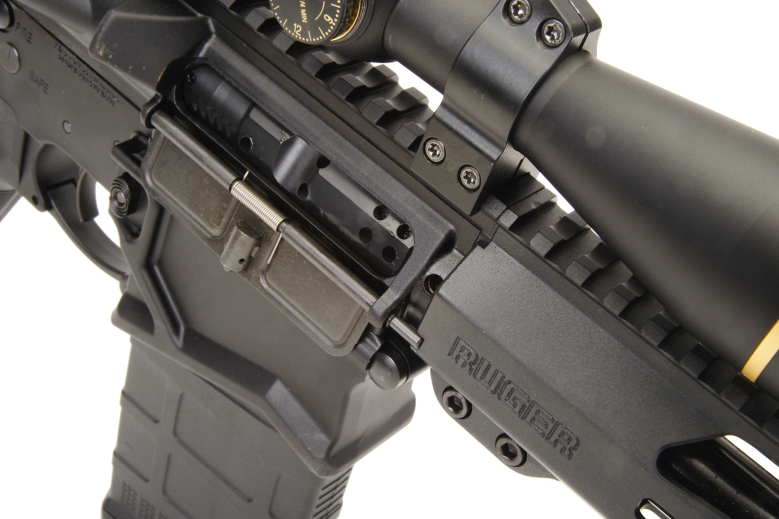 A thoughtful addition, gas bleed ports are present in the carrier, upper receiver and barrel extension to direct any wayward gases away from the shooter.
I always think of Ruger as having an engineering culture. No, not the software type, but rather the mechanical design, process defining, nuance nudging, practical engineer. In the 1960s they would all be sporting an eye loop, wearing a holstered slide rule and fitted with a shirt pocket protector armed with Pentel 0.5 lead mechanical pencils. And I have no doubt they are mostly too young to known what any of that means.
Adaptable and flexible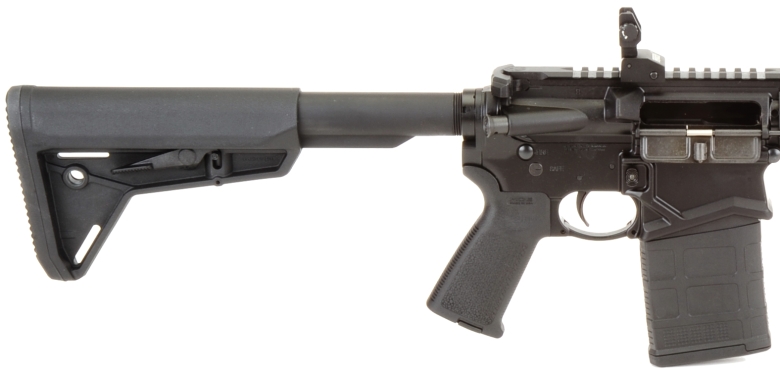 The Ruger SFAR utilizes a Magpul MOE SL® stock and MOE® grip and 20 round PMAG AR10 compatible magazine. The slim line buttstock has mounting points for QD attachment and 3.5″ of length of pull adjustment in 5 increments. With the exception of the magazine, all are AR15 compatible.
Home, home on the range…
Jeez, I thought I would never stop talking! It is hard for me to fathom that I spent forty or so of my years denying the existence of the 308 Winchester and/or treating it disrespectfully.
Only referring to the round as the 30-06 Short, I would not own or hunt with one, preferring the 243 Winchester at one end of the cartridge spectrum and any number of .308 magnums on the other. Yes, dumb, but then I like Fords and Android phones, so there is a bit of a pattern.
The 308 Winchester is the most popular centerfire rifle ammunition in use, with 168 factory loads available through retail outlets. It is trailed by the 223 Remington with 136 loads and the 30-06 Springfield with 116.
For the handloader, there are 248 component bullets types/weights available, ranging in weight from 110 grains to 245 grains in 41 increments. There are 8 companies producing brass.
Ammunition manufactures label their assembled 308 Winchester product by type for use on everything from varmints to big and dangerous game. It is also one of the most popular cartridge for competitive shooting.
Bang, Bang, Bang – Bang, Bang, Bang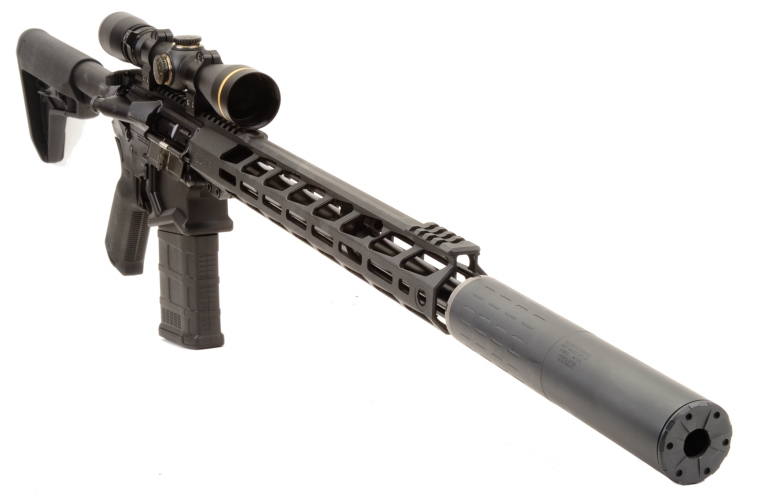 A scope and SilencerCo Hybrid 46 silencer were mounted for 100 yard group data collection. Straight forward, nothing special required. Accuracy was essentially the same with or without the silencer. Please don't send an email to tell me it is a suppressor and not a silencer. Silencer is what it is, suppress is what is does… At least since 1908.
It is common to adjust gas systems, change buffer weight or buffer springs when moving between suppressed not suppressed ammunition. In this case, the Ruger was left as received with the gas block adjustment set on "2". No failure to feed, failure to fire or failure to cycle and eject were experienced throughout live fire sessions… or when the rifle was put in the safe for the night. Consistency.
Cartridge

Bullet

Type

Bullet

Weight




Grains

24″ Barrel




Rated MV

FPS

16.1″ Barrel




Recorded

MV FPS

100 Yard




3 Shot

Group "

Federal Power Shok

Copper

150

2820

2614

0.5

Federal Premium

Accubond Lead Core


165

2700

2510

1.1

Federal Premium

Edge TLR Lead Core


175

2600

2437

1.0

There was not much shift in point of impact. All held center, but both 150 grain and 165 grain point of impact was 1″ higher than the 175 grain ammo.
Before shooting, pure conjecture, I thought the all copper 150 grain load would be the least accurate because of the overly long, low SD, low BC bullet. Of course it was the most accurate. The most annoying bullet was the Nosler Accubond. The white poly tip is almost impossible to photograph against a white background. Functionally it is a very good bullet.
Velocity means many things.. Really.
I came into my interest in firearms at a time when velocity was a metaphor for trajectory, "If it is fast, it be flat shooting". Bullets were as streamlined as a barn door and rifles had 24″ barrels as a minimum to boost velocity.
It seemed everyone on the east coast carried a 30-30 Winchester or 35 Remington lever action and everyone on the west coast owned a 270 Winchester bolt action. It was a simple time and we were sometimes simple people… in more ways than one.
Today, we have VLD bullets, with extraordinary ballistic coefficients, that seem to dodge most air molecules and go on and on forever. Hence… I like that word, and therefore, lower muzzle velocities can work at longer distances for those who like lightweight, compact firearms.
As an example, below – the 175 grain Edge TLR with an 0.536 BC –
Best Zero : Range 0 – 300 yards
Yards
0
50
100
150
200
250
300
Velocity – fps
2437
2358
2281
2205
2130
2057
1986
Energy – ft.-lbs.
2307
2160
2021
1888
1763
1644
1532
Momentum – lbs-sec
61
59
57
55
53
51
50
Path – in.
-1.50
1.48
2.89
2.64
0.59
-3.37
-9.38
A legit 300 yard compact firearm is quite an accomplishment. Flat shooting and retaining a good deal of kinetic energy. Can it short farther, effectively? Sure, but with a better marksman than me. I am mostly a point blank range kind of guy.
Yes, there are a number of rounds developed for the AR platform that can shoot flat enough for 250 yard to 300 yard hunting, but the kinetic energy at that range is pretty feeble; 350 Legend, 450 Bushmaster, 300 Blackout, etc.
Conclusions without jumping

The Ruger SFAR's performance, in terms of accuracy and reliability, is excellent. It looks good. It is not a Milspec gun in all ways, but in enough ways to provide a good deal of creative freedom in configuration.
I have assembled a few AR10s to get to this capacity cartridge, but it seems a hand truck was needed to get them from the house to the car to the range. Never crossed my mind to haul one around for hunting. The SFAR is a a firearm I would take hunting.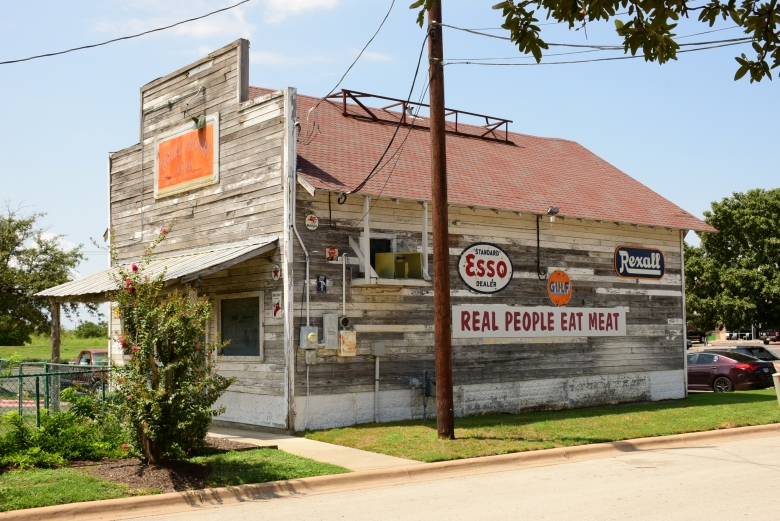 Real Guns