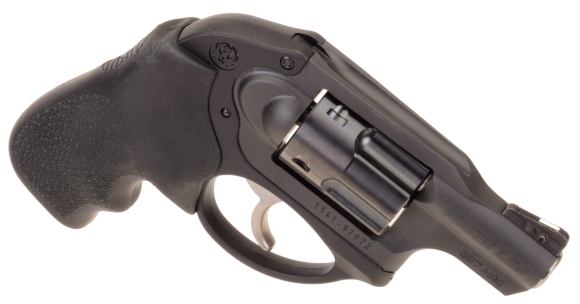 11/07/2021 – Ruger introduced its revolutionary Lightweight Compact Revolver in January 2009; long glass fiber filled polymer fire control housing, forged and anodized series 7000 aluminum cylinder frame, series 400 stainless steel cylinder and 17-4 PH stainless steel barrel. Hammerless, it is chambered for the 38 Special +P cartridge.
As more powerful, higher pressure cartridges were added, Ruger added stainless steel frame models; Aluminum frame for .22 LR, .22 Magnum and .38 Special models and stainless steel .357 Magnum, 9mm Luger and .327 Federal Magnum models.
Ruger LCR Evolution
May 2010, a 357 Magnum version of the LCR, the subject gun.
December 2011 a hammerless, eight shot  22 LR
December 2013, and exposed hammer version and the 22 Mag chamber
September 2014 a 9mm Luger chamber
November 2014, an exposed hammer, 3″ barrel, 38 Special +P model.
September 2015 a 6 shot, 327 Federal Magnum.
Jan 2017 an exposed hammer 357 Magnum was added.
At the time of this writing, there are six hammerless LCR models, eleven LCRx exposed hammer models. All are approved in California and Massachusetts. The hammerless 357 Mag LCR was selected for review as the optimal configuration for the LCR's intended purpose.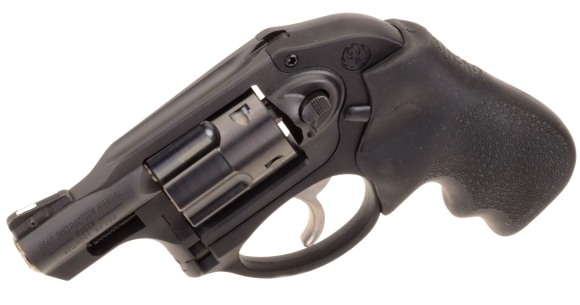 Ruger LCR 357 Magnum

Manufacturer

Ruger, Newport NH

Item #

5450

Type

Hammerless, Double Action

Caliber

357 Magnum

Mag Capacity

5

Barrel Length

1.87″


Rifling

1:16″ RH


Weight

17.1 Oz

Overall Length

6.5″

Height

4.5″

Width

1.3″

Grip Frame

Polymer

Cylinder Frame

Blackened 410 Stainless

Cylinder

Carpenter 465 Stainless – PVD Finish


Sight Rear

Integral U Notch

Sight Front

Pinned Ramp

Trigger Pull – D/A Only

9 Lbs 10 Oz.

CA – MA Approved

No

MSRP

$809
Strength and material to purpose

The Ruger LCR is streamlined contoured aid in concealment. The internal hammer, integral rear sight means no snags on clothing. The soft rounded grip provides purchase while maintaining compact form.
The Ruger LCR is modular, consisting of three main components. The polymer fire control housing is light weight and recoil absorbent. The polymer grip frame houses all fire control pieces in precise orientation and it provides a grip peg to simplify grip interchangeability. A stainless steel cylinder and cylinder frame provide maximum durability in support of magnum and other high performance centerfire revolver cartridges.
Yes, that is a crappy picture taken with my ancient iPhone. Yes, the grip frame detail was important to illustrate and to show there is no mainspring hammer lock that was included in the original LCR release. And, yes, I did not want to wander over to the shop in the middle of the night to take this shot under studio lights because I like you folks, just not that much.
Non stacking, smooth double action trigger
About two hundred years ago, my job was to supervise conveyor paced, progressive, high volume electromechanical assembly. Little automation, a lot of super assemblers. When setting up lines, the criteria was that no task could take longer than 8 seconds and no tools would be required to complete the task. So time and motion studies of a wide variety were employed. At the core of all of it were the fewest motions possible and a task simplified so a new employee could be trained and dropped into the assembly line within an hour. That was about money, this is about self defense and survival.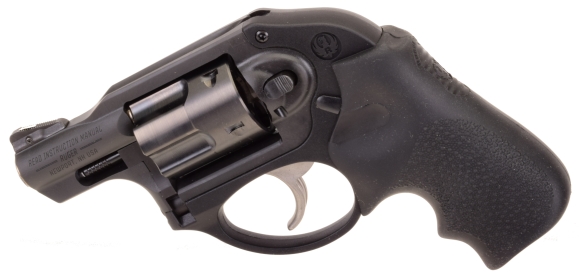 The hammerless double action is the fastest revolver for self defense because it requires the fewest number and simplest of motions to affect a defense. Close in, its use requires little beyond safe handling, pointing at the target and squeezing the trigger. Proficiency training shortens response time and extends useful range. To those ends, Ruger gifts LCR users with a refined trigger.
The LCR's camming trigger pull is not like any other double action. It is smooth and uniform in pressure until let off. Close to 9 lbs as measured, it feels significantly lighter than a pull gauge reads, making it easy to hold on target and shoot accurately. Think of it as a very useful tool when refining double action shooting, point and shoot or sighting.
Appropriate sights

The Ruger LCR has a pinned, ramped front sight. Yes, it is replaceable for folks who own a proper punch set and 4 oz hammer and can connect the two without striking fingers or firearm. Shop Ruger has inserts in white, green, red fiber optics and Tritium insert. Smooth top revolver and little to snag.
LCR diet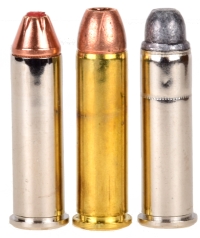 357 Magnum Ammo

Bullet
Type

Bullet
Weight
Grains
Rated
FPS
Recorded
FPS

Hornady Critical Defense

FLex

135

1275

1143

Barnes Vor-TX

HP

140
1265
1189
Remington Wheel Gun

SWC

158

1235

1067
The three types of cartridges were selected as being of a common variety and useful. I omitted a 180 grain bear load, not because the Ruger LCR could not handle it, but rather because it was an overkill for the application.
I did not add a 25 yard "Group Size" column to the table as I felt it would be an incorrect measure of the LCR's performance. For me, this type of revolver is for use within a dozen yards. At that range, it was relatively easy to put five shots into a standard 3.5″ x 2.5″ playing card using a two hand hold.
Personality?
The Ruger LCR is a lightweight, confidence instilling compact firearm. It carries well and it is very controllable in use. I would have no problem shooting 100 rounds a month to maintain proficiency. I would probably not use it as a handload development firearm, where long days are spent at the shooting bench. The Ruger LCR was designed for the former, not the latter.
The LCR held up in heavy use with full tilt 357 Mag ammo. It did not shoot loose or malfunction in any way. The finish is durable and easy to clean. When I was done shooting it looked as good as it did when received. Excellent revolver.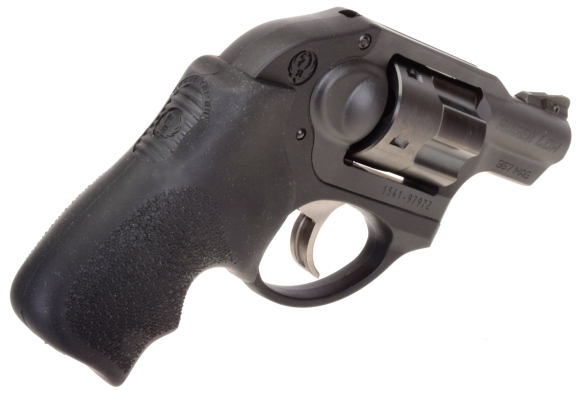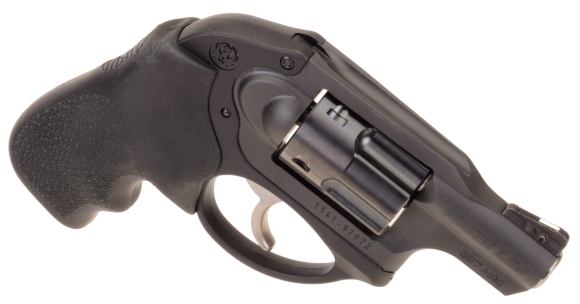 Real Guns – A Firearm and related publication