11/21/2021 – Computers suck. I opened WordPress to begin a new article and was once again confronted with a blank page. Happens every week. My stupid cell phone can anticipate my words, auto correct and express emotion, but you… you stupid tin box, all you can do is hide under my desk and let me to deal with the problem….
OK, so I have product abandonment issues. I grew up racing Fords. My favorite was a '68 428 Cobra Jet 4 speed that we raced as a family. Loved that car. Paired with a 1969 Super Cobra Jet roller, we swapped drive trains and bodies for NHRA class advantage. Eventually, factored up in NHRA classes and out of replacement engine parts, we looked to Ford for a replacement and found only the Mustang Cobra II which was, essentially, a Pinto with a trunk, powered by an asthmatic 302 CI engine with 139 HP. We sold the cars and began driving GM products and Euros.
My point is, companies begin with a popular product, let it evolve to keep it fresh, but sometimes lose the characteristics of the product that made it popular in the first place. All that remains is the name. When changes made are not in keeping with the original product concept, you end up with the Mustang II. When a manufacturer gets it right, you end up with the Ruger Mark IV.
Ruger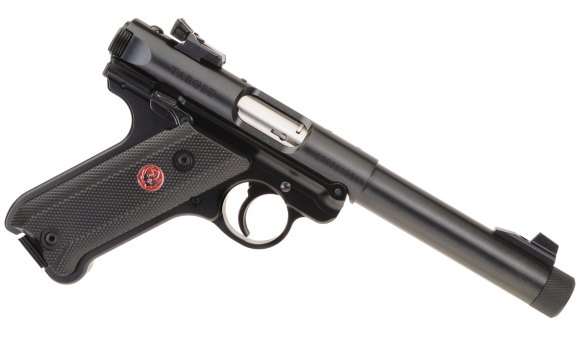 Sturm, Ruger & Company's first 1949 product was a blow back 22 rimfire pistol, the Ruger Standard, aesthetically derived from the 1902 Japanese Nambu. The original model and variations persevered until 1982 when they were replaced with the Ruger Mark II.
The major changes from Mark I to Mark II were: the bolt remained opened on an empty magazine, magazine capacity was increased to 10 rounds from 9, the magazine latch was refined, the pistol could be loaded or unloaded with the safety "on", the rear of the receiver was scalloped to facilitate grasping the bolt cocking lugs. All good refinements.
The major changes from the Mark II to the 2005 Mark III were: one extra "I",  the sights and ejection port were re-contoured, the magazine release was moved from the grip bottom to the frame's left side, a visible and tactile loaded chamber indicator was added to the left side of the receiver, a key actuated internal lock was added and a magazine disconnector was added. Added, added, added… and it looked as though the design philosophy was drifting from simple and reliable, into complex doodads and, possibly, a few gewgaws.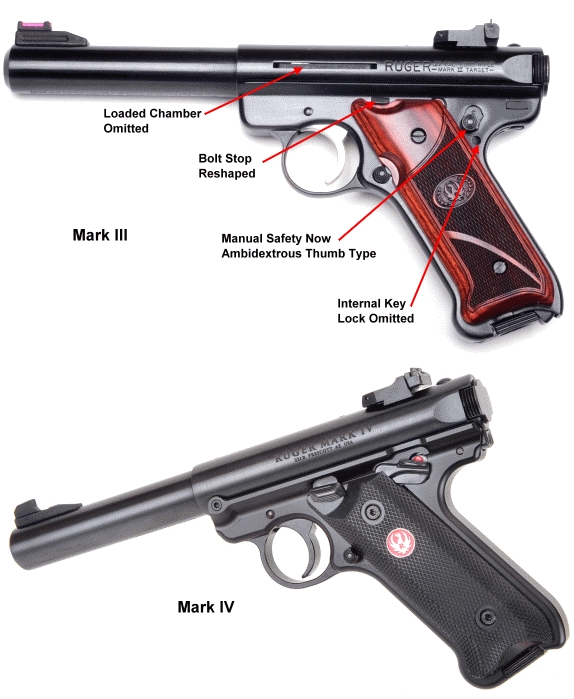 Then, on September 22, 2016, in a mixed metaphorical awakening, the sea parted, the clouds developed silver linings and Ruger did something few manufacturers ever do… do. Ruger reverted to the simple aesthetics of an original design, shed flippy floppy levers, popups and lock downs and created a one button push to disassemble design. I could once again buy a 1968 Mustang Cobra Jet and get back to having fun with a product I loved.
Mark IV refinements in a bit more detail
If there was a Ruger philosophy represented by the Ruger Mark IV Target pistol, it would have to be "Listen to customers and keep refining". While the Mark IV bears many outward similarities to the highly successful Mark III series, the Mark IV's refined design brings with it significant improvement. Examples? Sure.
Ruger Mark IV Target

Company

Sturm, Ruger & Company, Inc.
Point of Manufacturer
Prescott, AZ U.S.A.
Model #
40178
Description
Mark IV Target

Type of Action
Auto-loader SA – Blow Back

Caliber
22 Long Rifle
Magazine Capacity
10
Barrel Length
5.50″
Barrel Material
Blued Alloy Steel
Barrel Contour
Bull/Threaded
Rifling Twist Rate
1:16″ RH
Receiver Material
Blued Alloy Steel
Grip Frame Material
Aluminum Alloy

Frame Finish
Black Satin Anodized
Grips
Checkered Synthetic

Front / Rear Sights
Fixed / Adjustable W/E
Picatinny Rails

Accommodated
Weight of Firearm
35.6 Oz.
Overall Length
9.75″
Overall Height
5.50″
Widest Point
1.20″ at Grips

Manual Safety
Thumb – Ambidextrous
Magazine Disconnect
Yes
Loaded Chamber Indicator
No
Key Lock
No
CA/MA Approved
No / No
Distributor Retail Price

$569 From Sports South

Field stripping is accomplished with a one touch button at the rear of the frame; the barrel and receiver tip down and lifts off and the bolt pulls free of the receiver. No tools required.
The new one piece grip frame is CNC machined from a solid piece of aluminum.
The hammer, sear, bolt and firing pin are all refined pieces.
The bolt stop has been reshaped for easier operation, the little Mark III thumb safety numb has been replaced with a more traditional ambidextrous thumb safety.
The magazine release has been extended and magazines now drop free when released.
The Mark III loaded chamber indicator is gone, as is the internal key lock.
The Mark IV maintains compatibility with Mark III sights, scope mounts and magazines.
The one piece barrel/receiver assembly and internal bolt design is retained.
The results of the changes, retentions and omissions in the move from the Mark III to the Mark IV is a smoother functioning pistol, improved reliability and ease of routine maintenance. The Mark III pistol grew into over sixty distinct configurations. For now the Ruger Mark IV offers eight models in thirty two configurations.
Cleaning made easy
No, not the end result of one of my centerfire handloading projects, but disassembly that is just as fast. No tools disassembly: pull the mag, check for empty, push the rear take-down button in, pivot the barrel down and off, pull the bolt from the receiver.
Good sights and concentric circles…
The sights are black faced and feature precise, small incremental adjustment, for both windage and elevation. This particular model, 40178, is a Sports South Distributor Exclusive and has a threaded barrel to accommodate muzzle devices. The 5.50″ barrel has a 7.75″ sight radius for critical sight alignment.
For people who want a different type of sight set up, Shop Ruger offers fiber optic sight sets, various white dot combinations, scope mounts, a peep sight, and a mount for red dot reflex sights.

The Mark IV's bull barrel is threaded into its cylindrical receiver, its internal bolt is also cylindrical… a whole lot of concentric circles that leads to a high degree of rigidity and accuracy. The barrel is fixed, the receiver is fixed, the sights are fixed. Only the bolt moves within the receiver.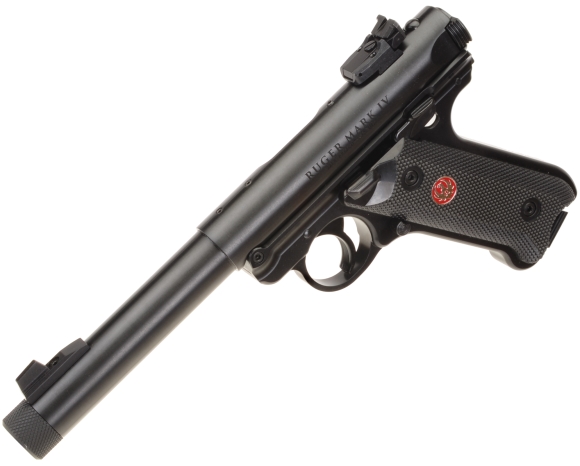 At only 1.2″ in width, the Mark IV is comfortable to carry. The controls on the Mark IV really are better formed and arranged than on the Mark III; all easy to swipe, poke or push without excessive stretching or loosening of grip. The only control that requires a little thought is the ambidextrous safety, but that depends on shooting styles and personal preferences.The right wing is removable for those who prefer.
Shooting impressions….

Experience gained with earlier versions of the Ruger is not wasted on the Mark IV. The combination of a swept grip angle and bull barrel of this length places the pistol's center of gravity under the trigger, rather than the typical nose heavy feel of a bull barrel pistol. Extending a shooting hand, the sights level and fall naturally on a target. It is a very comfortable grip with support for all fingers and a shape that draws the hand into a high, secure hold without forcing the trigger finger into an odd angle.
Six types of ammunition were used for velocity and accuracy testing. Shooting was done with individual types of ammo, mixed types and with subsonic as last round in the magazine to test for stay open reliability with the lowest pressure loads. There were no failures of any type.
Ammunition
Bullet
Weight
Grains
Bullet
Type
Mfg
Rated
FPS
Ruger
Actual
FPS
25 Yard
5 Shot
Group"
Remington Cyclone
36
HP
1280
1163
1.7
Eley Subsonic
40
RN
1040
948
1.0
Remington Golden Bullet
40
RN
1255
1055
0.9
Remington Thunderbolt
40
RN
1255
1141
1.5
Peters
40
RN
1255
1059
1.1
Winchester Super Speed
40
RN
1300
1082
1.5
Accuracy was excellent. The Mark IV was shot using a couple of sandbags for a rest and with a Burris FastFire II installed, however, the Mark IV also shot well from a two hand hold.
The sight set proved to be very good. While unadorned with dots, light pipes, beacons or flashing turn signals, they stood in contrast against a target with daylight on either side of the front sight blade. Sight adjustment was precise and the sights stayed put in use.
Magazines were easy to load and they did pop out cleanly when released. Bolt retraction effort was distinctly light. Trigger pull, measured after only a few rounds, checked 5 lbs 8 oz with just a smidgen of creep.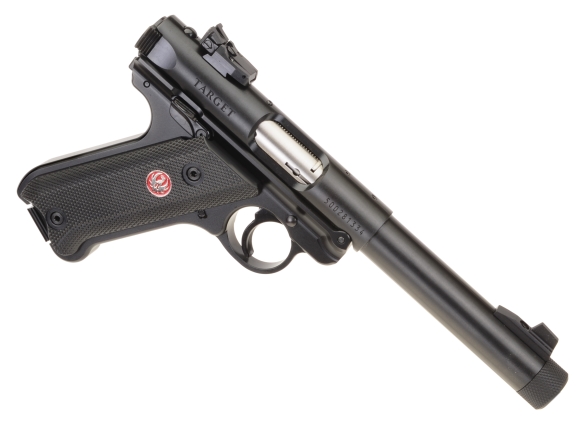 The Ruger Mark IV is the epitome of a 22 LR rimfire pistol. Negligible recoil or muzzle rise, accurate, enough heft to feel balanced and reliability that will last a life time. Fit and finish on examples I have owned and worked with have been flawless. Small game, target shooting, plinking… just a terrific firearm and the look is timeless.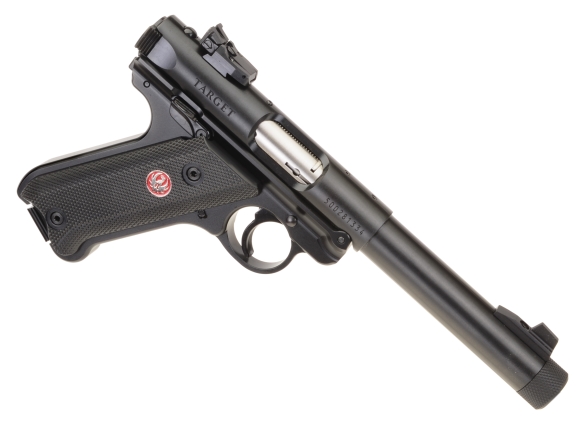 Real Guns – A Firearm and related publication