August 29, 2021 – The Ruger LC Carbine is a very lightweight and very compact semi automatic firearm, chambered for the popular FN 5.7x28mm cartridge.
A companion firearm to the company's 5″ barrel Ruger 57 pistol, the LC Carbine's 16.25″ barrel offers significantly enhanced ballistic performance, a longer sight radius for precise shot placement and a telescoping buttstock.
Utilizing the same cartridge, magazine and controls as the Ruger 57 pistol, the LC Carbine barrel is fixed in its bolt-over-barrel design, where as the Ruger 57 pistol employs a recoiling barrel.
While there are mechanical differences between the two firearms' fire control systems, both are listed as having the Ruger Secure Action fire control mechanism, featuring a protected internal hammer, a bladed safety trigger, a short trigger pull, and positive reset.
Expanding upon Ruger's product announcement, the Ruger LC Carbine is a terrific fit for range days, small game and varmint hunting and, in the appropriate setting and circumstance, personal protection. It is truly a nifty little firearm.
Configured for broad geographic availability…
Ruger LC Carbine


Company

Ruger

Manufactured

Prescott, AZ

Model #


19300

Type of Action

Blowback


Caliber

5.7x28mm


Magazine Capacity

*20

Magazine Type

Staggered – Steel

Barrel Length

16.25″ – 1/2″-28 Threads


Barrel Material

Alloy Steel


Barrel Finish

Fluted – Black

Nitride

Rifling Twist Rate

1:9″ RH 8 Groove


Receiver Material

7075-T6 Aluminum

Receiver Finish


Type III Hard Coat

Handguard

M-Lok Free-Float

Handguard Material

Anodized Aluminum


Buttstock Type

Folding – Telescoping AR


Length of Pull

12.5″ – 14.5″

Comb Above Bore ℄

0.5″

Heel Above Bore ℄

0.5″

Sight Mount


Picatinny Rail

Weight

5.7 Lbs


Overall Length

28.7″ – 30.6″

Safety

Ambidextrous – Thumb


MSRP

$979.00
To ensure the maximum number of firearm enthusiasts could be reached, Ruger is initially offering three configurations of the carbine:
The subject firearm, Model Number 19300 has a folding AR type stock, 20 round magazine capacity and a threaded/capped muzzle.
Model Number 19301 has a fixed non-telescoping stock, no barrel threads and a 10 round magazine. Applicable states: MA, NJ, MI.
Model Number19302 has a folding/telescoping stock, threaded barrel and a 10 round magazine. Applicable states: MD, VT, HI, CO, WA, RI.
The Ruger LC Carbine is not available in any configuration in CA, CT, NY, DC, DE and other states not honoring the U.S. Constitution.
Ruger deserves a great deal of credit for the thought and effort that went into state compliance so that as many firearm enthusiasts as possible would have access.
The 5 states barring availability represent a political problem that requires voter resolution.
A little more detail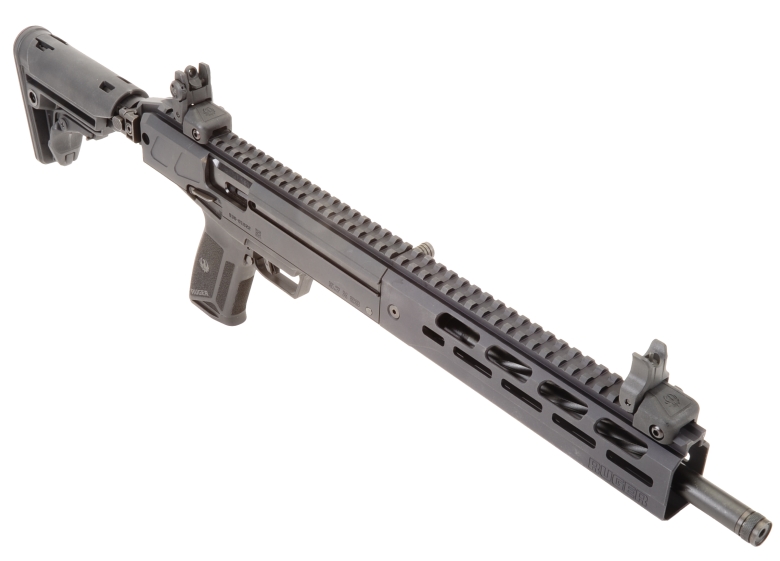 The LC carbine is incredibly short for a firearm with a 16.25″ barrel, even with the telescoping stock extended to a 14.5″ length of pull. At 30.6″, the LC Carbine is 6″ shorter than an AR 15 with the same barrel length.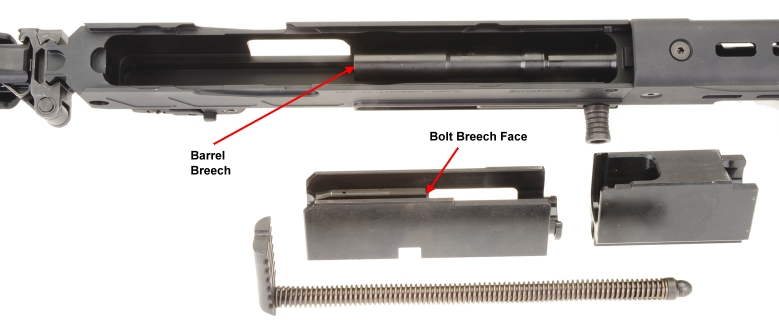 Most rifle barrels terminate at the front of a receiver. The LC Carbine's barrel projects into the receiver, all the way to the front of the ejection port. Unlike the Ruger Model 57 pistol with its recoiling, non-tilting barrel, the LC Carbine barrel is fixed in position.
The LC Carbine has a low mass front and rear bolt as pictured above. The front bolt rides over the barrel shank, the rear bolt slides over the barrel shank up to its breech face. The magazine feeds through the pistol grip, rather than ahead of the grip. The combined result of this positing is a very compact firearm, as previously defined.
Know when to hold 'em, know when to fold 'em…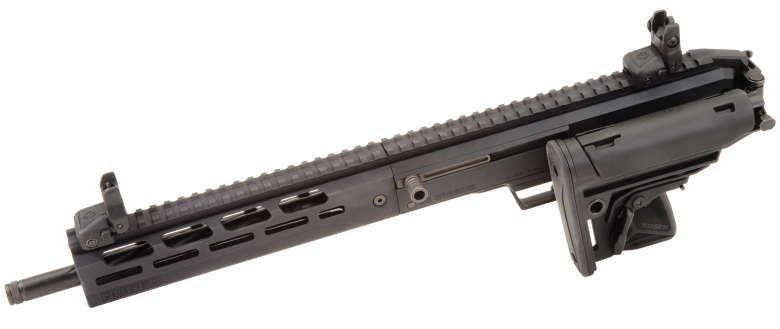 The Ruger LC Carbine's telescoping, reversible/folding stock serves dual purposes as its nomenclature suggests.As pictured above, the buttstock can be folded forward and flat to the receiver to reduce the rifle's envelope for transport. The stock can be configured to swing left or right.
Physical differences and clothing differences a stock that offers length of pull adjustment useful. The Carbine's length of pull is adjusted by compressing the buttstock lever. There are five locking positions to set length of pull; 14.5″, 14.0″, 13.5″, 13.0″. 12.5″.
Control is where you put it…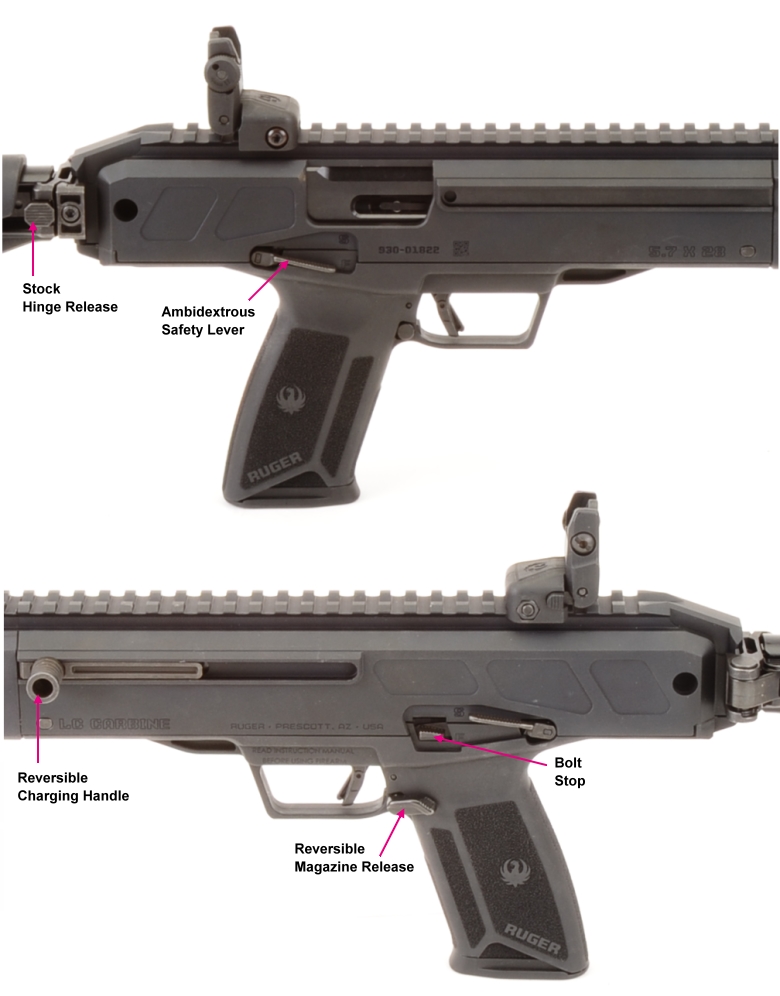 Ruger has placed controls where industry norms would mandate, which makes LC Carbine operation intuitive.  However, Ruger has gone a step further by making key controls easily configurable. Subsequently the charging handle can be moved to the right side, as can the magazine release. As noted previously, the butt stock can be configured to fold left or right.
Pop up stores. Pop up concerts. Pop up sights. We live in a pop up world
The rear sights provide a peep sight with windage adjustment. The front, utilizing a standard post adjustment tool, provides elevation adjustment.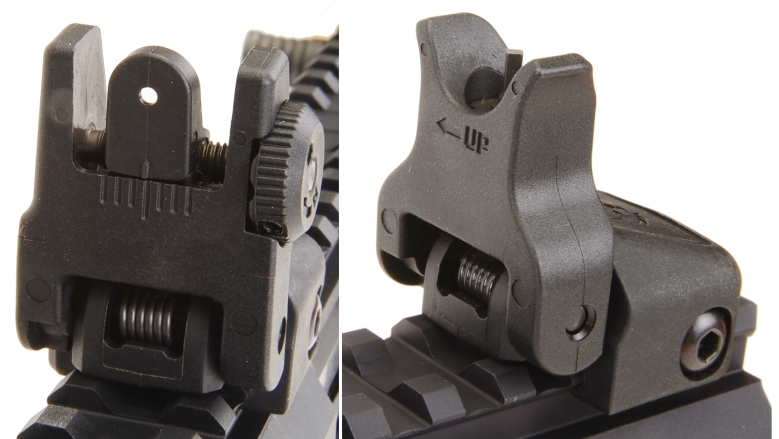 Listed as Adjustable Ruger Rapid Deploy, the folding/popup sight set is made of durable fiber filled poly. For as much as I don't care for poly in my firearms or clothes, the sights are probably tough enough to survive a hammer attack and are certainly impervious to rain and temperature extremes.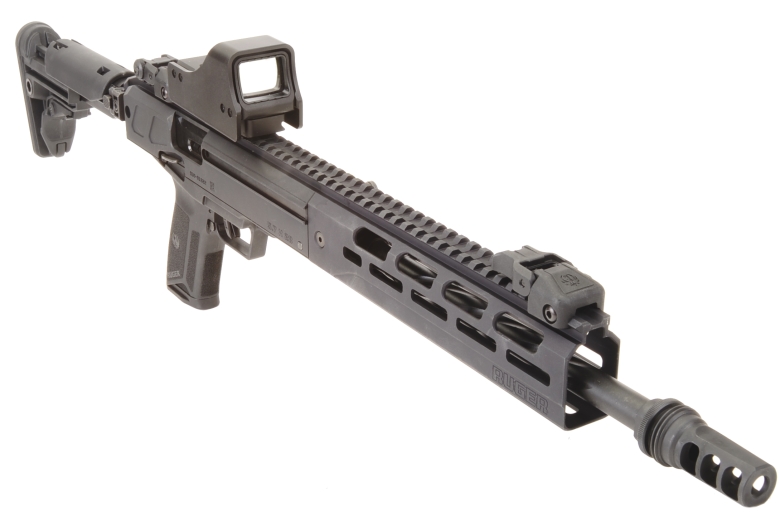 The subject rifle was shot with other metallic rapid deploy sights, micro and brush guarded red dot sights and with a scope in place. Easy deal. One of the benefits of Picatinny rail mount systems.

The muzzle threads saw the supplied thread protector, a variety of brakes and a silencer. There is so little recoil and so little muzzle rise in this 5 lb+ carbine, the thread protector and silencer were the most useful accessories.  The brake pictured is part of the speed mount for the silencer.
The rapid deploy sights slide onto the Picatinny rail after removing the sight screws that index the sight position to a rail cross slot.
Service disassembly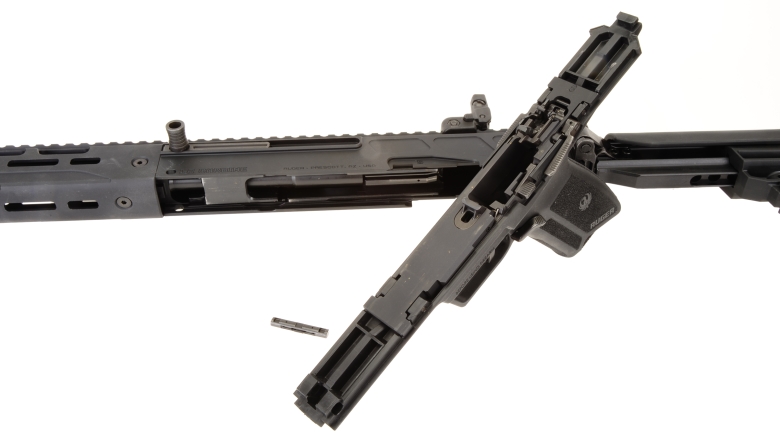 Ruger appears to be on a roll with ease of disassembly firearms. Removal of the entire grip frame assembly is accomplished by pushing out one takedown pin, pulling rearward to unlock it from the receiver and then down and off.

Once the grip frame is removed, the rear bolt lifts out, then the buffer tab and spring are removed, then the front bolt is slid back and lifted out. The LC Carbine has a terrific manual. I was a little worried because it is 74 pages long, but it is laid out in a logical flow of information and it contains lots of photos, illustrations and in depth descriptive text.
Floating handguard. Maybe that's why the LC Carbine is so light?
The floating handguard is secured to the receiver with three socket flat head screws. The barrel is fluted and muzzle threaded to accept a variety of muzzle devices. The barrel is an non tapered 0.635″ diameter, which is light, but way more than sufficient for the Carbines 0.224″ bullet.
The 5.7x28mm. Yes, 22 caliber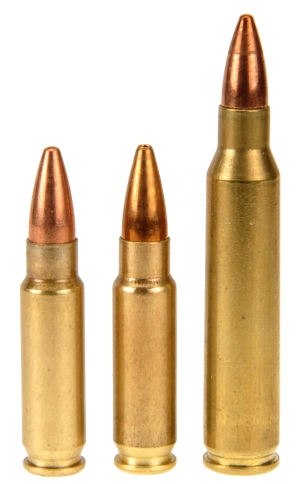 Pictured L-R: Federal American Eagle 5.7x28mm 40 grain FMJ, FN Herstal 5.7x28mm 27 grain lead free hollow point, 223 Remington handload.
The FN 5.7x28mm cartridge is not new. The design came about in the late 1980s as a possible replacement for the 9mm Luger in handguns and sub machine guns. The design was finalized and received a patent in 1991.
The high velocity, flat shooting round had a lot to offer including virtually no recoil, low report and light carry weight of ammunition.
The cartridge and FN firearms garnered a good deal of success around the world within armed forces, special ops, anti terrorist groups, and law enforcement.
Personally, I didn't pay much attention to the cartridge until 2004 and the introduction of the FN Herstal introduction of the Five-seveN pistol for civilian applications. The round held a lot of promise but, for me, there was not a firearm available that would suit my needs and the price of the Five-seveN pistol was too high.
Enter the Ruger-57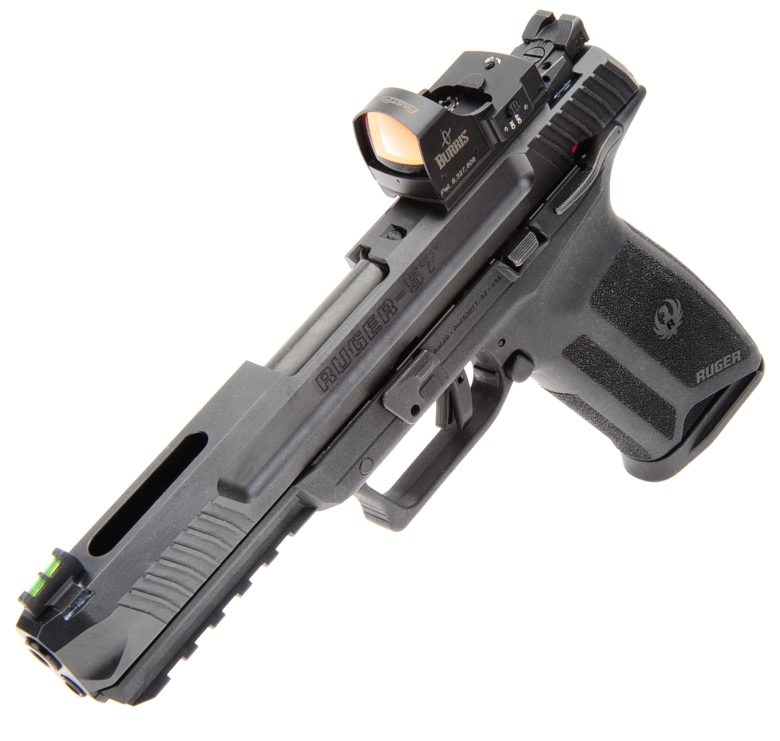 In December of 2019, Ruger introduced a reasonably priced 5.7x28mm pistol that was lighter and less bulky than FN's Five-seveN pistol. It holds 20 rounds, has good sights and a good trigger. I started shooting and following the 5.7x28mm, including handloading.
While not concealed carried, it was terrific for clearing garden varmints, up to 50 pounds or so small/medium game hunting and lots of target practice.
The Ruger LC Carbine advantage
Ammunition

Bullet




Weight

Grains

Rated




MV

FPS

Ruger-57




MV FPS

Ruger LC Carbine




MV FPS

FN Herstal

27

2050

2159

2613

Federal AE

40

1655

1655

2047
While I like the easy carry pistol solution, it seemed the 5.7x28mm round could use more barrel length to extract its potential. The LC Carbine provides such a platform.
Pistol – 40 grain
Yards
0
50
100
150
200
250
300
Velocity – fps
1655
1493
1349
1226
1128
1053
995
Energy – ft.-lbs.
243
198
162
134
113
98
88
Momentum – lbs-sec
9
9
8
7
6
6
6
Path – in.
-1.50
2.39
2.38
-2.42
-13.00
-30.41
-55.64
Drift – in.
0.00
0.00
0.00
0.00
0.00
0.00
0.00
Time Of Flight – sec.
0.00
0.10
0.20
0.32
0.45
0.58
0.73
Forty grain bullet pistol performance is good and, no doubt, flat shooting well beyond pistol range.
LC Carbine – 40 grain
Yards
0
50
100
150
200
250
300
Velocity – fps
2047
1856
1676
1512
1366
1240
1139
Energy – ft.-lbs.
372
306
250
203
166
137
115
Momentum – lbs-sec
12
11
10
9
8
7
7
Path – in.
-1.50
1.98
2.93
0.78
-5.18
-15.81
-32.10
Drift – in.
0.00
0.00
0.00
0.00
0.00
0.00
0.00
Time Of Flight – sec.
0.00
0.08
0.16
0.26
0.36
0.48
0.60
Forty grain LC Carbine performance extends range over the pistol by one hundred yards, along with the ease of scope mounting. From muzzle to down range, the Carbine also provides a significant boost in kinetic energy.
Accuracy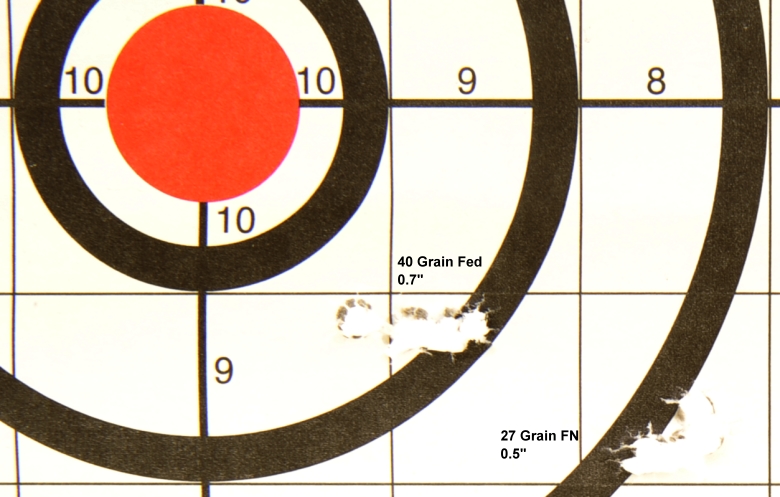 Above, typical five shot, 50 yard groups shot with the Carbine resting in a double down rail sled. Group size was essentially the same, whether shot open or suppressed.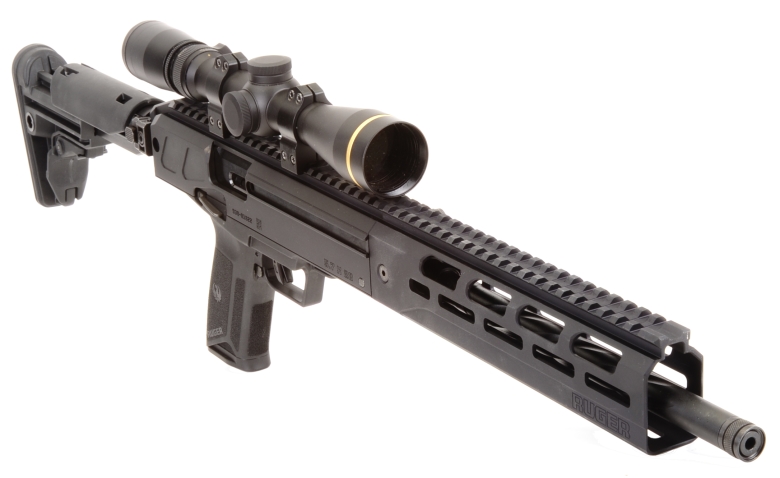 A scope with low rings sits very close to the rail without the objective bell touching and, at least with my lunkhead, puts cheek on comb and line of sight at optical center.
Overall
Fun to shoot. Light, compact and accurate. Virtually no recoil, low report. A terrific little small bore for hunting and recreational shooting that would see a good deal of use.

Real Guns