"Extraordinary," "finest known," "historically significant," "rare," and "phenomenal" are words that carry plenty of heft.
Place the weight of those words on an amazing and carefully curated collection of fine arms and you have the Greg Lampe Collection. Rock Island Auction Company will proudly unveil the initial offering from this far-reaching gun collection in its May 19-21 Premier Auction. The lots range from remarkably conditioned Colt revolvers, to pocket pistols, to rare flintlocks to well-documented martial long guns. It is a collection as varied in its breadth as it is breathless in its distinction and will be offered over several auctions.
"Most collectors go through periods of different interests," said firearms consultant Herb Glass Jr., a long-time friend of Lampe who died in 2022. "They will start collecting one field and then get exposed to another field. Transitioning between the many fields of antique firearms is probably a natural thing for collectors."
Glass, who spoke with Rock Island Auction Company about Greg Lampe and his gun collection, said the two men's friendship dated back to when they first met at an Ohio Gun Collectors Association event in the 1970s. Lampe was from Ohio where he founded his company, Emtech, before selling to 3M in 2002 and retiring to Arizona.
Glass described Lampe as a "persistent collector," starting a gun collection with little money but watching it evolve into something special. He was a 23-year member of the Texas Gun Collectors Association and several of his cased sets were used as correct examples in Robin J. Rapley's books on Colt accessories.
"He didn't buy things on the spur of the moment," Glass said, noting that Lampe's gun collection touched a number of genres. "His interests changed. His pleasure in part was the study, and the study led him from one field to the other. That accounts for the range.
"People buy things, collect things and never try to learn much about them," Glass said. "He did. Students have the most fun."
Some of the guns, like a gold- and nickel-plated Colt Model 1877 Lighting have already been highlighted. The fine arms from the Greg Lampe gun collection on offer in the May 19-21 Premier Auction range from bladed weapons to muzzleloaders to percussion Colt revolvers to dueling pistols to percussion rifles to what was his last genre of interest, pepperbox pistols.
Here is a sampling of some of the variety weapons that will be on offer.
Finest Known Three-Digit Serial Number Cased Colt Model 1860 Fluted Army Percussion Revolver
More than 200,000 of the Colt Model 1860 Army revolver were made between 1860 and 1873 when the Colt Single Action Army revolver was adopted. About 5,000 to 6,300 revolvers with fluted cylinders, with serial numbers under 8,000, were made, and of those, only about 2,800 had the 7 1/2 inch barrel length.
These Civil War era Colt revolvers are much sought after because some were even shipped to the South on the eve of the Civil War and even after the opening salvos were fired at Fort Sumter. Very few survived with much finish on them, a testament to their use in the war.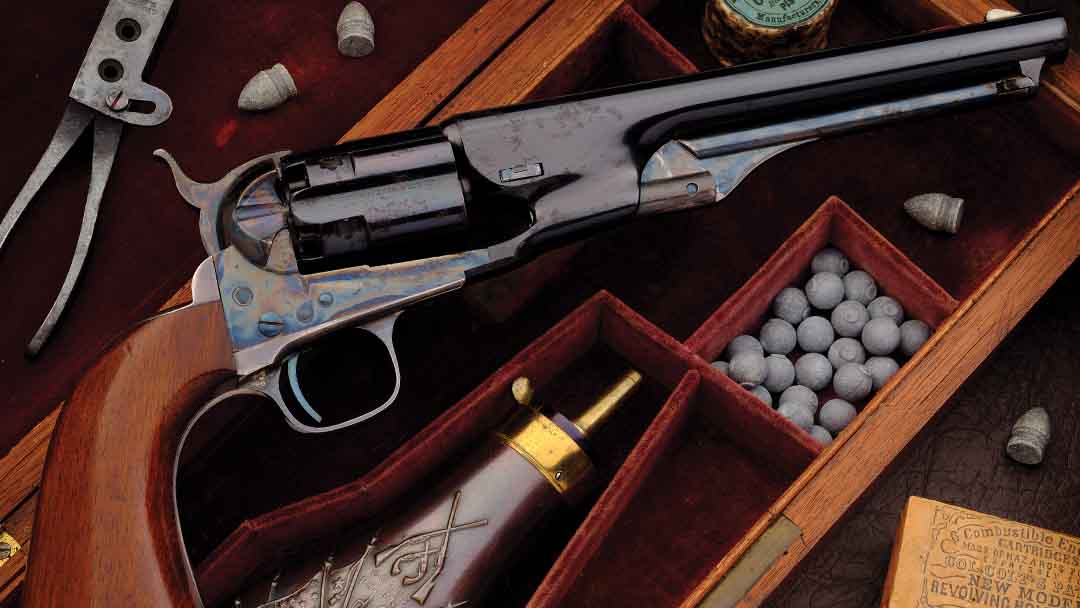 This fluted Colt Model 1860 Army percussion revolver is in extraordinarily high condition and likely never saw use. Research shows this fine arm was shipped to Colt's New York sales office and bears serial number 964. The brilliantly color casehardened four-screw frame bears the three-digit serial number, as does the fluted cylinder. The hammer is also casehardened and features borderless knurling. This revolver was reported as found in a vault in an antique and coin shop in Colorado following the death of the shop's owner in the 1970s. It was then sold to another coin dealer before being sold to well-known collector George S. Lewis Jr.
Rare S. Hawken Signed Full-Stock Percussion Rifle
Jacob and Samuel Hawken set up their gun making business in St. Louis in 1825 where they developed the rifle that would be used by trappers, traders, and frontiersman to explore the Rocky Mountains and the west. It was light and could take down large animals at long range. This gun dates to after the heyday of the Rocky Mountain fur trade but when Hawken rifles remained in demand, not only by hunters, guides, and scouts, but by migrants headed west.
The Hawken shop offered full-stock and half-stock rifles. The full-stock was offered at $18, while the half-stock rifles were more labor intensive, priced at $25.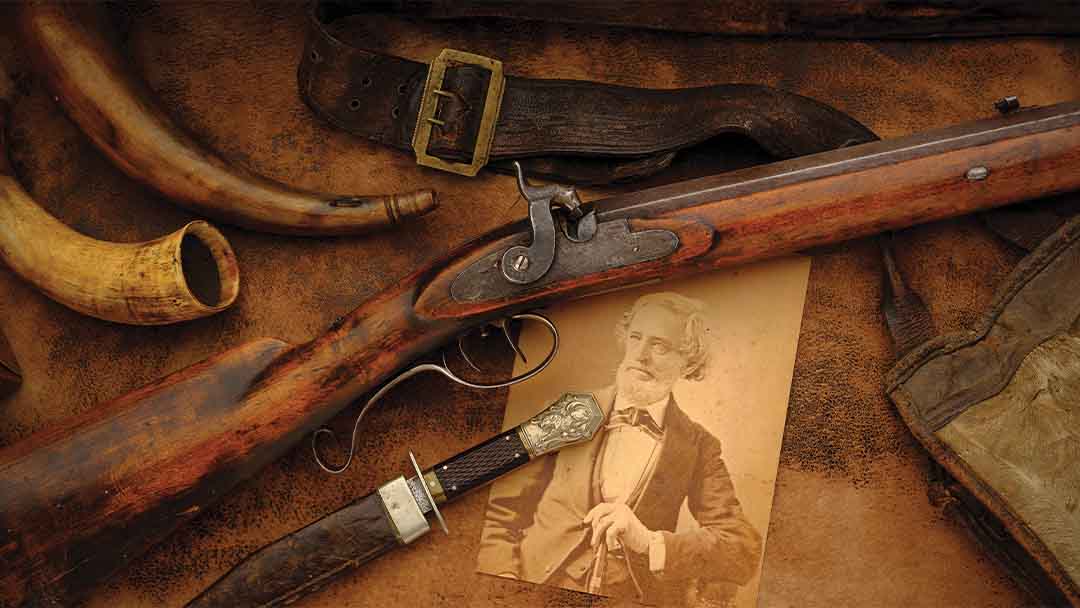 This rifle, dating from the 1850s is a full-stock rifle stamped with the "S. HAWKEN St. LOUIS" marking on top of the barrel behind the rear sight. The marking was used after Jacob Hawken died in 1849. The rifle has a silver blade front sight with dovetailed copper base, and a dovetailed iron notch rear sight. The lock has scroll end border engraving and has double set triggers. The butt has a straight "Tennessee" style cheek piece and a crescent iron butt plate and rounded heel tang with an iron toe plate.
Extraordinary Factory Engraved, Early Production, Two-Digit Serial Number 81 "First Type, First Issue" E. Remington & Sons Model 1875 Army Single Action Revolver with Pearl Grips
This Remington single action revolver is one of the first off the line in late 1874 or early 1875. Originally planned for .46 caliber rimfire, the gun maker released them in .44 Remington centerfire. After 1878, most were chambered in .44 WCF or .45 Colt. The Remington Model 1875 Single Action Army was meant to compete with the Colt Single Action Army, but because of Colt's two-year head start, Remington's Single Action Army never caught on as well commercially as the Peacemaker. Between 25,000 and 30,000 revolvers were made from 1875 to 1889.
A First Type, First Issue model bears the factory-modified hammer from rimfire to center fire as well as a First Type lanyard loop on the butt and a pinched blade front sight threaded into the barrel.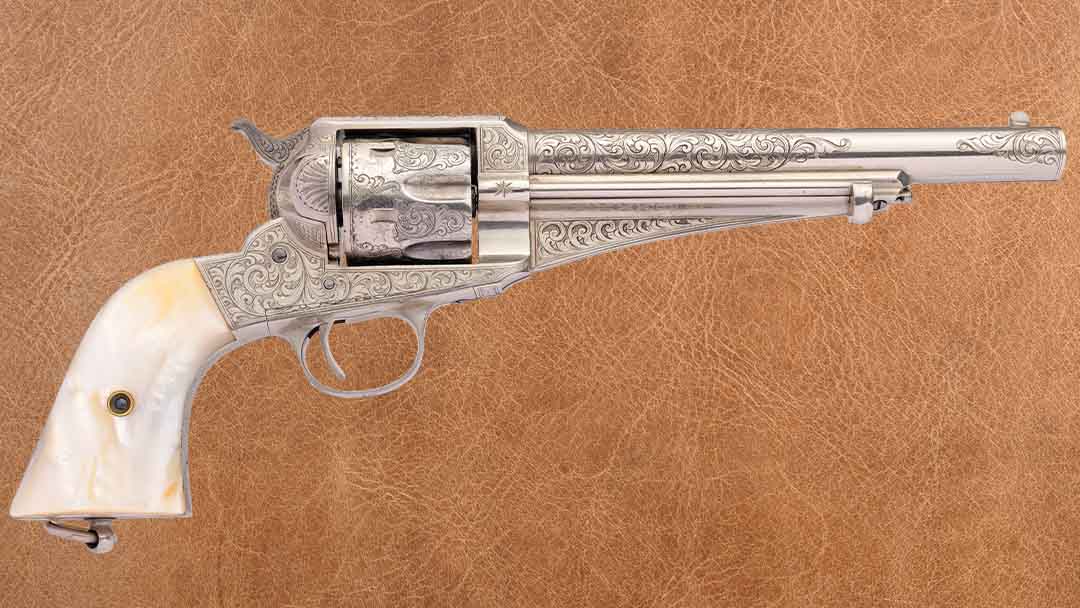 This is one of the finest existing Remington Model 1875 revolvers, with engraving by master engraver L.D. Nimschke. The gun features classic scrollwork, a "kidney" design behind the hammer, and entwining lines, stars, and other embellishments straight from Nimschke's designs. Nimschke engraved other Remington early Model 1875 Single Action Army revolvers, but other surviving guns aren't as highly conditioned as this revolver. Serial number 81 is marked on the rear face of the cylinder, the trigger guard tail, and the left side of the frame at the heel.
Historically Significant, Exceptional, and Documented One of the First Etched Panel Colt Black Powder Frontier Six Shooter Single Action Army Revolver
This revolver stands as the finest known example of the earliest shipped etched panel Colt six-shooter. New York distributor J.P. Moore's Sons marketed the idea of associating "Frontier Six Shooter" with .44 WCF and etching the name on the barrel. Colt agreed and a legend was born, as the Colt Single Action Army in this caliber was branded as the "Frontier Model."
The revolver is pictured and identified in the March 2010 cover story "The Birth of the Colt 'Frontier Six Shooter'" in "The Gun Report," and Don and Carol Wilkerson and Kathleen Hoyt's "The Official Record of the Colt Single Action Army Revolver 1873-1895" on page 73.
A must-have for the serious Colt Single Action Army collector, this revolver was manufactured in 1878, the first year for the etched .44 WCF panel, and was one of the first shipped in February 1878 to J.P. Moore's Sons. This SAA has a blued finish with a 7 1/2 inch barrel and walnut grips.
Spectacular U.S. Contract Whitney Model 1841 Percussion "Mississippi Rifle"
The "Mississippi rifle" nickname came out of the Mexican-American War when Jefferson Davis was appointed colonel of the Mississippi Rifles, a volunteer regiment from that state. Davis, who would eventually be president of the Confederate States of America, wanted the 1841 rifles but his commanding officer, Gen. Winfield Scott refused. Davis went over his head to President James K. Polk who overruled Scott. Davis's unit, with its rifles, played a key role the Battle of Buena Vista. The Model 1841 was used across both the Federal and Confederate armies in the Civil War.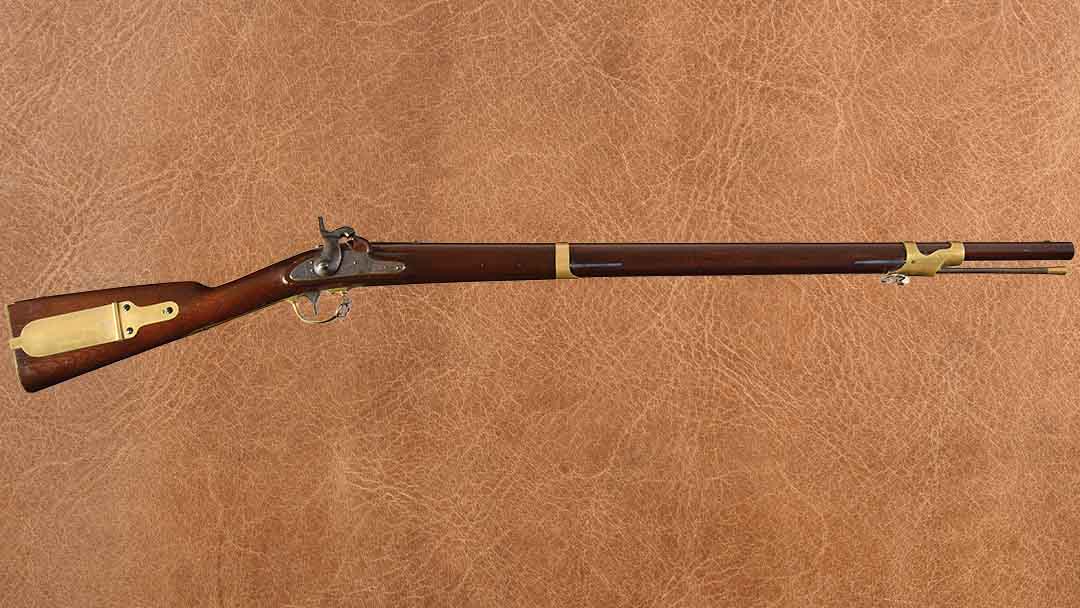 This "Mississippi rifle" is exceptional, in nearly as issued condition, and chambered in the original .54 caliber round ball configuration. It appears to have remained in storage throughout its service life. It has a color casehardened lock plate and hammer with browned barrel. The trigger, screw heads, and band spring have a vivid nitre blue finish. The buttplate, over-sized patch box, trigger guard, sideplate, and barrel bands are brass. It bears two ordnance inspection cartouches.
Very Scarce and Desirable Civil War Confederate 1st Model LeMat "Grape Shot" Percussion Revolver
The nine-shot revolver was popular with Confederate officers during the American Civil War, with about 450 of these 1st Models made in Liege Belgium. Along with the barrel for rounds held in the cylinder, the LeMat also had a secondary and larger caliber underbarrel that functioned as a short-barreled shotgun. The shooter flipped a lever on the hammer to select whether to fire like a pistol or with the larger bore barrel.
These revolvers were used by well-known Confederate generals like P.G.T. Beauregard, Braxton Bragg, and J.E.B. Stuart. Despite most of the manufacturing occurring in Paris and Liege, the gun was designed by Jean Alexandre LeMat of New Orleans.
This LeMat "grapeshot" revolver features the improved barrel latch pinned in the front of the frame and fitted with a spring and has interrupted threads on the "grape shot" barrel allowing the barrel and cylinder to be easily removed. It has a triangular front sight. An incredibly rare holster and belt rig are offered separately in the auction.
Exceptional Woodhead & Hartley Sheffield Etched Blade Half Horse, Half Alligator "American Bowie Knife" with Pearl Grips and Scabbard
The English firm of George Woodhead & Joshua Hartley offered patriotic American themes on its knives as a way to tap into the craving for large knives in the booming United States marketplace. The company was established in Sheffield in 1839.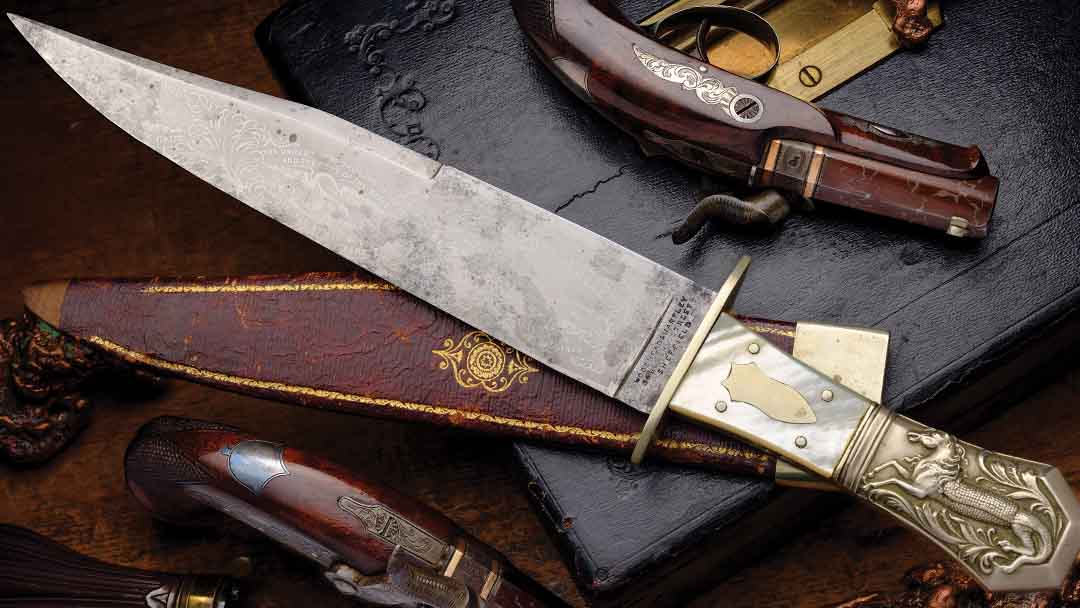 This knife is 13 3/8 inches long with a 9 inch clip point blade with a long false edge. On the left is etched an American eagle and patriotic slogans including "THE UNITED STATES, THE LAND OF THE FREE AND HOME OF THE BRAVE/PROTECTED BY HER NOBLE AND BRAVE VOLUNTEERS" and "CALIFORNIA./GOLD AT THE DIGGINGS." It has an elliptical German silver guard and coffin-shaped pommel with a relief half horse, half alligator on each side. A scabbard with gilt floral tooling and German silver fitting is included.
Presentation "Book" Cased E. Remington & Sons Over/Under Derringer with Photographs and Plaque Inscribed to "LW" on December 25, 1876, Attributed to Lillie Woods of Cheyenne, Wyoming
The over/under derringer by Remington, the Model 95, is one of the iconic pocket pistols of the American West. They were popularly associated with gamblers and women of the saloons, brothels, and mining camps where personal protection would be a good thing. The Remington derringer was patented in 1865 by William H. Elliott and remained in production until 1935.
An article from the April 1992 "The Gun Report," attributes the gun to Lillie Woods based on a newspaper article about the Metz family massacre in April 1876 south of Custer, Wyoming addressed to Lillie Woods of Elm Grove, West Virginia. Woods is in photos included in the gun case. Consigner research points to Woods as being a woman with a son who turned to prostitution after the boy's father was killed in an Indian attack in Wyoming.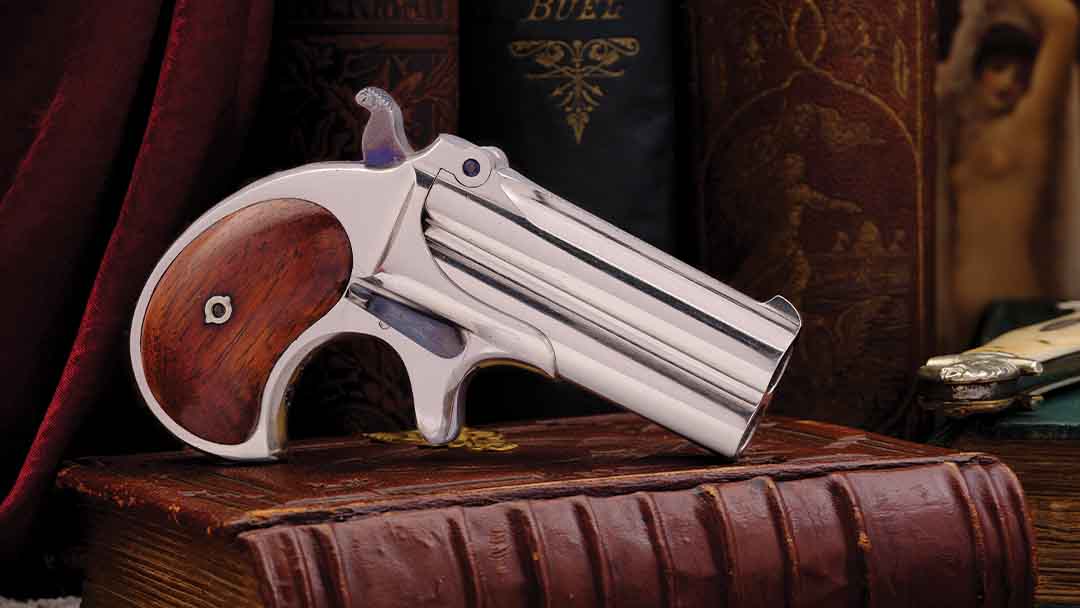 The derringer on offer is an early version with a serial number of 139, marked on the bottom of the lower barrel and on the frame under the grips. The book "case" has a small brass plaque inscribed "Dec 25/LW/1876" and is made from a Roberts Brothers photo album.
Extraordinary Special Presentation Cased, Deluxe Factory Engraved Colt Model 1849 Pocket Percussion Revolver with Inscription to Hartford Businessman H.B. Beach, Deluxe Grip, and Extremely Rare Matching Factory Engraved Extra 4 Inch Barrel
Hartford businessman Henry Bruce Beach, one of the partners of the Woodruff & Beach Iron Works, owned this cased set that dates to 1851. Lampe provided a binder of information on Beach who came from a wealthy Connecticut family and became a prominent industrialist in Hartford. Woodruff & Beach grew to become one of the largest manufacturers of steam engines, boilers, heavy machinery, and precision iron and brass castings in the country, supplying steam engines and boilers for several U.S. military sloops during the Civil War.
This Colt 1849 Pocket is one of the few known with both 6 inch and 4 inch barrels. A cased set of engraved transitional Baby Dragoon revolvers owned by Beach's brother, also with 6 inch and 4 inch barrels, was sold by Rock Island Auction in May 2017 for $172,500 as part of the Robert M. Lee Collection. This revolver is in even finer condition and features more deluxe engraving. It has been in several well-known gun collections.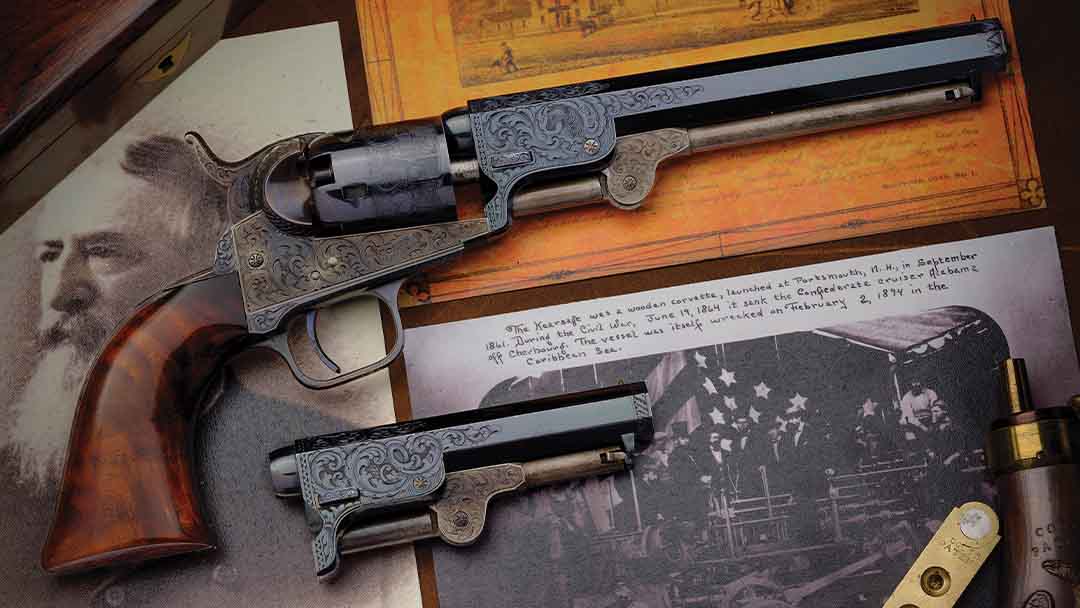 This revolver features distinctive early style of engraving but is more refined in style than typical engraving for Colts in the early 1850s. The blued barrels have floral borders engraved at the muzzle and scroll engraving on the breech section and the casehardened loading lever arm flats with shaded backgrounds and some crosshatching. A vignette of a cougar or bobcat is on the left side and a horse head on the right side of the wedge on the 6 inch barrel. The cylinder has an engraved stagecoach holdup scene. The frame is covered with scroll engraving with shaded backgrounds, some crosshatch sections, a floral bloom on the recoil shield. The silver-plated back strap has a shell design by the hammer, scroll patterns, and "H B Beach/HARTFORD CONN" finely inscribed in a panel on the back. The stunning rosewood presentation case is inscribed "HBB" on the lid escutcheon in highly ornate letters and contains a pocket flask with eagle and revolver design on both sides, an early "COLT'S/PATENT" ball and bullet mold and a blued L-shaped combination screwdriver and nipple wrench, a cap tin with lime green "100/COLT'S PISTOL/CAPS/MADE BY/ELEY BROS./LONDON" label as well as several balls/bullets, and a key.
Exceptional Cased Factory Engraved Manhattan Fire Arms Mfg. Co. Six-Shot Percussion Pepperbox Revolver
Pepperbox pistols were Greg Lampe's latest and last interest in adding to his gun collection. These guns, popular from the 1830s to the 1850s, have multiple barrels that rotate around a central axis, rather than a cylinder that syncs to a single barrel. The guns fell out of popularity with the rise of bored cylinder revolvers. Manhattan Fire Arms Co. manufactured about 2,500 to 3,000 from 1856-1859.  At the end of the 1850s, the company switched to manufacturing revolvers.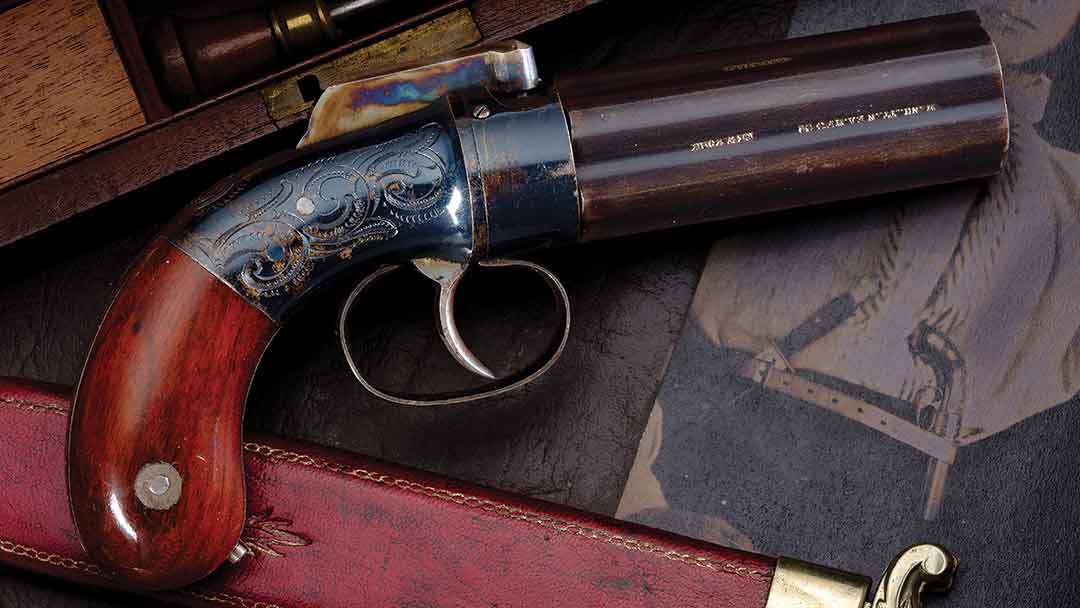 This pepperbox is an early example from about 1856 based on the low serial number and the address being on the barrel rather than the hammer. Its fluted barrels have scroll engraving on the sides. The serial number, 37, is found at the breech between two of the nipples, on the trigger guard, as do the grips, the frame, and the various internal components. A fitted mahogany case contains a red Moroccan leather wrapped powder flask with a plunger spout and a screw-off bottom, a ball mold, a loading/cleaning rod, a lidded compartment for ammunition, and the key.
The Greg Lampe Collection
This is just a sample of the fine arms from the Greg Lampe Collection that will be on offer in Rock Island Auction Company's May 19-21 Premier Auction. Because of his collection's immensity, additional items will be available in future auctions.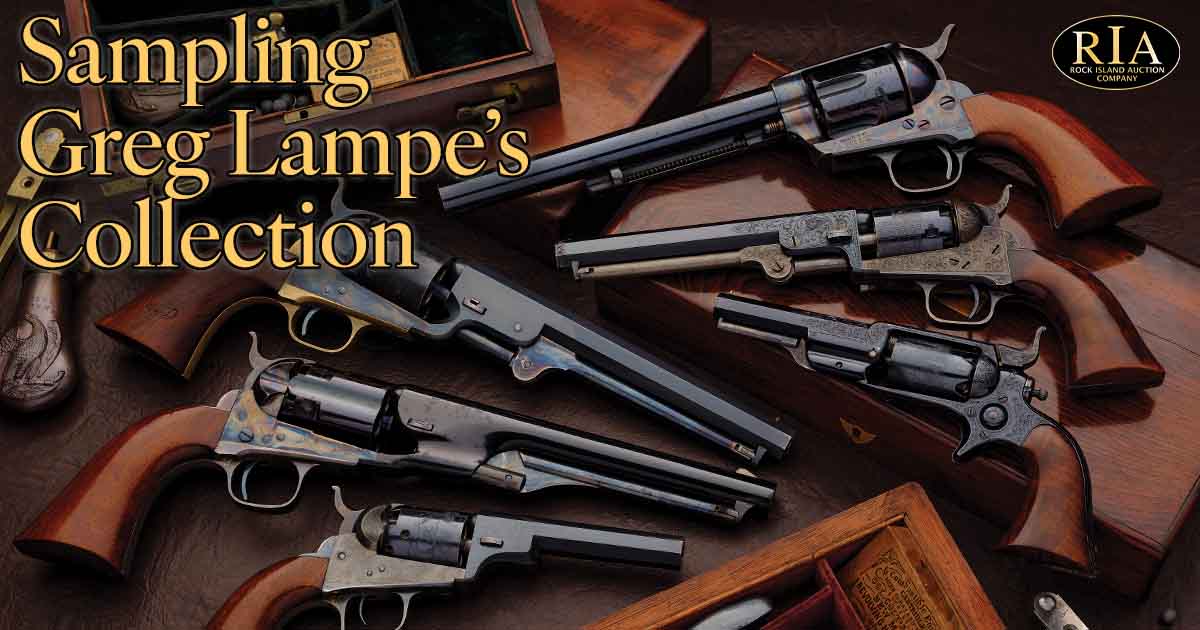 Rock Island Auction Company