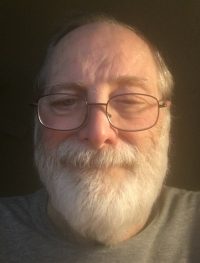 1/30/2022 – OK, so I held Maine's early winter feeble snow fall up to public ridicule and, today, revenge was swift. I had to drag my butt out there to clear 15″ of heavy snow; shovel, snow blow and… shovel some more. It's amazing how many steps are in a 300′ driveway when it is walked five times.
That look on my face is not annoyance or fatigue. It is, in fact, my interpretation of unbridled laughter. All is well in our little home in the woods, where my wife and I remain unplugged from crazy and/or annoying.
Of course I have been getting that special heating oil and propane bill. I also have to keep my neighbors from turning our property into a low cost wood lot.
I would gladly give firewood to neighbors in need, but my neighbors are all cheapskate, but affluent, hobby farmers riding $35k of overgrown lawn mowers to clear 25 foot driveways.
OK, maybe I am just a little pissed off. I can always sing along with Vanilla Fudge, "You Keep Me Hangin' On", and play a little lead air guitar.
The Savage A22 BNS-SR

Savage continues to surprise me with slick products. Maybe a dozen years ago, my impression of Savage firearms was utility grade; good reliable shooters, but seriously lacking in aesthetic appeal. Savage's association with Vista Outdoor did little to improve that perception.
In mid 2019, with Vista Outdoor caving to anti gun pressure from retailers like REI, Savage's CEO and President Al Kasper organized a group of investors and purchased Savage from Vista. Perhaps coincidental, but very nicely done production firearms followed.
The Savage A series rimfire rifle was introduced in 2015 as the A17 .17 HMR. This was followed with a .22 WMR version in 2016, and then a Savage A22 .22 LR in 2017. The subject laminated stock, muzzle threaded version A22 was announced in 2020.
Savage A22 BNS-S

SKU Number

47249

Manufactured
Westfield, MA
Action
Semi Auto Blowback

Caliber
.22 LR

Barrel

Black Oxide 18″
Muzzle Threads
1/2-28

Barrel Material
Carbon Steel
Rifling
1:16″

Receiver Material
Carbon Steel

Receiver Finish
Black Oxide
Magazine

Rotary 10 Rounds
Stock
Hardwood Laminate
Length Of Pull
13.6″
Overall Length
37″
Weight
6.6 lbs
MSRP
$509
A few notable points, some obvious, some not. The A22 BNS-S in Westfield Massachusetts where Savage employs approximately 300 U.S, workers.
The barrel and receiver are carbon steel; no aluminum or plastic pieces with the exception of the dust cover at the rear of the receiver. The metal finish is black oxide, not painted.
The semi auto action originated as a reliable .17 HMR blow back design, operating at much higher pressure levels than the 22 Long Rifle. It is stout for the .22 LR chamber and able to provide many years of reliable operation. Where the higher pressure .17 HMR and .22 WMR version have a delayed blowback action to accommodate higher pressure, the .22 LR version is straight blowback.
The rotary magazine holds 10 rounds and fits flush to the stock. Insertion and ejection of the magazine are positive. No, I did not find loading the magazine a soul crushing or traumatic experience.
The stock is… contemporary classic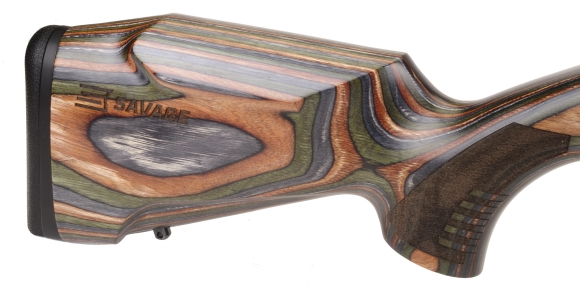 The stock is an ergonomically designed, high quality hardwood laminate. More so, it has a Monte Carlo comb and a rollover cheekpiece that raises the cheek to place eye alignment at scope level, while retaining comfortable drop at the toe and heel. The stippled pistol grip is wide and hand filling, curving sharply down. A modern interpretation of a Mannlicher or Schutzen buttstock.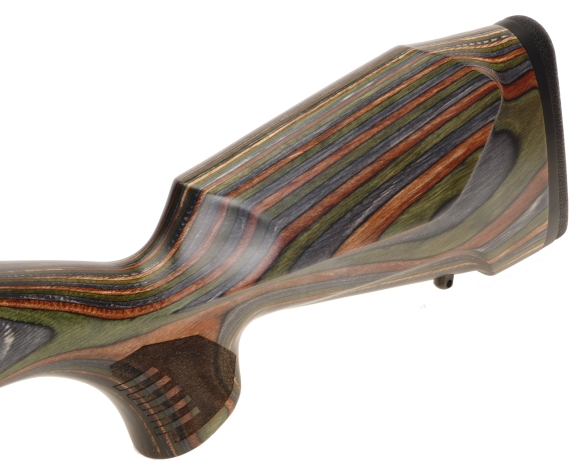 The line of the comb rises slightly. The flutes are sculpted and the small of the stock make for a firm, steadying grip. The recoil pad fits comfortably against the shoulder.

The forearm is full and relatively flat bottom with target stock similarities. It is an excellent form for shooting from a bench, but the rifle's moderate weight also makes it a steady rifle to shoot standing, offhand.
Despite the target style, hardwood laminate stock, the Savage A22 BNS-SR still only weighs 6.6 lbs, even with a steel receiver. I would attribute most of the wight control to the barrel taper. The 18″ barrel measures 1.150″ diameter at the receiver, immediately tapers to 0.915″ and terminates at 0.635″ at the muzzle. The absence of a bull barrel seems not to compromise accuracy.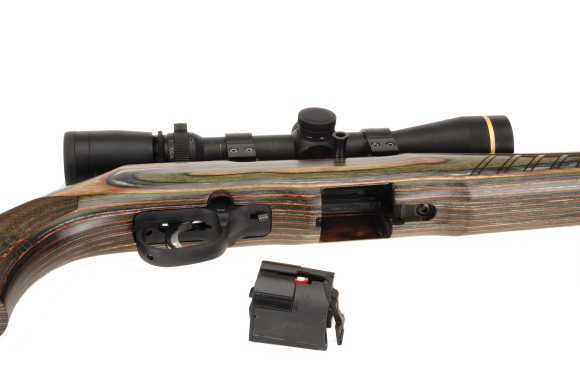 The flush fitting rotary magazine inserts and pops out cleanly. Loading is… rotary magazine like; it takes a little effort. Feed and cycling was problem free with the ammunition shot during evaluation, even with mixed magazines and even with a silencer in place.
Access for cleaning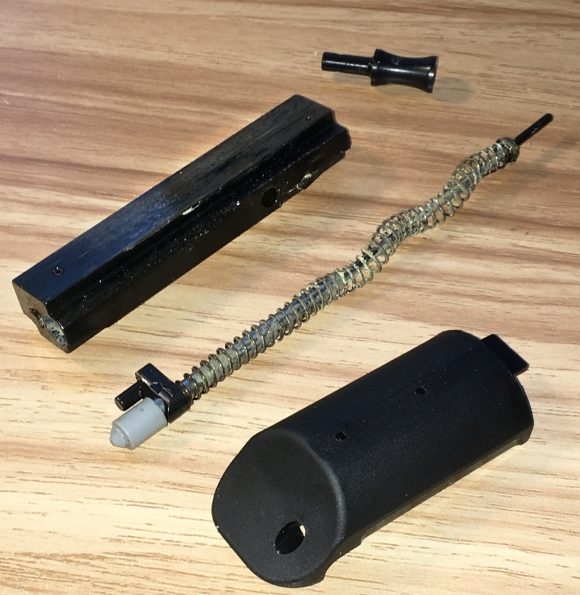 A quick note on cleaning. Check for empty, remove the magazine. Insert a small punch into the hole at the rear of the receiver dust cover, compress the recoil spring and lift the cover up and off. Remove the recoil spring. Slide the bolt back, pull the cocking handle out of the bolt and remove the bolt. The action pieces can now be cleaned and the bore can be cleaned from the breech end.
Easily adjusted AccuTrigger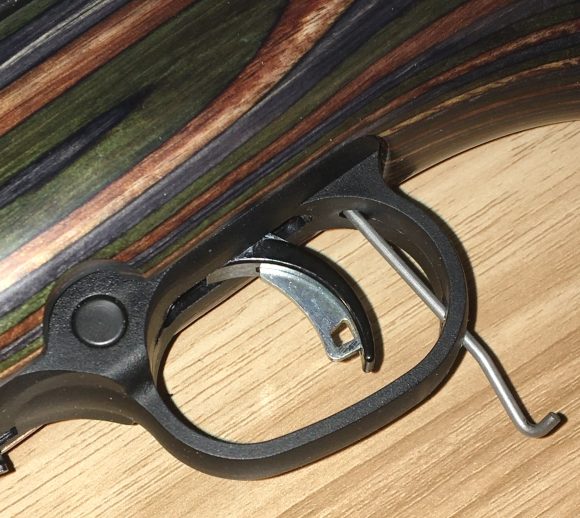 Trigger adjustment is done with a tool packaged with the rifle, shown above poking through the trigger guard. Check for empty, remove magazine, safety on, tool is rotated clockwise to increase pull, counter clockwise to reduce pull.
I apologize for the iPhone photos. Photos and a storyboard usually dictate text, but too many weather related interruptions have me dropping in photos as required.
Shooting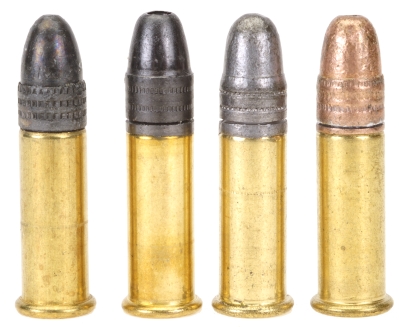 Ammunition

Bullet




Grains

Rated




MV FPS

Actual




MV FPS

50 Yard




5

Shot Group"

Remington Thunderbolt RN

40

1255

1272

0.7

Eley Subsonic HP

40

1040

1063

0.5

Winchester Match RN

40

1150

1154

0.6

Winchester Wildcat HP

40

1255

1249

0.8
Groups were shot from a rest after sighting in and the first rounds through the barrel. Multiple groups were not shot with each ammunition type…. then squared, pi extrapolated and binaried.
While mathematically… statistically crude for data collection, those 20 rounds strongly hinted where future shots might land. I could be wrong, but in 68 years of shooting I've yet to be surprised by a second or third or fourth group shot from the same rifle with the same information.
In addition to shooting for accuracy, rounds were also clocked over a chronograph and additional rounds were fired to check the A22's reliability. No, there were no failures to feed, failures to eject or jams of any type. Did not happen with specific or mixed ammo types in a magazine.
Silencer attached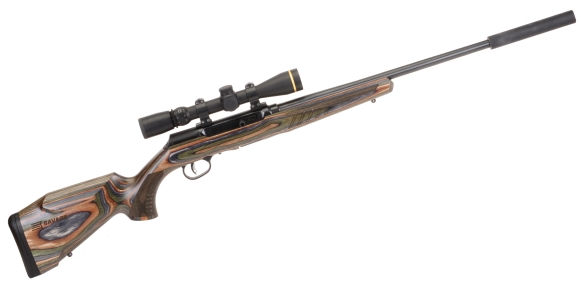 Silenced, accuracy was about the same as without silencer. There is always a clack-clack with an auto loader caused by the bolt cycling, even if with subsonic ammo. In the case of the A22, the mechanical sounds were light. The A22 cycled reliably with the silencer in place and while shooting subsonic ammo. Given muzzle threads, I shoot everything suppressed to preserve hearing and to less antagonize rural neighbors.
Good work from Savage. Now all we need is the resurrection of the Savage Model 99.
Real Guns – A Firearm and related publication