William Seward, a strident abolitionist and one-time political rival of President Abraham Lincoln served as his Secretary of State and was also a target of the assassination plot that took the 16th president's life.
His negotiation of the purchase of Alaska under President Andrew Johnson earned the territory the nicknames "Seward's Icebox," and "Seward's Folly," but he considered it his greatest achievement.
Considering Seward needed to soothe European leaders into neutrality and looking for gift possibilities, it is fitting that Colt presented him with a Pocket Navy percussion revolver. The pistol, that features a hammer with an engraved wolf's head motif and late percussion vine scroll as well as an inscription to Seward from Colt, is on offer in Rock Island Auction Company's Dec. 9-11 Premier Auction.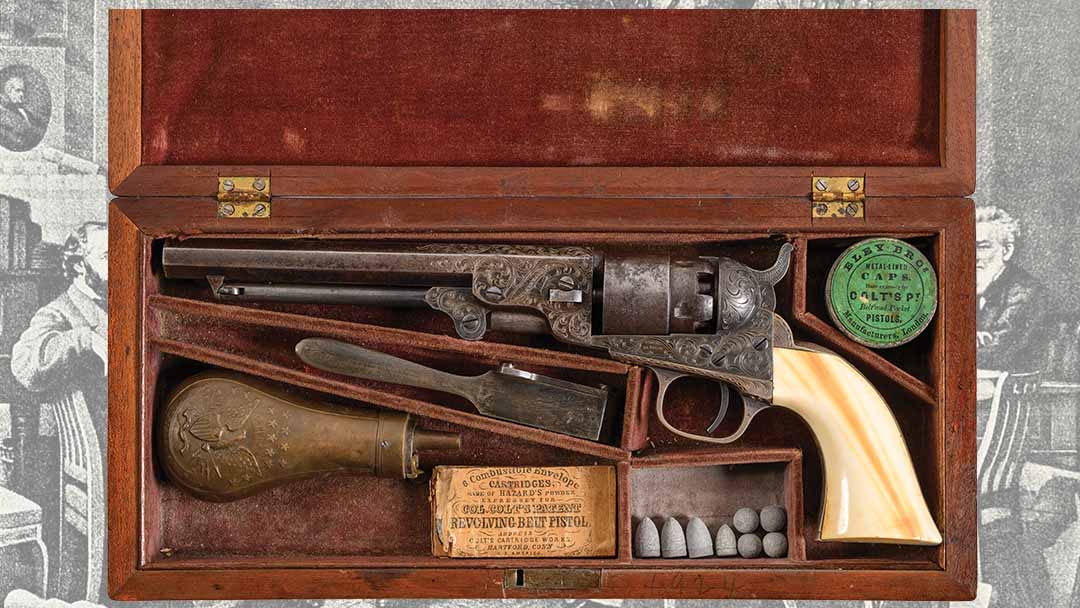 A cased and engraved Colt Pocket Navy was presented to Abraham Lincoln's Secretary of State, Edward Seward, as the Civil War started.
William Seward's Early Years
Seward was born into a well-to-do family in New York. The family owned slaves before New York outlawed the practice though the slave children went to school alongside the Seward children. William Seward had a playmate named Zeno, a slave in a neighboring house, who one day told Seward he'd been badly beaten and tried to run away. He was caught and put in a yolk. Zeno broke the yolk and escaped. Seward never saw the boy again but called it an influential moment of his life, writing that the incident "determined me, at that early age, to become an abolitionist."
He taught school in Georgia for a short time and it was there that he witnessed the poor treatment of slaves.
Seward served as governor of New York from 1839 to 1842, and as a U.S. Senator from the state from 1849 to 1861. He was a leading anti-slavery advocate and considered a leading candidate for the Republican presidential nomination of 1860. He went on an eight-month tour of Europe to avoid over-exposure that might cost him the nomination.
By the time Seward returned, Lincoln was viewed as a more moderate voice and won the Republican nomination. Seward went on to be a strong advocate for Lincoln on the stump and was immediately considered by President-elect Lincoln to serve in his cabinet.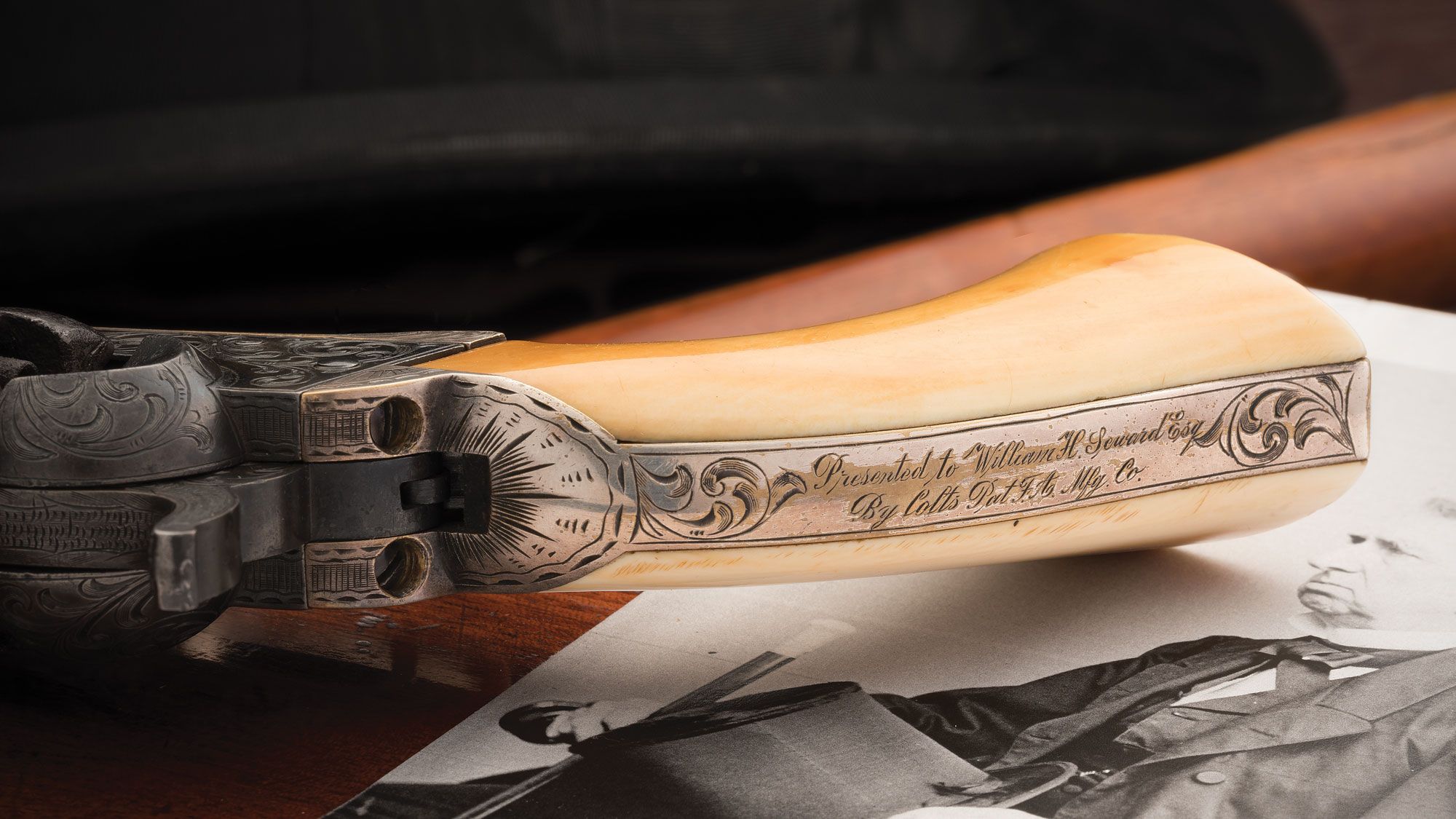 President Abraham Lincoln mostly stayed out of foreign policy, leaving that for Secretary of State William Seward. Lincoln did seek Seward's counsel on some domestic issues, sharing early drafts of Lincoln's second inaugural speech and the Gettysburg address with Seward.
William Seward as Abraham Lincoln's Secretary of State
Seward was part of the negotiations trying to fend off secession, but as that effort failed, Seward turned toward lobbying European nations to remain neutral in the coming Civil War. He sent diplomats across Europe to convince leaders to prohibit smuggling goods and war materiel to the Confederacy.
Early in the conflict, the Union faced a couple of crises with Great Britain. Two Confederate ships were built in England that Seward had pleaded with to stay neutral. He raised enough of a fuss that England, which abolished slavery in 1833, remained firmly neutral the rest of the war.
The Trent Affair of 1861 was a thornier dilemma with the English. A Union naval captain boarded the HMS Trent and removed a pair of Confederate envoys on a diplomatic mission. Britain felt its neutrality was violated and demanded an apology, while public sentiment in the Union was to seek confrontation. Seward and Lincoln wanted to avoid war with Britain and diplomatic recognition of the Confederacy. Seward ordered the diplomats released and disavowed the Union captain's action. He didn't make a formal apology to the British, showing that the United States acted lawfully and would defend its interests.
Over the years, Seward's stance on slavery softened, while Lincoln grew more radical. Frances, Seward's wife, mostly stayed in New York rather than Washington, D.C., made their house a stop on the Underground Railroad. As a moderate, he was viewed by some as being too conservative, while southern colleagues saw him as too radical to compromise.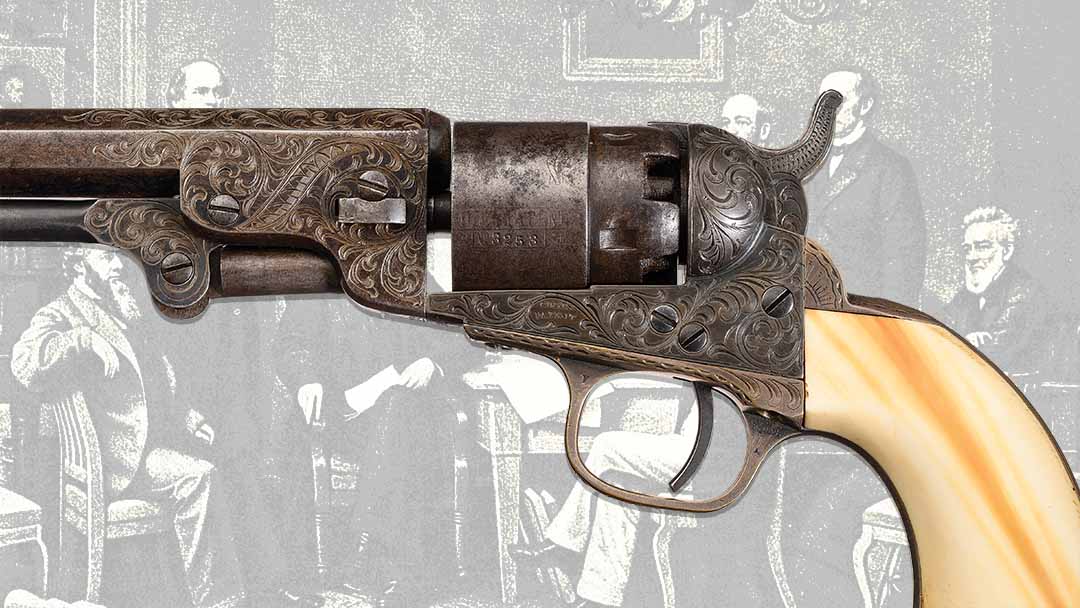 Over time, Secretary of State William Seward was once a staunch abolitionist whose beliefs softened, while President Lincoln started as a pragmatist but became more radical as an abolitionist.
Historian David M. Potter wrote that Seward offered, "Keen insight, balanced judgment, and a capacity for thinking in broad terms characterized his mind. Moreover, his intellect was free from the rigid moral dogmatism which hardened the mental arteries of many anti-slavery men. Because of this, he was quick to sense the trend of events and to alter his own course according to circumstances. This quality may be regarded as tactical skill or as conscienceless opportunism, but it made him, in either case, a dangerous antagonist, for he strove only for objectives which he might hope to win."
In December 1862, radical Republicans demanded Seward's resignation which Lincoln refused.
"While it was clearly in Lincoln's interest to stand up to the Radicals, it was also in his interest to retain Seward's services," wrote historian John M. Taylor. "The secretary of state was not only the premier intellect of the cabinet but had proved himself totally loyal to the president as well."
While he stayed out of most foreign policy matters, Lincoln often sought Seward's input on domestic issues. He shared early drafts of his first inaugural address and the Gettysburg address. Seward was among those who advised Lincoln when to issue the Emancipation Proclamation. It was written in July of 1862, but Union forces were struggling on the battlefield. Seward convince Lincoln to wait, saying that if it was done at a point of weakness it would appear as the "last measure of an exhausted government…"
The Battle of Antietam on Sept. 17, 1862 was considered a draw militarily, though Lincoln claimed a strategic victory, pushing the Confederate forces back to southern territory and giving him enough of a position of strength to issue the Emancipation Proclamation five days later, vowing that slaves in all the states in rebellion would be free as of Jan. 1, 1863.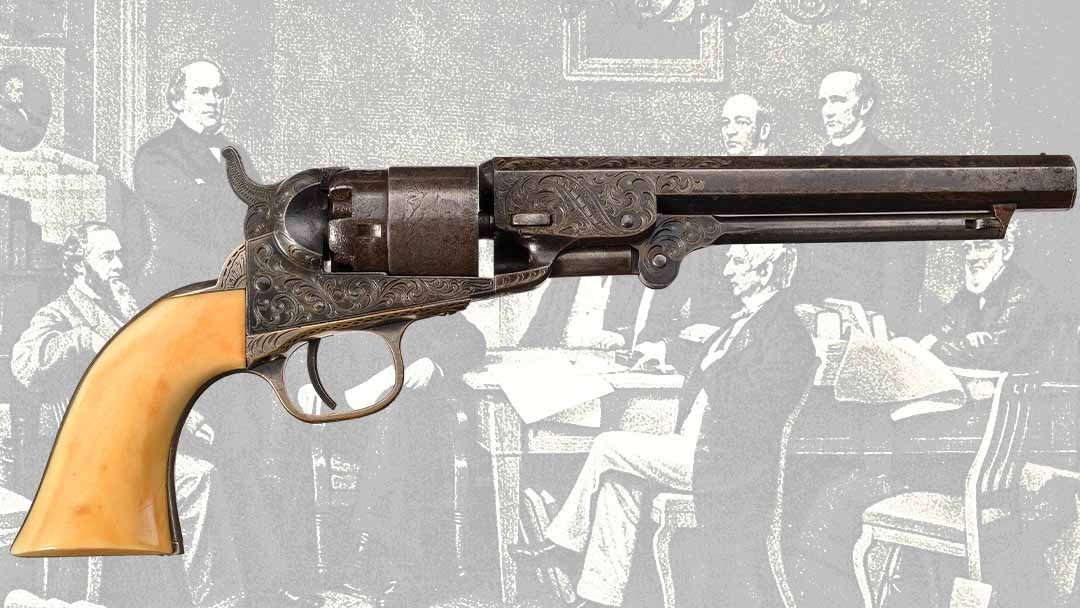 Secretary of State William Seward urged President Abraham Lincoln to wait to announce the Emancipiation Proclamation until the Union had obtained a position of strength militarily. That happened Sept. 17, 1862 when the Union pushed back the Confederate troops at the Battle of Antietem. Lincoln issued the proclamation that slaves in all the states in rebellion would be free on Jan. 1, 1863.
Abraham Lincoln's Assassination and William Seward's Close Call
Seward liked to ride outside of stage coaches in order to smoke cigars. In April, 1865, he was in a stage coach accident where he was thrown clear and seriously injured. Lincoln visited Seward's beside to joyfully relay his visit to Richmond and the surrender of Confederate forces.
On the night of April 14, 1865 as Lincoln and his wife went to Ford's Theatre, Seward was home in bed. Also in the house were a valet, a soldier assigned to Seward, his sons Frederick and Augustus, and daughter Fanny. An assassin, Lewis Powell, went to the house armed with a Whitney revolver and a Bowie knife. Powell told the valet he had medicine from Seward's doctor and was to show the secretary of state how to take it.
Granted access, Powell headed upstairs only to be stopped by Frederick Seward who was suspicious of the story and told the man his father was asleep. Fanny appeared from her father's room as Powell pulled his gun and aimed it at Frederick. The gun misfired so he knocked Frederick unconscious.
Powell entered the room and stabbed Seward in the face and neck. A splint fitted to Seward's broken jaw sustained in the coach accident likely saved the Secretary of State from being stabbed in the jugular vein.
Augustus Seward and the Union soldier rushed to William Seward's bedroom and were both stabbed. An arriving State Department messenger was also stabbed as Powell fled the house. Powell was arrested a few days later. He was later found guilty and hanged.
An illustration from 1865 of the assassination attempt on William Seward, Abraham Lincoln's secretary of state.
Seward wasn't initially told of Lincoln's death for fear it would be too big a shock in his weakened condition. A few days later, as his bed was moved so Seward could gaze out the window he saw the flag on the War Department at half staff.
According to a  newspaper account at the time, Seward "turn(ed) to his attendant and said: 'The President is dead!' The confused  attendant ammered and changed color as he tried to say nay; but the sagacious old man said: 'If he had been alive he would have been the first to call on me; but he has not been here, nor has he sent to know how I am, and there's the flag at half mast.' The old statesman's inductive reason had told the truth, and he lay in silence, the great teras coursing down his gashed cheeks as the dreadful truth sank into his mind."
Along with John Wilkes Booth's assassination of Lincoln and the attack on Seward, Vice President Andrew Johnson was also a target. Johnson's would-be attacker got drunk rather than follow through on the plot.
Seward would make a recovery but have facial scars for the rest of his life. His wife, Frances came down from New York to be with her husband. The stress of her family's safety severely affected her and she died of a heart attack in June 1865.
President Andrew Johnson and William Seward's Folly
Seward continued on as secretary of state under President Johnson but it was a rocky tenure as he butted heads with conservatives in the cabinet while radicals in congress distrusted him for his loyalty to Johnson as he implemented policies for reconstruction.
Russia claimed Alaska in 1725 but by the mid-1800s found it didn't have the finances to support significant settlements nor a military presence there. In 1859, the territory was offered to the United States, seen by Russia as a counter-balance to Great Britain in the Pacific, but the Civil War delayed the sale. Seward pursued the sale in 1867 and negotiated a price of $7.2 million, translating to 2 cents per acre.
While many derided the purchase with nicknames like "Andrew Johnson's Polar Bear Garden," Seward considered it his greatest achievement, but it would "take the people a generation to find out." Gold was discovered in the disputed border region with Canada and the Klondike Gold Rush of 1896 was on. Alaska's natural resources also numbered whale oil, fur, copper, timber, fish, platinum, zinc, lead, and oil.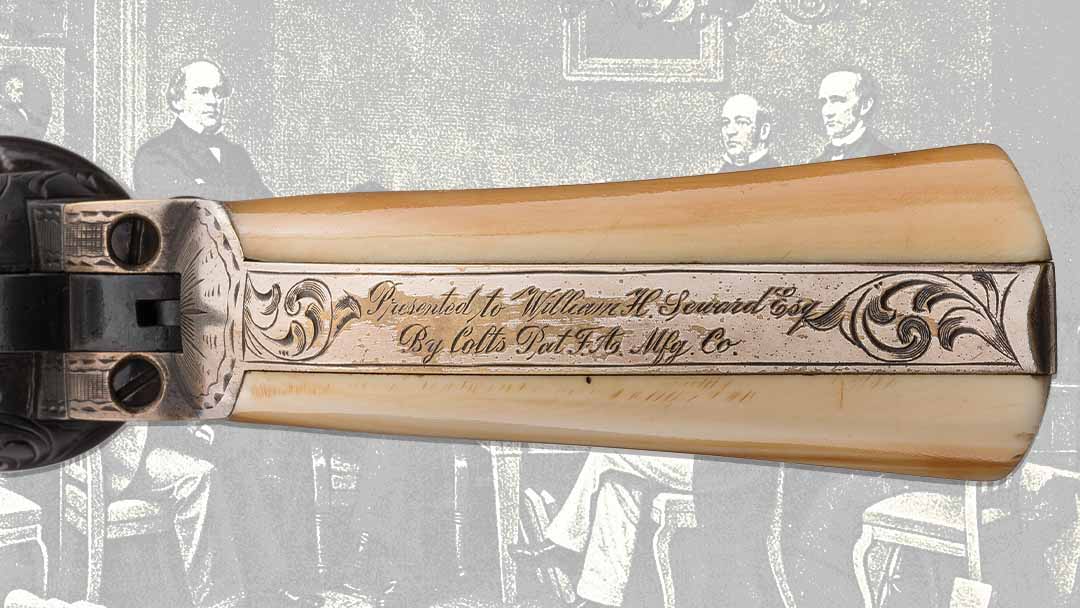 While Secretary of State William Seward is best known for "Seward's Folly," the purchase of the Alaska Territory in 1867, he also proved to be one of the finest American statesmen of the 19th century as part of Abraham Lincoln's cabinet during the Civil War. The backstrap of a Colt Navy Pocket revolver is inscribed with his name from Colt Firearms Company.
William Seward's Pocket Navy Revolver
After leaving office in 1869, Seward traveled around the world before returning to his New York home in 1871. In October 1872, he began to have breathing problems. As his family gathered around him, he spoke his last words to his children, "love one another." He died at age 71, described by at least one historian as the foremost American statesman of the 19th century who didn't serve as president.
The Colt Navy Pocket percussion revolver was manufactured from 1865 to 1873 and the gun presented to Seward reads "Presented to William H. Seward Esq/By Colts Pat F.A. Mfg Co." inscribed on the backstrap. Seward had corresponded with Samuel Colt in a letter dated Oct. 28, 1861 asking for a list of costs for the company's best ornamented revolvers.
The revolver features late percussion vine scroll engraving on the barrel, loading lever, frame, trigger guard, and backstrap, while the hammer bears the classic wolf's head motif. The cylinder has a stagecoach holdup scene.  The accompanying fitted case contain an Eley Bros. cap tin, ball/bullet mold, eagle pattern powder flask, cartridge pack, and a few ball and bullets.
The Pocket Navy revolver inscribed to William Seward is an opportunity to obtain a piece of American history that harkens back to its darkest hours, the soaring leadership of Lincoln and underappreciated stewardship of Seward taken to restore the Union and end slavery. This pistol and all that it symbolizes is available in Rock Island Auction Company's Dec. 9-11 Premier Auction.
Secretary of State William Seward was a key member of Abraham Lincoln's cabinet during the Civil War and closed the sale of the purchase of Alaska, at the time called "Seward's Folly," despite the immense natural resources, including oil, that have been discovered there since it became U.S. territory in 1867.
Sources
U.S. Takes Possession of Alaska, history.com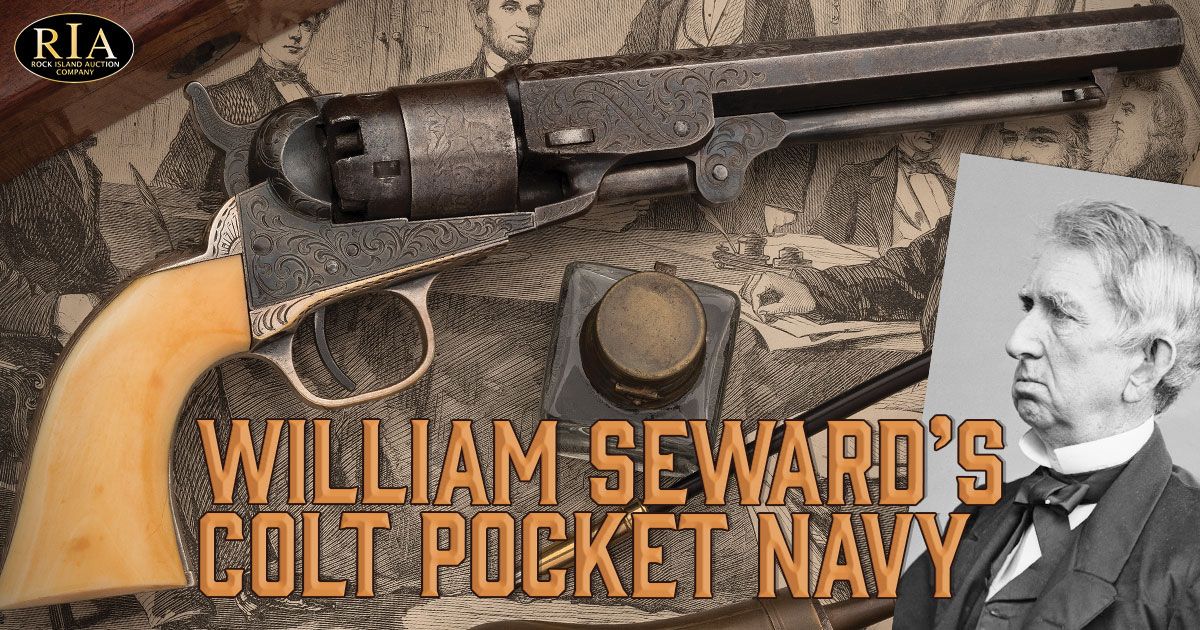 Rock Island Auction Company