Illinois has some of the largest whitetail deer in the country, by some accounts only second to our neighbors to the north in Wisconsin. For many Illinoisans, deer hunting is a time-honored pastime and a way to put meat in the freezer and food on the table for their families.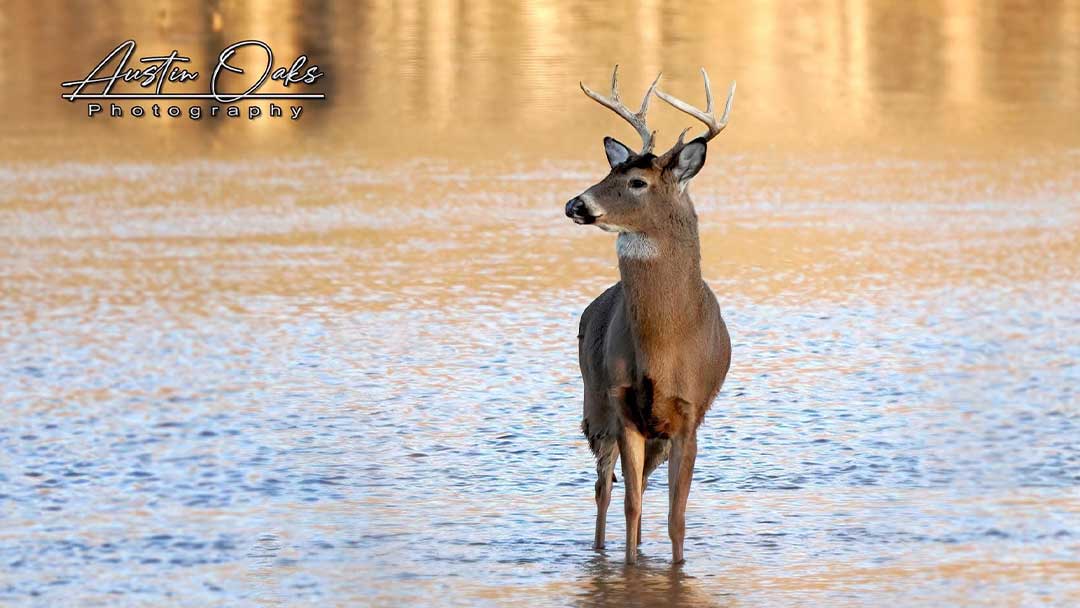 An Illinois whitetail buck photographed by Kevin Isaacson of Austin Oaks Photography.
For many years, Illinois hunters have been restricted to hunting deer with bows, shotguns, muzzleloading rifles, or single shot pistols. That changed recently. Under Public Act 102-0932 effective Jan. 1, 2023, Illinois is finally allowing rifles for deer hunting again for the first time since 1957, but there are limits on what can be used both in terms of the allowed cartridges and the rifles being limited to single shot only.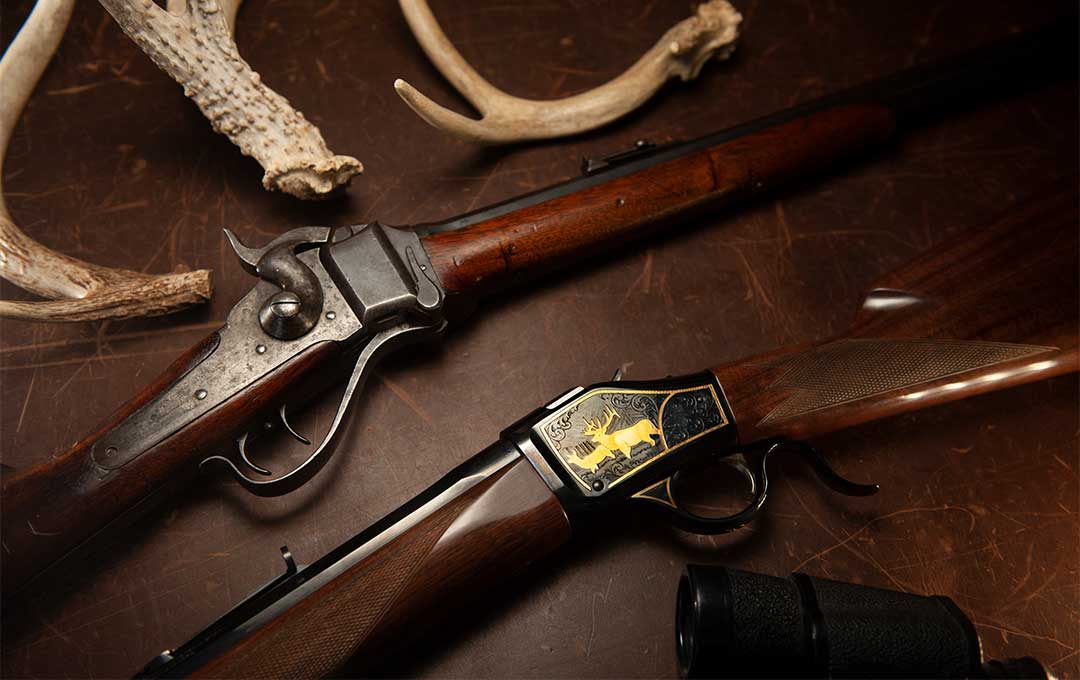 Illinois deer season 2023 will allow single shot rifles for the first time since 1957, though with limitations.
New Hunting Laws for Illinois Deer Season 2023
As a fan of muzzleloading and single shot rifles, the new Illinois deer hunting changes aren't a huge issue for me, but the rules still don't allow me to take out my .30-30 lever action. In fact, .30-30 isn't allowed at all because the Illinois deer hunting act specifies: "a bottleneck centerfire cartridge of .30 caliber or larger with a case length not exceeding one and two-fifths inches, OR a straight-walled centerfire cartridge of .30 caliber or larger. Both must be available as a factory load with the published ballistic tables of the manufacturer showing a capability of at least 500-foot pounds of energy at the muzzle. Full-metal jacket bullets may not be used to harvest deer."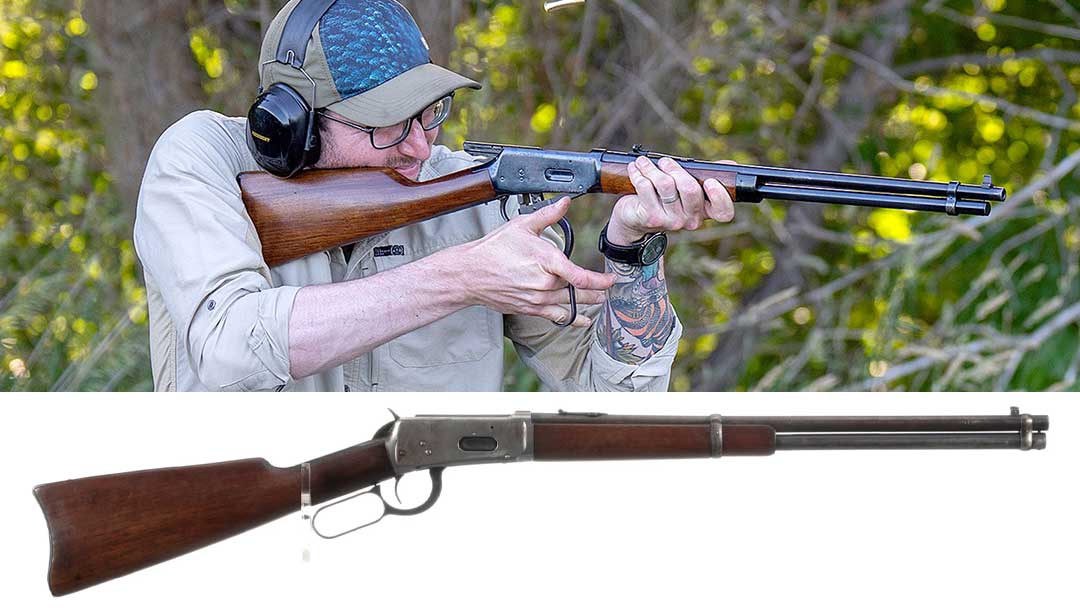 Most classic Winchester Model 1894s will still not be legal for Illinois deer hunting in 2023 unless they are in one of the approved calibers such as .32-40 or .38-55 and modified to single shot rifles.
The approved cartridge list for Illinois deer season 2023 allows for everything from 9 mm Parabellum to .500 Nitro Express 3-inch, so the limitations imposed border on being completely arbitrary. The cartridge list even notes that 9 mm Luger is light and may only wound whereas .500 Nitro Express 3-inch and some of the other "express" type cartridges are overkill and "May result in overpenetration and downrange safety concerns."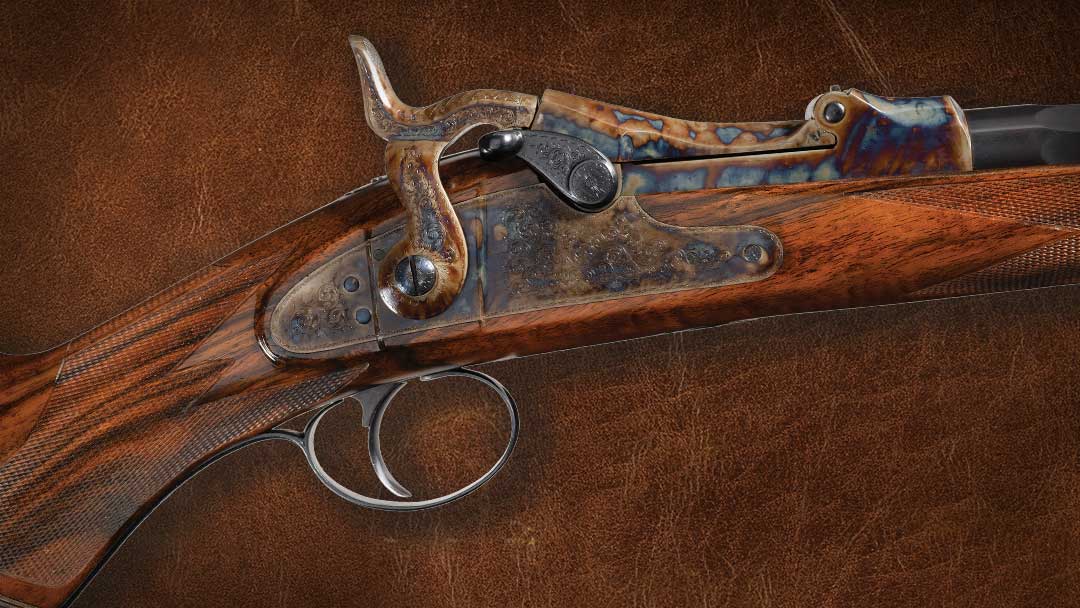 Be sure to have any used firearm, especially older firearms, inspected by a competent gunsmith before shooting, and always use proper ammunition.
So why are these weak and overpowered cartridges on the list for Illinois deer hunting, but not much more suitable cartridges like the .30-30? I don't get it, and based on popular feedback, I'm not alone. Regardless, there are plenty of modern cartridges on the list that are rated as excellent for deer, but as a fan of the classics, I'm most interested in something like the .44-40 W.C.F., .38-55 W.C.F., or .45-70 Govt. that are also considered excellent deer hunting cartridges.
Classic 19th Century Single Shot Rifles for Deer Hunting in Illinois
I'm a big fan of classic single shot rifles, so Illinois allowing single shot rifles for deer hunting season is a good excuse to pick up a new rifle. As a member of the cataloging team at Rock Island Auction, I get to examine a ton of original, antique, single shot rifles every year and have certainly found several models I would love to own. In addition to original single shot rifles in condition nice enough to shoot, we regularly have reproductions of classic single shot rifles in our Sporting & Collector and Arms & Accessories sales. Sometimes the reproductions are actually more expensive than the original single shot rifles.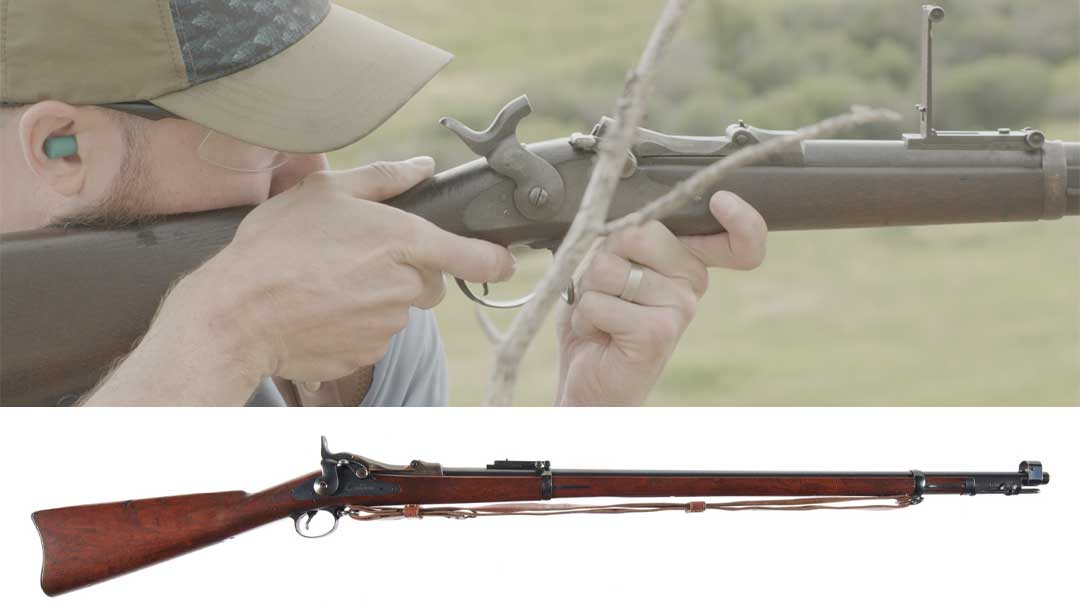 The U.S. Springfield Trapdoor in .45-70 Govt. makes an excellent deer hunting rifle once you've become accustomed to their sights and the .45-70's rainbow trajectory. Lot 4201 is one of many Springfield Trapdoor single shot rifles available in the February Sporting & Collector Firearms Auction.
Of all the classic single shot rifles, the various sub-models of the U.S. Springfield Trapdoor rifles in .45-70 Govt. are probably the most widely available. We'll have several racks of them available in most of our Sporting & Collector Firearms Auctions and smaller numbers in our other auctions as well.
Many of these rifles have excellent bores, and the locks and breechblocks of the ol' warhorses of the late 19th century Indian Wars tend to function very well. If you are wanting a Springfield Trapdoor for primarily deer hunting, you can find rifles and carbines with replacement parts or that have been refinished for less and still have a reliable rifle. That said, even all original trapdoors in high condition aren't particularly expensive.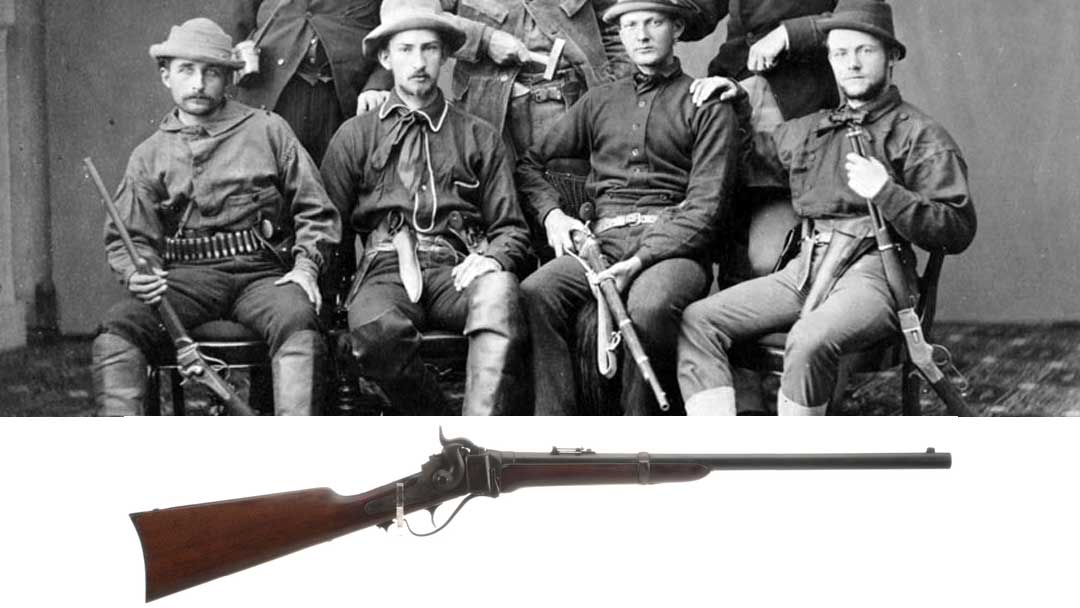 The classic Sharps Model 1874 remains a popular single shot black powder cartridge rifle and was widely used in the West, even by paleontology students from Yale. An original Civil War Sharps carbine converted to .50-70 Government like the one in Lot 84 of the upcoming Sporting & Collector Firearms Auction can often be had for less than a reproduction 1874 and many are in great shape. .50-70 is on Illinois's approved list but is classified as "overkill."
Another single shot rifle design out of the 1870s American West that is widely available is the Sharps Model 1874. They were very popular among hunters in the West in the late 19th century. In addition to the originals, today Pedersoli, C. Sharps Arms, Shiloh Sharps, and others all make reproductions in a variety of configurations, including Quigley Down Under style long barreled rifles. A Sharps Model 1874 single shot rifle is high on my wishlist.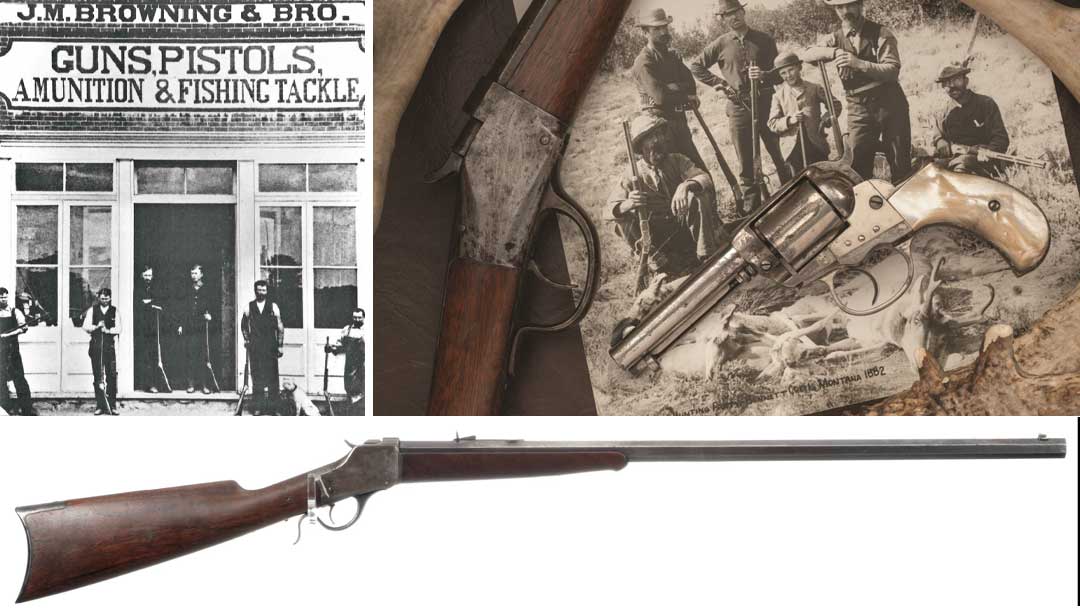 Lot 81 features an antique Winchester Model 1885 High Wall chambered in .32-40 W.C.F. which is one of the approved cartridges for Illinois but is considered light for deer. The Winchester Model 1885 was patented in 1879 by John Moses Browning and originally manufactured in the Browning Bros. shop in Ogden, Utah, before Winchester purchased the rights. The 1885, both originals and reproductions, are available in several calibers suitable for deer hunting.
Other viable options for classic 19th century single shot rifle designs suited for deer hunting include the classic Winchester Model 1885, the first firearms designed by legendary gunsmith John Moses Browning, the classic Remington Rolling Block, the Stevens falling block rifles, and one of my favorites: the Ballard. Ballards were used in the Civil War and remained popular in the late 19th century. John Marlin and the Marlin Firearms Co. produced the Ballard in a wide variety of variations.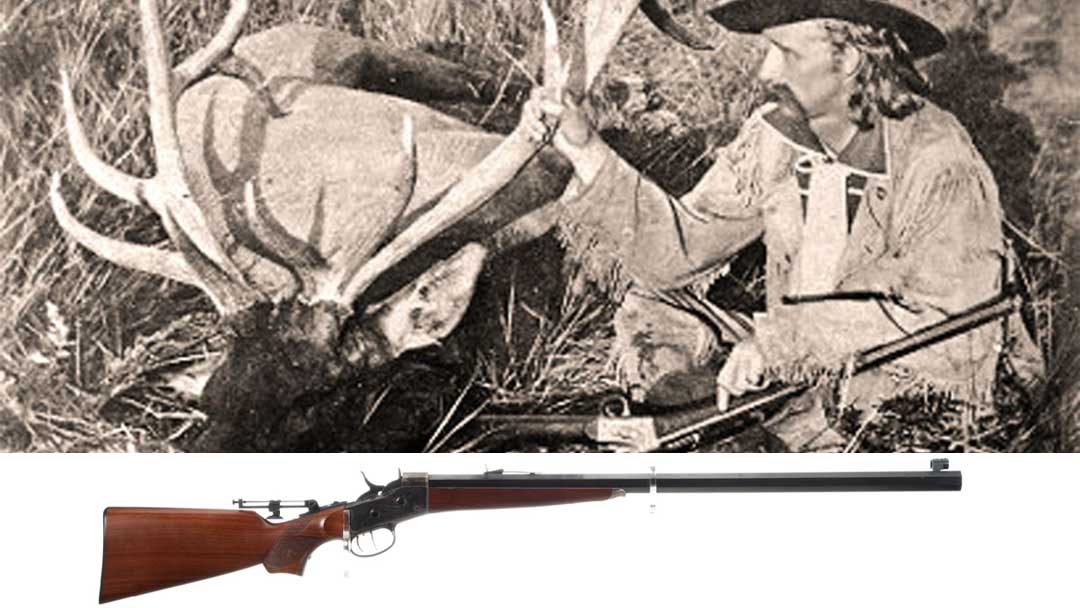 This Pedersoli "John Bodine" Rolling Block Rifle in Lot 6813 is one of five Remington Rolling Block rifles in the February auction in .45-70. It an excellent modern reproduction of the 19th century Remington Rolling Block that was a very popular hunting rifle on the frontier, including with the famous/infamous George Armstrong Custer.
With their frontier styling, the No. 5 Pacific and No. 5 ½ Montana single shot rifles have always interested me. Originals can be hard to come by although Rock Island Auction regularly has some available, sometimes including custom-rebuilt rifles with like-new bores and excellent reproduction from companies like Wyoming Armory and Ballard Rifle & Cartridge Co.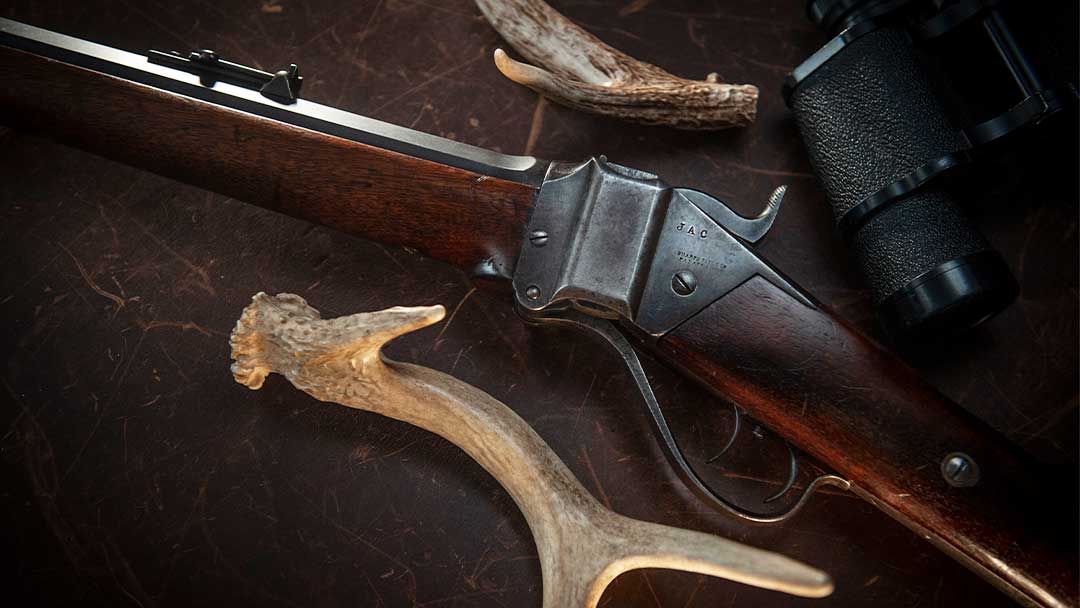 A Sharps Model 1874 single shot sporting rifle, a classic option for Illinois deer hunting.
Lever Actions as Single Shot Rifles for Deer Hunting in Illinois?
The new rulings for Illinois deer season in 2023 only allow for single shot rifles, BUT I can still shop for a new lever action because the law also allows for repeating rifles modified to be single shot only such as by "removing internal magazine springs and followers, using a plug to block the magazine tube," or other similar modifications.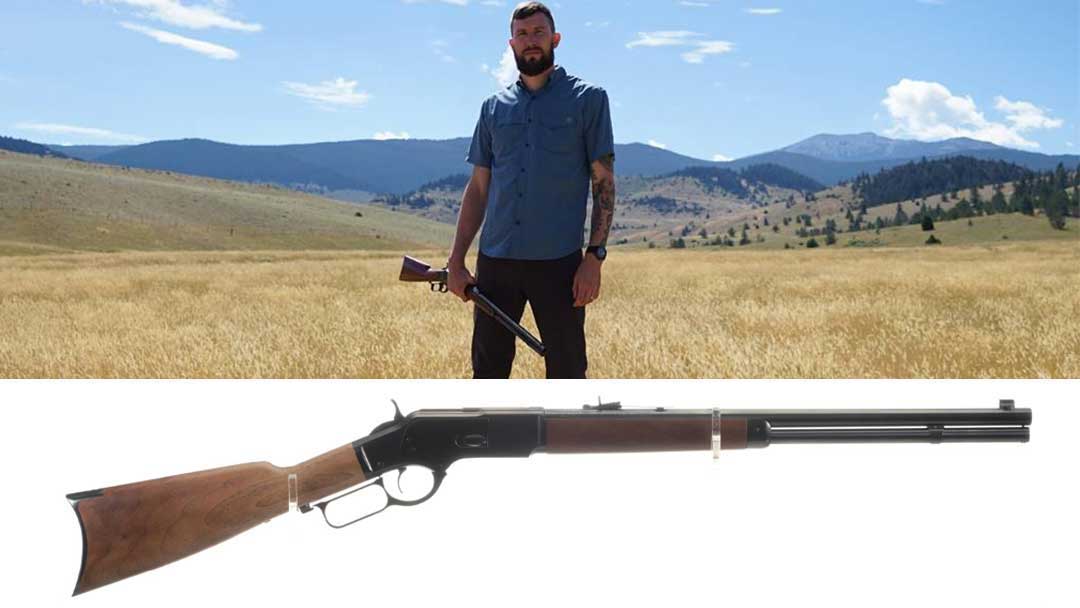 I got a little trigger time with this Uberti reproduction Winchester Model 1873 Lever Action Rifle chambered in the Illinois-approved .45 Colt cartridge when I was out in Montana last year filming for Mountain Men: Ultimate Marksman and have wanted one ever since. Rock Island Auction regularly has Uberti Model 1873s and other reproductions of classic lever action rifles in our Arms & Accessories Day Firearms Auctions as well as in our Sporting & Collector Firearms Auctions. This Model 1873 from Lot 860 in the March 1st Arms & Accessories sale could be modified to single shot for deer season fairly easily and then switched back for the rest of the year.
The rules do not allow you to have the gear on you to quickly turn it back into a repeater, so if I say get an Uberti Model 1873 in .45 Colt, I'd have to leave the follower and magazine tube spring at home while out hunting, but I could switch it back fairly easily. Bolt action rifles would be even easier to use if they have magazines that can be removed and/or replaced with single shot "sled" magazines.
I'm far more interested in a classic lever action than a bolt action hunting rifle. I've owned and shot bolt guns over the years, but the classic lever guns are more up my alley, probably because of all the time I spent watching Silverado as a kid (still my favorite western). Who can forget Danny Glover duel wielding his "Henry" rifles?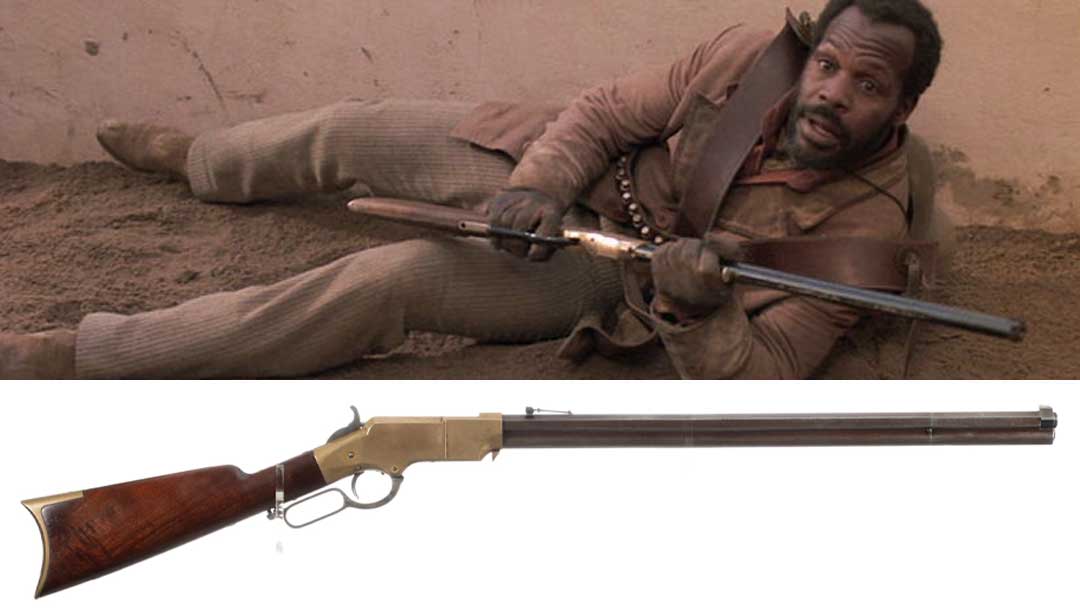 In 'Silverado', Danny glover uses two rifles. The one pictured here is a Henry, while the other was a Winchester Model 1866 with its forend removed.
There are a lot of original and reproduction classic lever actions available today. While Marlin has made some nice rifles over the years, I'm still partial to Henrys and Winchesters. Under the 2023 ruling for Illinois deer hunting, using an original Henry is off the table, but a Henry by Uberti or the Henry Repeating Arms Co. is definitely an option. Removing the magazine spring is easy with a Henry which would convert it to a single shot.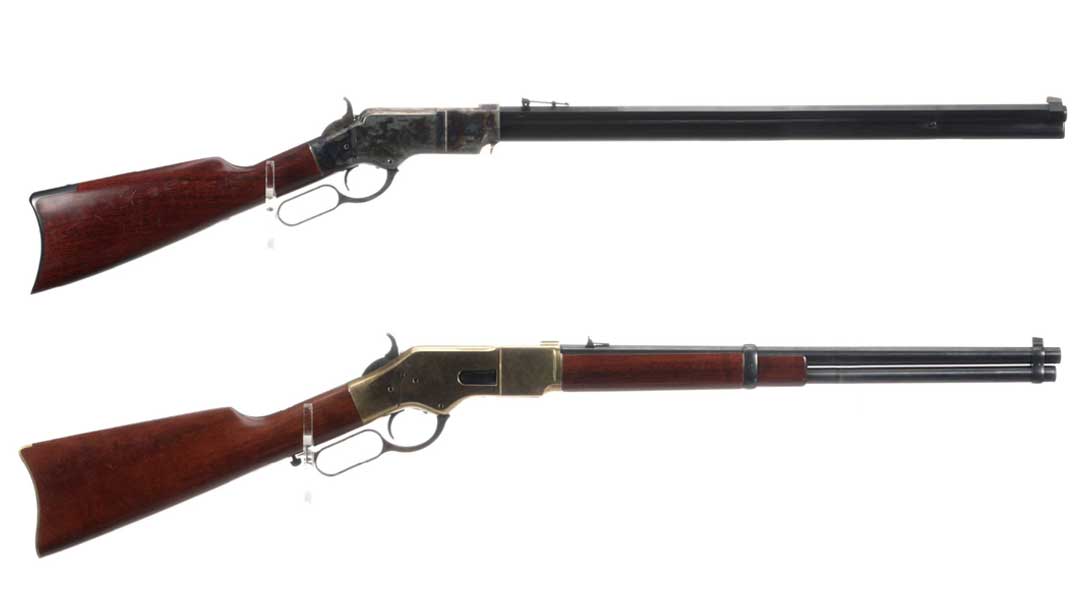 Two Uberti lever action rifles chambered in .45 Colt. Under Illinois' new act, lever actions modified to be single shot rifles can be used for deer hunting.
In addition to a Henry, a Winchester Model 1873 is at the top of my list for lever actions. My ideal '73 would be a rifle in .44-40 with a 24 inch part octagon or full octagon barrel, traditional iron sights, a pistol grip stock, and a crescent buttplate. Though available, an original might be hard to justify to my wife for deer hunting, but I've seen several Uberti's here that fit the bill, and they are fine-looking rifles that shoot well.
20th Century Single Shot Rifles for Illinois Deer Hunting
If you are more of the practical type or if you prefer a scope on your deer hunting rifle, many of the late 20th century and new single shot rifles are already set up for scope mounting. Harrington & Richardson's break action single shot rifles were very popular and affordable options in the past, Thompson Center Encore rifles remain popular, and the Henry Repeating Arms Co. continues to offer utilitarian single shot rifles in a variety of calibers.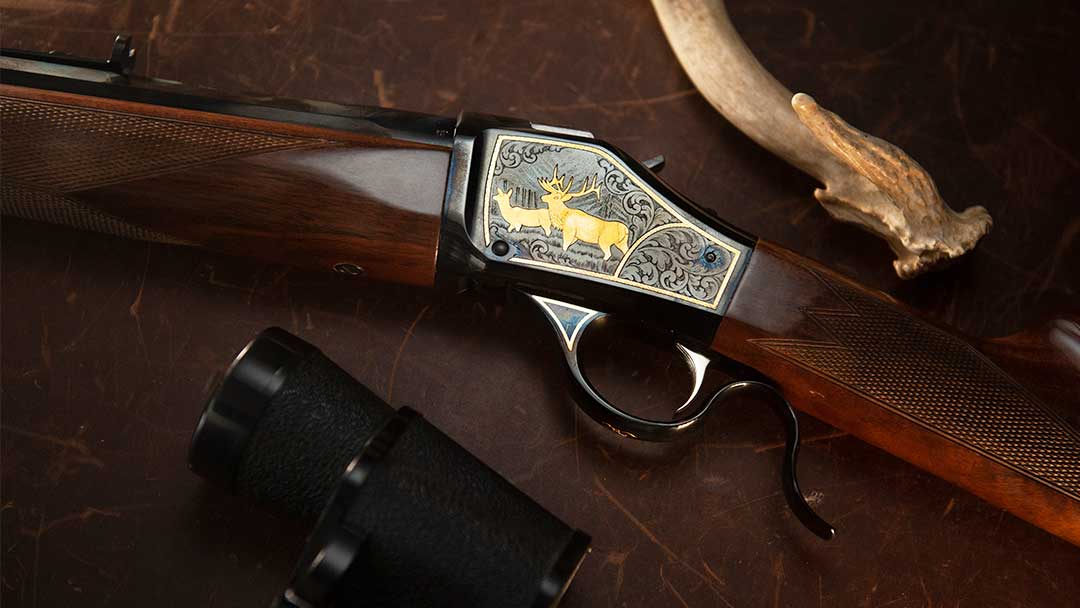 An engraved and gold highlighted 2002 'Friends of NRA' Browning Model 1885 falling block single shot rifle chambered in 45-70 Government, an ideal gun for Illinois deer hunting.
If looking for something fancier and with some classic 19th century styling for deer hunting season, the Ruger No. 1 would definitely fit the bill. It has been made in many calibers over the year, including several that are legal for deer hunting in Illinois in 2023.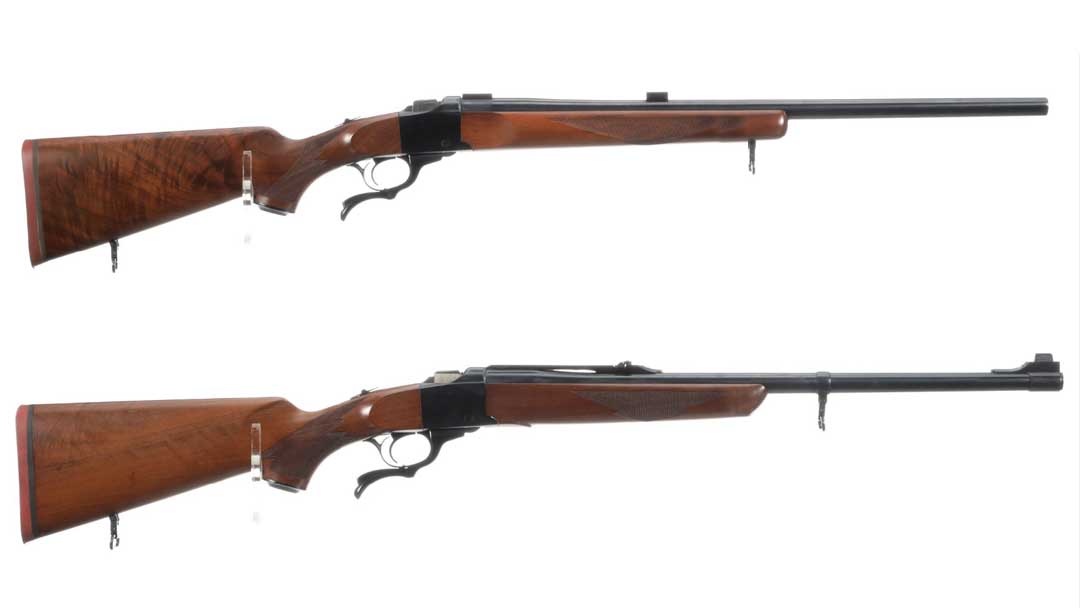 This Ruger No. 1 in .45-70 is one of two Ruger No. 1s in Lot 3054 of the February Sporting & Collector Firearms Auction. The Ruger No. 1 is an excellent blend of the old Farquharson action of the 19th century with 20th century updates.
If you are in the market for a new hunting rifle, check out our upcoming auctions. We have the originals like the Kentucky rifle and Winchesters as well as classic hunting rifles of the 20th century plus modern favorites. At Rock Island Auction we are sure to have a rifle for hunting anything on the continent from squirrels to bison.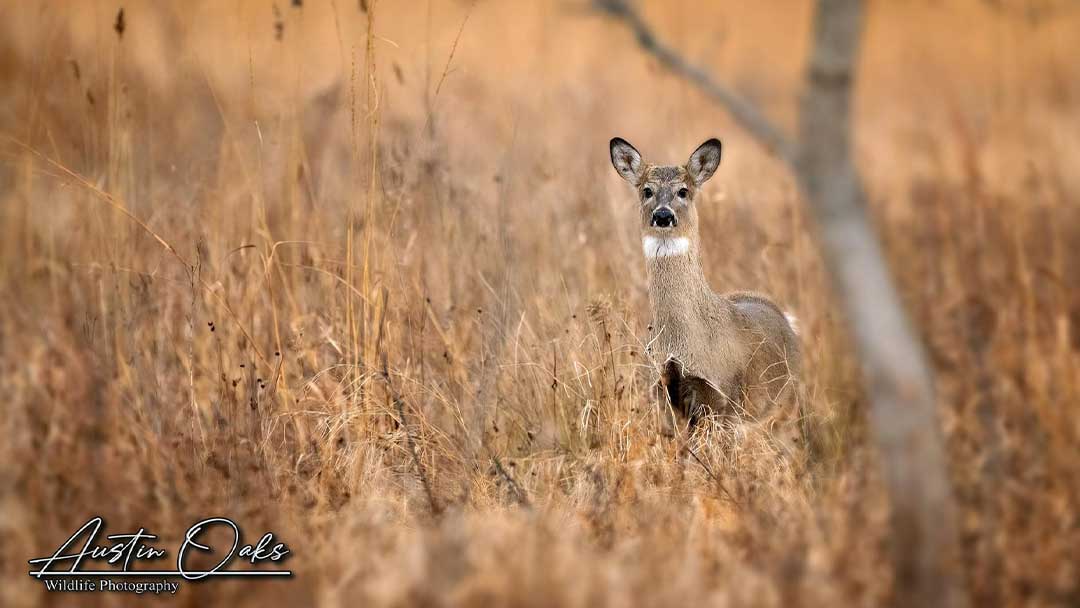 Photograph of a white tail doe in northwestern Illinois by Kevin Isaacson of Austin Oaks Photography.
Buying and Selling a Single Shot Rifle
Rock Island Auction Company is the world's leading auction house for antique and collectible firearms. Any given sale may include many different single shot rifles over varying ages from early antiques to modern-day masterpieces by contemporary artisans and even more affordable factory-built options that are great for learning to shoot and hunt.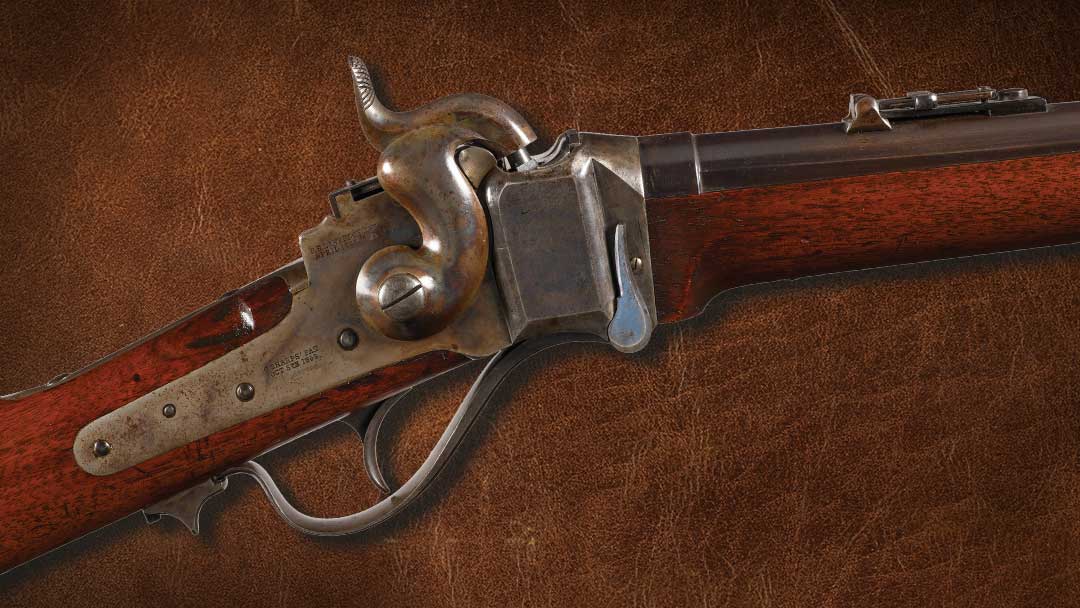 For collectors of single shot rifles, it doesn't get much better than an exceptional condition Civil War era Sharps New Model 1859. Available this May.
Subscribe to the Rock Island Auction newsletter to receive new gun blogs and gun videos every week on all things firearms. We offer topics ranging from antique gun values and antique gun collecting tips, early lever action guns like the Volcanic repeater and the Spencer carbine, articles on muzzleloading communities like the NMLRA, and pieces that focus on famous vintage gun genres featured in popular films such as the Last of the Mohicans and True Grit.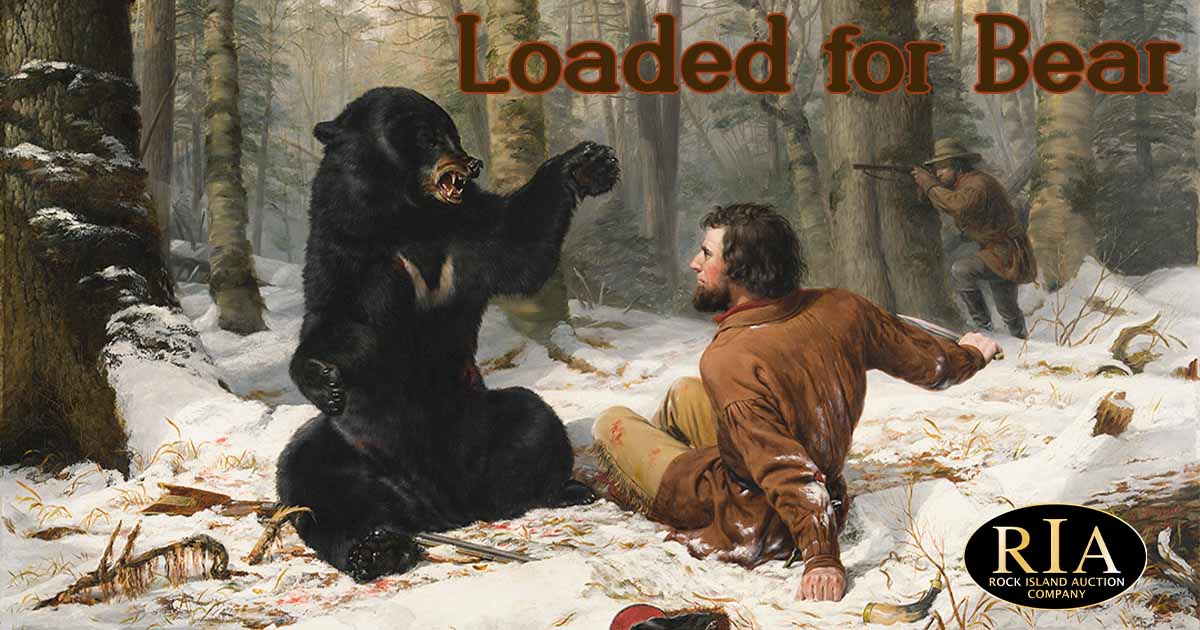 Today "loaded for bear" means to be ready for anything, but in the 19th century American wilderness it meant being properly armed for an apex predator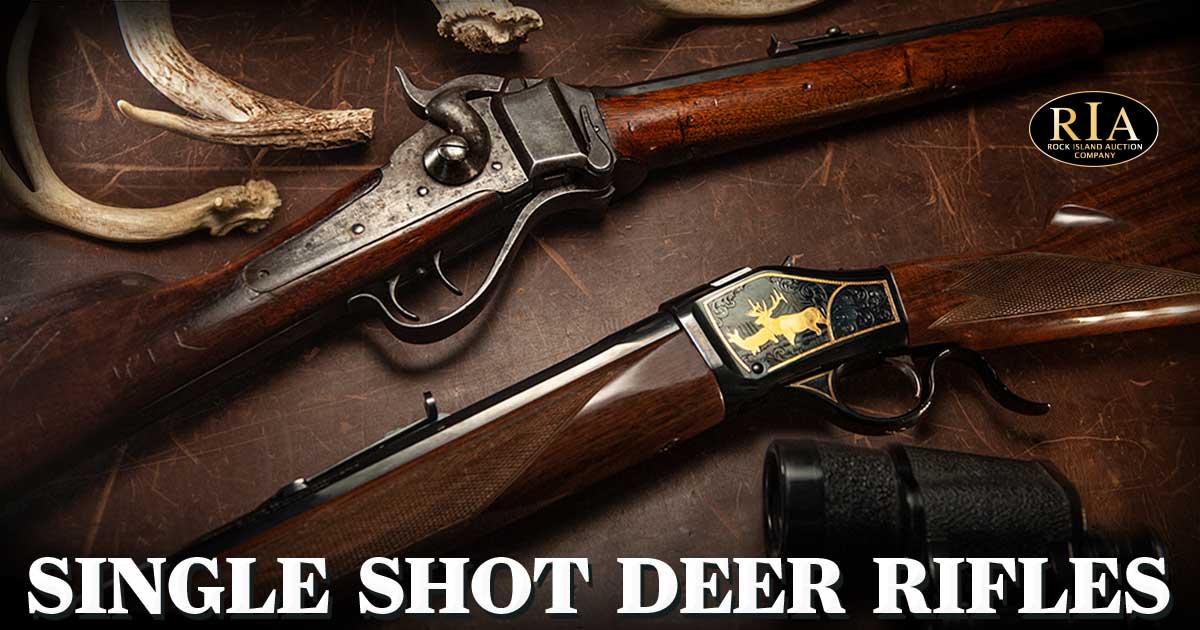 Rock Island Auction Company