A battle-proven gun design and a Cold War classic, the 7.62×39mm chambered SKS rifle is familiar to many shooters, hunters, and gun collectors around the globe. Invented in the Soviet Union as a replacement for the Mosin Nagant, the Chinese would adopt the SKS in the mid-1950s and begin producing millions of their own SKS models for the next two decades. With their low-cost entry price point compared to other vintage surplus military arms, the SKS continues to find favor at Rock Island Auction Company. Below, we've assembled eight years' worth of auction data to help collectors and gun consigners better gauge recent SKS price trends and values.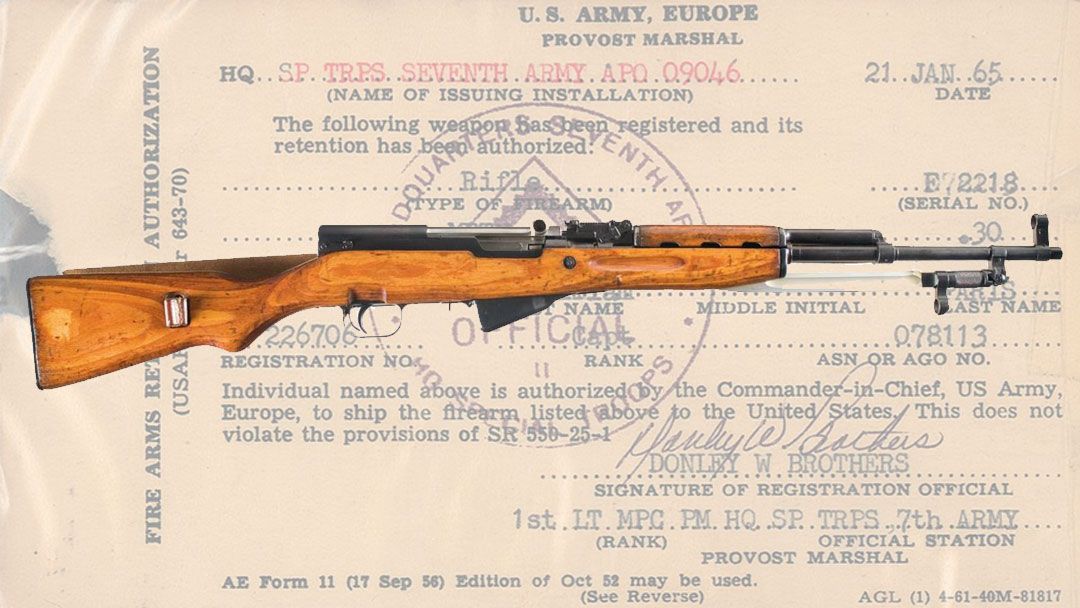 Selling for $14,950 in 2018 at Rock Island Auction Company, this rare East German SKS rifle with 7th Army Vietnam War capture papers demonstrates that rare SKS rifles can achieve impressive results in the current gun collecting market.
SKS Surplus and Variants
SKS stands for "Self-Loading Carbine of the Simonov System," referencing its Russian inventor Sergei Gavrilovich Simonov. Manufactured by the Soviet Union in 1945, the short-stroke gas piston, tilting bolt semiautomatic rifle has a 10-round internal capacity and is chambered in the widely adopted 7.62×39mm cartridge. Though the full-auto AK-47 ultimately won out over the SKS as Russia's preferred military arm, the Soviets provided their Cold War allies with manufacturing plans for the SKS rifle, resulting in numerous variations.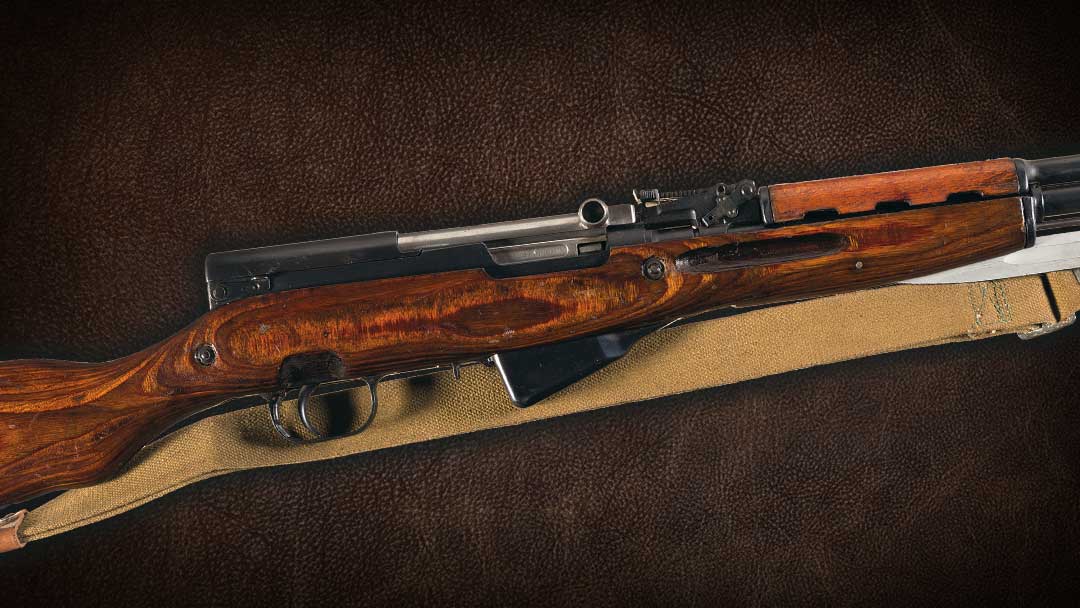 A Chinese Type 56 SKS rifle with documented Vietnam War U.S.M.C. capture papers sold for $4,025 at Rock Island Auction Company in December 2017.
Ranging from elusive rarities like the North Vietnam and East German SKS models to the more abundant rifles produced by China, the SKS genre spans a wide range of styles that feature different barrel lengths, stocks, and bayonet variations. The SKS platform's immense production numbers bred surplus for decades, but import bans and increased interest in the genre as a military collectible have resulted in some intriguing SKS price trends in recent years. Below, we'll examine the Rock Island Auction Company SKS sales data from several angles to provide consigners and buyers with an overall snapshot of how the SKS market has changed over time.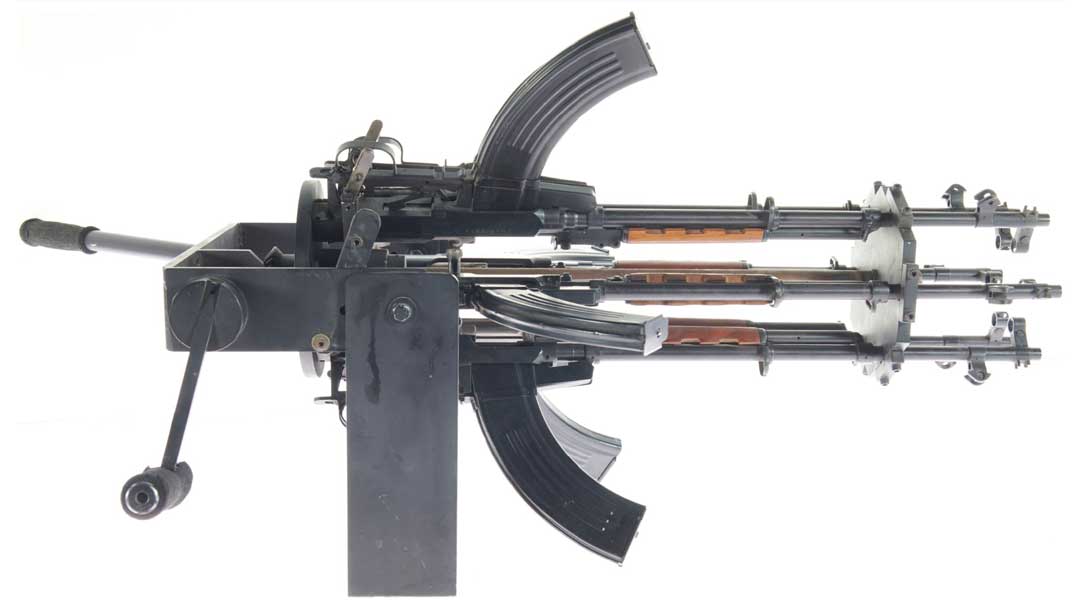 Six Norinco SKS rifles in a Gatling configuration. One of over two dozen SKS related lots available in Rock Island Auction Company's June 2023 Sporting & Collector Auction.
SKS Prices by Year: An Overall Average
When considering the average SKS price by year at Rock Island Auction Company, we've gathered data from every Premier Auction, Sporting & Collector Auction, and Arms and Accessories Day Auction dating back to 2015.
In an effort to maintain consistency and accuracy, all the graphs presented in this article have excluded rare SKS prototypes, documented war trophies, presentation pieces, and other extremely scarce and atypical examples. The buyer's premium (15% through June of 2022 and 17.5% thereafter) is included in the sales price, as this properly reflects what a collector paid to own their SKS.
We've also excluded any lots that feature guns other than an SKS since those prices cannot be easily attributed to a single gun within their respective lot. Since SKS rifles tend to be bundled into lots of two or more guns, the price of each SKS-only lot has been divided by the total number of guns in that lot to give a more accurate representation of the average SKS price by year at Rock Island Auction Company. The graph below is a compilation of several thousand examples sold over eight year period, providing a broad overview of the SKS platform as a whole in the current collecting environment.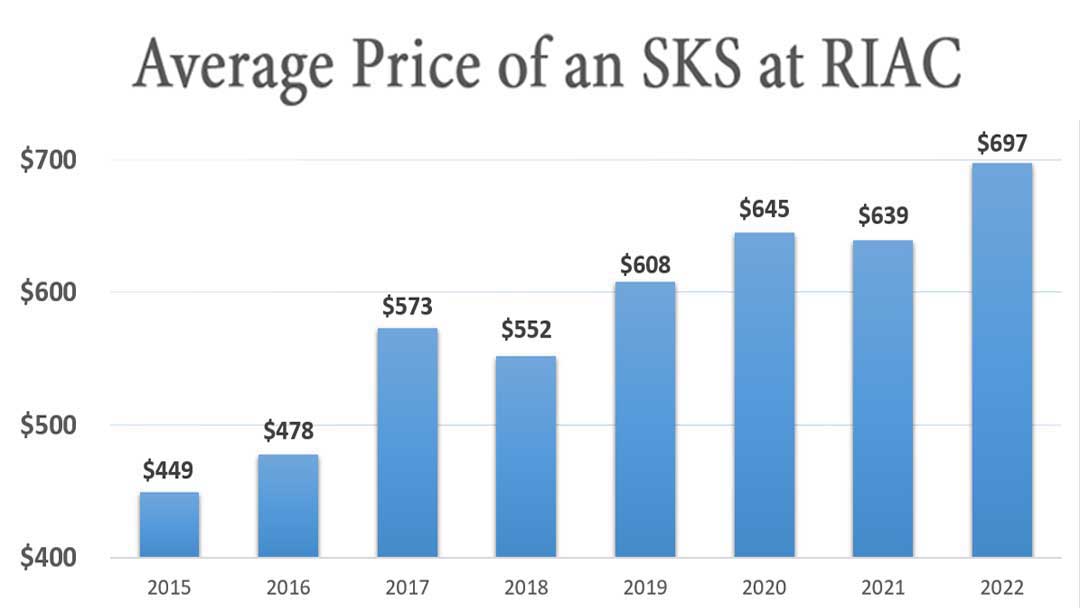 How much is an SKS worth? The average SKS price at Rock Island Auction Company from 2015 to 2022 has been on the rise. The upward trend lines up with SKS blue book values and presents an intriguing case for the rifle as a true vintage collector's gun.
While SKS prices going up isn't a surprising result to most firearm fans, the extent of the increase might turn heads. In only an eight year span, the average SKS price at Rock Island Auction Company rose nearly $250, or 49%, an impressive surge in value. In 2015, an SKS averaged $449 in price, inching up to $478 in 2016 before rocketing to $573 in 2017. The following year saw a slight correction, with the average SKS still selling for an average price of $552, then breaching the $600 barrier in 2019 and working its way to the $697 mark by 2022.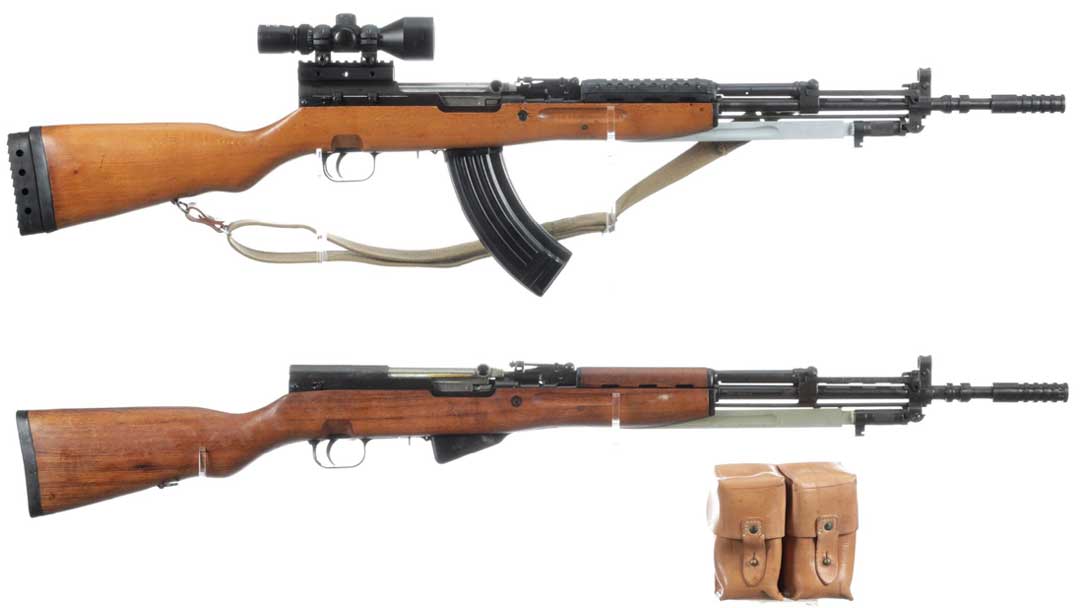 A Yugoslavian Model 59/66 SKS rifle with scope and a Zastava Model M59/66A1 rifle for sale in RIAC's June 2023 Sporting & Collector Auction.
Our first graph demonstrates that rising SKS values have been an ongoing trend, and gone are the days of finding an SKS for sale under $200. Still, the platform remains within reach of almost any gun enthusiast and makes a strong case for itself as a collectible firearm with investment potential.
Tula Arsenal SKS Price Trends
Speaking of investment opportunities, Russian SKS values have traditionally been higher as a consequence of their status as the original SKS model and their comparatively more limited production run. The most famous Russian SKS variant was produced at Tula Arsenal from 1945 to 1958. At Rock Island Auction Company, Russian SKS examples tend to be offered in single lots more frequently than other SKS variants and often achieve higher prices. The graph below examines the average Tula Arsenal SKS price by year at RIAC.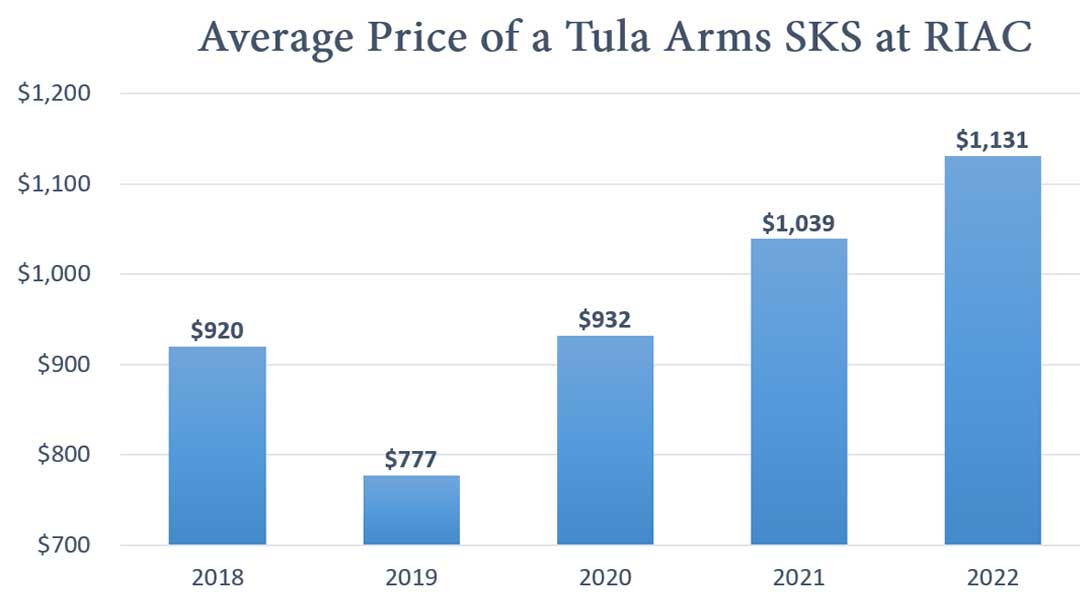 The average Tula Arsenal SKS price at Rock Island Auction Company since 2015. In the case of Russian vs Chinese SKS values, it's not surprising to see the famed Russian SKS rifle come out victorious.
Being out of production for 65 years, it's no surprise that Russian Tula Arsenal SKS prices averaged an impressive $920 in 2018 at Rock Island Auction Company. After a decline in 2019, the robust Russian SKS mounted a comeback, reaching $932 in 2019 and exceeding the $1,000 price barrier in 2021 before continuing its momentum and achieving a notable $1,131 in 2022.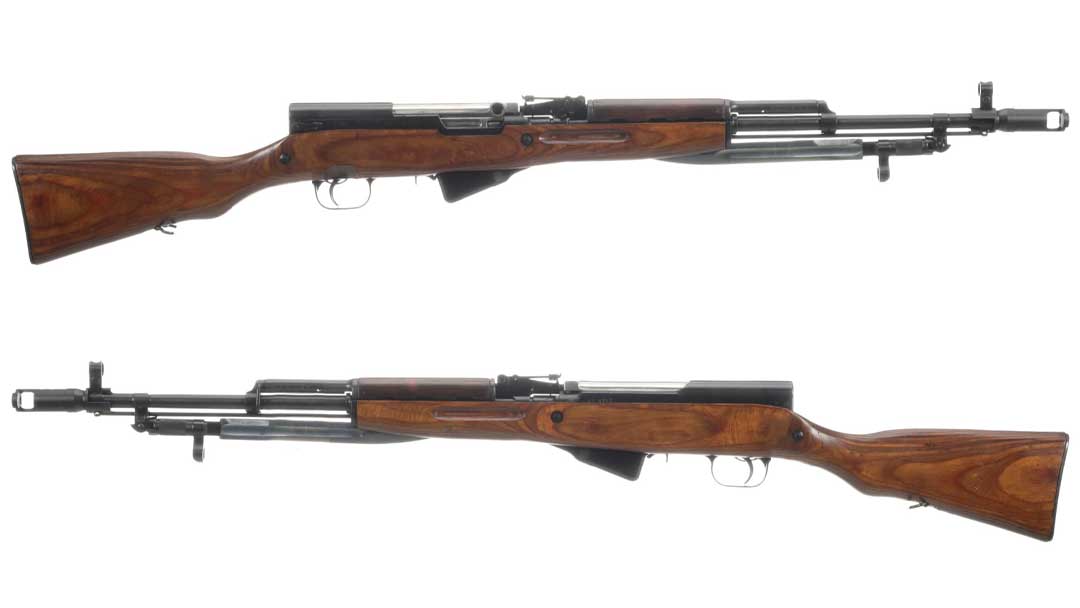 A Russian Tula Arsenal SKS rifle dated "1954" sold for $1,380 in March of 2022 at Rock Island Auction.
How Much is a Norinco SKS?
Unlike its Russian SKS counterpart, the Chinese SKS rifle continued production throughout the Cold War. The Chinese Type 56 SKS was sold to numerous countries in Asia, including Korea and Vietnam. China's Norinco group (North Industries Corporation), a state-owned import-export authority, was established in 1980 to manufacture arms for both the commercial and military markets. Norinco imported several million SKS rifles into the United States until the 1994 Assault Weapons Ban, with their SKS models produced using a combination of Type 56 surplus parts and new componentry.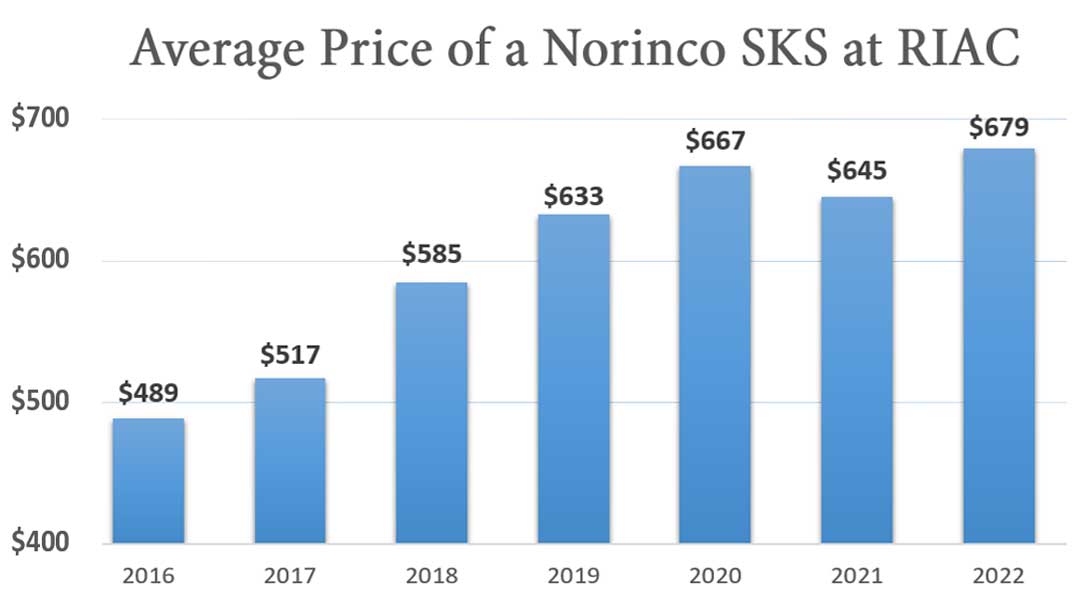 The average Norinco SKS price at Rock Island Auction Company from 2016 to 2022.
The Norinco SKS followed a similar pattern to the overall SKS prices average at Rock Island Auction Company. From its $489 starting point in 2016, the Norinco SKS increased in value over the next 4 years, averaging $517 in 2017, $585 in 2018, $633 in 2019, and $667 in 2020. After a slight fall to $645 in 2021, the average Norinco SKS price rebounded in 2022 with $679.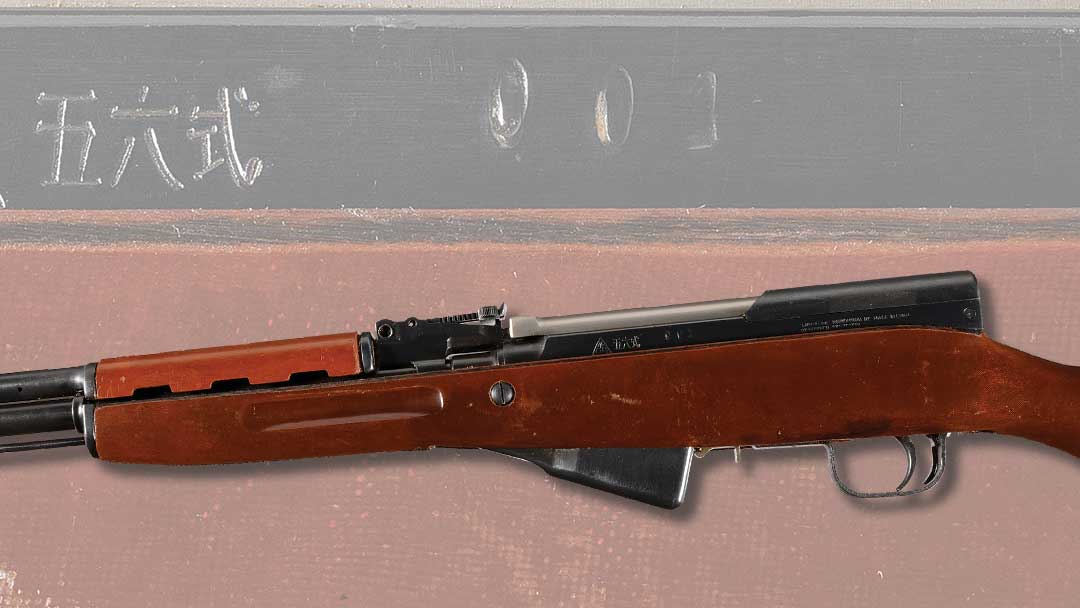 An example of an SKS rifle that was excluded from the dataset, this Norinco SKS rifle, serial number 001, from the Jim Supica Collection, sold for $2,350 at RIAC in December of 2022.
Yugoslavian m59/66 SKS Price Trends
Nicknamed "Papovka," the Yugoslavian Zastava m59/66 PAP SKS saw military service with the Yugoslav People's Army from 1959 to 1961. Though similar in most respects to the Russian SKS design, the Yugo SKS rifle came with the addition of a 22 mm grenade launcher. Yugo SKS rifles are noted for their quality and milled steel parts, and these factors are evident in their average price by year at Rock Island Auction Company.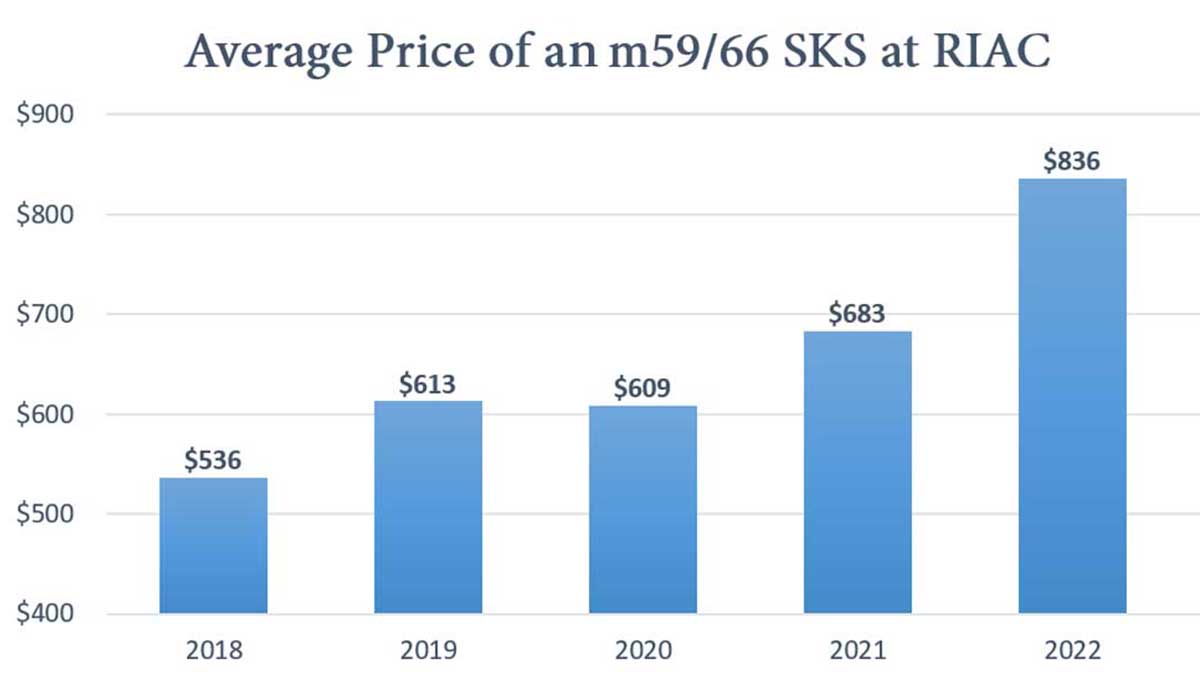 The average Yugoslavian m59/66 SKS price at Rock Island Auction Company from 2016 to 2022. Yugo SKS values saw a particularly notable jump last year..
Though not quite rivaling their Russian SKS siblings in price, the Yugo SKS has still managed to capture the attention of the collecting public and mount a strong auction showing over the last five years. From a $536 average starting point in 2018, the Yugoslavian SKS has seen its values steadily rise, achieving a notable $683 average price in 2021 before rocketing to $838 in 2022.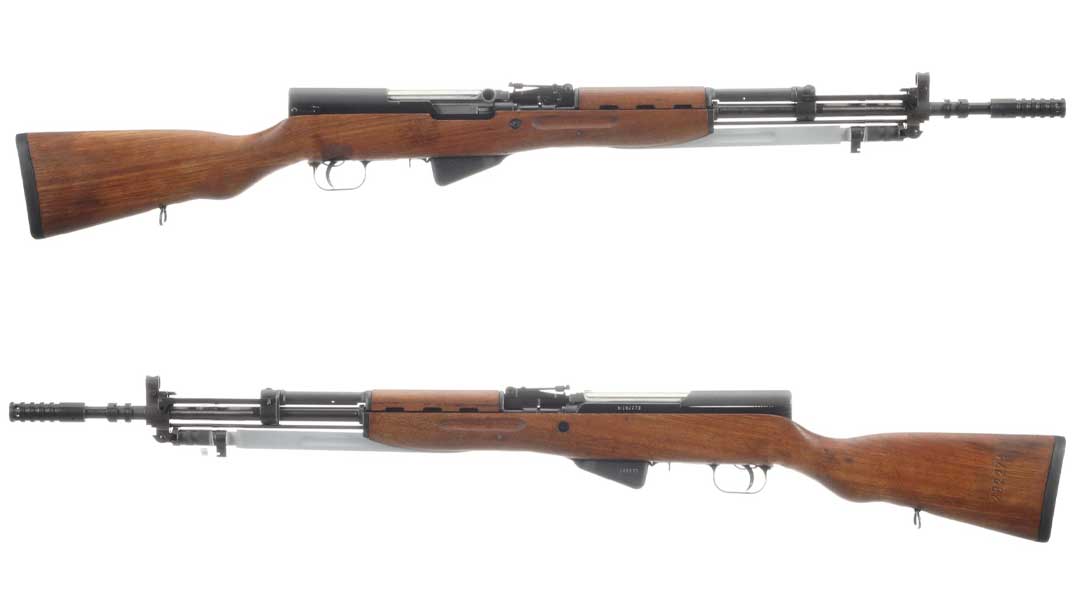 A Yugoslavian m59/66 SKS rifle sold for $1,293 at Rock Island Auction Company in March of 2023.
Beyond the SKS Crate
In the 1980s and early 1990s, SKS rifles were often sold by the crate in American gun stores. While the days of bountiful SKS crates have long passed, the gun can still be purchased in quantity at Rock Island Auction Company. Our final dataset compares the average price for a bundled lot of four SKS rifles over the last six years.
The average SKS price for lots that include four SKS rifles at Rock Island Auction Company from 2017 to 2022, yet more evidence of SKS prices going up across the board.
The average SKS price for lots with four guns grouped together followed a slightly less dramatic path during its upward climb, maintaining an $1,840 average price in 2017 and 2018. After edging upward to $2,084 in 2019, $2,222 in 2020, and $2,400 in 2021, the average price for a four gun SKS grouping rocketed to $3,019, demonstrating that the genre is thriving at Rock Island Auction Company.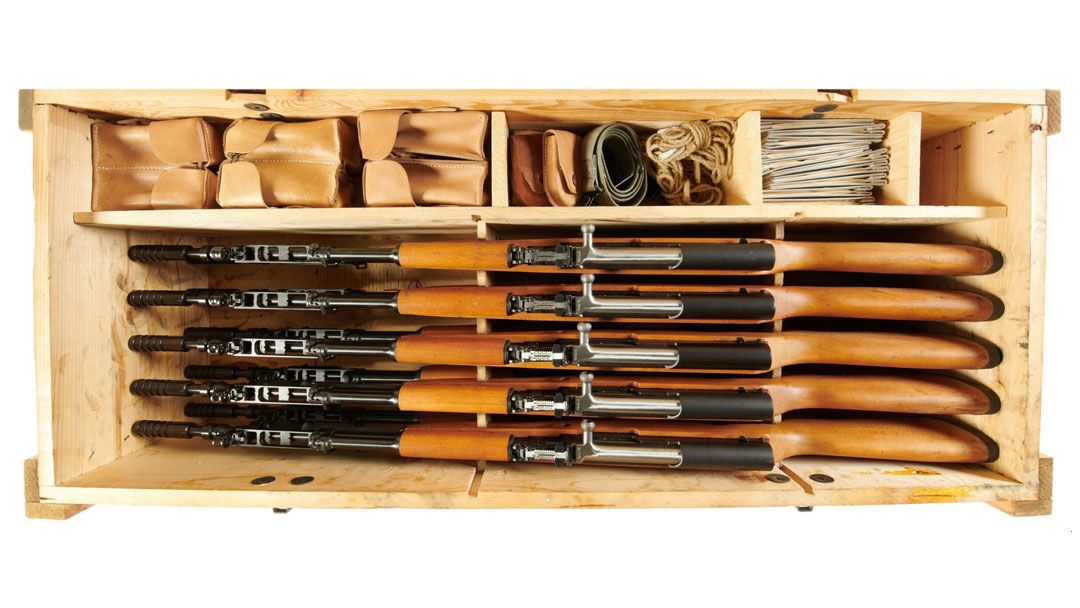 Ten consecutively serial numbered Yugoslavian Zastava Model 59/66 SKS rifles with shipping crate and accessories sold for $7,050 in RIAC's October 2022 Sporting & Collector Auction.
SKS Prices 2023
The average SKS price in 2022 broke new boundaries, and all data indicates that the trend shows no sign of slowing in 2023. This upswing particularly holds true for highly desirable examples that can be determined through scarce models, exceptional condition, and war trophy documentation. Even when taking into account import bans and record inflation, SKS values are steadily on the rise and continue to impress at auction.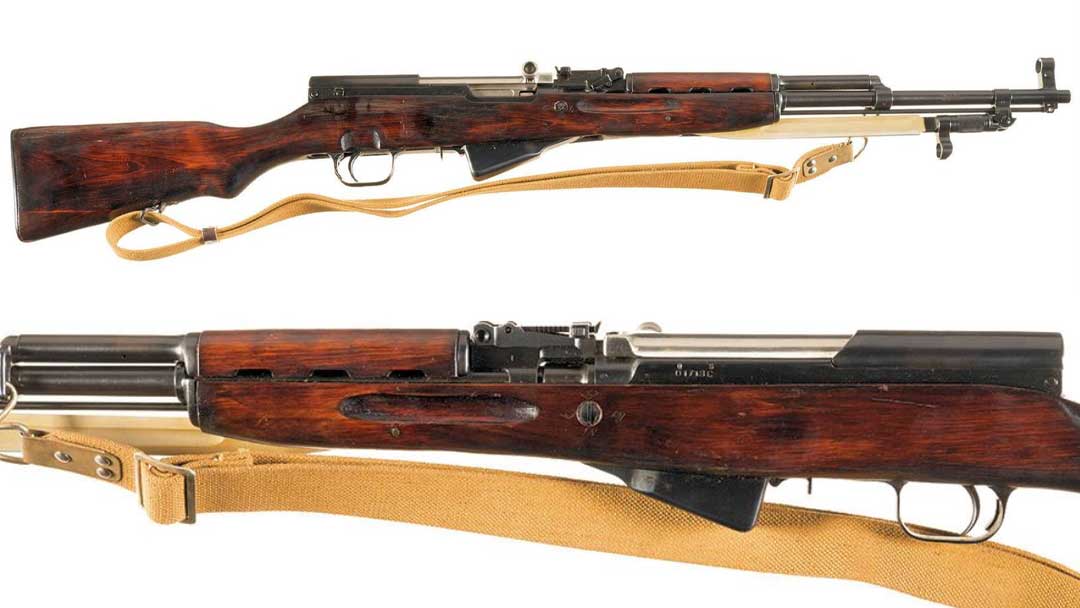 A Soviet Izhevsk Russian SKS 1954r sold for $1,380 in June of 2018.
SKS Prices 2023
The SKS remains popular due to its durability, reliability, and reasonable accuracy. Despite its lack of scope compatibility, the SKS has long been a popular deer hunting rifle. Though the 2022 U.S. import sanctions on Russian ammo have impacted 7.62×39mm prices, the SKS platform remains a fun range option due to its ease of use and low maintenance design.
The SKS rifle has found a new fanbase with the next generation thanks to appearances in popular films, television shows, and video games like Far Cry 6 and Escape from Tarkov. Though the likelihood of finding an SKS for sale under $200 grows more doubtful by the year, any well-kept example looks set to retain its value and more as prices continue to uptrend, presenting gun sellers with a chance to make a handsome profit and buyers with a firearm that has real investment potential.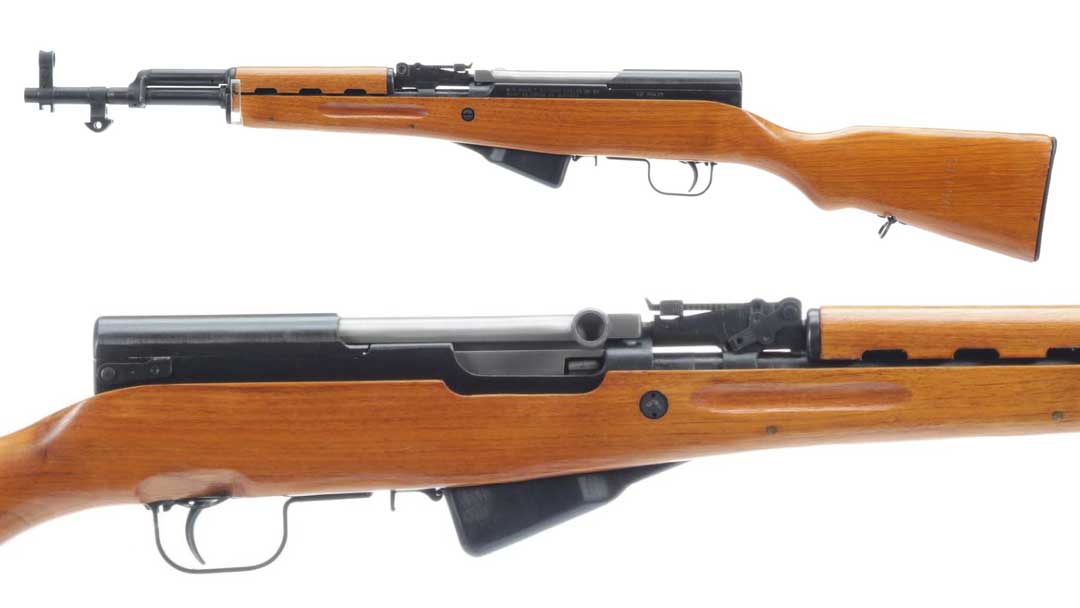 A Norinco SKS paratrooper carbine sold for 1,955 at RIAC in March of 2021. The SKS paratrooper differs from a standard SKS in that it has a cut down barrel.
Gun Values at Rock Island Auction Company
Most vintage military rifles are viewed as a great store of value in the firearms community, and when it comes to estimating true gun value and predicting forthcoming sales trends, Rock Island Auction's digital gun catalogs are one of the finest tools around. Price trends on other Russian military rifles like the Mosin Nagant or the SVT-40 rifle can be monitored using past auction data, like the example presented below.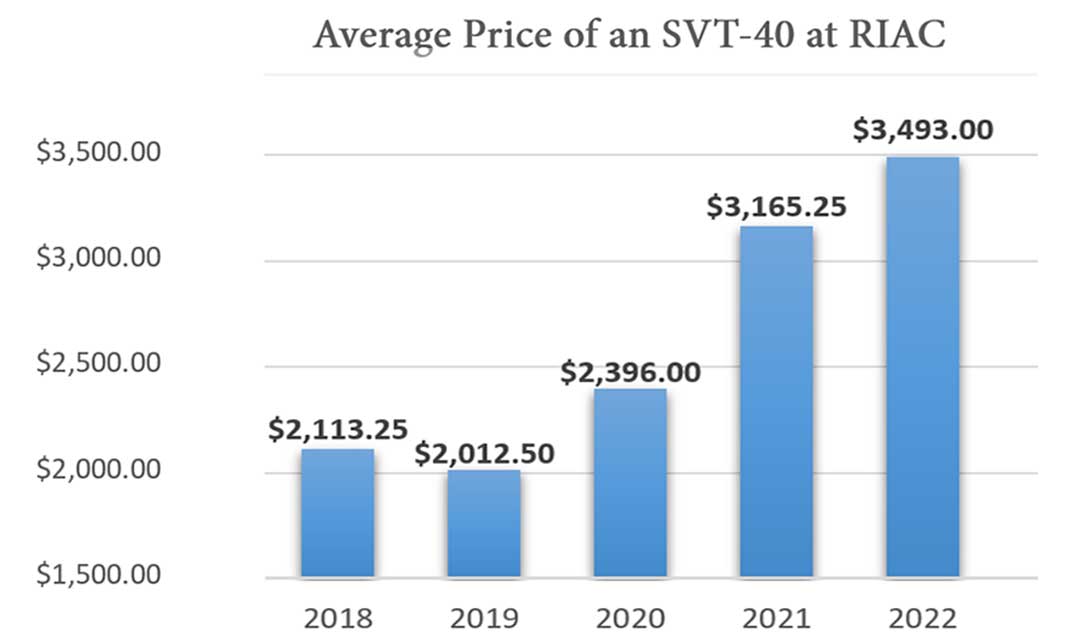 The average value of an SVT-40 at Rock Island Auction Company over the past five years demonstrates the undeniable strength of collectible military gun prices going into 2023.
It's an exciting time for the world of fine arms collecting, so subscribe to the weekly Rock Island Auction newsletter to receive new gun blogs on the latest prices and trends. Using the extensive data from our past auction catalogs, we look at the values of popular guns like the 1911 pistol, the Browning Hi Power, the M1 Garand, the Colt Python, the SPAS 12, and more.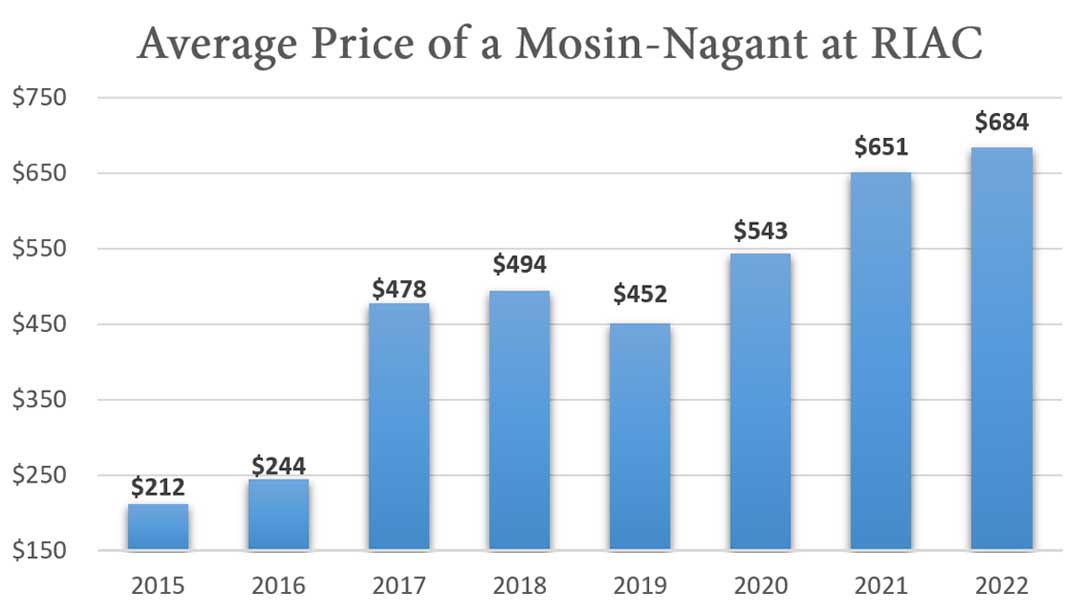 Affordable vintage military rifles like the famed Mosin Nagant in 2023 appear positioned to continue their historic uptrend.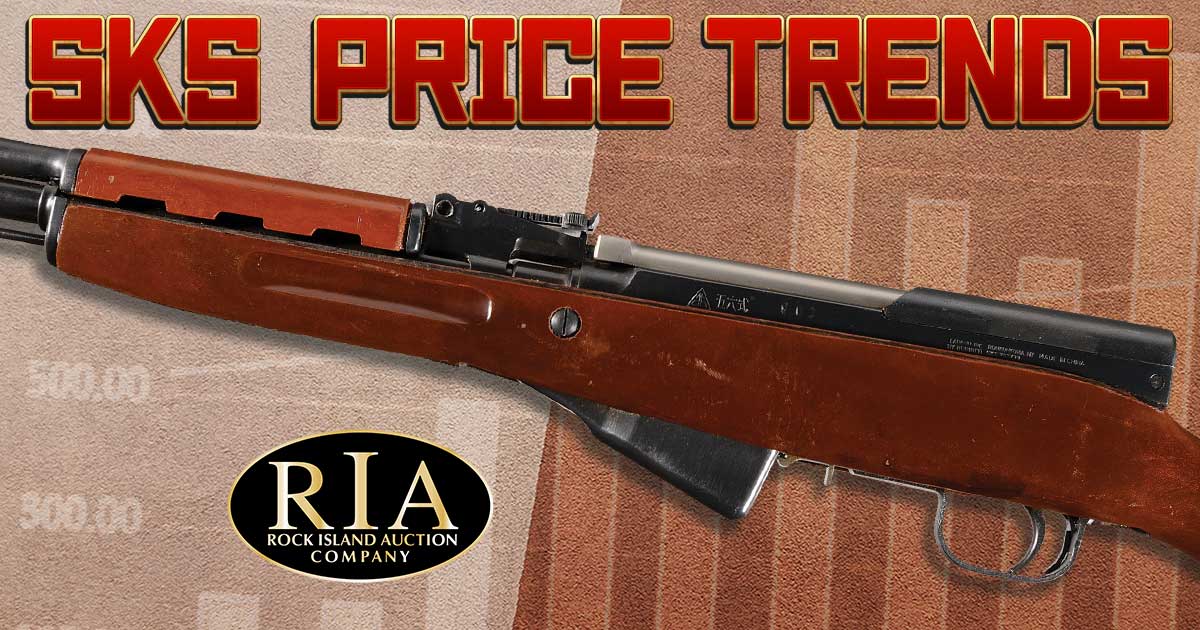 Rock Island Auction Company