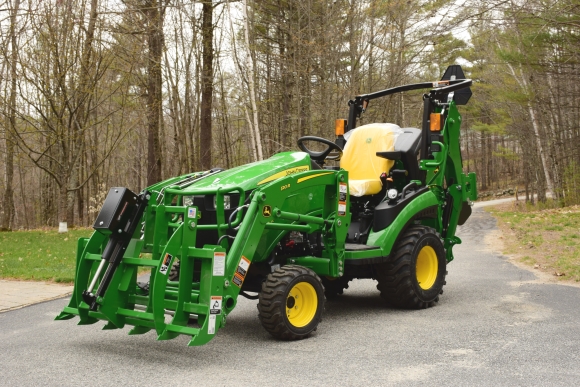 05/08/2022 – Funny. You wonder why there is a picture of a tractor and I wonder why you are… wondering. My whole perspective on firearms begins with self reliance. My perspective on self reliance began with parents who believed a person should not ask others to do something they are capable of doing for themself.
Does that not make for a "know it all" view of the world? No. Quite the opposite. It makes for a life long learning experience and the ability to accept failure as part of that process. So, my workload… woodland maintenance, vegetable garden, landscaping, firewood, snow removal, and being an old man dictated labor saving devices.
It is just a small tractor, but it is all the tractor I need. And I don't have to negotiate with services, or debate the quality of work or timeliness of completion at the conclusion of each project. Good or bad outcome, I only need to find a mirror to know who is responsible.
Firearms are all about self reliance…
Our little town of Raymond has terrific emergency services, both fire and rescue, and then there is county sheriff's office. All are well trained, professional and they always respond quickly. However, I live in the boonies, surrounded by trees and it takes any of those services fifteen to twenty minutes to arrive when called. In addition, Maine has winter ice and snow storms that can lead to days of isolation.
Subsequently,  there are fire extinguishers strategically located within the house and garage, a small cache of canned and dehydrated food and cases of water. Care is taken to safely stow flammable liquids and propane. A whole house generator assures heat, running water and lights in the event we experience a power outage. And I always have a firearm… always.
We live in an isolated area, nice distant neighbors, nice town. But we get summer people that come into the general area for the recreational lakes, or to rent camps, or to sight see… or to run drugs, break into homes, hide from police in isolated areas. Yes, Maine is pretty much like the rest of the country and I don't want to wait fifteen to twenty minutes for help to arrive in the event of an unpleasant encounter.
Then there is time spent in the woodland covered property. Clearing tree fall, trimming back the tree line, walking boundaries and enjoying being outdoors are all parts of the routine. So I carry my security with me; hunting, varmint and pest control and always time for a little target practice. So a firearm that can accomplish all of those things, and stays out of the way while working, fits in nicely.
Nothing to hide…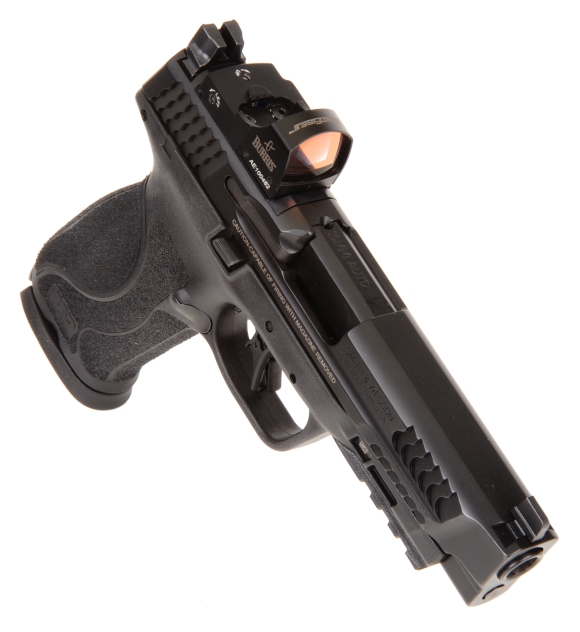 While concealed carry is a part of personal routine, concealment is not necessary for the applications previously defined. Open carry removes concealment considerations, so firearm selection is less restrictive. A full size auto loader, like the Smith & Wesson M&P®10mm, is a solid choice as a balance of good handling and good power.
Smith & Wesson M&P®10mm M2.0™


SKU

13387

Manufacturer

Smith and Wesson

Point of Origin

Springfield, MA

Type

Striker Fired


Caliber

10mm Automatic


Magazine Capacity

15

Barrel

4.6″

Rifling

1:10″ 5 RH


Overall Length

7.9″

Overall Height

5.6″

Frame Width

1.30″

Weight (Actual)


29.6 Oz.

Sight Radius

6.9″

Trigger Pull (Actual)

4 Lbs. 2 Oz.

Front/Rear Sights

3 White Dot – Drift Adjustable


Barrel Material

SS – Armornite® Finish

Slide Material

SS – Armornite® Finish Matte Black

Grip Frame

Zytel Polymer 18° Grip Angle

Internal Chassis

Extended Rigid Stainless Steel

Thumb Safety


No

Magazine Disconnect

No

Optics Ready


Yes

MSRP

$665
The M&P®10MM's relatively long barrel extracts more of the 10mm Automatic's ballistic potential than a short barrel gun. Its greater mass tames recoil and muzzle rise and its long sight radius makes sight alignment faster and more precise.
The M&P®10MM's full size grip affords high magazine capacity and it is hand filling, rather than finger dangling. the long dust cover provides an accessory mount for a tactical light or laser, and the slide's topside provides a mount for an optic sight.
Full size auto loaders are often chambered for more powerful cartridges. None will reach the ballistic performance of a rifle or big bore revolver, but they can achieve adequate power for hunting medium size game such as deer, hogs and larger varmints.
There are many holsters available for the full size M&P®10MM pistol open sights and with optic sights installed. Blackhawk, Black Scorpion, Blade-Tech, Craft Holsters, Galco, Safariland, and We The People Holsters all make holsters to accommodate S&W M&P pistols with optic sight in place.
A walk through…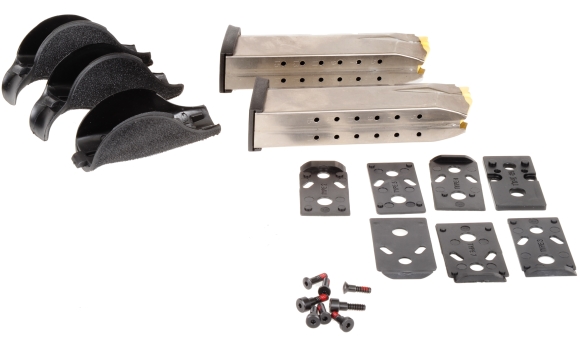 The Smith & Wesson M&P10mm 2.0 comes with useful accessories for a new owner. There are four backstrap inserts to accommodate virtually any hand size: small, medium, medium large, large. Two 15 round magazines take care of most ammo on hand requirements. Seven optic sight mount adapter accommodate most popular, and even some not so popular, optic sights.
A small cover on the slide, secured by two screws, hides the optic sight mount when not in use. The seven adapters included with the pistol cover more than the listed open red dot sights. As an example, I installed my trusty FastFire II Burris sight using the #3 Docter adapter and it worked like a champ. So the listings are more type conventions than a very specific sight model and manufacturer.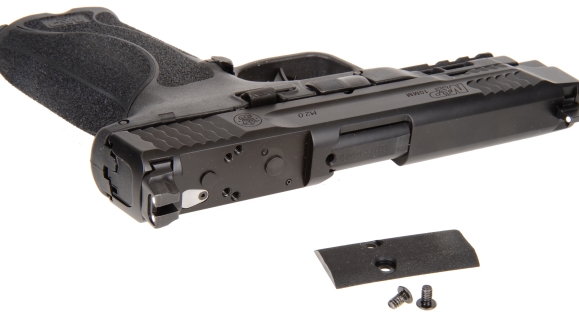 The open sights are drift adjustable and tall enough to see through a mounted red dot sight in the event a battery croaks or the optic sight breaks. I know, why am I still using a relic Burris FastFire II sight? Because I have had it on everything from a lightweight carbine chambered for the 375 Ruger to 45-70 Trappers, a 500 S&W X Frame, many ARs in assorted and sundry chambers; I can't kill it. It has a 4 MOA dot, it holds adjustment, it is fast shooting, so….
I was listening to "Doing It All for My Baby" by Huey Lewis and the News and realized, according to reader demographics, the song was released ten years before most of you were born. Resentful and envious, I hopped on the tractor and ran up and down the driveway, building a huge pile of brush and branches for future chipping. It was a spectacular construct and, when I was done, I no longer gave a damn about how young any of you are. I've got a new tractor!
Annotation heavy, but easy to operate
The subject M&P10mm 2.0 does not have a thumb safety It does have a firing pin block that stops firing pin movement unless the trigger has been fully depressed. The trigger has a safety that prevents it from moving rearward until the trigger safety has been depressed. The idea is to minimize the chance of accidental discharge.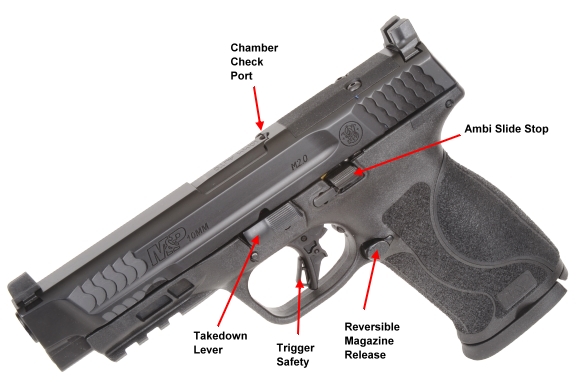 The chamber check port allows looking at the tail end of the gun's chamber to see if a cartridge extractor groove and rim are visible. While this is a nice feature, it does not take the place of puling back the slide and looking with the chamber in full view. No, I do not stick my pinky in the chamber to verify it is empty. If my vision can't distinguish between a hole and a casehead, I shouldn't be holding a firearm, loaded or empty.
It is easy to do this…

Tidy assemblies. The flat wound spring is captive to the guide rod. Not nearly as much fun as the jack-in-the-box action of a 1911, but then it eliminates crawling around on the floor in search of a recoil spring plug. The barrel on the 10mm Auto version is ramped. A stainless steel chassis runs the length of the frame, securing the fire control pieces and adding rigidity to the frame.
The S&W M&P10mm is a take down lever pistol so disassembly is easy and any tools required are stowed in the grip in the form of the frame tool. Looks a lot like a small, long shaft. common screw driver. Oh, okay, it looks as pictured below. Are you happy now?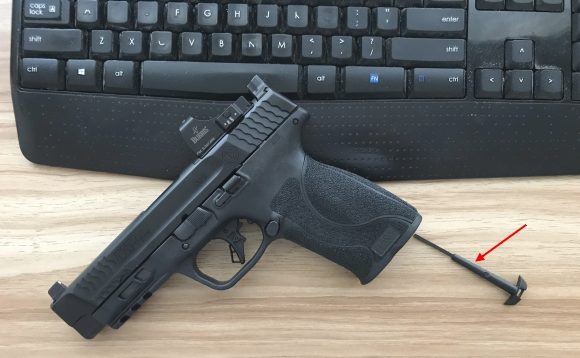 The frame tool… yes, the one with the arrow that is stowed in the grip, is used to poke down into the magazine well from the top of the slide, to rotate the sear deactivation lever down. A necessary step in the field strip sequence. Can we move on now?
The 10mm Automatic as a lighter weight hunter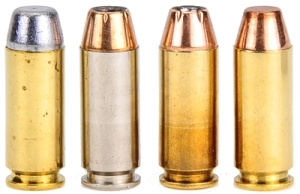 Cartridge
Bullet
Weight
Grains
Rated
Velocity
FPS
5″
Auto
FPS
6″
Auto
FPS
4.6″
M&P
FPS

5 Shot




25 YD


Group"

Buffalo Bore Heavy
220
1200
1183
1203
1168
2.1

Federal Hydra-Shok
180
1030
1015
1063
1019
2.3

PMC Bronze
170
1200
1086
1127
1060
2.0

Prvi Partizan
170
1115
1017
1039
993
1.8

Pictured above, left to right and on the table top to bottom, hunting, self defense, hunting, target practice. The S&W M&P 10mm is no doubt a defensive weapon of significant capability. Bullet and load level selection determine bullet expansion and penetration.
Ballistic doodling – feel free to skip this section
Ignoring proprietary cartridges that contain an overdose of their creator's ego, the 10mm Auto looms large as a powerful cartridge in the world of auto loaders. In the world of handguns of all types, it ranks as more moderate, but still adequate for taking deer size game at reasonable distances. Yes, that does mean inside 50 yards.
With expanding bullets intended for self defense against humans will yield 12″ – 20″ of gel block penetration. With tough jacketed bullets, particularly in 180 grain and 200 grain weights and hard cast, the 10mm Auto will blow through 32″ of gel blocks. Setting aside comparisons, the 10mm Auto can stand on its own as a hunting cartridge or trail gun.
Compared to a 185 grain 45 Automatic +P load, the 10mm Auto has 2% greater velocity and less than 2% greater kinetic energy. I know, energy increases at the square… the difference here is the 45 Auto's 5 grain greater bullet weight.
The 40 S&W 180 grain standard, by comparison, generates 19% less velocity than the 10mm Auto and 34% less kinetic energy. Yes, there was some rounding errors here, but not of any significance.
Is the 10mm Auto comparable to a revolver loaded with 41 Mag ammo, each with 180 grain loads? For the sake of context, the 41 Mag produces 22% more velocity and 48% greater kinetic energy.
A 357 Mag with standard pressure factory 180 grain ammo outputs 8% less velocity than the 10mm Auto and 16% less kinetic energy. However, the 357 Mag is available with 180 grain ammo at 1,500 fps and 899 ft.lbs of energy, where the 10mm Auto will not pick up much more even with handloads.
What did the mother bullet say to her child? It's cold out. You ought to put a jacket on.
And what about the shooter?
Overall, the full size Smith & Wesson M&P 10mm is well balanced and carries just enough heft to make it comfortable to shoot. The aggressive gripping surface finish is excellent; no slipping, no reestablishing hand hold after each shot and, if you shoot often enough, it will remove most calluses.
Even without the optic sight installed, the three dot system is clean and fast. Combined with the longish sight radius, the three dot system delivers good accuracy. The groups indicated earlier in table form were shot with a red dot sight installed and from a rest.
Recoil is greater than a 9mm Luger… probably a bit more than a 45 Auto, but not bad and would not be a factor with the addition of some proficiency practice. Reliability? I would say very high. During all of the range time there were no misfeeds, jams, failure to feed or fire mishaps.
Very nice flat faced trigger. Light pull, crisp break and contributed significantly to accurate shooting. The finish held up and cleaned up easily. No sign of battering on frame rails or slide. Yes, very nice firearm with many applications. Now I need to find a pistol scabbard for the tractor roll bar.