03/17/2022
S&W M&P® Shield EZ


SKU #
13458
Manufacturer
Smith and Wesson
Point of Origin
Springfield, MA
Type
SA Internal Hammer

Caliber
30 Super Carry

Magazine Capacity
10
Barrel

3.675″ Stainless

Rifling
1:10″ 5 RH

Overall Length "

6.8
Overall Height "

5.2
Frame Width "

1.06
Weight Oz

23.6 With Mag

Sight Radius "

5.8
Trigger Pull – Actual
6 Lbs. 5 Oz.
Sights

Three White Dot

Slide Material
Stainless Steel
Frame
Polymer
Safety
Ambi Thumb

Magazine Disconnect
No
Chamber Check
TLCI
MSRP
$521
The M&P Shield EZ falls into the S&W frame size classification Micro-Compact.That size designation is shared with members of the M&P Shield M2.0 Series, M&P Shield Series, CSX Series, and M&P Shield Plus Series.
As is the case with most manufacturers, size designations are not industry standards, they are Smith & Wesson designations that apply to their product lines.
It may help to say that the Shield EZ is bracketed in size by the Micro frame M&P Bodyguard Series as the next smaller and the Subcompact M&P 2.0 and their Officer's size 1911 models as the next larger.
In broader terms, the S&W M&P Shield EZ falls a few ounces shy of a lightweight 1911 Commander, but fills the hand in similar fashion and with similar balance.
Unlike the 30 Super Carry striker fired Shield Plus, the 30 Super Carry Shield EZ is hammer fired.Subsequently, the EZ has a shorter, crisper, cleaner breaking trigger and great confidence in a deliberate discharge to follow.
The S&W Shield EZ is yet another example of the world coming around to my way of thinking. Where brazen bare stainless once occupied gun store retailers walls and counter spaces, Armornite® blackened stainless is now on deck.
With the exception of a riverboat gambler or other form of dandy, everyone knows firearms should not be visually obvious, or represent a desperate cry for attention. Armornite® provides the best protection and appearance.
Finally, the S&W M&P Shield EZ includes not only a multiple of ampersands, but it is made in the U.S.A. and backed by the S&W Lifetime service policy.
The annotated illustration of controls
Below, seems a lot of labeling to say everything is where you would expect it to be to be. The grip frame above the grip safety forms a 1911 Auto like beavertail. The grip safety is compressed by a normal high hold, so no secondary considerations are required to assure its compression.
The 18° grip angle makes a comfortable wrist position and for natural sight alignment. The small kick up at the rear of the trigger guard gets the hand higher in hold and straightens the trigger finger.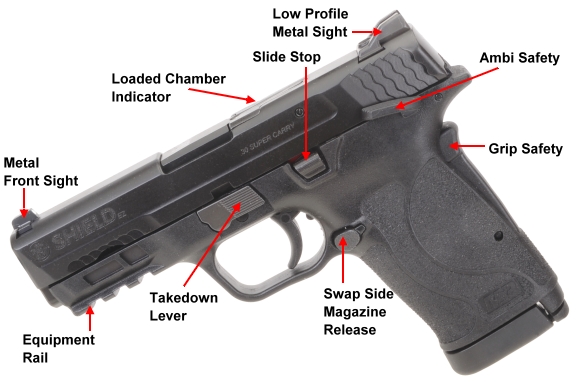 The equipment rail is there for those who use them. I applaud S&W for including this feature. There are tactical flashlights, aiming devices, laser dry fire training systems. I have tried all of them, but not for long.
I tend to see a pistol of this type, within my defensive applications, as 10 yards and done. I do not want a bright white target held in my hand and I find it faster to point and shoot than chase a bouncing red laser dot in search of a target. That said, there are many better trained and experienced people who find considerable utility in a rail.

Metal sights are commendable; relatively low and with three dot alignment for an excellent sight picture. The rear is adjustable for windage, both front and rear are dovetail mounted. The loaded chamber indicator is flush on the top when the chamber is empty, popped up less than 1/8″ behind the barrel hood when full.
The thumb safety pads stick out enough to thumb flick them on and off. A left side safety would be enough for me, but an ambidextrous thumb safety, coupled with the ability to move the magazine release from left to right side makes for almost left handed operation. A no thumb safety version of the Shield EZ in 30 SC is also available as SKU 13459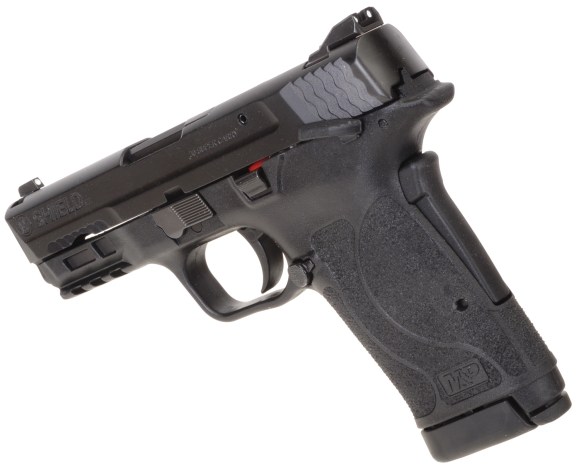 The fish scale gripping surfaces and small dog ears at the end of the slide make it easy to manually pull back the slide. The aggressive grip texturing holds like a wide receiver with a handful of Stickum. Trigger reach is short and straight, the magazine release can be reached without breaking grip, because of the relatively narrow grip.

The grip width provides more than sufficient surface area to absorb recoil from the available calibers and it is flat enough to aid in concealed carry.
Take down is easy, no tools required. There is the S&W, aluminum chassis and slide guide rails extended to the front of the poly grip frame's dust cover. The hammer is visible at the rear. The recoil springs and guide rod are modular, the barrel is ramped.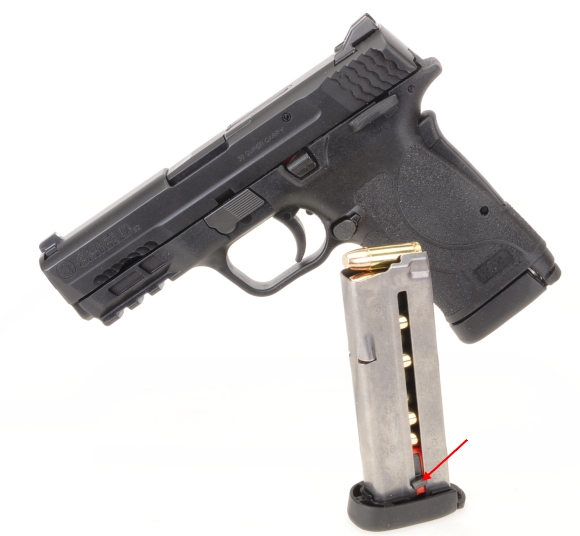 The Shield EZ comes with two easy-to-load magazines. No, I do not know why those words are hyphenated, I just transcribed what appears in S&W collateral materials. The mags load like rimfire magazines. You pull down on the load assist buttons (arrow) to lower the follower and load up.
The three bear approach to cartridge design – the 30 Super Carry
So if I visit social media, I will read where Buzz Magnum denounced the new 30 SC as not necessary and surely redundant. Actually, for general applications, only about three cartridge types… handgun, rifle and shotgun are necessary. The rest are only so much fluff.. or are they?
Yes, the 6.5 Creedmoor is a bland deer cartridge in an already crowded field of competing cartridges. So why was it introduced? Not as a deer hunters dream cartridges, but rather for precision medium and long range shooting. It is a finesse round with application specific benefits, few that would distinguish themselves with deer hunters. So don't buy a Creedmoor for deer hunting and you won't be disappointed
There are general application, and there are specific applications. There are OK shooters, and there are highly qualified shooter. Every time a new cartridge is introduced it already has a home for a specific application and a person who can utilize the combination within that application. S&W says, "…in a perfect size for nightstand, concealed carry or a day at the range. Sounds right to me.
Pictured left to right: 380 Auto – Too short to ballistically anemic, 30 Super Carry – Just Right, 9mm Luger – Too much. The 30 Super Carry represents a major power bump over the 380 Auto; velocity, kinetic energy and useful penetration. The 30 SC out performs the 9mm Luger in penetration and velocity, falling only 17 ft lbs shy of the 9mm Luger's kinetic energy. The smaller diameter 30 SC means more rounds in a magazine and a more narrow grip to aid concealment.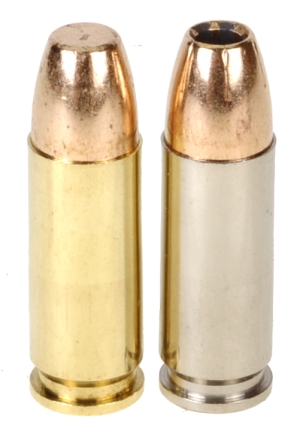 To underscore S&W perspective, Federal's initial 30 Super Carry releases are a combination of target and defensive ammo. Two types are pictured left, left to right American Eagle 100 grain Full Metal Jacket target ammo and Federal Personal Defense HST100 grain Jacketed Hollow Point.
Both FMJ and JHP are listed at 1250 fps MV, with the former registering 1221 fps over the chronograph and the latter 1234 fps, shot from the subject Shield EZ.
Accuracy was very good for the anticipated applications. The S&W Shield EZ put up central playing card size 5 shot groups at 10 yards from a two hand hold. I did not shoot 25 yard groups, as not much home or other forms of defensive shooting occur at 75 feet of separation.
The S&W Shield EZ in 30 Super Carry has pronounced report. I would guess the presence of high muzzle pressure, however, preliminary SAAMI standards filing has not yet been published. Recoil does not follow in kind as it is mild. Muzzle rise is not significant and, once past the report, the Shield is an EZ shooting pistol.
Overall
The S&W M&P Shield EZ in 30 Super Carry is a well balanced pistol that does not feel performance compromised to meet a concealed carry objective. Power for real world defensive circumstances is solid, not unlike the 327 Federal Magnum. I can see the fit where the 380 Auto is just too mild and the 9mm Luger cartridge forces too much handgun real estate.
Here's hoping pistols and ammo is maintained in adequate supply. Nice pistola.