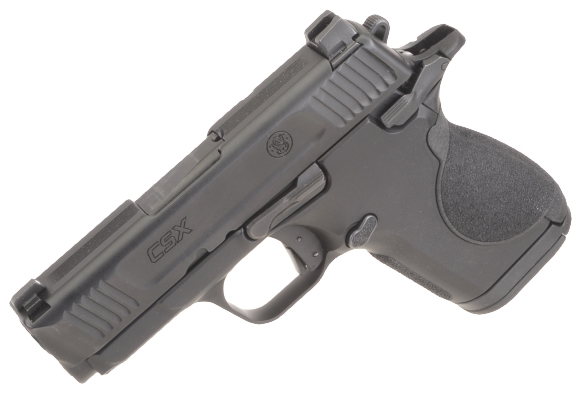 The Smith & Wesson CSX is a solid, single action, hammer fired, aluminum frame pistol. Smith & Wesson's restraint in product design and configuration is to be applauded. Restraint that places features and performance essential for defense with this type of firearm, while omitting the superfluous. That's correct; no light rail, no optical sight mount, no faintly glow in the dark night sights, no 50 round magazine, no grenade launcher.
A Micro-Compact frame size, some folks have jumped to draw parallels between the S&W CSX and firearms like the CZ RAMI 2075 of 2004, or the 1991 Star Firestar. An analogy? Sure. Both the 2022 Chevy Spark and a 2022 Corvette Stingray are automobiles, but that is where the similarity ends. Others have called it a 1911 design because it is single action and is hammer fired. Absolutely, except for its appearance and every other part of the pistol.
So how does a company like Smith & Wesson differentiate the CSX from a glut of small form pistols? With an improved S&W design, better aesthetics, enhanced quality, higher reliability, consistent performance, and backed by the S&W Lifetime Service Policy.
Specification in overview
Smith & Wesson CSX

SKU #

12615

Manufacturer

Smith and Wesson

Point of Origin

Springfield, MA

Type

Single Action Hammer Fired


Caliber

9mm Luger


Magazine Capacity

12+1 and 10+1 Rounds

Barrel

3.1″ Stainless Steel

Rifling

1:10″

Overall Length

6.1″

Overall Height*

4.6″


Overall Width

1.12" Between Controls


Weight

19.5 Oz.

Sight Radius

4.6″

Trigger Pull – Actual

5 Lbs. 12 Oz.

Sights

3 Dot – White


Slide Material

Stainless Steel

Slide & Barrel Finish

Armornite® Black


Frame Chassis

Anodized Aluminum Alloy

Thumb Safety


Ambidextrous

Trigger Safety

Yes


Magazine Disconnect

No

Chamber Check

Barrel Hood View Port

MSRP

$609
Salient features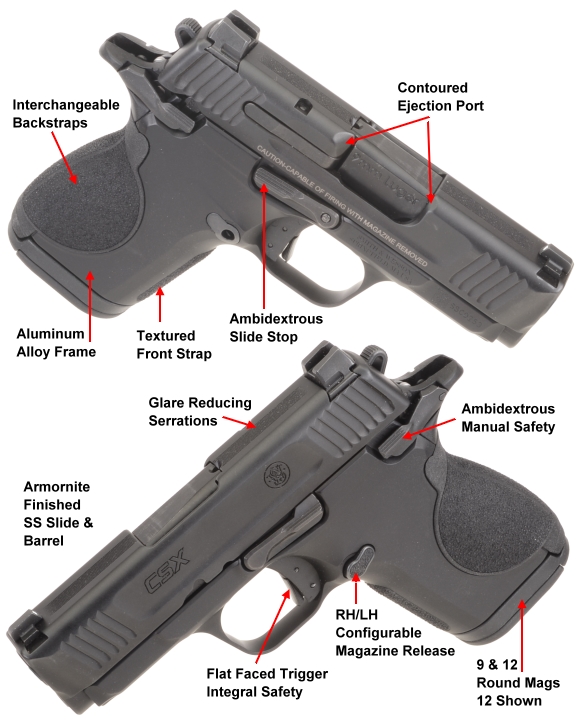 Some elaboration
The S&W CSX is manufactured in Springfield, Massachusetts, within the same facility, by the same organization, that produces all of the other quality Smith & Wesson handguns.
The S&W is a simple assembly from aluminum frame, not poly with an aluminum chassis, to the captured recoil spring / guide rod assembly. The barrel has a slick feed ramp and a hood port that acts as a loaded chamber indicator. No 1911 type radial locking lugs, lock up is between the substantial barrel hood and the slide.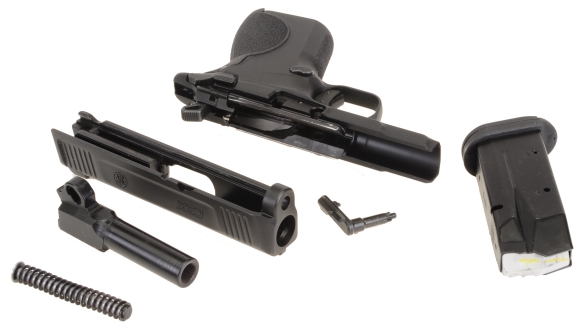 While the owners manual details the safe steps, disassembly is easy: remove magazine and check for empty, pull slide back to align the takedown pin (left side slide stop) with the slide's takedown notch, hold the slide/frame position with an overhand GI Joe Kung Fu grip, push out the takedown pin, slide… slide forward and off the frame.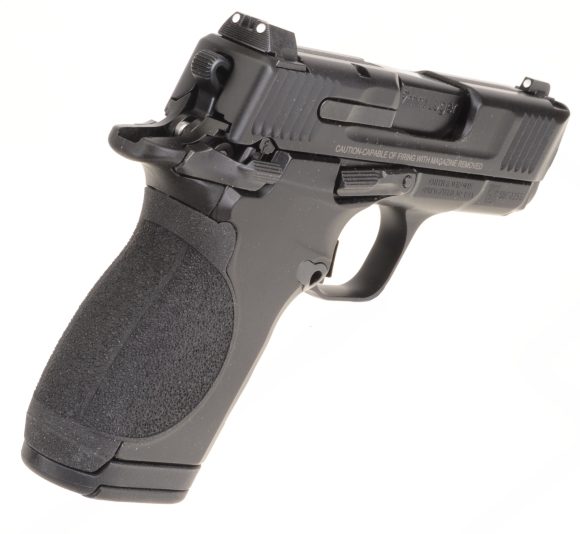 A very useful feature; the slide can travel fully forward and aft with the manual safety engaged, which makes for a safer handling pistol. The owner's manual suggests three condition options for the S&W CSX:
First Mode: magazine empty, chamber empty, safety on, hammer down. (storage, transport, dry fire)
Second Mode: Loaded Magazine, chamber empty, safety off, hammer down (holster carry, quick access storage)
Third Mode: Loaded magazine, loaded chamber, safety on, hammer cocked (holster carry, quick access storage, no advanced warning)
Sights
As seen in the previous photo, the low profile sights have a three dot presentation with the rear sight face is serrated to cut glare and reflection.
Both front and rear sights are dovetail mounted. The rear sight can be adjusted horizontally by loosening the center set screw and shifting the rear sight appropriately based on shot placement. The three dot display is probably the best within the pistol's applications. I am not a big fan of Tritium night sights as the theoretical benefits are lost to ambient light or uncertain target ID. Yes, I do like fiber optic sights, but I try to keep that to myself.
Interchangeable backstraps
The compact CSX is supplied with both a small and extra small backstrap to best fit the shooter and to optimize for concealment. The little push tool is supplied with the CSX to compress the spring loaded detent that retains the backstrap.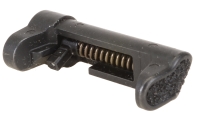 The Smith & Wesson Micro-Compact CSX ships from S&W with a left side magazine release button. However, a second, right hand, release button assembly is included for shooters who want a right side release. The CSX is quite a dedication to ambidextrous use.
Magazine Capacity
The CSX is supplied with one 10 round and one 12 round magazine (small spacer at base). The extended mag looks clean when in place. From a concealment standpoint, I do not believe one offers a great deal more than the other in terms of concealment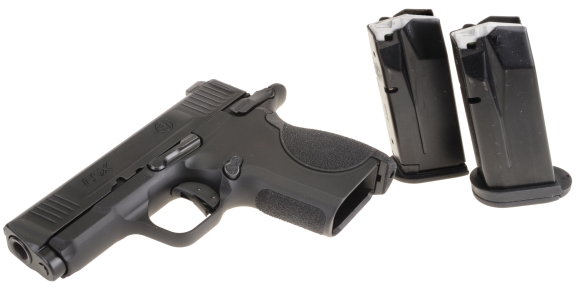 As seen, the front strap and backstrap are aggressively textured. Very helpful in bringing good control to a subcompact pistol. One of the benefits of the small versus extra small backstrap is that the small wraps around and provides greater contact surface area.
Live fire performance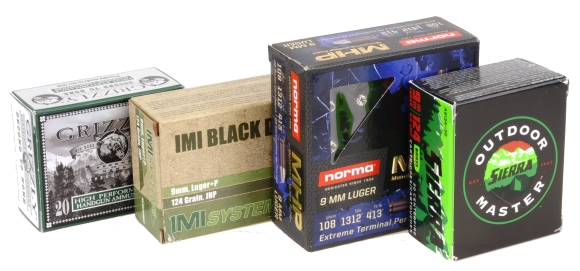 Ammunition – Alpha Order


Bullet




Grains

Rated


MV FPS


Recorded


MV FPS
3.1″ Barrel

Grizzly High Performance – JHP


124

1200

1026

IMR Black Dot +P – JHP

124


1180

1088

Norma MHP –  MHP

108

1312

1092

Sierra Outdoor Master – JHP


124

1090

994
The table is a good indication as to why ammunition rated velocity rarely plays out as actual muzzle velocity. In this case, the short barrel will always give up velocity in exchange for a concealment advantage. Still, this is actually more than adequate performance to achieve appropriate penetration and full bullet expansion. The CSX is approved for standard and +P pressure factory ammo.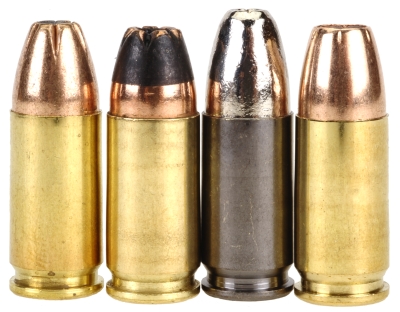 Accuracy? Since self defense circumstances rarely include the use of a Ransom rest or similar apparatus, and because shooting distances beyond 7 to 10 yards are also an exception, some 5″ bullseye targets were set out at 10 yards. I then attempted, successfully, to perforate them in groups of 5 shots with each ammo type. No, there was no drill, no rapid fire and there is no name for the aesthetically less pleasing two hand hold I have used for fractional centuries.
But what about the S&W CSX's mechanical accuracy and not my limited marksmanship ability? Parking the trigger guard on a solid, but conforming rest, produced sub 2 1/2″ 10 yard groups with all ammo indicated. I would guess that someone else could do better, so my shooting doesn't define the CSX's potential.
Shooting personality… the S&W CSX, not mine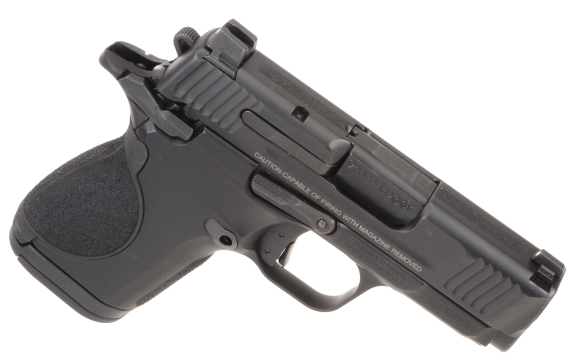 The CSX is a highly controllable micro-compact size, 9mm auto loader. The undercut trigger guard and beavertail grip set the hand high on the grip and the aggressively textured gripping surfaces make sure it stays there. The flared surface at the rear of the CSX's slide, and deeply grooved slide gripping surfaces, make racking the slide a moderate effort.
Heft and balance make for a steady sight picture. Felt recoil is actually soft for a micro compact 9mm, even with +P ammo. Settling down for follow up shots is quick.
I really like the manual thumb safety and the ability to rack the slide with the safety on. Initially, I could not thumb the safety on, but I could thumb it off. A little use solved that problem and I came to appreciate the placement and effort required for controls.
The CSX fed, fired and cycled all types of ammunition fed. It is a very good pistol that most would be proud to own and carry. Its aesthetics are laudable.
Is there some work to be done? Trigger pull measured 5 lbs 12 oz. For my taste, the pull is too heavy. Maybe because it is a single action, hammer fired pistol, the expectation is for a light trigger pull, as opposed to a striker's heavy pull? Even 4 to 4.5 lb pull would make me happy, but I am sure time and use would have me looking for ways to bring that down to 3 1/2 lbs. A good trigger is at the heart of firearm accuracy.
I am being critical, as none of the trigger issues would get in the way of me owning a CSX. The pistol has too many other offsetting good features. I am sure the CSX will be a huge success for Smith & Wesson and rightfully so.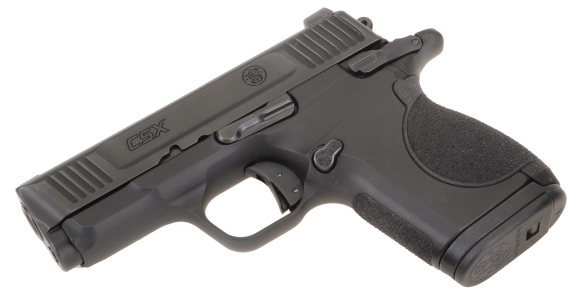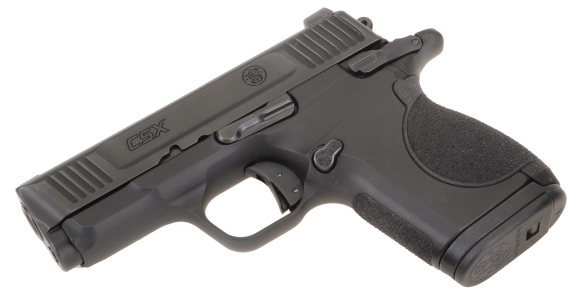 Real Guns – A Firearm and related publication