11/16/2021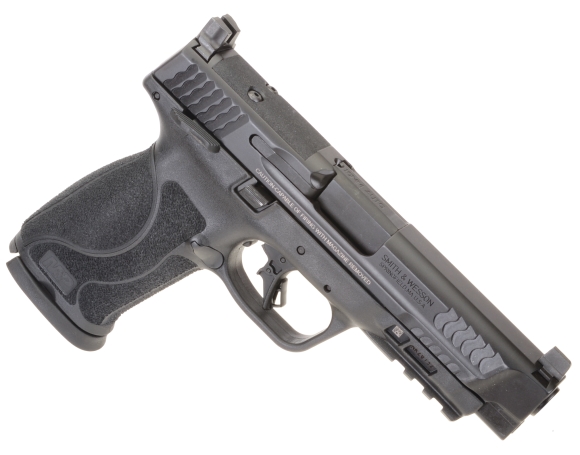 Smith & Wesson has introduced a trio of M&P® 10mm M2.0 pistols: SKU 13388 with 4.6″ barrel and thumb safety, SKU 13389 with 4.6″ barrel and no thumb safety and SKU 13390 with 4.0″ barrel and thumb safety. The subject Smith & Wesson M&P® 10mm M2.0 is SKU 13388.
Some detail and some observations
Smith & Wesson M&P®10mm M2.0™


SKU
13388
Manufacturer
Smith and Wesson
Point of Origin
Springfield, MA
Type
Striker Fired

Caliber
10mm Automatic

Magazine Capacity
15
Barrel
4.6″
Rifling
1:10″ 5 RH

Overall Length
7.9″
Overall Height
5.6″
Frame Width
1.30″
Weight
29.6 Oz.
Sight Radius
6.9″
Trigger Pull – Actual
4 Lbs. 3 Oz.
Front/Rear Sights
High 3 White Dot – Drift Adjustable

Barrel Material
SS – Armornite® Finish
Slide Material
SS – Armornite® Finish Matte Black
Grip Frame
Zytel Polymer 18° Grip Angle

Internal Chassis

Extended Rigid Stainless Steel

Thumb Safety

Yes
Magazine Disconnect
No
Optics Ready


Yes

MSRP

$665

 
After collecting a good deal of accuracy, reliability and velocity data, I can honestly say the M&P® 10mm M2.0 is impressive. Made in America and covered by Smith & Wesson's Life Time Service Policy are a bonus.
The combination of 10mm Auto and the full size M&P M2.0 striker make for a powerful, but manageable firearm with many potential applications.
The M&P® 10mm M2.0's tall grip fills the hand for solid control and accommodates a fifteen round magazine.
The 4.6″ barrel is long enough to not hamper the 10mm Auto round's performance, but not so long as to detract from the pistol's balance or prevent comfortable carry.
The high three dot metallic sights mounted at the slide's extremes maximize the pistol's sight radius and facilitate optical sight mounting.
The M&P® 10mm M2.0 Sight Systems

The S&W M&P® 10mm M2.0 has a three white dot metallic sight system. For dimensional reference a picture cannot show, the front sight extends 0.320″ above the slide, the rear sight 0.380″. The front sight blade is 0.140″ wide, the rear sight aperture is also 0.140″ wide.
The slide is cut for optical sights, a poly cover protects the area when no optical sight is mounted. The high metallic sights permit the use of metallic sights with an optical sight in place. Alignment of metallic sights, relative to the red dot in an optical sight varies with the type and model of optical sight.
An accommodating pistol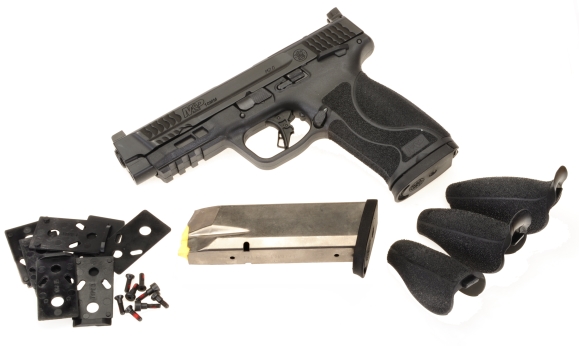 The M&P® 10mm M2.0 is supplied with two 15 magazines, 7 optical sight adapters and associated fasteners and 4 interchangeable grip inserts. The sight adapters accommodate a myriad of optical sights. In fact, I was even able to install my relic FastFire II by using adapter Number 3 and screw type C. I really need to replace that sight, but I have not been able to kill it.
The grip inserts were blind tested. Inserts are changed by pulling out the small frame tool at the aft bottom of the grip frame and pivoting the grip insert outward from the frame. I settled on the "Medium" insert as the most comfortable after trying smaller and larger sizes. The stippling on the grip area is sharp, but greatly appreciated as a contributor to control. But then I work outdoors a good deal, so I do not have engineer's tender hands.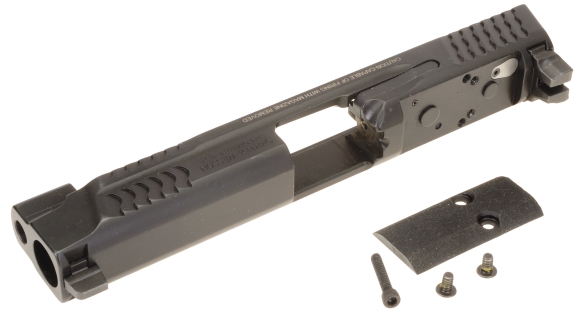 No, the slide does not have to be removed to install an optical sight. I had the slide off while running through disassembly and thought I would take the time to photograph the mount cut and sight locating points.
Controls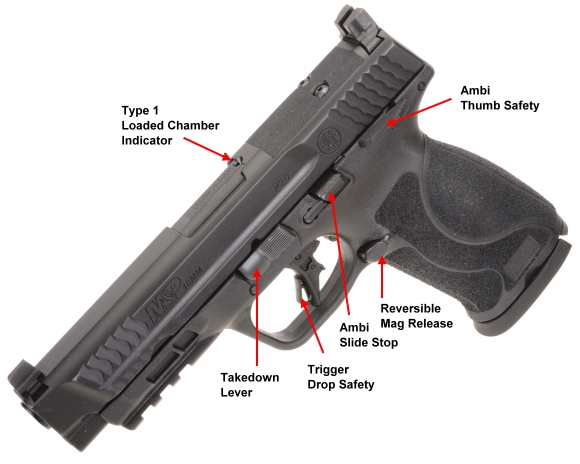 The subject version of the M&P® 10mm M2.0, with medium grip insert in place, put all of the controls within comfortable reach. The Magazine release was a bit of a stretch, but then I have large palms and short, stubby thumbs. It is a family thing. Trigger reset is audible and tactile, for those who need the trigger speed and appreciate this mechanical feedback.
Field stripping

The M&P® 10mm M2.0 is an easy takedown for cleaning and inspection and there are few sub assemblies to manage in that process.. The recoil spring set is captive, the ramped barrel is linkless. Disassembly is basically: check for empty and make safe as per the manual, lock the slide back, use the included frame tool to push down the little sear deactivation lever in the mag well, rotate the slide takedown lever down, release the slide and remove it from the frame. Hit reverse for reassembly.
The 10mm Auto
The 10mm Auto has been with us since 1983. I am going to resist turning its history into a German opera titled "Jeff Cooper, Der Vater Des Bren 10, Aber Norma Machte es Kommerziell" and focus on the S&W pistol and cartridge's performance.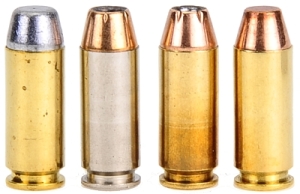 The 10mm Auto is a well established, high performance cartridge. Shot from revolver or autoloader, it has excellent potential as both a security, defensive and hunting round. Some ammunition manufacturers soft load the 10mm Auto based upon the cartridge's early development and early evolution. The table below should add clarity to the issue of performance levels, at least by the indicated manufacturer.
Cartridge
Bullet
Weight
Grains
Rated
Velocity
FPS
5″
Auto
FPS
6″
Auto
FPS
4.6″
M&P
FPS
Buffalo Bore Heavy
220
1200
1183
1203
1143
Federal Hydra-Shok
180
1030
1015
1063
1006
PMC Bronze
170
1200
1086
1127
1052
Prvi Partizan
170
1115
1017
1039
1011
The M&P® 10mm M2.0's accuracy was solid. At 25 yards, shooting from a rest and with a red dot sight in place, five shot groups measured: Buffalo Bore 1.9″, Federal 1.7″, PMC 2.1″, Prvi 2.0″. This was not a statistical exercise based on an averaging of numerous 5 shot groups. These were the first 20 rounds through a new gun, following set up and sighting in.
Yes, I did shoot the pistol with metallic sights. Contrast against dark, light and mixed dark and light targets was very good. Getting sights on target was quick, as was recovery for follow on shots. Groups sizes at 25 yards? Not with an ophthalmology appointment end of month. No, that is not a person who has a positive outlook on life.
In addition to Buffalo Bore, Federal Fusion, HSM, and Underwood all produce 200+ grain loads at or above 1,200 fps MV. Other ammunition manufacturers load this bullet weight to muzzle velocities ranging from 950 fps to 1100 fps. Some folks are a little recoil sensitive and may want to shoot reduced loads. Some people spend a lot of time at the range and may want to shoot inexpensive target ammo.
Winchester generally loads their 10mm Auto and 40 S&W to the same level of performance. Hornady loads their Custom 10mm 180 grain ammo to 1275 fps. The same Hornady product in 40 S&W is loaded to 950 fps, illustrating the true performance difference between the 10mm Auto and the 40 S&W cartridges. Shop around.
Yes, I did mention woodland deer hunting…
200 grain Buffalo Bore
Near-Zero – Yards
11
Mid Range – Yards
57
Far-Zero – Yards
101
Max Ordinate – Inches
+3.0
Point Blank – Yards
108
Best Zero : Range 0 – 100 yards
Yards
0
10
20
30
40
50
60
70
80
90
100
Velocity – fps
1200
1180
1161
1143
1126
1110
1095
1081
1067
1054
1041
Energy – ft.-lbs.
639
618
599
580
563
547
532
518
505
493
482
Momentum – lbs-sec
34
34
33
33
32
32
31
31
30
30
30
Path – in.
-1.50
-0.12
1.02
1.89
2.50
2.84
2.89
2.66
2.13
1.29
0.14
Drift – in.
0.00
0.00
0.00
0.00
0.00
0.00
0.00
0.00
0.00
0.00
0.00
Time Of Flight – sec.
0.00
0.03
0.05
0.08
0.10
0.13
0.16
0.18
0.21
0.24
0.27
The 10mm Auto has approximately 37% greater kinetic energy and 17% greater velocity than a 45 Auto has at the muzzle and the 10mm Auto has a 108 yard point blank range. The 10mm Auto is more than the 357 Mag, but not as stout as a 41 Mag. It is the most powerful cartridge chambered in a popular production autoloader.
The S&W M&P® 10mm M2.0's shooting personality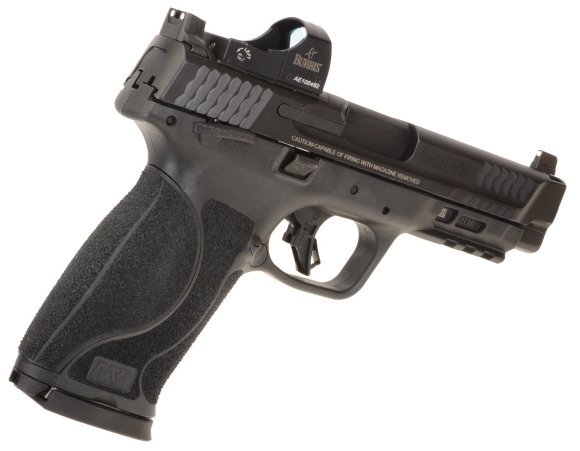 The Smith & Wesson M&P® 10mm M2.0 is a different kind of 10. The low barrel bore access and full size make it the softest shooting 10mm Auto I've shot and I have worked my way through many. Even the slide is easy to rack. Size, weight, the holding leverage of a long grip combine to make the M&P® 10mm M2.0 an easy pistol to shoot.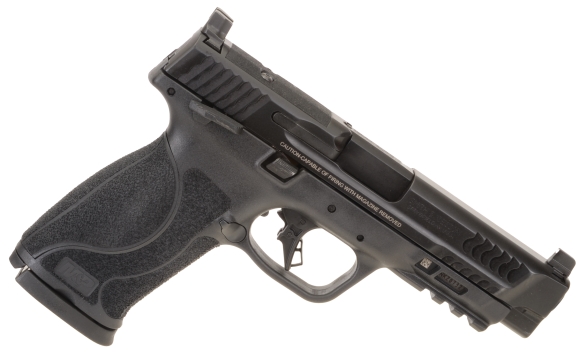 The M&P 2.0 flat face trigger is… refined. Striker triggers often feel like stretching a bundle of elastic bands. The M&P® 10mm M2.0 trigger is none of that. Pull is light, crisp and brief beyond take up.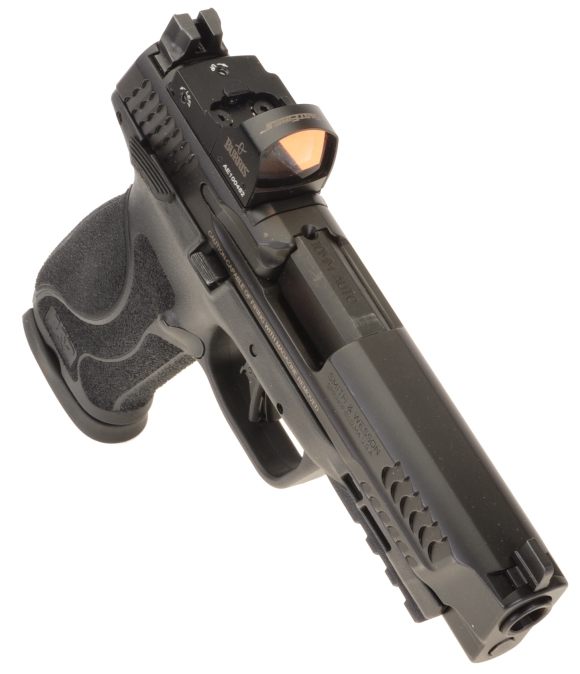 The M&P® 10mm M2.0 has a good feel, the controls are well placed and the cartridge speaks with authority. Under critical, serious and/or stressful circumstances, the M&P® 10mm M2.0 would definitely provide a well deserved handful of confidence. Security, personal defense, woodland deer hunting, trail gun… the Smith & Wesson M&P® 10mm M2.0 is a perfect addition to the M&P M2.0 lineup. Glad to see it.
Real Guns – A Firearm and related publication