When you think of spy weapons, the fantastical, the weird, and oddball experiments created by a guy named Q often come to mind. A combat stiletto with a pancake flipper sheath is a real world example.
Sometimes, a spy gun is simply a standard issue gun, like a World War II M1 carbine made by National Postal Meter and issued to the Office of Strategic Services (OSS), the precursor to the Central Intelligence Agency as well as the Green Berets and U.S. Navy Seals. The weapon will be on offer in Rock Island Auction Company's Premier Auction, May 13-15.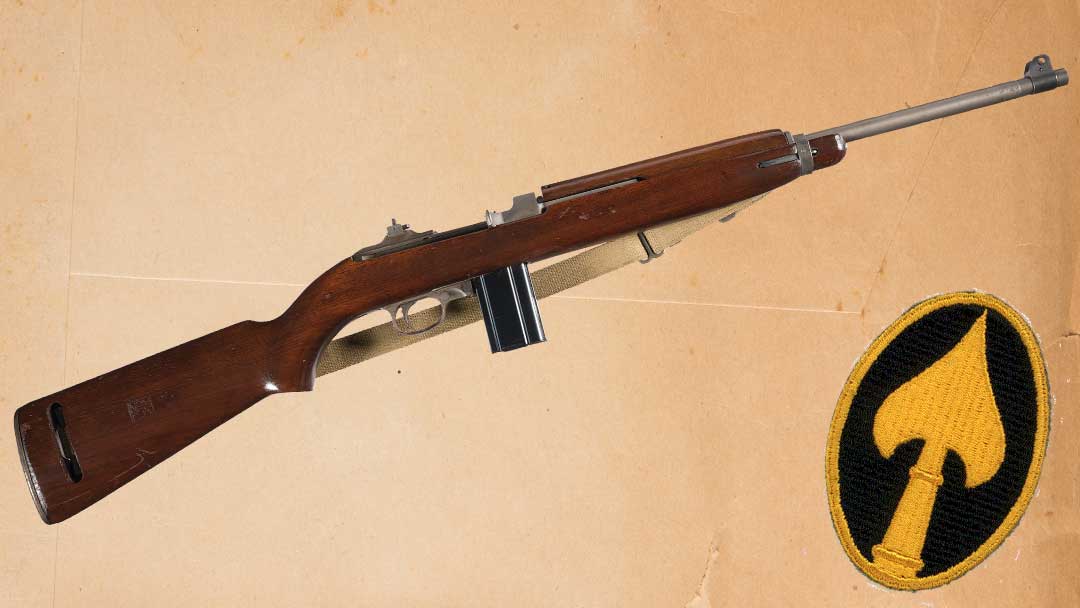 An M1 Carbine issued to the Office of Strategic Services will be on offer at Rock Island Auction Company's May 13-15 Premier Auction.
The gun was part of a shipment of 12 carbines, 13 M1911 pistols, and 13 Thompson submachine guns delivered to the OSS Washington, D.C., headquarters in October, 1943 and received by Lt. George H. Bookbinder. The shipping ticket is provided with the carbine.
On the eve of World War II, President Franklin D. Roosevelt didn't like that intelligence gathering was decentralized so he created the Office of the Coordinator of Information (COI). He put a World War I hero and Wall Street lawyer, William H. "Wild Bill" Donovan, in command. By June 1942, the OSS was created, combining military and civilian personnel with responsibilities in intelligence, counterintelligence, psychological warfare, and guerrilla operations like sabotage and coordinating resistance groups.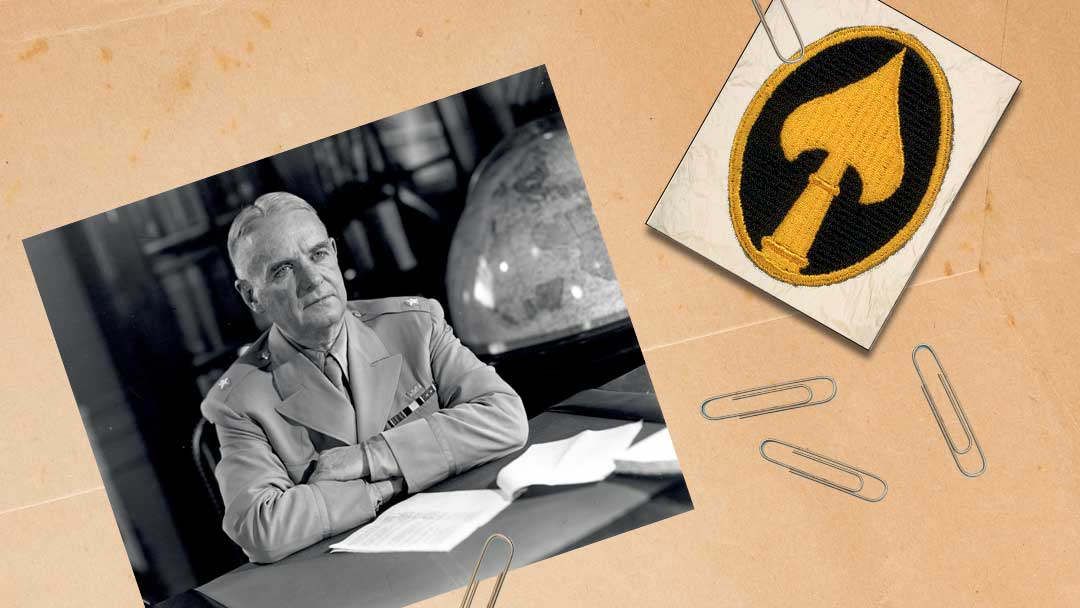 William H. "Wild Bill" Donovan was a World War I hero and Wall Street lawyer tasked with leading the Office of Strategic Services (OSS) during World War II.
The Nazi propaganda machine labeled the OSS "a staff of Jewish scribblers," while Charles Lindbergh, who was an isolationist at the time, declared it "full of politics, ballyhoo and controversy."
James Bond, Not James Bond
Ian Fleming, a British intelligence officer who would later write the James Bond novels, advised Donovan that agents should possess absolute discretion, sobriety, devotion to duty, language skills, wide experiences, and should be in the age range of 40 to 50.
Donovan rejected that notion and promised FDR a staff of young officers who would be "calculatingly reckless," with "disciplined daring" and "trained for aggressive action."
Some OSS operatives took advantage of often having large sums of cash on hand, stashing the money only to turn up in their personal bank accounts after the war.
"The whole nature of the functions of the OSS were particularly inviting to psychopathic characters; it involved sensation, intrigue, the idea of being a mysterious man with secret knowledge," said Dr. Henry Murray who served as OSS psychological chief.
Moe Berg, Julia Child, and Others
More than 13,000 people served in the OSS during World War II with about 35 percent of those being women. Of those, 7,500 served overseas and of that, about 2,500 received parachute training, including dozens of women.
OSS personnel held a diversity of beliefs – left-leaning artist and academics worked alongside conservative bankers and lawyers. Donovan found that some of the best field officers were leftists so veterans of the Lincoln Brigade that fought in the Spanish Civil War were often recruited.
Among the ranks of the OSS were film director John Ford, chef/writer Julia Child, actor Sterling Hayden, baseball player Moe Berg, historian Arthur Schlesinger, Jr., historian William L. Langer, lawyer/writer Walter Lord, economist Walt Rostow, director Franklin J Schaffner, Henry and John Ringling North, of the Ringling Circus family, and four future directors of the CIA.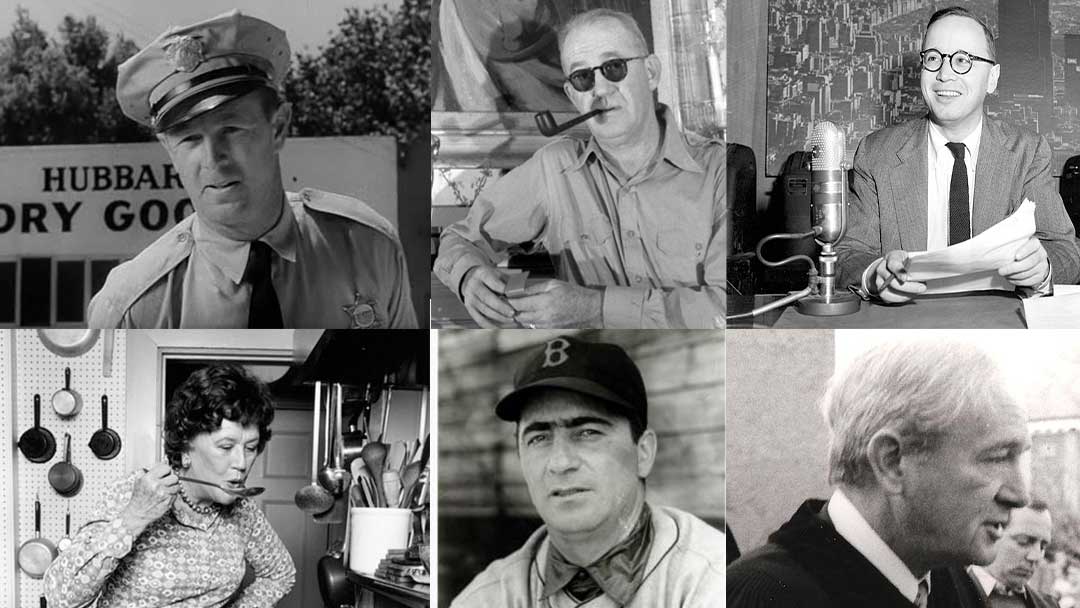 Some household names (of the mid- to late 20th century, at least), served in the OSS. They included (top row, from left) actor Sterling Hayden, director John Ford, historian Arthur Schlesinger Jr.; (bottom row, from left) chef/author Julia Child, baseball catcher Moe Berg (photo from New York Public Library archives), and director Franklin Schaffner.
OSS Overseas Operations
Operatives were trained in clandestine activities at national parks in Maryland and Virginia while bases were being established in Europe and Asia.
Working with an unlimited budget and little military discipline, resentment and rivalry grew inside and outside the agency. The OSS operated in Italy, Eastern Europe, Scandinavia, and France in Europe, and Burma, China, and Indochina in Asia.
Operatives in North Africa created a clandestine radio network, gathered troop information on the Vichy French forces, and scouted air and sea landing sites.
OSS paratroopers jumped into France, Belgium, and the Netherlands before the D-Day invasion to contact local resistance forces and coordinate guerrilla attacks on Nazi forces. In France alone, 423 OSS operatives working as guerrilla units attacked German infrastructure and conducted ambushes. They inflicted about 1,000 casualties and destroyed dozens of vehicles and bridges.
In Asia, the OSS contributed to the "Forgotten War" in the China-Burma-India Theater. The OSS airlifted supplies via thousands of flights over the Himalayas, while guerrillas created havoc in Japanese-held Burma. Resistance fighting in China tied up the bulk of the Japanese Army during the war.
Gen. Dwight Eisenhower, Allied Supreme Commander in Europe, found the OSS's assistance invaluable, but Gen. Douglas MacArthur, leading the war effort in the Pacific, thought differently, holding the OSS in disdain and refusing assistance offered by Donovan.
Adm. Chester Nimitz was slightly more welcoming, inserting guerrillas into the Philippines following the U.S. invasion in late 1944. He also utilized the OSS "frogmen." Working with the Navy's underwater demolition team, the combined Navy and OSS unit performed pre-landing inspections and obstacle destruction in more than six Japanese-held islands.
Bookbinder: Our Man in Bucharest
Remember Lt. Bookbinder who received the M1 carbines, the Tommy guns, and the pistols? He would end up in Bucharest, Romania where he earned a Legion of Merit.
The OSS swooped into Bucharest in late 1944 after the Germans fled following Romania's flip to the Allied side. Operatives found troves of intelligence left by the Nazi Party and the Gestapo, collecting 10,000 dossiers that were analyzed for use in war crime trials.
The OSS liberated 1,350 Army Air Force men held as prisoners. More than 1,000 airmen were held near the Bucharest airport while more were found while searching hospitals and other institutions.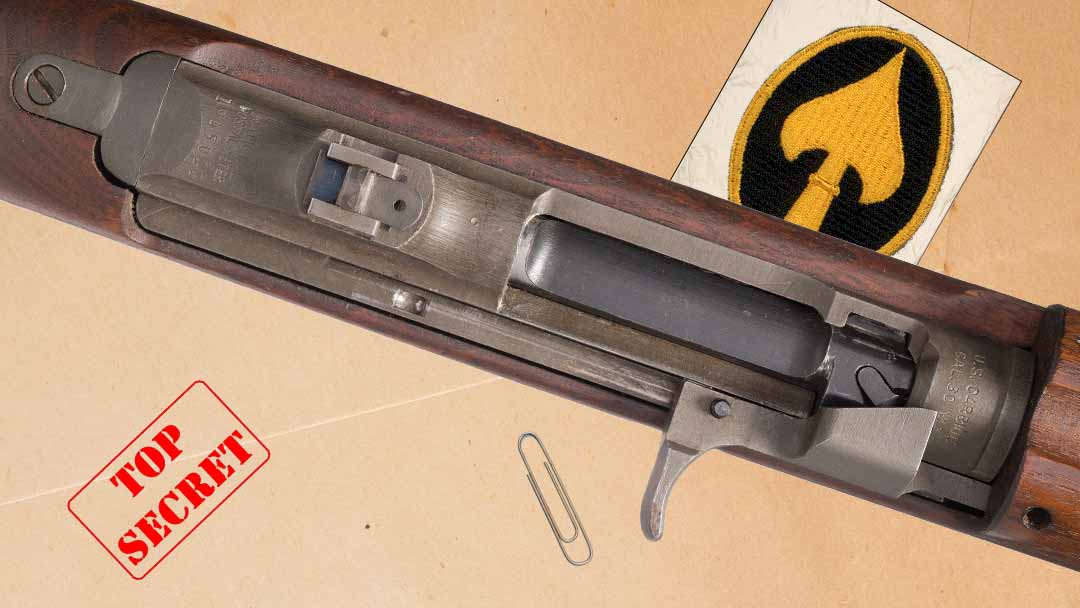 A closeup of the receiver of the M1 carbine issued in 1943 to the Office of Strategic Services, the predecesor of the CIA in World War II.
End of the OSS
Donovan, the founder and visionary of the OSS, saw a postwar future for a centralized intelligence agency. Resentment over OSS's methods, operation, and unlimited budget made it a target as it became clear that an Allied victory was coming. A media critic in early 1945 described a possible overarching intelligence structure as a potential "American Gestapo."
FDR kept the idea under consideration but died suddenly in April 1945. New President Harry S. Truman thought the OSS was an instrument of a nation at war. He signed an order in September 1945 to dismantle the OSS with certain functions going to the State and War departments. Donovan's functions were transferred to the Secretary of War.
The rise of the Cold War led to the National Security Act of July 1947 that created the independent, centralized, and congressionally mandated Central Intelligence Agency. Donovan and other former high-level OSS staffers helped shape the bill close to what Donovan envisioned. Due to concerns about an "American Gestapo," the CIA was denied law enforcement and subpoena powers, and was prohibited from any internal security role.
About one-third of the newly created agency's employees were former OSS personnel.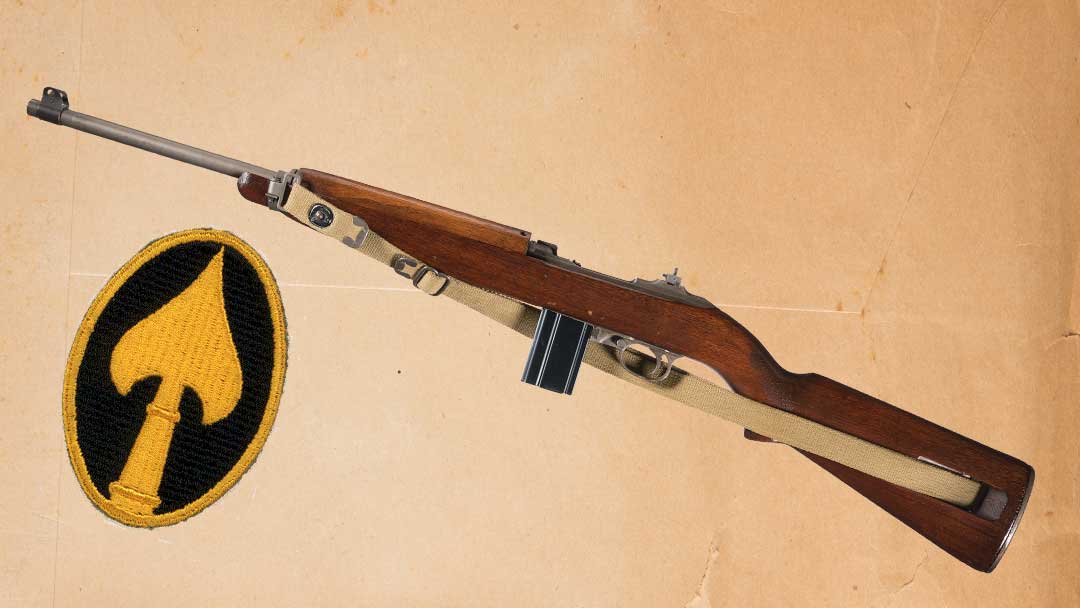 This M1 carbine issued to the Office of Strategic Services, the predecesor of the CIA in World War II, will be on offer at Rock Island Auction Company's May 13-15 Premier Auction.
Spy Gun
Yes, the OSS did create some crazy weapons in its gloriously short history, but in a war, an M1 carbine, delivered straight from the Arsenal of Democracy, might just be the best weapon most of the time. A standard service rifle, maybe, but this OSS M1 carbine was part of the American guile, ingenuity, and determination that overcame fascism to win World War II and will be on offer in the May 13-15 Premier Auction.
Sources:
Postwar Period: End of the OSS and the Return to the Park Service, nps.gov
OSS in Action the Pacific and the Far East, nps.gov
The Quiet Americans: Four CIA Spies at the Dawn of the Cold War – A Tragedy, by Scott Anderson
Office of Strategic Services Training During World War II, by Dr. John Whiteclay Chambers II
Secret Agents, Secret Armies: The Short Happy Life of the OSS, National World War II Museum
OSS: The Predecessor of the CIA, by Sarah Pruitt, History.com
The Overseas Targets War report of the OSS Vol. 2
OSS: The Secret History of America's First Central Intelligence Agency, by R. Harris Smith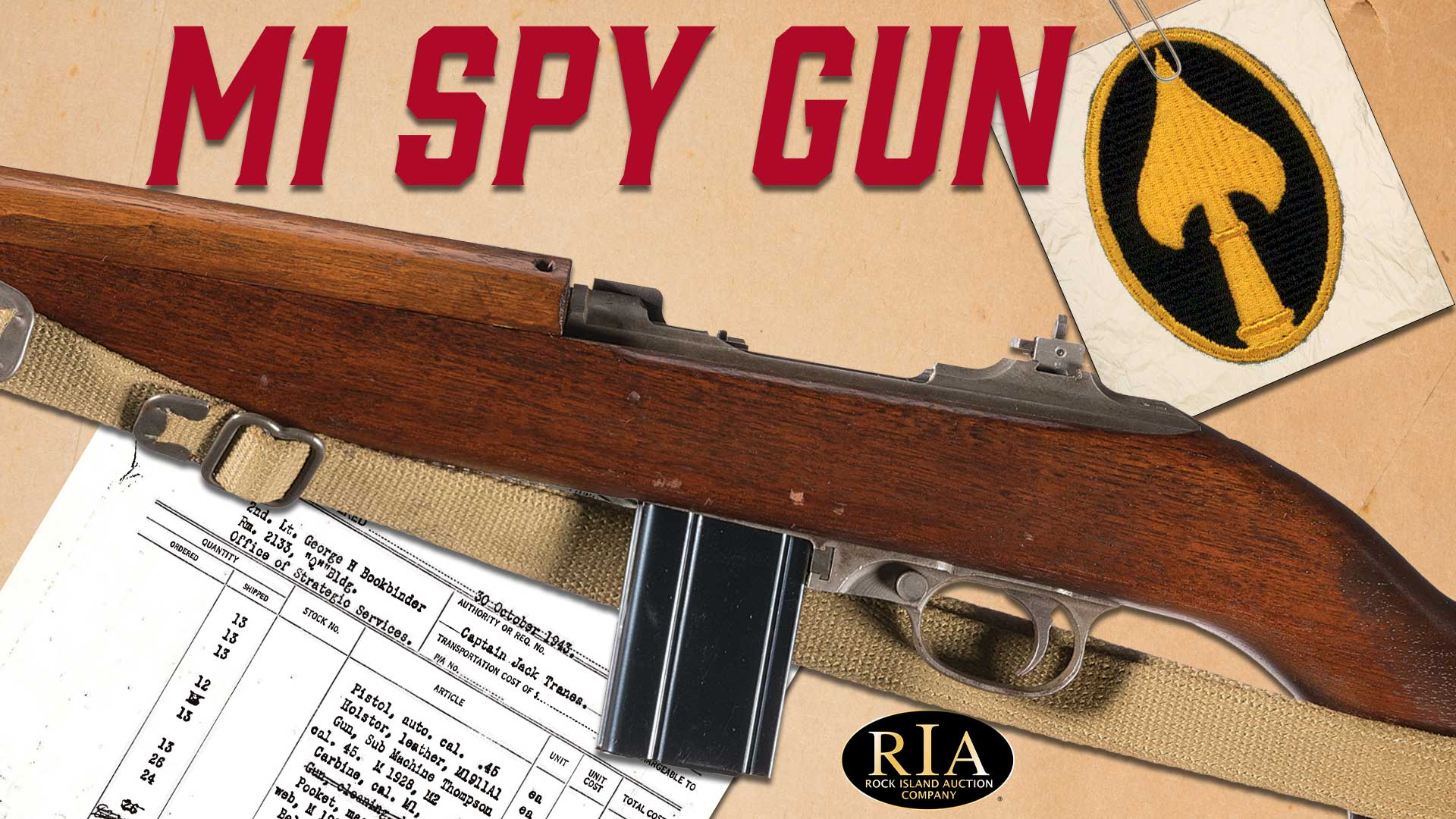 Rock Island Auction Company