05/15/2022 – The last time my wife and I purchased a car, it was preceded by a major debate. I wanted a Ferrari 812 Superfast and Diane wanted a Ford Escape, so we compromised. We bought a Ford Escape and a Ferrari keychain. The funny thing is, it was a good decision.
The Escape had lots of advanced driver assistance and safety technology and solid turbocharged performance. It could be used for long road trips, an evening out, or hauling bags of garden mulch from Lowe's. We did own a Ferrari at one point, a 355 Berlinetta. It left us with tingchechangphobia, it was a magnet for carjackers and spent most of its life in a dark garage attached to a battery tender. Even the sounds of a V8 winding to 8,500 RPM was not enough to justify its existence.
Yes, the Ferrari was something special, but the Escape served us every day and without a touch of temperament. See where I am going with this? Yeah, me either.
$329 MSRP as a sign of respect for customers
Firearm, and ancillary industries, generally whine and cry over being picked on by the government and, subsequently, call on consumers for political support. The same businesses have no problem using the cover of government policy-induced inflation to sharply raise consumer prices. Look at the financials for publicly traded members of this community and you will find a recent trend of tripled net income and double millions of dollars in executive compensation. So, for now, I buy what I need, rather than what I want, and comparison shopping is the norm. The Stoeger STR-9 product line remains a value.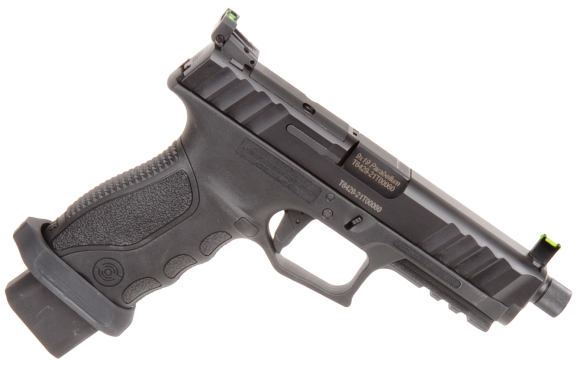 Stoeger's STR-9S Combat Semi-Auto Pistol

Item #s

31746 / 31736

Point of Manufacture

Turkey

Imported By

Stoeger, MD – USA

Type Action

Striker


Caliber

9×19 Parabellum


Magazine Capacity

10 / 20 Rounds

Barrel

4.70″* Alloy Steel


Rifling

1:10″ 5 RH

Overall Length "


7.44

Overall Height "


6.60**

Frame Width "


1.14

Weight Oz

27.9 With Mag

Sight Radius "


6.56

Trigger Pull – Actual

4 Lbs. 5 Oz.

Sights Front & Rear

3 Dot Fiber Optic Green


Slide Material

Alloy Steel


Frame

Polymer

Safety

Trigger


Magazine Disconnect

No

Chamber Check Port

Barrel Hood


MSRP

$599

*End of threaded muzzle to breech face
**6.6″top of front sight to bottom of inserted
magazine

, 5.8″ to bottom of mag well.



Prices for the Stoeger 9 full size striker range from an entry level, full size STR-9F at $329, to the more heavily accessorized subject firearm, the STR-9S Combat Semi-Auto at $599. There are seventeen STR-9 models; full, mid and compact sizes that fill the space within that price range.
All Stoeger ST-9 models share core features: Turkish manufacture, black nitrided alloy steel slide and barrel, three dot sight system, loaded chamber indicator, integrated trigger safety, fiberglass reinforced polymer frame with steel chassis, interchangeable backstrap, easy grip slide, and tactical rail.
Stoeger's STR-9S Combat Semi-Auto Pistol goes on to include: 1/2×28 threaded barrel, optic ready slide inclusive of adapters, high fiber optic sights to clear muzzle devices, 9mm Luger 10 or 20 round magazines.
Information that does not fit on the table…
The ST-9 manual indicates the use of commercially manufactured new ammunition. Instructions go on to caution that the use of +P and +P+ ammunition can accelerate wear, The only "Do not use" was affixed to 9mm submachine gun ammunition which operates at 9mm Luger proof pressure levels. Usually manufacturers draw the line at +P. That is a lot of confidence in a pistol's design.
Standard 9mm Luger pressure is 35,000 psi, +P pressure is 38,500 psi and +P+ is approximately… Do not know as they are not under a standards organization like SAAMI or CIP and vary with over pressure ammo manufacturers. +P+ is generally listed as above +P, lower than a proof load.
Multiple safeties
The only safety indicated on the table is a trigger safety, however, the STR-9 has multiple safety devices that do not need tending.There is a firing pin block that prevents the striker, firing pin, from moving forward from inertial force, unless the trigger has been depressed.
A safety is embedded in the face of the trigger and is automatically depressed under a finger squeeze. The idea is to prevent an accidental discharge in the event the pistol is dropped.
An out of battery safety disconnects the trigger bar unless the slide is forward, barrel locked in place and the breech is fully closed.
The STR-9S is optics ready and, therefore, has a mount access cover which prevents the inclusion of the pop up, loaded chamber indicator that is included with other models. The STR-9 does have a chamber view port at the the rear of the barrel hood.
A complete package…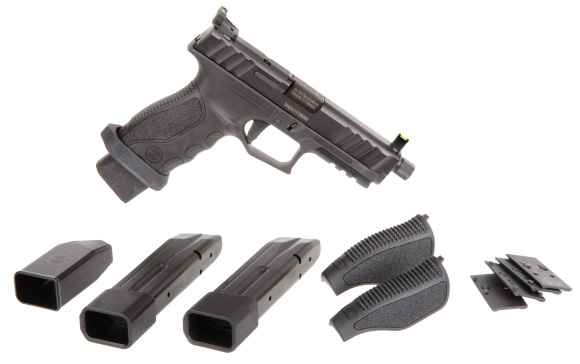 More and more, some manufacturers are omitting useful accessories from products, often leaving only the pistol and one magazine in the retail box. The Stoeger kit includes: pistol, magazine loader, 3 magazines, three different size interchangeable backstraps, 4 optic sight mounts that cover virtually all popular model open optic sights.
Good sights with optic sight accommodation

From front to aft… The barrel muzzle threads, when a muzzle device like a silencer, brake or compensator are not installed, are protected by a thread protector. The front fiber optic sight is dovetail mounted and can be drifted for windage compensation. The small rectangular view port, toward the rear of the ejection port, permits a quick check to see whether or not a round is chambered. Aft of the port is the optic sight mount cover which is secured with two screws. The rear sight, also dovetail mounted, can be adjusted for elevation by turning the top screw on the sight, or side screw for windage.
The sights on this model are mounted approximately 0.440″ above the slide top to assure there is a clear line of sight to target when a muzzle device is in place and to permit co-witnessing when an optical sight is installed.
A quieter side…
The configuration of the pistol, as seen, makes for a good competition shooter. The overall configuration also serves my purposes of target shooting, evaluating ammunition and developing handloads. With optical sight installed, it is easy on the eyes and the silencer makes it easy on the ears.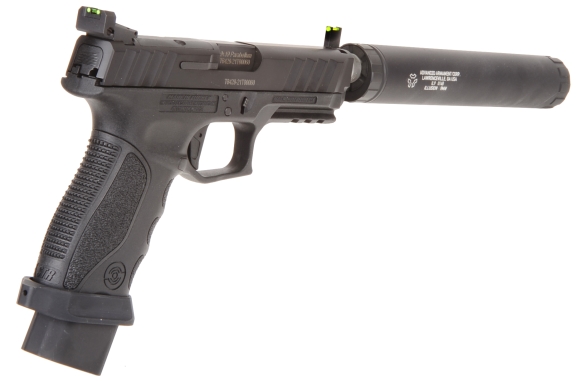 Above, maybe a better view of the orientation of sights to slide and silencer. In this case, the AAC silencer mounts on an eccentric so the tube can be rotated down to just about the slide's top surface plane. No, this combination would not drop into a watch pocket. I know, what a watch pocket? An owner could be reduce the STR-9S's profile by removing the magazine well's flared guide, using a conventional 17 round magazine and maybe going to a low profile sight set. Or purchase a version of the STR-9 that already meets that criteria.
Easy takedown and clean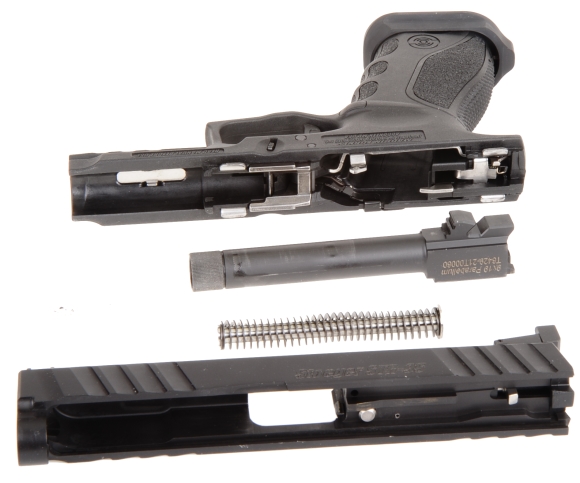 Pull the mag, check for empty. Push the slide back 1/16″, push side disassembly latches down, release slide and pull the trigger. The slide moves forward and can be slipped off. Pictured above, slide assembly, captive recoil spring, frame with steel insert that provides rigidity to the frame and positions fire control pieces. The barrel spec length is 4.1″, but the threaded and rifled muzzle extended this to 4.7″.
Shooting personality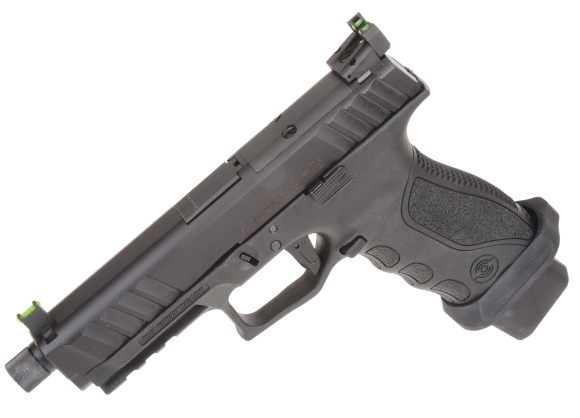 The Stoeger STR-9S is one of those pistols that encourages heavy use. Full size and with some heft, recoil and muzzle rise are modest at most. Excellent slide gripping surfaces make manual slide actuation a minor effort. Other than following normal safety procedures, there is nothing to do but aim and fire. The low profile slide stop is on the left side. The pistol ships with the magazine release on the left side, but it can easily be switched to the right.

The full size frame and grip pretty much assure a comfortable home for all fingers. Yes, there will always be those guys with catcher mitts for hands but, for the rest of us, the grip is hand filling. Lots of control and sights that would show up against any backdrop make the STR-9S an easy pistol to shoot.
Numerically, how the Stoeger STR-9S shot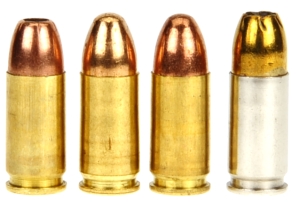 Four types of ammo were shot through the STR-9. Three supersonic and one subsonic.
Cartridge

Bullet




Type

Bullet




Weight




Grains

Rated




FPS

Recorded




FPS

25 Yard




5 Shot




Group"

Remington HTP

JHP

115

1255

1282

1.9

AE Subsonic

FMJ

124

1030

1040

2.1

Remington UMC

FMJ

124

1100

1119

2.4

Remington UD

JHP

124

1125

1179

1.6
Someone said my range conditions lacked environmental specificity. So… Groups were shot from a rest… sand filled leather bags. Playground sand I believe. Shooting went on most of the day. It was balmy, but humid. A breeze kept lifting my comb over. Around noon I grew a bit peckish and had a light lettuce and cubed Swiss salad with red wine vinegar and olive oil dressing. Oh yes, the pistol's muzzle was 10′ from the front chronograph screen. I think that does it.
In summary
Low price, high quality, great value. The Stoeger SRT-9S was rock solid reliable and performance was consistent. Don't need the high sights, threaded barrel, flared mag well? There are plenty of other variations of size and configuration to choose from within the STR-9 product line Nice pistol.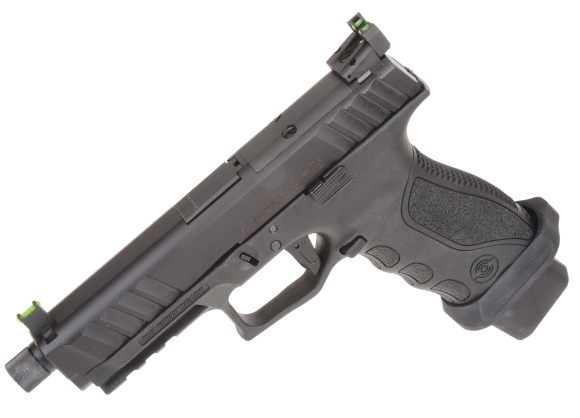 Real Guns – A Firearm and related publication