Born on the dusty streets of African revolution as the Armsel Striker, the shotgun called the Street Sweeper found its way to the U.S. market through some fairly sketchy people involved in espionage, drug dealing, and tax evasion.
The Armsel Striker was a 12-gauge, 12-round revolving cylinder shotgun developed by Hilton Walker in what was then Rhodesia in 1980. Unlike traditional revolvers which rotate their cylinder mechanically as the trigger is pulled, the Striker's drum rotates after the trigger is released. As the trigger resets, a tensioned spring in the cylinder housing is briefly allowed to rotate the cylinder to its next position. The tension spring has to be manually tightened via a key on the front of the cylinder housing. Walker moved to South Africa and took his gun design with him, which was eventually adopted by the South African and Israeli police.
In the United States the gun was produced by Cobray and called the Street Sweeper, made and marketed from 1989 to 1994 with slogans like, "It's a Jungle Out There! There Is A Disease And We've Got The Cure." And "Make your streets safe and clean with the help of 'The Street Sweeper'!" Cobray also manufactured the MAC-10 and MAC-11 machine pistols.
The ATF declared the Striker and Street Sweeper "destructive devices" in 1994 due to a lack of "sporting purpose." A pair of Street Sweepers will be on offer in Rock Island Auction Company's May 13-15 Premier Auction.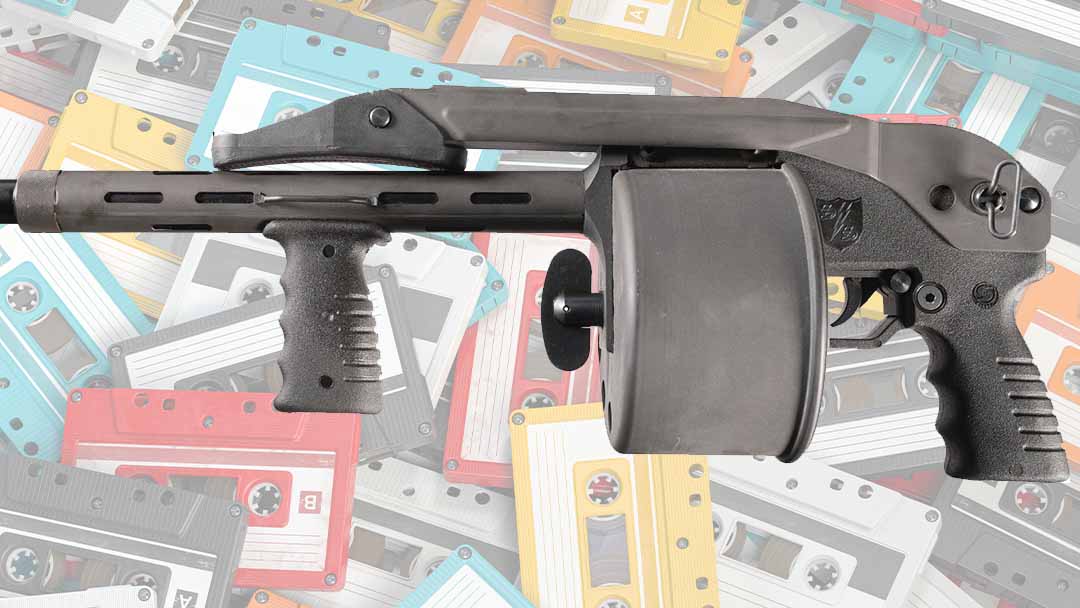 Lot 1589: This Street Sweeper shotgun is an example of the late production guns using the Cobray design. The 18″ barrel is fitted with a perforated heat shield and has a Polymer receiver.
MAC-10 and Mitchell WerBell
A veteran of the Office of Strategic Services, master of marketing, soldier of fortune, Mitchell WerBell was subterfuge and conspiracy personified. He is also the designer of the modern silencer with an early company called Sionics.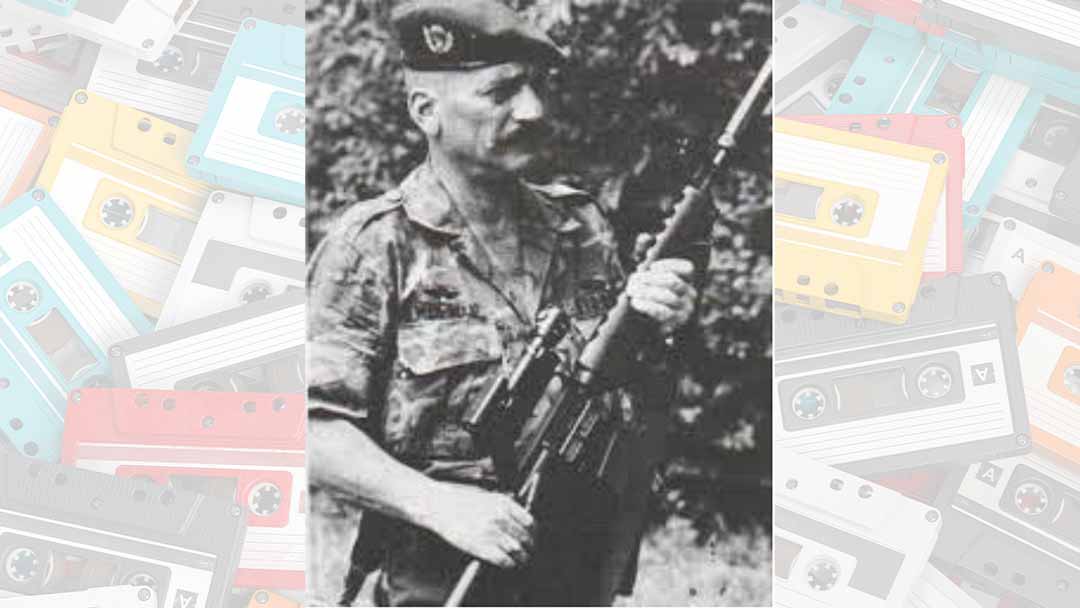 Mitchell WerBell was a "wheeler dealer" according to some government documents. He was a mercenary at one time and also ran a counter-terrorism training center, giving the world the Cobray.
WerBell served with the Office of Strategic Services in the China-Burma theatre in World War II before becoming an advertising executive. He decided to become a mercenary of another kind in the 1960s, designing silencers and working to topple foreign governments with involvement across the Caribbean, Southeast Asia, and Central America. Documents allege WerBell to have been in Dealey Plaza when President John F. Kennedy was assassinated and supposedly supplied silencers used by the gunmen in Dallas. That information didn't come out until nearly 20 years after WerBell's death in 1983. He was a known associate of a number of anti-Castro operatives.
Though WerBell claimed he never worked for the CIA, others believed differently. WerBell found himself in Vietnam in the 1960s trying to sell his silencers to the Vietnamese as well as confer with intelligence officials. Prior to a trip in 1969, he met Gordon Ingram about his prototype .45 caliber machine pistol, which WerBell believed paired well with his suppressors. Despite WerBell manufacturing his own suppressors, Ingram designed the suppressor for his machine pistol. WerBell brought Ingram on board and Sionics became Military Armament Corporation in late 1970. The new company needed an updated logo that was part cobra and part moray eel: a "cobray" wrapped around the world.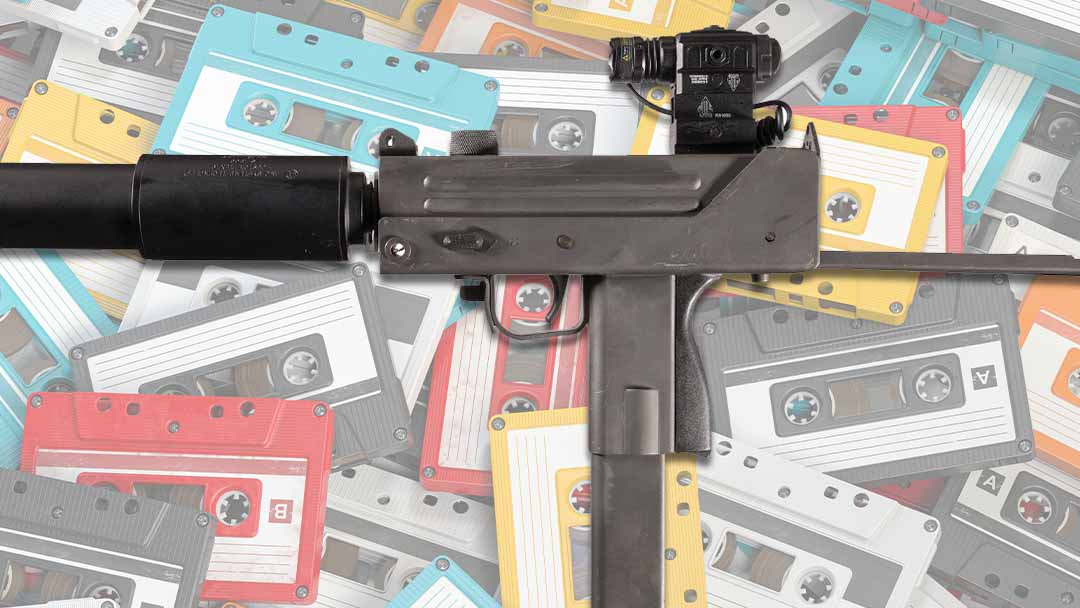 Lot 570: The MAC-10 was once described as a weapon "fit only for combat in a phone booth."
The MAC-10 was chambered in .45 ACP, while the MAC-11 is a sub-compact version of the MAC-10 and fired .380 ACP ammunition. The MAC-10 got some attention in the 1974 John Wayne movie, "McQ," where Wayne himself fires the gun. A pair of M-10s, and three M-11/9s are on offer in Rock Island Auction Company's May Premier Auction.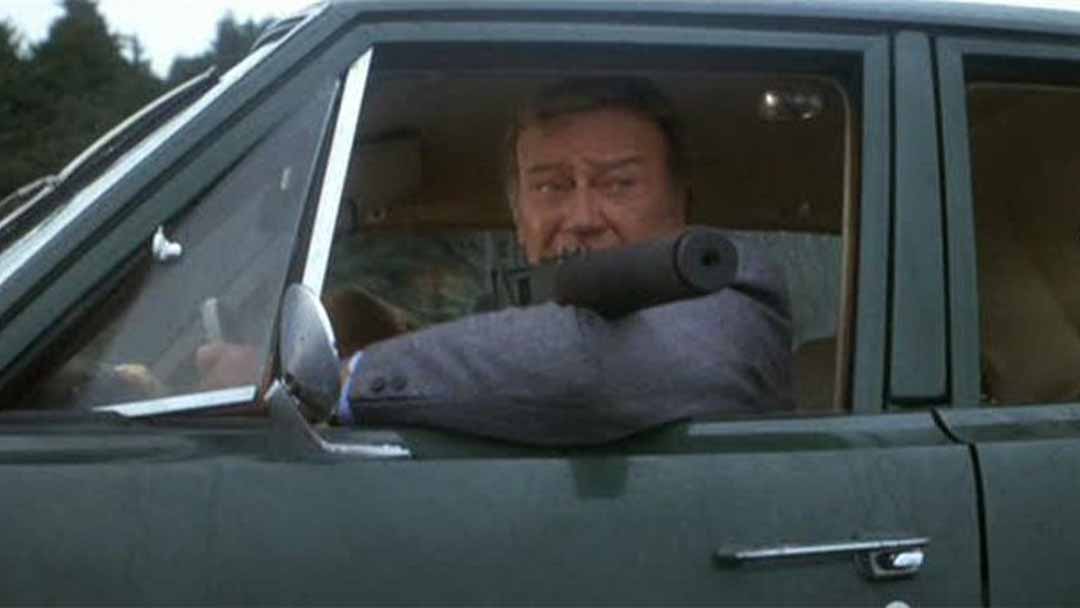 John Wayne's character in the 1974 movie "McQ" wielded a MAC-10 to take on some bad guys. There are a pair of MAC-10s in the May 13-15 Premier Auction, Lot 570 and Lot 1581.
Military Armament Corporation was a subsidiary of another company, Quantum, that was comprised of millionaire investors. WerBell and Ingram were ousted from Military Armament Corporation in May 1972. Ingram's M-10 and M-11 machine pistols were never referred to as the MAC-10 or MAC-11 until Ingram and WerBell's departure, after which the new monikers became official.
New name or not, the company still couldn't draw any interest from the military for its machine pistols and went into bankruptcy. At one point, the MAC-10 was described as "fit only for combat in a phone booth." A trio of former Military Armament Corporation employees, using the name RPB for their initials, bought the rights to make the MAC-10 and MAC-11 in mid-1976. By January, 1977, RPB was hurting for cash flow and struggled to survive until that autumn. The initial owners sold RPB to a group of investors in 1978 which included one Mr. Wayne Daniel. More on him later.
An arms-related indictment in 1973 against WerBell's son was followed in 1976 by drug charges where the senior WerBell and others, including some former OSS colleagues, were charged with attempting to smuggle marijuana from Columbia. WerBell and the others were acquitted, but the legal issues soured WerBell on the arms business. He turned to security and counter terrorism.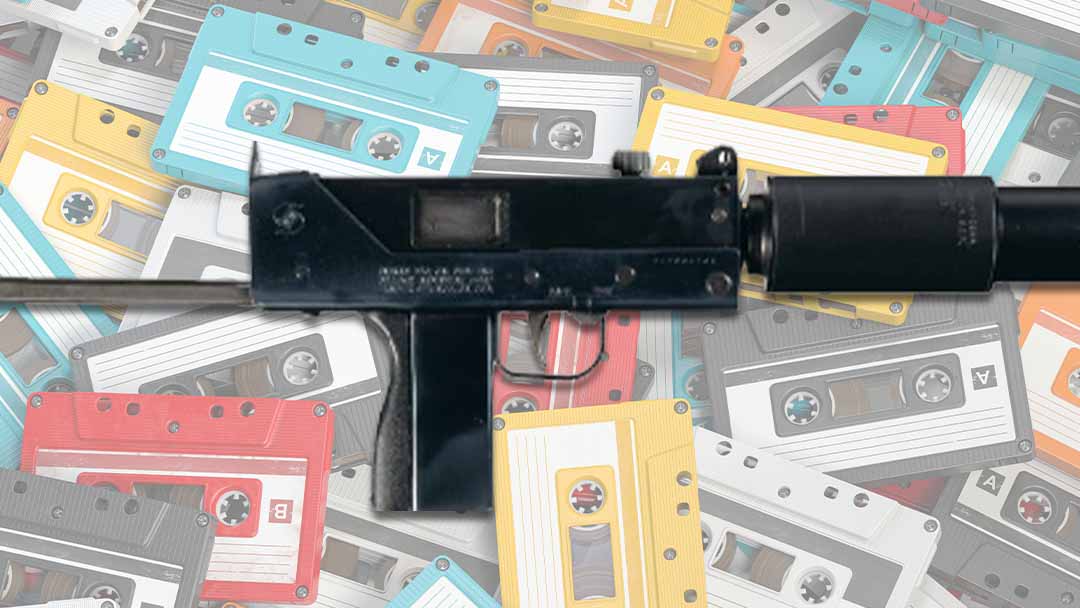 Lot 1581: This particular M10 is addressed to Powder Springs, Georgia and features a high polish blue finish associated with the limited run of "Police Model" M10s; while the Police program was initiated in Powder Springs, the bulk of the Police Model guns were made after the move to Marietta.
WerBell started a counter-terrorist training center in Georgia called Cobray International Inc. that was recognized in the late 1970s. The training center offered instruction in martial arts, small arms, personal defense weapons, and techniques for persons who must work under the threat of a terrorist attack. Werbell, as the founder, was described in a 1980 Soldier of Fortune article as "an experienced mercenary and weapons inventor." CIA documents described WerBell as a "wheeler dealer."
WerBell also associated with fringe politician Lyndon LaRouche and pornographer Larry Flynt, who allegedly paid WerBell $1 million to murder Hugh Hefner, Bob Guiccione, Frank Sinatra, and Walter Anneberg. WerBell died in 1983 shortly after he was allegedly paid for the hits.
Cobray Strikes
Returning now to Wayne Daniel. His fellow investors in RPB fell into legal problems. One was convicted of bribing a prosecutor. Two others, Robert Morgan and Jack Leibolt, were involved in the Medellin drug cartel. Morgan was convicted and sentenced in 1980 to 30 years in prison for smuggling two tons of marijuana into Florida. Leibolt went underground (He would eventually plead guilty to a cocaine conspiracy charge in 1990). With the ATF leaning on the company, Daniel liquidated it in 1982 , reorganizing as S.W. Daniel or SWD, named after his wife, Sylvia Daniel.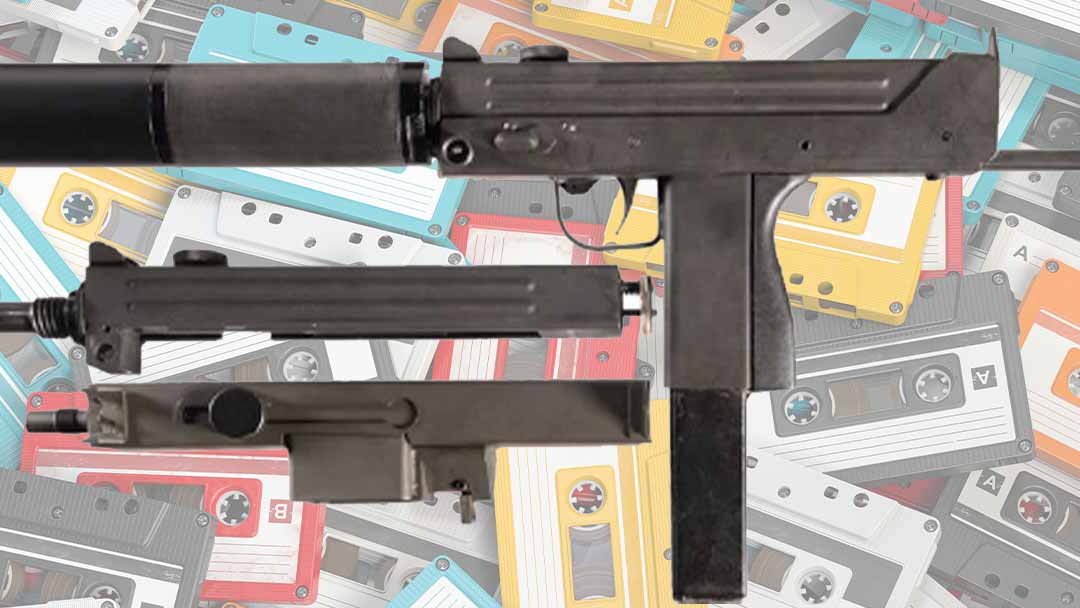 Lot 1590: A descendant of Ingram's M10, the M11/Nine is made with a slightly longer receiver than the M11 to accommodate a caliber upgrade from 380 ACP to 9mm Parabellum and allow for a longer range of bolt travel to dampen felt recoil.
By 1983, the Daniels had obtained the Cobray name among the assets of RPB, and the M-11/9, which they offered as both a select-fire machine pistol, or a closed-bolt semi-automatic that met ATF approval. The semi-auto version, people soon learned, could easily be converted to fully automatic.
The ATF alleged the company was selling conversion kits to make its semi-automatic M-11 into fully automatic weapons. In the meantime, the Daniels hatched a scheme to sell parts to make unregistered silencers.
The Daniels were charged in 1985 with conspiracy to sell illegal silencers. Eventually the couple, by then divorced, ended up paying a fine on misdemeanor tax charges. They retained their federal firearms license and continued to do business as SWD.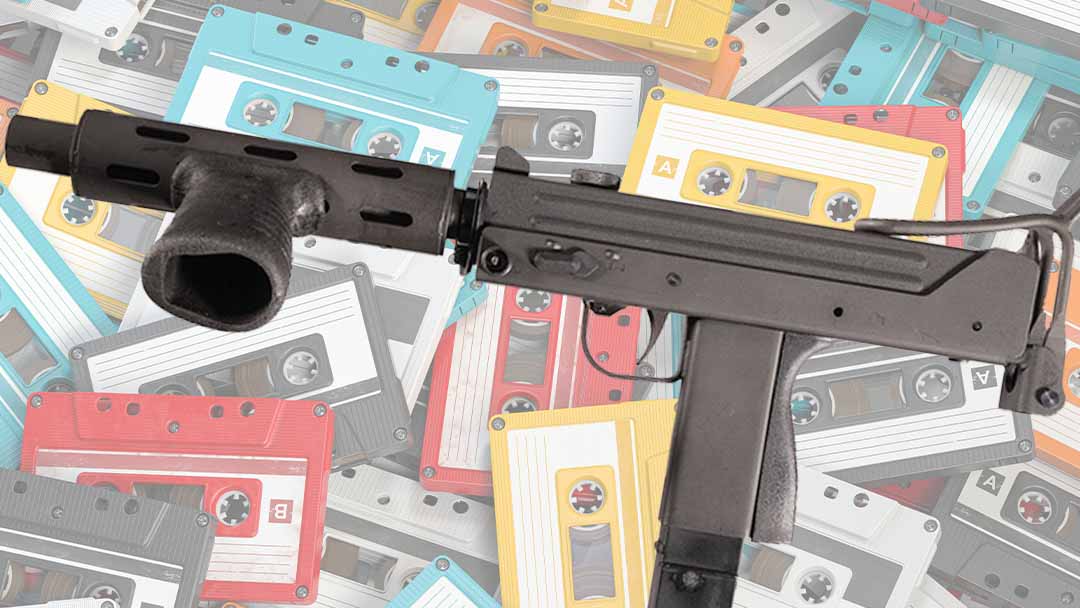 Lot 3365: A descendant of Ingram's M10, the M11/Nine is made with a slightly longer receiver than the M11, allowing for a larger degree of bolt travel and allowing an upgrade from 380 ACP to 9mm Parabellum for a significant firepower boost. This gun bears Cobray markings on it.
This is where the Street Sweeper truly enters our story. Cobray marketed the Street Sweeper beginning in 1989 along with the M-10, M-11, M-11/9, and others. Word in the gun community was that Cobray's weapons were of low quality. The 1994 assault weapons ban specifically named the MAC-10 so it couldn't be sold for 10 years.
The same year as the assault weapons ban was the year SWD surrendered its federal firearms license. It continued to sell firearms through companies owned or associated with SWD, including Mountain Accessories Corporation (MAC), Full Metal Jacket (FMJ), Cobray Firearms, Street Sweeper Sales Inc., All Purpose Ammo, The Ultra Force, Et Cetera, S&L Sales, D&L Sales, Excalibur, and Leinad
An ad in Shotgun News declared the Street Sweeper "Delivers Twelve Rounds In Less Than Three Seconds!!!!" The ad continued, "Time for spring cleaning. Why try cleanups with inadequate equipment?? Buy the machine designed to clean thoroughly on the first pass."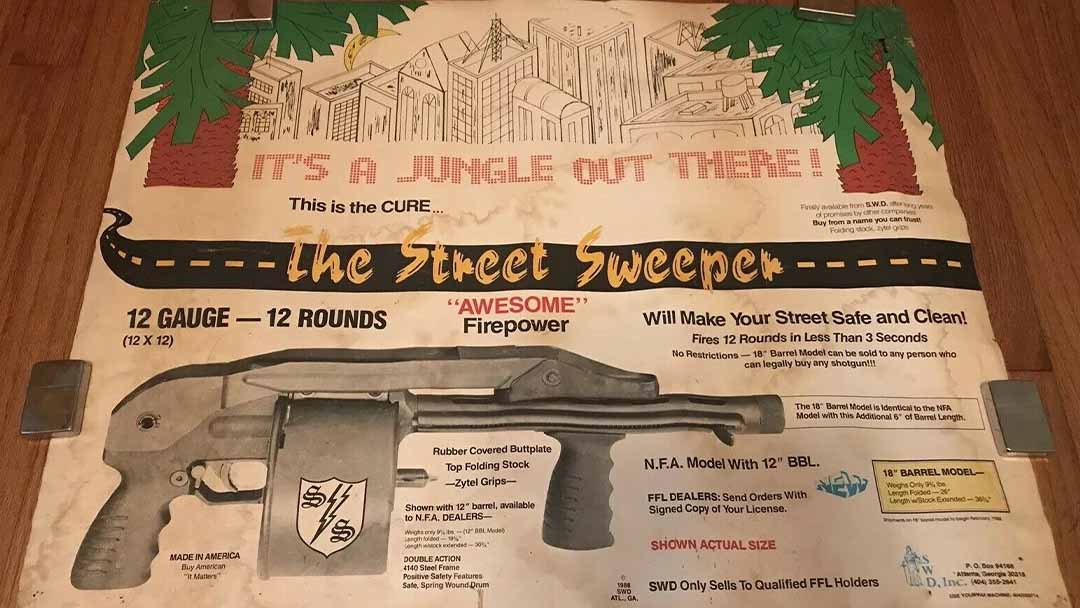 A period advertisement for the Street Sweeper. There are two 18-inch barrel Street Sweepers, Lot 1589 and Lot 1599, in Rock Island Auction Company's May 13-15 Premier Auction.
Cobray added another version of the Street Sweeper that was chambered in .45-70 caliber and didn't have a foregrip in order to be considered a pistol. The company cheekily dubbed it the Ladies Home Companion. A Maryland law enforcement official once called it "a sick joke."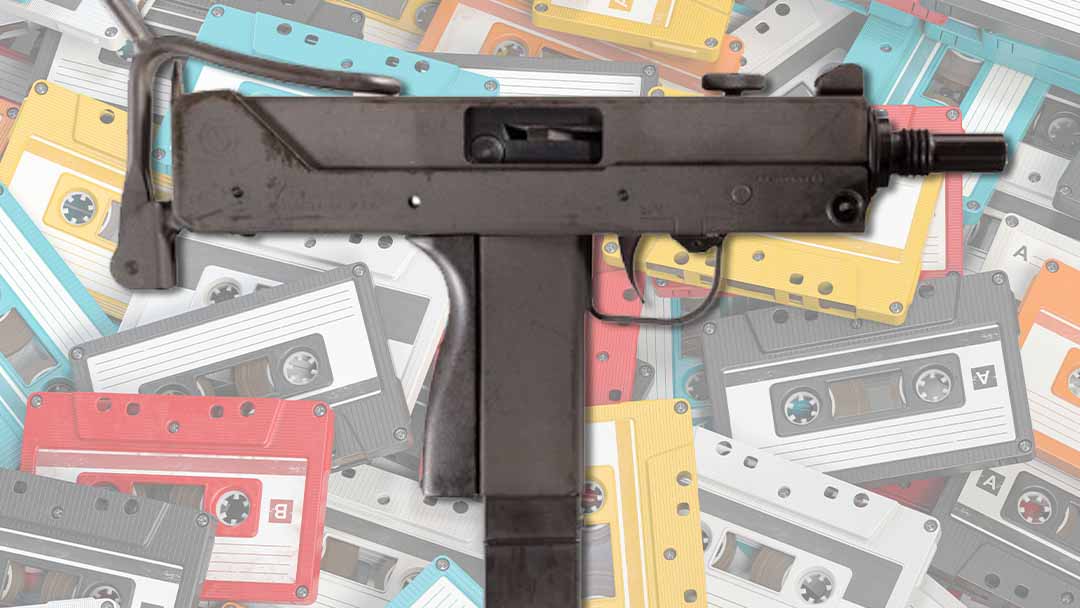 Lot 3373: A M-11/9mm machine pistol with a contoured grip with the Cobray logo on the back and a collapsing wire stock. Included with the lot are four extra magazines, one nylon magazine pouch, a brass catcher, barrel extension with forward pistol grip, two upper receivers and a set of papers.
Destructive Device
At the time of the assault rifle ban, the ATF took a look at the Street Sweeper, as well as the Armsel Striker, and whether they were destructive devices.
Under the National Firearms Act, a destructive device is a weapon with a bore diameter of more than half an inch. A 12-gauge shotgun has a bore that wide, but shotguns are exempt from being declared destructive devices if they have a sporting purpose, like hunting or trap shooting.
The ATF noted that the Street Sweeper's 12 rounds could be fired off in three seconds or less, and so determined in its 1994 ruling that the shotguns didn't meet the sporting purposes exemption and would be considered destructive devices:
"The Striker – 12/Streetsweeper is a shotgun with a bore of more than one-half inch in diameter which is not particularly suitable for sporting purposes. The weight, size, bulk, designed magazine capacity, configuration, and other factors indicate that the Striker – 12/Streetsweeper is a military-type shotgun, as opposed to a shotgun particularly suitable for sporting purposes."
In announcing the decision in March, 1994, Treasury Secretary Lloyd Bentsen said, "I'm a sportsman. I use shotguns. This isn't exactly what I'd take on a duck hunt."
Under the NFA, the Street Sweeper now required a $200 transfer tax, must be registered, and the manufacturer had to pay a $200 per firearm tax.
Screen Time
It is only natural that a marginalized but dramatic gun get plenty of screen time in B-level action movies. While it was used by Richter and Mars Colony troopers in blockbuster "Total Recall," the Street Sweeper also found its way into such movies as "Hard Hunted," "Men of War," "Bad Blood," "Death Sentence," and "Wicked Blood," according to Internet Movie Firearms Database.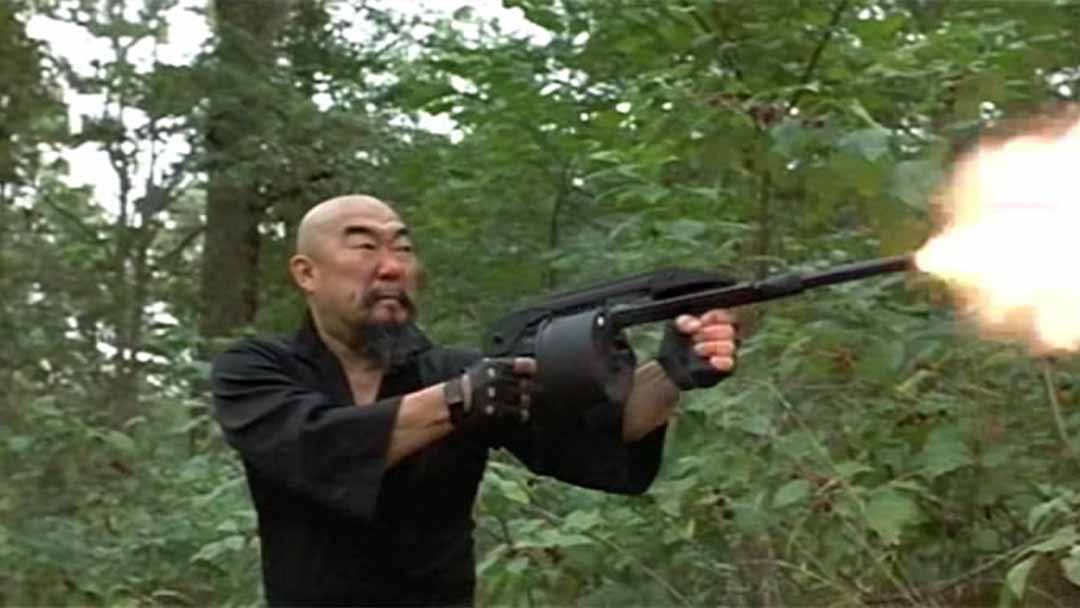 The Street Sweeper shotgun was popular in B-level action movies of the 1990s, like 'The Dallas Connection' as seen here.
Gun Review
Those who have used the Street Sweeper often don't speak well of it, calling it cumbersome to load and say the cylinder gap allows significant discharge to escape. The trigger pull is heavy and the folding stock has sharp edges that could be dangerous if coming in contact with the user's cheek.
Street Sweeper Shotgun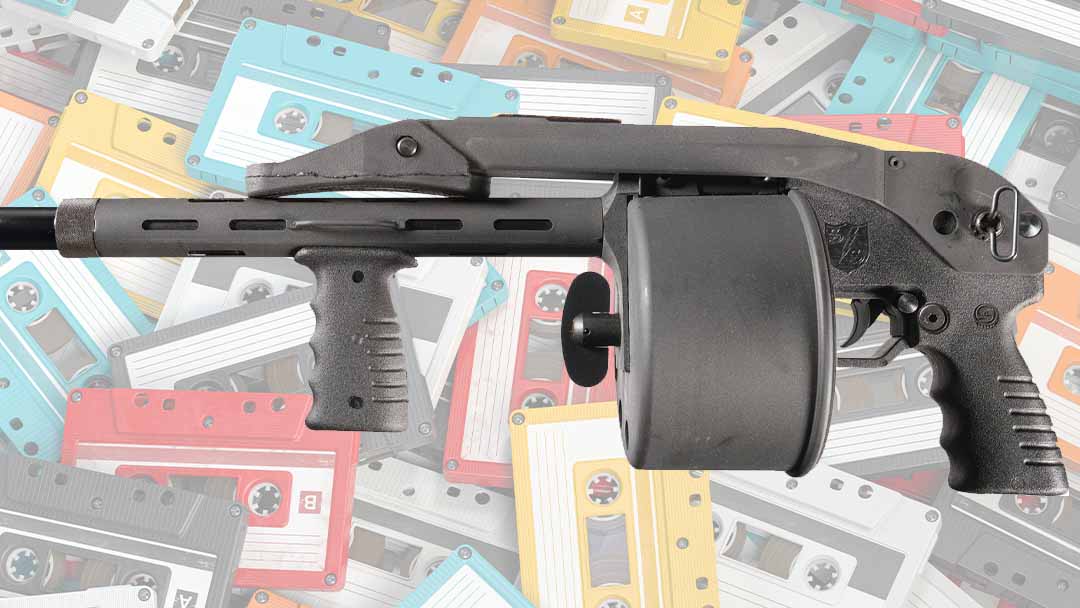 Lot 1599: In 1984, it was determined by the BATF to have no sporting value and listed as a restricted shotgun.
Despite its inelegant design and questionable purpose, the Street Sweeper is a gun that brings equal parts of a mercenary past, the drug war of the 80s, an air of illegality, and danger that a collector can appreciate. The SWD/Cobray Street Sweeper offers all of those things to someone who appreciates its stigma and curious design. Two examples of this weapon are on offer in Rock Island Auction Company's May 13-15 Premier Auction.
Sources:
The Story of a Gun, by Erik Larson, The Atlantic (Jan. 1993)
Mitchell WerBell – The man Who Was Involved in Everything, Ian Harvey, thevintagenews.com
Streetsweeper,Forgotten Weapons
Our Man in Powder Springs: Mitch WerBell, by Ron Ecker, The Education Forum
Manufacturing History of Ingram-MAC Type Firearms, by Frank Iannamico, Small Arms Review
Rock Island Auction Company