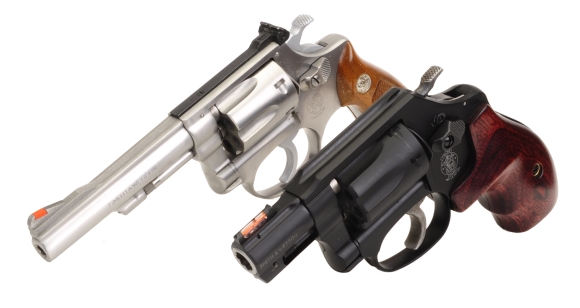 05/08/2022 – As a kid… yes, a baby goat for folks who insist upon correct word usage and/or need specificity in language, I could not figure out why anyone would want to pay full price for a "kit gun". a gun they would have to assemble. I did not solve that mystery. No, I think labeling me obtuse would be a little strong as a personality trait, however, I would endorse naive.
I stopped thinking about "kit guns" altogether until the 1970s when I purchased a S&W Model 63 22 LR for my wife and noticed it was already assembled!..!!. The event was a milestone in my life and I began thinking what other understanding might might have eluded me. Nah, I knew I was pretty much set on everything else in life. As my mother would say, "L'ignoranza è beatitudine".
Just for clarification, and to justify this preamble, in the late 13th century "kit", at least to the Dutch, meant a large wooden container. Fast forward to 1785, where a collection of personal effects was called a "kit". By 1898, there was a "soldier's kit"; a collection of items gathered for a common purpose. It wasn't until 1930 that "kit" was applied to an article that needed to be assembled by the buyer. Yes, like Heathkit electronics of that day, or reloading and AR15s of today.
"Kit guns" fall into the category of a collection of items gathered for a common purpose. Because I said so. You round up your fishing gear, grab your kit gun, and off you go. You grab your hunting gear and take along kit gun. You go anywhere outside of your home in today's world, you grab your car keys, your wallet, your kit gun and head off to the nearest Lowe's garden center.
In the beginning…

The 22/32 Kit Gun concept actually began with a San Francisco, California Smith &Wesson dealer named Phillip Bekeart. Bekeart contracted S&W to manufacturer a .22 rimfire revolver on a larger than traditional, square butt, S&W .32 hand ejector "I" frame. This original version, with 6″ barrel, was produced from 1911-1941 as the .22/.32 Hand Ejector Bekeart or .22/.32 Heavy Frame Target.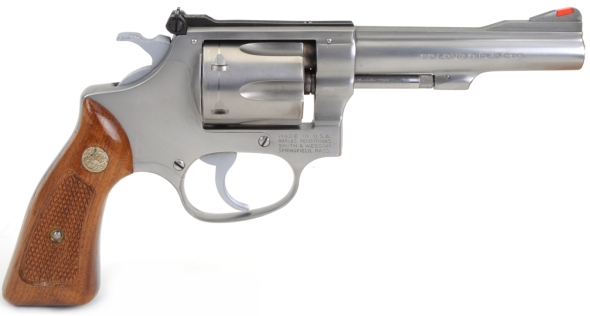 A more compact .22/.32 Kit Gun model was produced on the round butt "I" Frame with a 4″ barrel from 1935-1941. Both firearms went on to become standard S&W catalogued firearms. In 1957, the Target became the Model 35 and the Kit Gun the Model 34. In 1977, a new .22/.32 Kit Gun was introduced as a square butt "J" Frame with a 4″ barrel, as pictured above, the Model 63, chambered for the 22 long rifle cartridge.
And then along came Jones… Coasters 1959

The .22/32 kit gun was first chambered for the 22 Winchester Magnum Rimfire in 1960, introduced as the S&W Model 51. The Model 51 was built on the square butt target frame, with a  3.5″ barrel. Alloy steel, the revolver was offered in blued or nickle plated finishes. There have been numerous iterations since.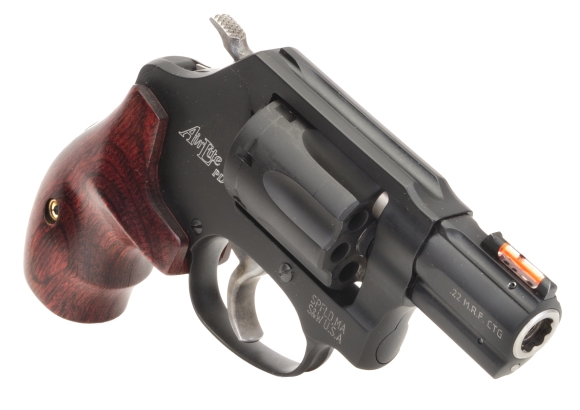 The subject revolver, the Model 351PD AirLite .22 M.R.F. was introduced at the 2004 Shot show. Built on the J magnum round butt frame, it had a 1 7/8″ two piece barrel, barrel and shroud, and a Hi-Viz red front sight. The boot grips were fashioned from Cocobola wood. The barrel was stainless steel, while both frame and cylinder were aluminum. A lanyard pin was integrated at the heel of the frame. Fortunately, little has changed.

The current Model 351PD has the same sight system, only with a Hi-Viz orange fiber optic front sight. It's weight is listed as 11.2 oz, compared to the 2004 weight of 10.6 oz. The current model barrel measures 2″, minus the cylinder gap. However, its muzzle crown is recessed 0.125″, an 1/8″, so let's call barrel length the same.

Like its 2004 predecessor, the current version of the Model 351PD has a 7 shot, 1.3″ diameter cylinder. For folks in a hurry, there are speed loaders available.
The 351PS's next widest dimension is located at the base of the boot grip, 1.1″, Coupled with a 6″ x 4.2″ envelop, the Model 351PD is easily concealable.
The revolver's extremely lightweight makes it an easy carry, concealed or open. As an example popular polymer frame revolvers with the same barrel length and general size in 22 Magnum weigh a full 50% more.
For folks looking for a more snag free, concealed hammer version, there is the Model 351 C with XS Sights® white dot front sight and synthetic grips that lists for $749.
The boot grip on the Model 351 PD is deceptive. Anticipating another small grip revolver that was difficult to grip and less than stable, a high grip and two finger squeeze was  more than enough to keep the 22 Mag under control and shoot accurately and the bright Hi-Viz sight made for an excellent sight picture.
In addition to the good short barrel revolver sights, the Model 351PS has a medium width checkered target hammer and a smooth trigger surface.
A coil spring double/single action revolver, trigger pull was smooth if heavy at 9 lbs 10 oz for the double action pull and a crisp 4 lbs 3 oz for single action. Practice double action and the pull will be natural.
S&W Model 351PD – 22 Winchester Magnum Rimfire


Manufacturer
Smith & Wesson Springfield, MA

SKU #
160228
Type
Single, Double Action
Caliber
22 WMR
Mag Capacity
7
Barrel Length
1.875″

Rifling
1:16″ RH

Weight
11.2 Oz
Overall Length
6.2″
Height
4.2″
Width
1.3″ – Cylinder

Frame
Aluminum Alloy

Cylinder

Aluminum Alloy

Barrel
Stainless Steel

Sight Rear
Integral U Notch
Sight Front
Hi-Viz Orange

Trigger Pull S/A – D/A

4 Lbs 3 Oz. – 9 Lbs 10 Oz.
CA – MA Approved
Yes
MSRP
$826
Performance – I don't make the ammo, I just collect the data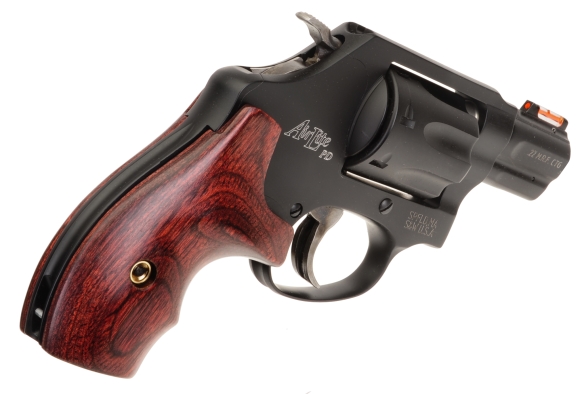 Cartridge

Type




Bullet

Bullet




Weight




Grains

Rated




MV FPS




24″ BBL

Recorded




MV FPS




1 7/8″ BBL

10 Yard




7 Shot Group"

Gel




Penetration"

Winchester Super X

Tin HP

28

2200

1419

3.1

14.0

CCI TNT Green

Copper/Polymer HP

30

2050

1187

3.7

12.5

Hornady V-Max

Copper Poly Tip

30

2200

1248

3.3

15.5

CCI Gamepoint

Jacketed Lead Core SP

40

1875

1192

2.8

13.0
As would be anticipated, muzzle velocity dropped considerably from rated to chronograph. A missing 22 1/8″ of test barrel will do that. However, velocity was pretty good from a 1 7/8″ revolver barrel. Standard size Bicycle playing card targets proved to be sufficient to collect group sizes. Seven round groups were shot where I normally use 3 or 5 shots. I wanted to see what a cylinder full would do to all of those aluminum parts. Worked really well. OK, I was just having fun. Is that a crime?
The relatively deep penetration had me scratching my head. No, not a scalp condition, the the effect of stimulating thought. Then I realized how far below rated velocity was and determined expansion was modest. Even varmint bullets were not breaking up within a few inches of entry. Which, for an application of defense is good news and expansion was more that sufficient for small game and pests.
Shooting personality
Actually, the 351PD was a pleasant surprise. I generally don't care for 22 Mag revolvers, particularly when they have above 6 shooter capacity. They often have slight indexing problem that cause my hands to be peppered with small amounts of powder and lead/copper debris. Absolutely not the case here.
Lightweight 22 Mags are often not pleasant to shoot. The 351PS shot like a standard 22 long rifle gun with barely perceptible recoil and moderate muzzle blast. As noted earlier, the boot grip was more than enough to establish good control. These things combine for very good 30 foot accuracy and a standing invitation to shoot it frequently.
It is so light. Pocket or holster you can't even feel its presence. I typically think of a grooved top strap as a rear sight means point and shoot. Not the case here. That front Hi-Viz sight is bright and front and center on a target.
I have seen people grouse about the price… No, not the bird, they complain. I know the guns that approximate the 351PD's specs and sell sometimes a couple of hundred dollars less, with bad castings, crude assembly, substandard finishing . All I can say is, "You get what you pay for" and the 351PD gives you a lot. It is a very nice revolver.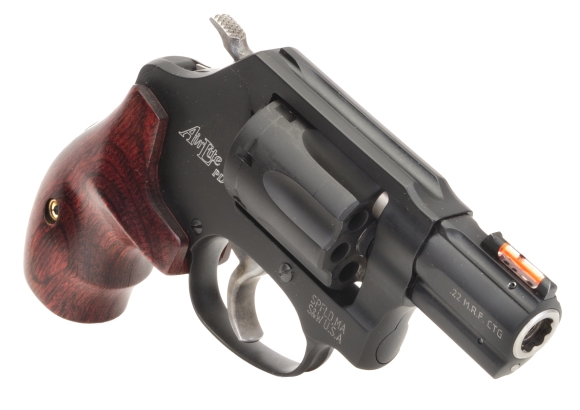 Real Guns – A Firearm and related publication