03/20/2022 – I hate to say this in polite company, but you might want to move back from the screen a bit. No lactose intolerant old guy should have a chili, red pepper and cheddar cheese omelette and a fresh banana / vanilla ice cream smoothie for breakfast, and then go out in public. In fact, I may hit the basement and see if I can scare up some SCUBA gear. Gees… But enough about me. How you doin'?
A full size handgun is a wonderful thing. Globally, they do not compromise form or barrel length to accommodate concealment. So ballistic performance is closer to cartridge potential and  the grip accommodates an entire adult hand. Increased slide weight reduces required recoil spring resistance, which makes slide racking easier.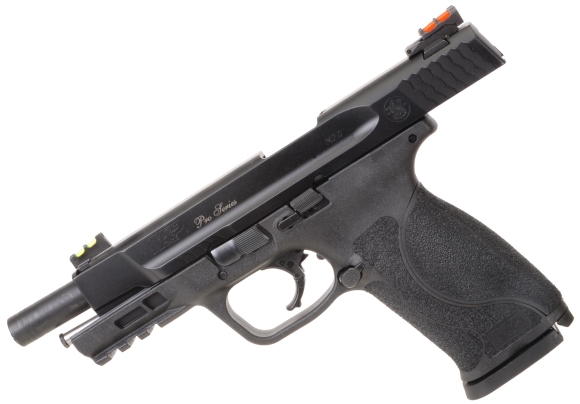 Full size pistols with their full length grips have the potential to significantly increase magazine capacity. A longer sight radius makes it easier to shoot a pistol competently. A full size frame makes it easier to affix lights, lasers, etc. With the right holster, even a full size auto loader can be concealed.
Adios macro… no, not mackerel
Items in the picture below render a false perspective, where the pieces toward the front show an apparent increased  in size, and those toward the back appear diminished. As an example, the cleaning kit is the foreground is only about half the size of the pistol, making it a nice cleaning tool kit for the range. This is caused by misusing a wide angle lens with macro capability to get a lot of items, in focus, into the frame.
The lens is over 40 years old, a survivor of an old Nikon F 35mm film camera, and perhaps beyond internal cleaning and salvage. The symptom is having to tape the focus ring while taking  pictures to get auto focus to work. I think, when the lens is beyond use, it will be time to give up on the camera system and start researching for something newer. I hate the prospect. Oh, sorry.  I didn't realize I was still writing.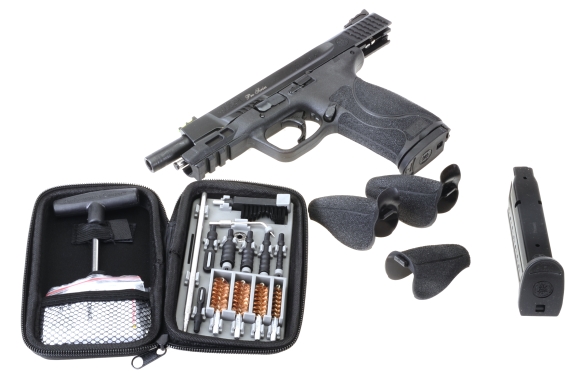 Smith & Wesson pistol kits like this are useful. Often, people living in Biden's America, are single firearm gun owners. They buy a product for self defense, shoot it for proficiency and carry it, or keep it at home, to defend against criminals liberal prosecutors and judges put back on the streets.
I compact cleaning kit helps with routine, but essential gun maintenance. Interchangeable backstrap inserts allow the pistol to be adapted to fit different owners, friends and family members. An extra magazine is always handy.
Love these sights

Fiber optic sights of this type have restored years to my shooting abilities. They are precise enough for precise work and the light up against just about any backdrop. Dovetail mounted, drift adjustable and 7″ of sight radius make them a very balanced sighting system. Yes, the chamber check port is a good safety tool. No, the M&P 9 is not optical sight ready, which is OK for me.
Having an average man hand, I left the average man hand backstrap as shipped. They proved to be palm filling. I really like the aggressively textured surfaces as they contributed greatly to control while shooting.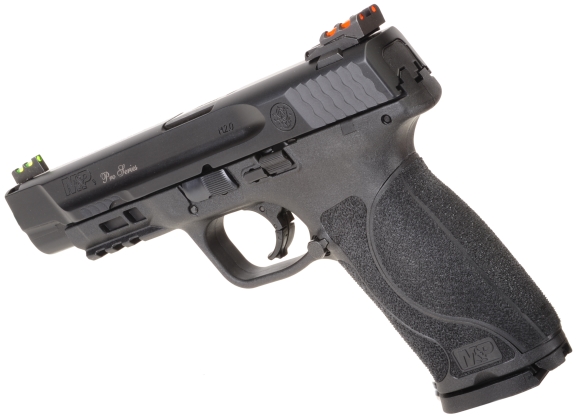 The S&W M&P 9 presents a high grip' close to the bore center for maximum holding leverage. The only thing I need to remind myself to do, when in a two hand hold, is place the left thumb above the right and not to wrap it around the back of the pistol. However, when I did forget, the pistol reminded me with the bottom of the slide running over the left thumb. Rookie mistake… very old rookie.
Yes, evidence of striker… ism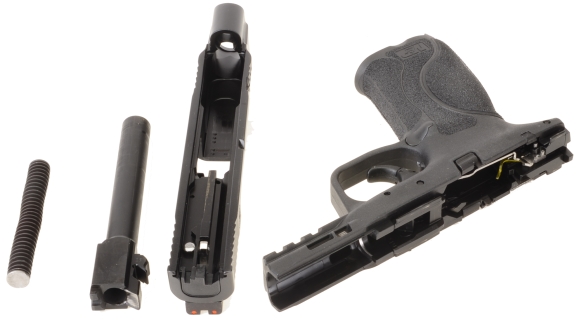 For the most part, maintenance is easy with a drop mag, clear chamber, lock slide open, turn down take down lever, push down doohickey in the magazine well, release the slide stop, guide slide forward and off. Pop out the barrel and recoil spring. To assemble, hit reverse. The chassis in the M&P 2.0 versions, such as this, run the full length of the poly grip to further stabilize. The flat wo9und recoil spring is captive, the barrel is ramped.
The Nine Renowned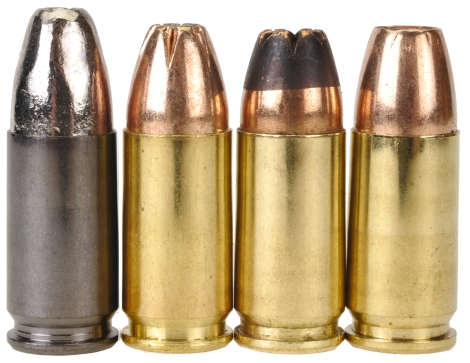 The ammo pictured was used in a recent S&W CSX review and made a good baseline to assess a near 2″ barrel increase.
Cartridge


Bullet




Grains

Rated


MV FPS


CSX


MV FPS
3.1″ Barrel

M&P 9
MV FPS
5″ Barrel

FPS +/-
Δ


Norma MHP –  MHP

108

1312

1092

1194

102

Grizzly High Performance – JHP


124

1200

1026

1118

92

IMI Black Dot +P – JHP

124


1180

1088

1196

108

Sierra Outdoor Master – JHP


124

1090

994

1104

110

So the velocity boost is significant. Combined with the long sight radius and 17 round magazine capacity, that is a lethal package to rely on.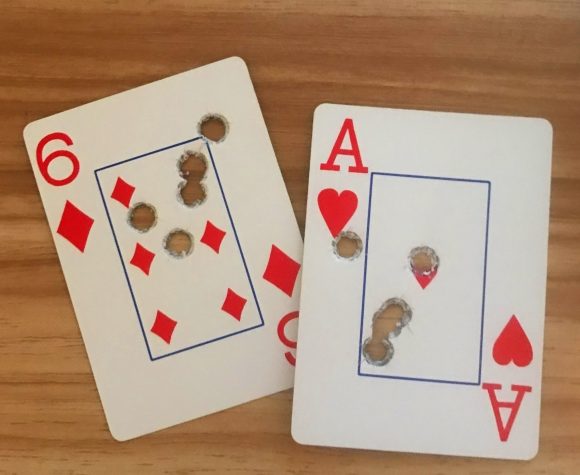 Shot from a sandbag rest, the best 50′ groups came from IMI 1.2″ and Sierra 1.1″ respectively. Norma shot 2.4″ and Grizzly 2.0″. That works for me. Why playing cards? They are inexpensive and they provide a more focused target for practice than a full size silhouette.
Summary
S&W M&P 9 Pro Series

SKU
11820
Manufacturer
Smith and Wesson
Point of Origin
Springfield, MA
Type
Striker
Caliber
40 S&W
Magazine Capacity
15
Barrel
5.0″
Rifling
1:10″
Overall Length
8.5″
Overall Height
5.4″
Overall Width
1.20″
Weight
30.4 Oz.
Sight Radius
6.875″
Trigger Pull – Actual
6 Lbs. 6 Oz.
Rear Sight
Adjustable Fiber Optic Red

Front Sight
 Fiber Optic Green

Barrel Material
SS – Armornite® Finish
Slide Material
Stainless Steel
Slide Finish
Armornite® Finish
Frame Material
Zytel Polymer
Grip
18° with 4 Grip inserts

Manual Safety
No
Magazine Disconnect
No
Loaded Chamber Indicator
Yes, Slide Top
MSRP
$723

Supplied with two 17 round magazines, multiple backstraps
and cleaning kit

For someone wanting a combination of a carry and a range gun, the Smith & Wesson M&P 9 Pro Series is a good one, Easy to aim, easy to shoot, the trigger is so good the pistol doesn't feel like a striker. Light and short pull was appreciated, but not expected.
The pistol cycled reliably, regardless ammo selected. Loading and unloading were straight forward. Disassembly for cleaning was also straight forward and required no tools.
The sight were great throughout the evaluation. The light pipes were bright and not oversize so as to obscure distant targets.
Recoil was light, as was muzzle rise. Racking the slide was easy also.
The pistol will not fire with the mag removed. For me, this is a non issue as I think the reasons for not wanting a safety disengagement is for extreme and less than realistic reasons.
Fit and finish is very nice, both metal and poly pieces so pride of ownership is in the cards.
Weight is not bad at all and form is not so great as to pose a concealed carry problem of consequence.
Up until a few years ago, I would not have chosen a 9mm Luger for self defense. No more. There are so many defensive factory loads and performance is too good to ignore. So home and around and about carry, the M&P 9 would be ideal. I still open carry a 357 Mag revolver in the woods because the extra power could be essential. However, the revolver is too large and too heavy for comfortable concealed carry.
Price is not bad in today's world. Price has gone up a bit, but not with the absurdity of some manufactures. In a crazy price and supply market, S&W seems to want to do the right thing by firearm enthusiasts. Nice pistol.
Real Guns – A Firearm and related publication