Theodore Roosevelt considered Henry Cabot Lodge one of his closest friends.
A decade into their friendship in 1895, Roosevelt wrote to Lodge, "I can't help writing you, for literally I have no one here to whom to unburden myself; I make acquaintances very easily, but there are only one or two people in the world, outside of my own family, whom I deem friends, or for whom I really care."
Roosevelt was a Rough Rider, conservationist, rancher, reformer, and president. Cabot Lodge, born from wealth, earned Harvard's first doctorate in political science, and was a long-time U.S. Senator who chaired the Senate Foreign Relations Committee. He was a significant political ally during Roosevelt's presidential tenure.
Cabot Lodge's mentor, Henry Adams, described him as "an excellent talker, a voracious reader, a ready wit, an accomplished orator, with a clear mind and a powerful memory…" He was also found to be extremely stubborn.
It is this friendship that makes a nickel-plated Smith & Wesson New Model Number 3 so special. The revolver, available in Rock Island Auction's May Premier Auction, is attributed as being given to Cabot Lodge by Roosevelt.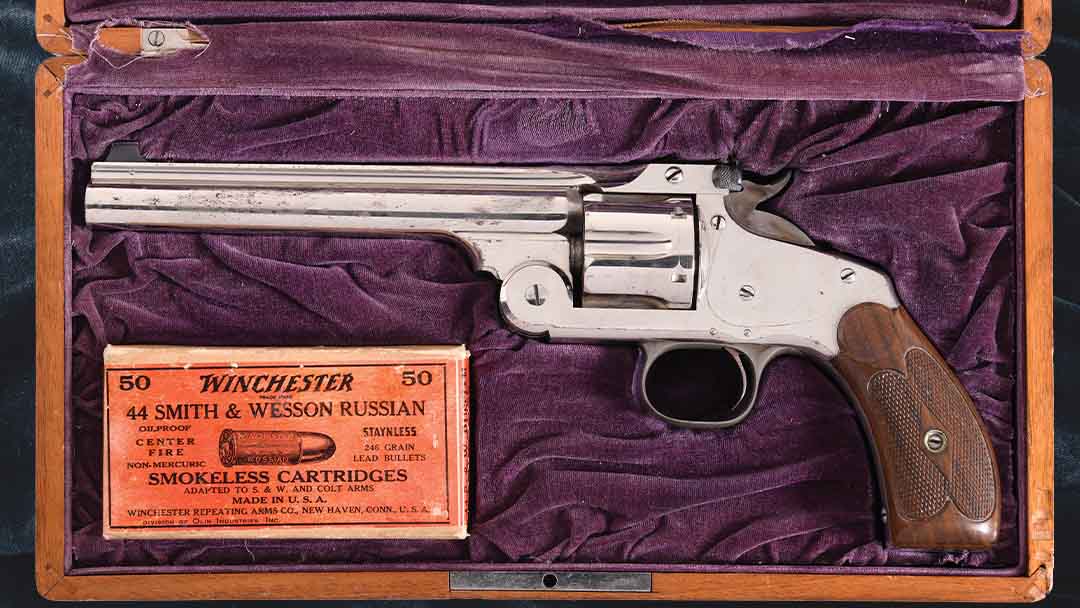 This Smith & Wesson New Model Number 3 attributed as being presented to Henry Cabot Lodge by Teddy Roosevelt is chambered in .44 Smith & Wesson Russian rests in its purple velvet-lined case. The revolver retains 95 percent or more of its original nickel finish.
Teddy Roosevelt and Henry Cabot Lodge at the 1884 GOP Convention
The two men crossed paths at Harvard during their studies but weren't truly acquainted as the 1884 Republican Convention approached. Lodge was eight years older than Roosevelt. He had served one term in the Massachusetts State House, but was out of elected office. Despite that fact he was serving as chairman of the Massachusetts Republican Party. Roosevelt was in his only term in the New York State Assembly in the run-up to the convention in Chicago.
Both men supported a reform candidate, George Edmunds. They first got into contact with each other to discuss strategy for Edmunds' nominating process. Roosevelt made news from the state party convention when he outmaneuvered other delegates who supported candidate James Blaine to get the state backing of Edmunds at the national convention.
Edmunds' nomination failed and both men reluctantly threw their support behind Blaine. Lodge and Roosevelt found themselves in the political wilderness after angering both party stalwarts by initially supporting Edmunds, and the party's reform wing for backing Blaine. Roosevelt left the convention for his ranch in the Dakota Territory and didn't run for re-election, while Lodge's bid for Congress failed in the fall. The two continued to correspond, with Cabot Lodge's letters sharing political news.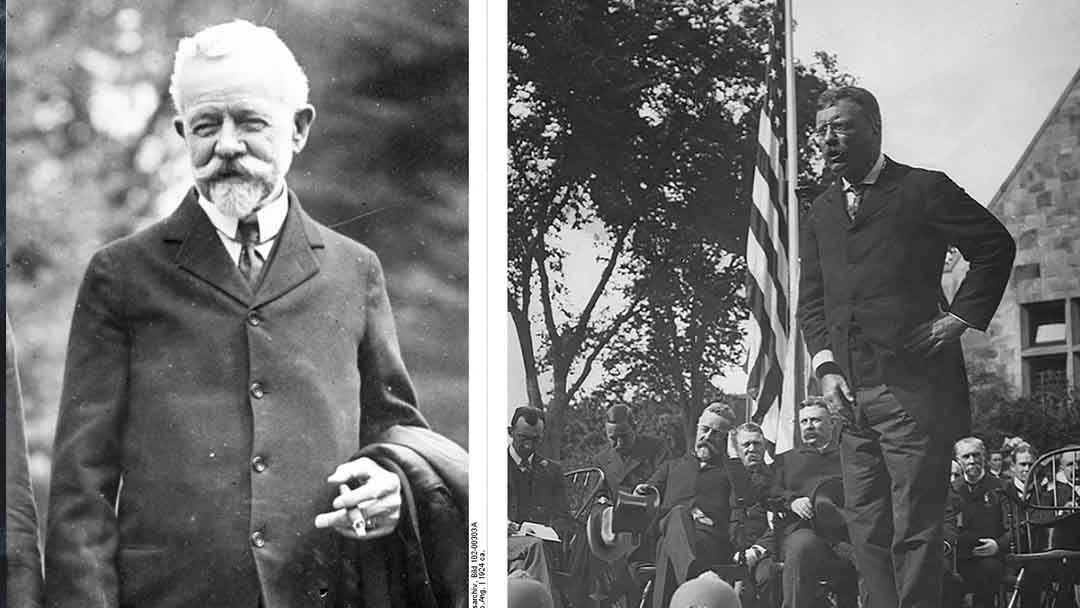 Henry Cabot Lodge, left, served in the U.S. Senate for more than 31 years. Teddy Roosevelt, right, fought with the Rough Riders in the Spanish-American War and United States President in his storied career. The men became lifelong friends after serving as delegates in the 1884 Republican Convention.
Better Times Ahead for Teddy Roosevelt and Henry Cabot Lodge
Lodge won election to Congress in 1886, about the same time Roosevelt returned to New York City and was recruited to run for mayor, a race that he lost. Two years later, Roosevelt threw his support behind GOP presidential candidate Benjamin Harrison, campaigning for him in the Midwest. Harrison was elected and Cabot Lodge, a fellow Republican, pushed the new president to appoint Roosevelt to the Civil Service Commission.
Cabot Lodge ascended to the Senate in 1893, and would serve there until his death in 1924. In 1894, Roosevelt was appointed to the New York Police Commission and became the board president. The two men collaborated on a book in 1895, called "Hero Tales from American History" that profiled people and moments from American history like George Washington, Daniel Boone, the Battle of New Orleans, and Pickett's Charge.
In 1897, again at Cabot Lodge's urging, President William McKinley appointed Roosevelt as Assistant Secretary of the Navy. The following year, as relations with Spain broke down, Cabot Lodge and Roosevelt became key agitators for war. Roosevelt wanted a fight to show U.S. might, while Lodge took an imperialist approach, wanting to expand American territory. When war was declared, Roosevelt resigned his position, leaving to form the Rough Riders.
The Spanish-American War was brief, and after Roosevelt returned from Cuba he was recruited to run for governor of New York, a contest he would win.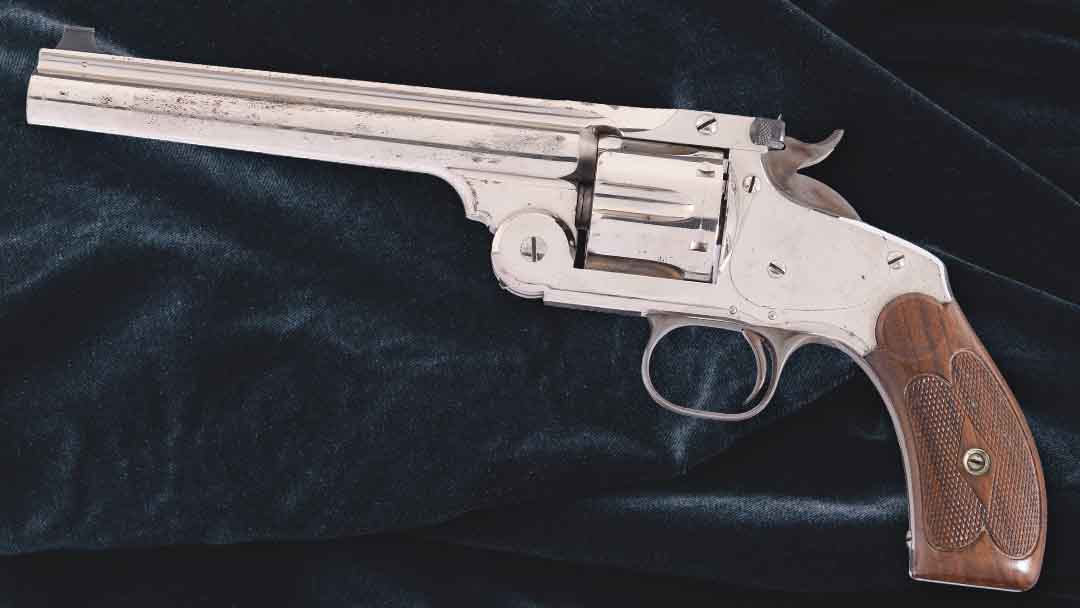 This Smith & Wesson New Model No. 3 attributed as being given to Henry Cabot Lodge by Teddy Roosevelt has a 6 1/2 inch barrel and retains 95 percent or more of its original nickel plating.
World War 1, Teddy Roosevelt, and Henry Cabot Lodge
Roosevelt ended up as the vice president under McKinley in 1901 and was thrust into the presidency after McKinley's assassination in September, 1901. Earlier in the month, Roosevelt had shared his philosophy to "speak softly and carry a big stick." He would win re-election in 1904.
As a two-term president he declared that America's role in the western hemisphere was to keep order among the countries of North and South America and prevent European intervention, won the Nobel Peace prize for brokering a truce in the Russo-Japanese War, and pushed for the Panama Canal. Domestically he pushed for several reforms, including food packaging reform and creating five national parks.
Roosevelt stepped aside after his second term but found himself inserted back into presidential politics for the 1912 election as a third party candidate. Ever a Republican, Cabot was quiet on his friend's rift with the GOP. Democrat Woodrow Wilson won in an electoral ballet landslide. Roosevelt left for a South American expedition that nearly killed him and affected his health the rest of his life.
Roosevelt built up the United States Navy to the largest in the world, but Wilson did little in the way of military preparedness, drawing the ire of Cabot Lodge who also supported intervention in World War 1 and criticized Wilson for staying out of the fight. Roosevelt also spoke out against Wilson's foreign policy, calling for Wilson to stand against Germany.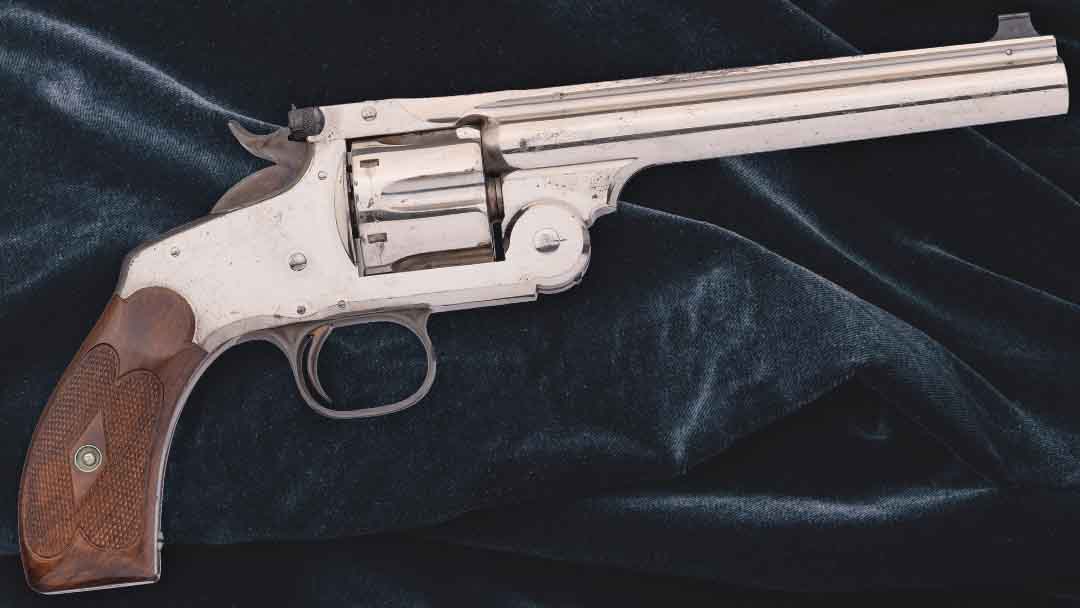 This Smith & Wesson New Model No. 3 is attributed as being given to Henry Cabot Lodge by Teddy Roosevelt. It has been featured in Dean K. Boorman's "The History of Smith & Wesson Firearms" and been on loan to the NRA's National Sporting Arms Museum. It retains 95 percent of its original nickel plating.
Henry Cabot Lodge, Teddy Roosevelt, & the League of Nations
Cabot Lodge hated Wilson, partly because he attained the presidency over his friend, but also because of what he considered Wilson's soft foreign policy, writing to Roosevelt, "I never expected to hate anyone in politics with the hatred I feel toward Wilson."
After World War 1, Wilson traveled to France to negotiate the Treaty of Versailles that included his 14 Points that would be included in the treaty. Among the points was one that had been favored by Wilson's predecessors, Theodore Roosevelt and William Howard Taft, an international peace league. Britain and the United States both pushed for such an organization, the League of Nations.
When the Treaty of Versailles came before the Senate for ratification, Cabot Lodge and other senators had issues with it. Their greatest concern was the belief that the treaty took away autonomy from the United States in international diplomacy, but Lodge wasn't completely opposed to the treaty. After a month and a half of debate, the treaty came to the house floor for a vote accompanied by a resolution by Lodge with 14 reservations to the treaty. That resolution was defeated and a straight vote on the treaty was also lost. A lack of U.S. participation in the League of Nations weakened it and it was disbanded at the advent of World War 2.
Henry Cabot Lodge, Teddy Roosevelt, and a Smith & Wesson
Cabot Lodge eulogized Roosevelt on the Senate floor after his death in 1919, reflecting on 35 years of friendship and political successes. Despite its plain appearance, their friendship makes this cased Smith & Wesson New Model No. 3 extremely special since it was gifted to Cabot Lodge by Roosevelt during a hunting trip. The gun bears 95 percent of its original nickel plating. It is chambered in .44 S&W Russian, has a 6 1/2 inch barrel, and pinned bead style blade front sight and notch rear sight. The grips are replacements.
The revolver was passed down by the family until it was sold in 1988. The gun has been fired only a handful of times, and has been featured in Dean K. Boorman's "The History of Smith & Wesson Firearms" as well as been on loan to the NRA National Sporting Arms Museum. This Smith & Wesson revolver, with its purple-lined case, is a tremendous symbol of the power wielded by two men at the turn of the 20th century and their very close friendship.
Sources:
The Last Time America Turned Away from the World, by John Milton Cooper, The New York Times
Crossing the Rubicon: Theodore Roosevelt, Henry Cabot Lodge, and the 1884 Republican National Convention, by Edward Kohn
Henry Cabot Lodge, American Experience
The Senate and the League of Nations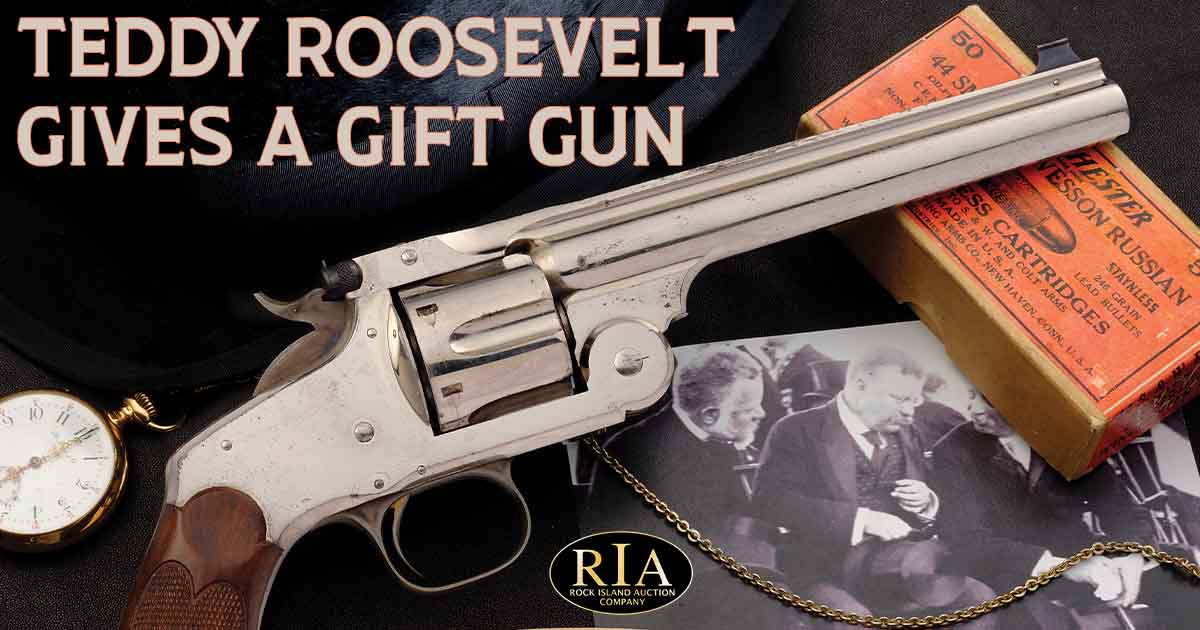 Rock Island Auction Company