As Texas entered the 20th century, Fort Worth was easing away from its origins as a cowtown. Modernity was encroaching as tangles of power lines crossed over newly-paved streets where motor cars began to appear.
By the 1920s, oil money was flowing into the city, seen as a gateway to the oilfields of west Texas.
At 1505 Main Street, a thoroughfare that ran from the Tarrant County Courthouse south to the railyards, was Wolf & Klar, a prominent hardware, jewelry, and gun store that attracted Texas outlaws, lawmen, among others. Gunmakers Colt and Smith & Wesson counted the company as one of their biggest customers. Wolf & Klar was known for its aftermarket nickel plated, engraved guns with carved pearl grips.
A Smith & Wesson .44 Hand Ejector Third Model revolver, known as a Wolf & Klar model, and a factory engraved Colt Single Action Army revolver, both shipped to the Fort Worth firearms dealer, are available in Rock Island Auction Company's Premier Auction that begins Friday.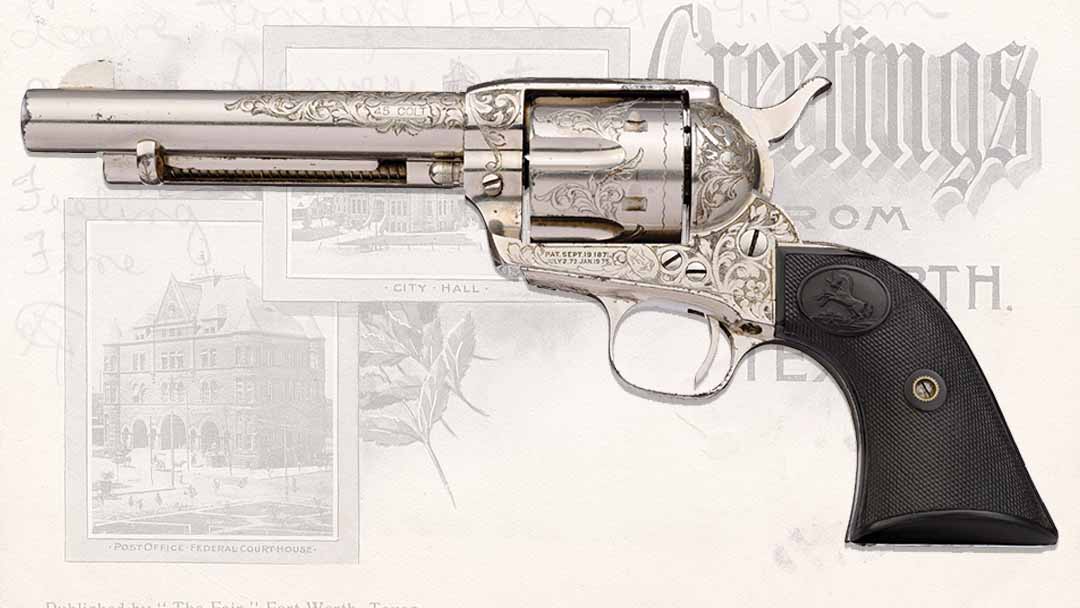 This nickel-plated Colt Single Action Army revolver is among .012 percent of the first generation SAAs that were factory engraved. It was part of a single gun shipment to Wolf & Klar in March 1928. The engraving, with its floral scroll work on a matted background and blossoms, is in the style of Wilbur A. Glahn. It is Lot 3136 in this week's Premier Auction.
Gun Collecting Sub-Genres
In gun collecting, value is tied to five things: Make and model, condition, rarity, history, and artistry. Guns like the presentation pair of Remington New Model Army revolvers of Ulysses S. Grantticks the boxes on all five factors. Those Remington pistols achieved $5.17 million in Rock Island Auction Company's May Premier Auction.
Returning to the five factors of collectability, there are sub-genres like military or law enforcement related firearms, engraved sporting arms, European flintlocks, or American Civil War guns, or in the this year's December Premier Auction, serial No. 1s. A gun can also be tied to a place and a person.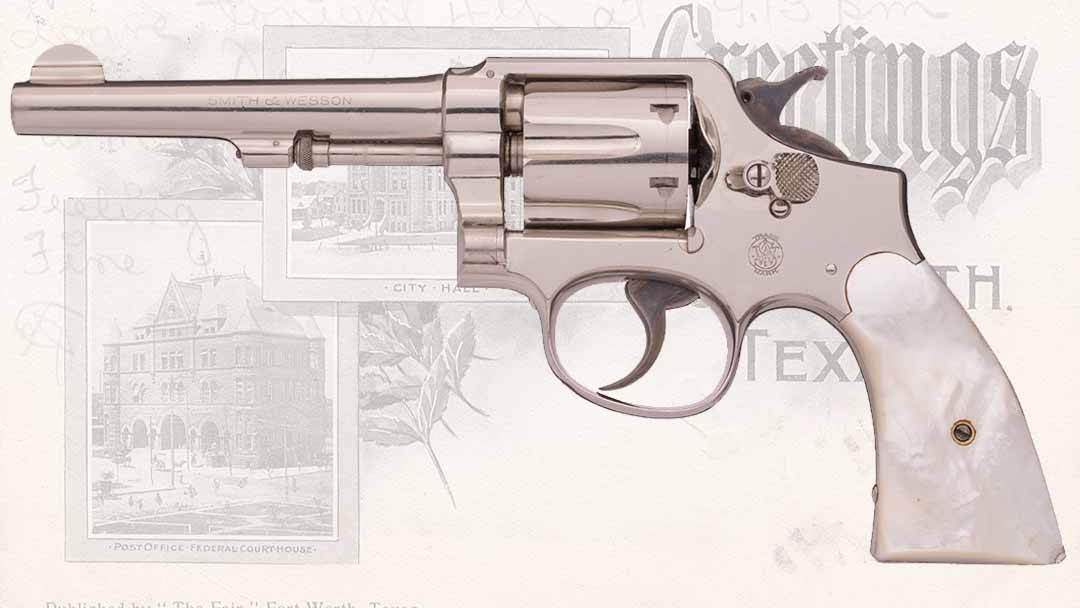 It is documented that legendary frontier lawman Wyatt Earp owned this nickel plated, pearl handled Smith & Wesson Military and Police revolver shipped to Wolf & Klar that realized $29,375 in Rock Island Auction Company's August 2022 Premier Auction.
Collectors can get connected to even more specific times and places, like guns from the battle of Gettysburg, German or Soviet World War II guns — or Texas. Maybe a person wants to collect Colt Walker revolvers, guns connected to Texas law enforcement, Texas outlaws, or firearms shipped to a specific location, like Fort Worth's Wolf & Klar.
Documented Wolf & Klar firearms touch all five factors of collectability. The store was known for its nickel plating and embellishments on guns from collectable brands like Colt and Smith & Wesson that came through the store. The rarity of guns documented as shipped to the store and and those firearms roles in regional and even American history also boost their value.
Fort Worth, Texas
Founded in 1853 where an abandoned fort once stood, Fort Worth is often called "the City Where the West Begins." It had about 350 residents at the start of the Civil War. The arrival of the Texas and Pacific Railway in the 1870s proved an impetus for growth. More rail lines arrived bringing with them eastern influences.
Water works and sanitary sewer were built and a public school system was founded. A street car system was implemented, several newspapers came and went, and by 1890, Fort Worth was the fifth largest city in Texas.
By that time, the stockyards were built and cattle were being shipped off by rail. Texas outlaws and cowboys, on the run from the law or worn out by time on the trail of cattle drives, found relaxation, recreation, or an opportunity to lay low in Fort Worth's notorious red light district, known as "Hell's Half Acre."
Fort Worth was hitting its stride by the turn of the 20th century. President Theodore Roosevelt visited the city in April 1905, on his way to a wolf hunt with wealthy cattlemen. Texas Christian University relocated to Fort Worth in 1910 after a fire destroyed its Waco campus. That year, Fort Worth's population reached more than 70,000 residents. The arrival of a U.S. Army training camp during World War I spelled the end of "Hell's Half Acre." The oil boom and construction that ran along with it kept the Great Depression at bay for a few years before it took hold in Fort Worth during the early 1930s.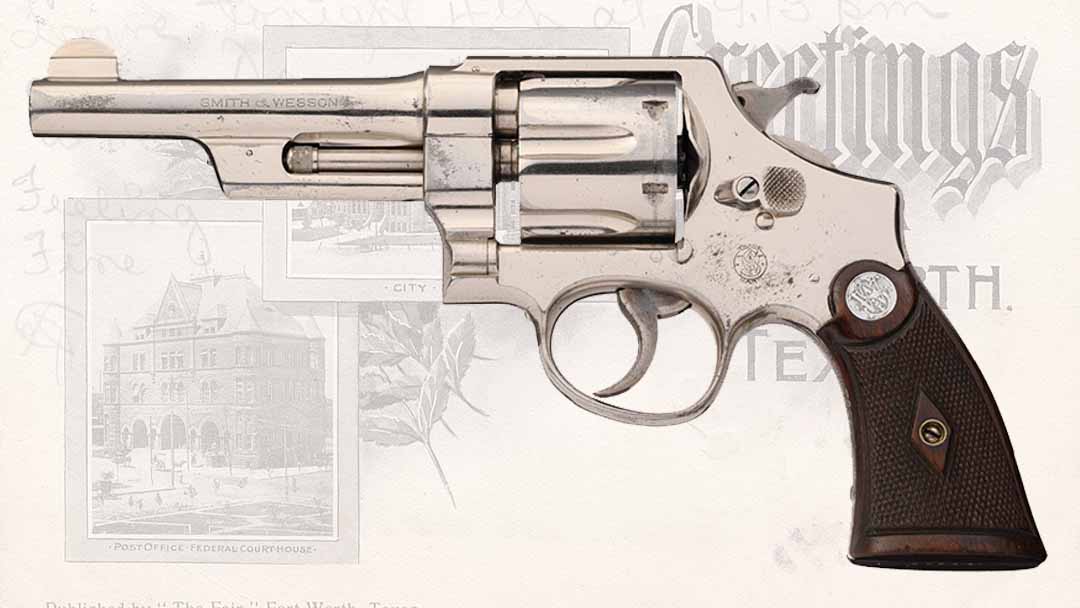 This Wolf & Klar shipped Smith & Wesson .44 Hand Ejector Third Model revolver was part of a 45-gun shipment to Wolf & Klar on Jan. 30, 1927. It is Lot 499 in this week's Premier Auction.
Wolf & Klar
On the outskirts of "Hell's Half Acre," Wolf & Klar, founded in 1902 by German immigrants Alex Wolf and Jacob Klar, started out as a jewelry store and pawn broker before transitioning to sporting goods in the 1920s and becoming a leading provider of firearms to Texas lawmen.
Smith & Wesson's .44 Hand Ejector Third Model is known as the Wolf & Klar model after the store ordered 3,500 with an extractor shroud that had been discontinued on the previous model. Because the store moved so many guns, Smith & Wesson took notice of the interest in the revolver, producing just under 5,000 between 1926 and 1940. The company delivered about 1,000 of the uncatalogued guns to Wolf & Klar, making them highly desirable to collectors.
Wolf & Klar would add mother of pearl grips to the guns as well as offer engraving that wasn't as intricate nor as ornate as some of the factory engraving offered by Smith & Wesson, Colt, or many of the master engravers. However, Colt would sometimes ship its Single Action Army revolvers to engravers like R.J. Kornbrath to engrave and be sent on to the Fort Worth store. Guns like that were catalogued by Wolf & Klar as "Arms De Lux."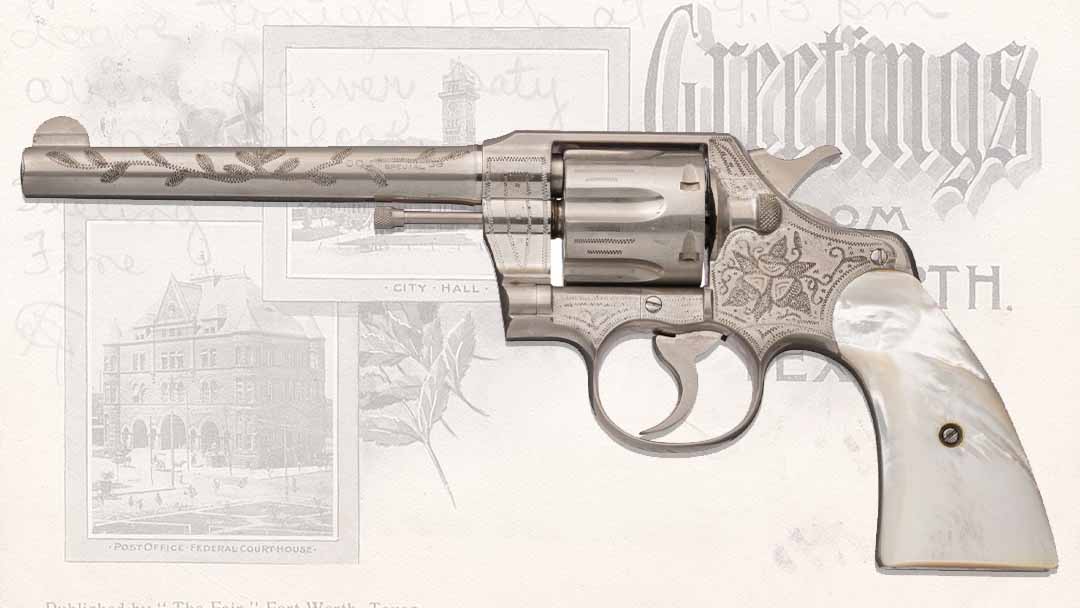 This Colt Army Special revolver features Wolf & Klar engraving with zig zag vine and leaf patterns as well as simple line patterns and a floral blossom on each side of the receiver. The gun, also fitted with carved steer head grips, shipped to Wolf & Klar in 1926. The gun achieved $9,200 in RIAC's December 2021 Premier Auction.
Texas Outlaws and Lawmen
The guns of Texas outlaws, gangsters, and lawmen come through Rock Island Auction Company. How some of the firearms used by those operating outside law may not be known, but there are guns from Great Depression era hoods that came from the same place as the people chasing them, at Wolf & Klar.
Kathryn Kelly was a great marketer. Her husband, George, wasn't the greatest criminal so she bought him a second-hand Thompson submachine gun from Wolf & Klar and had him practice shooting it. She often gave away used cartridges to promote the man who would be known in his short, inept career as Machine Gun Kelly.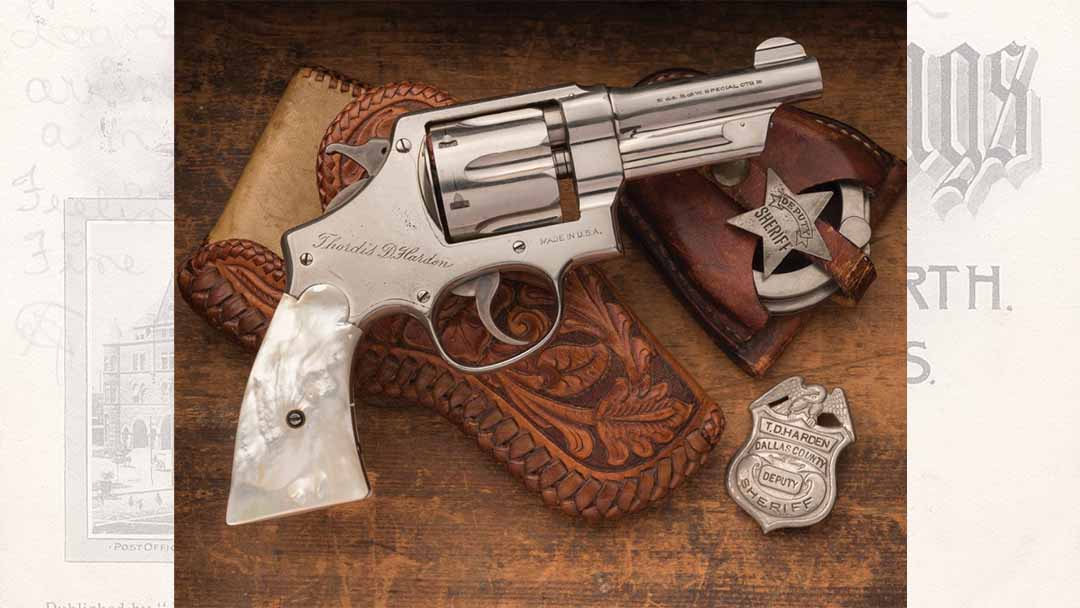 Wolf & Klar was popular with Texas outlaws and lawmen. This .44 Hand Ejector Third Model revolver inscribed to Dallas County Deputy Sheriff T.D. Harden with steer head pearl grips shipped to Wolf & Klar in 1928. The revolver realized $7,475 at Rock Island Auction Company's December 2021 Premier Auction.
Public enemy No. 1 John Dillinger was carrying a Colt 38 Super on him when he was arrested in Tucson, Arizona in January 1934. The pistol had been shipped to Wolf & Klar. Perhaps the most notorious gangster of the time, Al Capone felt he needed more firepower as he spent time in Miami, Florida in 1929. A friend bought six revolvers and six shotguns from a pawn shop. The guns, including a Smith & Wesson pistol Capone was carrying when he was arrested, had come from Wolf & Klar.
Even a pistol taken from the bullet-riddled Ford of Bonnie Parker & Clyde Barrow, described as either a Colt M1908 or M1903, shipped to Wolf & Klar in 1924. Taken from the scene, it was gifted to a friend by a member of the posse.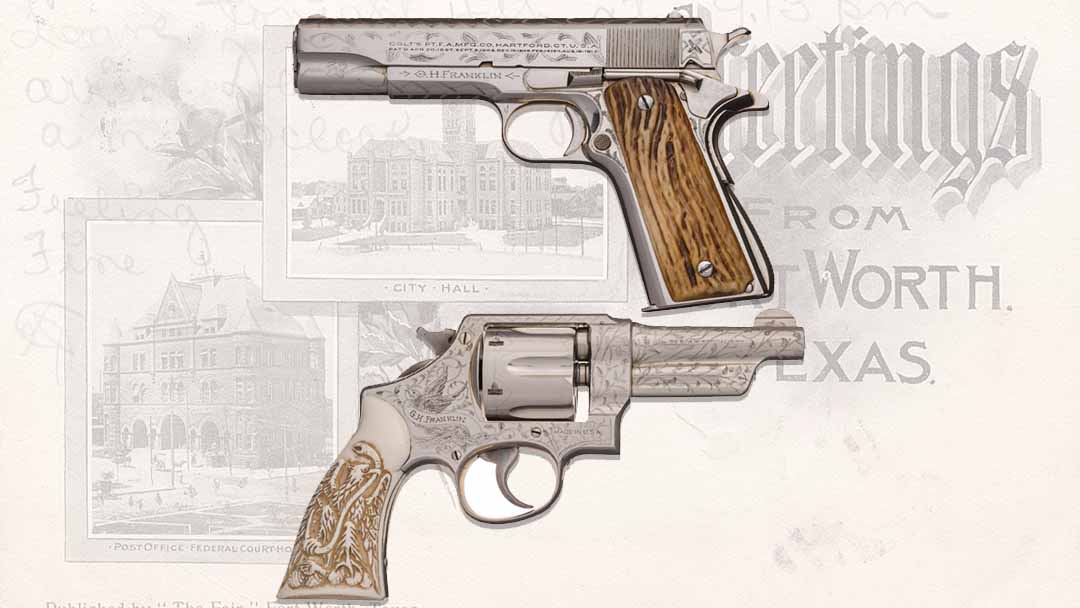 Lawmen get receipts, like FBI Special Agent George H. Franklin, whose Colt Super 38 and Smith & Wesson .38/44 Heavy Duty double action revolver with carved Mexican eagle grips were embellished by Wolf & Klar. This pair of pistols brought in $16,100 in RIAC's September 2020 Premier Auction.
Wolf & Klar, Retailer to Texas Outlaws, Lawmen, and Cowboys
As one of Colt and Smith & Wesson's biggest customers, Wolf & Klar has enmeshed itself into the fabric of Texas history, providing weapons to those on both sides of the law. The state's lore and frontier history make a gun shipped to this legendary firearms seller a must have for collectors. Previous auctions have shown the value of Wolf & Klar shipped firearms so the Smith & Wesson .44 Hand Ejector Third Model revolver and the factory engraved first generation Colt Single Action Army revolverare must-haves that shouldn't be missed.
Sources:
The Lore & Lure of the Lone Star State: Collecting Texas Guns, by Rick Hacker, American Rifleman
Rock Island Auction Company