With a nod to its future in Texas, Rock Island Auction Company is offering the Colt Combat Commander Series 70 pistols of Texas Ranger Capt. E.J. "Jay" Banks in its three-day Premier Auction later this week.
The Texas Ranger pistol pair is among the 1,880 lots that go up for bid starting Friday, the last planned Premier Auction at RIAC's Illinois facility. The company is expanding to Bedford, Texas where it will host its first Premier Auction Dec. 8-10 and is still seeking consignments for that auction.
Banks, who served as a Texas Ranger from September 1947 to March 1960, is one of the best-known of the 20th century Rangers, bringing hoodlums and gangsters to heel while also making appearances on early television shows like "Name That Tune," and "What's My Line?" After leaving the Rangers he served as police chief of the Texas cities of Palestine, Big Spring, and Gladewater.
Rock Island Auction has offered Colt Paterson and Walker revolvers attributed to the Texas Rangers including the duty guns of a number of Rangers, including Manuel T. Gonzaullas, Frank Hamer, and Jack Dean. Rock Island Auction previously sold a pair of Banks' Colt Python revolvers in June 2020 for $25,875.
This pair of Colt Combat Commander Series 70 owned by Banks has an electroless nickel finish and boast very fine stag grips. Also included in the lot is a Texas Ranger badge made from a Mexican silver coin, making them fine pieces for any collector of 20th century Texas history.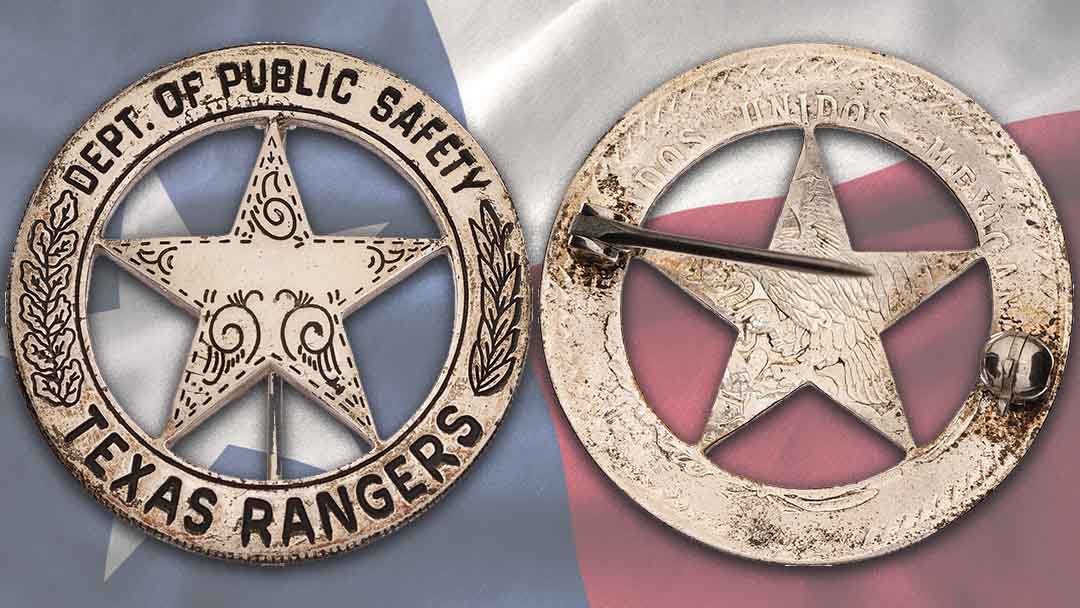 This Department of Public Safety Texas Rangers badge is made from a Mexican coin and is included in the lot with the Texas Ranger pistol pair of Jay Banks' Colt Combat Commander Series 70.
Texas Ranger History
The Texas Rangers have fought Native Americans, Mexican guerillas, and lawlessness along the border and the frontier's cow towns and oil boomtowns for 200 years. Their larger-than-life image befits the Lone Star State.
Formed originally by Stephen F. Austin as a guard against "errant thieves united with Indians" when settlers arrived in the Texas territory, the Rangers served as a defense against Native American incursions and later as law enforcement. Their history was messy at times with moments of exceptional valor and violence.
The Rangers became part of Texas' Department of Public Safety in 1935, with a professional rather than politically appointed leader, after the Rangers suffered from a number of entanglements and imbroglios early in the century.
Now, in their bicentennial year, Banks remains one of the best known Rangers. He arrived at the Rangers after serving as Texas highway patrolman from 1938 to 1947 with a stint in the U.S. Coast Guard during World War 2. He was among the Rangers that escorted a known gangster from Texas in 1950, and was among the law enforcement officers that eliminated the man considered as the FBI's Public Enemy No. 1 in 1957.
Banks served as the model for the Texas Ranger in the "One Ranger, One Riot" statue commissioned for Dallas' Love Field in 1960 shortly after he resigned under pressure, reportedly for not cracking down on illegal gambling in Tarrant County, where Fort Worth is located.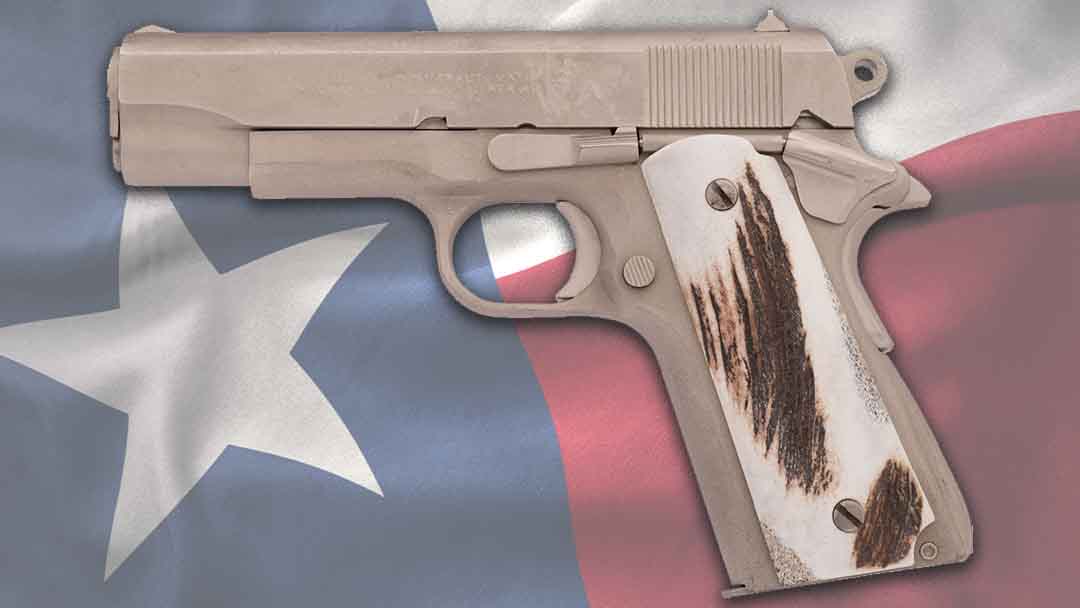 This Colt Combat Commander was a Texas Ranger pistol of Jay Banks who served as the model for the Texas Ranger statue that stood at Dallas' Love Field airport from 1961 until it was removed in 2020.
Texas Ranger Pistol Gunning for Public Enemy No. 1
In March 1942, Pete Norris was serving a 99-year sentence at Texas' Ferguson prison farm for an armed robbery that left one person dead. His younger brother, Gene Paul Norris, and an accomplice cut the telephone lines at Ferguson, disarmed two guards, and freed the older Norris and six other inmates in a prison break.
The Norris brothers ran a hijacking ring for about a year, robbing dice games and committing a series of other robberies that earned Pete Norris being named Public Enemy No.1. Less than a year from the escape, the Norrises realized they were under surveillance and tried to flee but crashed their car leading to their capture.
Pete returned to prison, now on Alcatraz Island with a sentence of 436 years. Gene Paul was charged with several crimes, including draft dodging and the prison breakout, and received a 13-year sentence. He served four.
By 1952, Gene Paul Norris had 25 arrests and six convictions when an opportunity arose to take advantage of Cuban exiles looking to buy guns. Norris and an accomplice robbed the Cubans of $248,000. Gene Paul was arrested for the crime but acquitted. However, he found himself back in prison for violating parole.
Out of prison in 1955 he was a key figure in the rough and tumble nightlife of Fort Worth's Jacksboro Road of nightclubs, gambling, drinking, and other vices. Gene Paul was believed to be involved in a number of hits on hoodlums and gangsters. He even took up with the girlfriend of one of the men he is believed to have killed.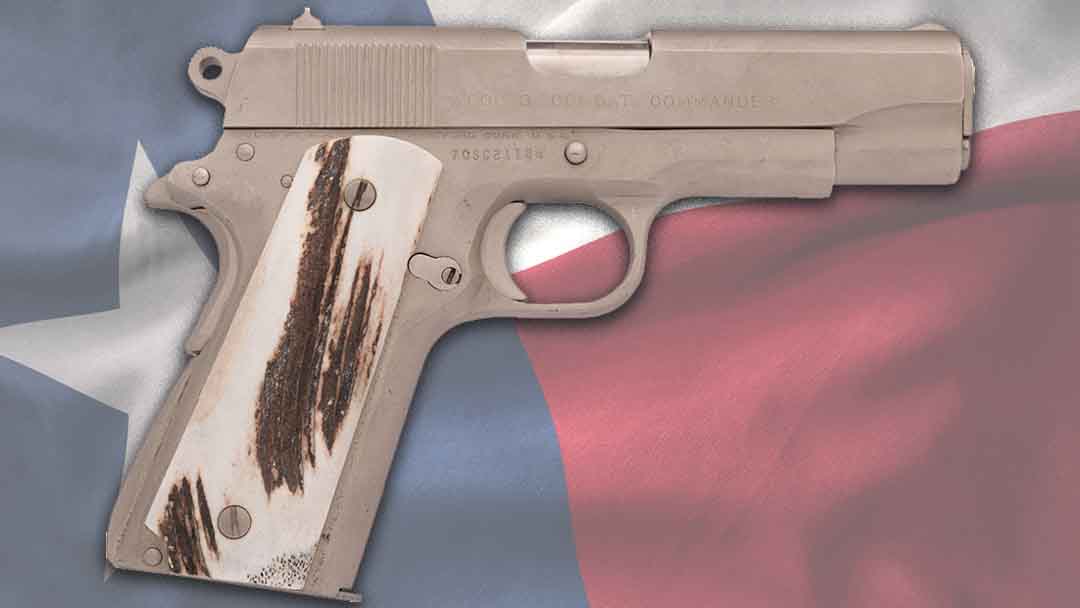 The Texas Ranger pistol of Jay Banks. This Colt Combat Commander Series 70 was owned and carried by Banks who also served as police chief of Big Spring, Palestine, and Gladewater, all in Texas.
In April 1957, Gene Paul Norris was poised for the biggest heist of his life. An acquaintance of Norris told him about the bank branch on the Carswell Air Force Base that received the base payroll just ahead of payday — $500,000. With a floorplan of the branch and the name of a teller, a scheme was hatched to kidnap the woman and her 12-year-old son, use her car with a base pass to get access to the bank, rob the payroll, and skedaddle. The women and her son would be killed to eliminate witnesses.
The last part of the plan caused cold feet among Gene Paul's accomplices, and one contacted the FBI. As Gene Paul and another of his conspirators, Bill Humphrey, did a dry run of the heist on April 29, they spotted police and fled. A running gun battle between Banks and the Texas Rangers, police, and the robbers lasted for more than 20 miles at speeds of over 100 mph. Humphrey and Gene Paul made a quick turn onto a dirt road but Humphrey lost control and crashed the car. The two hoods tried to flee across a nearby creek, still firing at the law enforcement officers in close pursuit and firing back.
Texas Ranger Johnny Klevenhagen, went for a shotgun to take out the robbers, but Banks was faster, pulling out a submachine gun.
"He's getting away! Give me a shotgun," Texas Ranger Jim Ray recalled Klevenhagen yell. "Just as my shotgun reached Klevenhagen, we heard (Gene Paul) Norris give out a scream like a banshee, and then came a full burst from Jay's (Banks") M-3."
Gene Paul Norris wound up dead from 28 bullet wounds from his ankles to his head. Humphrey also died, shot 23 times. Gene Paul Norris was believed to be responsible for as many as 40 unsolved murders.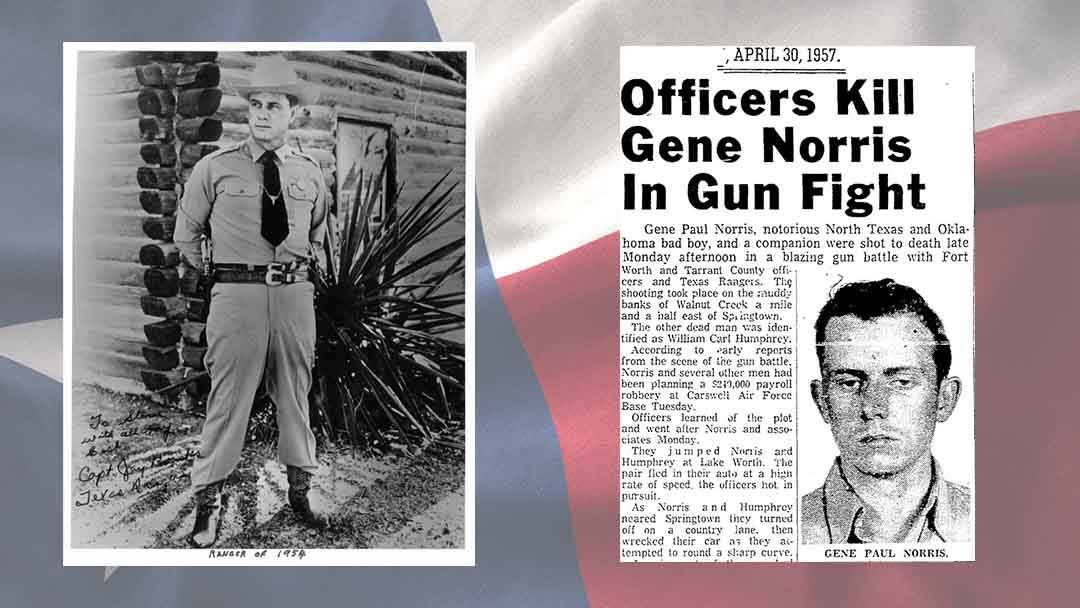 Texas Ranger E.JG. "Jay" Banks, on the left and a headline from report of the death of Public Enemy No. 1 Gene Paul Norris who died in a hail of gunfire from Banks, other Rangers, and law enforcement.
Texas Rangers and a Los Angeles Mobster
On Aug. 31, 1950, Los Angeles Mafioso Mickey Cohen was rousted from a sound sleep in his Wichita Falls hotel bed by Banks and Texas Rangers Capt. Manuel Gonzaullas. Cohen was in town to either close an oil deal, to establish illegal gambling in the oil boomtowns, or track down a henchman who'd skipped town after Cohen posted his $25,000 bail, depending on who told the story.
The Rangers had a message for Cohen, get out of town or go to jail. They escorted the L.A. mobster to the airport and put him on a commercial flight west. He claimed he was roughed up by the Rangers and threatened to sue. Cohen never returned to Texas.
"I did have to emphasize my message with a little physical persuasion," Banks said. "Maybe if you studied what I did, it kind of crowded the law a little bit. But it was effective.
"He was putting up a fuss, threatening to sue. I went on the plane with him and convinced him that going back to Los Angeles was the best thing for him to do."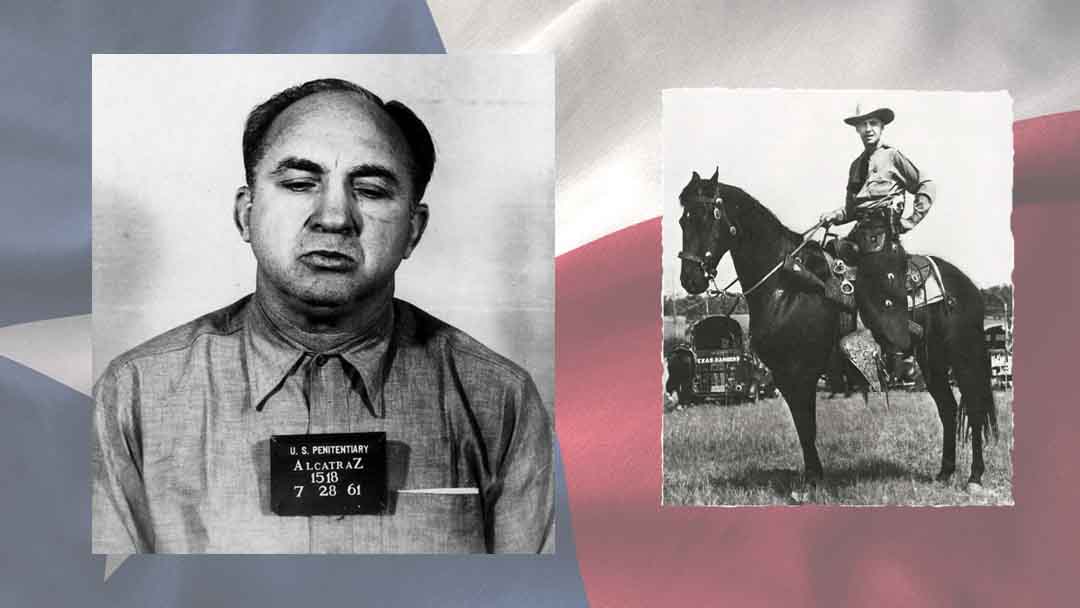 Los Angeles Mafioso Mickey Cohen, left, was ousted out of his hotel bed and put on a plane back to California by Rangers Jay Banks and Captain Manuel Gonzaullas, right.
Texas Ranger Statue
Capt. Jay Banks was an intimidating figure, standing well over six feet tall, so when someone was needed to serve as a model for a Texas Rangers statue in 1958, he was the logical candidate.
"He is exactly my idea of what a Ranger ought to look like," said Waldine Tauch, the artist commissioned to make the statue. He loaned the artist one of his hats, a pair of boots, and an ornately tooled holster and guns. The only stipulation for the statue was that the Ranger couldn't have his hand on his Texas Ranger pistol.
In April 1961, the 8-foot-tall statue atop a nearly four-foot-tall pedestal was unveiled at Love Field, the Dallas-Fort Worth airport. Engraved beneath the statue were the words "Texas Ranger of 1960 One Riot-One Ranger."
"One Riot-One Ranger is one of those almost legendary utterances which is so deeply rooted in the tradition of the Texas Rangers that its origin is difficult to trace," the Rangers chief at the time stated in a media release.
Banks' Texas Ranger statue welcomed travelers flying in to Dallas-Fort Worth for nearly six decades, serving as the face of the Rangers. The statue was taken down at Love Field in 2020, but there have been calls for it to be returned to the airport.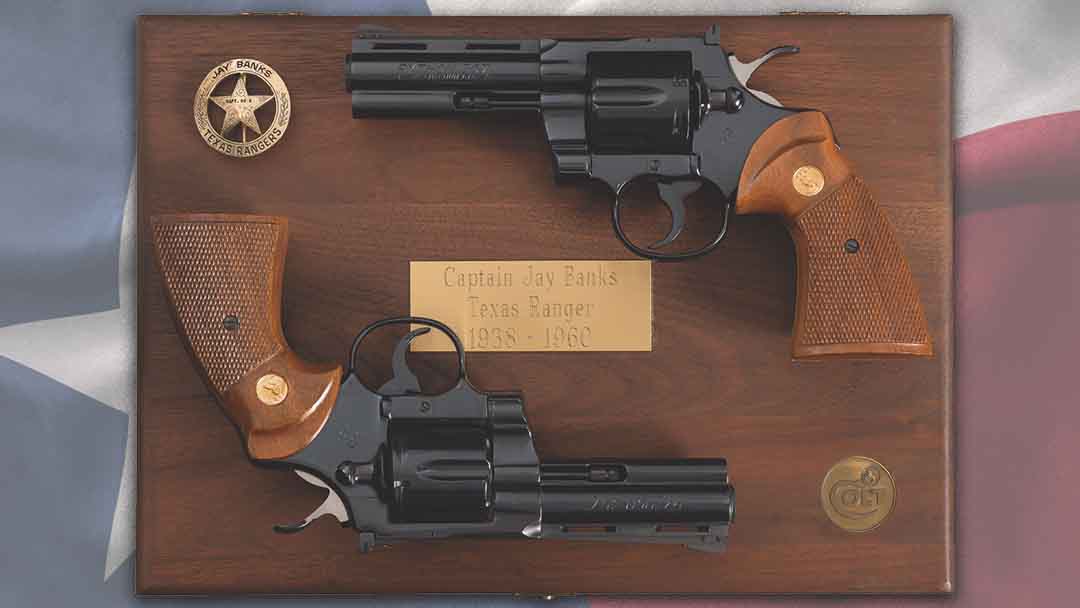 These Colt Pythons that once belonged to Texas Ranger Jay Banks brought $25,875 at Rock Island Auction's June 2020 Premier Auction.
Texas Ranger Pistol Pair for Sale
Banks, with a long career in Texas law enforcement, died in 1987 at age 75, having served as a Texas highway patrolman, joining the Rangers and rising to the rank of captain of Company B, and leading police departments in a number of Texas communities. This man with a complicated history within the Texas Rangers' equally complicated history imprinted the Rangers in the fabric of the Lone Star State in the mid-20th century. Banks' Colt Combat Commander pistols are a piece of that history. Offering these guns is a tip of the hat by Rock Island Auction Company to the 200-year history of the Texas Rangers and an opportunity to acknowledge the amazing future that awaits in the Lone Star State.
Do you want to be part of Rock Island Auction history and have an offering in the first Bedford, Texas Premier Auction, then now is the time to consign. Click here to start the process.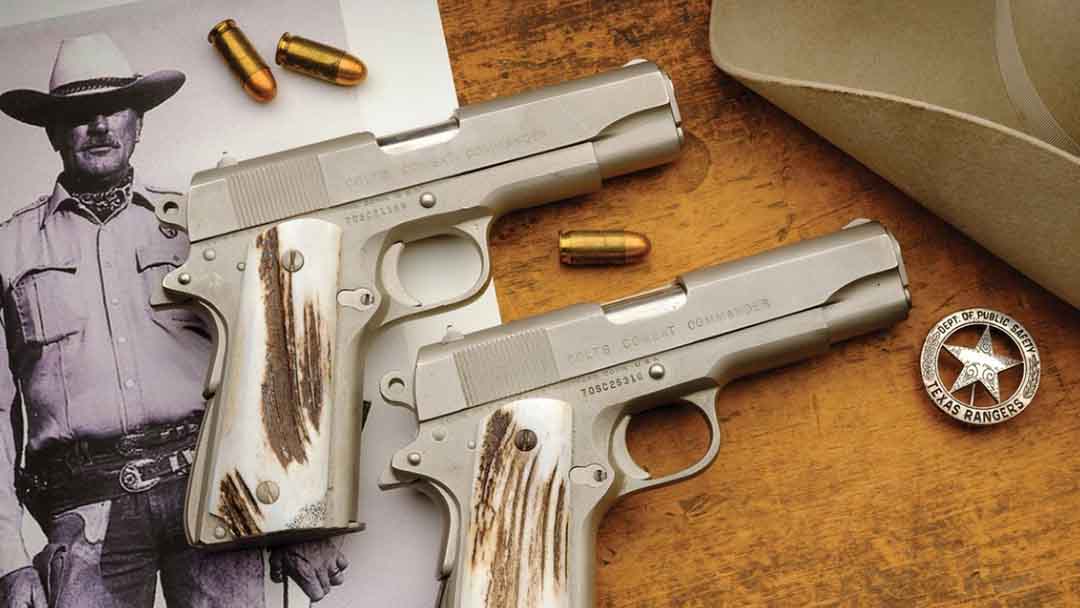 The Texas Ranger pistols of Jay Banks are Colt Combat Commander Series 70 with an electroless finish and stag grips. The guns are a nod to RIAC's future in Bedford, Texas where the company will host its first Premier Auction this December.
Sources:
Haile: Texas Rangers send mobster back to "La La Land," by Bartee Haile, The Courier of Montgomery County
"Time of the Rangers," by Mike Cox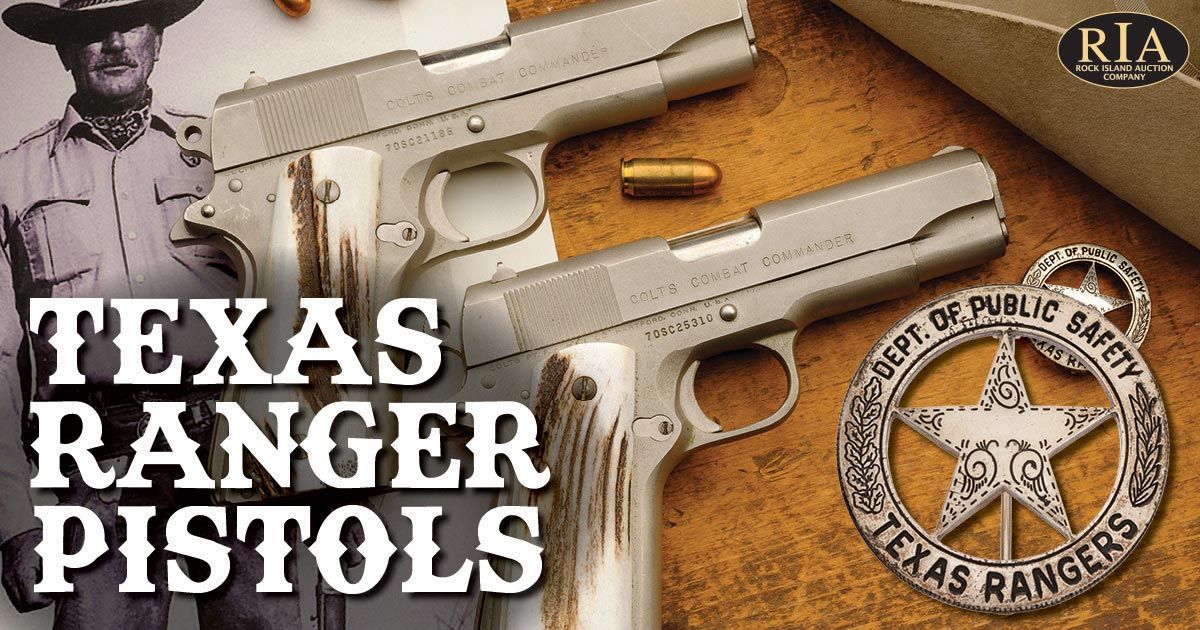 Rock Island Auction Company