The Texas Rangers, having fought Native Americans, Mexican guerillas, and lawlessness along the border and in cow towns and oil boomtowns across the Lone Star State, have a larger-than-life image.
Texas Rangers history is at times messy with moments of exceptional valor and violence, but as they celebrate their 200th anniversary this year, it is an opportunity to honor and reflect on how they helped shape the southwestern United States.
Rock Island Auction Company has offered an immensity of items with connection to the Texas Rangers from the Colt Paterson that provided remarkable firepower as Rangers fought on the open range, and the Colt Walker, an improvement on that amazing firearm as the Rangers fought the Mexican Army, to the personal firearms and mementos of legendary lawmen like Frank Hamer and Manuel T. "Lone Wolf" Gonzaullas.
As we salute 200 years of service of the Texas Rangers, Rock Island Auction Company wants to highlight and honor Texas history in its inaugural Bedford, Texas auction later this year, by offering Texas Ranger memorabilia and firearms and is inviting consignment of such items.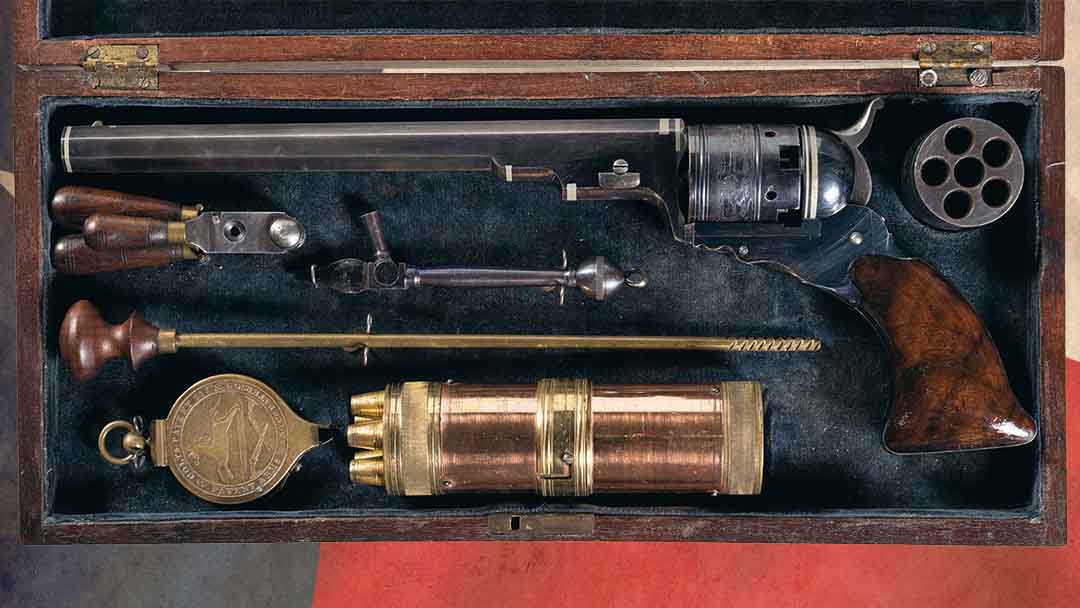 Samuel Colt's nascent business and the early Texas Rangers history are closely tied. Ranger John "Jack" Coffee Hays acquired Colt Paterson revolvers, the first commercially available repeating firearm, for the Rangers. This silver-banded, factory cased Colt No. 5 Squareback Model Texas Paterson achieved $575,000 at auction at Rock Island Auction Company in 2017.
Colt Revolvers and Texas Rangers John Coffee Hayes and Samuel Walker
As settlers moved to Texas, then a Mexican territory, the government of Mexico offered little protection so Stephen F. Austin put out the call in 1823 for 10 men to serve as Rangers, to patrol the burgeoning settlement and guard against "errant thieves united with Indians."
By 1835, the Texas territory's General Council passed an ordinance that created a Ranger force to guard against Comanche raids just as the sparks of the Texas Revolution ignited. A Ranger earned $1.25 per day and $5 per month for food and supplies. They had to provide their own horse, tack, weapons, and ammunition.
Earning its independence, Texas expanded the Rangers to better protect the frontier. The number of units expanded as Native Americans and Mexicans continued to challenge settlers. John "Jack" Coffee Hays steered the Rangers as an early leader with his incisive decision making and fearlessness. He also acquired Colt Paterson revolvers, the first commercially available repeating firearm, for the Rangers. The Paterson and its increased firepower proved its worth and allowed a smaller Ranger force to hold off a much larger band of Comanche at the Battle of Bandera Pass in 1841.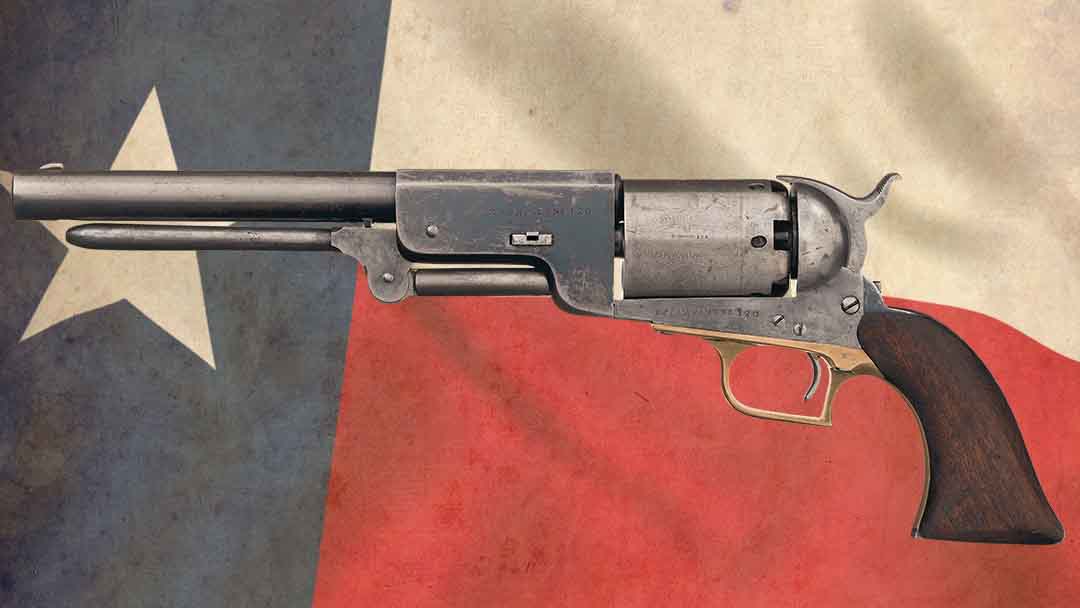 In Colt and Texas Ranger history, Texas Ranger legend Samuel Walker had some thoughts on the Colt Paterson and shared them with Samuel Colt: an additional round in the cylinder, and a higher caliber. Colt took the suggestions and produced the .44 caliber Colt Walker, named after the Ranger. This revolver was the last made for Colt's most important military contract and was in excellent condition when it realized $1,035,000 when it crossed the podium at Rock Island Auction Company in 2019.
Samuel Walker arrived in Texas the following year and as part of a militia, ventured into Mexico where he and 180 others were captured. He avoided execution, escaped the brutal prison where he was held and returned to Texas. He joined up with the Rangers and served under Hayes in 1844.
When the Mexican-American War started in 1845, the call went out for scouts for the federal army and Walker was among the Rangers who answered. He ran messages through the Mexican lines and led the charge at the Battle of Monterey. The Rangers earned the nickname "los diablos Tejanos," or "Texas Devils" for their fierce fighting. Walker lived up to the billing.
In 1846, Walker left Texas to go east. He met with Samuel Colt and they discussed a more powerful revolver and an additional round to the .36 caliber, five-shot Paterson. Meant to be holstered on the saddle, the massive .44 caliber Colt Walker revolver – named for the Ranger — was more than 15 inches long and weighed 4 1/2 lbs.
Walker returned to Texas by 1847 and joined with Gen. Winfield Scott's invasion of Mexico and the capture of Mexico City.  At the town of Huamantla, Walker's unit charged into battle, a battle the Americans and Texans won, but the legendary Ranger was killed in action at the age of 30.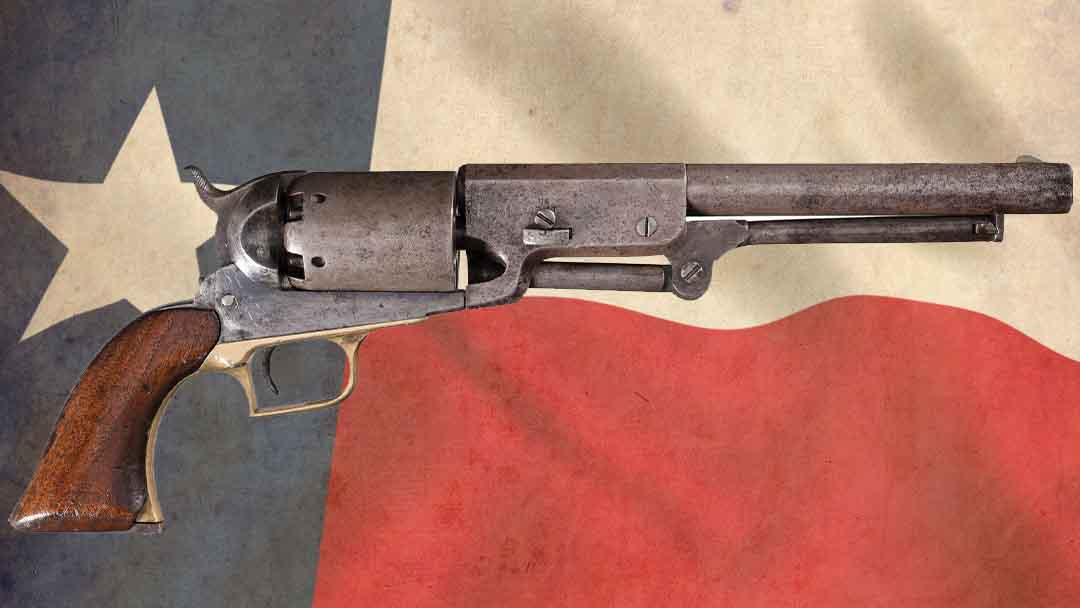 Terry's Texas Rangers weren't part of Texas Rangers history in the sense they protected settlers of the Lone Star State but that they were a Texas cavalry unit for the Confederacy during the Civil War. This Colt Walker was inscribed to F.H. Kennedy of Houston who fought for Terry's Texas Rangers. It achieved $499,375 in Rock Island Auction Company's May 2022 Premier Auction.
Texas Rangers History after the Mexican-American War
Between the Mexican-American War and the Civil War, the Rangers were reduced to a volunteer force that was called up when needed, then disbanded. Texas was a slave state that seceded at the start of the Civil War and many Texans went off to fight.
Among those from Texas who went off to serve were part of a unit raised by Benjamin Franklin Terry. Officially the Eighth Texas Cavalry, it was better known as Terry's Texas Rangers. Soldiers were required to furnish a shotgun or carbine, a Colt revolver, a Bowie knife, saddle, bridle, and blanket. Horses were provided.
Despite being promised duty in Virginia, Confederate military leaders diverted the cavalry unit to Kentucky. Terry's Texas Rangers fought at Shiloh, Perryville, Murfreesboro, Chickamauga, and Chattanooga. They served as raiders in Tennessee under Lt. Gen. Nathan Bedford Forrest. At the close of the Civil War, 158 of the remaining 248 Rangers refused to surrender and slipped back to Texas alone or in small groups.
A Union officer described the Rangers in battle: "The Rangers are as quick as lightning. They ride like Arabs, shoot like archers at the mark, and fight like devils. They rode upon bayonets as if they were charging a commissary department, are wholly without fear themselves, and no respecter of a wish to surrender."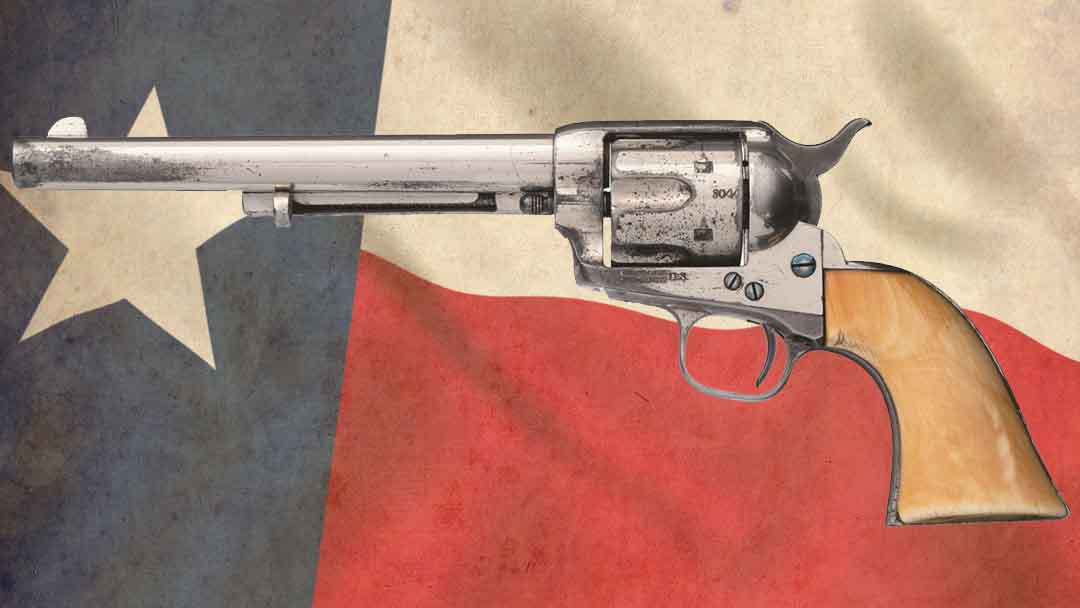 This Orville Ainsworth-inspected Colt Single Action Army is nickel-plated and was owned by Henry Crouch who was a Texas Ranger or U.S. Marshal according to his family. The revolver brought $19,550 at Rock Island Auction Company in 2021, outpacing its high estimate of $16,000.
In 1874, the Texas Legislature appropriated $75,000 to organize six companies of Rangers, with 75 in a company, serving in what was termed the Frontier Battalion. The Rangers served as a military force and police. By the end of the 1870s, most of the Native American tribes were pushed out of Texas and no longer considered a threat. The Rangers turned to law enforcement, stopping feuds and cattle rustling, and tracking outlaws. Rangers tracked gunfighter John Wesley Hardin all the way to Florida where he was captured in 1877, and killed bandit Sam Bass in an 1878 gunfight.
Adjutant General W. H. Mabry wrote of the Rangers in 1896, "This branch of the service has been very active and has done incalculable good in policing the sparsely settled sections of the state where the local officers…could not afford adequate protection."
Texas Rangers History at the Turn of the 20th Century
In 1901 the Texas Legislature voted to convert the Rangers to protect against marauding thieves and law enforcement while shrinking the size of the Ranger companies to 20 men each. Around this time, prize fighting was still illegal and Capt. Bill McDonald went to Dallas stop a match. He was met by incredulous civic leaders wondering where the rest of the Rangers were. McDonald replied "Hell! ain't I enough? There's only one prize-fight!" The legend of the "One riot, one Ranger" was born.
At the start of the Mexican Revolution in 1910, the Rangers took on brigands making incursions along the border. This is when the Rangers were often as lawless as those they were trying to stop, killing Mexicans and Tejanos without arrest or trial. Gov. William P. Hobby warned the Rangers to stop the violence but was ignored. The decade of the 1910s was called "la Matanza," or "the slaughter." By the time State Legislator José Tomas Canales requested an investigation into the Rangers in 1919, more than 300 indiscriminate killings had been recorded along the border.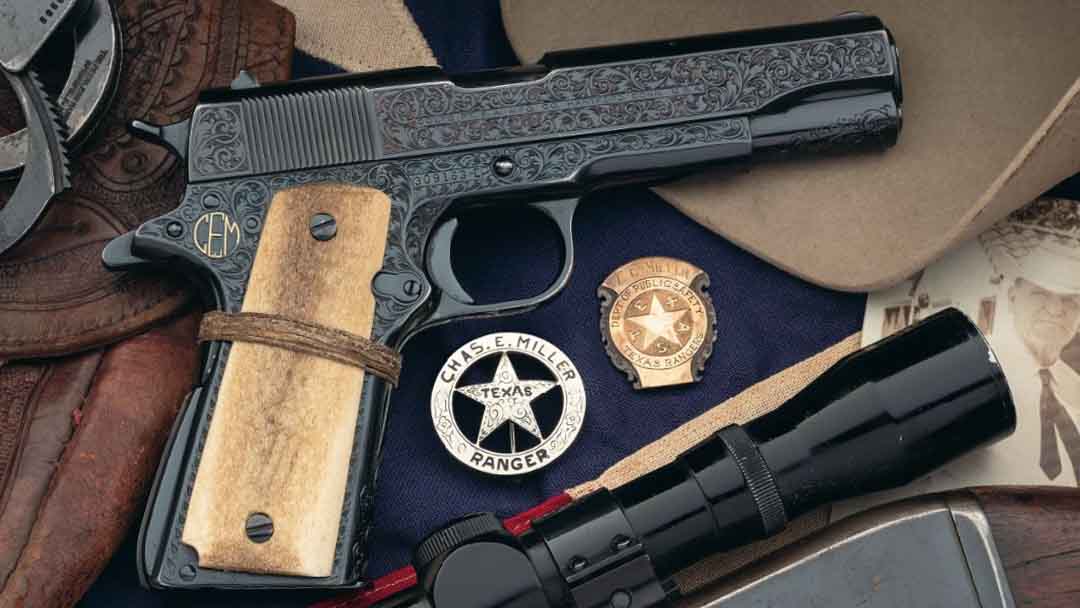 Charlie Miller had a couple of stints with the Texas Rangers during his 50-year career in law enforcement, including 17 years from 1951 to 1968 when he retired. His Colt Government Model and Remington Model 14 carbine realized $31,625 in Rock Island Auction Company's September 2021 Premier Auction.
Legendary Ranger Frank Hamer, who will be discussed later, threatened Canales, who received other threats along with legislators who were serving on the investigative committee. The appointment of Special Rangers that had been commissioned to assist on the border were canceled and regular Ranger companies were disbanded. New and current Rangers faced more strict qualifications. The Rangers, now more professional and focused on law enforcement, took on bank robbers, smugglers, and cattle rustlers in the 1920s and 1930s.
Despite efforts at reform, Texas Rangers history also includes episodes of racism and union busting. In one episode during the 1950s, Gov. Allan Shivers ordered the Rangers to a school southwest of Dallas to prevent desegregation. The Rangers stood by as a white mob prevented black students entrance. Rangers went in to suppress the United Farm Workers strike of 1966-67 that later had the U.S. Supreme Court rule against the Rangers for denying rights of strikers and supporters.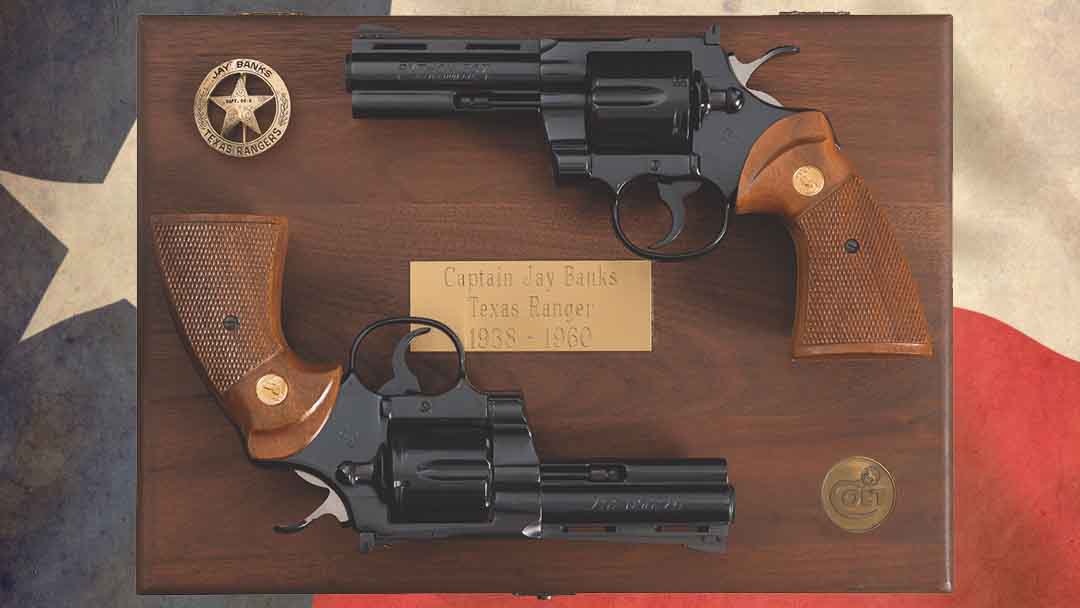 Capt. E.J. "Jay" Banks had an interesting Texas Rangers history. In 1950, Banks was among the Rangers that escorted Los Angeles-based gangster Meyer Harris "Mickey" Cohen from the Kemp Hotel in Wichita Falls, Texas, to a plane out of Texas, and "advised" him to never return. He also was involved in the 1957 high speed chase and shootout that killed two outlaws and foiled a planned a kidnapping and robbery. Banks is the model for the controversial Texas Ranger statue located at Love Field in Dallas. Banks' cased pair of Colt Pythons sold in Rock Island Auction's June 2020 Premier Auction for $25,875, soaring past their high estimate of $6,000.
Texas Rangers History and the Department of Public Safety
In the 1932 election, the Rangers backed the incumbent governor who lost, bringing Miriam "Ma" Ferguson to office. She fired all 44 Rangers for supporting her opponent. Ferguson appointed new Rangers who one historian said "by any standard, were a contemptible lot." The Rangers were a crime spree unto themselves, with gambling rings, murder, and embezzlement among the crimes as their ranks ballooned to more than 2,000 men. Criminals like "Machine Gun" Kelly, Raymond Hamilton and the duo of Bonnie Parker and Clyde Barrow found sanctuary in Texas.
In 1935, the legislature created the Department of Public Safety that combined the Texas Highway Patrol and the Rangers. A crime lab, touted as second only to the FBI's was created. The new DPS offered better communications and political stability for the Rangers.
Rangers were issued a Colt .45 and a .30 caliber lever action Winchester. Rangers still provided their own car, horse, and saddle. The DPS issued horse trailers and paid mileage. Rangers received in-service training and required to file weekly activity reports.
John Wood spent nearly 11 years investigating the Duval County political machine that resulted in several hundred cases against two dozen people for bribery, fraud and illegal donations. He retired after almost 30 years as a Texas Ranger. His Colt New Service double action revolver is marked "Texas Public Safety Dept" on the backstrap. The chrome-plated revolver raced past its high estimate of $7,500 to realize $25,875 in Rock Island Auction Company's September 2021 Premier Auction.
Famous and Feared Texas Rangers
Along with Hays, Walker, and McDonald, the Texas Rangers history has a storied roster, with 31 men inducted into the Texas Rangers Hall of Fame. John "RIP" Ford was another formidable 19th century Ranger. After all, RIP stood for "rest in peace." He mapped the region between San Antonio and El Paso, battled Native Americans and Mexican bandits and was a colonel in the Confederate cavalry. After the Civil War he served in the Texas legislature and worked as a newspaperman.
John Hughes was a Ranger who served at the turn of the century, from 1887 to his retirement in 1915. He served as one of four captains when the Ranger force was reduced in 1915. He tracked down several murderers and horse thieves, protected silver mines, and stopped smugglers in his career, the longest of any Ranger at that time. He also met Zane Grey who wrote "The Lone Star Ranger" and dedicated it to Hughes, the inspiration for the Lone Ranger character.
Manuel T. Gonzaullas was among the Rangers who were fired by Gov. Ferguson. As a Ranger who often patrolled the oilfield and Rio Grande border solo in the 1920s and 1930s, he earned the nickname "Lone Wolf." He was the first superintendent of the DPS crime lab until he returned to the Rangers as a captain.  He retired in 1951 and became a technical consultant to Hollywood, working on radio, movies, television shows like "Tales of the Texas Rangers," and even helped found the Texas Rangers Hall of Fame.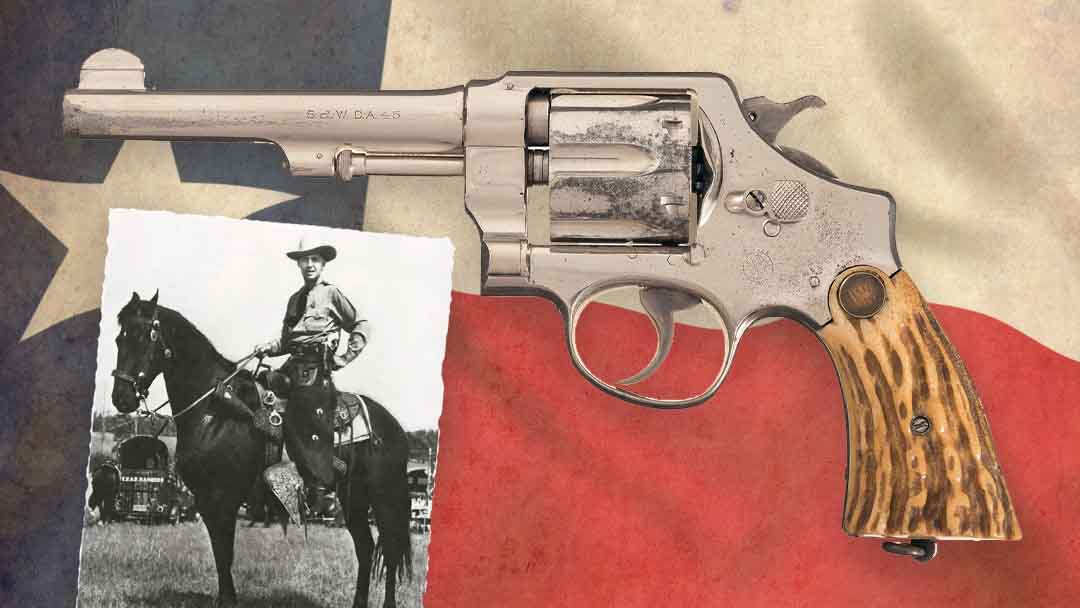 Ranger Manuel T. Gonzaullas was known as "Lone Wolf" for his solitary patrols along the Rio Grande border. He served as the first superintendent of the Public Safety Department's crime lab in the 1930s before returning to his role as a Texas Ranger. He later served as a technical consultant for television and movies and also wanted Texas Rangers history remembered as one of the founders of the Texas Rangers Hall of Fame. His extremely rare nickel-plated Smight & Wesson Commercial Model 1917 double action revolver achieved $14,950 at Rock Island Auction Company's May 2019 Premier Auction.
Bonnie and Clyde and Ranger Frank Hamer
Hamer left and returned to the Rangers a number of times to take various other law enforcement jobs. He was known for his courage, toughness, marksmanship, and investigative skills. He led the Rangers' efforts to thwart the Ku Klux Klan in Texas and saved 15 people from lynching.
As bank robberies became more prevalent across Texas in the 1920s, the state banking association offered a $5,000 reward for bank robbers, with the only catch being they had to be dead. Unsavory characters started staging bank robberies and killing the unsuspecting victims who were brought in as the robbers for the reward. Hamer spoke out against it to get the banking association to change its policy.
Hamer was among those purged by Ferguson in 1933. The following year, he was commissioned as a Texas Highway patrolman at the request of the Texas prisons superintendent to track down the infamous criminal duo of Bonnie Parker and Clyde Barrow after they broke out a member of their gang from prison, killing a correctional officer.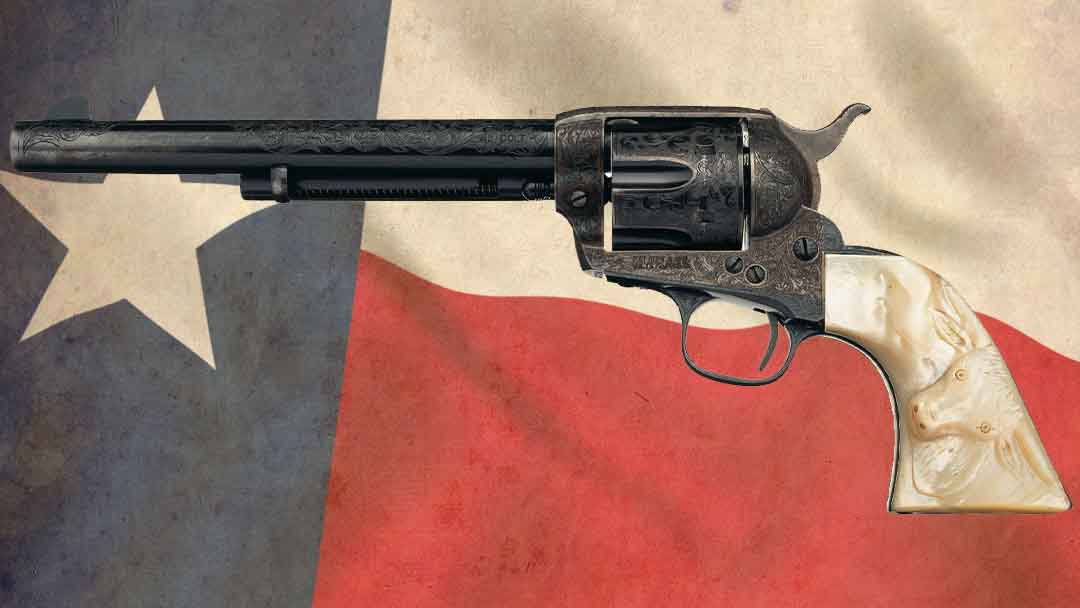 Frank Hamer might be the best known Ranger in Texas Rangers history for tracking down Bonnie Parker and Clyde Barrow. The outlaw duo died in a hail of gunfire, but that was one of an estimated 50 gunfights during Hamer's career. This factory engraved Colt Single Action Army is dripping with Texas Rangers history. It was originally given to Texas Ranger commander Thomas Barton as a Christmas gift by the Rangers in the 1920s. In a letter, Hamer wrote that Barton gave him the gun because he didn't like single action revolvers. Hamer readily carried the gun with him. The revolver achieved $258,750 at Rock Island Auction's September 2020 Premier Auction, outdistancing its high estimate of $160,000.
Hamer and fellow former Ranger Maney Gault along with a posse of other law officers relentlessly tracked the couple for more than three months. The posse pursued Bonnie and Clyde to Bienville Parish, Louisiana, where they laid a trap. They waited overnight for the duo's car to come by and when the couple slowed to help a motorist who they knew, the trap was sprung. Before Bonnie and Clyde could shoot, Hamer, Gault, and their men opened fire, unleashing 130 rounds and killing the outlaws.
Hamer had a reputation as being rough on suspects, a brutal interrogator, and not timid with a gun. He was reportedly in 50 gunfights in his career, wounded 17 times, believed dead four times, and credited with killing 50 to 70 people.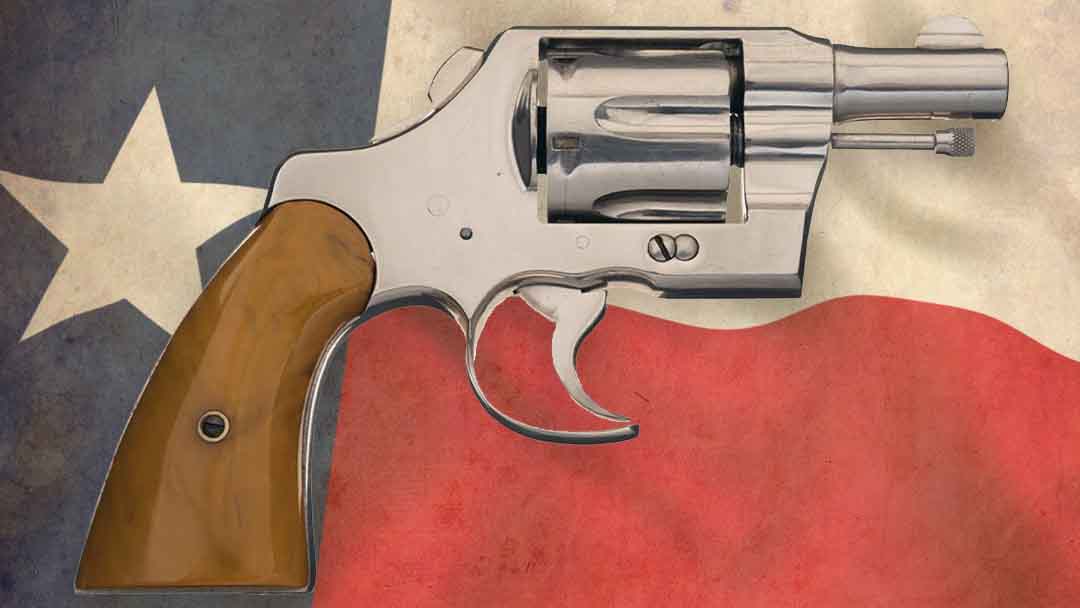 Clyde Barrow and his partner-in-crime Bonnie Parker were hunted across Texas and Louisiana before former Rangers Frank Hamer and Maney Gault caught up with them. Hamer and Gault were part of a law enforcement posse that riddled the bankrobbers' car with bullets, killing them. This Colt Army Special double action revolver documented as belonging to Barrow is as much a part of Texas Rangers history as it is out an outlaw's history. It achieved $48,875 at Rock Island Auction May 2014 Premier Auction.
Texas Rangers in TV and Movies
Author Zane Grey wasn't the only one who saw the Rangers as larger than life. Texas Rangers have been featured in more than 200 movies, starting with the 1910 silent movie "The Ranger's Bride." Actors who played Rangers include John Wayne, Clint Eastwood, Robert Duvall, Tommy Lee Jones — and lest we forget, Chuck Norris who starred as "Walker Texas Ranger" and Clayton Moore who portrayed "The Lone Ranger."
Texas Rangers Today
For many years, Rangers didn't have to wear a badge. They still don't wear a uniform but are known for conservative business suits and ties with white cowboy hats and boots. Recruiting for a Ranger position is kept within the Department of Public Safety. Rangers are required to get 40 hours of in-service training every two years.
There are 166 Rangers across the state of Texas assigned to one of six companies and given the responsibility to cover two or three counties. The average age of a Ranger in 2020 was 44. There are four female Rangers and in 2020, two were promoted to captain.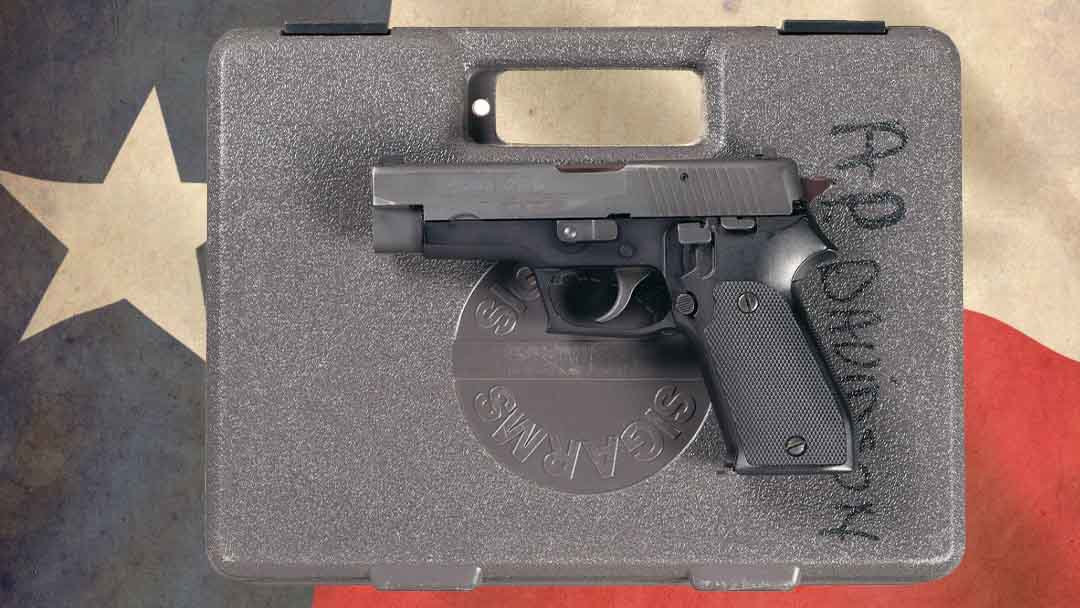 Texas Rangers also carry modern firearms like this Sig Sauer P220 that was issued to Ranger A.P. Davidson. This pistol realized $3,163 at Rock Island Auction's November 2018 Premier Auction.
Texas Ranger History
For 200 years, the Texas Rangers and their illustrious and occasionally violent history have become part of the fabric of the Lone Star State, fighting for independence from Mexico, skirmishing with border bandits and Native Americans, taking on cattle rustlers, and hunting down murderers, kidnappers, and bank robbers. Its white hat and cowboy boot wearing officers have made the Texas Rangers one of the most well-known law enforcement agencies in the World.
Rock Island Auction Company wants to share and highlight the rich and complex history of the Rangers as the company opens its new Bedford, Texas facility with a Premier Auction in December. If the legacy of the Texas Rangers is part of your collection or family history, now is the time to consign those items as Rock Island Auction celebrates two centuries of Texas Rangers at the same time a new chapter in the auction house's history begins. Rock Island Auction invites the consignmentof firearms and memorabilia of Texas Rangers both old and new as soon as possible ahead of our December event.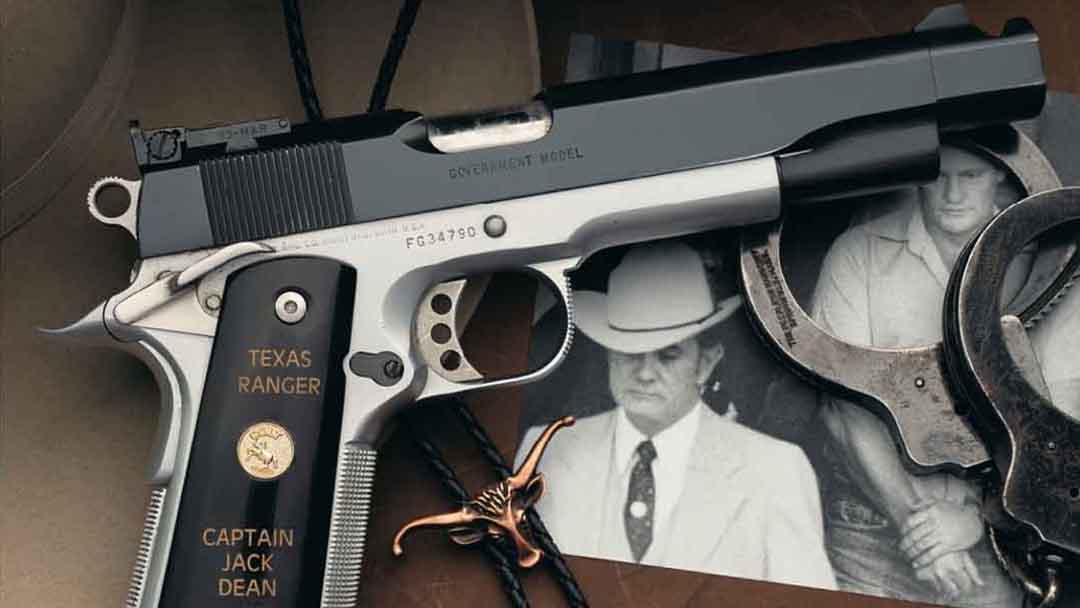 Capt. Jack Dean is best known in Texas Rangers history as the man who arrested hitman Charles Harrelson, actor Woody Harrelson's father, for the assassination of a federal judge. This Colt Government Model realized $14,100 at Rock Island Auction Company's August 2022 Premier Auction, nearly doubling the $7,500 high estimate. RIAC also sold Dean's Colt Single Action Army in May 2022 for $64,625.
Sources:
Texas Department of Public Safety
Texas State Historical Association
How "The Highwaymen" Whitewashes Frank Hamer and the Texas Rangers, by Monica Munoz Martinez, The Washington Post
Texas Ranger Hall of Fame and Museum
Bullock Texas State History Museum
Why the Texas Rangers History Isn't Something to Honor, Beaumont Enterprise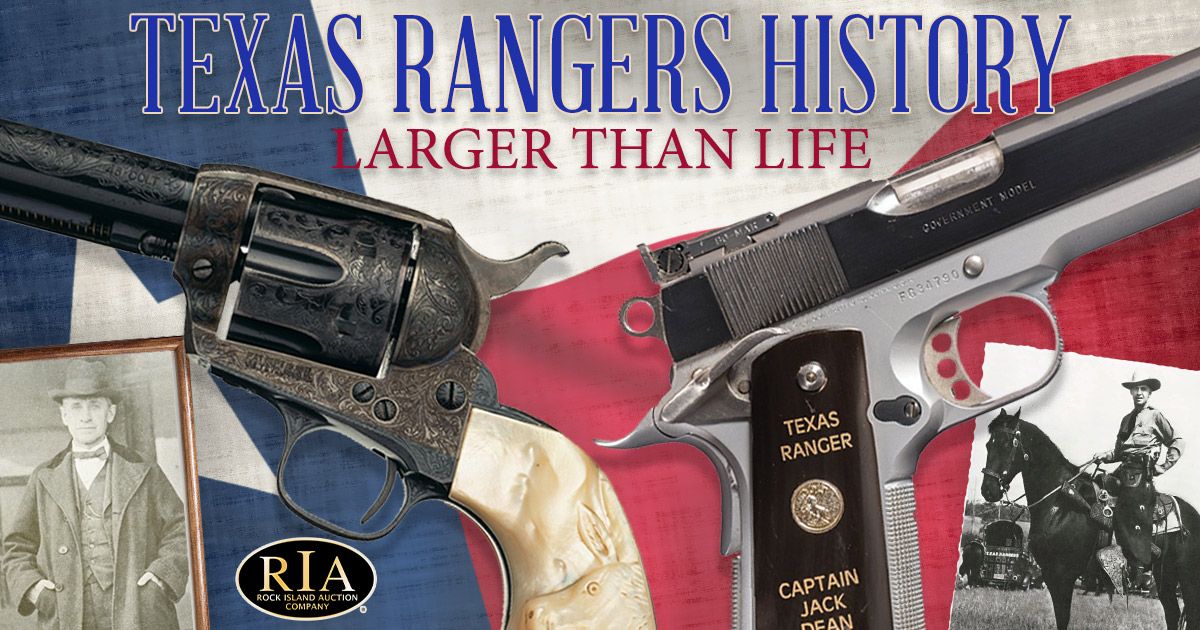 Rock Island Auction Company