For many American shooters, the name Browning Citori is synonymous with the O/U shotgun. Over the last 50 years, the Citori has served shooters in every shotgunning niche, winning countless trap and skeet matches and bringing many a bird to bag, and the gun's sheer number of variations make it a fun sporting arm to collect.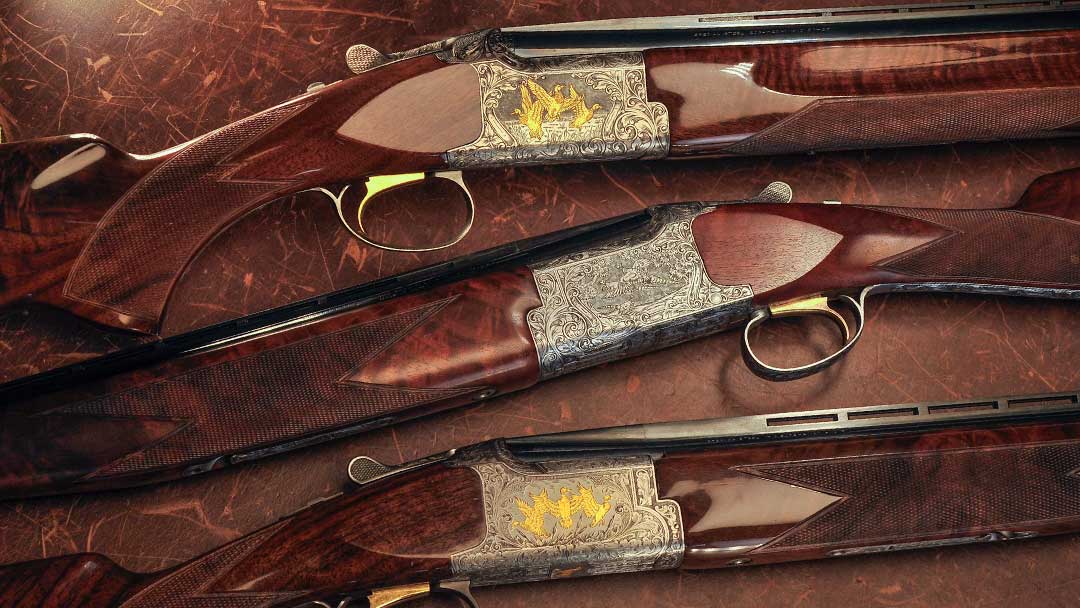 Find a Browning Citori for any hunting, shooting, or collecting aspiration in RIAC's October 4-6 S&C Auction.
The Browning Citori's adaptability, durability, and attainable price point have allowed the iconic shotgun to maintain a strong footing in the sporting arms market since its inception. We'll take a deeper look into the Browning Citori's history, progression, and innovation, and you can click on the images throughout this article to learn more about each shotgun variant.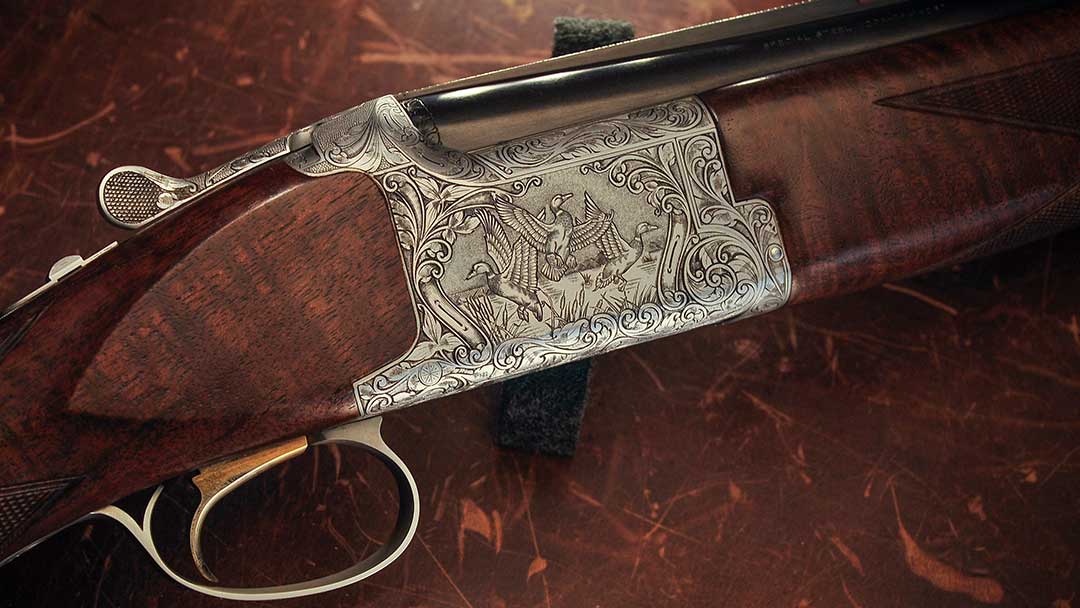 A signed factory engraved Browning Grade V Citori for sale this October.
Rock Island Auction Company's October 4 – 6 Sporting & Collector Auction features over two dozen examples of the Browning Citori shotgun, and all of them can be examined firsthand on October 3rd's Preview Day. It's a gun show unlike any other, a museum you can touch, and gun enthusiasts from across the country are invited to stop in and handle any of the nearly 5,400 collectible firearms being displayed.
The Browning Superposed
Legendary gun inventor John Moses Browning designed some of the most famous firearms in history. Browning's influence on the shotgun market was profound, with models like the Auto-5 revolutionizing the industry and the Model 93 serving as a blueprint for Winchester's popular Model 97 and Model 12. The story of the Browning Citori shotgun starts in 1923 when John Moses Browning filed the first of two patents for the Superposed O/U shotgun.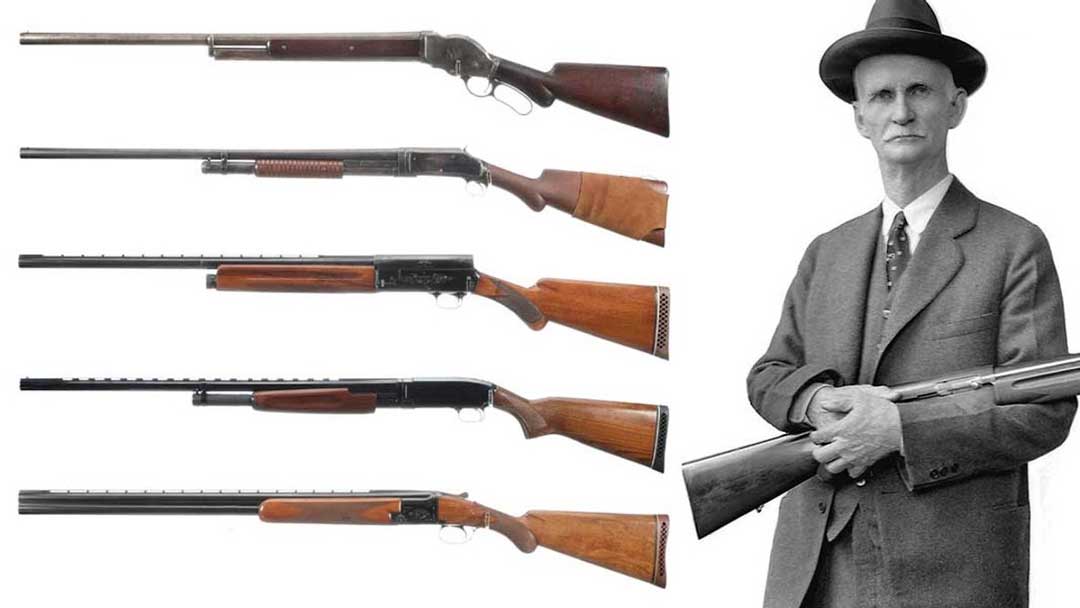 From the Auto-5 to the Browning Superposed, John Moses Browning's influence on sporting arms development was immeasurable.
John Browning envisioned the Browning Superposed as a quality production-made over/under shotgun that could be priced to compete with the costly made-to-order O/Us from Europe and Great Britain. Browning passed away before the Superposed could be placed into production, but his son, Val Allen Browning, forged ahead and completed the design. The Belgian Browning Superposed, produced by longtime Browning partner Fabrique Nationale, hit the market in 1931 and set a new design standard that would be widely emulated.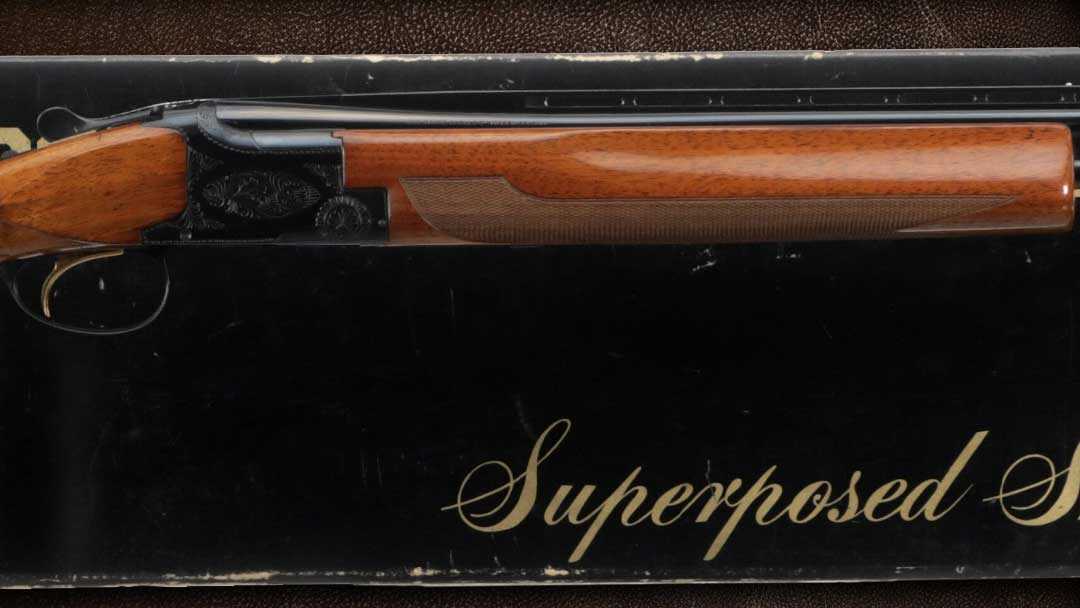 An engraved Belgian Browning Superposed .410 bore skeet shotgun with box. Available this October.
The Browning Superposed started to gain notable traction after WW2. With success came competition, and by the 1960s more affordable alternatives began flooding the market. Advancements in machining were reducing labor costs throughout the arms industry, an advantage that didn't apply to the handmade Superposed design. The Browning Arms Company sought to add a more affordable O/U shotgun model to their catalog, and the concept of the Browning Citori was born.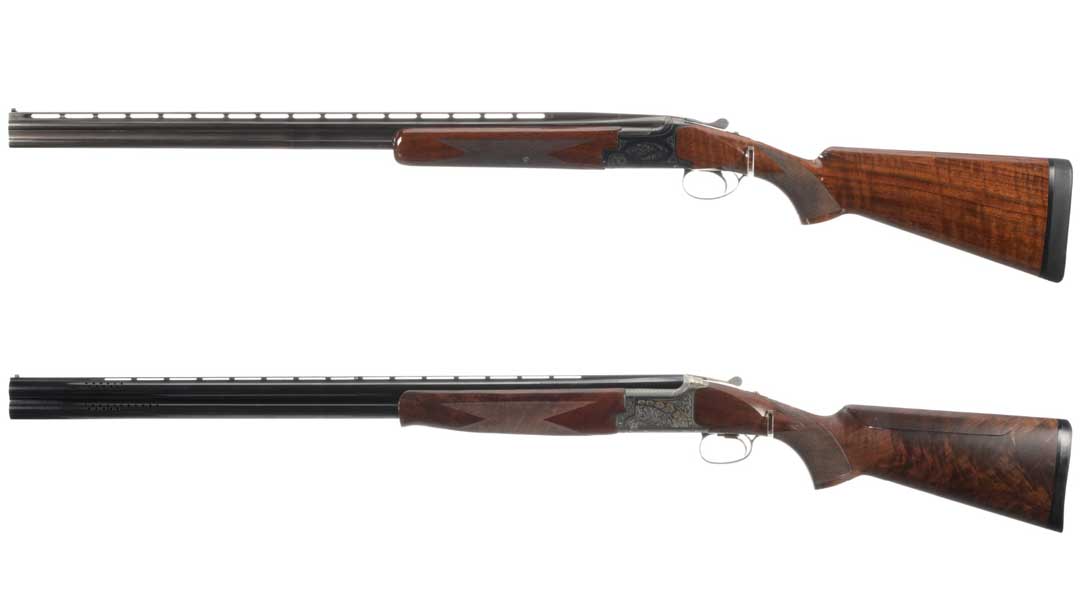 The Browning Superposed and its Citori successor. (Top) A Browning 410 bore Grade I Skeet Superposed shotgun. (Bottom) A factory engraved and gold inlaid Browning Citori 425 Golden Clays shotgun. Both guns are availaible this October.
The Browning Citori is Born
John Val Browning, John Browning's grandson, traveled to Japan in 1965 to meet with the Miroku Corporation. Miroku had been building a strong reputation with its own O/U shotguns, which the company had developed by borrowing liberally from the Browning B25 design. Instead of a lawsuit, Browning Firearms offered Miroku a partnership that endures to this day.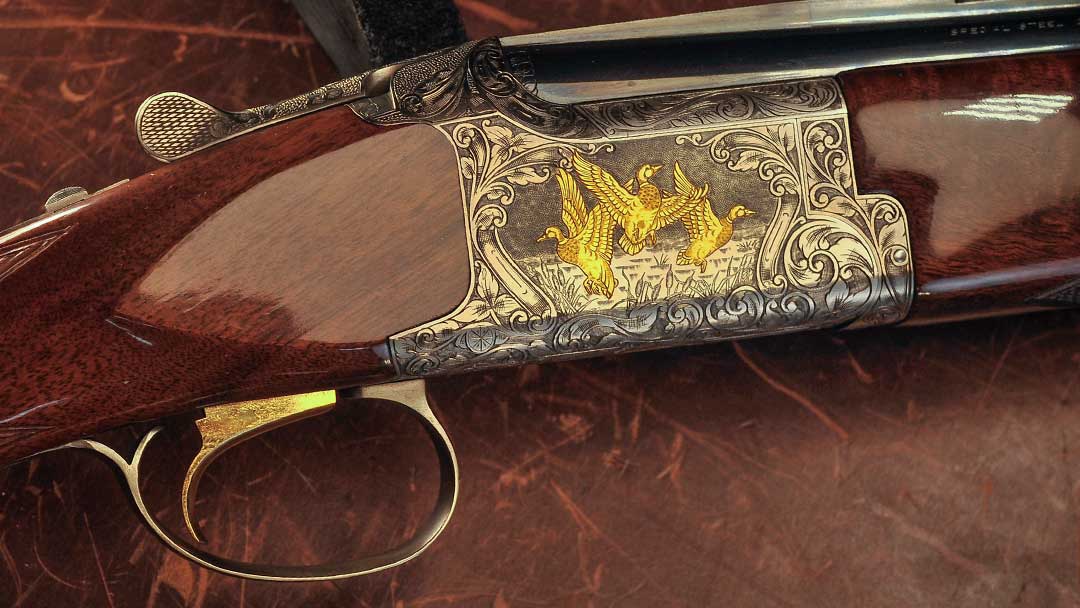 A factory 'M. Ikezawa' signed and engraved Browning Citori Hunting Grade I shotgun.
Before Browning's new O/U shotgun went into production in 1973, the model needed a name to help differentiate it from its predecessors. During an evening meeting on the topic, Harmon G. Williams, then-president of the Browning Arms Company, proposed the name "Citori." When asked what it meant, Williams replied, "I don't know. The name just popped into my head."
No one objected, and the name Citori became official.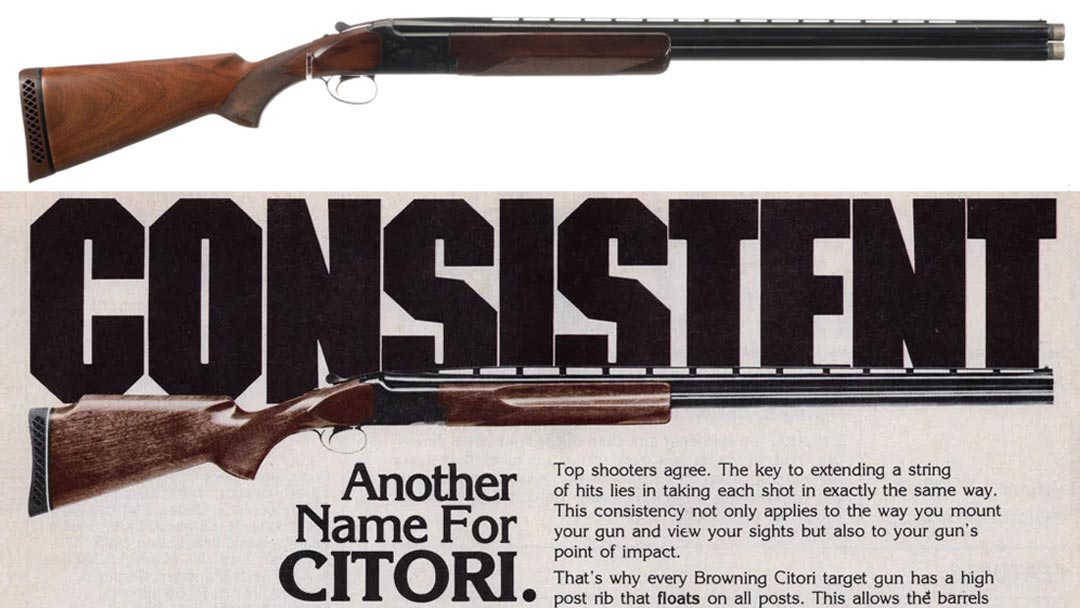 A factory engraved Browning Citori Grade I Hunter shotgun, an iteration on the model that started it all. Available this October.
The Browning Citori was initially intended to complement its more expensive Superposed sibling rather than outright replace it. Some shotgunners were initially skeptical about the new gun's Japanese manufacturer but the Citori's craftsmanship, performance, and quality fit and finish soon put critics to rest, and the Browning Citori would go on to dominate the American market.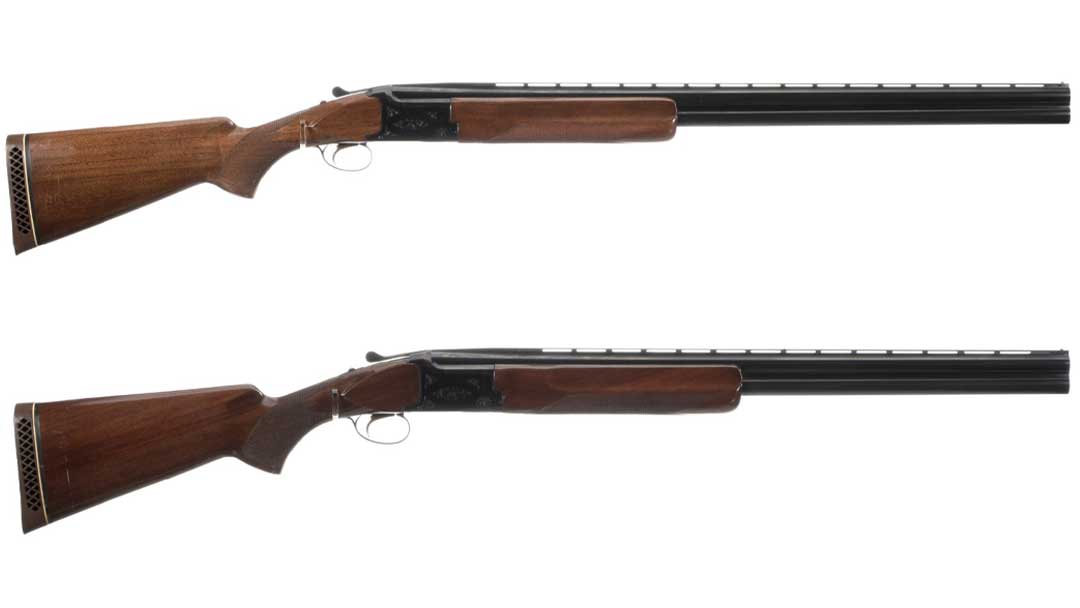 Two factory engraved Browning Citori shotguns from the late 1970s. Available this October.
Miroku and the Browning Citori
Today, Miroku Corporation is the largest of Japan's nonmilitary gunmakers. The early origins of the company date back to gunsmith Karaji Miroku in the late 19th century, who crafted handmade hunting arms for the region. His son Bukichi gradually expanded the business and in 1951 the B.C. Miroku Company was officially incorporated.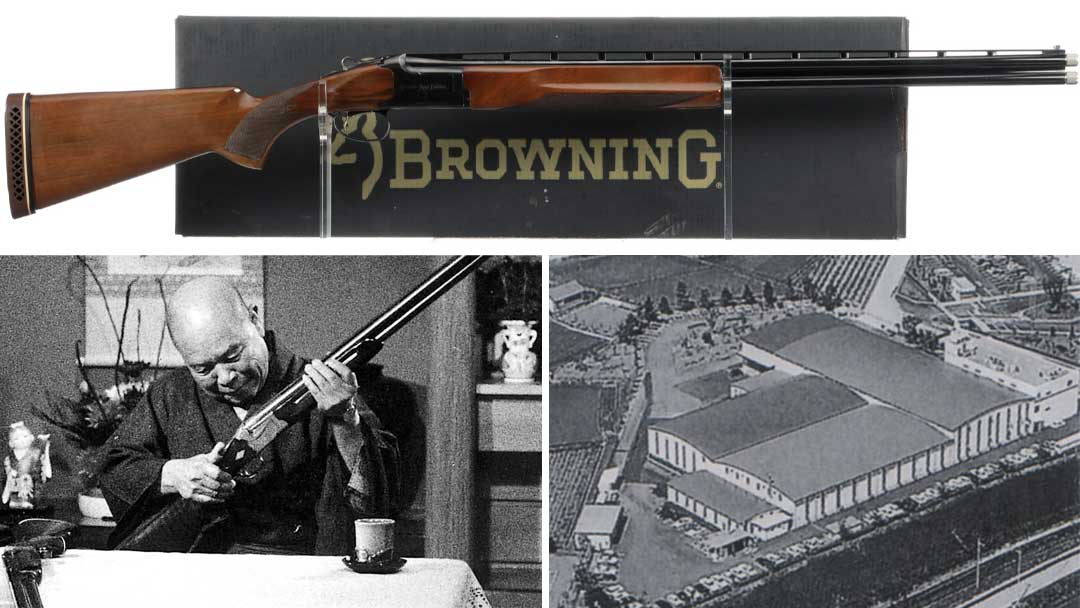 (Bottom) Bukichi Miroku and the Miroku's picturesque campus on the outskirts of Kochi City. (Top) A gold inlaid Browning 410 Bore Citori Special Skeet Edition shotgun produced by Miroku, available this October.
Bukichi Miroku developed his first O/U shotgun design in 1960 and partnered with manufacturer Charles Daly to distribute the model in the United States. The design also found success in Europe, where Miroku continues to flourish today. Miroku's collaboration with Charles Daly ended in 1974, just as the Japanese company's partnership with Browning was ramping up.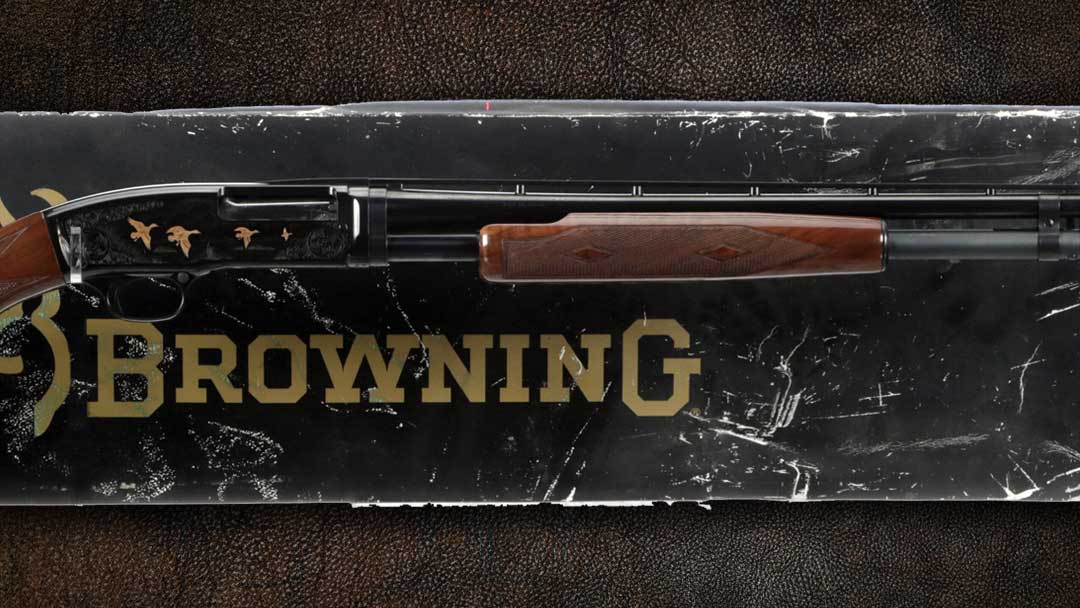 An engraved and gold inlaid Browning Model 42 High Grade slide action shotgun with box manufactured by Miroku in 1991. Available this October.
Today, the Miroku Corporation is staffed by over 1,000 employees and produces firearms for both Browning and Winchester, as well as manufacturing O/U shotguns under their own brand. In addition to producing the Browning Citori, Miroku manufactures the Browning BLR, BPS, BT99, and Cynergy lines.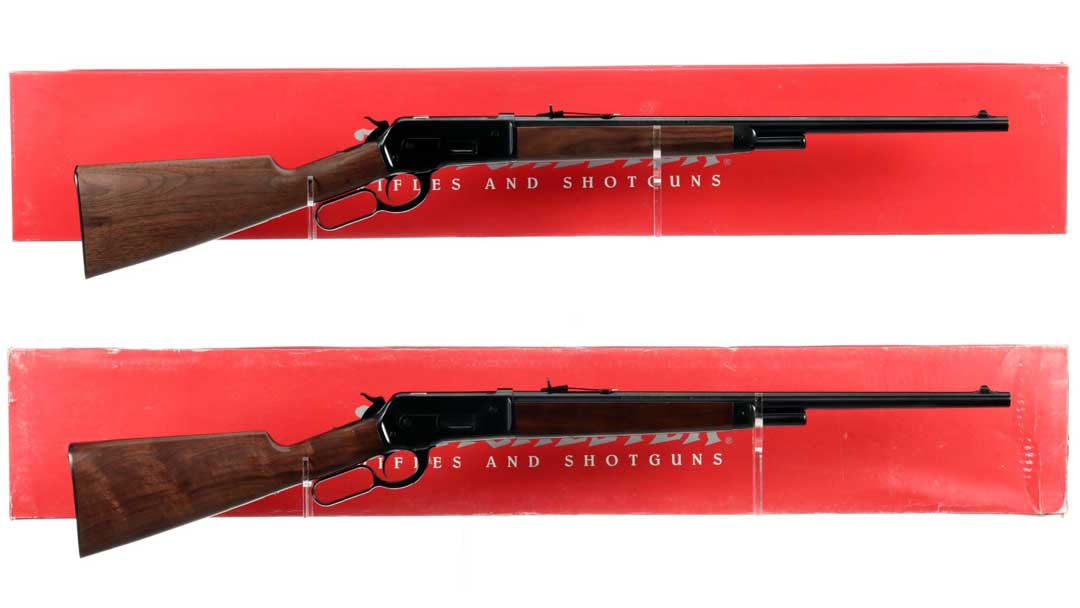 Two Winchester Model 1886 extra light lever action rifles manufactured by Miroku. Available this October.
Browning Citori Innovation
Based on the form and function of the Superposed, the Browning Citori inherited numerous traits from its predecessor, including a single-selective trigger and a manual safety. While not handmade, most of the internal parts in each Browning Citori shotgun are individually hand-fitted, including the locking bolt, hinge pin, hammer ejectors, and the recoil surfaces within the receiver. According to Browning and Miroku, each Citori can take up to four months or more to produce.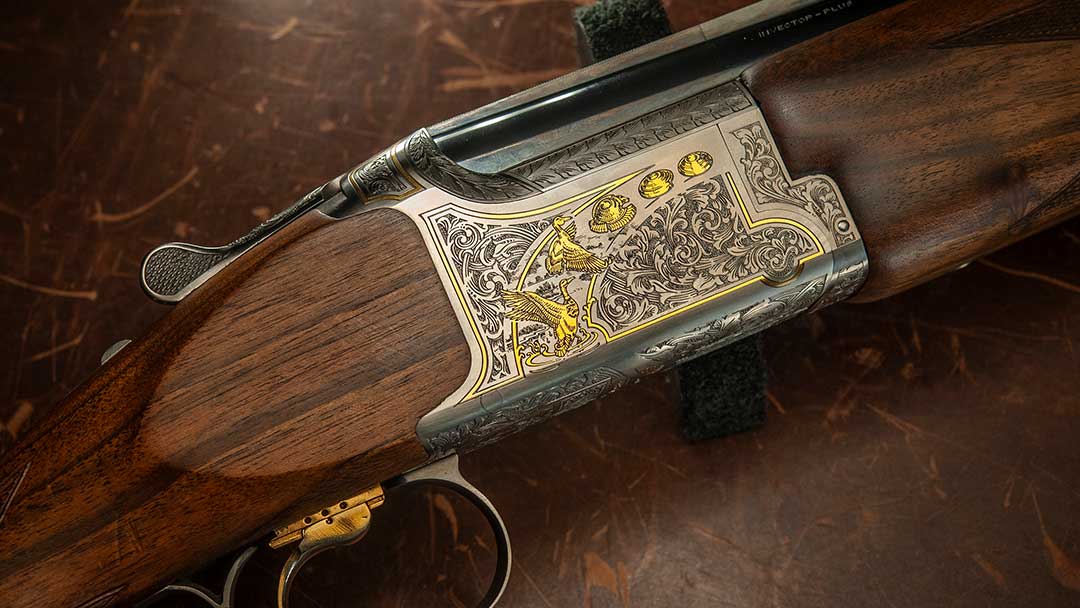 A factory engraved and gold Inlaid Browning Citori 425 Golden Clays shotgun.
The Browning Citori is a break action, boxlock shotgun with a forged steel receiver and a robust locking system that stands up to hard use, as demonstrated by the millions of shells fired by competitive shooters over the decades. Chrome-plated chambers help reduce wear and corrosion, giving the Citori a reputation for reliability and a shelf life that extends beyond the years of the owner if maintained.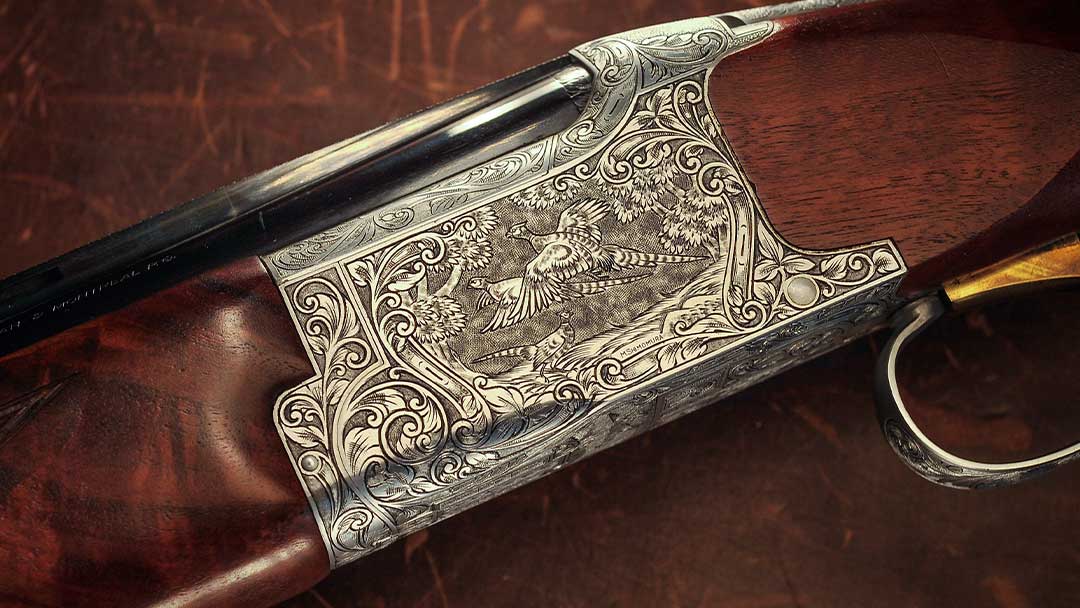 An 'M. Shimomura' signed factory engraved 28 Gauge Browning Grade V Citori O/U shotgun.
The Citori surpasses its Superposed sibling in certain departments, including an improved ignition system, coil mainspring hammers, and standard hammer-fired selective ejectors. Though Browning has continued to upgrade the Citori over the years with features like the durable Invector choke tubes and the improved Invector Plus screw-in chokes, classic Browning Citori models are more than capable of holding their own on the skeet range and in the game field.
A factory engraved and gold Inlaid Browning 20 gauge Citori.
Browning Citori Variations
The Browning Citori debuted in 1973 with the Hunting Model, initially limited to three barrel lengths and 12 gauge only. By 1979 the Trap and Skeet Model had joined the lineup, with the Sporter shortly following. The shotgun's widespread popularity led to an extensive array of variations, with well over 110 models and sub-models offered to date.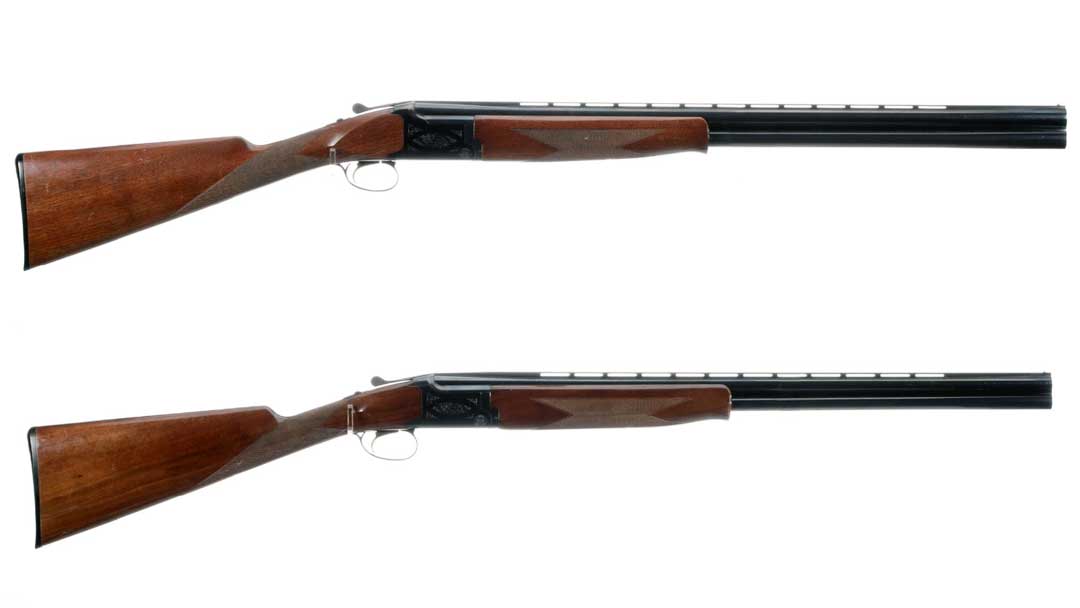 Two Browning Citori shotguns for sale, a 12 gauge (top) and 28 gauge (bottom). Available this October.
Developed in 1986, the Browning Citori Lightning line offers a slightly lighter variant of the famous O/U shotgun that's favored for its adaptability and shoulder speed and has resulted in at least 17 unique model iterations. Another popular Citori line is the Golden Clays, a full-featured premium shotgun with 10 model variants. Examples of both models can be found in October's auction.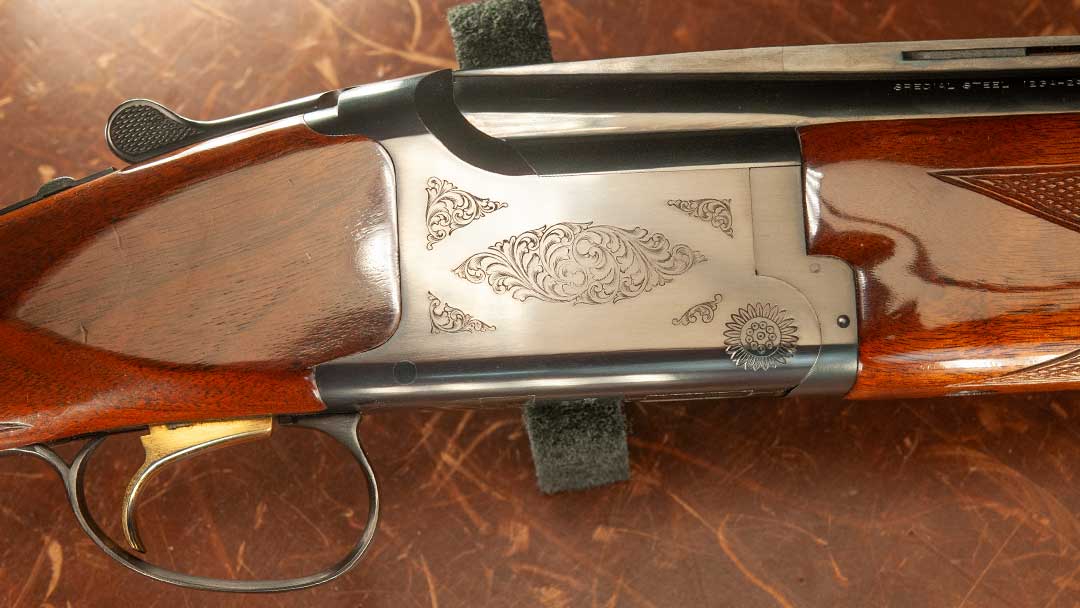 A factory engraved Browning Citori Grade I Lightning shotgun with barrel inserts.
Citori barrel lengths range from 24 to 32 inches, depending on the model. All gauges are represented save for the highly specialized 10 gauge, which Browning instead covers with its Gold Light 10 Gauge Field Model. Each Browning Citori features a distinct gold-plated trigger.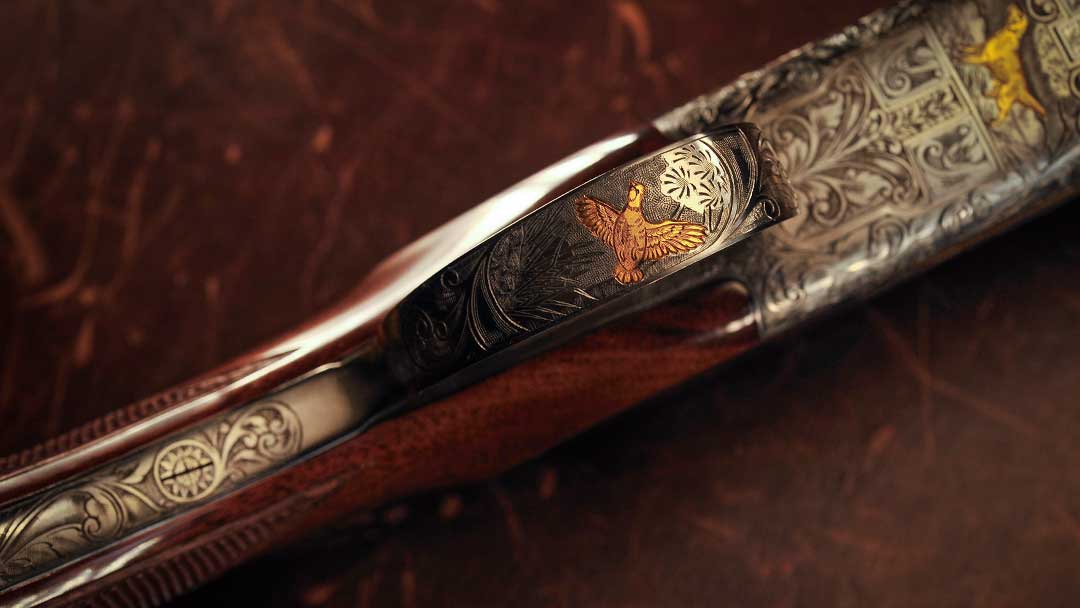 A Browning Citori Grade VI Lightning shotgun.
With the Browning Citori, seven grades of quality are represented through Roman numerals. A higher grade number can equate to a fancier finish, more detailed receiver engraving and the addition of gold inlays, tighter checkering, special features, and typically a higher quality of wood used in the walnut stock and forearm.
Browning Citori Price
John Moses Browning set out to offer quality O/U shotguns that could cater to both the blue-collar hunter and the gentleman shooter with his Superposed design, but the gun's Citori successor was the model that truly realized that wish. The Browning Citori retailed for $325 when it came to market in 1973, or about $2,270 in 2023 dollars. The Superposed, by contrast, started at a hefty $750 in 1973, more than twice the price of the Citori.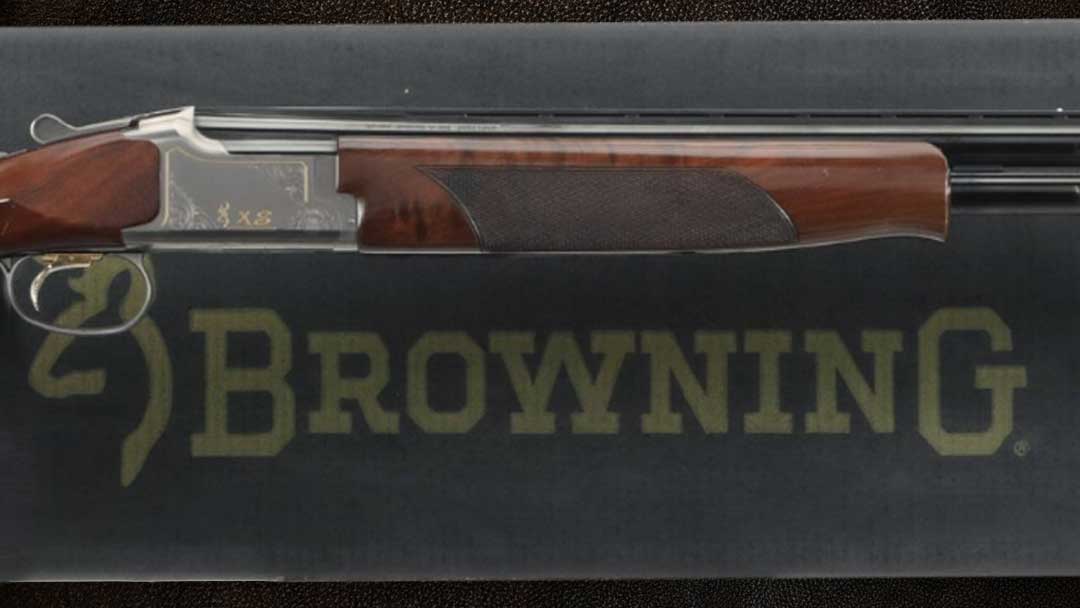 A factory engraved and gold inlaid Browning 20 Gauge Citori shotgun with box. Available this October.
Miroku's skilled workforce and efficient manufacturing process have kept the Citori's cost competitive over the years. Though far from a budget shotgun, the Browning Citori certainly offers high value at an attainable price point. Whether a sportsman is in the market for an affordable field gun or a factory engraved, pinnacle example of the platform, most Browning Citori models fall well within reach of the committed collector or shotgunner.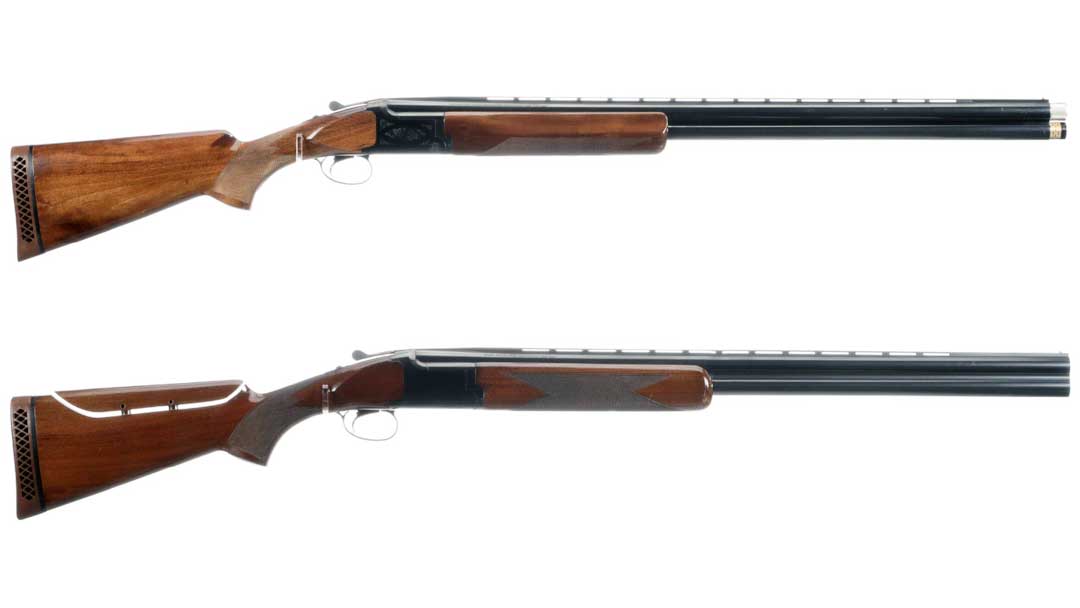 Two 12 gauge Browning Citori shotguns for sale this October.
Browning Citori Competitors
If the Browning Superposed popularized the O/U shotgun in America, the Browning Citori cemented it. The Citori has faced numerous competitors over the decades, including the Winchester 101, produced by Olin-Kodensha/Nikko, another prominent Japanese gunmaker.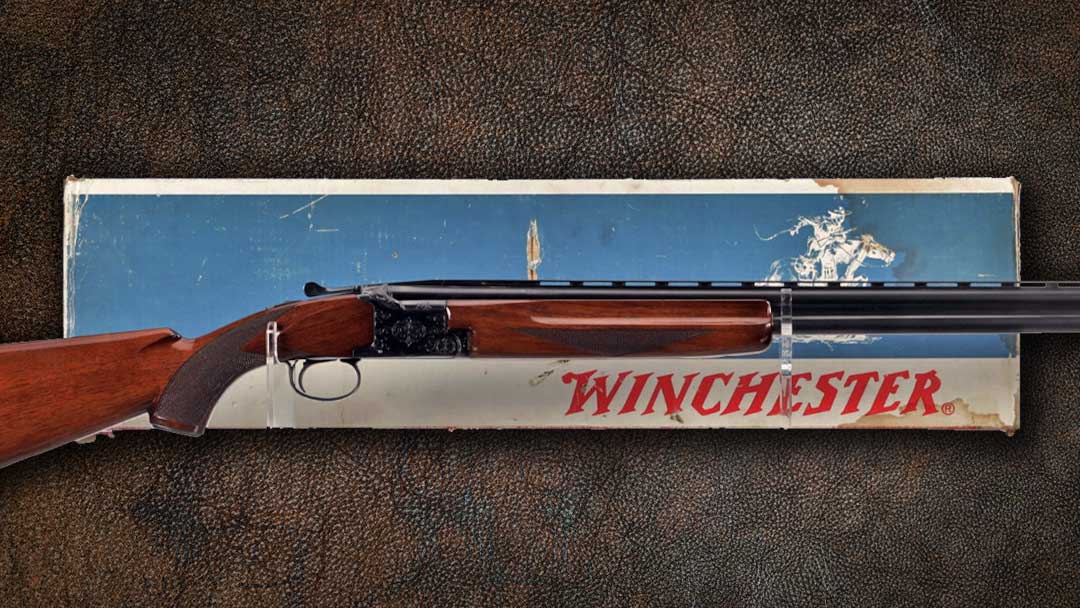 A factory engraved Winchester 20 Gauge Model 101 Field Grade shotgun with box. Available this October.
Other competitors today that fall into similar price ranges include Beretta production O/U models like the 680 series and the Fausti Caledon. A number of Browning Citori competitors have been discontinued over the years, such as the Ruger Red Label and the Remington Model 3200, but they can still be found in October's auction.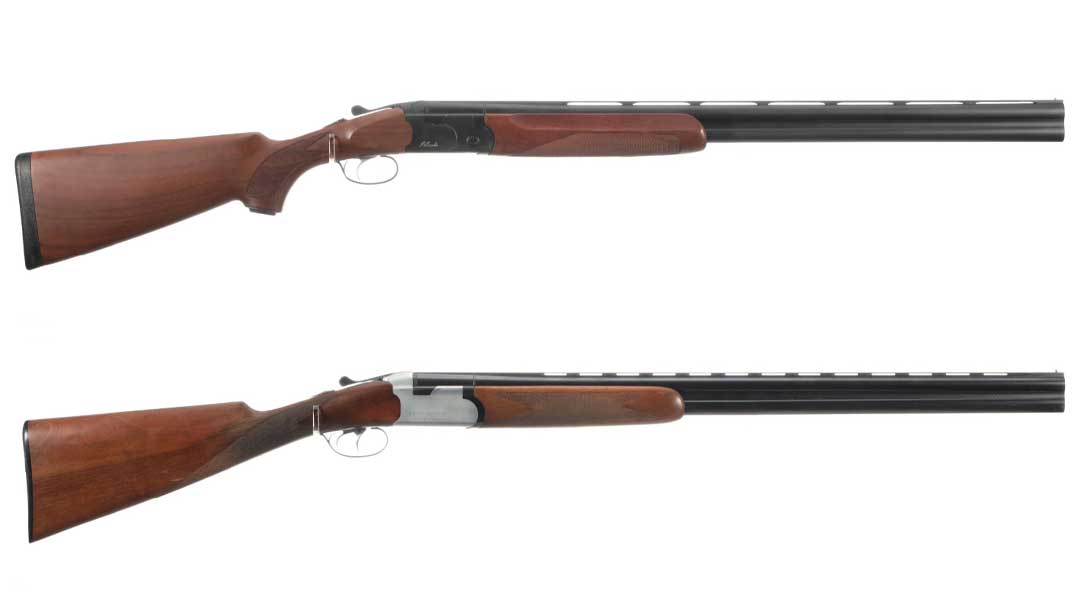 Two 12 gauge Beretta O/U shotguns, a Beretta Model 686 Onyx and a Beretta Model S55 shotgun. Available this October.
Find the Browning Citori for Sale and More this October
Whether wing shooting or targeting clays, there's a Citori shotgun for every taste. For 50 years, the Browning Citori has exemplified beauty and performance at a cost that won't break the bank for the average sportsman, a combination of qualities that have made the model the most successful O/U shotgun in American history.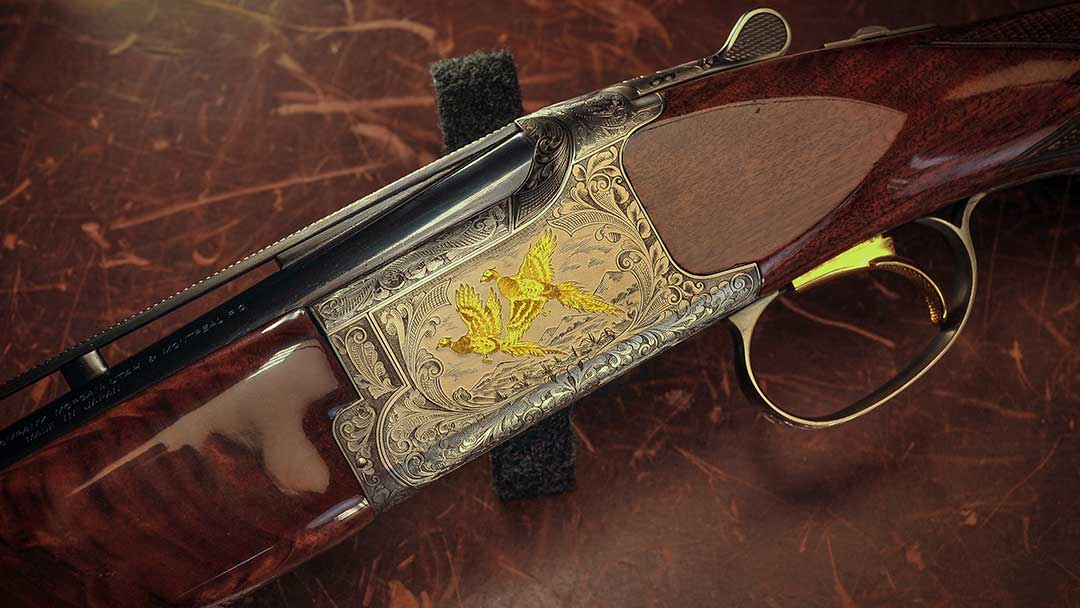 Factory engraved Browning 28 Gauge Citori Grade VI Skeet shotgun.
With so many Browning Citori models to choose from, Rock Island Auction Company's October 4 – 6 Sporting & Collector Auction provides an excellent opportunity to examine the differences in the various grades, models, and styles of these quintessential shotguns. A vast selection of rifles, hunting pistols, and side-by-side shotguns are also offered this October, as well as Civil War guns, Wild West arms, and every other genre a firearms fan could ask for. With nearly 5,400 guns and virtually no reserves, there will be ample opportunities to score some great deals, and attending in person is well worth the trip for every aspiring collector.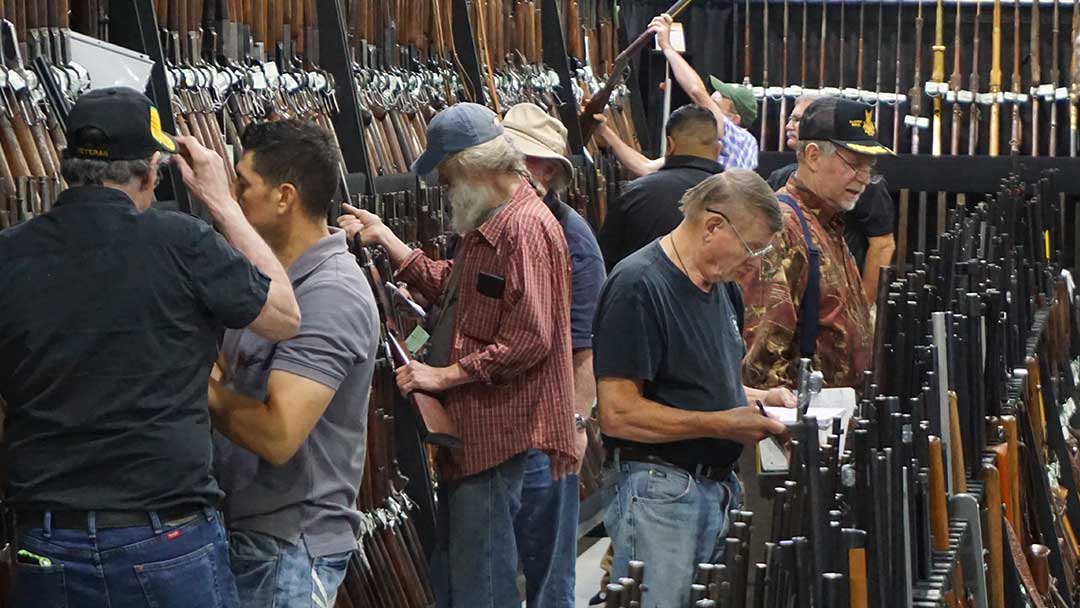 Rock Island Auction Company's Sporting & Collector events are the best gun shows you've never been to, and October's 4 – 6 S&C Auction promises to be the finest firearms event of the fall.
For more gun blogs and gun videos on both historic and modern sporting arms, subscribe to the weekly Rock Island Auction newsletter, where we feature classic models and brands like Parker Brothers, Abercrombie & Fitch, and the Winchester Model 21 from the early 20th century, as well as historic curiosities like the Paradox gun, the combination gun, the double rifle, the M30 Luftwaffe drilling, the SPAS 12 shotgun, the .950 JDJ, and the punt gun mega fowler.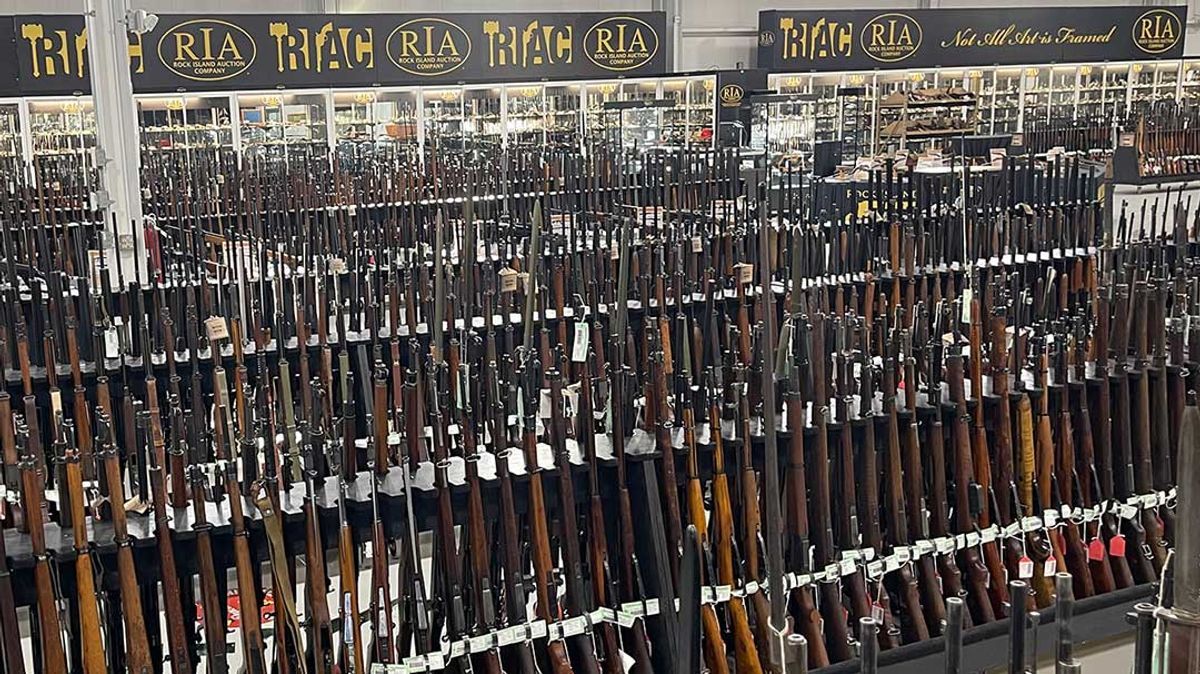 October's S&C isn't just the season's biggest gun auction, it's one of the best gun shows of 2023. Rock Island Auction Company offers an assortment of Browning Citori shotguns for sale and hundreds of other sporting arms for every hunting, shooting, and collecting aspiration.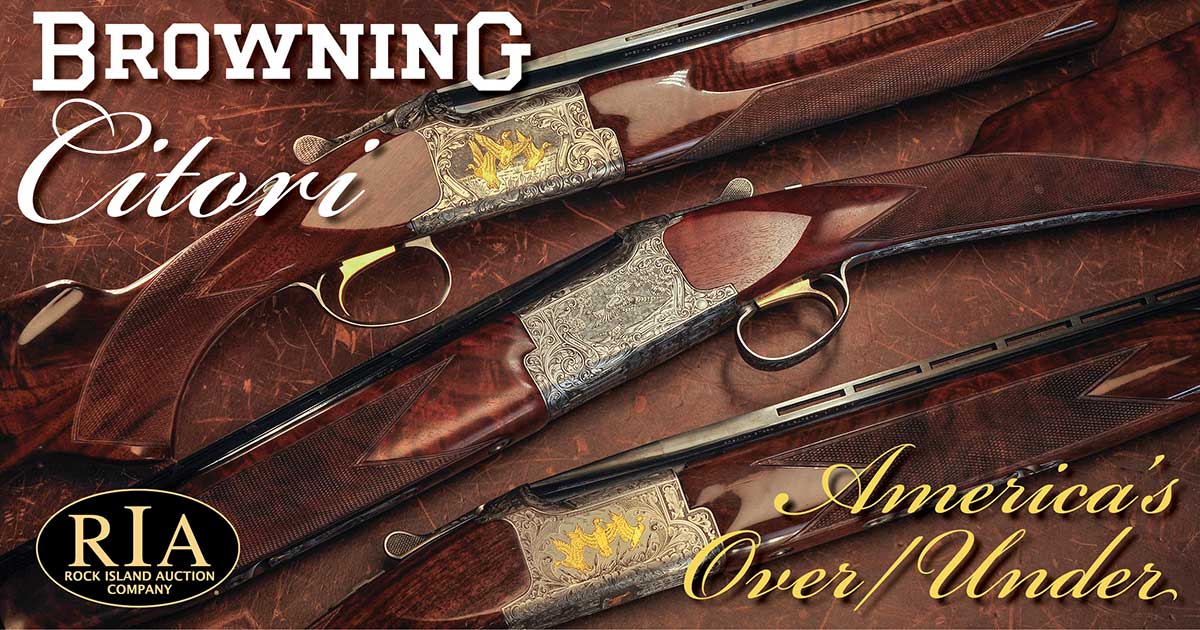 Rock Island Auction Company