The Colt Walker revolver was the gun that relaunched Samuel Colt's firearms business following the failure of his earlier Patent Arms Manufacturing Company. The Colt Walker is generally dual credited to Samuel Colt and Samuel Hamilton Walker of the Texas Rangers and U.S. Mounted Riflemen who worked together to release a powerful revolver for use by mounted troops in the Mexican-American War.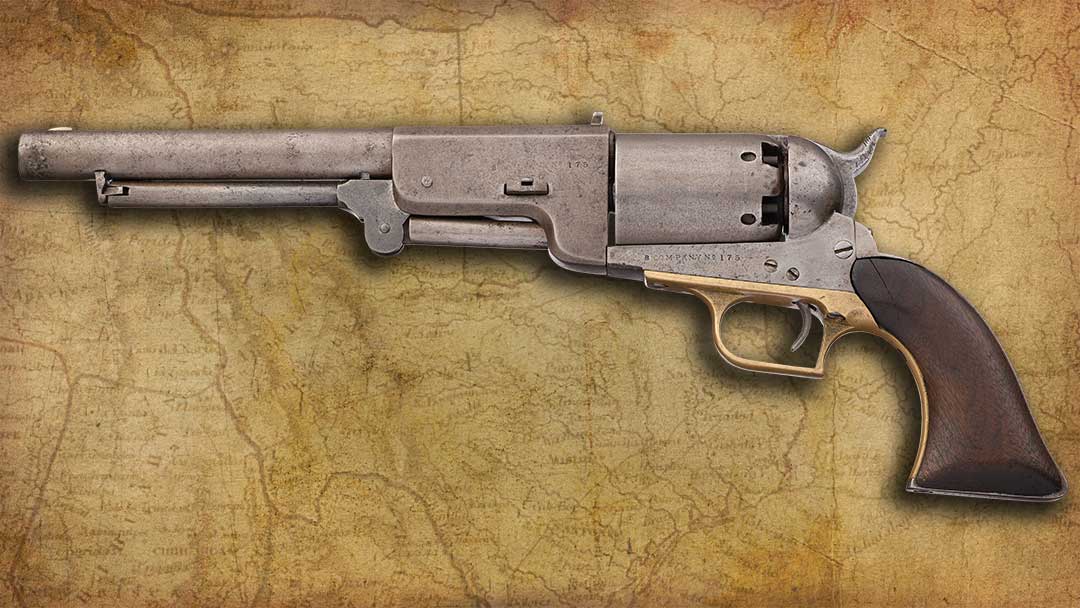 B Company No. 175 U.S. Colt Walker Model 1847 percussion revolver. The powerful Colt Walker revolver is one of the most desirable of all antique American firearms and is an important part of Samuel Colt's legend and legacy. This particular revolver was one of the Texas Rangers' six shooters. Available this May.
Samuel Walker and the Texas Rangers
Samuel Walker, as a Texas Ranger, had used Colt's earlier Texas "Paterson" revolvers and sought more of these five-shot wheelguns for his company in the U.S. Regiment of Mounted Riflemen. Some of Colt's Paterson revolvers and carbines were in stores, but Colt's first firearms business had already closed.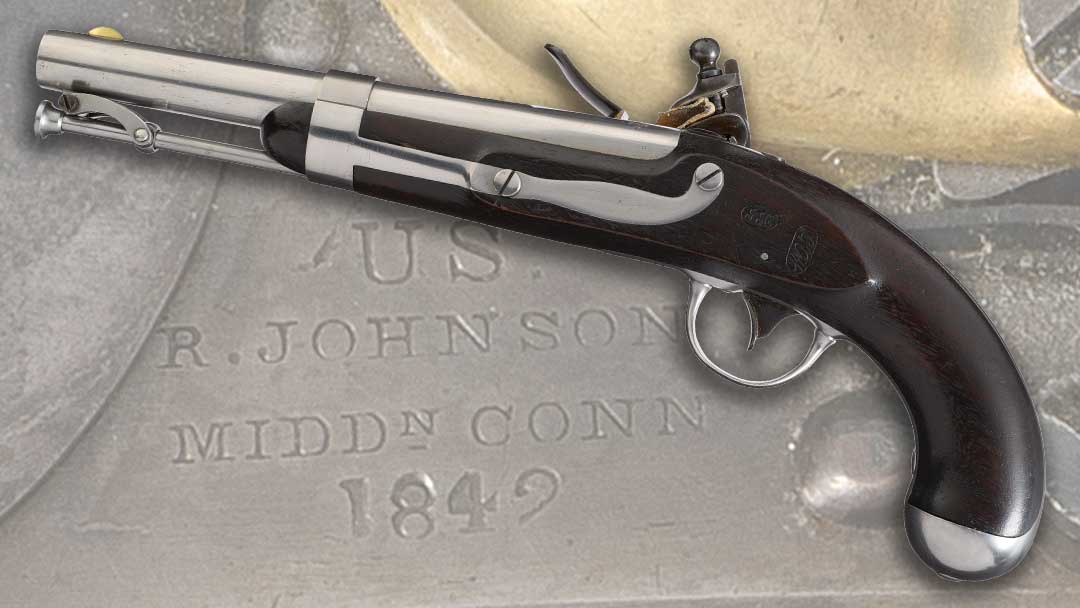 Traditionally, mounted troops had been armed with single shot muzzleloading pistols like the U.S. Model 1836 flintlock pistols and the Model 1842 percussion pistols which were .54 caliber, the same as many rifles. These pistols would be carried in holsters on the pommels of the trooper's saddle, Early revolvers could pack five or six shots into roughly the same size package but were smaller caliber and less reliable. Available this May.
When Samuel Walker contacted the Ordnance Department about acquiring Colt revolvers for his men, Chief of Ordnance George Talcott wrote to Ordnance inspector Captain William A. Thornton on November 18, 1846, stating: "A large number, say nearly 1,000, of Colt's Pistols, Rifle caliber, may be called for by the regiment of mounted men to be raised in Texas. I have no idea that such a number can be obtained and would much rather furnish arms of ordinary patterns, but it will be well for you to inquire what numbers of the above arms- rifle caliber- could be had by the 1st day of December at latest and inform me at once." Colt didn't have any "rifle caliber" revolvers to sell, but that was soon to change.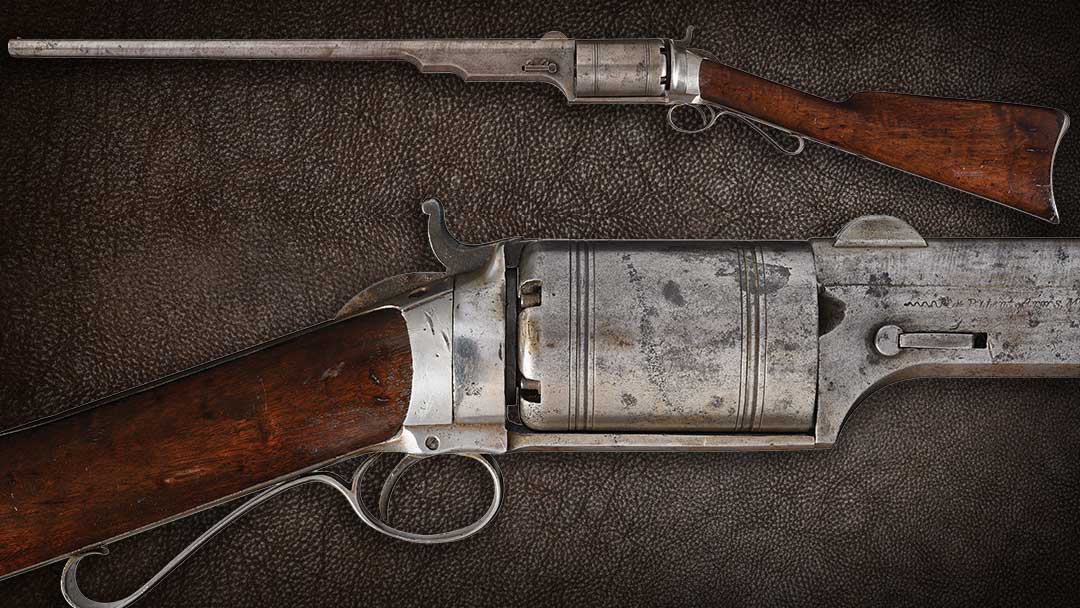 Colt's first firearms company, the Patent Arms Manufacturing Co. of Paterson, New Jersey, produced a small number of these Model 1839 revolving shotguns c. 1839-1841. The massive cylinder measures 3 ½ inches in length and has .63 caliber (18 gauge) chambers. Available this May.
Birth of the Colt Walker Revolver
Samuel Colt saw the outbreak of war as an opportunity to get back in the gun trade and wrote to Walker around Nov 27, 1846, to seek out a testimonial about the Texians' successful use of Colt's earlier revolvers in combat and also informed him, "Should Col. Hays take command of the regiment ordered from Texas and desire them armed with my repeaters, I have but little doubt that his requisitions would be complied with at once. It has also occurred to me that, if you think sufficiently well of my arms to urge the President & Secretary of War to allow your company to be thus armed, you can get them. The arms are very much improved since we first commenced their manufacture & I have no doubt that with the hints from which I may get from you & others having experience in their use in the field, they can be made the most complete thing in the world."
Colt was clearly bluffing. He didn't have new and improved arms available, but he wanted to get a government contract to get back into the business.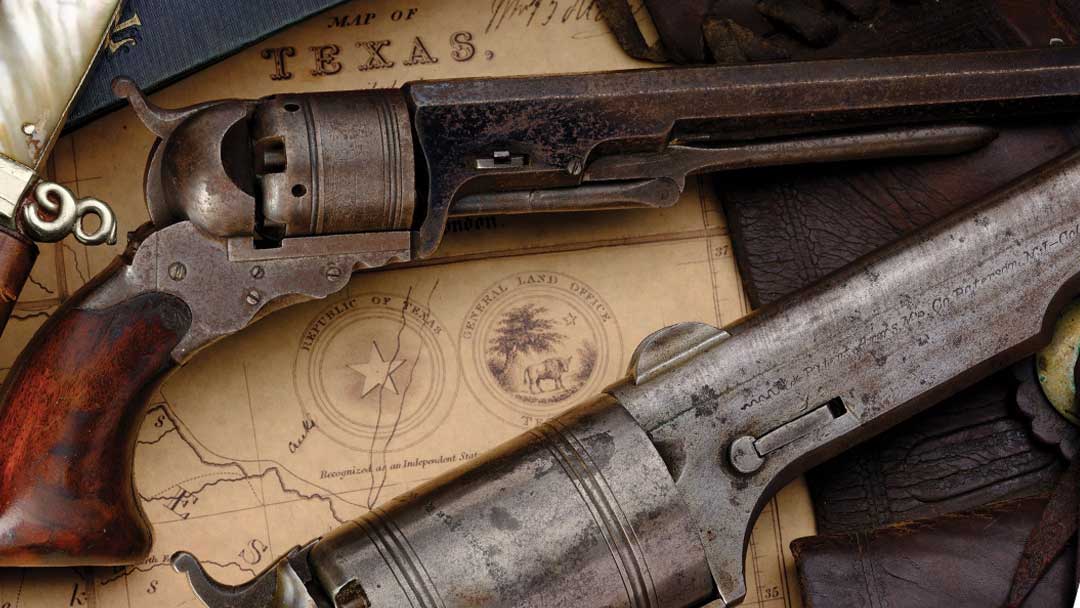 Approximately 1,000 No. 5 Texas Paterson revolvers manufactured by Samuel Colt's Patent Arms Manufacturing Company from 1838-40. The No. 5 Holster Model were the largest of all the Paterson handguns and achieved fame as a result of their use by Captain Jack Hays and other Rangers on the Texas frontier. Available this May.
Samuel Walker wrote back to Colt telling him of the successful use of a group of 15 men led by Colonel Hays fighting off 80 Comanche in a battle due to them being armed with Colt's revolvers, noting that "Without your pistols we could not have had the confidence to have undertaken such daring adventures." A rendition of this battle was roll-engraved on the Walker's cylinders and on the subsequent Dragoon revolvers. Walker also noted, "With improvements I think they can be rendered the most perfect weapon in the world for light mounted troops…The people throughout Texas are anxious to procure your pistols & I doubt not you would find sale for a large number at this time."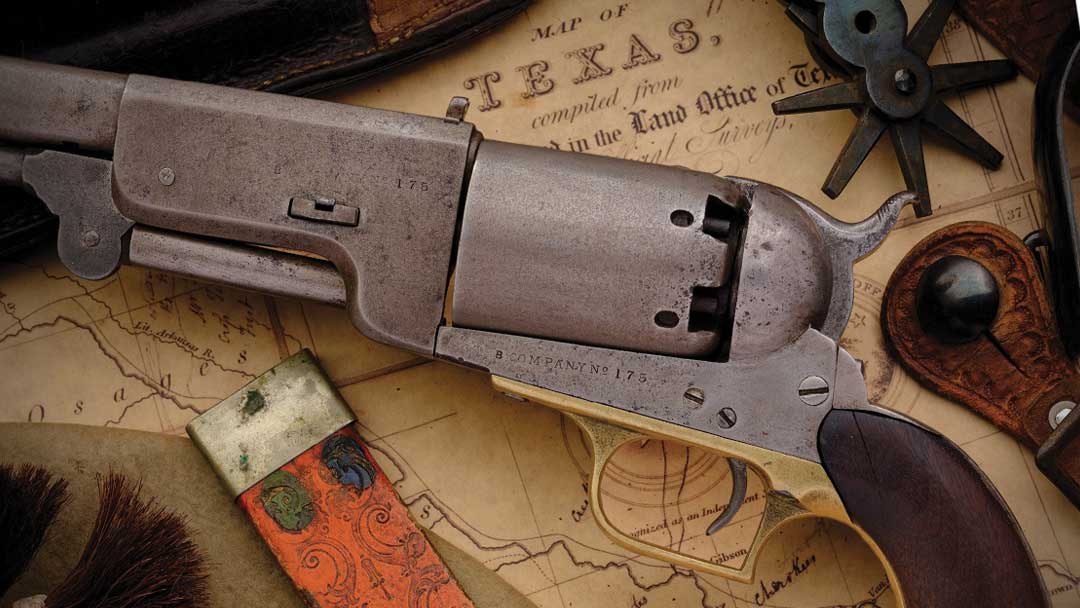 A rare and historic B Company Colt Walker revolver, the true big iron of its day. Available this May.
Colt must have been seeing dollar signs. He had no factory, but he knew he had a market. Colt met with Samuel Walker in New York City and began getting approval to manufacture revolvers for his Texas friends. In a letter to Walker on Dec 2, 1846, Colt clearly indicated Walker was involved in developing his new design "with all the alterations and improvements you suggest, the better to adapt them to the service." He wrote again asking Walker to make the necessary arrangements to secure a contract via meeting with President James K. Polk.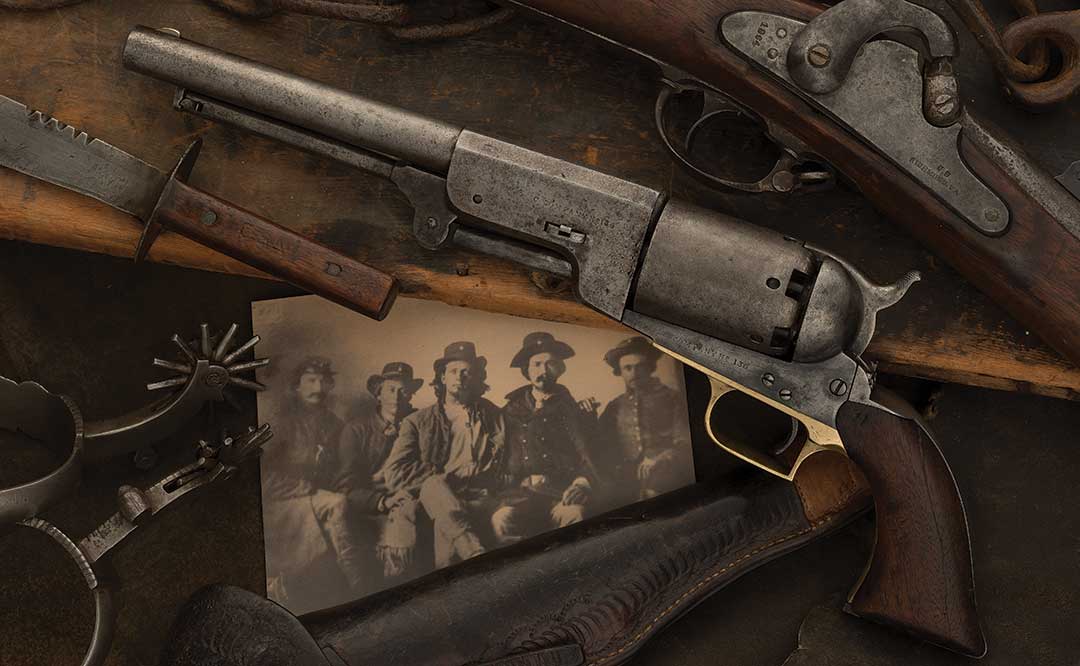 This historic C Company U.S. Colt Model 1847 Walker Percussion revolver inscribed for Terry's Texas Ranger "F.H. Kennedy" sold for $499,375 in RIAC's May 2022 Premier Auction.
By Dec 7, 1846, Walker informed Colt that he had secured a contract for 1,000 of Colt's improved revolvers and that if Colt could deliver them within three months, a task nearly impossible given Colt didn't even have a factory, he could expect more orders. Colt set the price at $25 per revolver and sought official approval of the improved design before commencing and maneuvered to not be confined by an impractical delivery deadline.
The Design of the Model 1847 Colt Walker Revolver
The official specifications for the Colt Walker are listed as: "The barrels to be nine inches long and rifled, made of the best hammered cast steel, and of a bore suited to carry fifty round balls to the pound, and with the strength sufficient for firing an elongated ball of 32 to the pound. The cylinders to be made of hammered cast steel and with chambers for six charges each, and of a length, size, and strength sufficient to be charged with an elongated ball of thirty-two to the pound. The lock work, with the exception of the hammer, to be made of the best cast or double sheet steel and the parts sufficiently uniform to be interchanged with slight or no refitting. The hammer and lock frame to be of the best iron and case hardened. The stock to be sound black walnut, bound and secured by a strong strap of iron."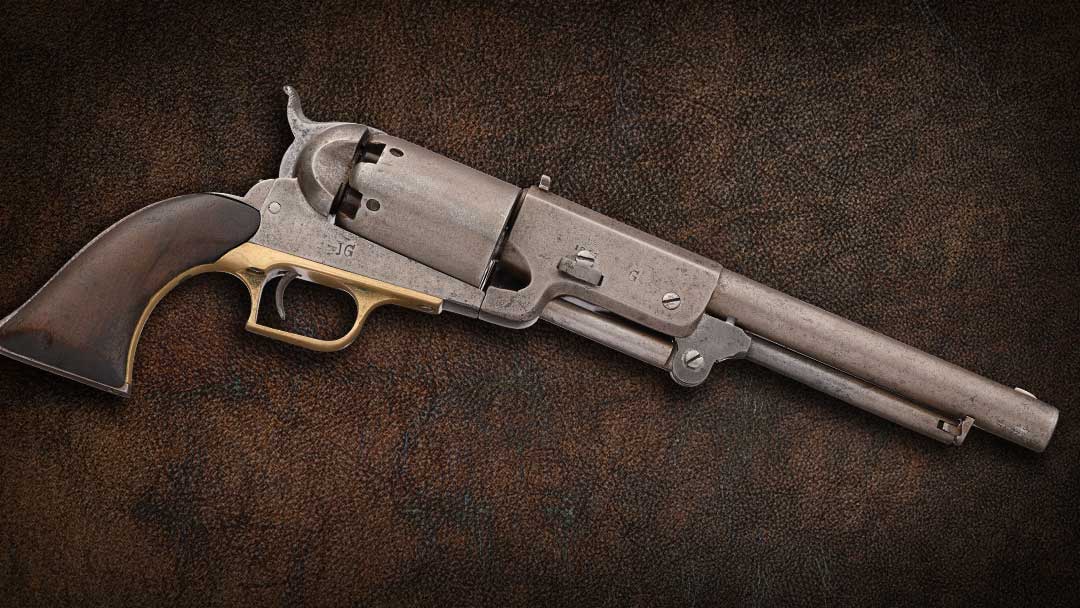 The Colt Walker, an American gun with a legacy all its own. Available this May.
Instead of the essentially impossible original three-month deadline, Colt was given six months to deliver 1,000 revolvers, spare parts, molds, powder flasks, and other tools necessary for the revolvers to be issued to the troops. The contract was officially approved by the Secretary of War on Jan 6, 1847. The groundwork had been set for the birth of the Colt Model 1847 Walker revolver which continued to evolve as it was developed for production.
Colt made arrangements to have his revolvers manufactured by Eli Whitney Jr. of the famous Whitneyville Armory in Connecticut. He wrote to Whitney informing him that he had an order for 1,000 "repeating pistols, caliber to be 50 to the pound" indicating 50 bore (.453 caliber). Whitney was hesitant to take on the task given his existing government contracts, but he ultimately became the primary contractor for producing Colt's new revolver. They signed an agreement on January 9, 1847.
On Feb 18, 1847, Walker wrote to Colt about the revolvers and indicated Colt was to number the revolvers by company. This is one of the many unique aspects of the Colt Walker revolvers. The example we feature here was intended for B Company of the U.S. Regiment of Mounted Riflemen. The first batch was numbered for Walker's company, C Company 1-220, then A 1-220, B 1-220, D 1-220, and last were E 1-120. Walker also wrote about different specifications for the design of the revolvers, including "In regards to the sights, you must make the hind sight much finer and the front sight of German silver and of different shape altogether from the model furnished, say half inch in length, ⅛ of an inch at bottom tapering to 1/16…"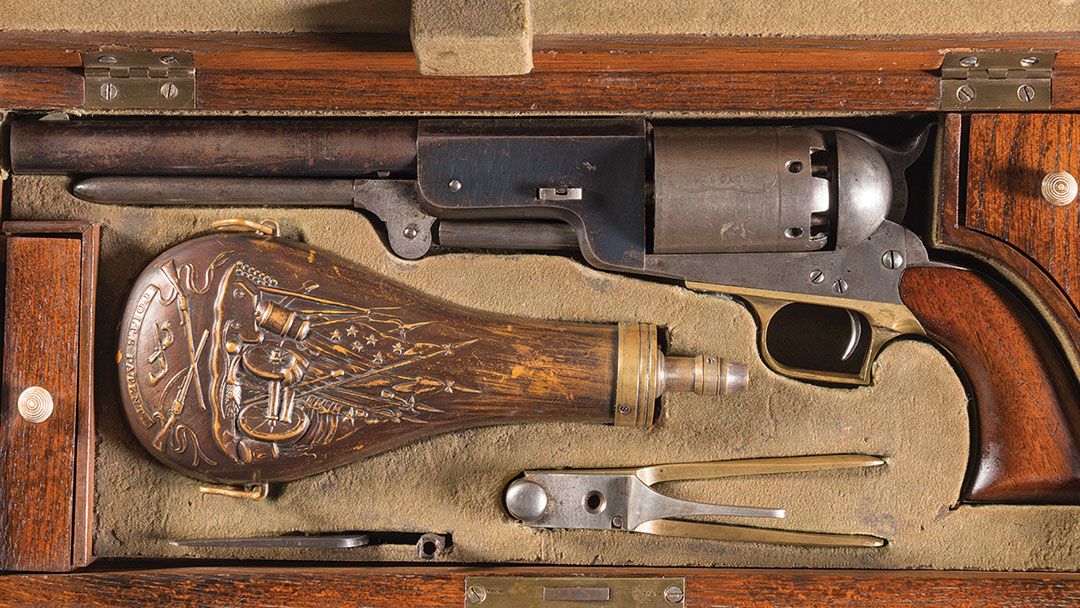 The Danish Sea Captain Colt Walker revolver sold in 2018 at Rock Island Auction Company for $1,840,000 and holds the world record in the Colt Walker genre.
Other manufacturers were also tasked with manufacturing some of the subcomponents which would then be built into complete Walker revolvers at the Whitney factory. Colt also secured manufacturers for the necessary accouterments.
Texas Ranger Six-Shooters and Walker Colt B Company No. 175
The Colt Walker revolvers were famously used by the Texians during the Mexican-American War. The first Walker revolvers were shipped to Vera Cruz, Mexico, in October of 1847. Although purchased to arm the Mounted Rifle Regiment, the first 394 A, B, and C Company revolvers were issued to the 1st Regiment, Texas Mounted Volunteers commanded by Colonel Hays at Vera Cruz, Mexico, on Oct 26, 1847. In November 1847, 100 Walker pistols with A and B Company markings were also issued to the U.S. Mounted Rifle Regiment, the regiment the revolvers were originally ordered for. Captain Samuel Walker was armed with a pair of Colt Walkers when he was shot and killed on Oct 9, 1847, while leading his men in a charge at the Battle of Huamantla.
When the Texas Mounted Volunteers mustered out of service on May 8, 1848, they turned in 191 Walker revolvers; 202 pistols were lost in service or retained by the Texians. The remaining 500 Walker revolvers were delivered to the Ordnance Department in March 1848 after the war was over. They were shipped to the Baton Rouge Arsenal to be issued to the 2nd Dragoon Regiment and Texas Ranger companies in federal service on the Texas frontier c. 1850.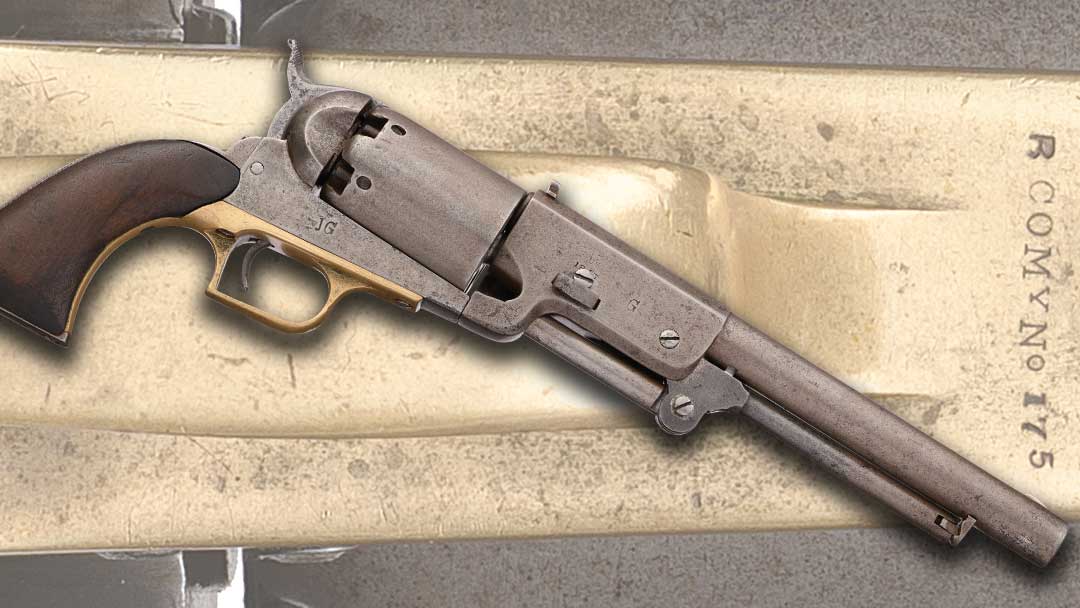 This B Company No. 175 Colt Walker revolver is believed to have been one of the six shooters issued to the Texas Rangers. Available this May.
The massive 4 lb. 9 oz. Colt Walker for sale in Rock Island Auction Company's May 2023 Premier has a 9 inch barrel with a German silver blade front sight, period added dovetailed notch rear sight, modified loading lever with a Dragoon style loading lever latch, a large "G" on the right side of the barrel and "JG" on the right side of the frame. Noted Colt Walker collector Dale Strong stated in included correspondence: "It is the opinion of Bobby Vance, Bobby Smith, John Gangel and myself that B Company 175 may have been one of the 17 Whitneyville conversions sent to Colt-Eli Whitney for modification. 'V' notch sights were a favorite of many Texas Rangers using both Walkers and Dragoons." Glenn Klein, another experienced Colt collector, also concluded that this revolver was a Whitneyville conversion and investigated the revolver's early history and found the potential significance of the "JG" marking.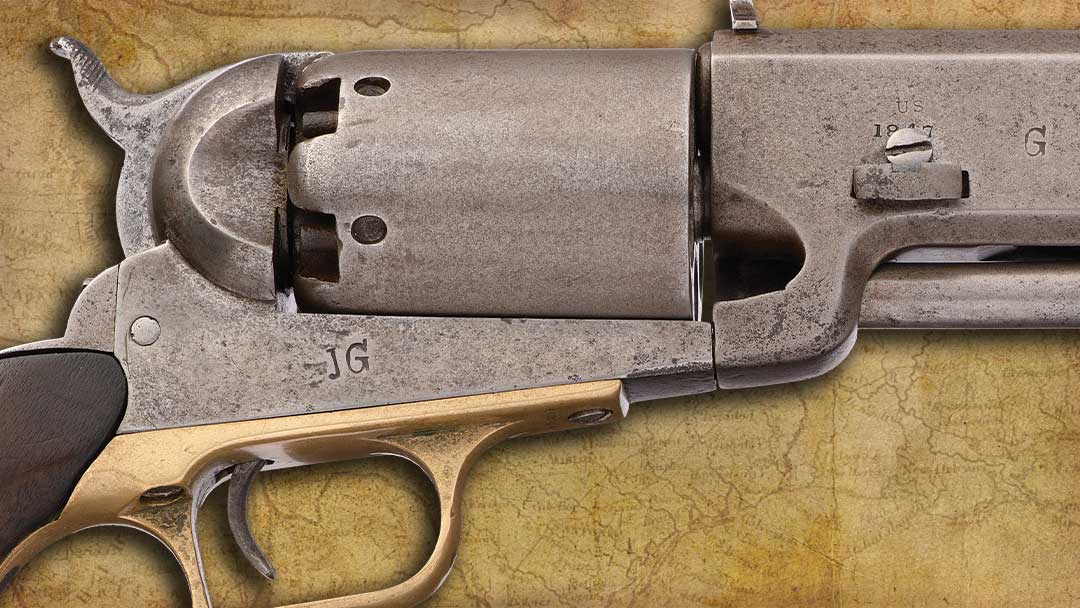 The "JG" marking on this Colt Walker revolver may be initials for a Captain John Grumbles or a Private James Gardner of McCown's Company. Available this May.
After the Mexican-American War, federalized Texas Rangers were mustered in to respond to Indian attacks on the frontier. They were led by captains John J. Grumbles, John S. Ford, and J.B. McCown, and Klein indicates these men were issued part of the 500 remaining Walkers from the Baton Rouge Arsenal. These 500 revolvers are identified as sn. 61-220 marked "B COMPANY," 1-220 marked "D COMPANY," and 1-120 marked "E COMPANY."
When the Texas Rangers left the federal service, they were not required to turn in their revolvers, and Glenn Klein indicates "there is no record of any of the 'Colt Six Shooters' being returned to the Arsenal." Klein also indicates that the "JG" marking on this Colt Walker revolver may be for Captain John Grumbles or Private James Gardner of McCown's Company. He found little on Gardner aside from the private's Massachusetts origin, where the revolver later turned up in the late 1930s at Kimball Arms Co. Grumbles, however, lived in the Austin, Texas, area and was well-known on the frontier and served in the Texas Rangers along with his brothers. Glenn Klein concluded that the revolver was likely owned by Grumbles and indicated that he would have had the connections to have the conversion done and to have the cylinder replaced through the Baton Rouge Arsenal.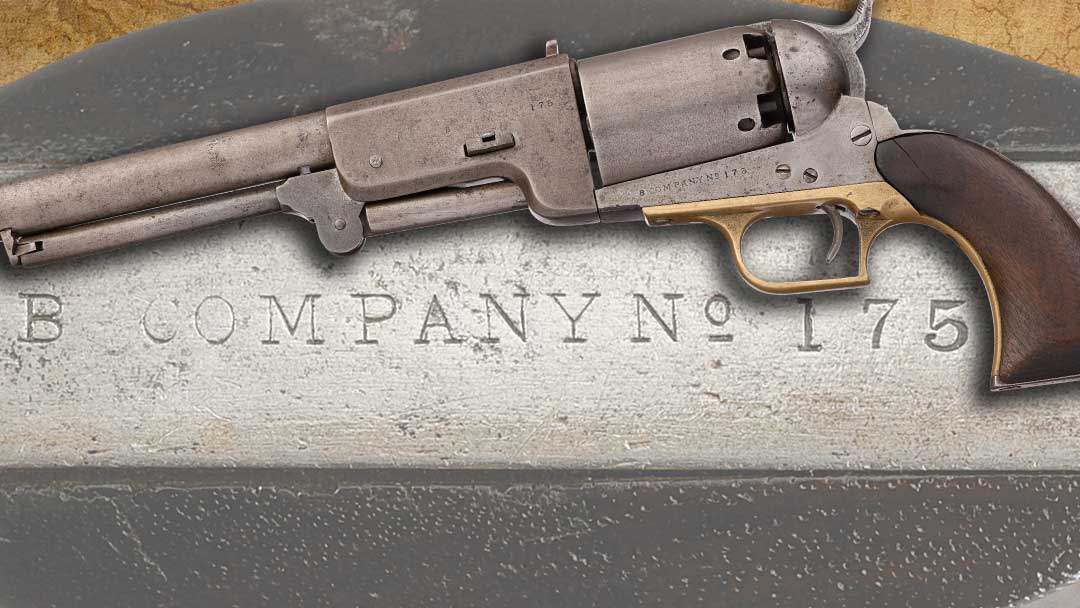 A Colt Walker revolver with a story to tell. Available this May.
Captain John James Grumbles (c.1805-Feb 25, 1858) was originally from South Carolina but came to the Republic of Texas in 1837 from Tennessee. He settled at Fort Wilbarger and then moved to Webber's Prairie in Travis County in 1840. In 1845, Grumbles purchased the home and mill of William Barton at Barton Springs outside of Austin. During the Mexican-American War, Grumbles was a private in Company K of the 3rd Regiment of Texas Volunteers under Captain Samuel Highsmith and Colonel William C. Young. Just two days after mustering out of federal service, he was elected captain of a company of Texas Rangers in Major Thomas J. Smith's battalion and served on the Texas and northern Mexico frontier until September 23, 1847.
In 1849, Grumbles served as the commander of a company of Texas Rangers on the Nueces River north of Corpus Christi. His gravestone indicates he was killed at San Saba in Central Texas on Feb 25, 1858, but does not list a cause. The Southern Intelligencer in Austin, Texas, however on March 3, 1858, indicates that he was killed by Sennett/Sinnett Mussett with whom he had "an old quarrel." Mussett shot Grumbles with a "six shooter" in the local saloon, possibly with a Walker given that Mussett had also served as a Texas Ranger. Mussett was wanted but appears to have remained a free man. He died on December 23, 1894, in Austin.
Additional Provenance for B Company No. 175 U.S. Colt Walker Model 1847
In 1984, Lt. Col. Robert Whittington III identified 150 surviving A, B, C, D, and E Company marked revolvers in his book 'The Colt Whitneyville-Walker Pistol.' Twenty-seven B Company marked Colt Walker revolvers are listed in his book including B Company No, 175, which was also listed in the well-known list of Wilbur Quick as owned by Kimball Arms Co. in Woburn, Mass. in 1940 and in the Texas Gun Collector June 1953 issue of 'Names and Addresses of Whitneyville-Walker Owners.' This Colt Walker was also featured in the article on the famous 2003 'Parade of Walkers' in 'The Gun Report.'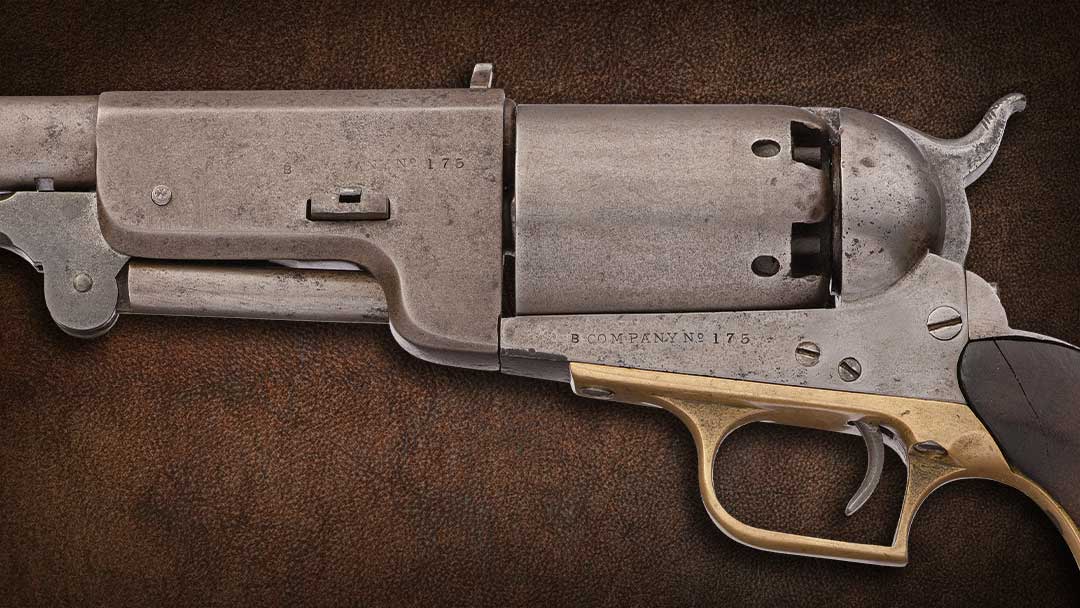 This Colt Walker includes a Texas Gun Collectors Association certificate from Dale and Eileen Strong noting the revolver's inclusion in the "Parade of Walkers" at the Texas Gun Collectors Association in the Spring of 2003 is included. Available this May.
In an included letter, R.L. Wilson wrote that B Company No. 175 U.S. Colt Walker Model 1847  "is an authentic Walker revolver, far more complete and original than the vast majority of specimens, and is a splendid example of a revolver which served its due on the Western frontier, and has survived remarkably complete, fully deserving of a distinguished private collector or museum."
Colt Walker vs Dragoon
The Colt Walker was ultimately not a truly successful design but set the ground for Samuel Colt's subsequent success and marked the beginning in a series of large Colt "horse pistols." The Colt Walker's main issues were the gun's excessive size, the fact that a full powder charge combined with an improperly loaded conical bullet could cause the cylinder walls to fracture or burst, and the insufficient loading lever retention design. After completing his first contract for 1,000 Walker revolvers at Whitney's factory plus around 100 civilian/commercial Walker revolvers, Samuel Colt set about remedying these issues, leading to a new model, or rather a group of models, known to Colt collectors as the Colt Dragoons.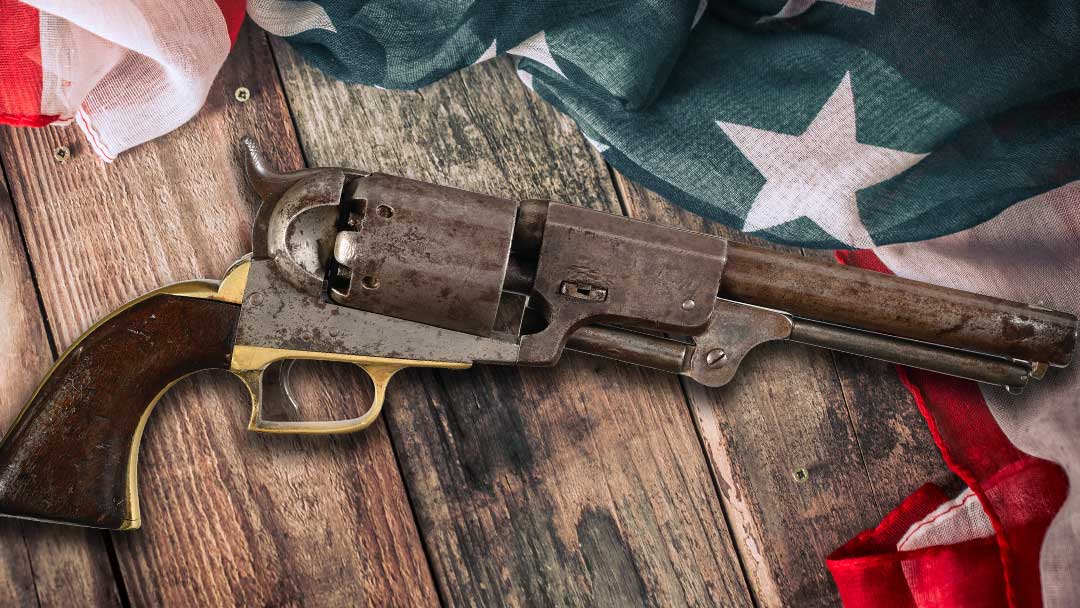 This Colt "Fluck/Walker Replacement" Dragoon variation is one of an estimated 300 made to replace the Walker revolvers that had failed. Available this May.
The Dragoon revolver's design continued to rapidly evolve over the course of the next several years before solidifying around the 3rd Model design that was manufactured up until the Civil War. The Dragoon revolvers are somewhat smaller than the massive Walker revolver but still weigh in at over 4 pounds and featured 7 ½ inch barrels and six-shot cylinders. The cylinder scene on the Dragoons depicts the Texas Rangers in a running battle with the Comanche on June 8, 1844, in a nod to the importance of the Texians in Samuel Colt's success. Some have "USMR" marking while smaller quantities have Dragoon markings. You can quickly see the difference between the Walker and the Dragoons by examining the loading lever and the junction of the grip with the frame. The loading levers of the Dragoons have a catch at the front to keep the levers in place, and the grips are severed along the back of the frame while the Walker has a curved junction, at the top of its grips.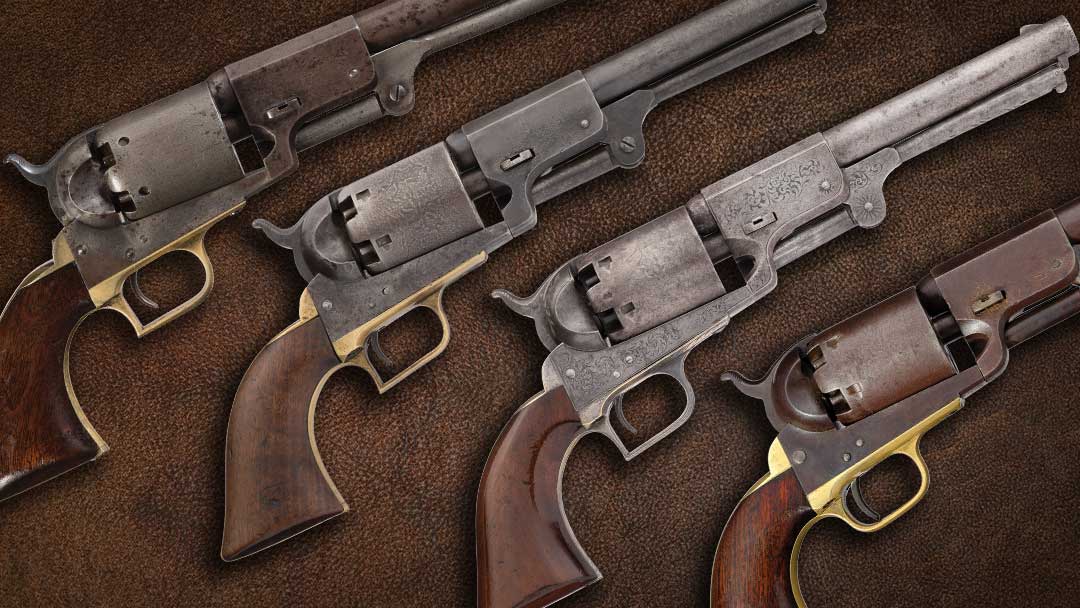 From left to right: A First Model Colt Dragoon, a Second Model Colt Dragoon, a Hardford-English Model Colt Dragoon, and a Third Model Colt Dragoon. Available this May.
The first of the Colt Dragoons were the around 240 new "Whitneyville-Hartford" Dragoon revolvers were produced in 1847 followed by a few hundred of the early "pre-First Model" Dragoon revolvers at Colt's new armory in Hartford, Connecticut, in 1848, and then 7,000 First Model Dragoons in 1848-1850 squareback trigger guards and oval cylinder stops), 2,700 Second Model Dragoons in 1850-1851 (retained the squareback trigger guard but featured rectangular cylinder stops,) and 10,500 Third Model Dragoons in 1851-1861 (round trigger guards and rectangular cylinder stops). The massive Colt Dragoon revolvers were rendered obsolete by improvements in steel and Colt designs that led to the more compact and more versatile Colt Model 1860 Army revolver.
Surviving Walker revolvers and Dragoon revolvers saw use during the Civil War, many of them in Confederate hands. They provided significant firepower for mounted troops. Revolver production at Colt's Hartford factory focused on the improved smaller belt models like the Model 1860 Army, Model 1851 Navy, and Model 1861 Navy during the Civil War, and by the time Samuel Colt died in January 1862, there were well over 100,000 Colt revolvers in circulation, all made possible thanks to the success of the Colt Walker on the battlefield during the Mexican-American War.
Legacy of the Colt Walker Revolver
After the Civil War, cartridge revolvers slowly replaced the old-fashioned percussion revolvers. Some fired rather powerful cartridges, but the power of a Colt Walker was not bested until 1934 with the introduction of the .357 Magnum and the birth of the Magnum era.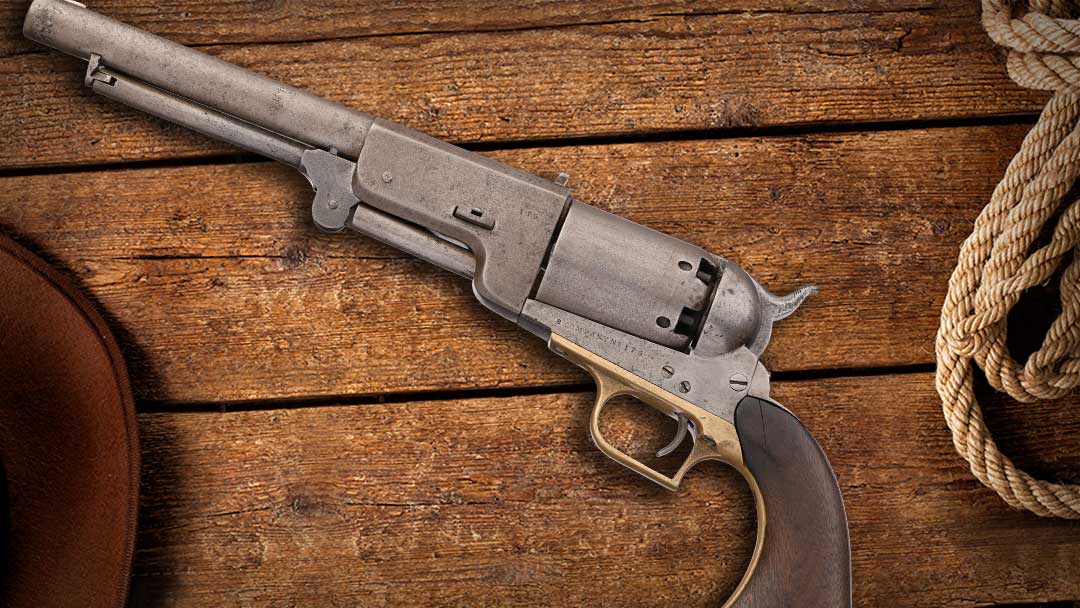 A Colt Walker for sale this May, a true treasure in gun collecting. Available this May.
Thanks to reproductions from the Colt Black Powder and Colt Signature Series as well as Italian manufacturers such as Armi San Marco, Pietta, and Uberti, affordable, shootable Colt Walkers as well as Colt Dragoons are available for shooters and collectors. This has allowed the Colt Walker to continue to have a place in American gun culture and cinema, including prominent use by Clint Eastwood in The Outlaw Josey Wales and by Robert Duval in Lonesome Dove.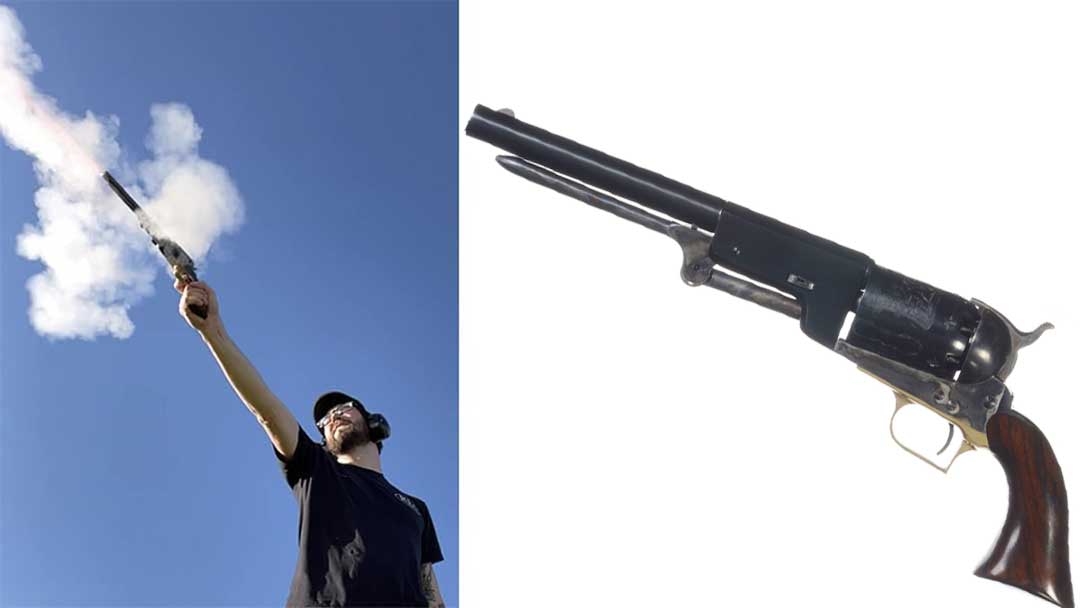 The author shooting a reproduction Colt Walker revolver. With the original max 60 grain charge of black powder, the Walker packs a lot of punch, calculated at 500+ foot-pounds of muzzle energy in some tests, but the recoil remains very manageable given these revolvers weigh around 4 ½ pounds. Most shooters opt for reduced 30-40 grains in their replicas.
While you'll primarily find original Walkers like B Company No. 175 in our Premier Firearms Auctions, you'll find the reproductions in our Arms & Accessories Day Auctions and Sporting & Collector Firearms Auctions.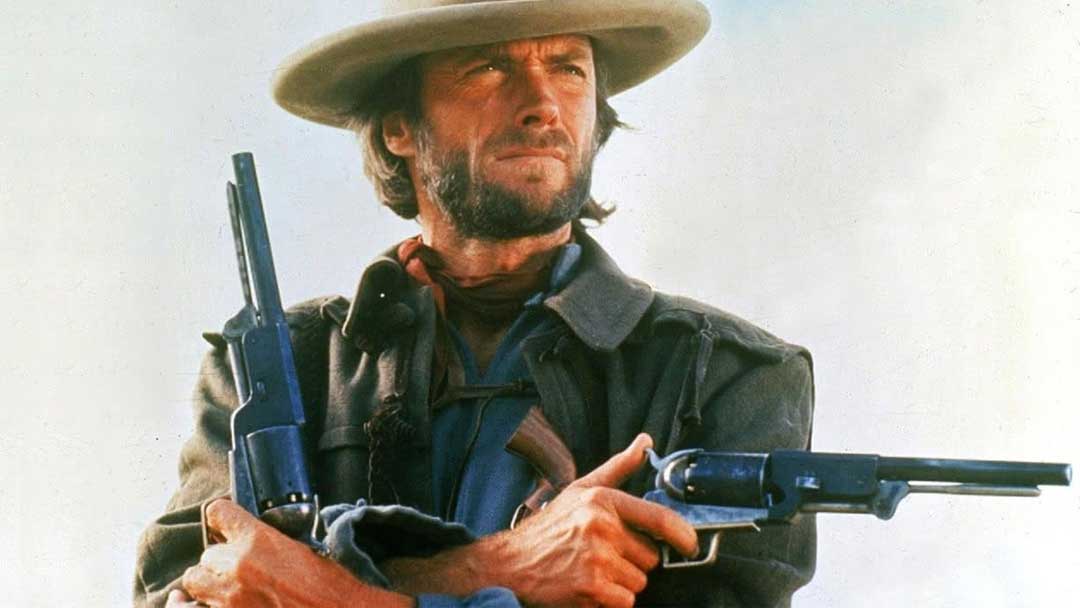 It's difficult for any collector not to want at least one Colt Walker after seeing Clint Eastwood armed with a pair in The Outlaw Josey Wales.
The Colt Walker revolver and its successors elevated Colt's Patent Fire Arms Manufacturing Company to new heights. Subscribe to the Rock Island Auction newsletter for weekly gun blogs and gun videos that detail the stories of some of the most famous Colt wheelguns, including the Colt Cloverleaf House Model, the Colt Lightning, the Colt Detective Special, and the iconic Single Action Army, which celebrates its 150th anniversary this year.
SELECTED SOURCES AND FURTHER READING
● Essenger, Joe. What is the Gun in "Big Iron?", Rock Island Auction Company Blog. March 3, 2022.
● Flayderman, Norm. Flayderman's Guide to Antique American Firearms…and Their Values, 9th Edition. Iola: Gun Digest Books, 2007.
● Isaacson, Seth. The Colt Paterson and Its Predecessors, Rock Island Auction Company Blog. August 19, 2022.
● Kolander, Joel. Colt Dragoon: History and Variations, Rock Island Auction Company Blog. April 25, 2018.
● Pate, Charles W. The Colt Walker Army Revolver. Woonsocket: Andrew Mowbray Publishers, Inc., 2021.
● Salzer, Dick. Debunking the Fluck Myth: Colt Legends Die Hard, American Society of Arms Collectors Bulletin 95, 2007.
● Whittington III, Robert D. The Colt Whitneyville-Walker Pistol. Hooks: Brownlee Books, 1984.
● Wilson, R.L. The Paterson Colt Book. Palo Alto: Strutz-LeVett, 2001.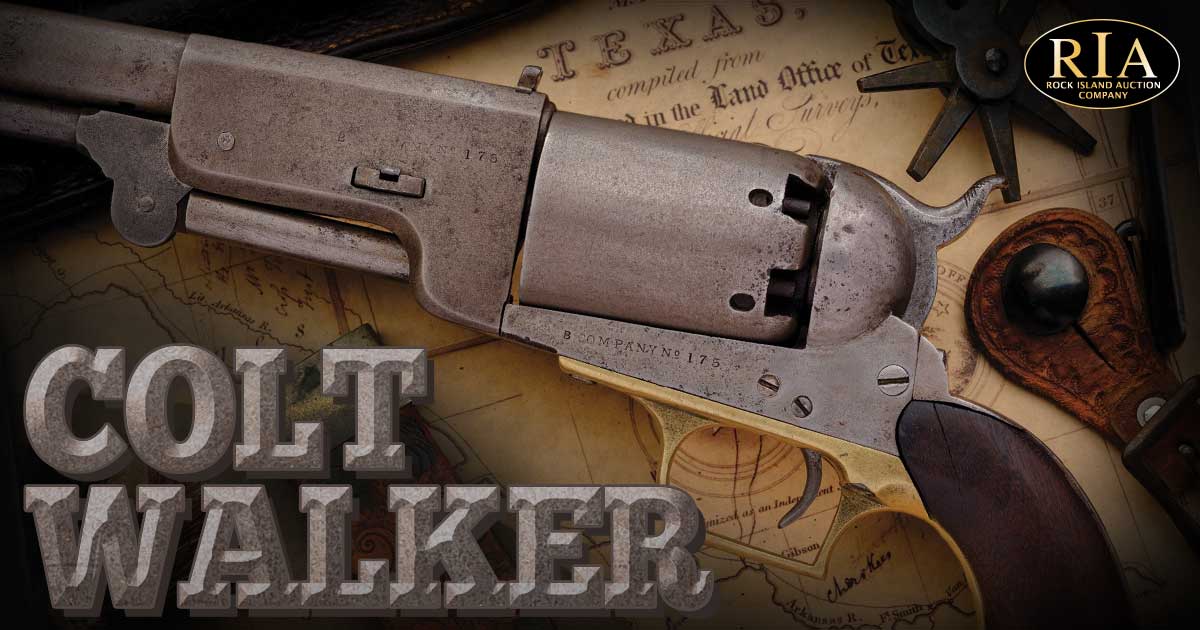 Rock Island Auction Company