Each period in American history has its classic firearms: the colonial era has the iconic Brown Bess and Charleville muskets, the early national period has the golden age American longrifles and dueling pistols, the Civil War had the Henry lever action and Berdan Sharps among others, the Wild West had Colt Single Action Army revolvers and Winchester Model 1873s — you get the picture. The 1830s to 1850s during the exploration of the West and conflicts in the new territories had one rifle more famous than the rest: the St. Louis Hawken rifle built by the Hawken brothers.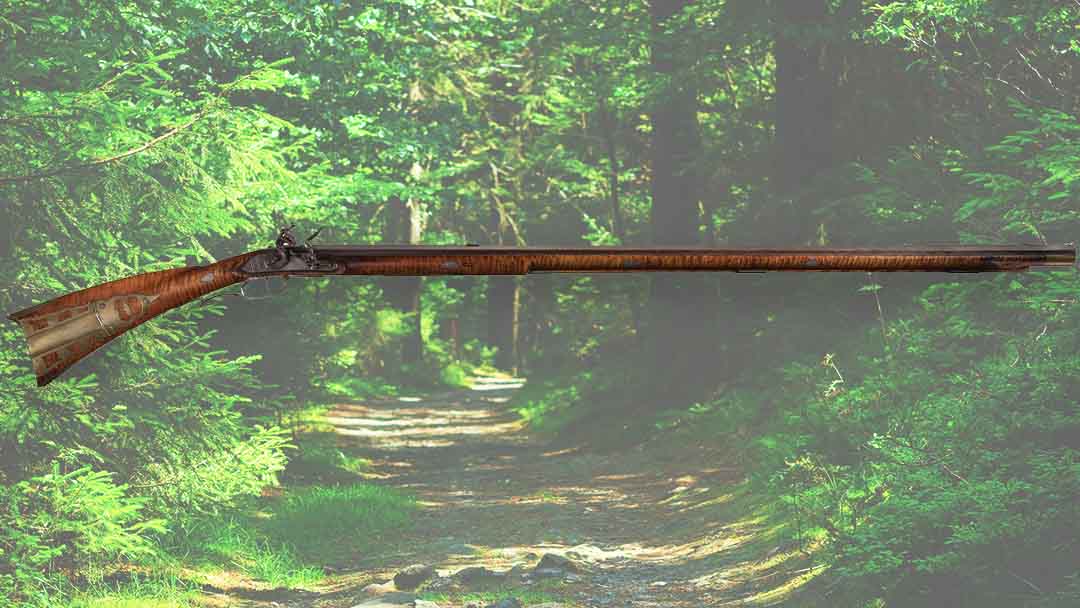 Lot 245 is a classic American longrifle by Samuel St. Clair of Snyder County and Juniata County, Pennsylvania. Classic longrifles like this continued to be manufactured alongside half-stock rifles during the 19th century, but over time, half-stock rifles became more popular. Other members of the Hawken family, including Samuel and Jacob's brother William, continued to make American longrifles.
Jacob (1786-1849) and Samuel Hawken (1792-1884), fondly known as Sam and Jake to muzzleloading enthusiasts, are probably the most famous makers of American muzzleloading rifles. Their rifles were widely used on the western frontier from the 1820s and beyond the Civil War until muzzleloading rifles were largely supplanted by breechloading rifles like the Springfield Trapdoor, Remington rolling block, and Sharps Model 1874.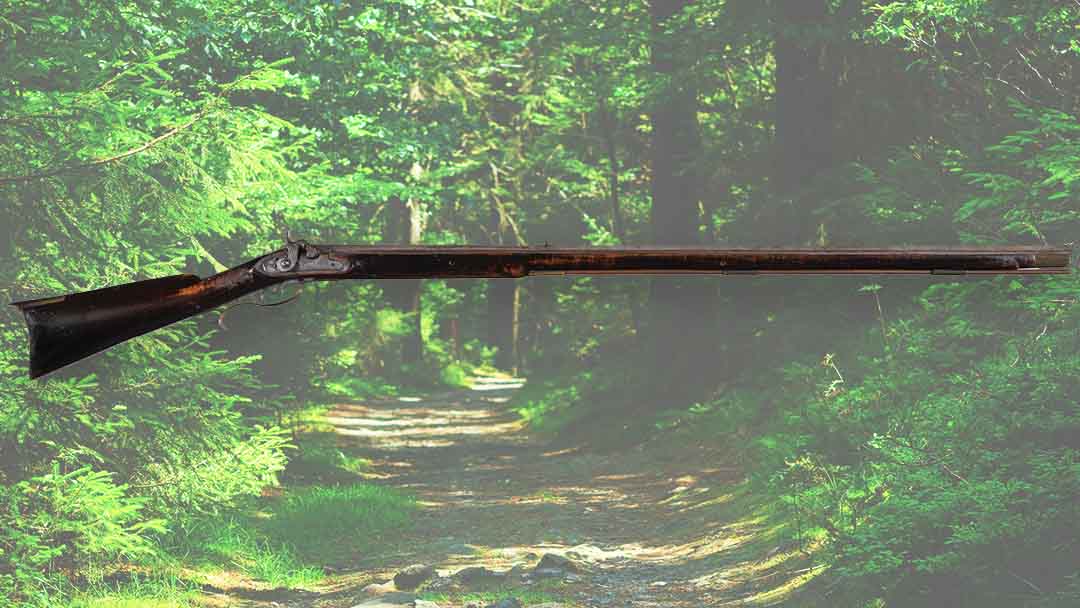 Samuel and Jacob Hawken were part of a larger family of gunmakers. The plain American longrifle in Lot 3211 is signed "J Hawken" by their cousin John Hawken from Ohio.
The Hawken Brothers before Their Famous Rifles
The brothers were part of a larger family of gunmakers and were born in Hagerstown, Maryland. Like most riflemakers of the period, they would have originally built classic American longrifles. Other members of their family also trained as gunsmiths and continued to build longrifles after Sam and Jake headed West. Their cousin John Hawken, for example, built rifles in Springfield and Piqua, Ohio in the first half of the 19th century.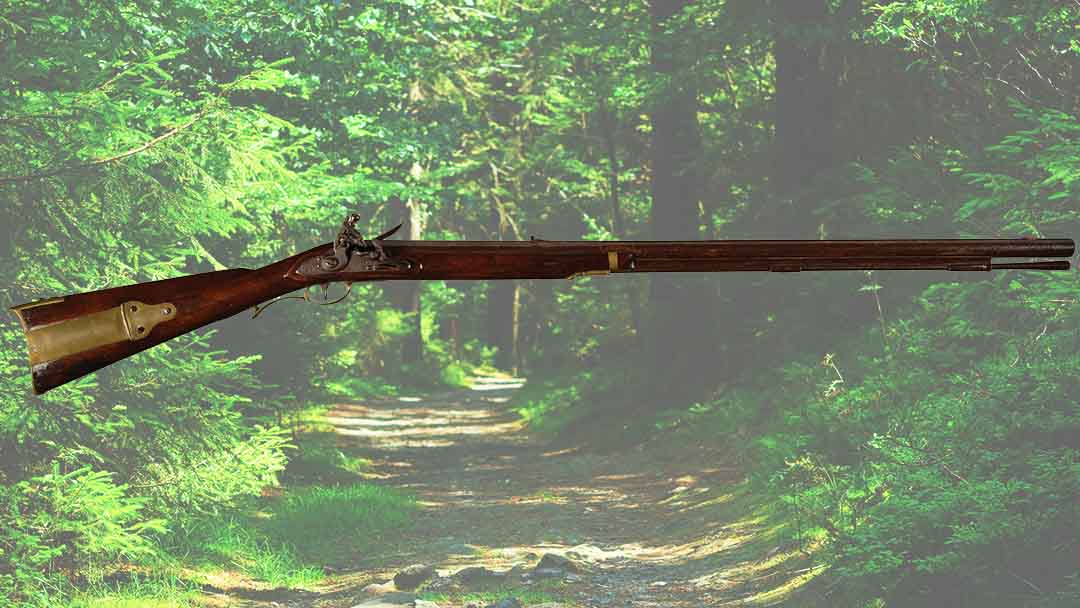 Lot 213 is a very desirable Harpers Ferry Model 1803 flintlock rifle from 1814. Jacob Hawken worked at the armory in Harpers Ferry in 1808-1818 and may have had a hand in making this rifle. It has been suggested that the Model 1803 was part of what led to the Hawken brothers producing their famous half-stock rifles.
Existing records show that Jacob worked at the federal armory at Harpers Ferry in Virginia in at least 1808-1818 before moving to St. Louis. There, he would have become familiar with the distinctive half-stock U.S. Model 1803 flintlock rifle. It was a rather unusual rifle for military service at that time as it had a half-length stock that did not extend to the muzzle and had an iron underrib under the remainder of the barrel more like an English sporting rifle than a military weapon. Around 1818, Jacob moved to Missouri and partnered with local gunsmith James Lakenan.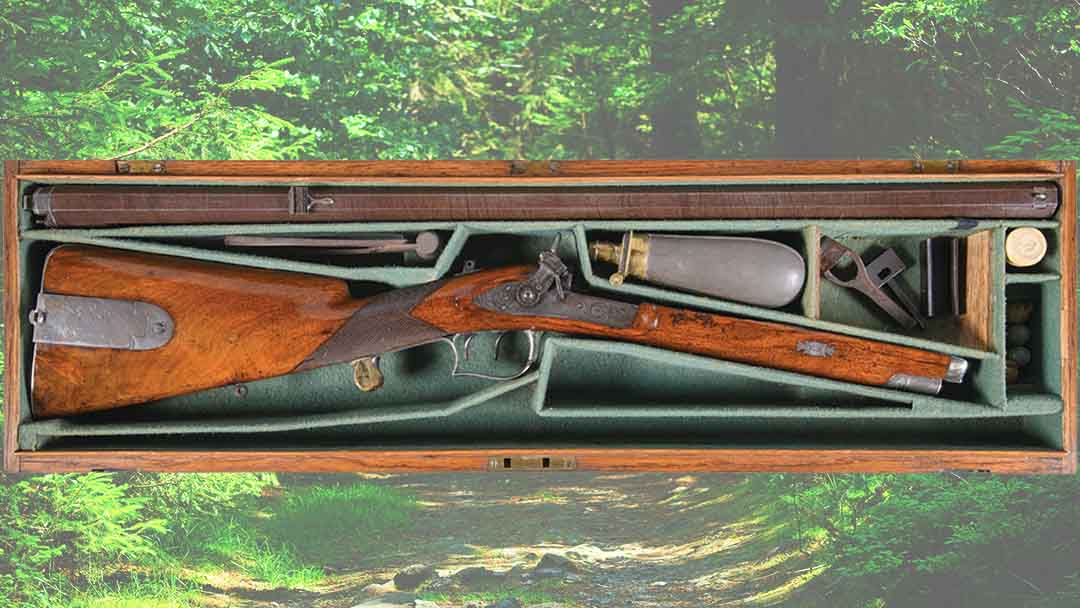 Lot 1271 is an English half-stock patchlock sporting rifle by Alexander Wilson. It demonstrates that half-stock sporting rifles were already well-established in England before the percussion system had become standardized around the percussion cap.
The Hawken Brothers Partner to Make Rifles
Samuel initially worked in Xenia, Ohio, likely building traditional longrifles, but he too moved to St. Louis following the death of his wife and father and opened up his own business. When Jacob's partner died in 1825, the Hawken brothers established the now famous Hawken shop together.
The brothers became famous for their muzzleloading rifles. Some are known to have been used by the "enterprising men" active in the Rocky Mountain fur trade in the 1830s, including General William Henry Ashley and the American Fur Company. St. Louis was by that time well-established as the launching point for expeditions into the West and was a major center of the North American fur trade and general commerce in the Midwest and West.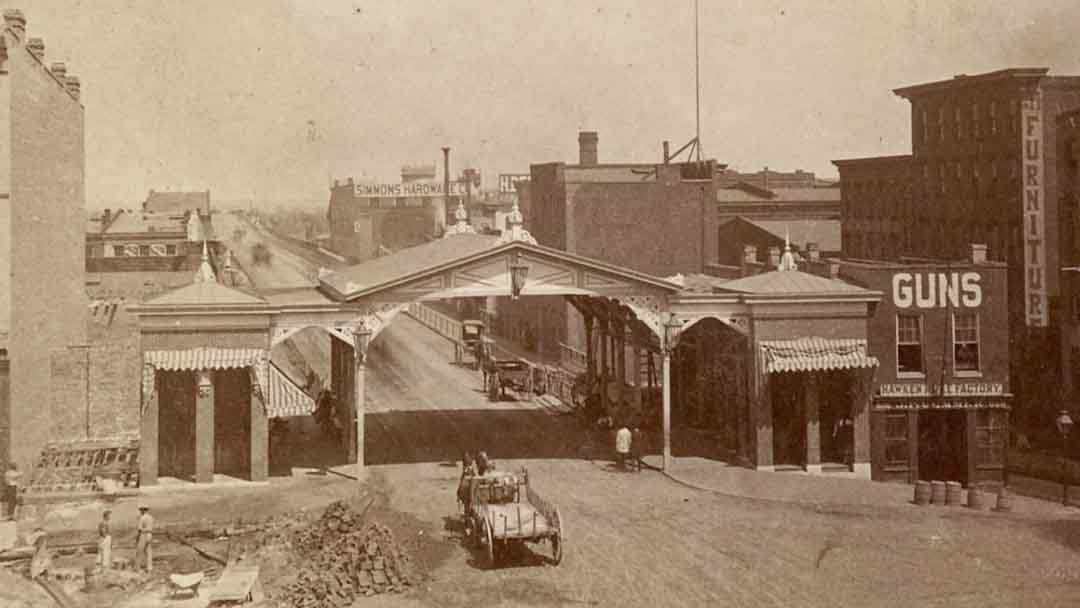 The Hawken shop can be seen on the right in this photo from later in the 19th century.
It has long been debated what their early rifles looked like. Given they were active starting in 1820 when flintlocks were still the primary gunlocks, their early rifles were almost certainly flintlocks. Some of their rifles from the 1830s have builds more typical of the more slender American longrifles of the East, so their early rifles may have been both flintlocks and more slender than what most collectors think of when they think of a Hawken rifle.  While their first rifles in St. Louis were likely flintlocks, they were quick to adopt the percussion system, and their percussion rifles are what remain famous today.
They produced both full and half-stock rifles. The half-stock variety is generally what comes to mind when most people think of a Hawken rifle thanks to some of the famous surviving examples, but the full-stocks were also an important part of their business and were more affordable but just as capable. Most of their famous western rifles were fairly large caliber (.54 like the Harper's Ferry Model 1803 appears to have been popular and is the caliber of the example in our May Premier Firearms Auction). They also produced smaller caliber "squirrel rifles" for hunting small game as well as repaired arms by other gunmakers, tools, and edged weapons.
Classic Hawken Rifles
Their classic "plains rifles," both half and full-stock, generally have iron furniture, heavy barrels that are shorter than the classic longrifles (around 36 inches rather than over 40 inches), and good quality locks and breeches with shaped bolsters. Per Bob Woodfill in The Hawken Rifle, the shop charged $18 for a full-stock versus $25 for the more labor intensive half-stocks. The stock shaping of the full-stocks and half-stocks vary slightly. For example, the full-stocks rifles generally have rectangular cheek rests while their more expensive half-stock rifles feature rounded cheek rests. Many of the rifles are very plain, but some higher end examples featured elaborate patchboxes and inlays, sometimes in silver like the famous Atchinson Hawken rifle previously sold by Rock Island Auction Company. The shorter overall length made the rifles more maneuverable and easier to carry on horseback and also helped keep the weight down since Hawken rifles were rather hefty.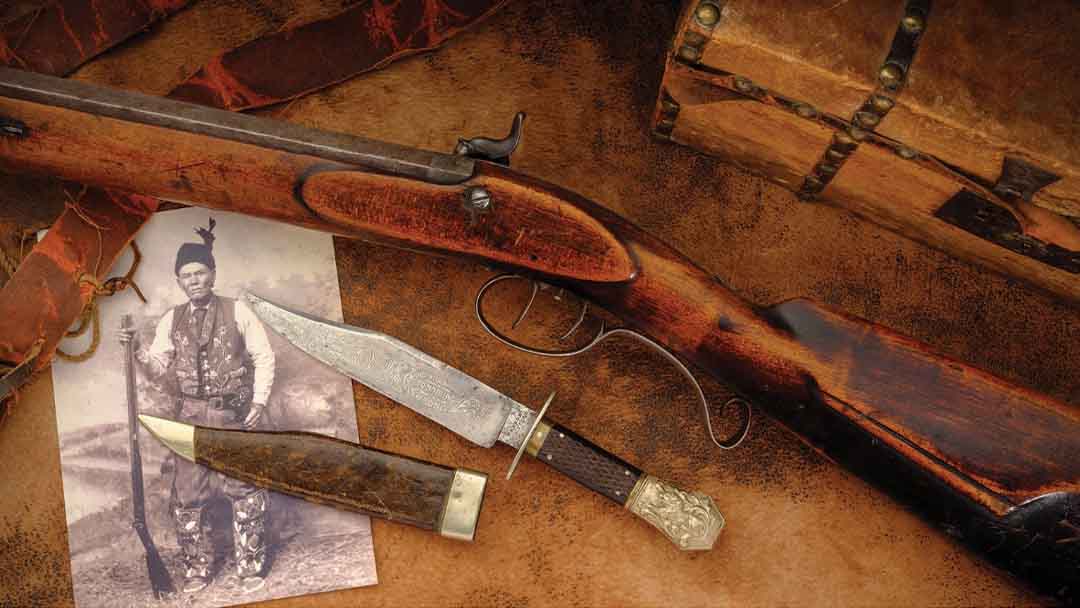 Note the rectangular cheek test on the rifle's stock along with the lack of wedge escutcheons, two differences noted on Hawken full-stock rifles compared to the half-stock rifles.
Many of their rifles, including the full-stock rifle in our current auction, date to after the heyday of the Rocky Mountain fur trade when Hawken rifles continued to be in demand, including by former fur trappers like Jim Bridger and Kit Carson who found new work as hunters, guides, and scouts. They were also in demand by the new wave of migrants heading to the West in search of fertile farmland or gold during the California Gold Rush. Woodfill wrote in The Hawken Rifle, both James Clyman and Mormon pioneer John Brown likely had full-stock Hawken rifles. Thomas Pollock is recorded in the Louisville Daily Courier on February 16, 1860, as striking claim jumper William McCarty on the head with "a heavy Hawken's rifle, laying open his scalp, and effectually rendering him hors du combat for the remainder of the campaign" after McCarty threatened to cut his throat with a Bowie knife. "Had he given him the contents of his rifle in a vulnerable place, it would, no doubt, have terminated the trouble, and, as everybody says, served him right."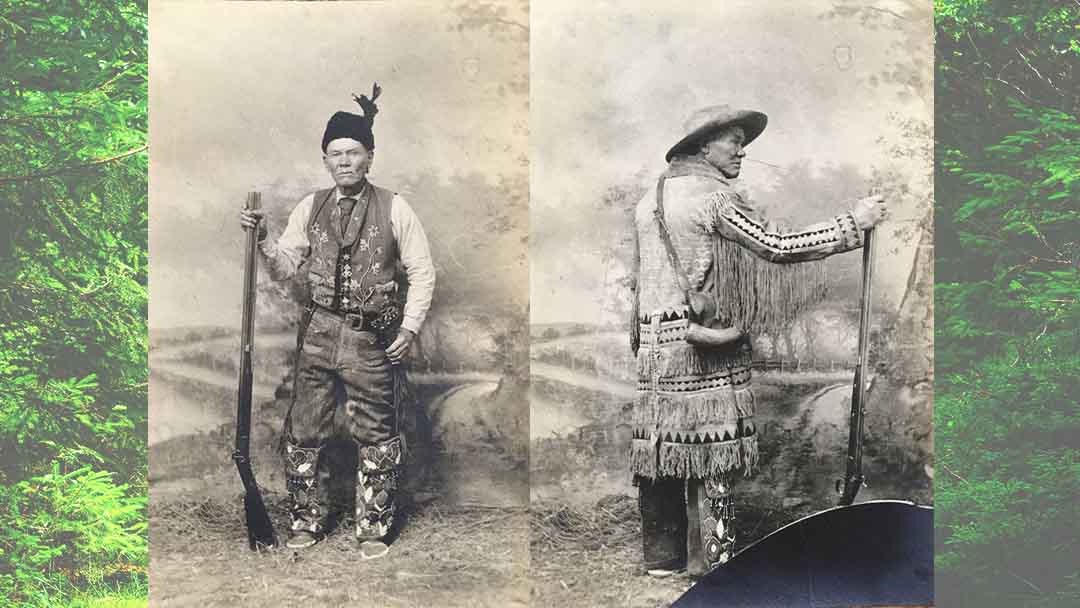 These photographs of Thomas Tobin (1826-1904) c. 1880 are probably the clearest photographs of a Hawken rifle from the 19th century.
The End of Hawken Rifles
Jacob died in 1849, and rifles after his death, including the example in this auction, are marked "S. HAWKEN ST. LOUIS" whereas the earlier rifles were marked "J&S HAWKEN ST. LOUIS." In 1855, Samuel passed control of the shop to his son William. William and Tristan Campbell had been partners since at least 1853 but split by early 1856. The Hawken shop was sold in 1860 to a group of gunsmiths, including J.P. Gemmer who eventually took over. The shop under Gemmer also marked some of their rifles "S. HAWKEN ST. LOUIS" after 1862, but by that time the full-stock rifles would have been out of fashion. Many scouts and settlers on the frontier continued to use their rifles into the late 19th century, with a few like Tom Tobin photographed with their trusty Hawken rifles near the end of the century.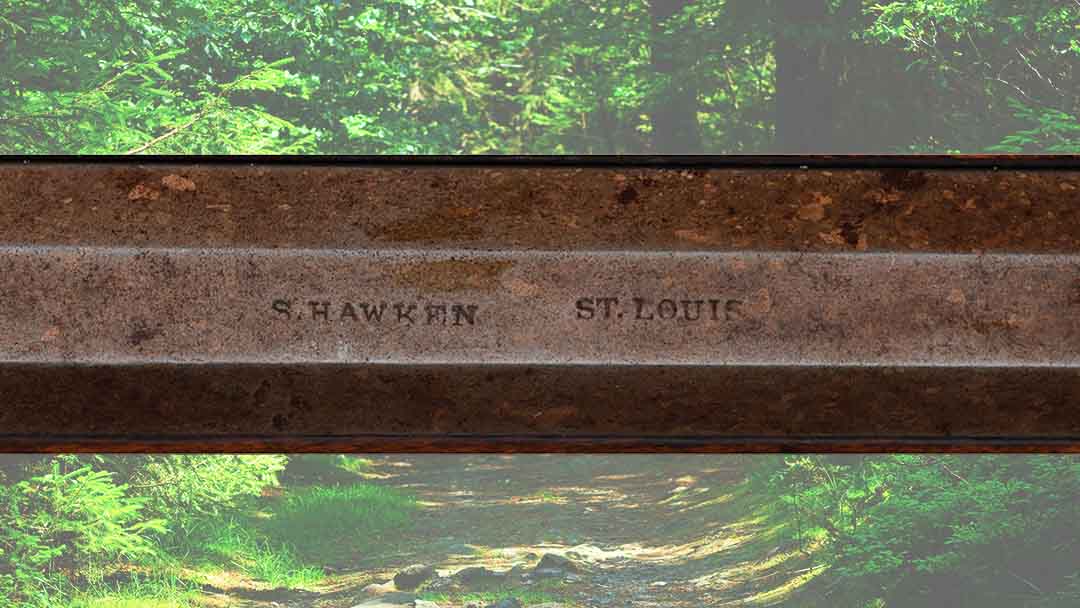 The barrel signature/marking on the Hawken full-stock rifle from Lot 3209. The marking dates this rifle to after Jacob Hawken's death in 1849.
What is an original Hawken Rifle worth?
While real original Hawken rifles are rare, Rock Island Auction Co. has sold several in recent years and their values are generally over $50,000 while your average American half-stock "plains rifle" by less renowned makers often sell for under $1,000.
What is an original Hawken rifle worth? This J. & S. Hawken marked half-stock percussion rife doubled its estimate in RIAC's August 2022 Premier Auction and sold for $70,000.
The current full-stock rifle is estimated at $45,000-$65,000. A J&S Hawken signed half-stock example sold for $70,500 at RIAC last year, and another half-stock signed S. Hawken brought $52,875. The famous silver-mounted Atchison J & S Hawken brought $86,250 at RIAC in 2020. An interesting J & S Hawken half-stock example that likely started life as a full-stock rifle like our current example sold for $74,750 in RIAC's September 2019 auction.
Hawken Rifle Legacy
Hawken rifles were well-known and highly regarded in their own day and continued to be well-respected by muzzleloader shooters for generations onward to today. They received considerable popularity during the boom period for muzzleloading in the 1960s to 1980s thanks to Robert Redford's use of a Hawken rifle in Jeremiah Johnson (1972) as well as the production of reproduction half-stock percussion rifles like the Green River Rifle Works Hawken rifles as well as less authentic half-stock percussion rifles like the Thompson/Center Hawken and Lyman Great Plains rifles. Reproduction Hawken rifles at varying price points continue to be available today, and Rock Island Auction Co. regularly offers them in our Sporting & Collector and Arms & Accessories Day Firearms Auctions. They remain very popular with hunters in black powder deer seasons that want to hunt with traditional sidelock muzzleloaders like the mountain men of old.
Selected Sources and Further Reading:
● The Hawken Rifle by Bob Woodfill
● Hawken Rifle: The Mountain Man's Choice by John D. Baird
● Fifteen Years in the Hawken Lode by John D. Baird
● Green River Rifle Works Collector
● "The Artistry of the Hawken Family" by William H. Reiser Jr. in The American Society of Arms Collectors Bulletin 39:2-11
Rock Island Auction Company