Hugh Lowther, the fifth Earl of Lonsdale, squandered a massive fortune through his generosity and out-sized reputation as a womanizer, horseman, hunter, and sportsman.
The earl, who lived to be 87, was the second son of the third Earl on Lonsdale. His father didn't think to bother with any of his sons' education beyond that of his heir, leaving them to play in the stable yard and run the countryside. Hugh Lowther had been trying to one-up his older brother, St. George, for years. When St. George, the fourth Earl of Lonsdale, died, Hugh became the new Earl of Lonsdale and a fortune was heaped upon him at the age of 25
Before ascending to the aristocracy, Hugh Lonsdale already lived his life in a large way, and was well on his way to being one of the best known – and most notorious – noblemen of his day. As a sportsman, he showed his mettle in the boxing ring, on a buffalo hunt, as well as hunting fox and grouse on the English countryside. As an eccentric spendthrift, he was known as The Yellow Earl for equipping his vehicles in yellow and dressing his footmen in the same color.
The Yellow Earl's Holland and Holland Paradox Gun
A factory engraved Holland and Holland paradox gun made for the earl in 1902 has beautiful blued barrels and a casehardened finish and comes with exquisite scrolling over most of it. This bespoke long gun is available in Rock Island Auction Company's May 19-21 Premier Auction.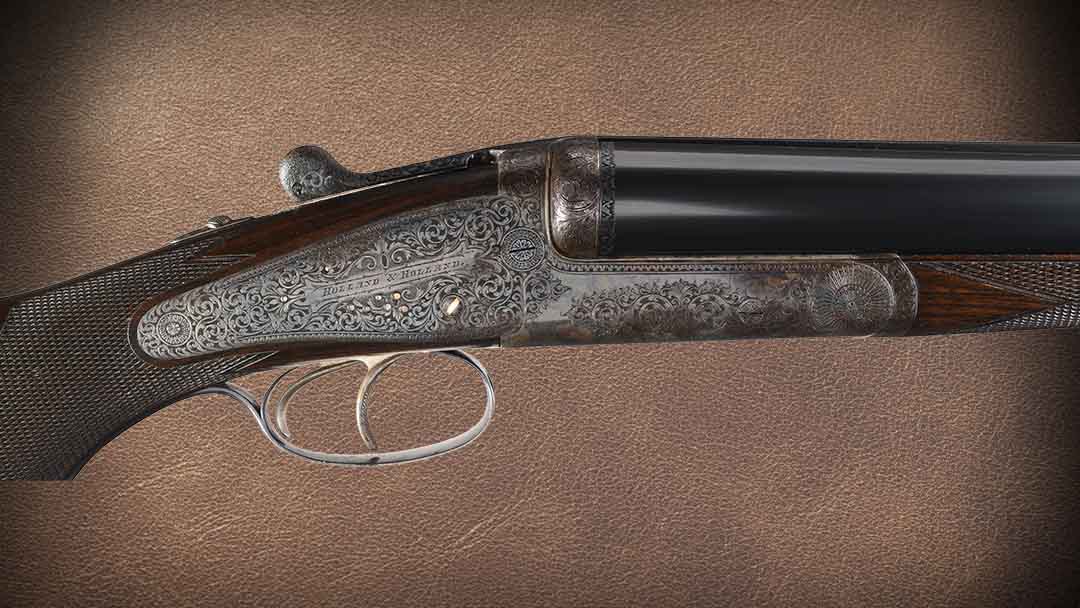 This bespoke Holland and Holland paradox gun features exquisite scrolling on the frame and sharp scrolling on the butt and forend.
The Love of the Hunt and Holland and Holland Guns
Hugh Lowther was left to his own devices growing up despite spending two years at prestigious Eton Academy and a time at a Swiss prep school before joining a traveling circus. He put little effort into education, turning rather to the outdoors and physical fitness. He once said, "I can tell everything I want to know about a man by the way he sits on a horse." As a sportsman he would later purchase several Holland and Holland guns including eight paradox guns.
He often burned through the modest allowance he received from his brother, who rose to the title of the forth Earl of Lonsdale when their father died in 1876. Despite his footloose ways and already deeply in debt, he married Lady Grace Gordon in 1878.
In the 1870s, English nobility looked to the United States to make money, and several of the upper crust saw cattle ranching as that opportunity. Hugh and Grace were invited in 1879 to visit an acquaintance in Wyoming and took it as a belated honeymoon from their wedding a year earlier. They arrived in August and went big game hunting. Grace proved to be a good camp cook and angler from her time growing up in Scotland but still managed to start a wildfire that burned for two weeks.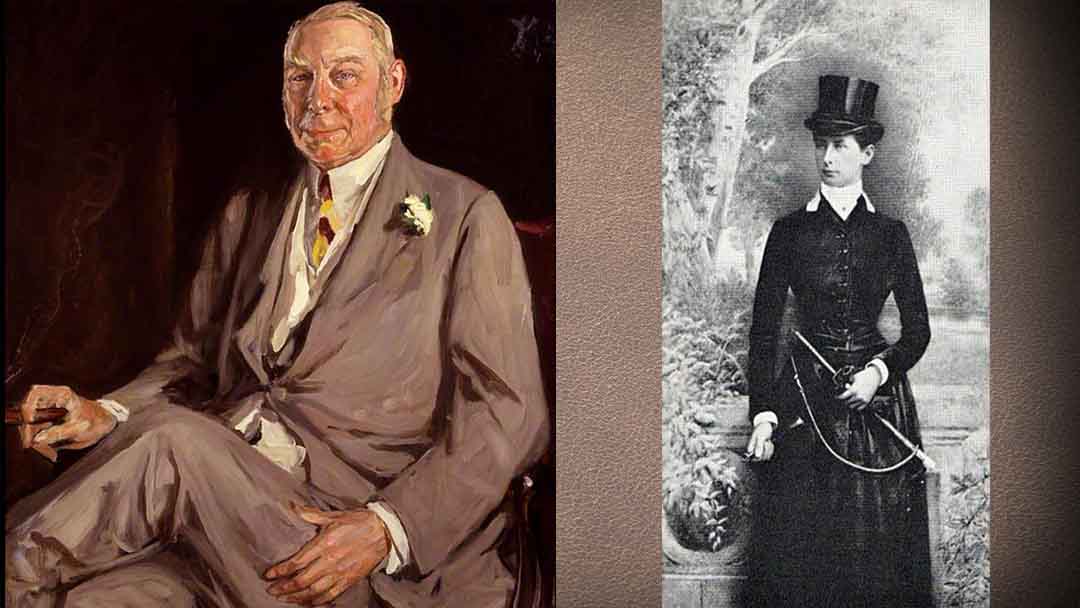 Hugh Lowther, the fifth Earl of Lonsdale, on the right, with a yellow gardenia in his buttonhole, on the left. His wife, Grace, at right, endured a number of the Earl's scandals, and the couple remained married for 63 years. A Holland and Holland paradox gun owned by the Earl is on offer in RIAC's May 19-21 Premier Auction.
Returning to England with numerous game trophies, Hugh knew he wanted to invest in cattle ranching despite his indebtedness. He sold his interest in the estate for £40,000 but quickly lost his investment through numerous calamities in the winter of 1880 and the steep drop in the price of beef.
That spring, Hugh and Grace were expecting. Hugh supplemented his income by buying and selling horses, but making ends meet continued to be a struggle. The couple enjoyed the hunt and being on horseback, and Grace continued to do so into her pregnancy despite efforts to get her out of the saddle. Tragedy struck when Grace's horse fell on a hunt and rolled on top of her. They lost the baby. Grace's recovery was long and the doctors told them that she would be unable to bear children. The loss of the baby was the start of Grace's lifelong poor health as Hugh leaned into a high-living lifestyle.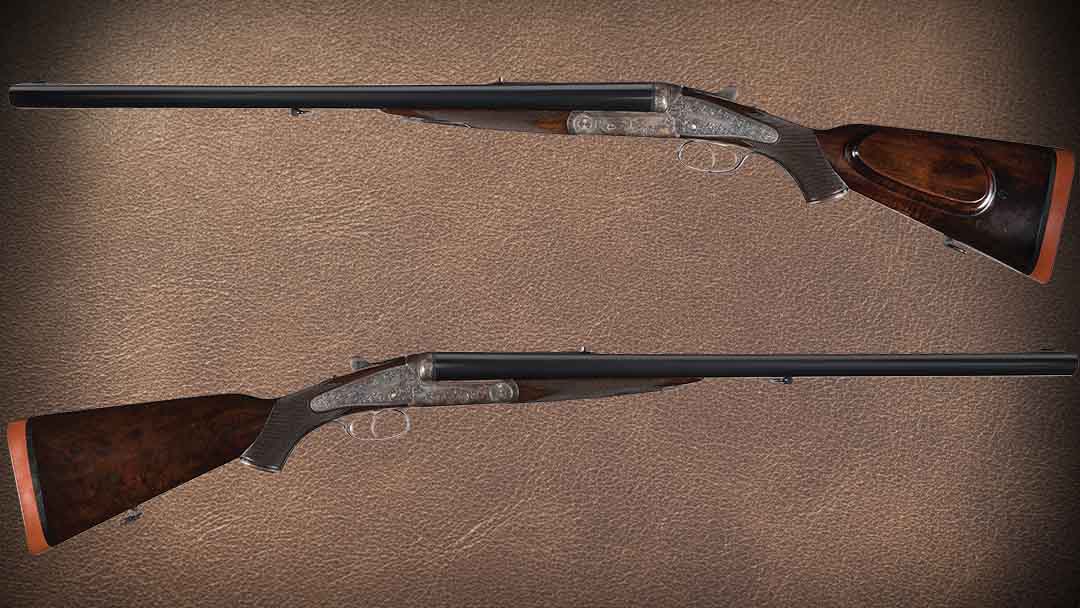 The Holland and Holland paradox gun is a versatile sporting arm. A shot gun with rifled barrels can be used for hunting birds and large game.
The British Noble and the American Boxer
Prize fighting was illegal in England in the late 19th century. Among the upper crust of society, boxing was still discussed and backroom fight clubs were easily found. In 1881, Hugh Lowther, who trained in his youth with famous English bare-knuckle fighter Jem Mace, claimed at a party that he could defeat the well-known American fighter, John L. Sullivan, nicknamed the "Boston Strong Boy."  An actor who was in on the conversation and about to go on tour in the U.S. met Sullivan and mentioned the conversation. Sullivan was willing and the fight was on.
Hugh traveled secretly to New York City because boxing was also illegal in the United States. The match would be held at the Central Park Academy, a riding school that Sullivan was part owner. It wasn't a bare-knuckle fight. In fact, Hugh wore gloves stuffed with finer, human hair rather than the course horse hair.
As for the match, Sullivan got in his shots, closing up one of Hugh's eyes, hurting his ribs, and cutting his shoulder. In his recollections of the match, Hugh decided to try to end the fight in the sixth round. Here the future fifth Earl of Lonsdale describes what happens:
"I let fly with my right and caught him solid in the solar plexus, and he went down without a sound, apart from a faint grunt. He lay there for several minutes after the final count, and when I went over and put out my hand to shake his, his face wore a dazed sort of smile as he accepted my grip. … Yes, now after all these years, I can look at my strong right hand and say with truth `this hand put to sleep John L. Sullivan.'"
Since it was fought in secrecy, the outcome was never publicly announced and whether it actually occurred was questioned. Sullivan was recognized as the first American heavyweight gloved boxing champion a year later. He claimed the title of world champion in 1888 or 1889. Years later when he was asked about the fight, Sullivan didn't deny it occurred and was tight-lipped about the outcome.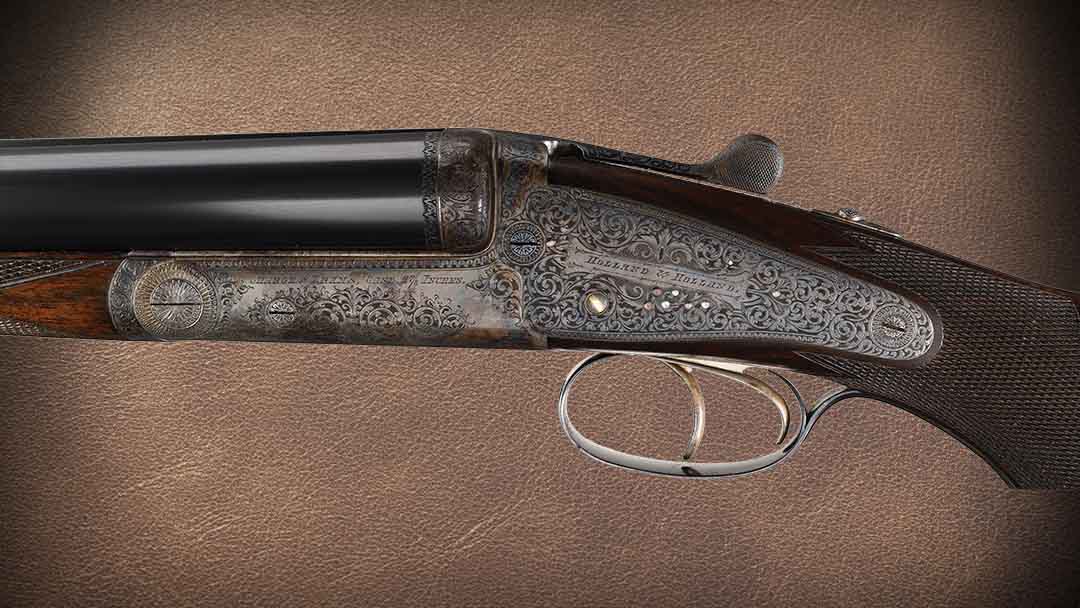 This Holland & Holland paradox gun was made to match a similar one with serial number 15500 built for the Earl of Lonsdale that was displayed at the 1900 Paris Exhibition.
Becoming a British Noble and Sponsor of Holland and Holland
In February 1882, Hugh's older brother, St. George, died unexpectedly at the age of 25. Hugh became the fifth Earl of Lonsdale – and immensely wealthy. He inherited 50,000 acres of farmland, 50,000 acres of common land and its sporting and mineral rights. The mineral rights included the incredibly rich coal deposits that extended out into the Irish Sea.
He gained the nickname the Yellow Earl because all his carriages and automobiles, along with his footmen were outfitted in yellow. Plus, the new earl always wore a fresh yellow gardenia in the buttonhole of his suit coat. He was a large supporter of Holland and Holland, purchasing eight paradox guns and 24 other guns from the company.
Hugh was now titled and hugely rich but didn't fully control the estate's purse strings since he had sold his rights to the estate in order to invest in the ill-fated cattle venture. The estate was controlled by a board of trustees and for the rest of his life, Hugh bargained, manipulated, and fought for funds as the trustees tried to reign in his spending on things like a 25-piece private orchestra, among his extravagances.
The trustees had an ally in Grace who did her best to try to slow her husband's spending from time to time, but since Hugh didn't have a direct heir, he saw no need to look to the future.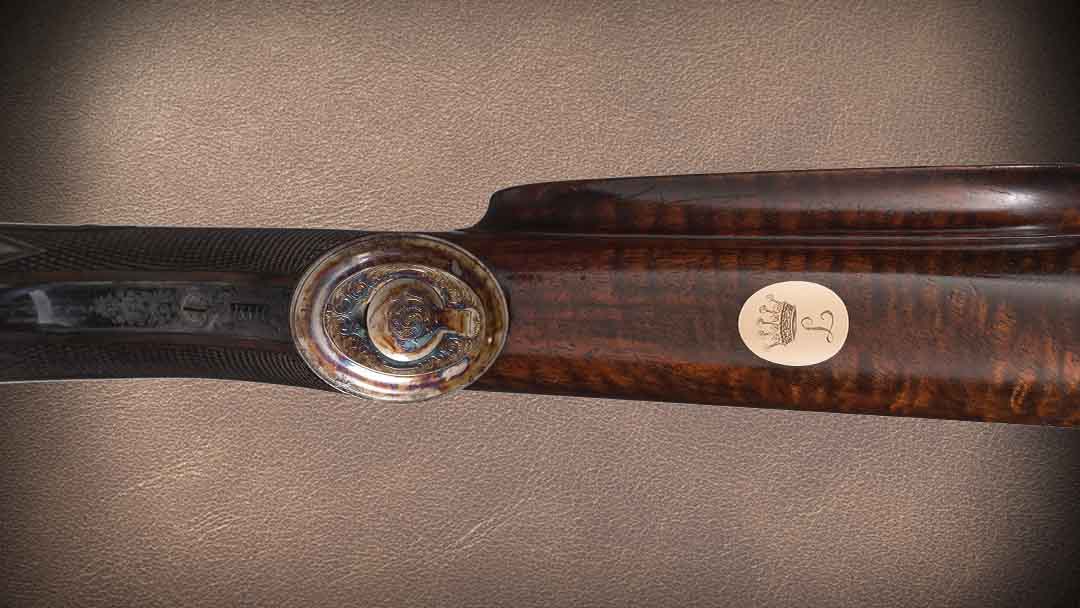 The beautiful scrolling on the fifth Earl of Lonsdale's Holland and Holland paradox gun is even apparent on the casehardened grip cap. The butt also has a gold inscription oval with the initial "L" and an earl's coronet.
A British Noble and the Actresses
Among the nobility, keeping a mistress wasn't uncommon. In the spring of 1885, he and another British noble, Sir George Chetwynd, feuded over the actress Lily Langtry, who was also the mistress of the Prince of Wales. In her relationship with the two noblemen Lily once scheduled a riding date with both men at the same time. When she realized her faux pas, she realized she couldn't break the date with one and show favoritism so she ignored the date. The two men arriving at the same time and place soon realized the situation. Astride their horses, they took their riding whips to each other before they dismounted and the brawl turned to fisticuffs. Two other noblemen who were riding nearby broke up the fight. For a time it created a buzz in London.
A short time later, Hugh took up with another beauty of the stage, Violet Cameron. Rather than keep the affair quiet, the couple was seen everywhere in London. He backed her theater company and managed her tour through England despite her husband David de Bensaude with whom she had a daughter.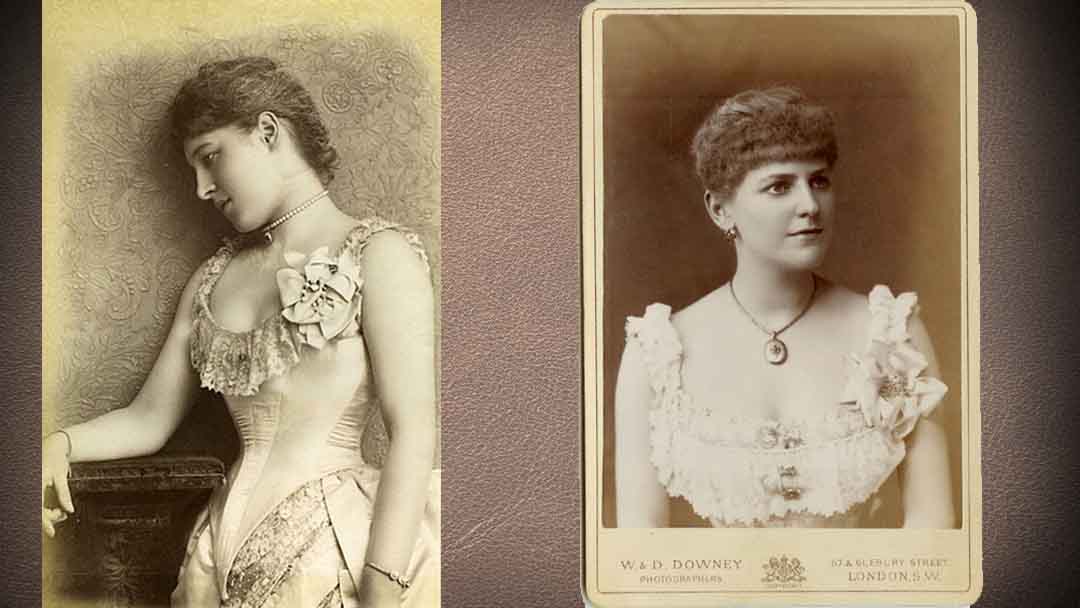 Actress Lily Langtry, left, was the mistress of the Prince of Wales and a number of noblemen, including the Earl of Lonsdale. Actress Violet Cameron, right, had a lengthy affair with the Earl of Lonsdale that was played out in public because of her husband. The Earl was exiled for a year to allow the scandal to fade away.
At overnight stops, the troupe would stay at cheap housing while Violet and Hugh would retire to rooms at the nicest hotel. At one stop when the couple returned to their suite, de Bensaude was waiting for them. Hugh promptly threw him out. Cuckolded, de Bensaude sued for assault. Hugh was fined 40 shillings and the affair made the newspapers.
The tour was abandoned and Hugh took to troupe to New York though de Bensaude followed, continuing to air the relationship's dirty laundry. Eventually, de Bensaude ended up in jail for threatening his wife and the tour company returned to England. In no hurry to go to Grace, Hugh and Violet set up house in London and she became pregnant. De Bensaude returned to the picture and sued for adultery and received £1,225. At this point Queen Victoria stepped in and told Hugh to leave the country until the scandal faded from the public interest.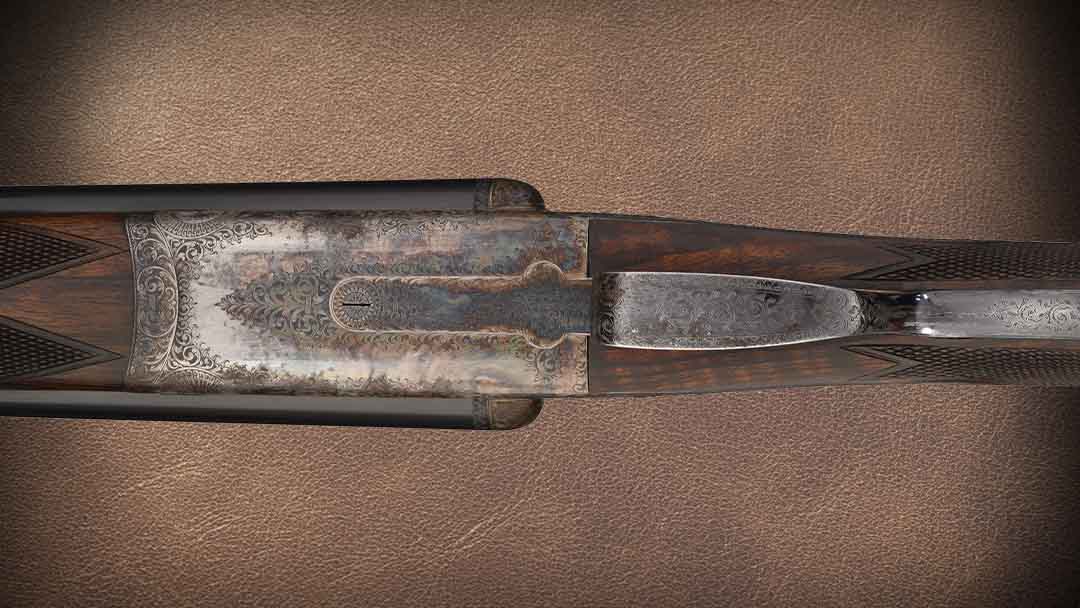 The casehardening and engraving extend to the underside of the Holland and Holland paradox gun's frame and the trigger guard while the checkering on the forend and but can also be seen.
British Noble in the Arctic without his Holland and Holland
Trustees of the estate feared that Hugh would go to exile in France and further strain the estate's financial burden. Hugh was challenged to go on an artic expedition and was gone for more than a year, solving some financial problems for a short time.
Hugh traveled to New York, then on to Canada and the arctic in February 1888. He had made arrangements for Violet to receive an allowance for her and her child.  He set out accompanied by a team of Native Americans and several dog teams.
It was a bitter winter that killed several sled dogs and left a number of the party with frostbite. Hugh overcame a mutiny but survived the journey despite rumors of his death. Hugh claimed he reached the North Pole and discovered gold though neither were true. He did return with about 200 specimens that were given to the British Museum. Later, recalling the arctic adventure, he proclaimed, "Ah! It was such lovely fun!"
On the Hunt with the Holland and Holland
Returning to England in 1889, Hugh seemed to have learned a lesson, toning down his antics and being more subtle in his assignations. Grace quietly endured her husband's dalliances and the couple remained married until Grace died in 1941. Hugh's spending habits were still outrageous. He and Grace's entourage when they changed houses was 100 people strong and required a special train with a sleeper compartment for him and a second for his dogs. Well known for his six-inch long cigars — known as Lonsdales over the years, his annual tobacco bill during World War 1 was £3,000.
Ever the sportsman and a strong believer in fair play, he was a founder of the National Sporting Club that established boxing as a true sport in Britain. Hugh served as the club's first president and held the position for more than 30 years. He also served on F.C. Arsenal's board of directors in the 1930s.
The Earl often entertained royalty. He welcomed Kaiser Wilhelm to his country home, as well as the king of Italy, maharajahs, King Maoel of Portugal, and even an overnight visit by King George V and Queen Mary in 1919.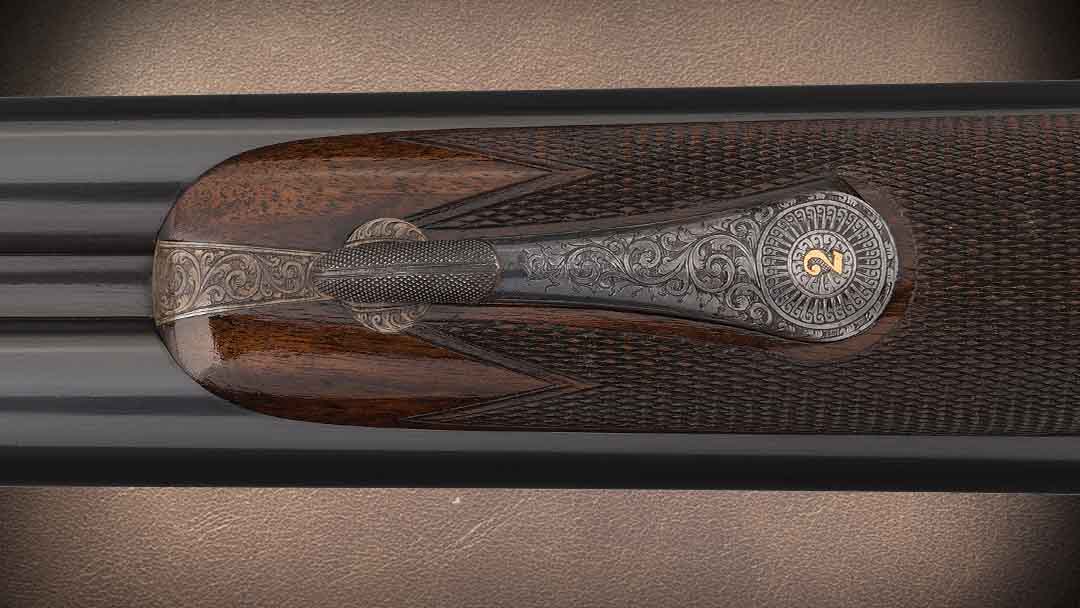 A closeup of the underside of the Holland and Holland paradox gun's forend shows the gold inlaid "2" and the fine checkering pattern on the wood.
Hugh and Grace traveled extensively, including a 1902 trip through India, China, Japan, and Australia. The couple returned to England via the United States and met Theodore Roosevelt. Soon however, Hugh's extravagant ways would catch up to them.
After World War 1, the Earl's finances were suffering, forcing him to sell off Whitehaven Castle in 1921, and another home in 1926, the same year the coal mines closed. The couple moved from Lawther Castle, the family seat, in 1935 leaving it to go to ruin.
Hugh had suffered a riding accident in 1934 that ended his career on horseback. Grace died in 1941 and Hugh Lowther, the fifth Earl of Lonsdale died in 1944 at the age of 87, having left nothing for his younger brother, Lancelot, the sixth earl.
The Yellow Earl's Holland and Holland
As a sportsman of some reputation, the Earl of Lonsdale loved the paradox gun for its versatility as a shotgun with rifled barrels. It could be used for birding or large game. He ordered eight from Holland and Holland with 24 other guns and rifles, including a massive punt gun. This bespoke Holland and Holland 10 bore, double barrel, paradox gun was built to match serial number 15500, which was also made for the Earl and displayed at the 1900 Paris Exhibition. It explains the three gold inlaid "2"s on this gun. Manufactured in 1902, this sporting gun has sling swivels, a blade front sight and flip-up moon bead sight and a fixed notch rear sight, perfect for the hunt.
The Holland and Holland paradox gun is professionally refurbished and retains 99 percent of its blued and casehardened finish. The casehardened sidelock displays extensive near full coverage scroll engraving. The scrollwork is also on both tangs, the trigger guard, and the toplever.  It features a gold inlaid "2" on the toplever and gold line cocking indicators. It has double triggers, and a tang-mounted automatic safety with a gold inlaid "safe" marking. The forend has multi-point checkering with engraved fittings. The underlever is also marked with a gold inlaid "2." The pistol grip stock has a casehardened engraved trapdoor grip cap and an inscription oval marked with "L" under an earl's coronet.
The fifth Earl of Lonsdale was a sportsman with large tastes, and this beautiful paradox gun befits the man, with its stout 10 bore barrels and beautifully embellished blued and casehardened finishes. This fantastic Holland and Holland sporting arm, available in Rock Island Auction's May 19-21 Premier Auction, would make a great edition to any outdoorsman's collection.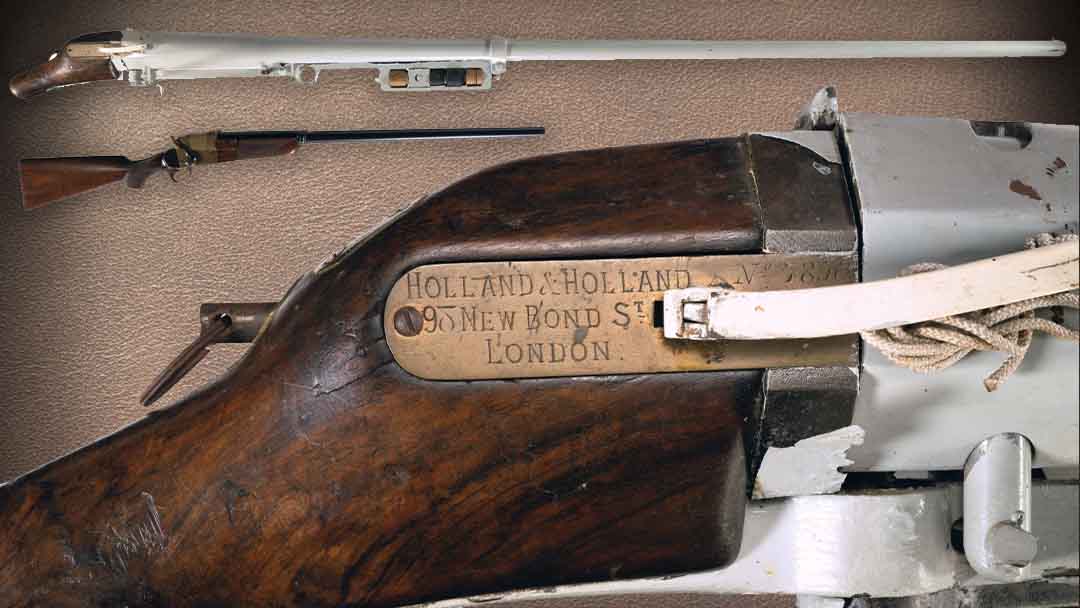 This massive Holland and Holland punt gun was made for the Earl of Lonsdale in 1883. The gun, measuring 115 1/2 inches from the muzzle to the rear of the stock, appears to be the gun pictured on page 244 of Volume 3 of the "Lonsdale Library of Sports, Games and Pastimes" published by Lord Lonsdale in 1929. It sold at Rock Island Auction Company in 2021.
Sources:
"A Victorian Earl in the Arctic: The Travels and Collections of the Fifth Earl of Lonsdale, 1888-89," by Shepard Krech III
"The Yellow Earl, The Life of Hugh Lowther 5th Earl of Lonsdale K.G., G.C.V.O., 1857-1944," by Douglas Sutherland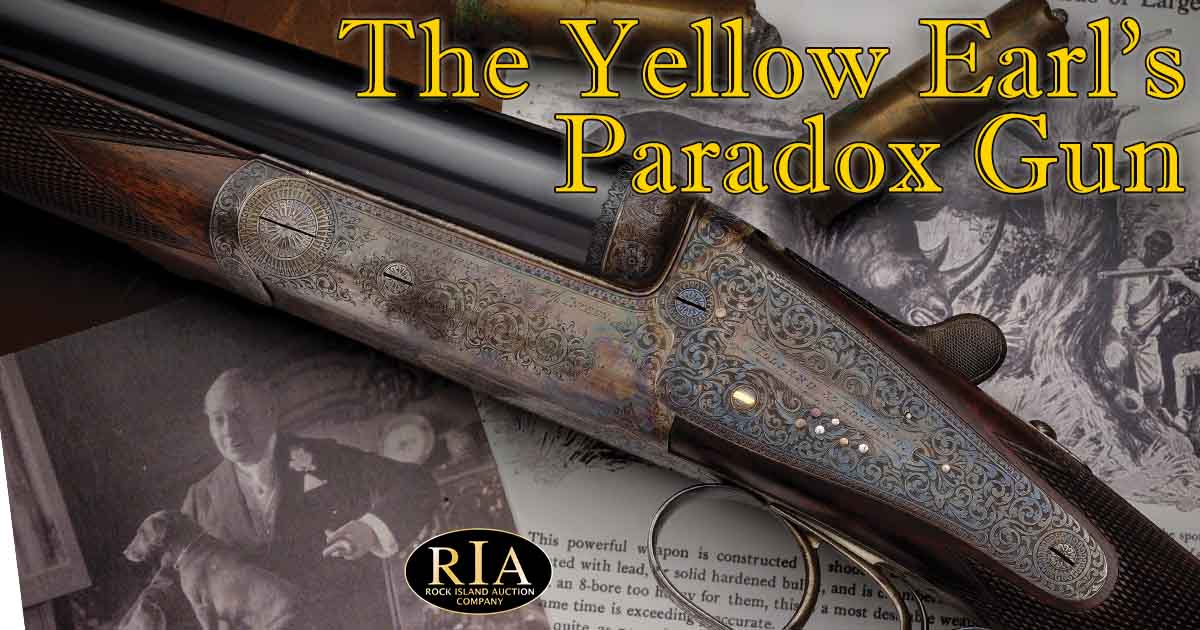 Rock Island Auction Company