Joseph Melching Wanenmacher, Jr., founder of the Tulsa Arms Show, passed away on February 10, 2022. Joe Wanenmacher's name is rightfully admired by countless friends and firearm fans around the globe, and Rock Island Auction Company is proud and deeply honored to present his world-class gun collection to the public this August.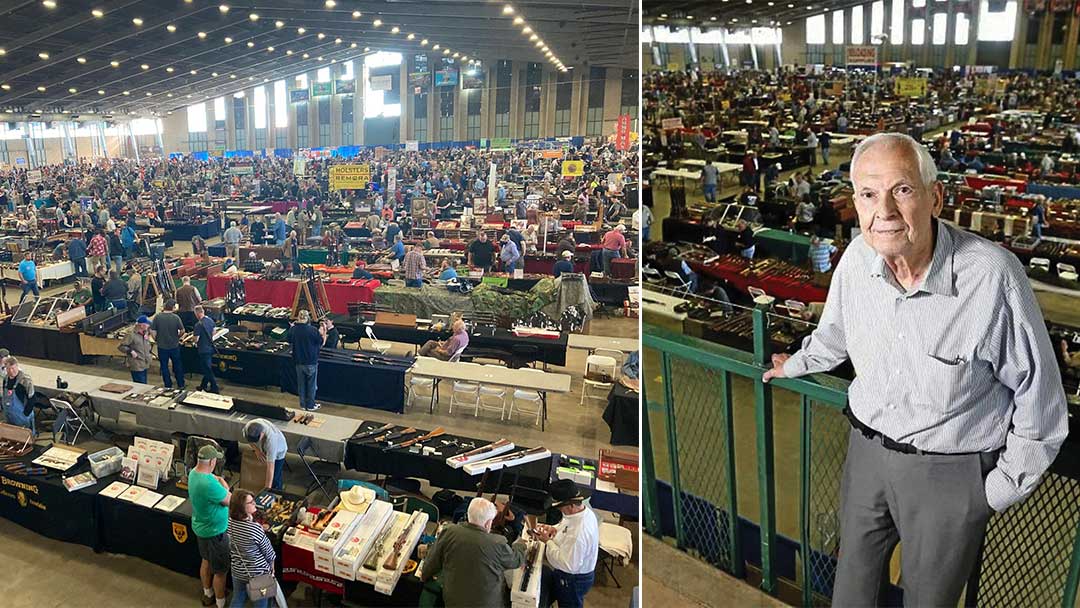 Joe Wanenmacher built the Tulsa Arms Show into the largest gun show in the world, and has been honored by both the City of Tulsa and by Tulsa County for the economic contributions the biannual event has generated to the region.
After graduating from the University of Texas, Joe Wanenmacher moved back to Tulsa in 1961 to work in his father's business as a petroleum consultant. A few years later, Wanenmacher joined the Indian Territory Gun Collectors Association, where he was eventually voted club secretary and assigned the responsibility of coordinating their local gun shows. As the show grew in size, so did Wanenmacher's appreciation for gun collecting and his aspiration to build an impressive collection of his own.
Joe Wanenmacher Gun Collection
As Wanenmacher invested more time into growing the ITGCA gun show, he discovered a true passion in the venture and struck a deal to purchase the event and turn it into a family business. Under Wanenmacher's leadership, the Tulsa Arms show would go on to become the largest gun show in the world.
"He was a people person and a gun person," Wanenmacher's son, Joe Wanenmacher III explained. "So it was kind of a match made in heaven for him."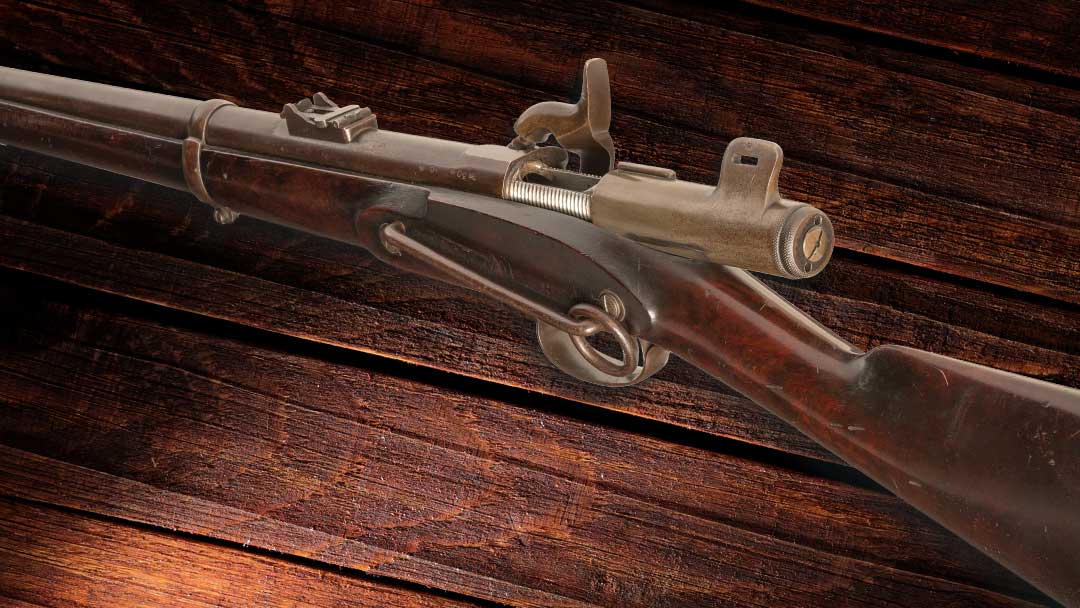 British King & Phillips prototype bolt action percussion carbine from the Joe Wanemacher collection.
Directing the Tulsa Arms Show exposed Joe Wanenmacher to a sweeping selection of firearms and militaria that spanned centuries of technological innovation, exquisite artistry, and quality craftsmanship. The tremendous variety and high condition examples found within Joe Wanenmacher's collection are immediately evident, and Wanenmacher's remarkable assemblage of arms include high art European pistols and sporting rifles, unique antique prototypes, and other scarcely seen rarities that would turn the head of even the most distinguished arms collector.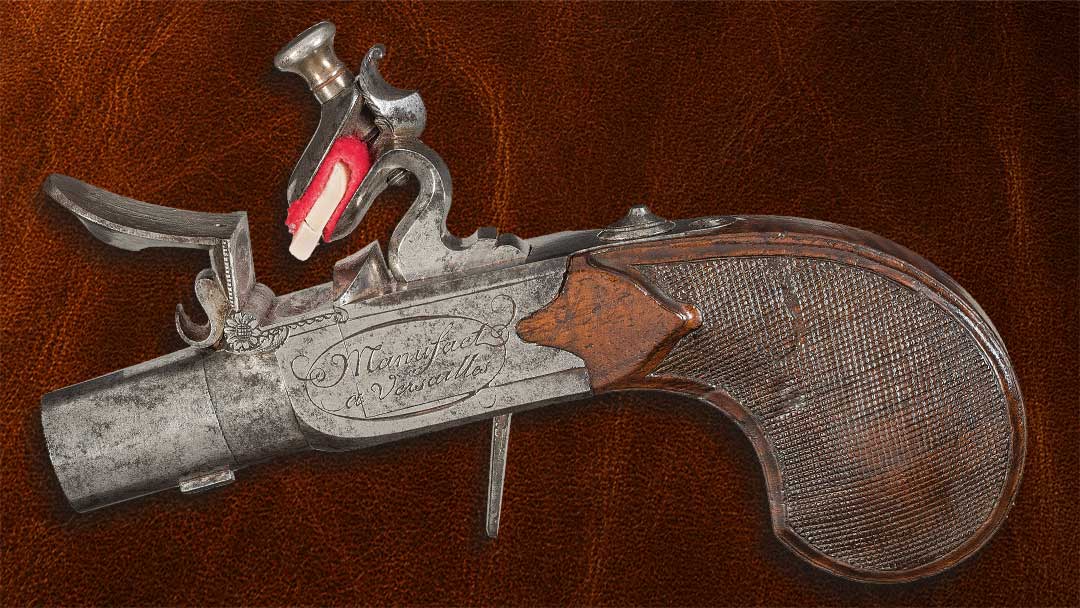 Boutet Versailles boxlock flintlock pocket pistol.
High Art
A true gentleman collector, Joe Wanenmacher was an outstanding curator with an eye for the highest quality arms, as evidenced in this stunning brace of Austrian holster pistols by Thomas Hamerlitz.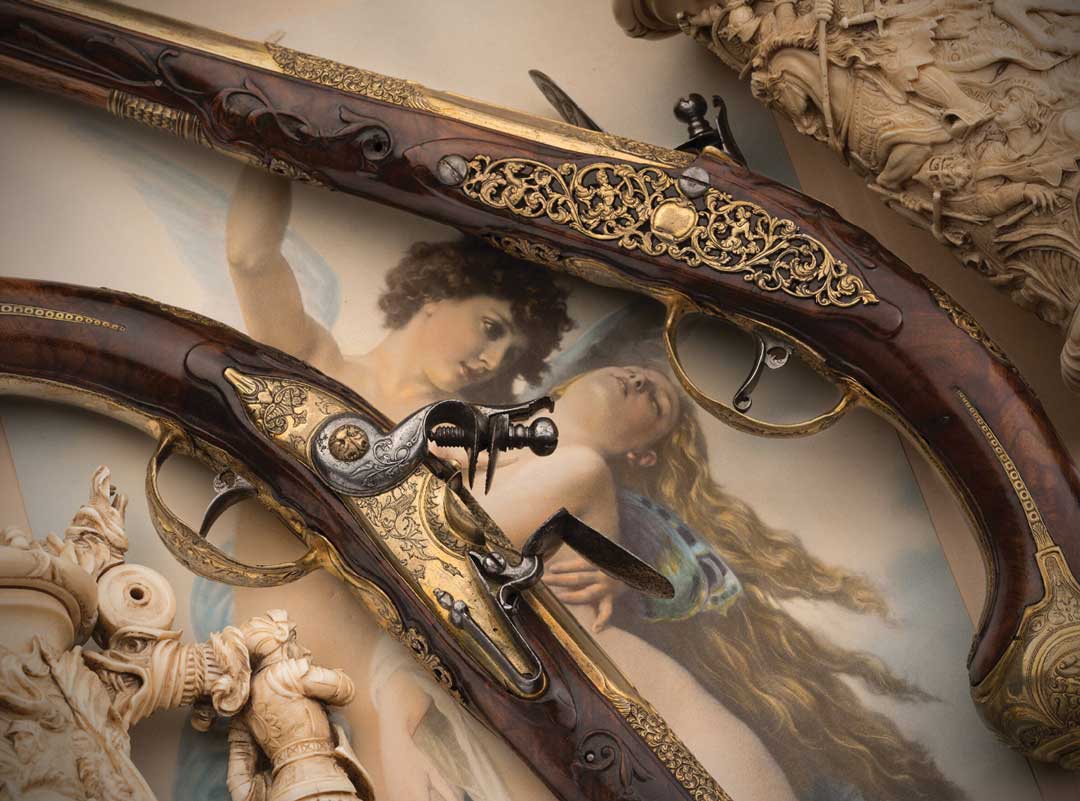 Documented early 18th century pair of gilt, engraved, and relief carved Thomas Hamerlitz 24 bore flintlock horse pistols with bronze barrels and locks.
In the book, "Decorated Firearms, 1540-1870, from the Collection of Clay P. Bedford" by Gusler and Lavin, the authors note, "In these pistols the Italian flavor is shown in the novel concept of the barrel chasing, which imitates in bronze the chiseled iron plaques set in the stocks of Brescian firearms. These plaques are characterized by tightly compressed scrolling foliage enclosed within relatively symmetrical boundaries. This affinity to Brescian arms is further exemplified by the pierced and tightly scrolled design of the sideplate. Furthermore, several masks incorporated within the chased design are certainly more Italianate than Germanic."
The name Johann Michael Maucher is a standout in the field of antique arms collecting, and Joe Wanenmacher added one of Maucher's impressive pistols to his collection. Per the Metropolitan Museum of Art, "Johann Michael Maucher was the most famous member of a Schwabian family of ivory, wood, and amber carvers. He specialized in decorating gunstocks in intricately carved walnut inlaid with panels of ivory worked in relief depicting hunting subjects and allegorical figures."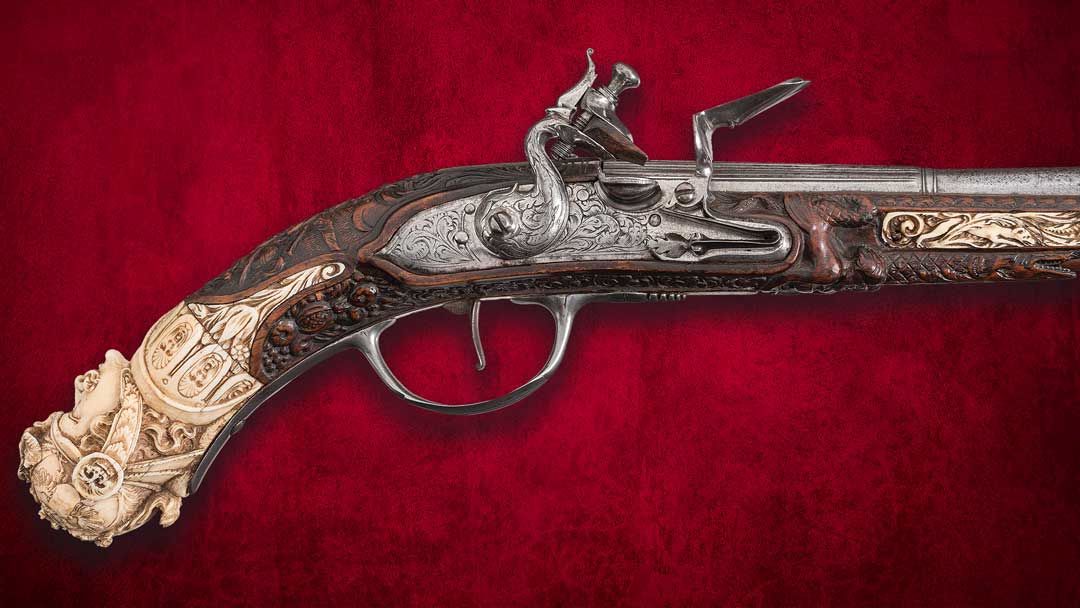 Extraordinarily rare relief carved and inlaid 17th century flintlock pistol with a carved bust pommel attributed to master carver Johann Michael Maucher.
Hand Mortars
A wide variety of arms and collectables are featured at the Tulsa Arms Show every year, from antique and modern guns, knives, accessories, and war memorabilia. As the show's promoter and director, Joe Wanenmacher encountered many of the rarest of firearm curiosities, like this 1592 inscribed wheellock hand mortar.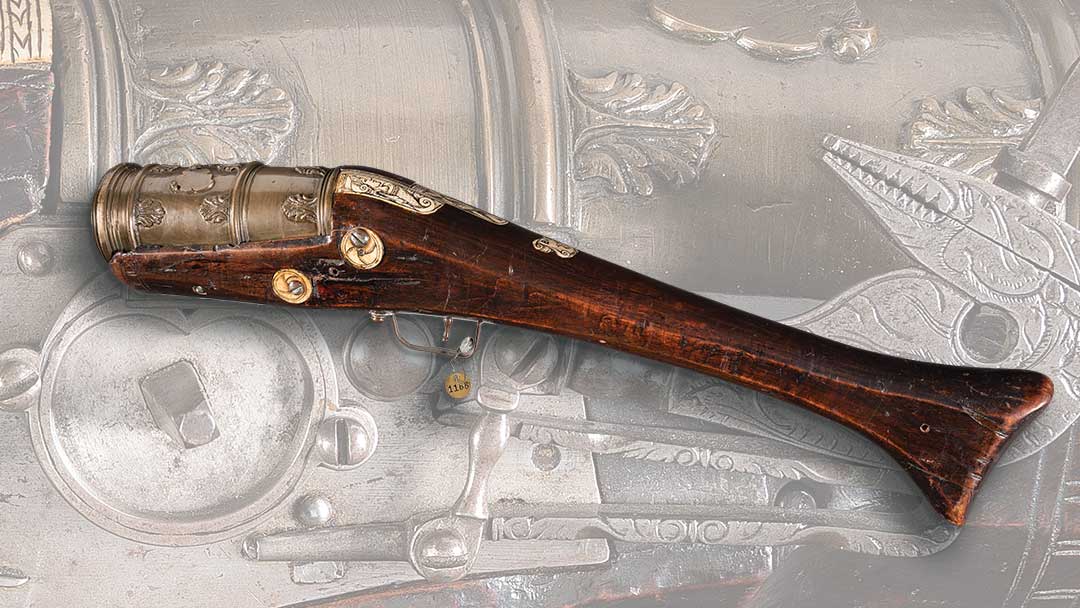 A wheellock hand mortar/grenade launcher dated 1592.
In addition to launching fused grenades, some hand mortars  were reportedly used for launching grappling hooks, weighted lines, incendiary projectiles, and fireworks. Their barrel shapes vary depending upon their intended purpose, and the cup shape on this scarce late 18th century European example from the Joe Wanenmacher collection was designed for early grenades.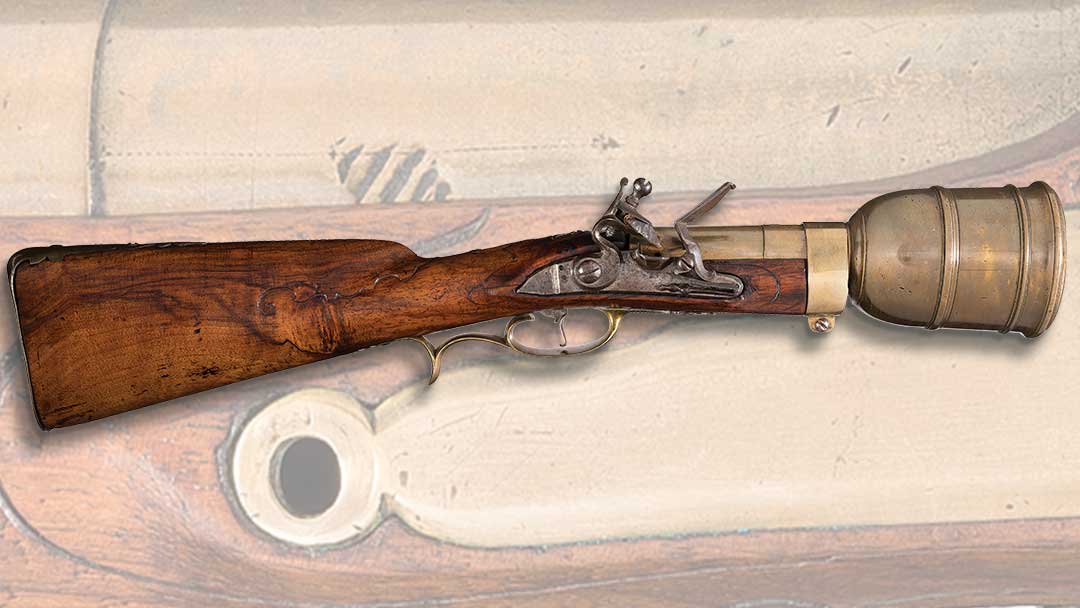 A scarce late 18th century European flintlock grenade launcher/hand mortar with relief carved stock.
Flintlock Pistol Pairs
Any serious assemblage of antique firearms would not be complete without the inclusion of high condition flintlock pistols. The level of scholarship and passion Joe Wanenmacher developed when building his collection is evident when examining his finely crafted European flintlocks, including a gorgeous pair by Johann Andreas Kuchenreuter with its original hardwood case and a full complement of accessories.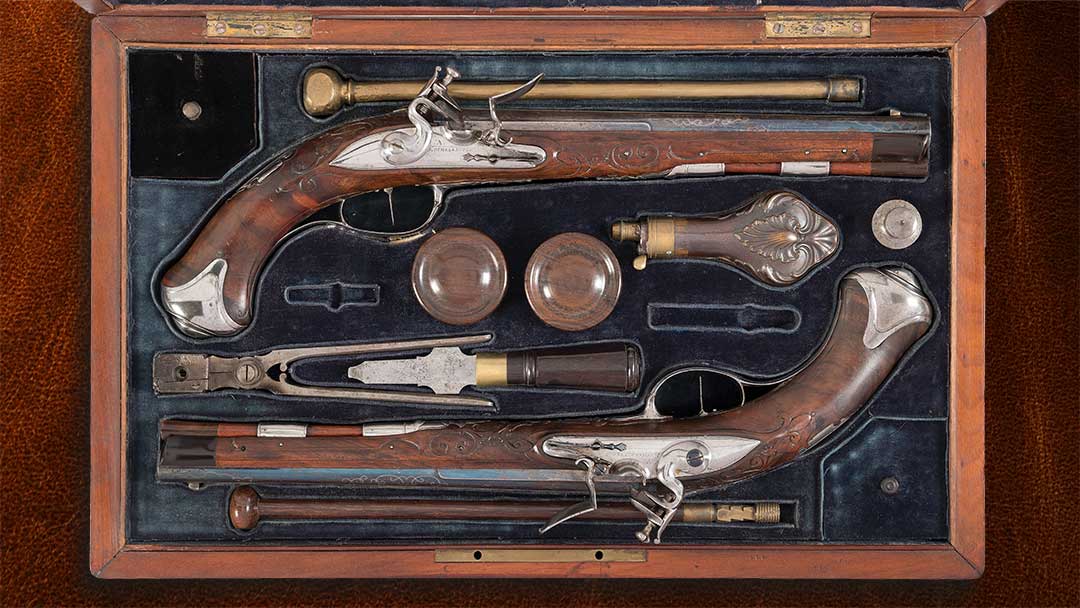 Fine cased pair of silver inlaid Johann Andreas Kuchenreuter flintlock pistols.
Our next eye-catching pistol pair comes from the capable hands of Claude Bizouard of Marseille, whose firearms were presented to a plethora of wealthy and royal clientele from across the Mediterranean. This fine cased pair certainly reflects an Islamic and eastern influence in its gold and silver motifs, and would make a worthy addition to any antique arms collection.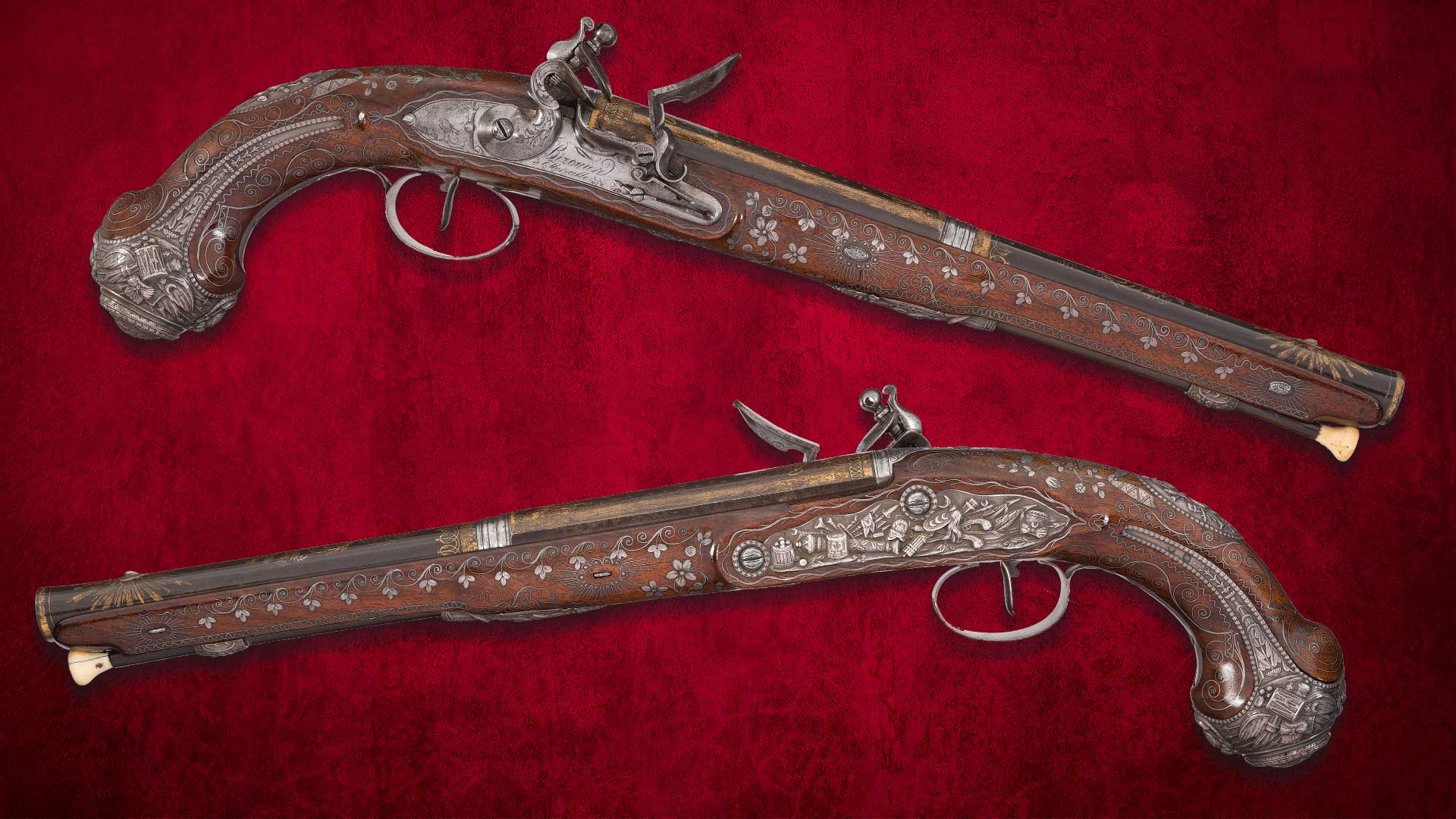 Elaborate pair of presentation / exhibition grade silver mounted, gilt, and engraved flintlock pistols by Bizouard of Marseille for the Eastern Market.
Joe Wanenmacher's fondness for superb European craftsmanship continues with this cased pair of Arlot of Paris officer's pistols. The quality and classic styling of the French gunmaker truly shines through, with the influence of Boutet and other master artisans of the Napoleonic period evident in the pistols and the ornate casing.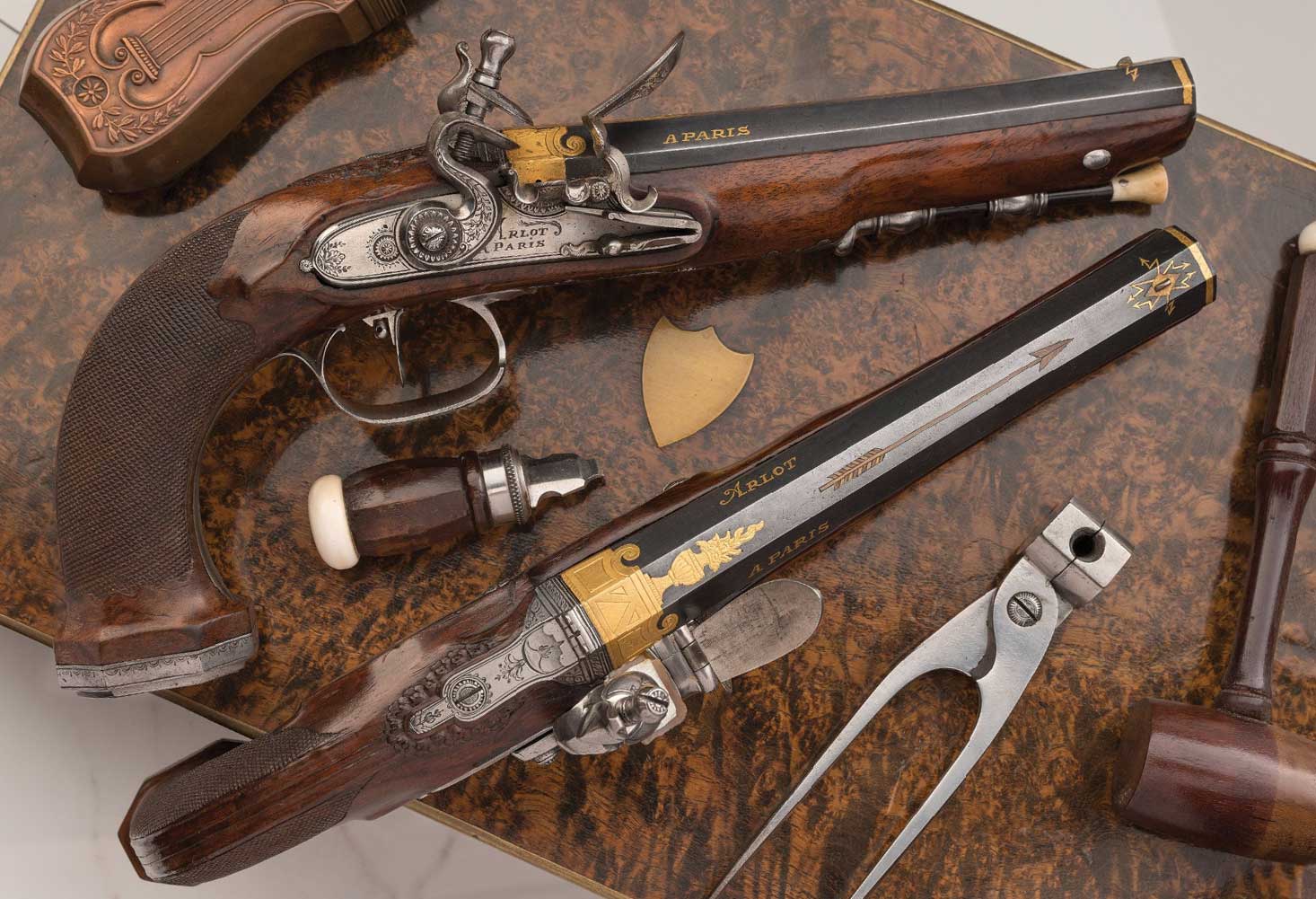 Exceptionally fine cased pair of Arlot of Paris flintlock officer's pistols with accessories.
Antique Sporting Guns
As a young man, Joe Wanenmacher was an avid hunter and target shooter, and his appreciation for history and heritage is apparent in his elite selection of antique sporting arms. The spirit of the hunting tradition is embodied in the engraving on this fine German Wheelock sporting gun, featuring a hunter, a stag, and a dog in pursuit.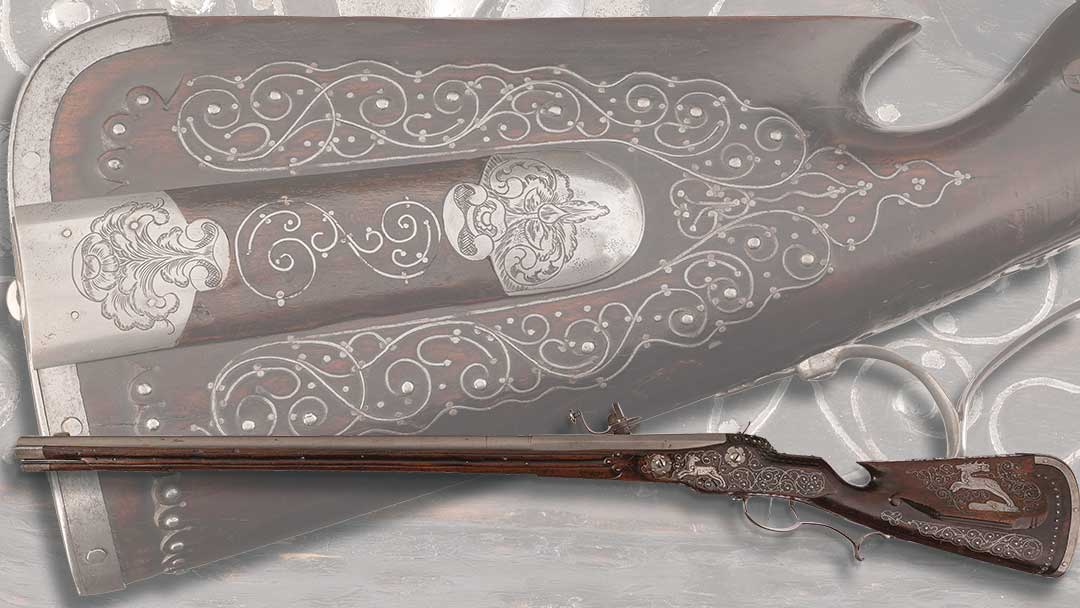 Engraved and wire inlaid smoothbore wheellock sporting gun with carved stock.
Another highlight of Wanemacher's collection, this incredible smoothbore hunting gun was made by John Shaw, who is recognized as one of England's finest gunmakers in the late 17th century and early 18th century. Shaw produced arms for four generations of English kings, and this stunning flintlock exemplifies the gunmaker's high level of expertise.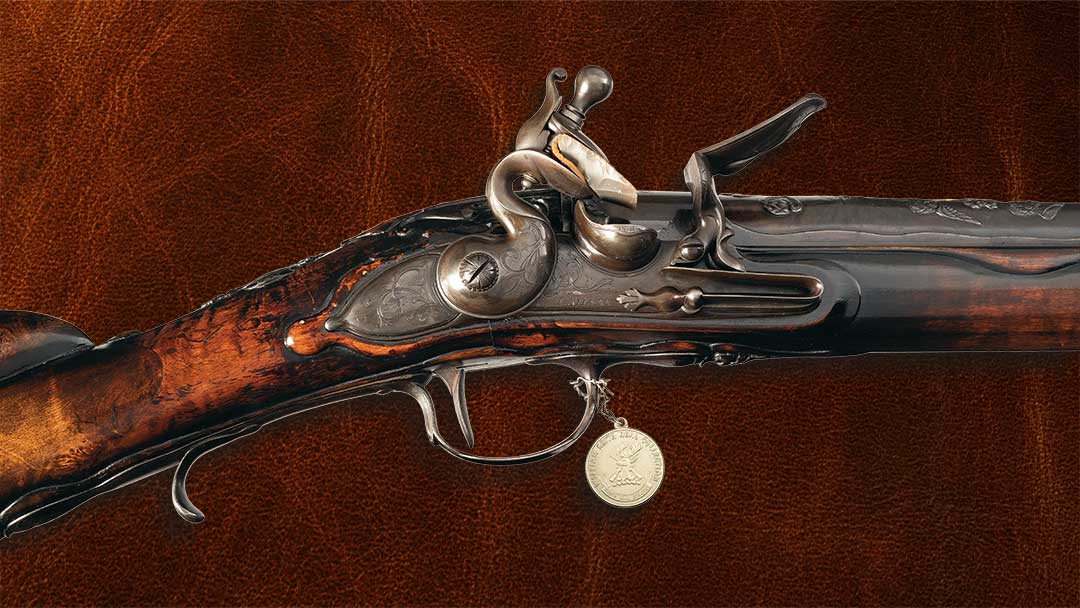 Relief chiseled, engraved, gold accented, and raised relief carved John Shaw 21-bore flintlock sporting gun.
Bertrand Piraube was another royal gunmaker from the 17th century, serving King Louis XIV of France and King Charles XI of Sweden. This attractive 1699-dated French 20-bore fowling piece reflects his artistry and innovation, an example of the classic craftsmanship that accentuates Joe Wanenmacher's gun collection.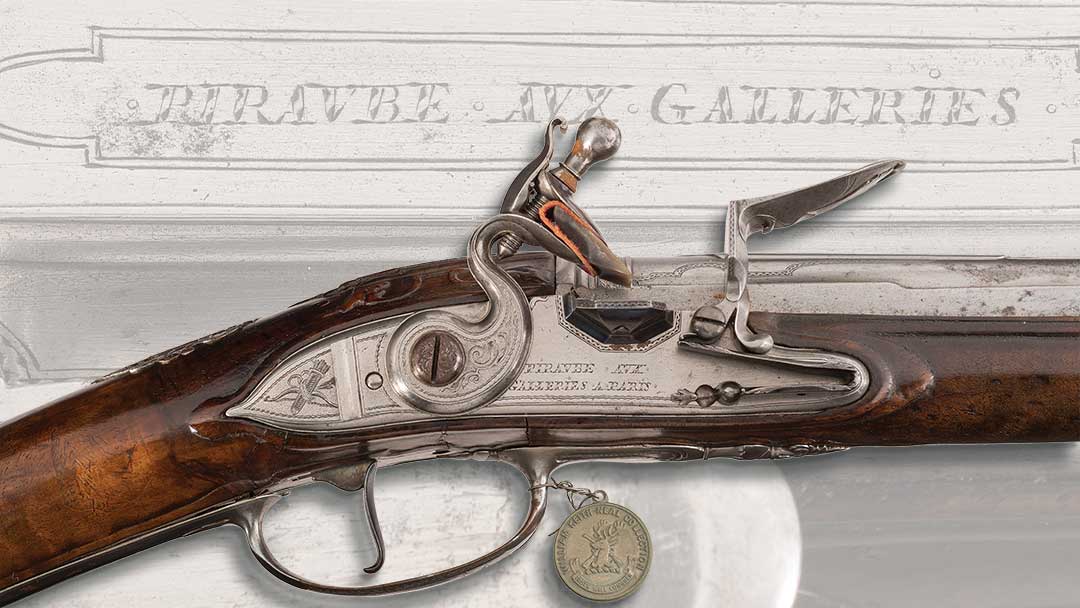 Raised relief carved, 1699 dated Piraube Parisian 20-Bore flintlock fowling piece.
Flintlock sword-pistols were popular in the 18th century as hunting weapons designed to dispatch wounded game like deer and boars. They were also sometimes carried as sidearms by some gentlemen and military officers. A piece like the example found in Joe Wanenmacher's collection could certainly have served effectively in either role and retains much of its original condition.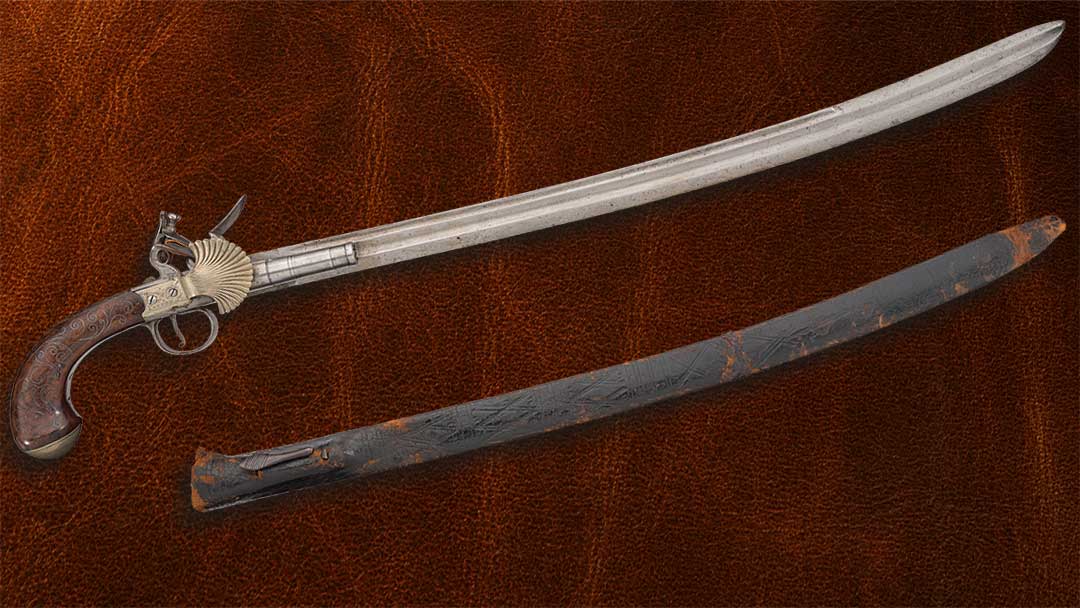 Engraved Hadley combination boxlock flintlock pistol/hunting sword with scabbard.
Flintlock Repeaters
Joe Wanenmacher understood rarity and condition and had a clear appreciation for the history of arms development, as exhibited by his collection's vast range of unique repeating flintlocks. This Lorenzoni style repeater was among the first practical repeating gun designs.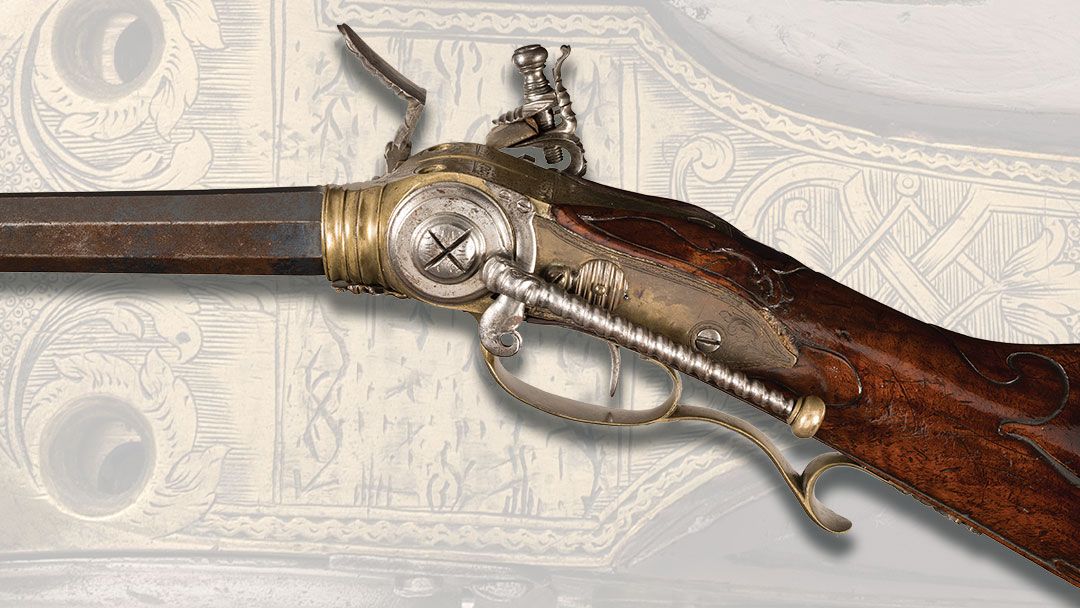 Incredibly scarce Lorenzoni type lever action repeating flintlock rifle.
The example below is a seven-shot design produced by Henry Nock's son. These fascinating manually rotated flintlock repeaters were based on the patents of Captain Artemus Wheeler of Concord, Massachusetts, in 1818. Elisha Collier patented the same designs in the U.K., and the Wheeler and Collier firearms set the stage for Samuel Colt's first revolvers.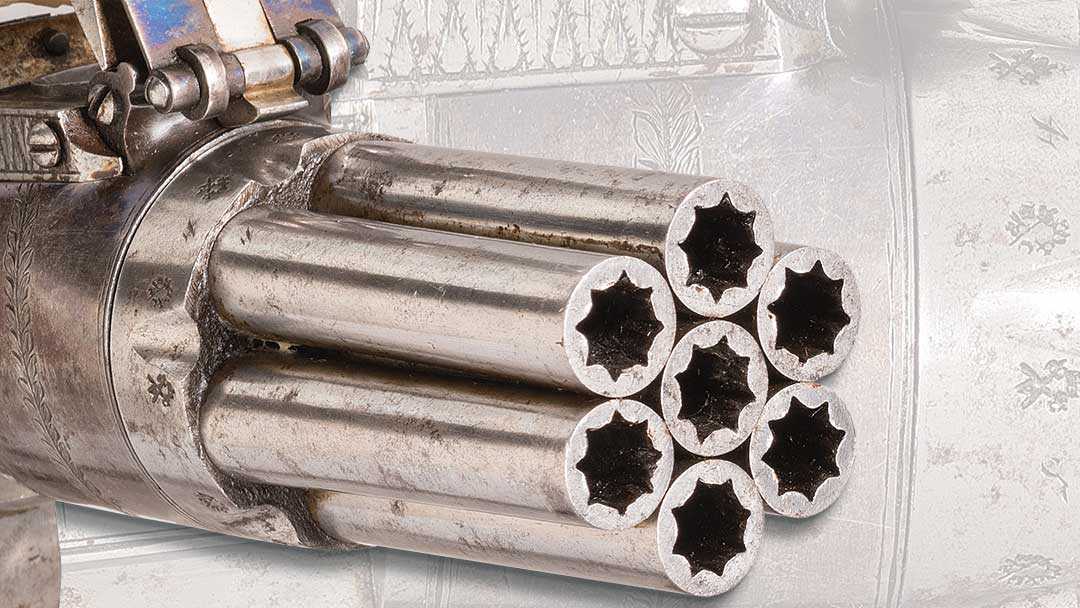 Rare and historic H. Nock manually revolved seven-shot boxlock flintlock pepperbox pistol.
Elisha Collier and Henry Nock's company were far from the first to manufacture revolving flintlocks. This late 17th or early 18th century Dutch-produced sporting gun has three two-stage, smoothbore barrels and demonstrates the ongoing innovation gunmakers of the era were experimenting with to provide sportsmen multiple shots before reloading.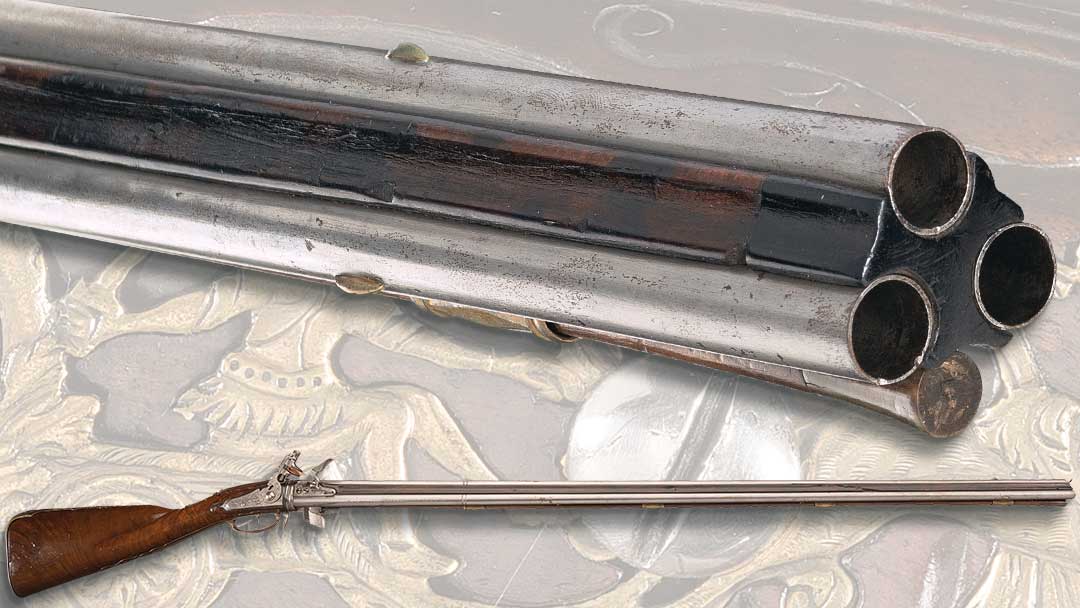 A Dutch rotating three-barrel flintlock sporting gun.
London gunmaker William Nicholson was also experimenting with multi-shot boxlock designs from 1787 to 1791. Like the breathtaking variety found at the Tulsa Arms Show, Joe Wanenmacher's meticulously built collection offers something for every gun collecting niche.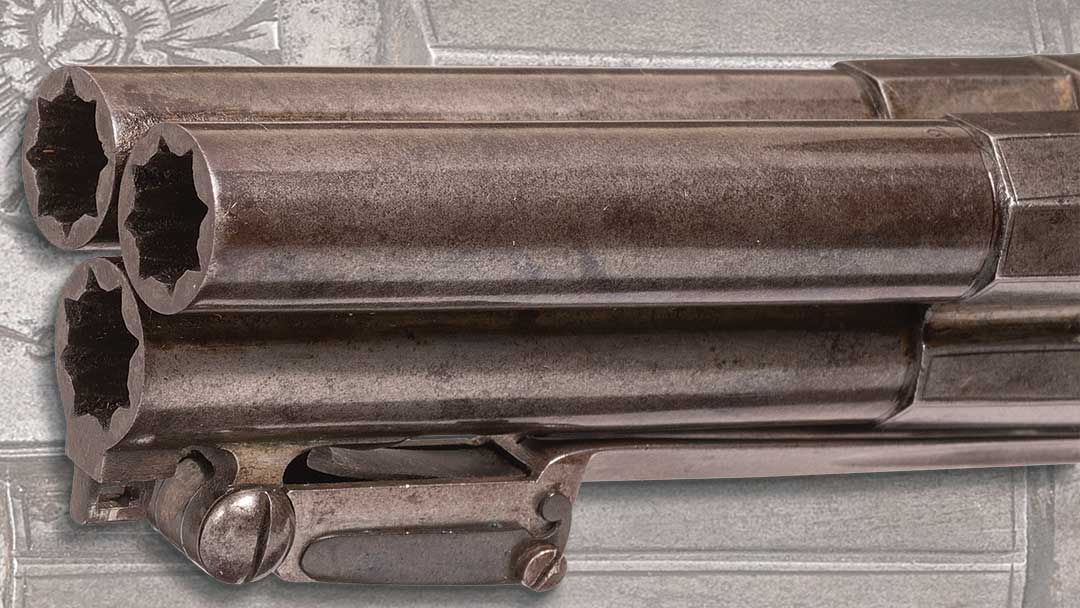 Engraved Nicholson three-barrel tap action boxlock flintlock pistol with snap bayonet.
Air Guns
Joe Wanenmacher's interest in antique arms innovations extended to the elusive early air gun concepts as well. Edward Bate of London was one of the most talented late 18th century and early 19th-century air gun makers and produced high-quality air pistols in multiple formats. A similar pistol by Bate resides in the Collections of the Royal Armories, Leeds.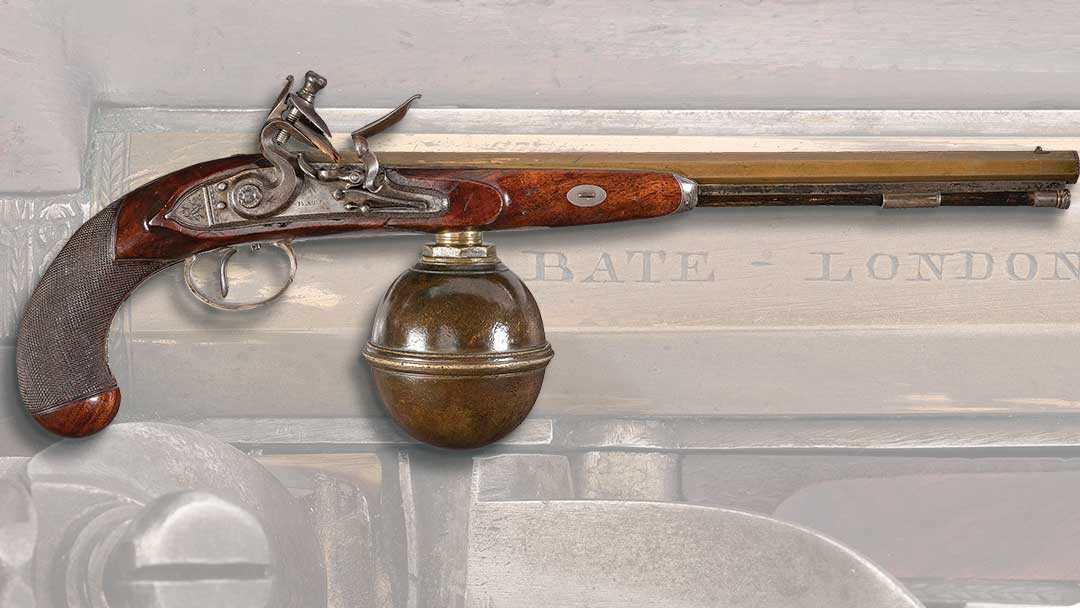 A rare ball reservoir air pistol by Bate of London with a spare ball reservoir and the original air pump.
Next, we have a fascinating sporting gun that can be used either as a traditional black powder ignition flintlock or as an air rifle powered by a ball-shaped reservoir of compressed air. Once belonging to the William Keith Neal collection, this hybrid air gun has been featured in numerous books, including Arne Hoff's "Airguns and Other Pneumatic Weapons" and D.H.L. Back's "Great British Gunmakers 1540-1750."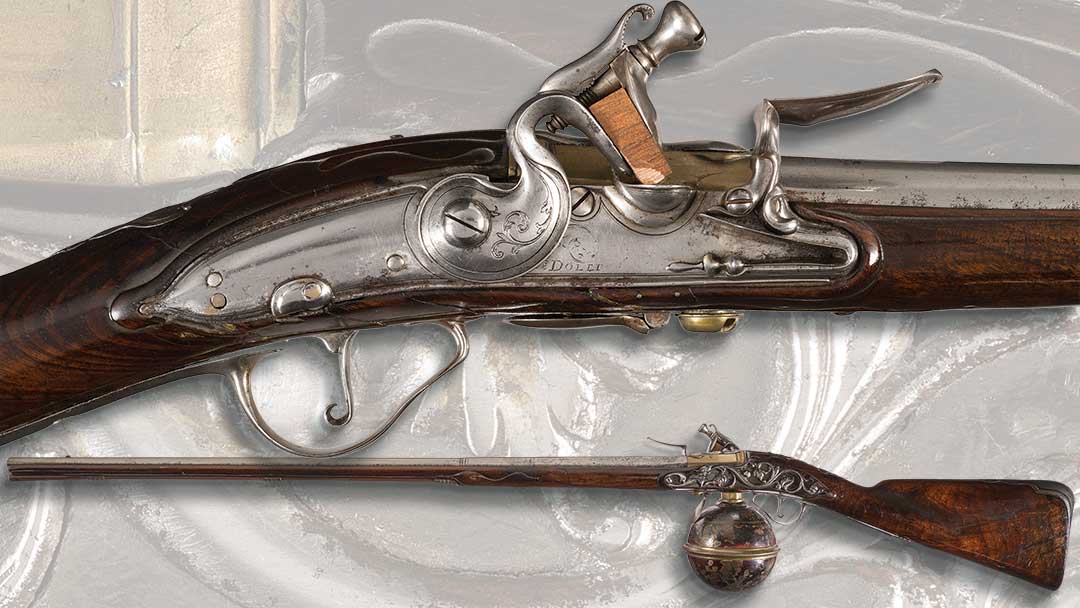 Combination flintlock and ball reservoir air gun by Andrew Dolep with a stirrup pump.
Antique Shotguns
Dan Haggerty, best known for his role as the legendary Grizzly Adams, was a friend of Joe Wanemacher and a regular at the Tulsa Arms show. Haggerty's character and his historic counterpart, like most frontiersmen, viewed firearms as both tools of sustenance and protection, though for the wealthy elite the shotgun also became an object of sport and a canvas of artistry.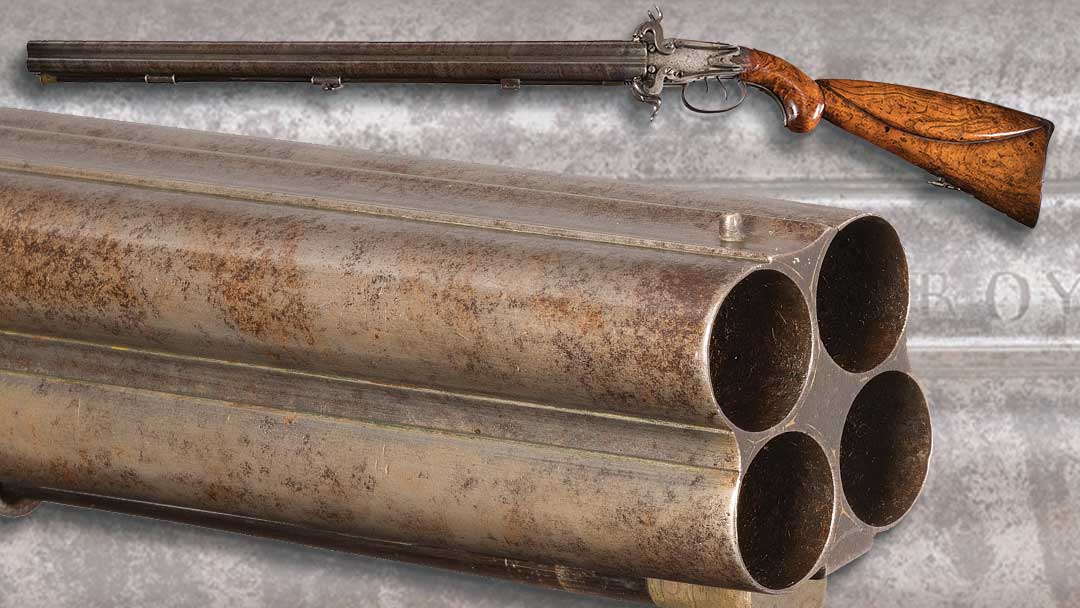 Felix four barrel percussion shotgun.
As the oldest human tradition, hunting is meant to be passed down from one generation to the next, and nothing embodies that heritage more handsomely than a lavishly decorated double gun. Given its extensive embellishment and ebony stock, this gold inlaid Plomdeur percussion double gun would have been a prime exhibition piece in its era, and it's a magnificent addition to any high pedigree gun collection today.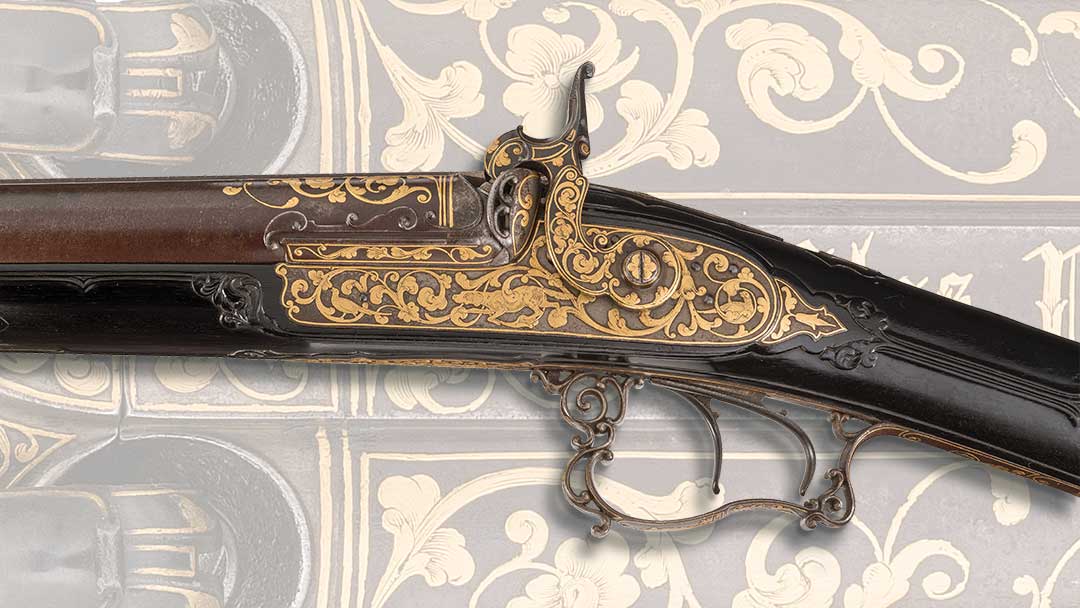 Exhibition quality grape relief chiseled and extensively gold inlaid Plomdeur percussion double barrel shotgun with raised relief carved ebony stock.
A legacy arm can be one of life's finest treasures, a tool designed to outlive its owner if properly maintained, then passed down through the generations as a timeless heirloom. This elaborate late flintlock era double barrel sporting gun by Blasius Sailer of Ehingen, Germany certainly exemplifies the sporting arm as a status symbol of luxury and as functional art object.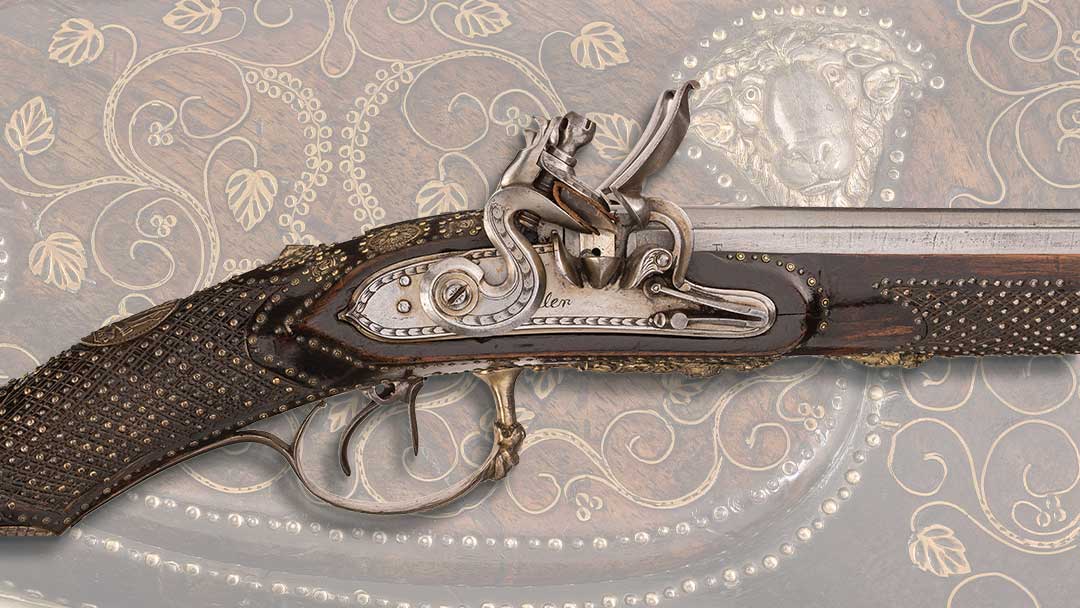 Elaborate Sailer of Ehingen double barrel flintlock shotgun with relief cast gilt silver plated mounts.
This next example from the Joe Wanemacher collection appears in the Kimball Arms Company Catalogs from the 1940s where it is described as a "Rare American double barrel, muzzle-loading, hammerless detonator by William Kirchberg of Philadelphia…Gun is loaded with made-up charges with fulminate in base." In short, a muzzleloading, needle-fire shotgun, another intriguing design in a collection filled with the rarest of rarities.
William Kirchberg double barrel muzzleloading needlefire shotgun.
Joe Wanenmacher and the Tulsa Gun Show
For many gun enthusiasts, traveling to the Tulsa Arms Show is a pilgrimage. The Mecca of gun shows started small, but as Joe Wanenmacher traveled the world and recruited countless gun exhibitors to Tulsa, the bi-annual event at Expo Square grew to feature more than 4,000 tables and host crowds of more than 40,000.
"Joe was a trailblazer in the event industry, … an honest, innovative, and a tremendously successful event promoter," wrote Mark Andrus, Expo Square president and CEO, and an acquaintance of Joe Wanenmacher for 30 years.
"Everyone who attended his show knew Joe as friendly, kind-hearted, and knowledgeable," said Rock Island Auction Company President Kevin Hogan. "His legacy is as large as the 75-foot "Golden Driller" statue outside the convention center. It is an honor and a privilege to be selected to market and sell his collection."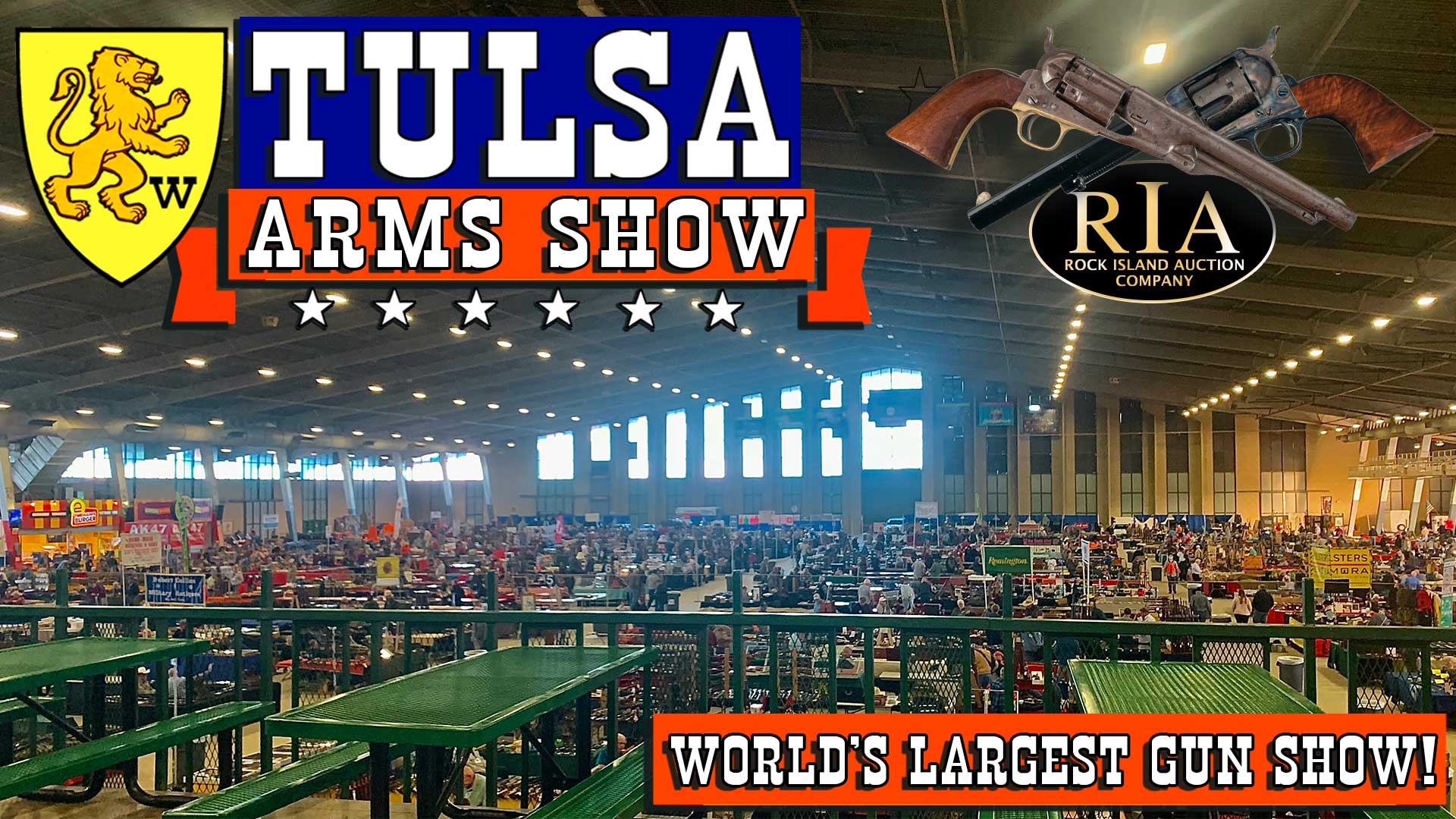 The next Wanenmacher's Tulsa Arms Show will be held on November 12 and 13, 2022. Be sure to stop by and visit Rock Island Auction Company's table and examine a selection of the finest firearms from our upcoming Premier auctions.
Thousands around the globe remember Joe Wanenmacher with equal reverence, one of the great entrepreneurs of the region who transformed a local gun show with 19 tables into a premier international event.
The Finest Gun Collections
Joe Wanenmacher left a timeless legacy behind in both the Tulsa Arms Show and his magnificent collection of unforgettable firearms. From classical European wheellocks to ornate percussion shotguns, the Joe Wanenmacher collection includes antiques from every niche and reflects a deep appreciation for our firearm's heritage.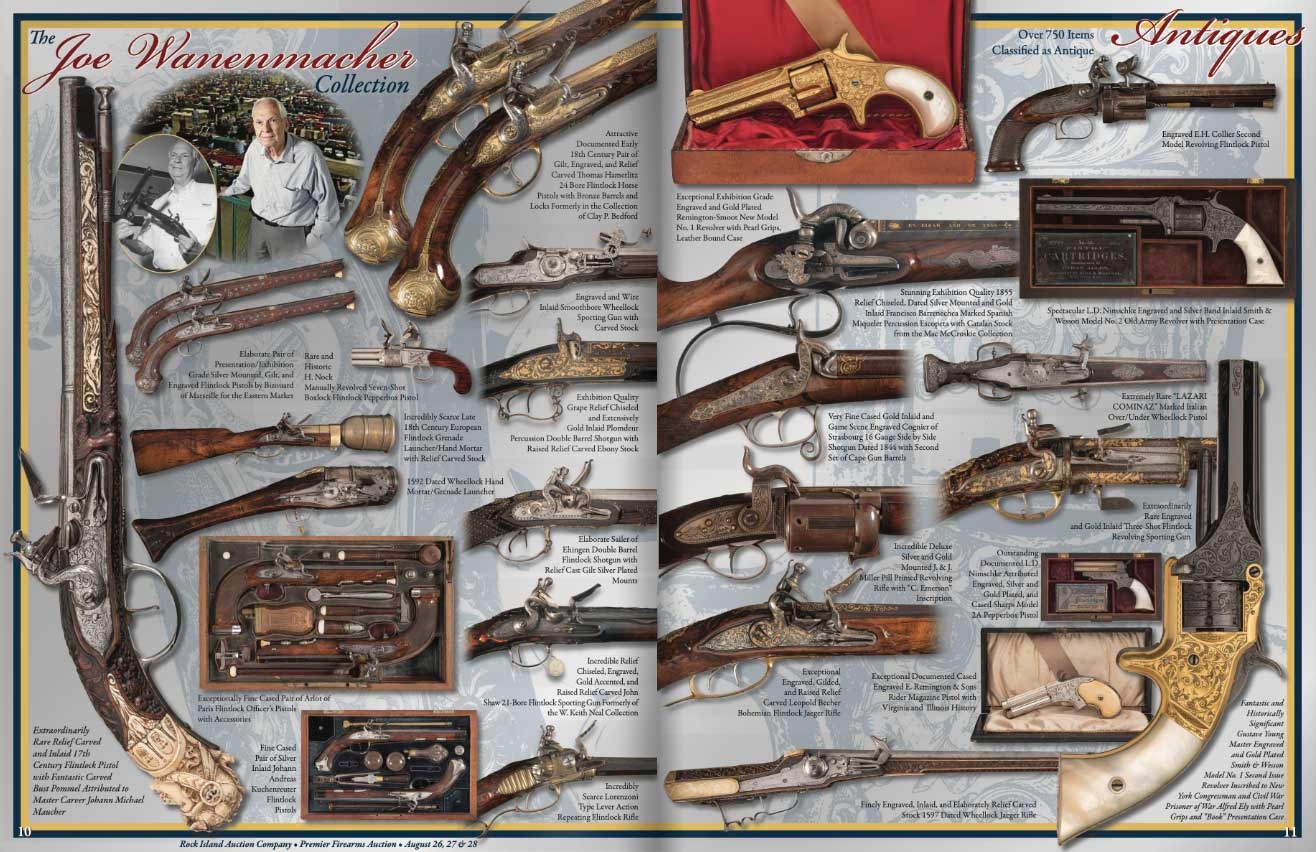 Over 750 antiques are featured in Rock Island Auction Company's August Premier Auction, including over two dozen firearms from the Joe Wanemacher gun collection.
Rock Island Auction Company's August 26 – 28 Premier Firearms Auction features the biggest names in the field of fine arms collecting, including guns from across the generations. We've only just scratched the surface of the treasures that await, so dive into our online catalog, place your bids, and get ready for this summer's biggest event in firearms collecting.
As the world's number one gun auction since 2003, Rock Island Auction Company has featured some of the most desirable collections in the fine arms pursuit. Subscribe to the weekly Rock Island Auction newsletter to receive new gun blogs and gun videos on featured collections from celebrated names such as George Moller, Robert Bretherton, and Hank Williams Jr.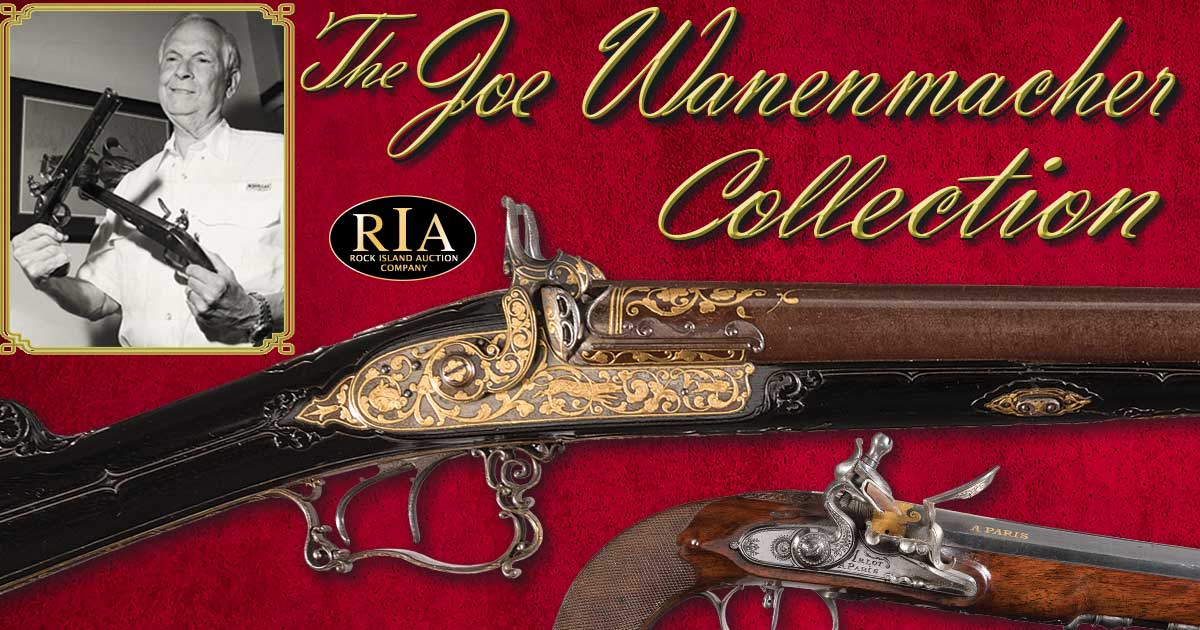 Rock Island Auction Company