The LeMat two-barrel grapeshot revolver was one of the most unconventional wheel guns ever conceived. Invented by native Frenchman Dr. Jean Alexandre LeMat of New Orleans, these fascinating combination guns were primarily produced in Belgium, Paris, and England, and earned fame with the Confederacy during the Civil War.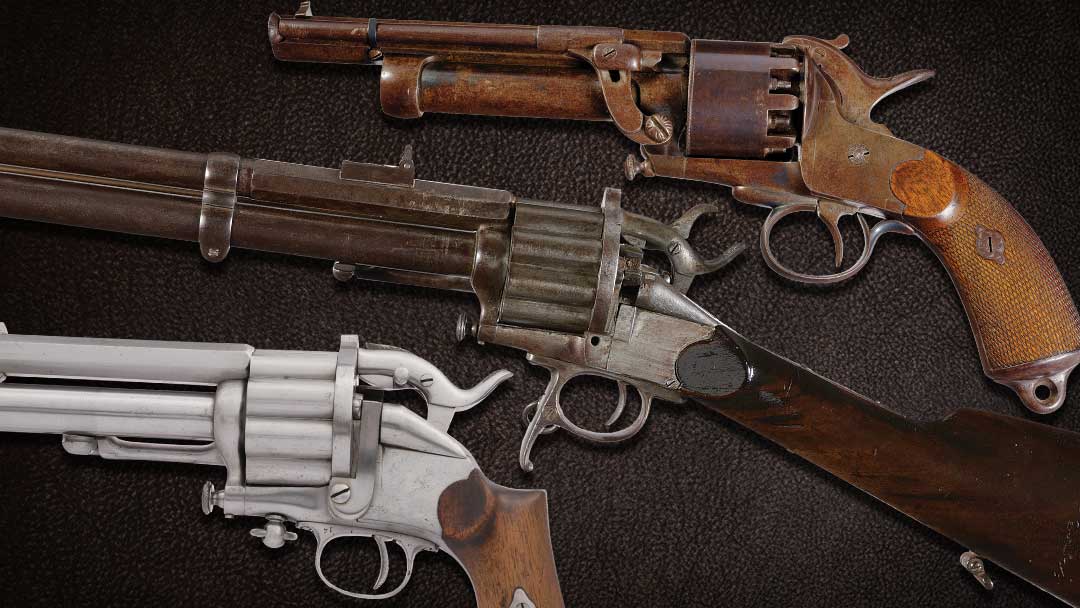 The high-condition LeMat revolvers for sale this August at RIAC cover numerous models, including (from left to right) a Belgian LeMat Patent SA centerfire revolver, a centerfire LeMat revolving carbine, and a Civil War-era Second Model LeMat percussion revolver.
The LeMat revolver's low production numbers, novel design, and service as a Confederate cavalry weapon have made the unique pistol one of the most popular guns in antique arms collecting. Rock Island Auction Company's August 25-27 Premier Auction includes four historic examples of the genre, including a First and a Second Model LeMat Civil War percussion revolver, a LeMat patent centerfire revolver, and an exceptionally rare LeMat revolving carbine. Click on the images throughout this article to learn more about each revolver model.
When was the LeMat Revolver Invented?
Jean Alexander Francois LeMat was born in France in 1821 and immigrated to America in 1843 after becoming a physician. A lifelong inventor, Dr. LeMat was awarded numerous patents in the medical, maritime, and aviation fields throughout his storied career, though the LeMat revolver is undeniably his most famous design.
A rare centerfire LeMat revolving carbine for sale. LeMat centerfire carbines like this example offered in RIAC's August Premier Auction are illustrated and described in 'LeMat: The Man, The Gun' by Forgett and Serpette.Available this August.
Through his marriage to Justine Sophie in April 1849, LeMat also became cousin-in-law to P.G.T. Beauregard, a Louisiana-born military engineer who would rise to fame as the Confederate general who ordered the first shots of the Civil War at Fort Sumter on April 12, 1861. Dr. LeMat patented his grapeshot percussion revolver in 1856 and received financial assistance from Beauregard to begin production in Europe.
Prior to the Civil War, then-U.S. Army Major Beauregard purchased 25% of the LeMat Company and urged the U.S. military to adopt the design, arguing that the LeMat revolver's secondary smooth-bore barrel offered a lethal close-quarters option for cavalry and artillery units, as well as an efficient anti-boarding naval gun. Beauregard was able to arrange a trial in Washington on March 2, 1859.
The armament board provided a positive assessment of the LeMat revolver, stating, "We consider the arm far superior to any we have seen for the use of cavalry acting against Indians or when charging on a square of infantry or a battery of field pieces. It is also indispensable for artillerists in defending their pieces against such a charge, and for infantry defending a breach."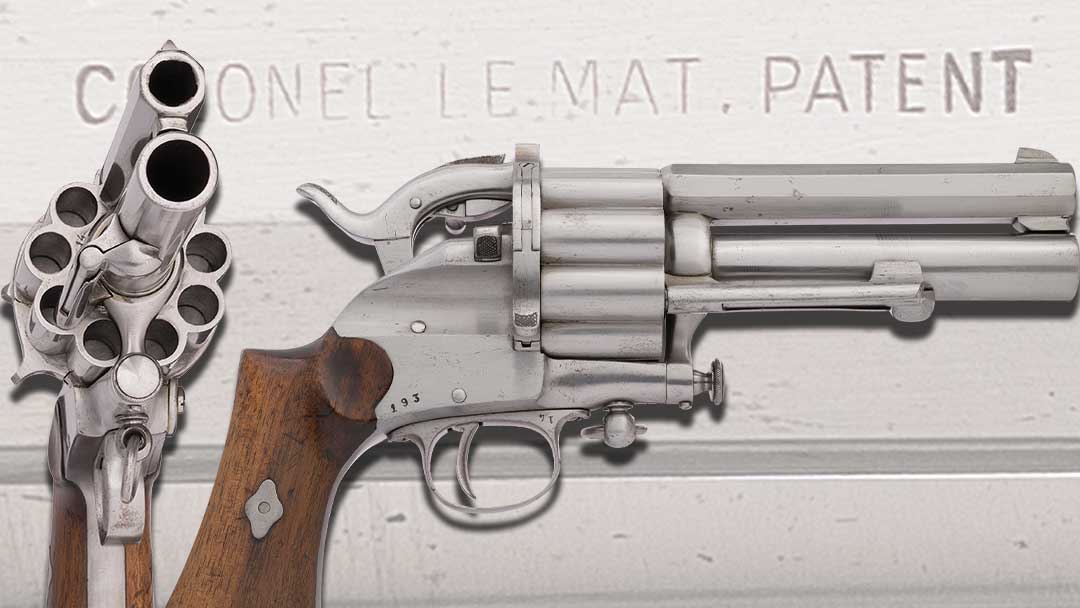 The LeMat revolver offered its user nine shots with a conventional revolver and one big hit with its 18 gauge shot barrel that doubled as the cylinder pin. Available this August.
Despite the promising trial, the U.S. Army was reluctant to invest in new weapon systems and may have been skeptical of ordering a gun that lacked a domestic manufacturing facility. Beauregard and LeMat hoped to establish a factory in the South, but the outbreak of war and the subsequent Union blockade prevented the LeMat Company from importing the necessary machinery and tooling. LeMat revolver production would remain in Europe, forcing the Confederate States to rely on smuggling for future arms shipments.
LeMat Revolver Ammunition
LeMat revolver percussion models stored nine black powder pistol rounds in a cylinder that revolved around a separate central smoothbore "grapeshot" barrel. This unconventional design provided the revolver with an impressive 10-shot capacity. The LeMat's two distinct firing modes could be alternated by toggling a movable firing pin that pivoted the hammer nose to engage either the percussion nipples on the cylinder or on the grapeshot barrel nipple.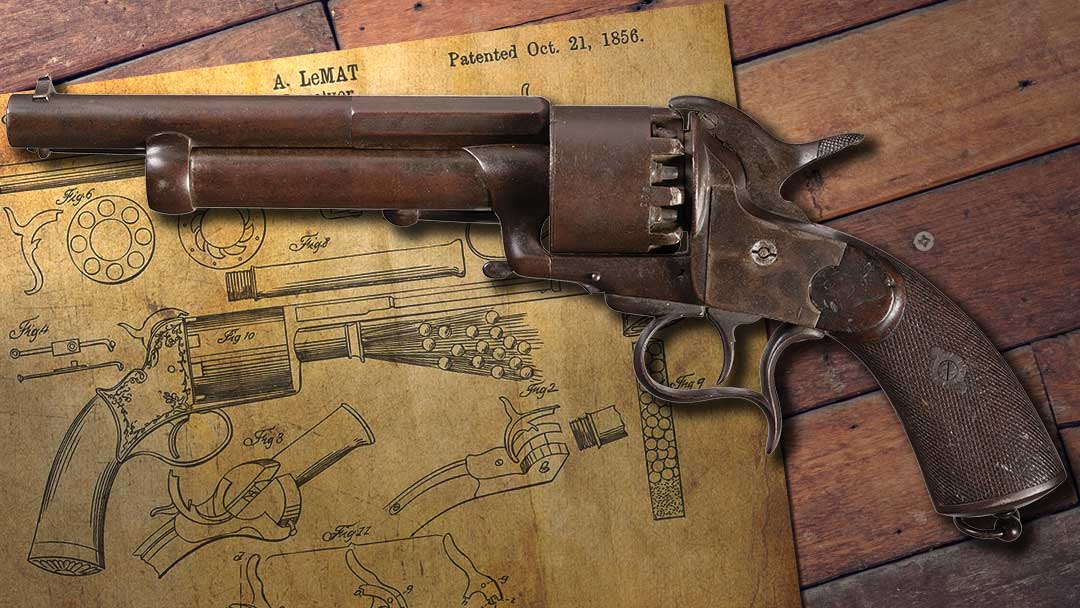 A First Model LeMat revolver. Period advertisements referred to these unusual wheel guns as "LeMat's Grape Shot Revolvers." Available this August.
LeMat revolvers were typically produced in non-standard calibers like .40, .41, and .42. The bullet and buckshot mold pictured below allows a user to cast two small .28 caliber buckshot balls (approximately #2 buckshot) and a .40 caliber conical bullet. This pattern of LeMat revolver mold is discussed in depth on page 105 of 'The Confederate LeMat Revolver' by Doug Adams.
During the LeMat revolver's range test in March of 1859, the armament board recorded loading each cylinder chamber with 1 gram of black powder and loading the shotgun barrel with 2.5 grams of powder and 15 pellets of buckshot.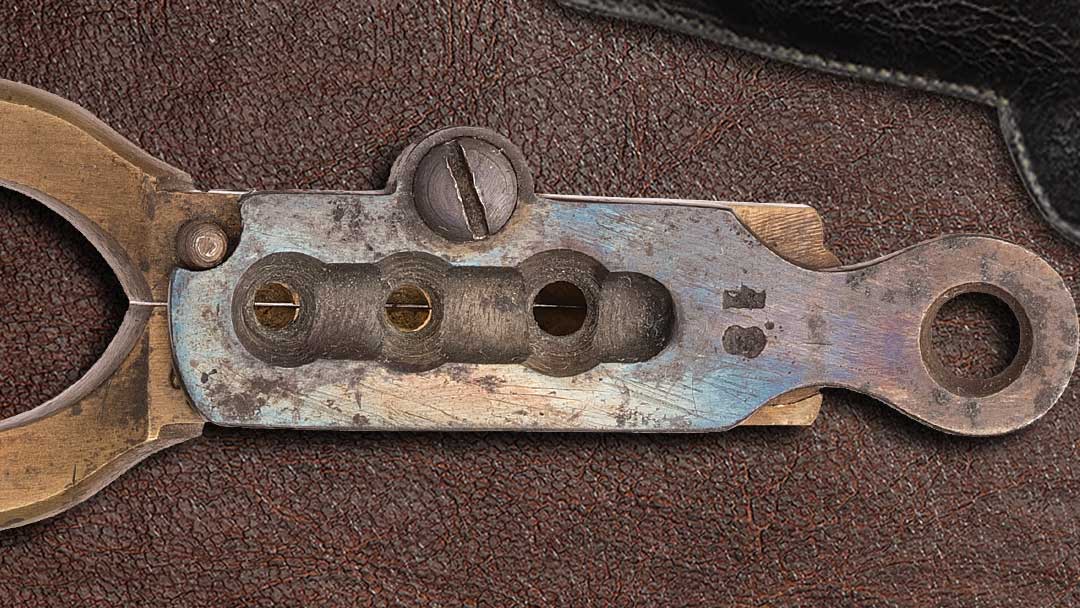 This distinctive LeMat revolver bullet and buckshot mold comes from the collection of accouterment expert Robin Rapley. Available this August.
Compared to other popular wheel guns of the era such as the Colt Model 1851 Navy and the Starr Arms revolvers, the LeMat was bulky, had less accuracy, and required more reload time. Still, the LeMat revolver offered higher capacity than most of its competitors as well as the ability to deliver a devastating blast of buckshot at close range with its signature shotgun barrel. These traits made the LeMat revolver a popular option with the Confederate generals and high-ranking cavalry officers fortunate enough to be issued a grapeshot pistol or acquire one through private purchase.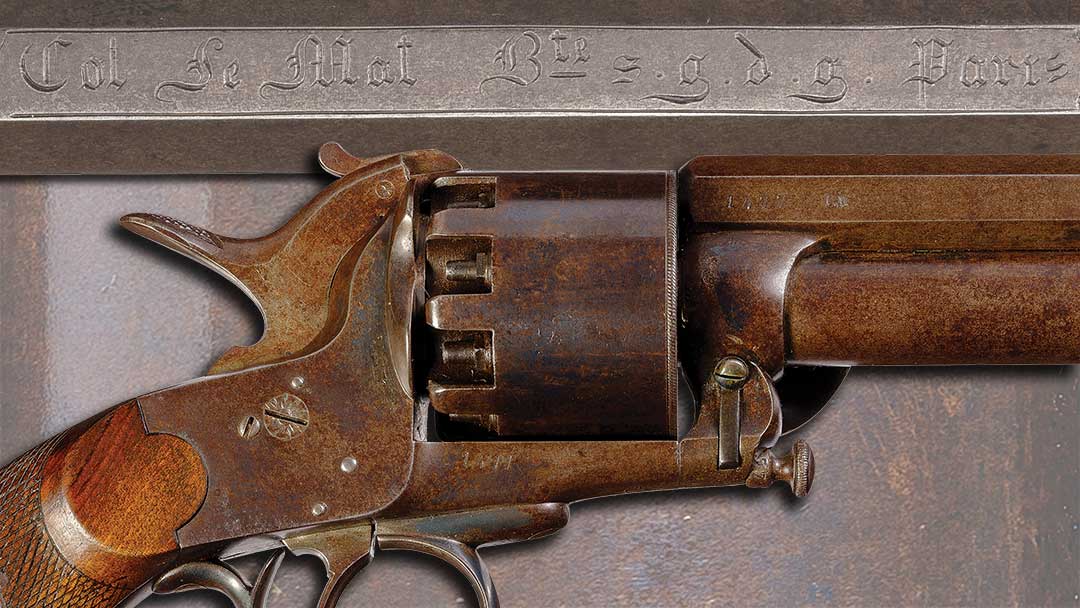 Offering its user nine .40 caliber bullets and a powerful 18 gauge shotgun blast, the LeMat revolver was a terror at closer range. Available this August.
Civil War LeMat Revolvers
The Confederacy had fewer factories, a scarce iron supply, and a decentralized manufacturing base compared to the industrialized North. As a result, the Southern States faced a constant shortage of guns and artillery throughout the Civil War. Given the prominence of Confederate cavalry early in the conflict, a steady supply of revolvers was in especially high demand. Despite limited production numbers and a Union blockade that hindered imports, the LeMat revolver became a battlefield staple.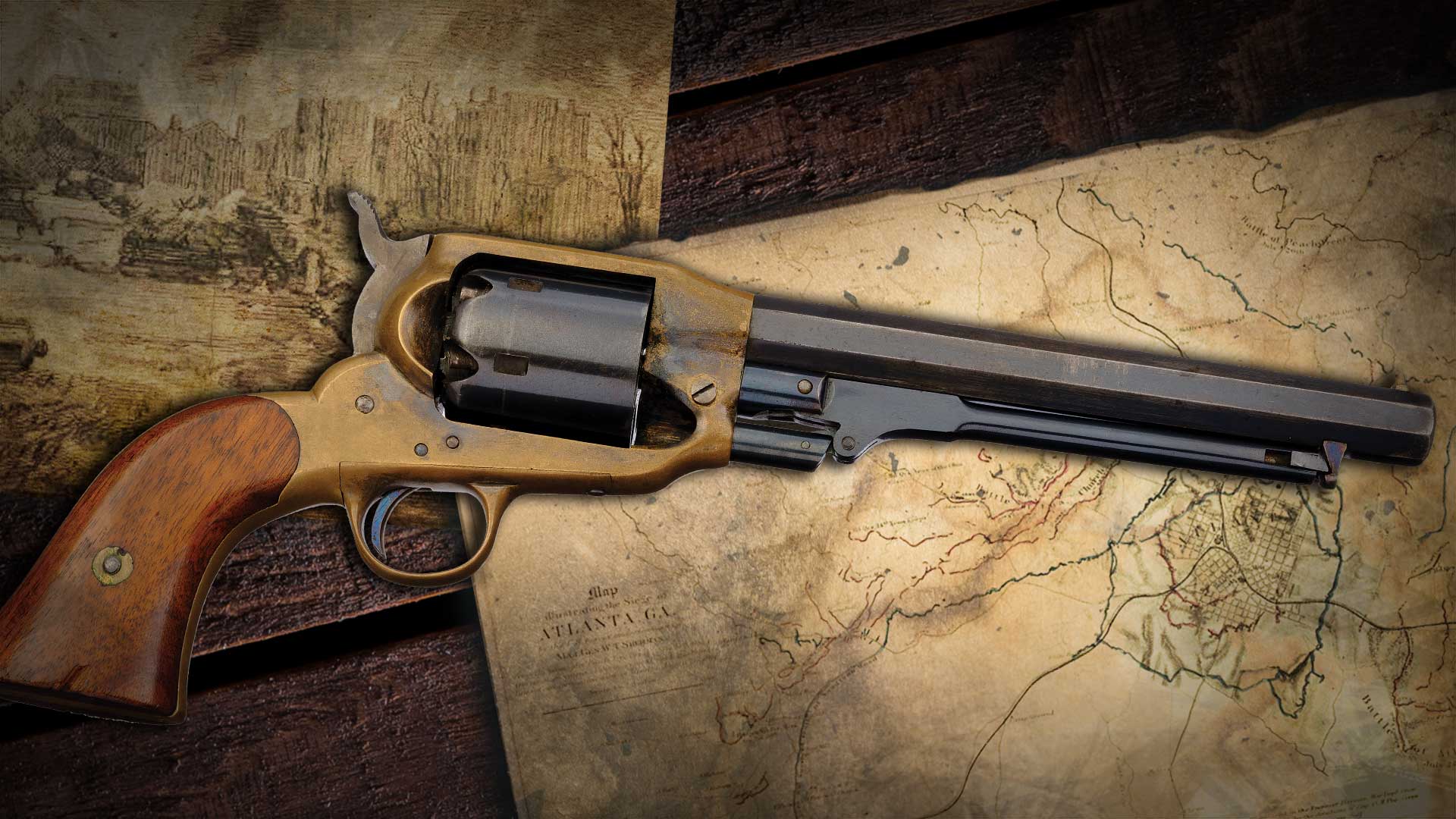 Shortages of iron and graded steel led to Confederate revolvers relying on brass pistol frames and other brass componentry as displayed in this outstanding Civil War era round frame Spiller & Burr revolver. Available this August.
The LeMat revolver was carried by Confederate legends like "Stonewall" Jackson and Braxton Bragg, and the pistol became particularly closely associated with Major General J.E.B. Stuart. Commanding the Army of Northern Virginia's cavalry, the defiant Stuart was firing his LeMat revolver at Union troops when he was mortally wounded at the Battle of Yellow Tavern in 1864.
Many percussion LeMat revolvers saw use in the Civil War and have fascinating stories to tell. The example below, one of two Civil War-era LeMat revolvers for sale this August at Rock Island Auction Company, was discovered in the attic of a Virginia farmhouse along with several rifles and "a large quantity of Confederate currency." The revolver is an astonishingly well-preserved example of a Second Model LeMat and is accompanied by a Confederate States Amory & Museum analysis that concludes, "This LeMat revolver is in excellent, original, untouched condition."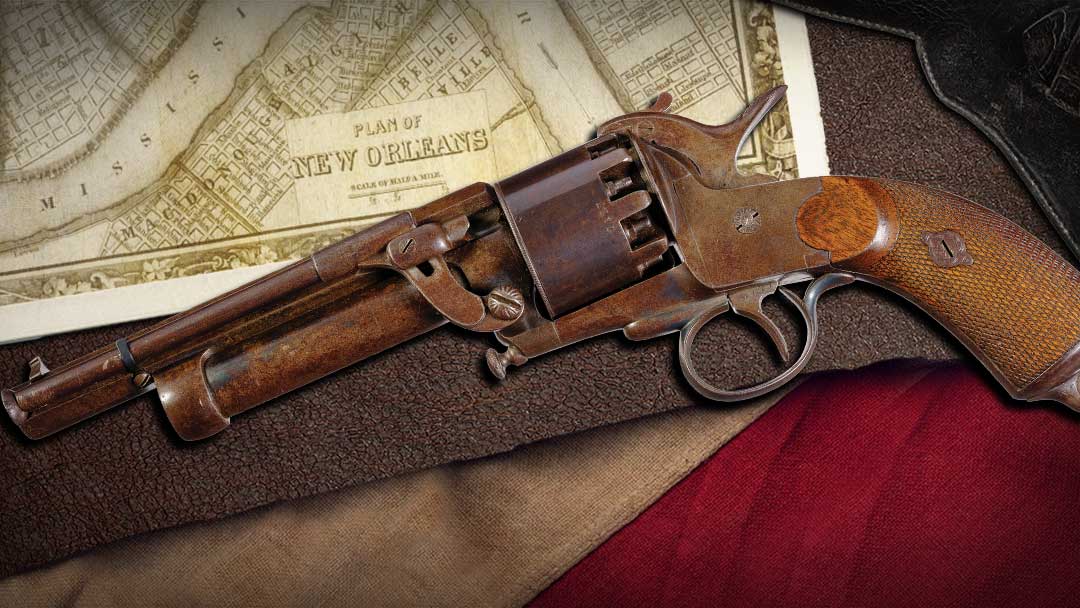 An outstanding Second Model LeMat revolver accompanied by an affidavit from the family and detailed analysis from the Confederate States Amory & Museum. Available this August.
The second LeMat percussion revolver for sale this August at Rock Island Auction Company is another absolute treasure in Civil War collecting. The sidearm of a Confederate general, this historic LeMat revolver was passed down through the family of Lucius Jeremiah Gartrell of Wilkes County, Georgia. A lawyer and U.S. congressman, Gartrell resigned when Georgia seceded from the Union and raised the 7th Georgia Infantry Regiment. Gartrell served as the colonel of the regiment during the historic battle at First Bull Run.
During the fighting, Gartrell and his men charged on the right, driving away the Union infantry and artillery, but their victory came at a heavy cost. Among the nearly 2,000 Confederate casualties was Gartrell's 16-year-old son, Henry, who served in the Atlanta Confederate Guards.
A historic Civil War First Model LeMat revolver passed down through the family of Confederate Brigadier General Lucius Jeremiah Gartrell. Available this August.
Gartrell served a two-year term in the Confederate Congress before rejoining the rebel army as a brigadier general in 1864 and organizing four reserve regiments for his brigade. Though he was wounded at Coosawhatchie, Gartrell survived the war and returned to practicing law and participating in local politics until his death in 1891. All LeMat revolvers are collecting touchstones, with examples documented to Confederate generals ranking among the most desirable pieces in the fine arms pursuit.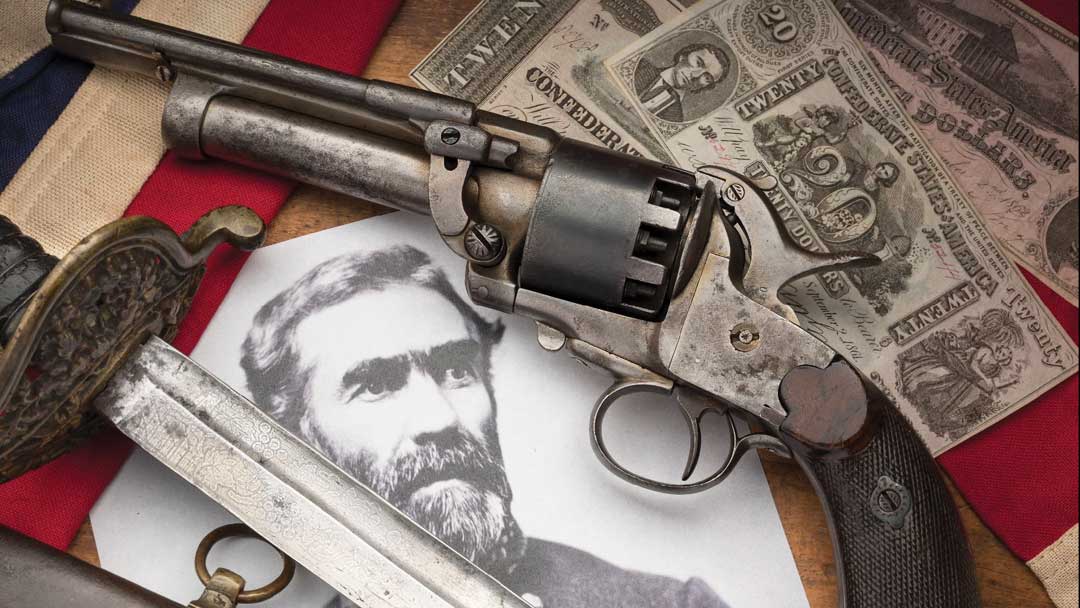 Confederate General Braxton Bragg's LeMat revolver realized an incredible $103,500 during Rock Island Auction Company's December 2021 Premier Firearms Auction.
LeMat Revolver Variations
Only an estimated 1,500 LeMat revolvers are thought to have been delivered to the Confederacy during the Civil War, less than one-fifth of what Dr. LeMat was contracted for. Most LeMat revolvers were produced in Paris, France, with a smaller number manufactured in Liege, Belgium from 1861 to 1862, including 450 Belgium First Model LeMat revolvers. Numerous variations are found in the standard models since LeMat revolver components were manufactured by smaller shops and later shipped to a main factory for final assembly.
The First Model LeMat revolver for sale at RIAC this August is similar to other well-documented First Model LeMats, like serial number 282 shown on page 55 of 'LeMat: The Man, The Gun' by Forgett and Serpette. Both revolvers feature a spurred trigger guard, a pair of checkered walnut grips, a lanyard ring, and a loading lever on the right side of the upper barrel that houses a removable ramrod for loading the smoothbore lower barrel.
A fine representation of a Belgium First Model LeMat revolver, marked serial number 286. Available this August.
The Second Model LeMat revolver was manufactured in Paris, France from 1864 to 1865. Design changes were gradually implemented to improve reliability and decrease production costs. Second Model LeMats often feature a round trigger guard, an integral lanyard ring on the butt, an octagon barrel, a pull-out assembly latch, a center-mounted hammer pivot, and a loading lever mounted on the left side of the barrel.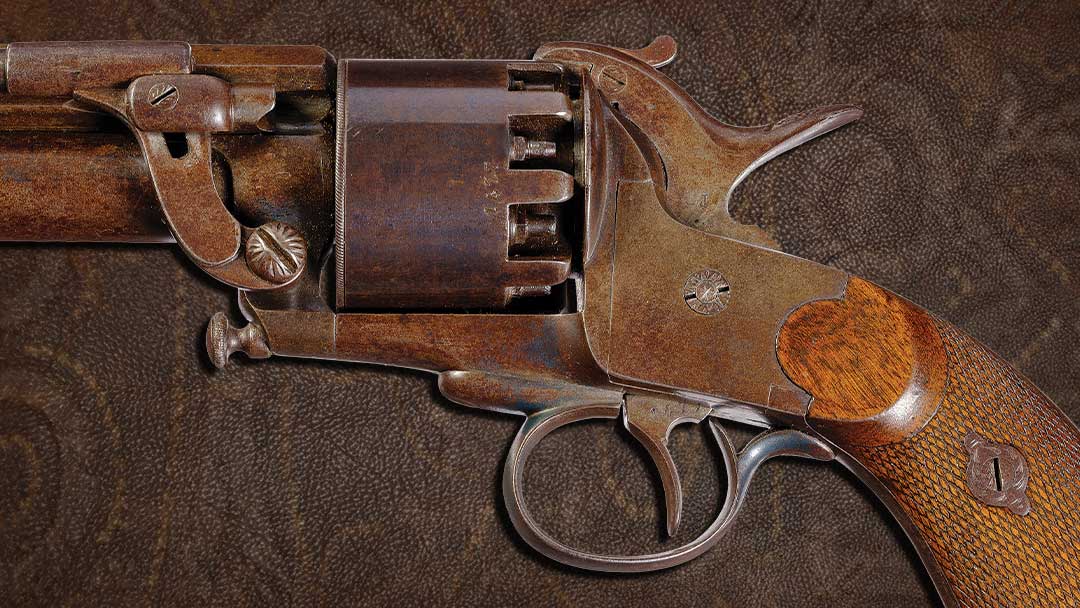 A Second Model LeMat Revolver for sale. The barrel is signed "Col Le Mat Bte s.g.d.g. Paris" on top with lined borders and entwining finials and has the distinct "/LM" mark on the right side ahead of the serial number. Available this August.
Dr. LeMat continued to pursue and update his grapeshot revolver design in the post-war era. LeMat pinfire examples were sold primarily to the European market but met with little success. In 1869, LeMat received patents in the United States and Belgium that covered a centerfire version of his two-barreled firearm.
Like their famous percussion predecessors, centerfire LeMat revolvers combined a rifled barrel fed by a revolving cylinder with a central shot barrel. A loading gate on the upper right of the gun allows for loading the revolving cylinders and a larger loading gate with a firing pin on the back of the recoil plate is used to load the shotgun barrel.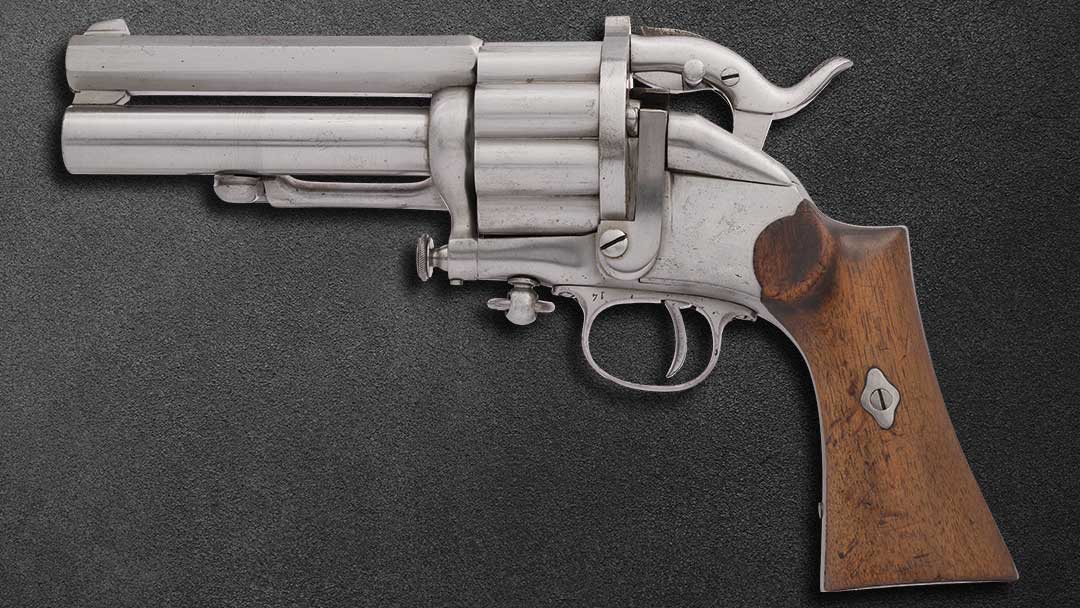 A rare centerfire LeMat revolver for sale. This example is similar to the design shown in Dr. LeMat's 1871 French patent extension. Available this August.
In addition to a traditional holster pistol-sized offering, the centerfire LeMat revolver was produced in a LeMat revolving carbine variant and the smaller "Baby LeMat" revolver. Unfortunately for Dr. LeMat, competition in the small arms market after the Civil War was fierce, with a surplus of cheap and plentiful guns to choose from. The production numbers for all centerfire LeMat revolver variants manufactured from 1869 to the 1880s only numbers in the hundreds, making them extraordinary rare finds today.
The LeMat Revolving Carbine
Revolving rifles, carbines, and shotguns never achieved great popularity, and the cartridge-loading LeMat revolving carbine was no exception. Higher capacity options like the Winchester family were more affordable and didn't carry the negative reputation some revolving rifles had earned, like the Colt Model 1855 rifle's tendency to blast splinters of lead into the forward hand of its shooter.
The LeMat revolving carbine attempted to address this concern by adding a spur at the front of the trigger guard to aid in holding the carbine without placing a hand in front of the cylinder and allow the shooter to support the carbine with their left hand on the trigger guard instead of the barrel.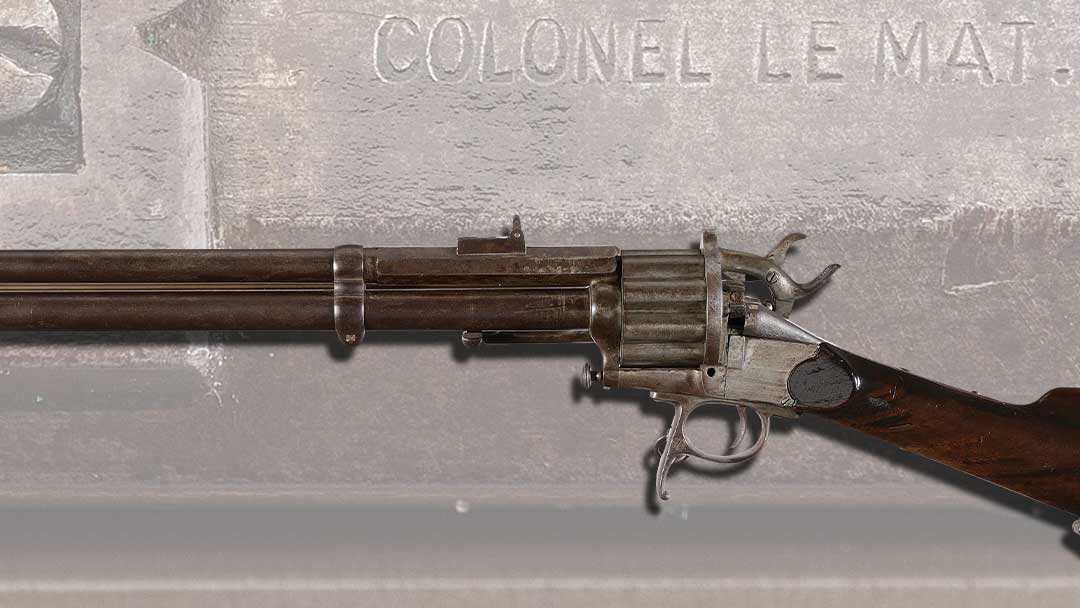 LeMat revolving carbines are chambered for 12mm cartridges and 15.2mm shot shells (approximately .44 caliber and 20 gauge). Available this August.
Rock Island Auction Company's August 25-27 Premier Auction includes another fascinating example of the revolving rifle genre that shares numerous similarities with the LeMat design. Based on the Miller patent, the William Billinghurst combination percussion revolving rifle and underhammer shotgun pictured below is fed by a nine-shot, manually revolved cylinder. The upper rifle barrel is chambered in .38 caliber and the lower barrel fires a .72 caliber smoothbore load of shot, approximately 12 gauge. The lower barrel is fired using an underhammer mechanism using the trigger guard as the spring.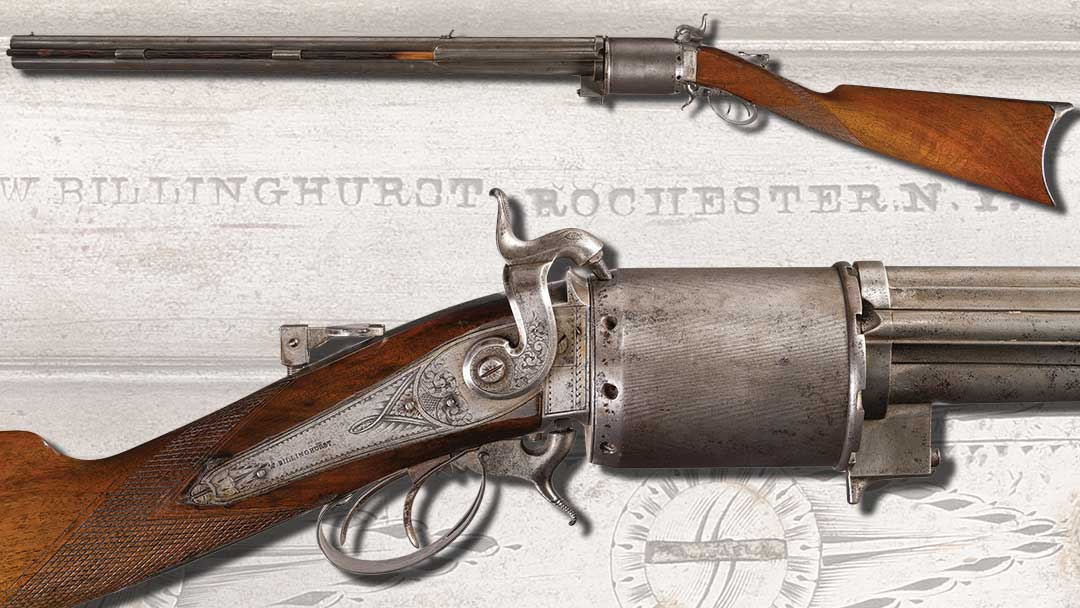 A highly rare, NRA award-winning William Billinghurst combination percussion revolving rifle and underhammer shotgun. Available this August.
LeMat Revolver Price
During the Civil War, the LeMat revolver was contracted for approximately $35.00 dollars each, nearly twice the cost of the Colt Model 1860. The LeMat's price was driven up further still by inflation and gun-running expenses. The LeMat was an expensive gun in its time, and today these iconic revolvers garner ever-more impressive prices at auction.
When considering the average Second Model LeMat revolver price by year at Rock Island Auction Company, we've gathered data from every Premier Auction dating back to 2016. The graph below looks at Second Model LeMat revolvers with a condition rating range from "fine" to "very good" and excludes examples such as transitional models, presentation pieces, and other extremely scarce and atypical Second Model LeMat revolvers. The buyer's premium (15% through June of 2022 and 17.5% thereafter) is included in the sales price, as this properly reflects what a collector paid to own a Second Model LeMat revolver.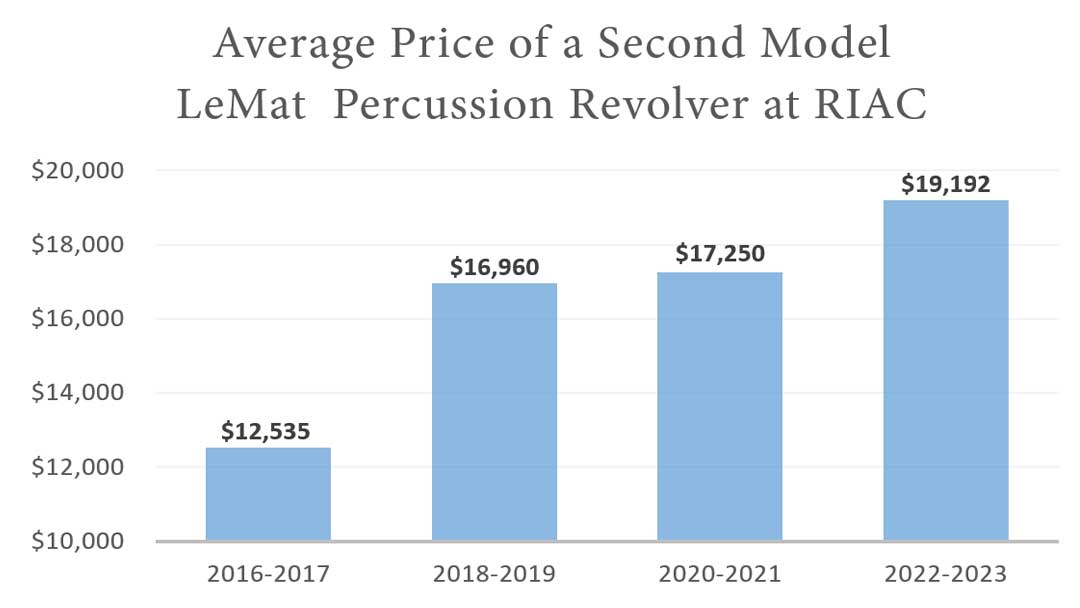 The average Second Model LeMat revolver price by year at Rock Island Auction Company. LeMat revolver prices for the period ranging from 2022 to 2023 are based on auctions to date.
Since 2016, average Second Model LeMat revolver prices have been steadily climbing, leaping to $16,960 in 2018 and 2019 before inching up $290 dollars in 2020 and 2021, then continuing their uptrend in 2022 and 2023 with an average price of $19,192.
Though this dataset includes far fewer examples than other recent pieces RIAC has published on gun prices and trends, and LeMat revolver values can vary considerably based on factors such as finish, grips, engravings, provenance, condition, and supporting documentation, the graph still provides a useful snapshot of how LeMat revolver prices have been trending higher in recent years.
An early serial number First Model LeMat revolver in very good condition sold for $52,875 during RIAC's May 2023 Premier Auction. Provenance: The Greg Lampe Collection.
The LeMat Revolver Today
Popular media has introduced the LeMat revolver to a new generation of Western fans and arms collectors. Films such as 1997's 'The Quick and the Dead' and 2003's 'Cold Mountain' feature the LeMat, and a modern LeMat revolver replica is famously carried by Ed Harris' mysterious 'Man in Black' character in HBO's Westworld. Perhaps the greatest recent surge in popularity for the LeMat revolver comes from Red Dead Online, where the iconic big iron wheel gun has become a clear fan favorite.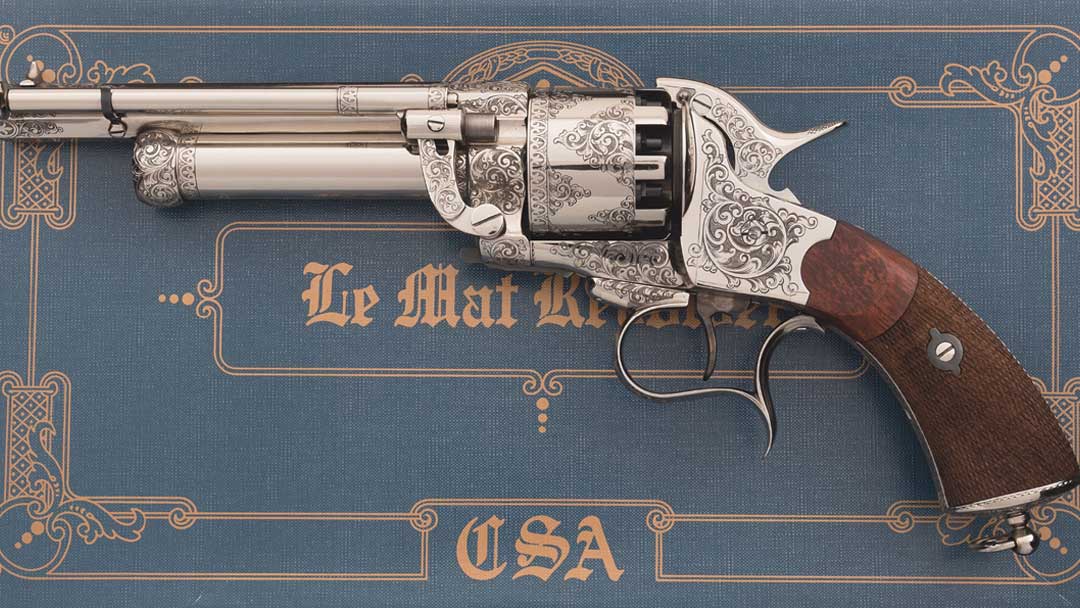 An engraved Pietta LeMat revolver prototype sold for $3,738 in RIAC's Sept 2019 Premier Auction.
The concept of a revolving pistol/shotgun combination fell into relative obscurity until recent times when contemporary examples like the Taurus Judge and the Smith & Wesson Governor brought the spirit of the LeMat revolver back into the public eye. Both wheel guns are able to chamber cartridges for bullets or shot, but use a single barrel instead of the LeMat revolver's double barrel design. Modern LeMat revolver replicas are offered by Pietta Firearms of Gussago, Italy, but when it comes to history, extreme rarity, and collecting value, there's nothing like owning an original LeMat revolver.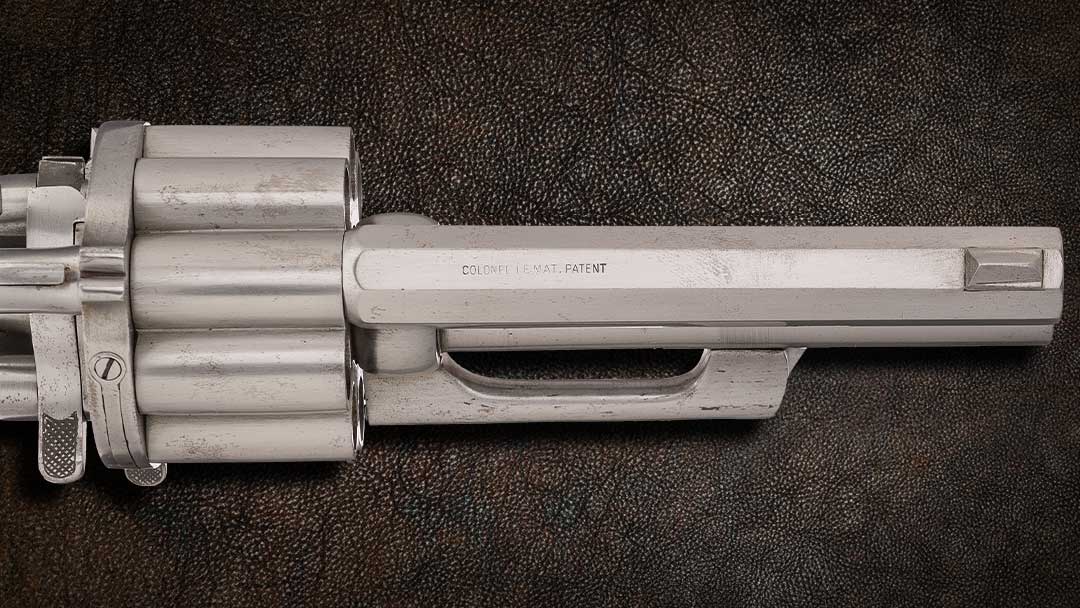 A supremely rare centerfire LeMat revolver for sale this August.
LeMat Revolver for Sale
Due to their limited production numbers and heavy use during combat, few LeMat revolvers have survived to the present day. For fans of Civil War weapons, Wild West curiosities, or rare examples of 19th century gun innovation, the various models of LeMat revolvers can elevate any arms collection to new heights, and Rock Island Auction Company has become the premier destination for these extraordinary firearms.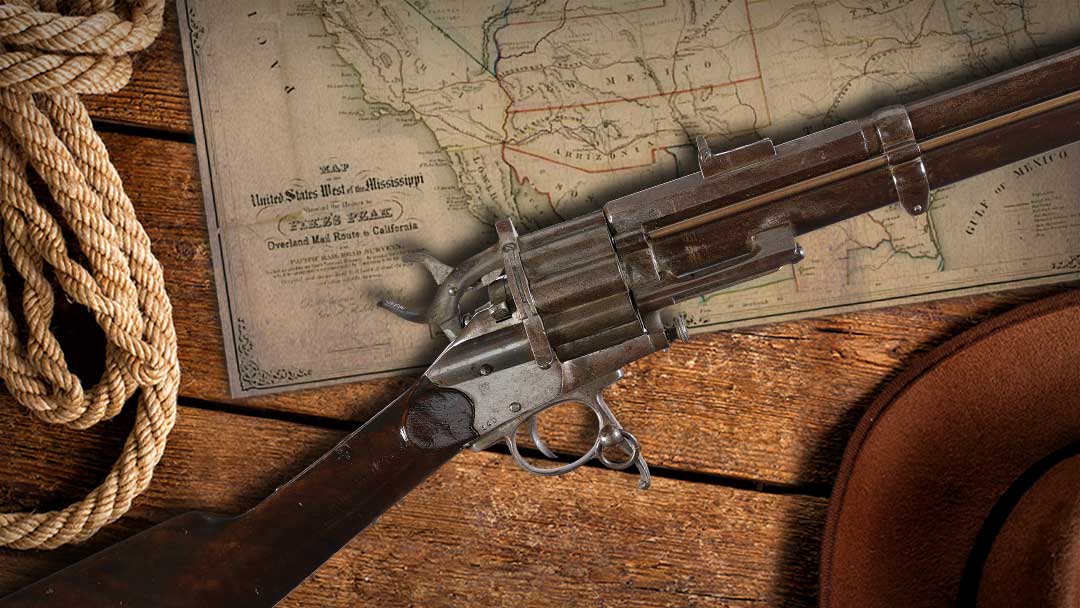 Find the finest LeMat revolvers for sale at Rock Island Auction Company. This rare centerfire carbine is available this August..
When it comes to experimentation, innovation, and the sheer number of weapon types fielded, it's hard to match the Civil War-era. Most firearms from the period have a rich history to share, so subscribe to the Rock Island Auction weekly newsletter to receive new gun blogs and gun videos that dive deeper into Civil War guns like the Henry rifle, the Sharps rifle, the Spencer carbine, the Maynard carbine, the Pettengill's hammerless revolver, the Butterfield Army Model disc primed revolver, the Bowie Knife, the Gatling gun, and more.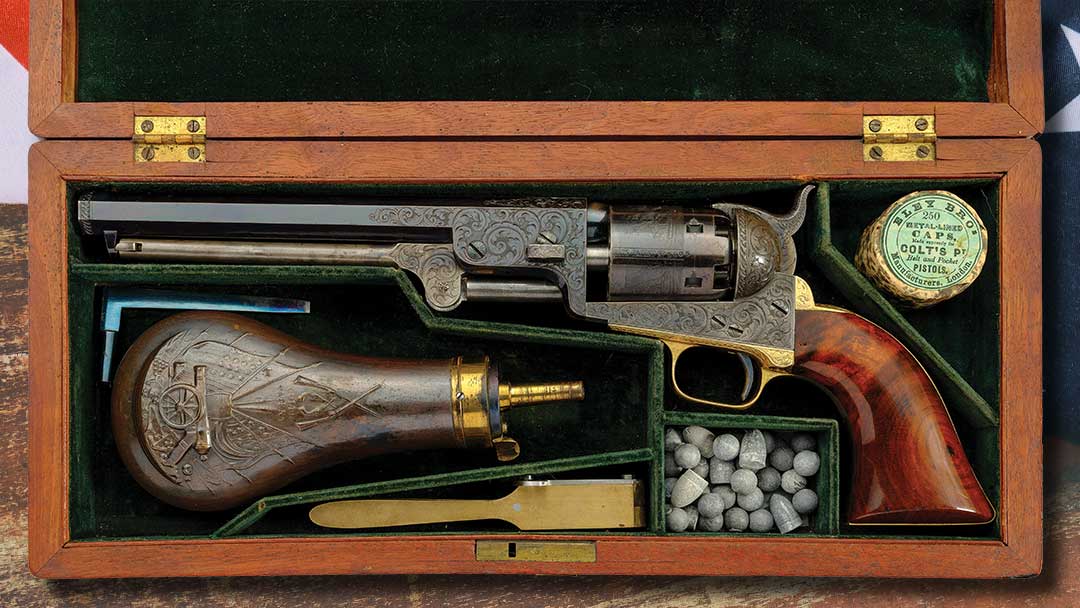 An exemplary cased, early factory engraved Colt Model 1851 Navy revolver with extremely scarce gold plated grip straps. Available this August.
SOURCES:
'The Confederate LeMat Revolver' by Doug Adams
'LeMat: The Man, The Gun' by Forgett and Serpette
'Confederate Longarms and Pistols' by Anthony & Hill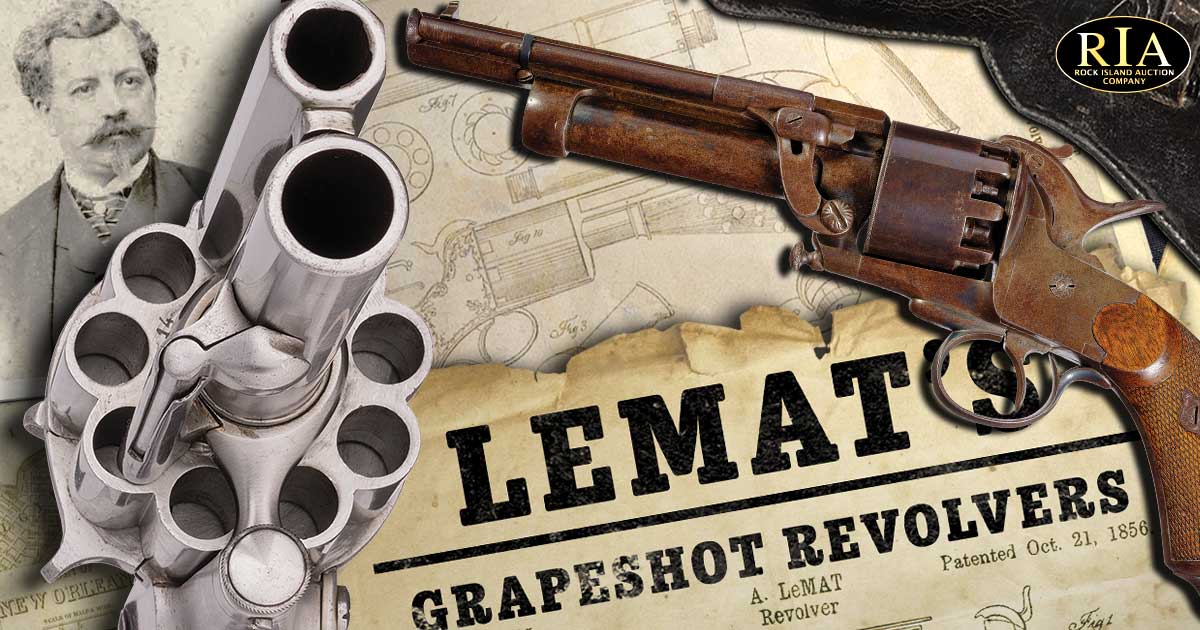 Rock Island Auction Company