Germany permitted itself many luxuries during WW2. While other countries emphasized austerity and high production rates, the Third Reich equipped some of its Luftwaffe aces with elegant combination guns and O/U shotguns, including the famous M30 drilling.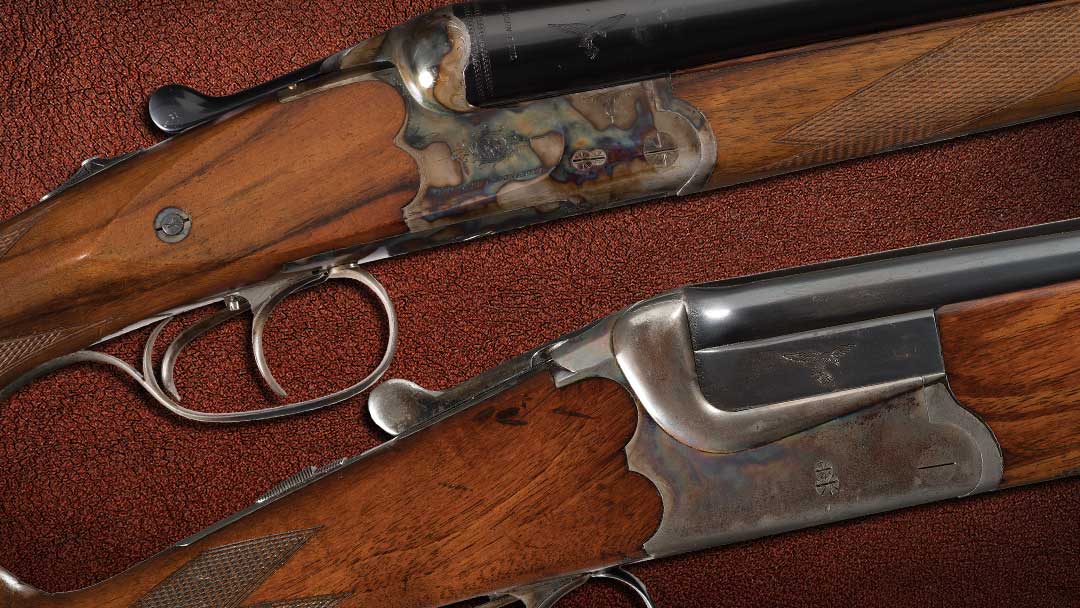 Two Luftwaffe guns for sale. (Top) A J.P. Sauer M30 Luftwaffe drilling. (Bottom) A Luftwaffe Merkel O/U shotgun.
Rock Island Auction Company's August 25-27 Premier Auction includes an outstanding M30 drilling with its original case and accessories as well as an exceptional Luftwaffe Merkel O/U shotgun. Click on the images throughout this article to learn more about each firearm.
The M30 Drilling and the Luftwaffe Merkel O/U Shotgun
An ace fighter pilot during WW1 and one of Hitler's most loyal supporters, Hermann Göring became a natural choice to head up the German Luftwaffe. Göring was an avid hunter and outdoorsman, and these interests were reflected in the M30 drilling and the 12 gauge O/U shotguns he issued to Luftwaffe aircrews operating in the North African Theater.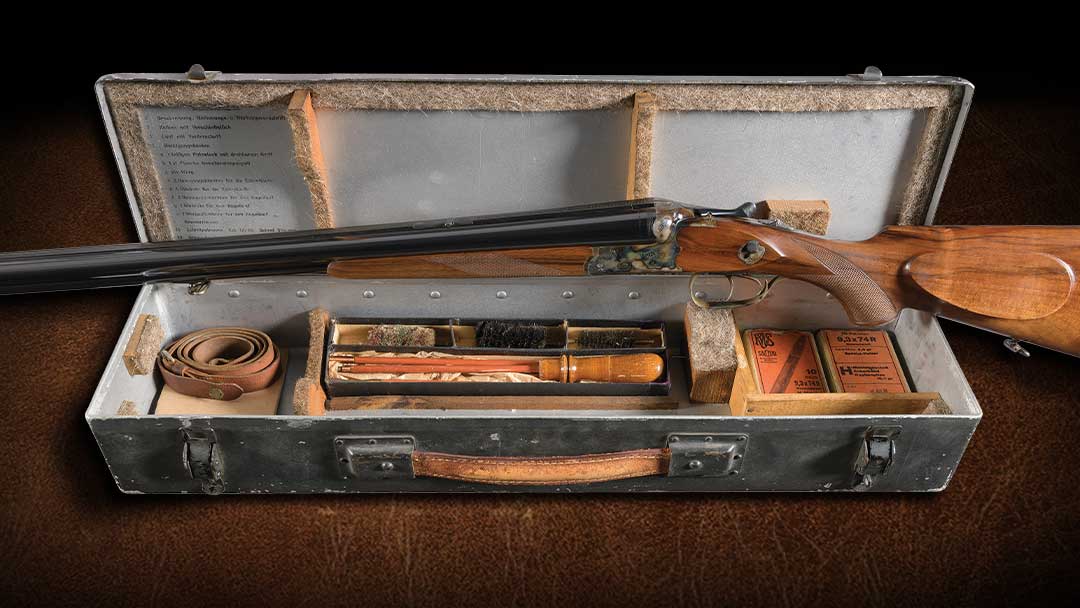 A survival gun with class, this outstanding WW2 J.P. Sauer & Sohns M30 Luftwaffe drilling includes its original case and accessories, including original ammunition. Available this August.
Germany seldom sacrificed in the realm of well-finished weapons, and that focus on quality craftsmanship is illustrated by well-known models like the Luger and the Walther PP. This philosophy carried over to the Luftwaffe's survival and target shooting guns as well, and today these magnificent arms are some of the most valued rarities in WW2 collecting.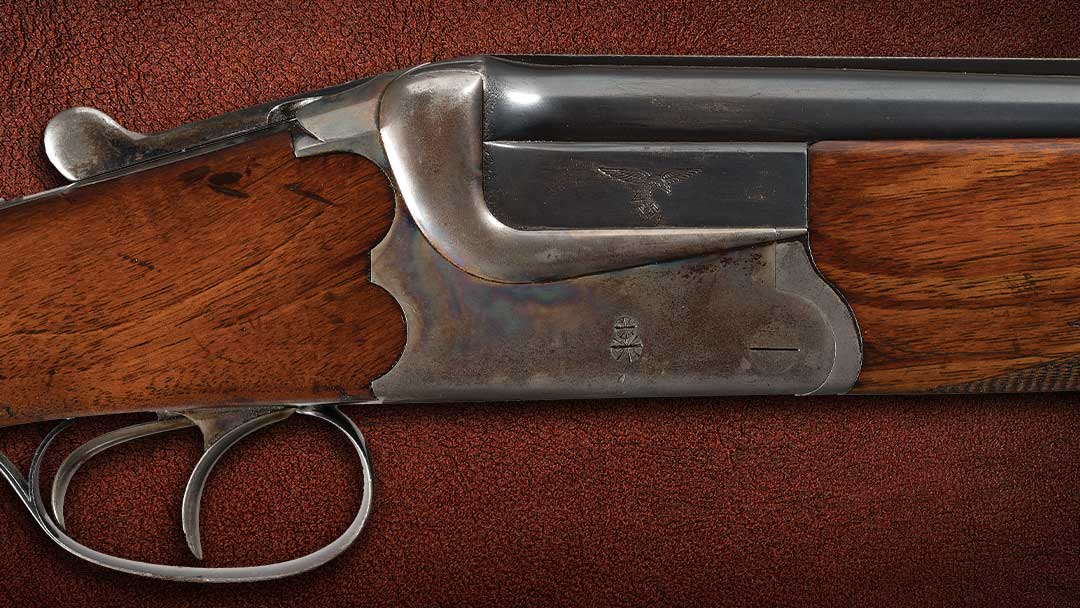 An exceptionally rare WW2 German Luftwaffe Merkel O/U shotgun. Luftwaffe shotguns were issued to pilots and gunners as training tools to refine their shooting technique on moving targets. Available this August.
J. P. Sauer & Sohn: Road to the M30 Drilling
One of the oldest German gunmakers, J. P. Sauer und Sohn GmbH began producing firearms in Suhl in 1751. Though initially focused on military contracts, the company produced a predecessor to the double-barrel percussion shotgun in 1844 and began developing a reputation for luxury hunting arms.
A factory engraved J. P. Sauer & Sohn boxlock double rifle. Available this August.
In 1881, Sauer & Sohn was granted patents for the three-barreled drilling and developed special steel barrels in collaboration with German steel innovator Friedrich Alfred Krupp. The drilling combination gun, deriving its name from "drei," the German word for the number three, is traditionally composed of a rifle barrel situated beneath a break action double barrel shotgun.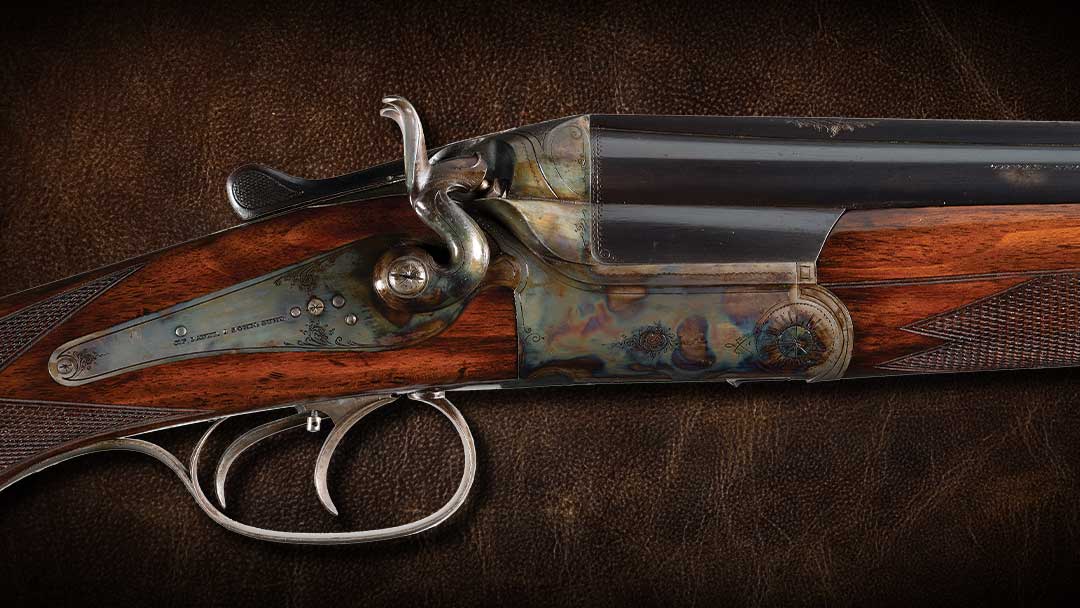 An engraved J. P. Sauer & Sohn O/U hammer combination gun. Available this August.
Many classic drillings were stocked more like a shotgun than a rifle since German hunters tended to take more game with shot and slug, but configurations with two rifled barrels were also offered, and an assortment of alternative layouts were produced to cater to a variety of European hunting needs. The rarest configurations include the vierling (four-barrel) and fünfling (five-barrel).
From 1914 to 1918, Sauer & Sohn focused on war production for the Kaiser. The company fell on hard times after the war, producing typewriters and bikes to stay afloat. With the Treaty of Versailles forbidding military production, Sauer & Sohn once again focused its firearms division on sporting arms. One of Sauer & Sohn's finest innovations from the interwar period was the M30, an immaculately crafted drilling composed of a pair of two 12 gauge shotgun barrels over a 9.3x74R rifled barrel.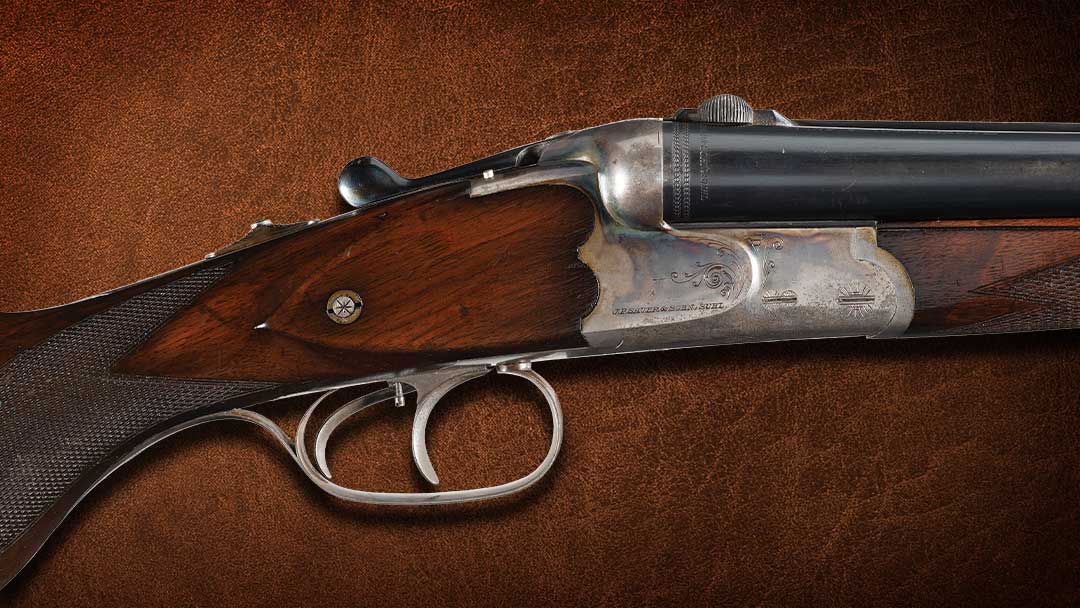 A factory engraved J. P. Sauer & Sohn boxlock drilling with 1936 dated German proofs. Available this August.
Equipping the Luftwaffe
In early 1941 Mussolini begged Hitler for German troops, weaponry, and aircraft to help retain a slipping hold on his colonial aspirations in Africa. Rommel's Afrika Korps led the charge, with the German Luftwaffe providing air support.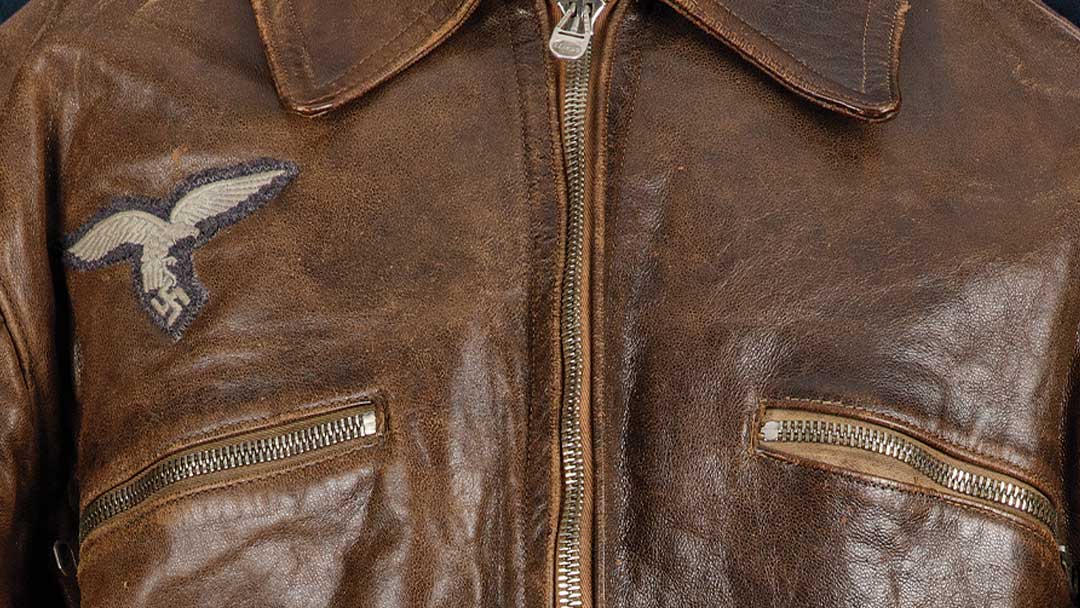 A WW2 Luftwaffe flight jacket worn by Group III/JG 26 ace Josef "Pips" Priller (1915-1961). Priller flew 307 combat missions and claimed 101 confirmed aerial victories. Available this August.
In mid-1941, J. P. Sauer & Sohn received a contract from the Luftwaffe to supply about 4,000 of their M30 drillings as survival guns in the event fighter and bomber pilots were shot down in remote locations in the North African wilderness. These Luftwaffe contract models were case hardened and included the Luftwaffe flying eagle stamped on the barrel and stock of each gun.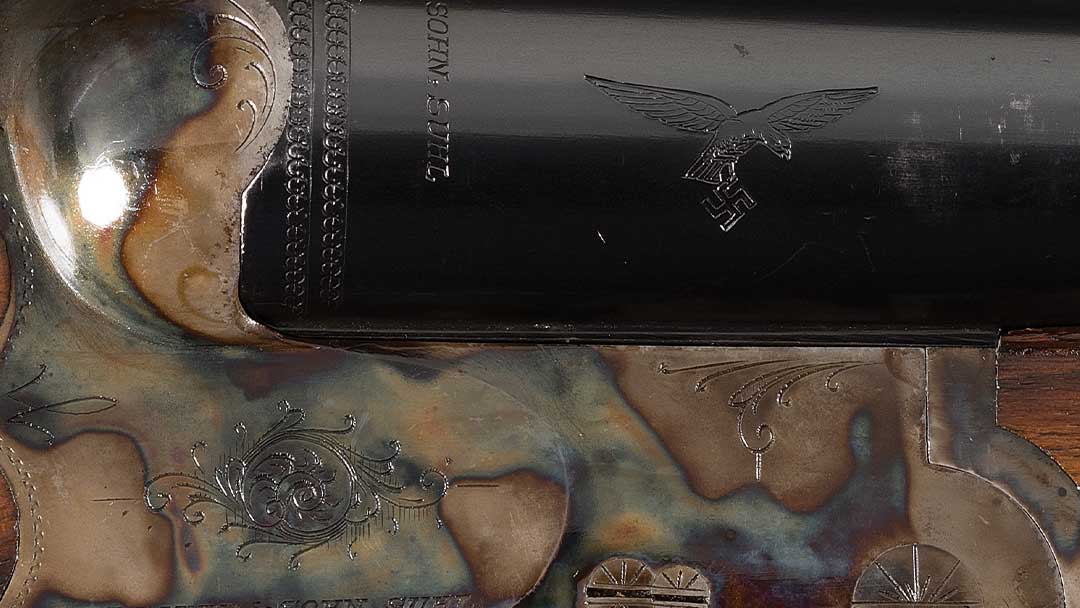 An outstanding example of a Sauer M30 Luftwaffe drilling for sale in exceptional, unissued condition. Includes original case, accessories, and ammunition. Available this August.
Where the M30 drilling was issued with survival in mind, the Luftwaffe used 12 gauge O/U shotguns from Sauer & Sohn, BSW, and Merkel to hone their marksman skills on moving targets, typically clay pigeons. The Luftwaffe was the only branch of the German military to be officially issued shotguns.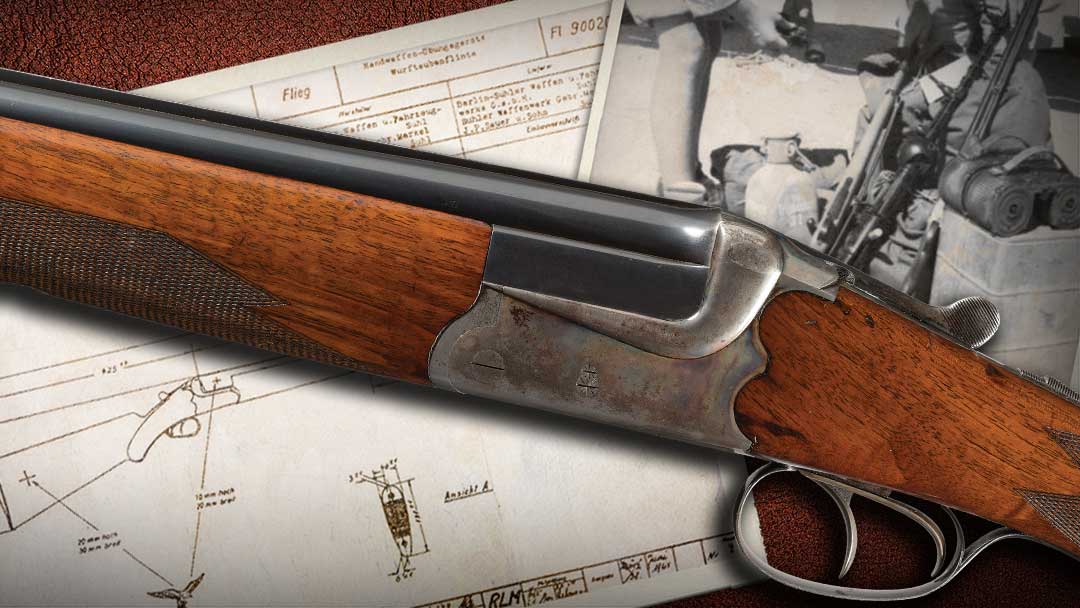 A highly sought-after German Luftwaffe Merkel O/U shotgun for sale. Available this August.
Typically, the German Army was charged with accepting firearms for all branches of the German war machine. The Luftwaffe only deviated from this process with a few firearm types, including the Krieghoff Lugers, the FG42 paratrooper rifle, the M30 drilling, and the Luftwaffe shotguns.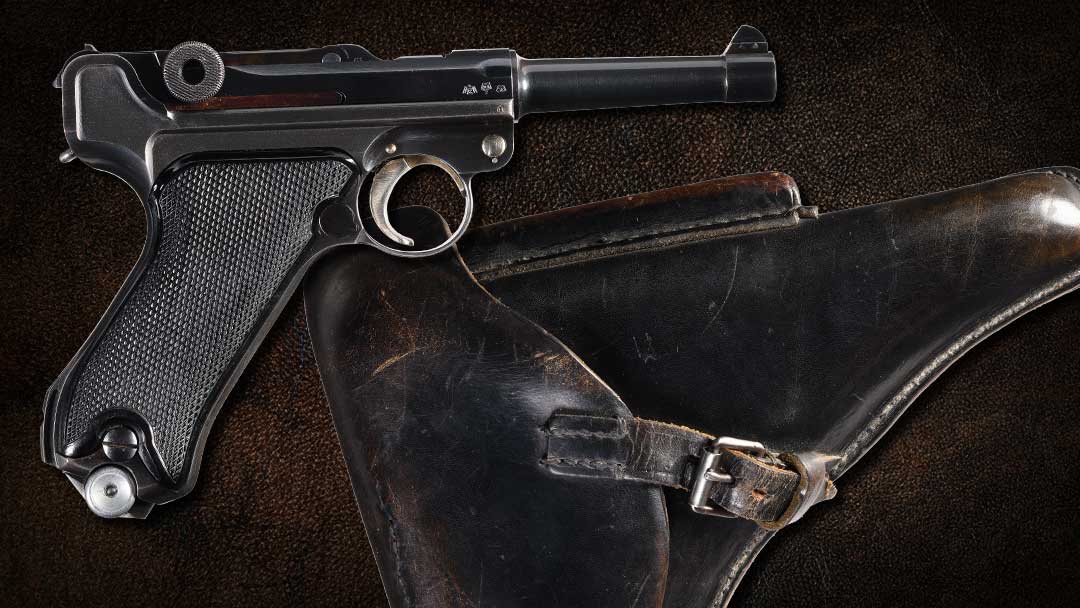 A 1943 dated Krieghoff Luger pistol rig with a Luftwaffe-proofed holster and two matching mags. Available this August.
The Purpose of the Luftwaffe Drilling
As Luftwaffe General Adolf Josef Ferdinand Gallan recalled, "In 1942 and 1943 the M30 drilling was standard equipment for our fighter jets, the Messerschmitt 109 and the Stuka bombers as we operated in North Africa. The purpose was to shoot animals for survival."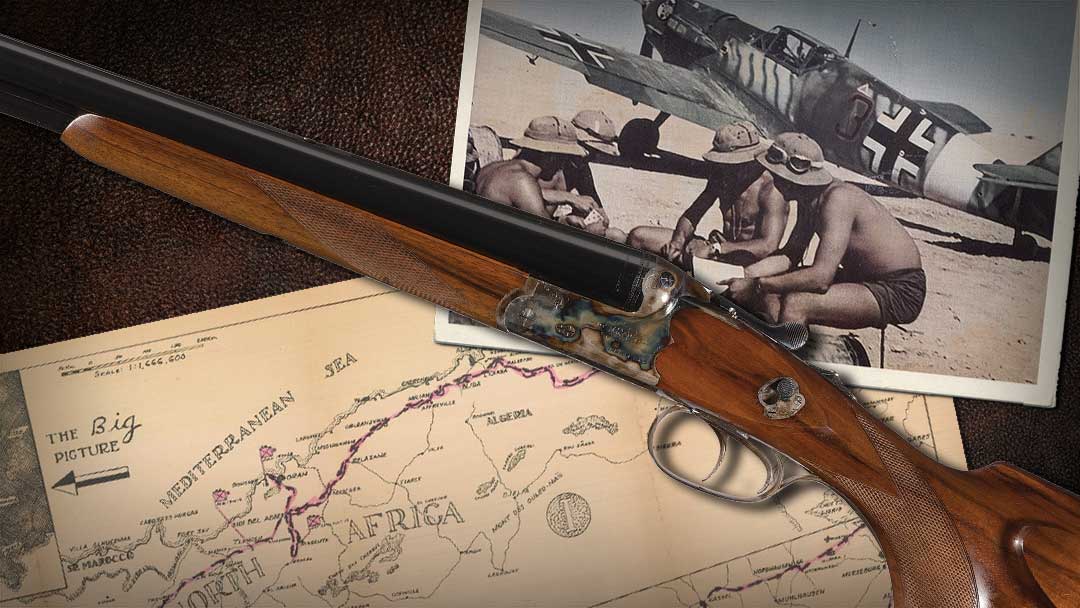 The M30 drilling was the finest survival arm of WW2. Available this August.
Describing a second function for the M30 drilling, Gallan recounted, "We also used it for trap shooting during our obligatory exercise training to sharpen our eyes and reflexes of the fighter pilots."
These target practice exercises would have presumably been similar to the intended use of the Luftwaffe shotguns.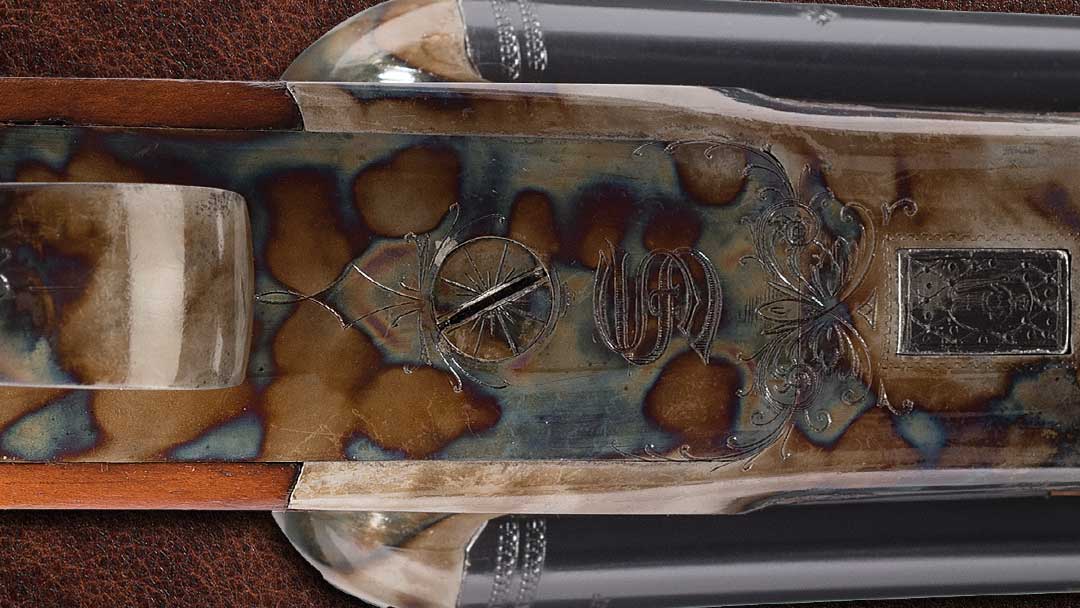 The M30 drilling for sale this August retains 99% of the bright original blue and vivid casehardened finish. Available this August.
General Gallan also suggested that Hermann Göring had a third reason for ordering the M30 drilling. Göring was famous for his extravagant hunting trips. Carinhall, his 300-acre hunting estate located in the Schorfheide Forest northeast of Berlin, became the unofficial headquarters of the Luftwaffe during WW2. Gallan noted how Göring gifted the M30 drilling to some of his hunting friends, Luftwaffe officers, and distinguished guests visiting Carinhall, a weapon well-suited to the diversity of German game animals populating the Schorfheide.
German fighter ace Adolf Galland reviewing documents with Hermann Göring, surrounded by other Luftwaffe officers.
The Luftwaffe Drilling Case
A fine shotgun needs to be protected, and each M30 Luftwaffe drilling was issued with a distinct aluminum case with a leather handle. The M30 case is painted dark gray and stenciled on top with the words: "drilling M30/mit Munition u.Zubehor/ce". This roughly translates to "M30 drilling with ammunition and accessories." The M30 drilling for sale in Rock Island Auction Company's August 25-27 Premier Auction includes a fine example of an original case.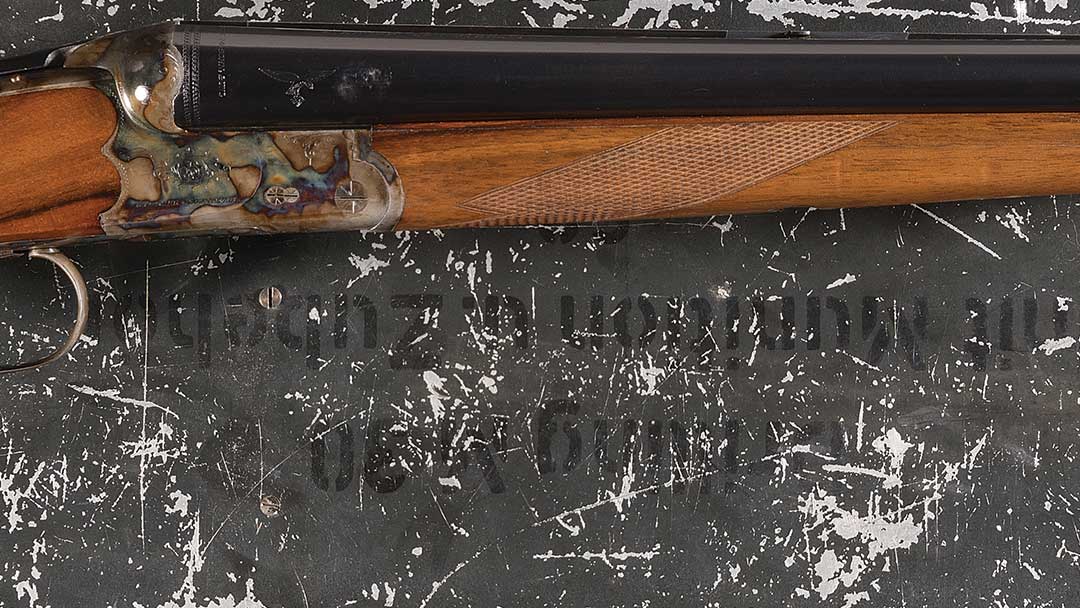 An M30 drilling for sale is a rare find, and an example that includes its original aluminum case with many of its original accessories is even scarcer. 60% of the case's original dark gray paint is intact. Available this August.
The M30 drilling case interior is divided into sections for ammunition, accessories, and areas for the barrel and receiver after the gun is broken down. A list of contents is stenciled on the inside of the lid.
The case included with the M30 drilling for sale this August contains its russet leather sling, the original black cardboard box of cleaning equipment, two boxes of RWS rifle cartridges (17 rounds), and the original operating and maintenance manual entitled "drilling M.30" dated "1941". The cleaning gear consists of a three-piece jointed wood cleaning rod with the brass tip in the original wrapping paper, a cotton shotgun barrel swab, a fiber shotgun bore brush, a smaller wire bore brush, and a brass rifle bore brush.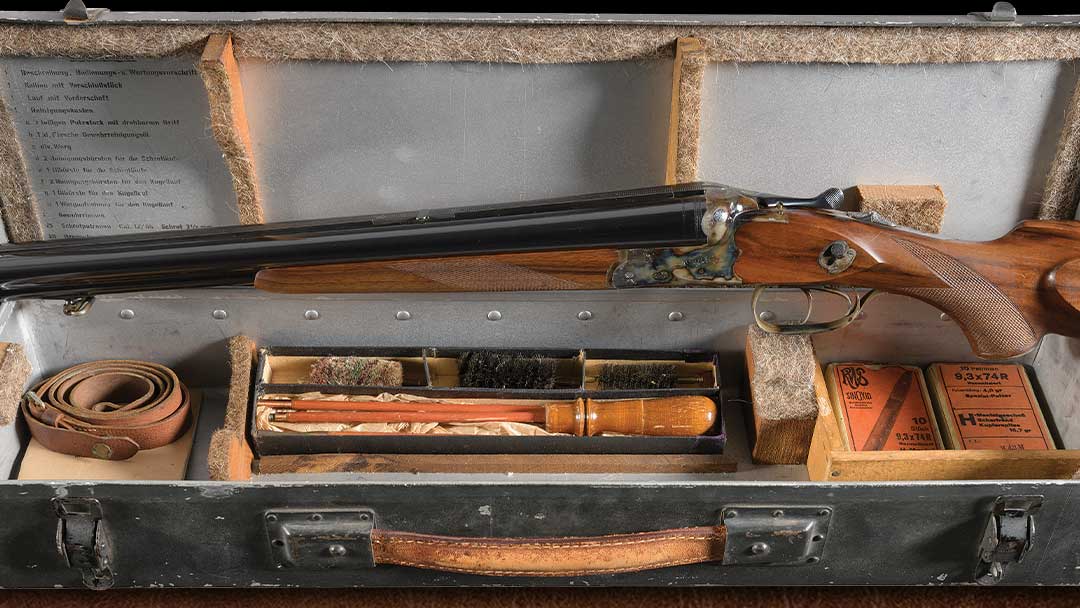 This original M30 drilling case includes a russet leather sling, operating manual, RWS rifle cartridges, and appropriate cleaning equipment. Available this August.
M30 Drilling Ammunition
Each M30 drilling case was equipped with 25 shotshells, 20 Breaneke slugs, and 20 9.3x74R rifle rounds. The latter is a hefty round for a survival rifle and roughly equivalent to .375 H&H.
The M30's front trigger fires the gun's right shotgun barrel, with its rear trigger firing the left. Pushing the thumb selector on top of the wrist flips up a rear leaf sight and allows the front trigger to fire the rifle round. Both the rifle barrel and left shotgun barrel (for slug) are sighted out to one hundred meters.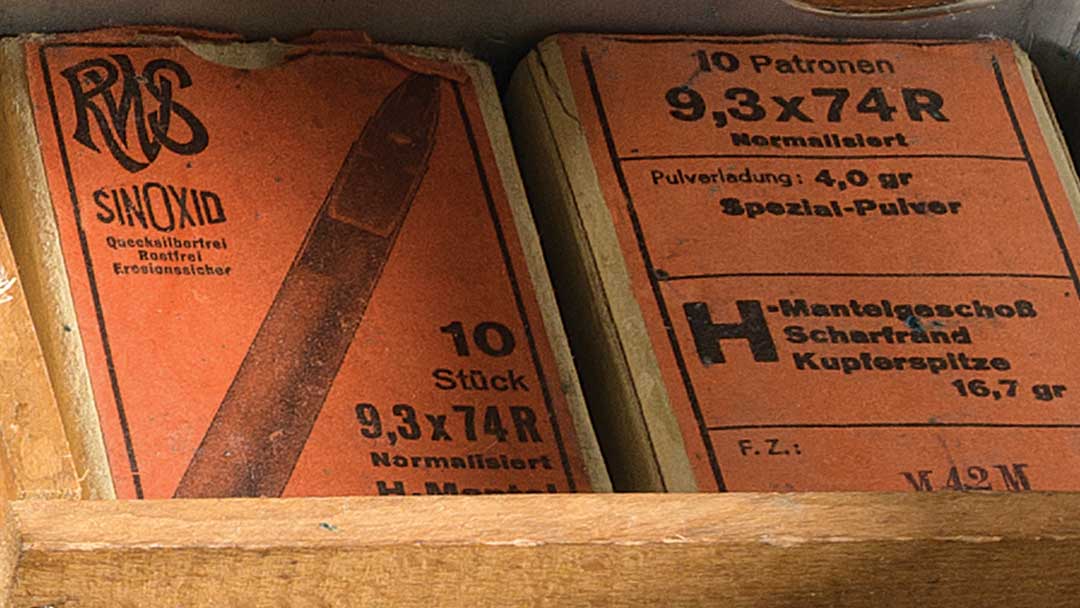 The 9.3x74R, a larger rifle round compared with many European drillings. M30 drilling cases that include original ammo are exceptionally rare. Available this August.
Though a compact SMG like the MP40 would take up far less room in a cockpit and provide superior firepower in a combat situation, the M30's rifle round and 12 gauge slug would have been more than sufficient to take down an unsuspecting Tommy.
The M30 drilling's primary advantage would have been versatility. Despite the gun's heft, its 12 gauge shotshells offer the ability to take native birds like the rock dove and sandgrouse, and the M30's rifle rounds and slugs would have little problem dealing with medium-to-large game animals or defending a downed pilot from predators.
The Luftwaffe Merkel Over/Under Shotgun
Another respected German gunmaker, Merkel Jagd- und Sportwaffen GmbH began producing weapons in 1905 and the company quickly found a niche in the fine sporting arms market. During WW2, Merkel produced a variety of items for the German war effort, including engine parts and carbines.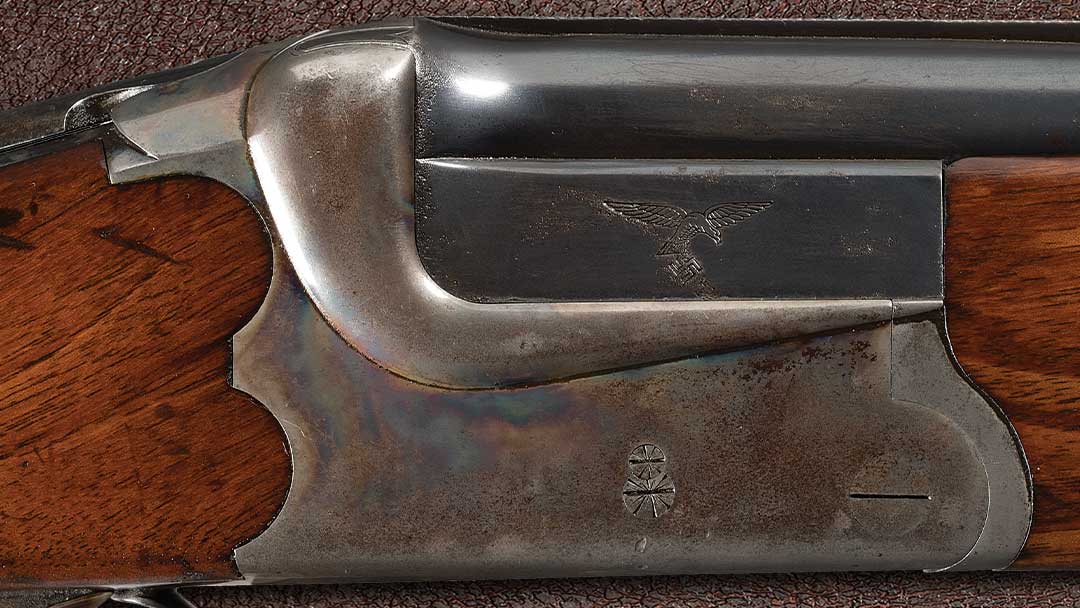 A rare Luftwaffe shotgun for sale, this Merkel O/U is in mechanically excellent condition. The barrels are manufactured from the finest Krupp steel and stamped on the right side of the lower barrel with the Luftwaffe flying eagle. Available this August.
Hermann Göring owned several Merkel sporting arms, most famously an exquisite gold engraved Merkel O/U shotgun gifted from General Francisco Franco of Spain in 1937. Four years later, the company was selected alongside Sauer & Sohn and Berlin-Suhler Waffen to produce the Luftwaffe shotgun.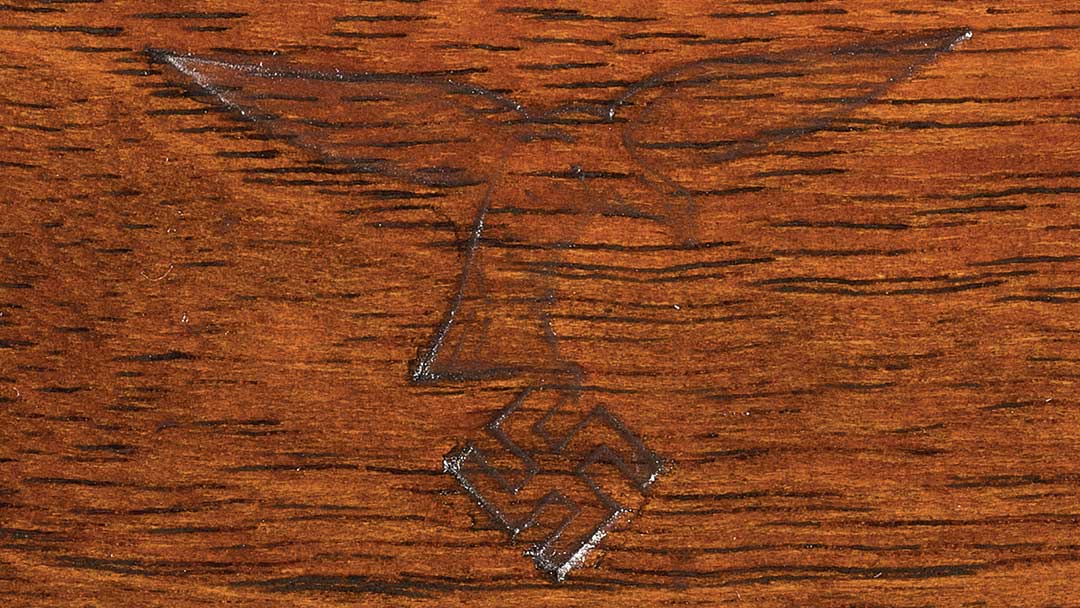 The symbol of the Luftwaffe, a German flying eagle over the swastika, is stamped on the stock of this rare Luftwaffe Merkel shotgun. Available this August.
Even fewer Luftwaffe Merkel O/U shotguns were produced than M30 drillings. Issued as training devices for fighter pilots and gunners and intended for use with clay pigeons, the Luftwaffe shotgun is one of the scarcest and most unusual weapons of WW2.
Luftwaffe Drilling Value
Gun value is often a convergence of popularity and scarcity, and the M30 drilling and Luftwaffe shotgun carry each in spades. With only about 2,500 M30 drillings delivered to the Luftwaffe, the model has become a true rarity with arms collectors. Modern video games have introduced the Luftwaffe drilling to a new generation and sent its popularity soaring, with series like 'Call of Duty,' 'Sniper Elite,' and 'Battlefield,' featuring the iconic M30 drilling in numerous variations.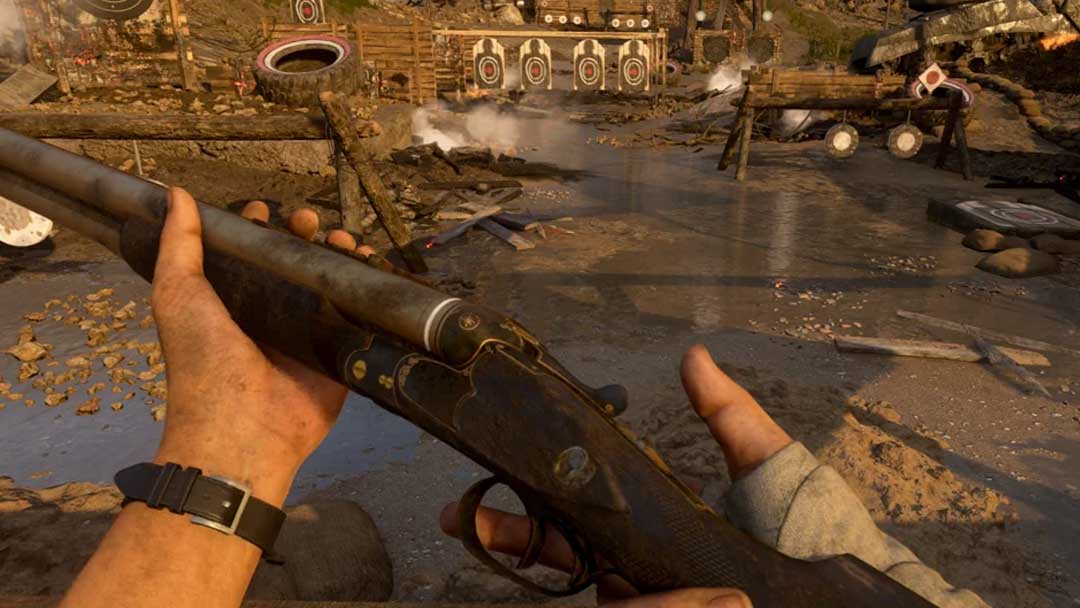 The Luftwaffe M30 Drilling Einfall II variant in 'Call of Duty: WWII.'
Though drillings are typically marketed to European sportsmen, Colt and J.P. Sauer produced a quality model for the North American hunter in the Colt-Sauer Model 3000 in 12 x 12 x .30-06. A direct descendant of the M30 drilling in many ways, the Colt-Sauer drilling continues to be fielded in America's Southern woods and swamps, capable of taking anything from turkey to white-tailed deer.
Today, numerous models of affordable combination guns can fill a similar survival, hunting, and target shooting role as the M30, but when it comes to rarity, collecting value, and owning one of the most fascinating pieces of WW2 history, the M30 drilling checks all the right boxes.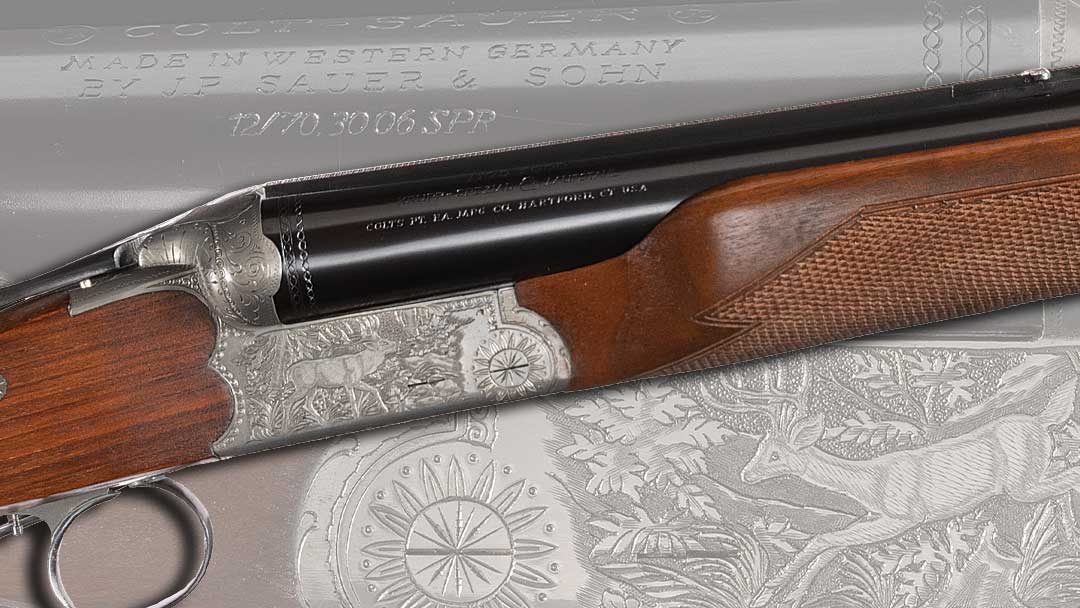 A factory game scene engraved Colt-Sauer Model 3000 drilling, manufactured in 1976. Available this August.
An M30 Drilling and a Luftwaffe Shotgun for Sale
The M30 drillings and the Luftwaffe shotguns are physical illustrations of German excess, precision, refinement, and old-world quality. The demands of the German war machine were insatiable, and these short-lived military-issued luxury arms were soon replaced by more modest options as the tides turned against the Third Reich. For fans of unique military weapons, survival guns, and WW2, Rock Island Auction Company's August 25-27 Premier Auction presents two opportunities to own one of these unique treasures.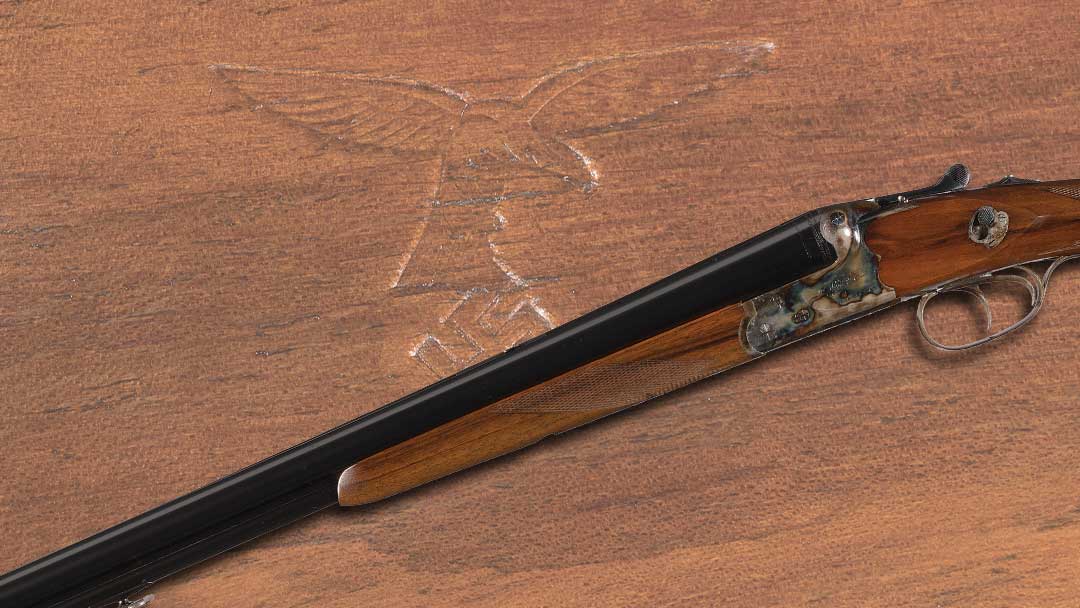 The M30 Luftwaffe drilling for sale in exceptional condition. Available this August.
History is filled with unique and unusual sporting arm variants, so subscribe to the Rock Island Auction newsletter for more gun blogs and gun videos on curiosities like the Paradox gun, the Punt gun, the Howdah pistol, the Ithaca Auto & Burglar, the .950 JDJ Fat Mac, the SPAS-12, and more.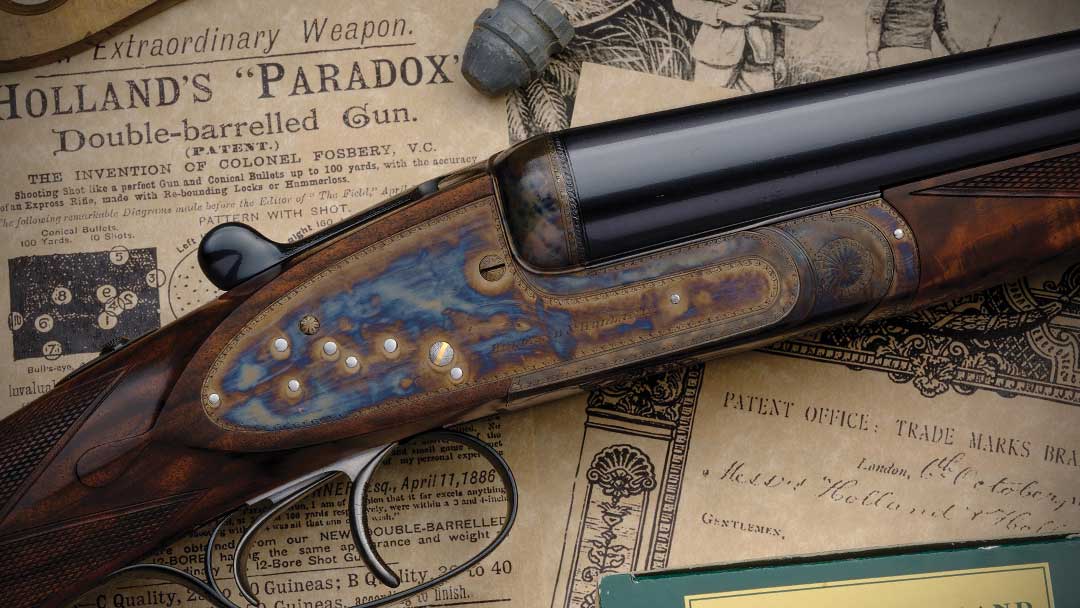 A documented factory engraved Holland & Holland Royal hammerless ejector double barrel Paradox Gun with case. From the Tom Selleck Collection. Available this August.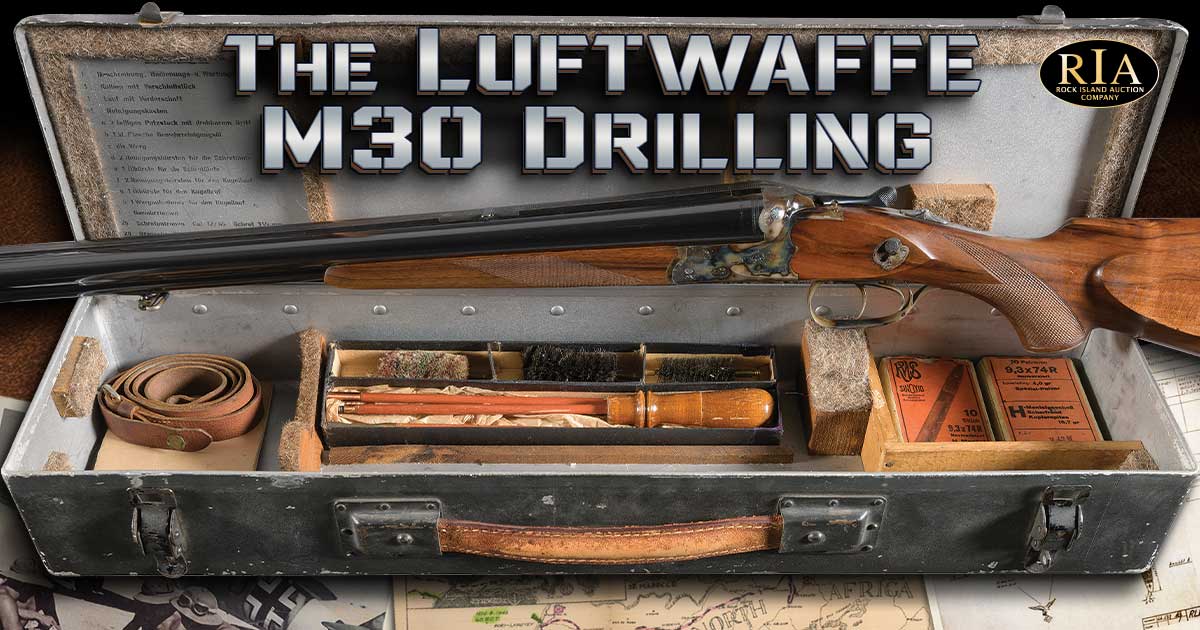 Rock Island Auction Company