Rock Island Auction Company proudly presents "The McClatchie Root", one of the crown jewels in the arms collecting pursuit. Presented from Colt's Patent Fire Arms Manufacturing Company to Samuel Colt's timekeeper, James McClatchie, this immaculate condition Colt 1855 Sidehammer Pocket revolver is a masterpiece on all counts.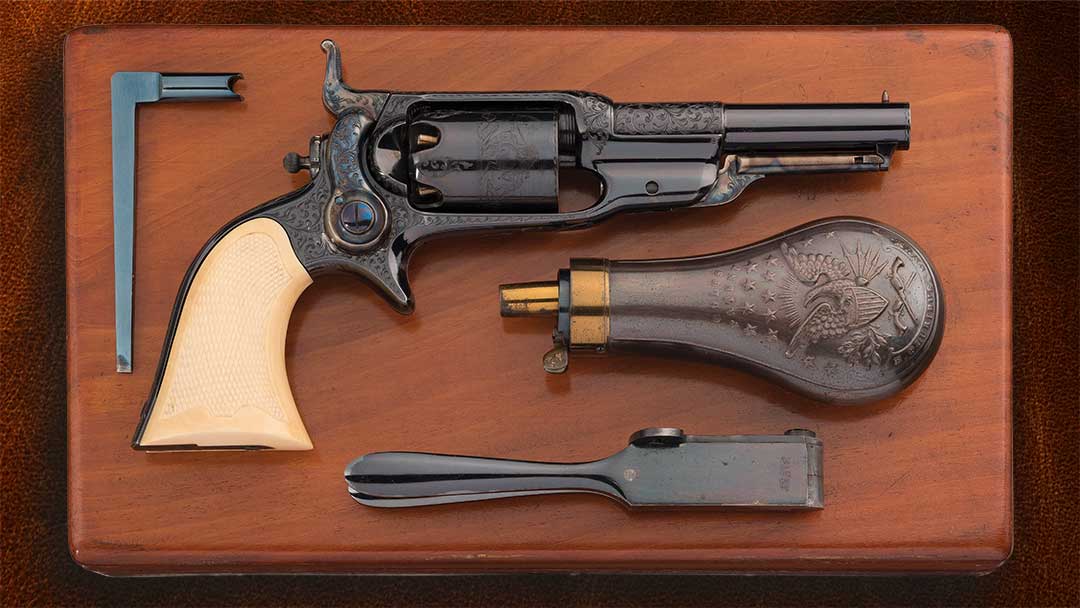 Manufactured in 1866, this historic Colt 1855 Sidehammer Pocket .31 caliber revolver was expertly engraved by Gustave Young.
As one of the few firearms worthy of a famous nickname, the McClatchie Root stands in rare company in the collecting community and makes a strong case for itself as one of the truly elite, historic, and world-renowned firearms available in any genre. Author R.L. Wilson states "The McClatchie Root is one of the finest Colt percussion sets in existence, and remains in unfired condition."
Colt 1855 Root Pocket: Finest Known
Declaring any gun "mint condition" is not a claim taken lightly at Rock Island Auction Company, but the McClatchie Root has been lauded for its quality by countless collectors, writers, and firearms historians over the decades. Author Dennis Adler features the McClatchie Root in three of his books, including Guns of the Civil War, Colt Single Action; From Patersons to Peacemakers, and Guns of the American West, the latter in which the McClatchie Root is pictured next to one of the famed "Charter Oak" Colt revolvers. All three of Adler's aforementioned works declare that this historic presentation piece is "One of the finest Root Sidehammer pistols known."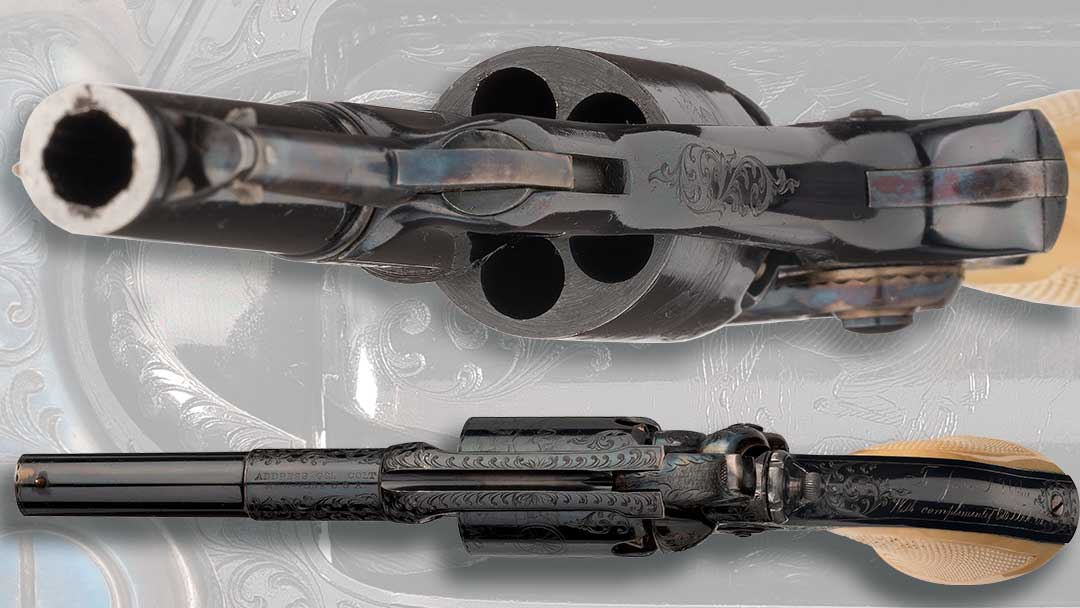 "ADDRESS COL. COLT/NEW-YORK U.S.A." is engraved atop the pistol's 3 1/2 inch barrel.
The untouched nature of this extraordinary Colt 1855 Root Pocket revolver is evident throughout. A time capsule of condition, the pistol retains 99 percent of its original high gloss factory blue presentation finish and 99 percent of its original case colors on the loading lever and hammer. The McClatchie Root is adorned with crisp factory scroll engraving in a similar vine pattern found on other prestigious percussion Colts of the 1860s, and the inscription on the revolver's backstrap reads, "To James Mc Clatchie/With compliments of Colts P.F.A.M. Co."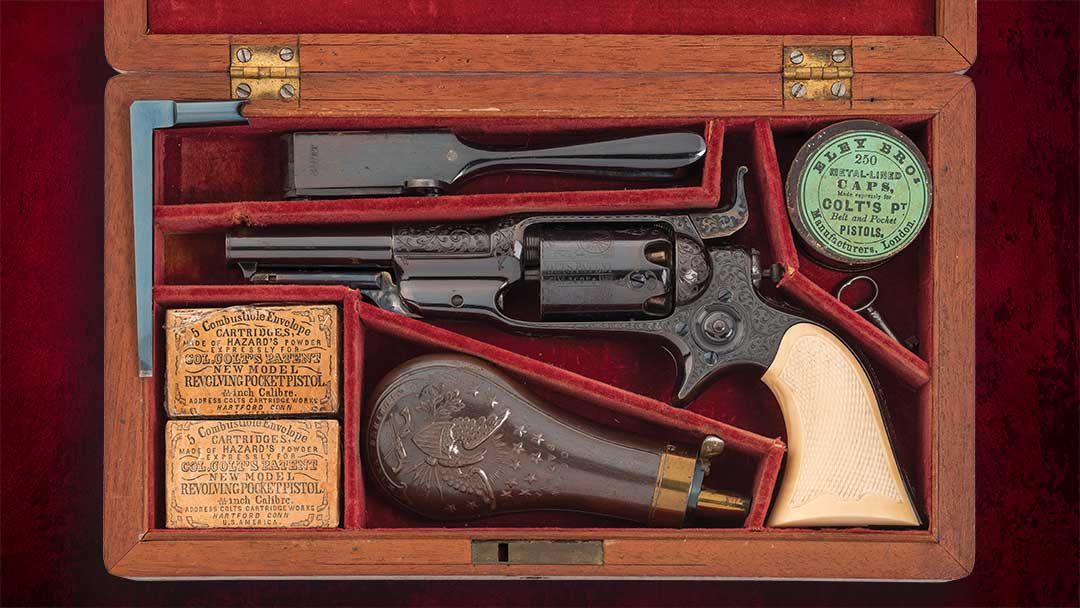 This historic set is pictured and described on pages 88 and 89 of "Fine Colts, The Joseph A. Murphy Collection" by R.L. Wilson.
No gun of this pedigree would feel complete without an equally impressive presentation case, and the McClatchie Root comes fully furnished. The high-grade mahogany case includes a double-sided eagle powder flask, an Eley Bros cap tin, four ammunition boxes containing five rounds each, an L-shaped combination screwdriver, and a deluxe high polish blue two cavity bullet mold.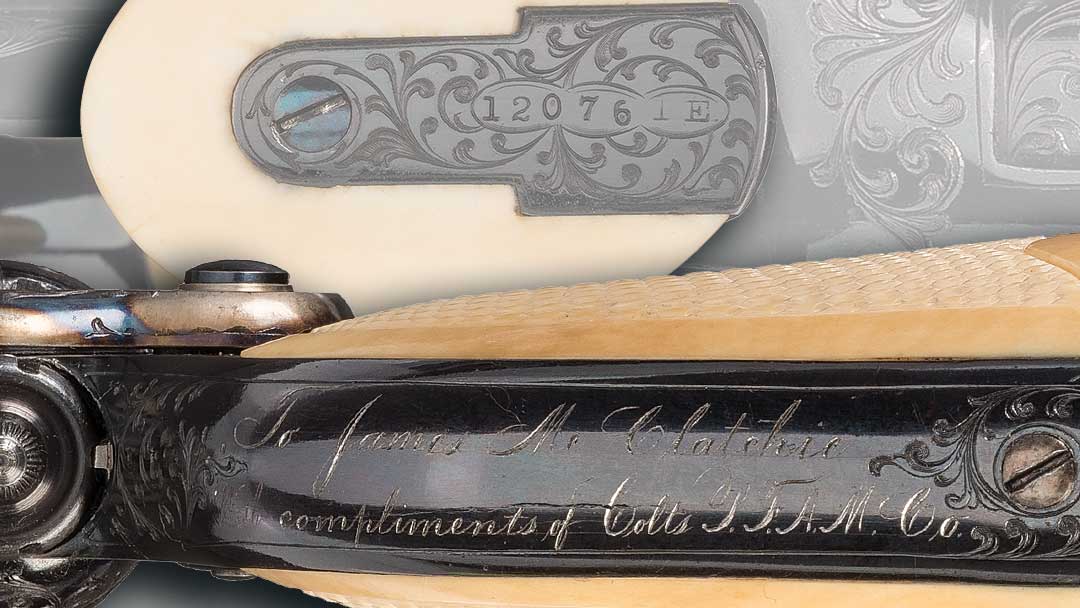 An elegant banner is engraved around the main serial number on the butt, 12076IE, with the suffix "IE" denoting the specially checkered antique ivory grip and engraving by the factory.
James McClatchie: Samuel Colt's Timekeeper
James McClatchie was active with Colt's Patent Fire Arms Manufacturing Company from 1853 through 1864, one of the most pivotal decades in Colt's history. Serving as company timekeeper, McClatchie's role was a vital component of Samuel Colt's cost-saving business model, which centered on producing firearms from interchangeable parts and implementing the moving assembly line.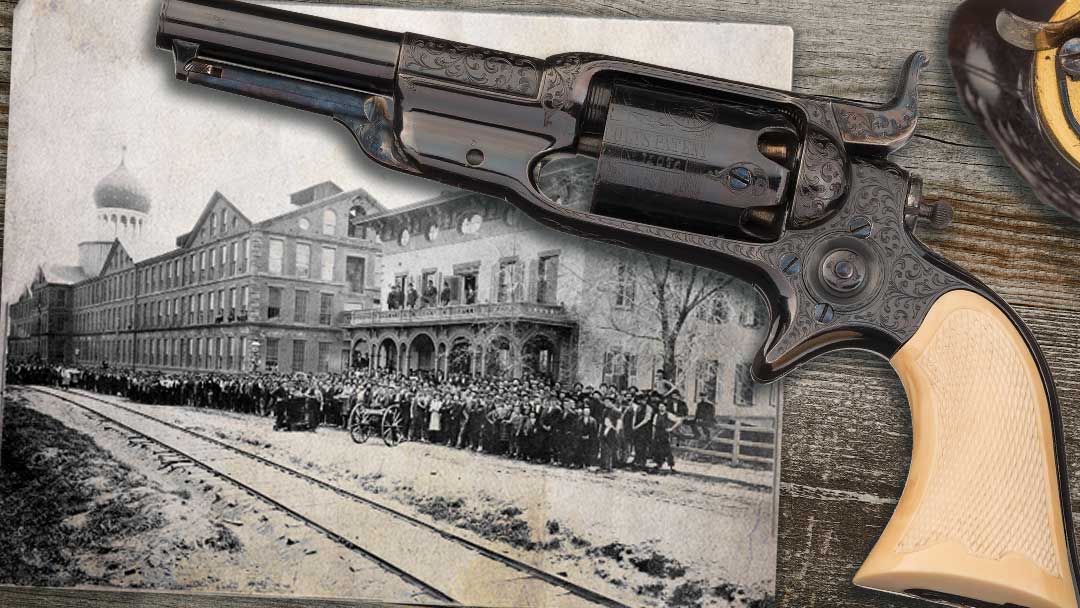 Gun inventor and business tycoon Samuel Colt based his factory on the principles that would later be called "The American System of Manufacturing," where tracking time and efficiency was paramount.
Though Samuel Colt ran his Hartford, Connecticut Armory with military precision and was prone to firing tardy employees, he also understood the advantage of retaining a trained labor force. A ten-hour work day was established, a progressive notion for the era that included a mandated one-hour lunch break to keep his employees from burning out. In an operation designed around time and efficiency, James McClatchie's responsibility as timekeeper would have been pivotal to keeping the world's largest privately owned arms manufacturing plant running day in and day out.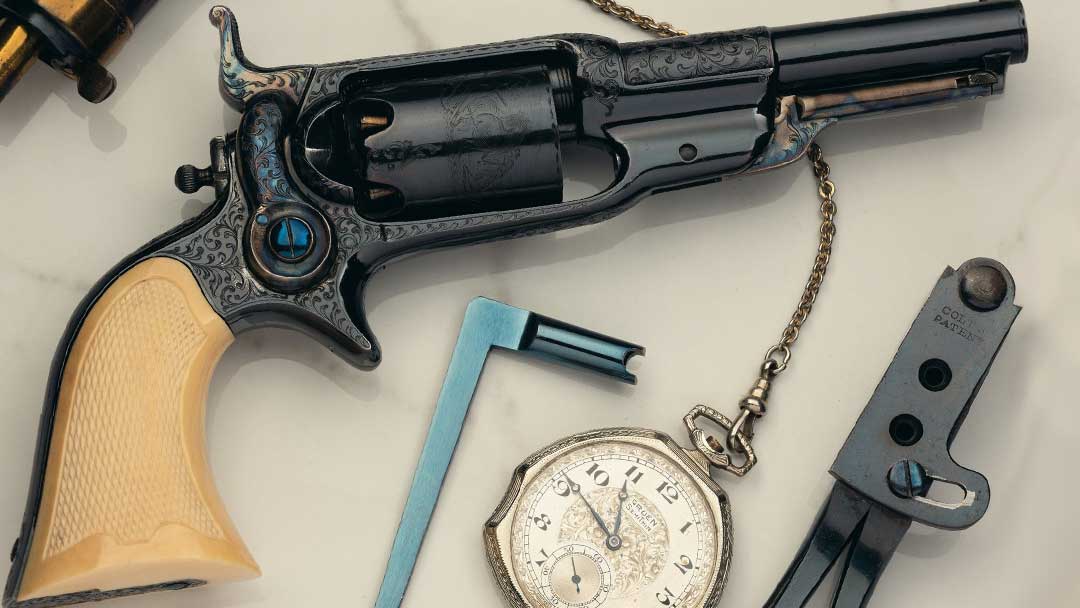 After his retirement, James McClatchie was presented this gorgeous embellished revolver in thanks for his service.
The Colt factory ledgers (Journal B, page 412) list McClatchie's cased set as a $28.88 cost charged to the company's presentation account on Friday, November 30th, 1866, a substantial sum in an era where a laborer's wage averaged 90 cents per day. The factory ledger confirms the revolver's configuration, including the barrel length of 3 1/2 inches, listed as an "NM Pkt Pistol", "ex" (extra fine) engraved, ivory grips, and with "all appendages in case for James McClatchie."
Elisha Root: Father of the Colt 1855 Sidehammer Pocket
Thanks to Elisha King Root, Samuel Colt's childhood friend and one of the most talented mechanical engineers of his time, Colt was able to fine-tune the concept of interchangeable parts in arms manufacturing popularized by gunmakers like John Hall and Simeon North. In the course of only a few short years, Elisha Root invented machines for rifling, boring, and cartridge making, as well as the finest drop hammer then in use.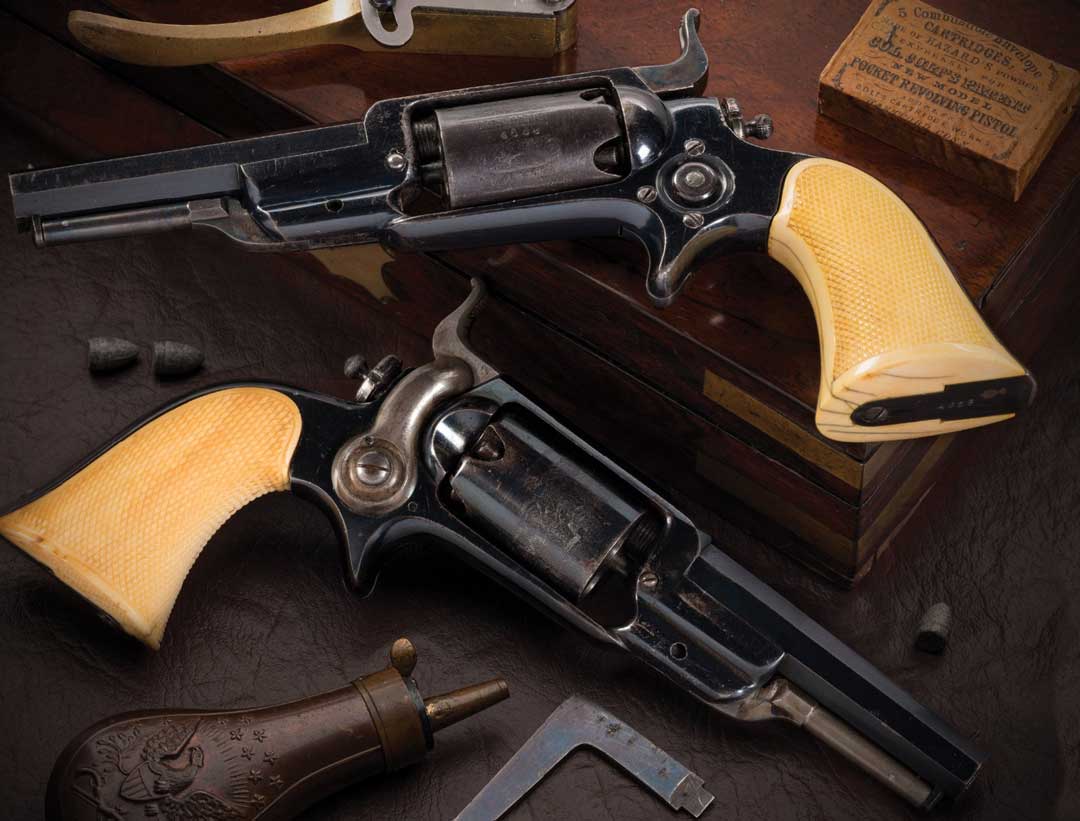 Presentation cased pair of Colt 1855 Sidehammer Pocket revolvers, a design conceived by Elisha Root
As Colt's factory superintendent, Elisha Root perfected standardized parts to the point where 80 percent of Colt's gunmaking was done by machine alone. In reference to Root's extraordinary contribution to Colt's success, author and engineer Joseph Wickham Roe observed, "The credit for the revolver belongs to Colt; for the way they were made, mainly Root."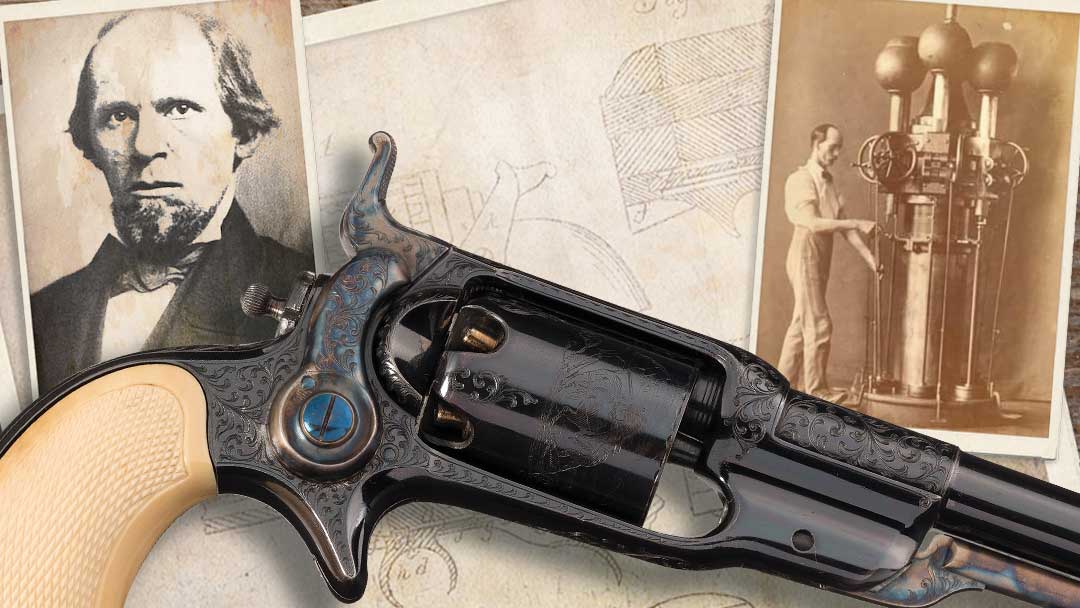 Elisha Root's machining transformed Colt's manufacturing operation from a time-consuming process of assembling hand-made parts into a precise, streamlined, and cost-efficient assembly line.
"A tangled forest of rods, bars, pulleys, wheels, and all the imaginable and unimaginable forms of mechanism… It must have required more brains to invent all those things than would serve to stock 50 Senates like ours."               – Samuel Clemens on his visit to Colt Armory
The Colt 1855 Revolver Patent
On Christmas day in 1855, Elisha Root patented a prototype revolver design that represented Colt's first solid-frame, spur-trigger gun. The patent featured a unique side mounted hammer and evolved into a separate line of Colt revolvers. Subsequent patents for the design bore Samuel Colt's name with Root signing as a witness. Known in their time as "New Model Pocket Pistols," Root's name was later assigned to the model by the collecting community in recognition of his role in conceiving and helping streamline the series.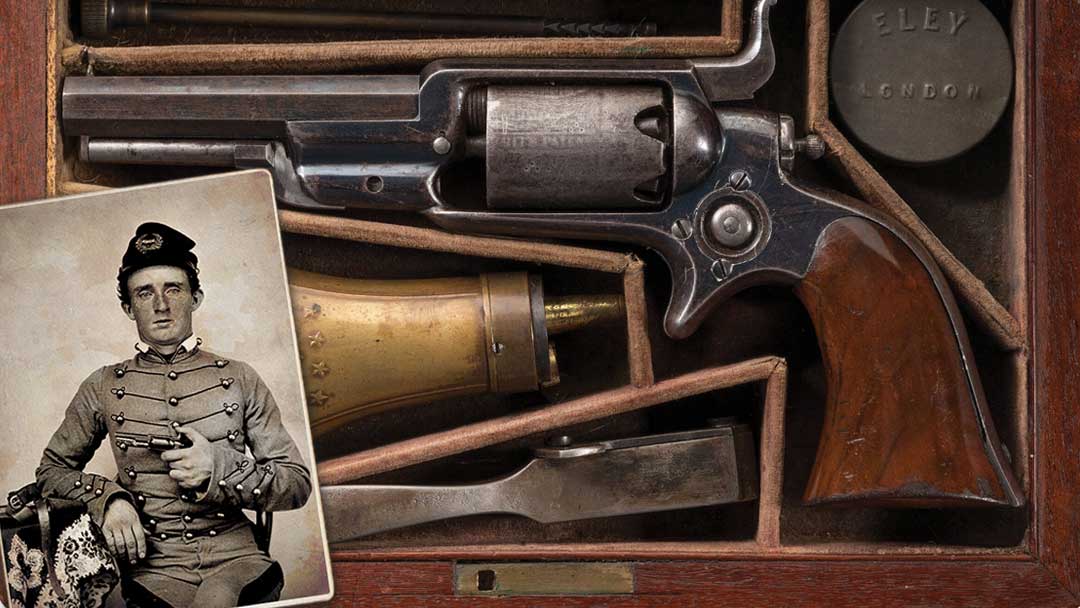 Cadet George Armstrong Custer at West Point in 1859, posing with a Root revolver.
While far less successful as a civilian handgun compared to the Model 1849 Pocket in terms of sales, the Colt 1855 Root design proved moderately popular during the Civil War. The revolving mechanism of the pistol's cylinder was also used by Colt in the company's 1855 rifle, carbine, and shotgun designs, and offered soldiers the option for repeating long arms in an era where most units were still issued single shot muzzleloaders.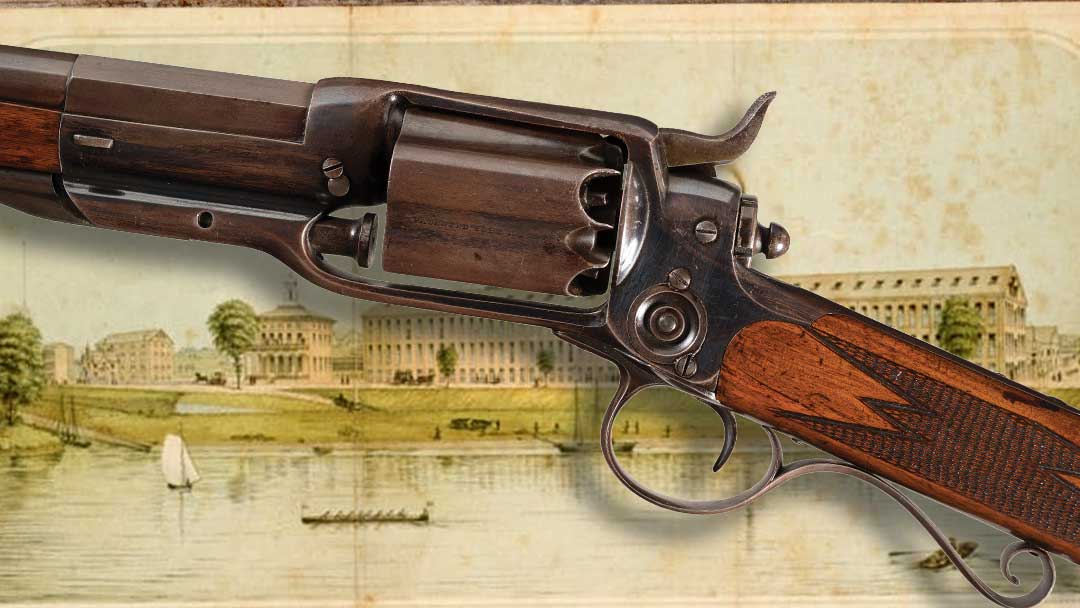 A Colt 1855 10 gauge revolving shotgun.
Colt 1855 Root Variations
From 1855 to 1873, the Colt 1855 Root revolver designs were manufactured in seven different variants chambered in either .28 or .31 caliber. The octagon barrels appeared in the first through fourth series of Root pistols, with Colt opting for round barrels on the fifth through seventh variations.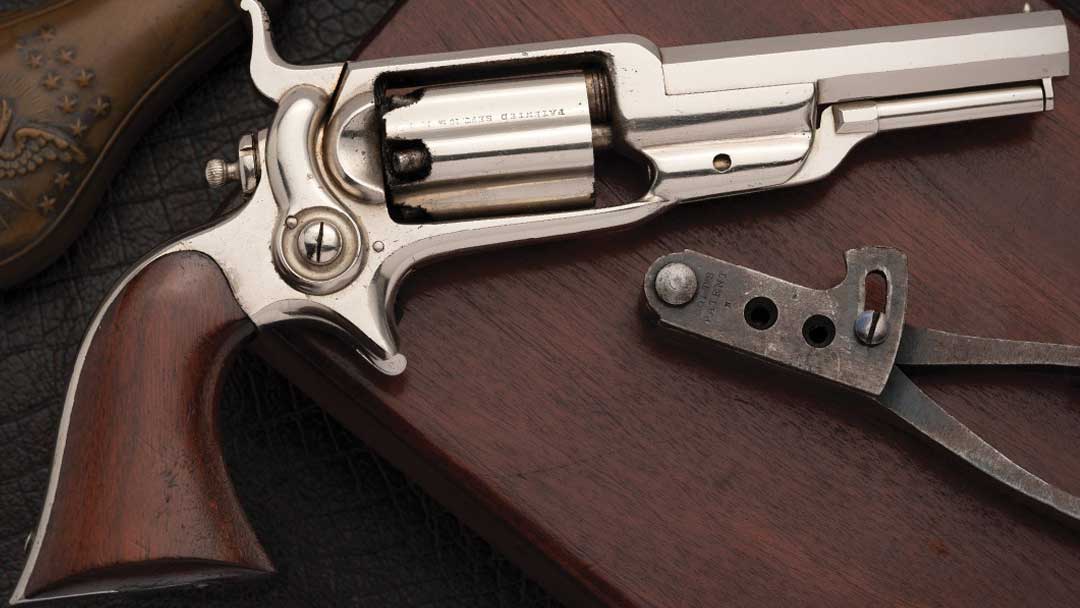 A special order nickel plated Colt 1855 Root revolver, a fine example of a late Model 3 variation.
The cylinders on the Root pistols also reflect Colt's continued tinkering with the model, changing from a round design in the first and second Root variation to fluted cylinders on the third and fourth, and then back to a round cylinder for the model's final three iterations. Given the 1855 Root revolver's comparative rarity, ambitious design, multiple variations, and distinctly attractive shape, these antique Colts have become prized collector's guns.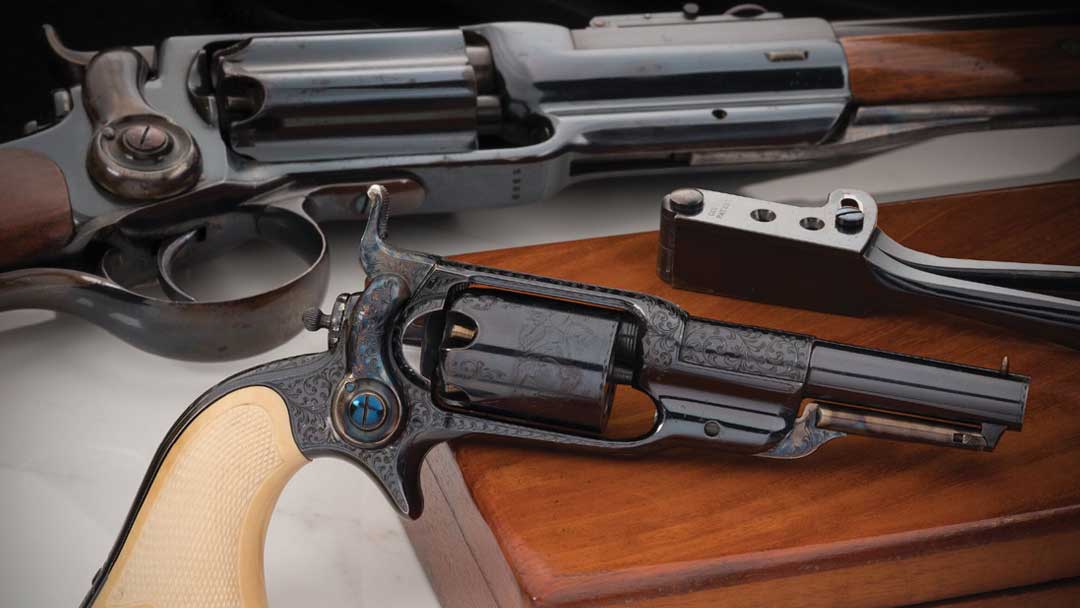 The McClatchie Root (bottom) is a Model 7 variation of the Root revolver, while the half-stock rifle (top) is a rare example of a Colt Model 1855 with a 31 5/16 inch barrel.
The McClatchie Root
"With Compliments of Col. Colt" is one of the most revered phrases in gun collecting, as it designates an official presentation piece from Samuel Colt. While James McClatchie may not be as known to history as many Colt presentation recipients, he was a significant figure in the success of Colt's Hartford factory operation. Today, McClatchie's name has been immortalized in print and is spoken in admiration by arms collectors and authors who recognize the importance of a gift to a faithful timekeeper that has been immaculately preserved, a piece of functional art that showcases the precision and quality that James McClatchie helped establish for the Colt Company 167 years ago.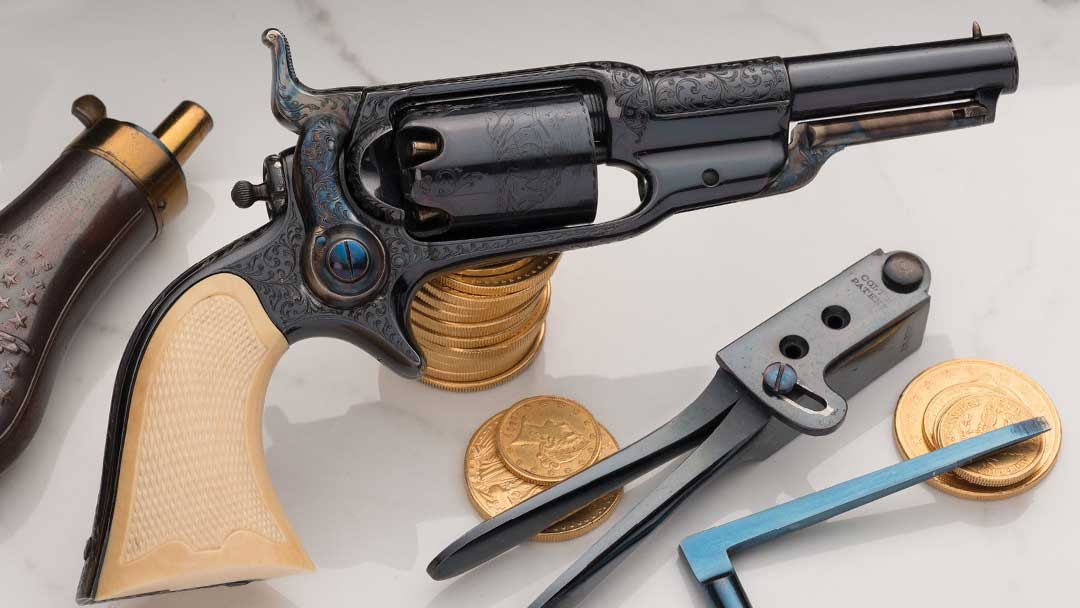 This Colonel Colt presentation factory cased and engraved Colt Model 1855 Sidehammer revolver, one of the finest looking guns of its kind, would be a standout piece in any advanced collection of Colt firearms.
When you consider the McClatchie Root's unmatched original condition, its sterling reputation, and the gun's history as a presentation piece to one of Samuel Colt's most pivotal executives, a one-of-a-kind rarity begins to emerge that could headline even the most distinguished assemblage of fine firearms. There's a reason this exquisite revolver earned the front cover on Volume I of Rock Island Auction Company's August Premier Catalog. On the pantheon of pristine arms collecting, the McClatchie Root stands as a giant.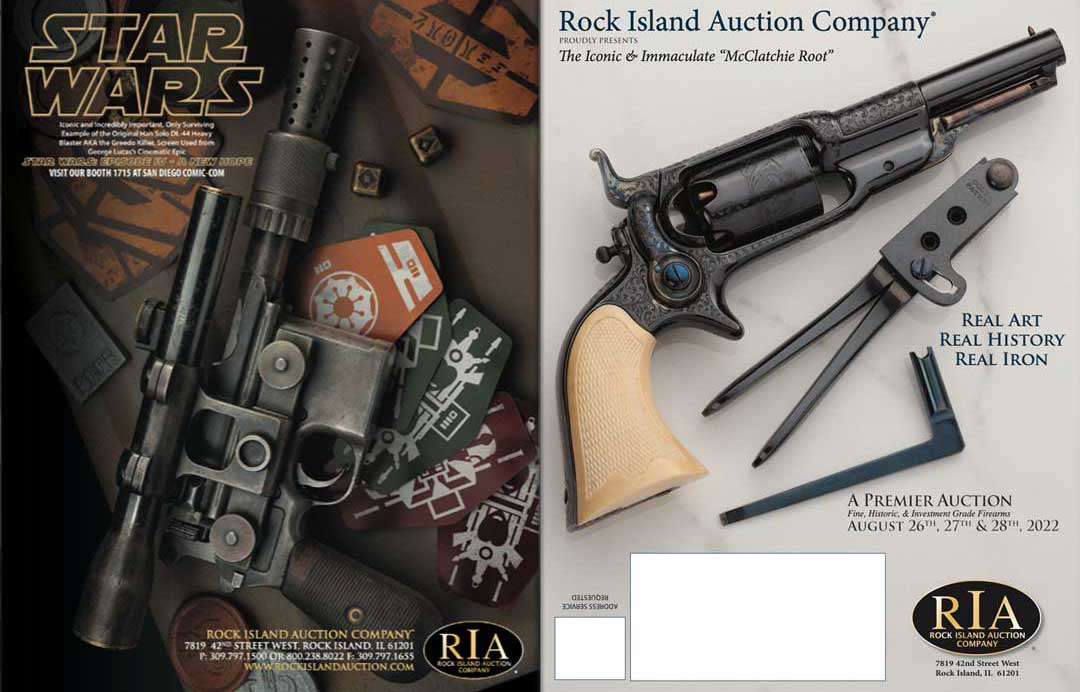 The McCatchie Root and Han Solo's Star Wars blaster illustrate the broad range of treasures offered at Rock Island Auction Company.
Not All Art is Framed
As Colt's elite presentation pieces testify, finely engraved arms fashioned by master artisans can carry the same aesthetic value as framed paintings and classic sculptures. Investors have taken note of the undervalued firearms market in recent years. As some of the rarest and most sought-after guns find their way to market, the idea of owning one of these timeless treasures seems more attainable than ever before.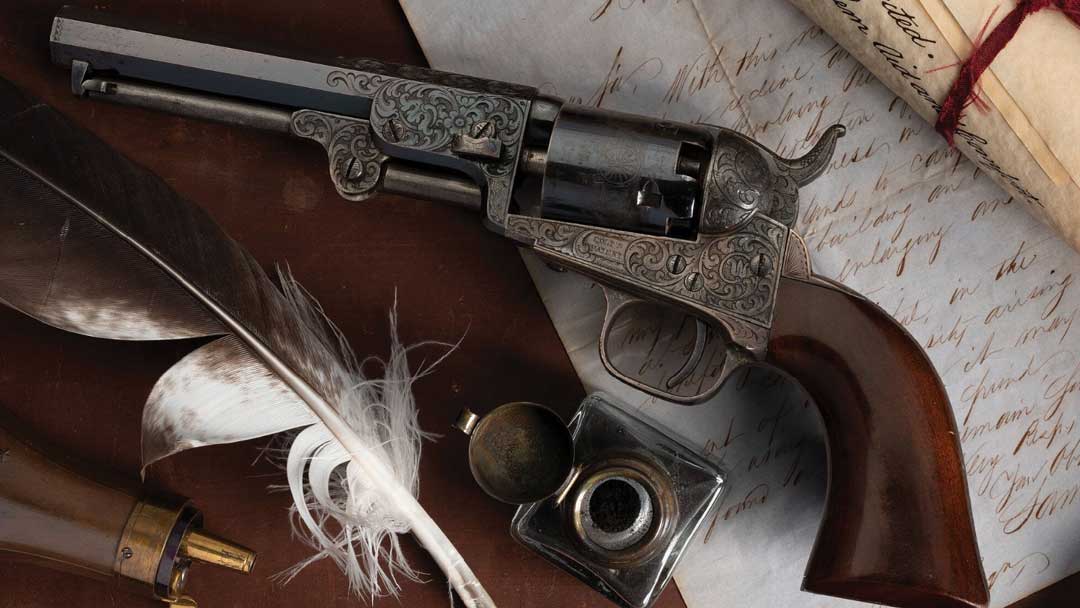 Cased deluxe presentation factory engraved Colt Model 1849 Pocket revolver with Samuel Colt letter presenting this revolver to James E. Dodd.
Rock Island Auction Company's August 26 – 28 Premier Firearms Auction features high-condition rarities from around the world, including museum-worthy masterworks that could be displayed in the Louvre. There's no better time to invest in an expanding collector's market that continues to set new records. Subscribe to the Rock Island Auction newsletter for weekly gun blogs and gun videos on the most prestigious arms in the collecting pursuit. We cover the finest firearms from artisans like L.D. Nimschke and Gustave Young, and masterpieces from Nicolas-Noel Boutet's elite craftsmen at Versailles Manufactory, who crafted pinnacle works like Napoleon Bonaparte's garniture. Search our latest Premier catalog, and let Colonel Colt bestow his compliments on you.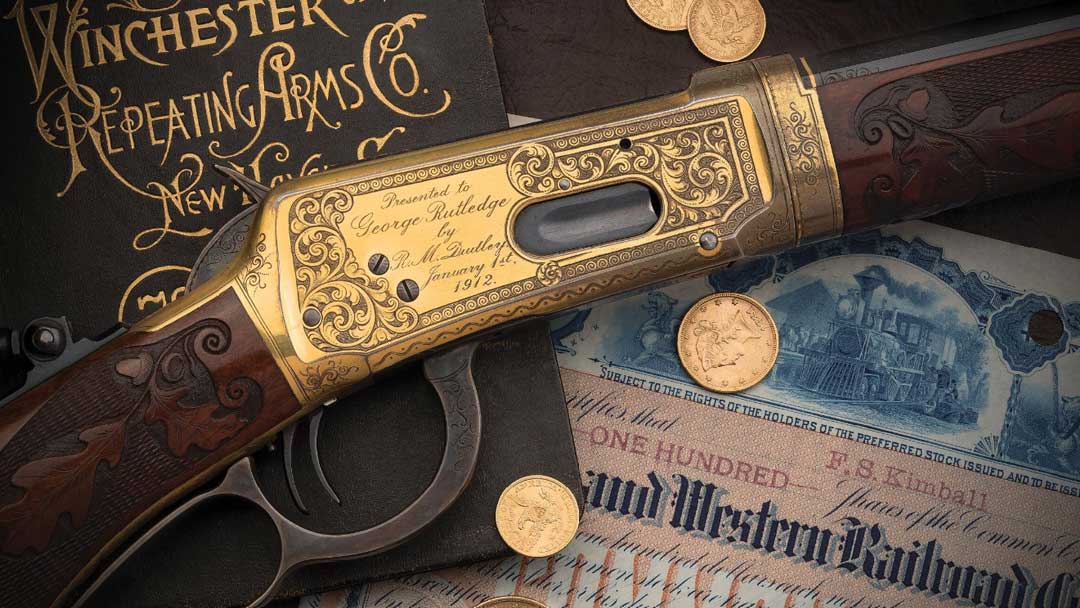 Factory gold inlaid and plated presentation Winchester Model 1894 carved and deluxe takedown lever action rifle signed by master engraver John Ulrich.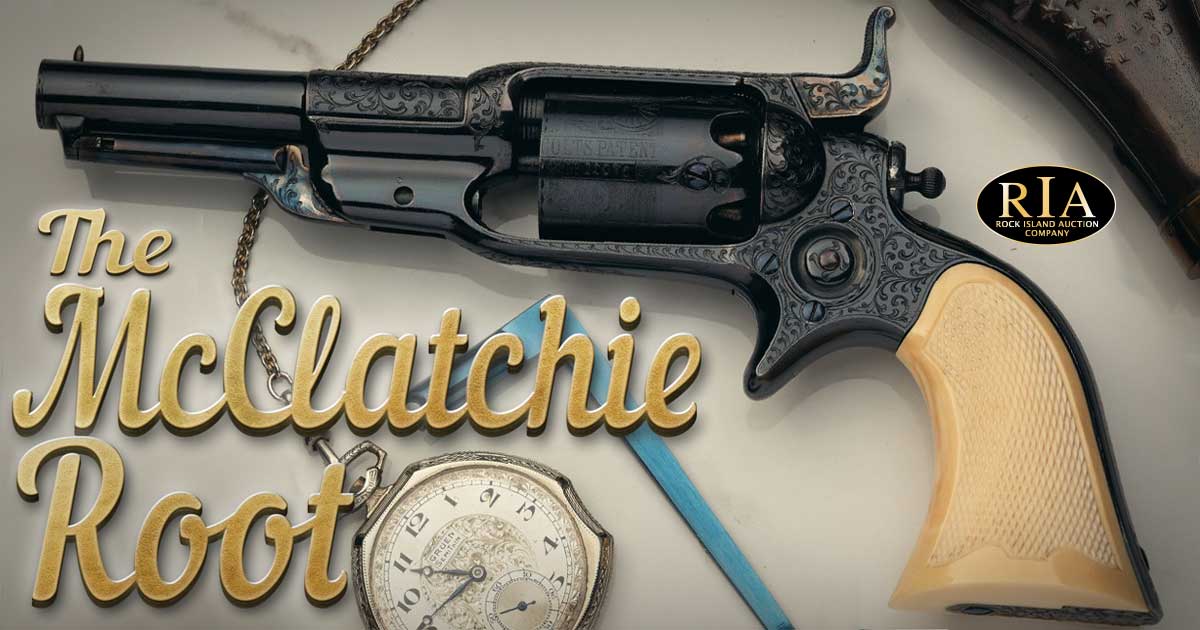 Rock Island Auction Company