Theodore Roosevelt's Smith & Wesson revolver has everything going for it: condition, rarity, beauty, and historic provenance to one of the giants in American history. What more could a gun collector want?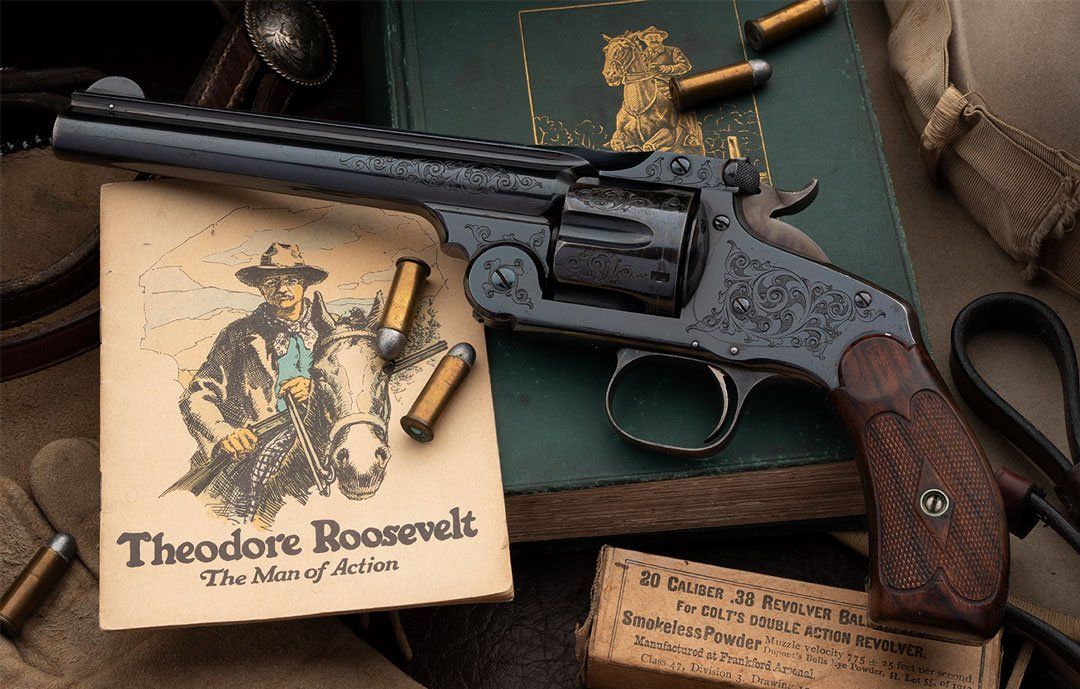 An American gun from one of the most American legends of all time, an engraved Smith & Wesson New Model No 3 revolver documented to the future 26th president of the United States, Theodore Roosevelt.
This stunning Smith & Wesson New Model No. 3 is truly special. Aside from its incredible condition, it features classic factory engraving, and a closer look at the muzzle and cylinder also yields a surprise: it's .38 caliber. The New Model No. 3 was primarily offered in .44 Smith & Wesson Russian. Given the caliber, you might then presume this revolver was chambered for .38 Smith & Wesson, .38-44 Winchester Centerfire, or .38-44 Smith & Wesson which were options for the New Model No. 3 but not as common. Nope, this Theodore Roosevelt revolver is chambered in .38 Long Colt, the U.S. service cartridge at the time.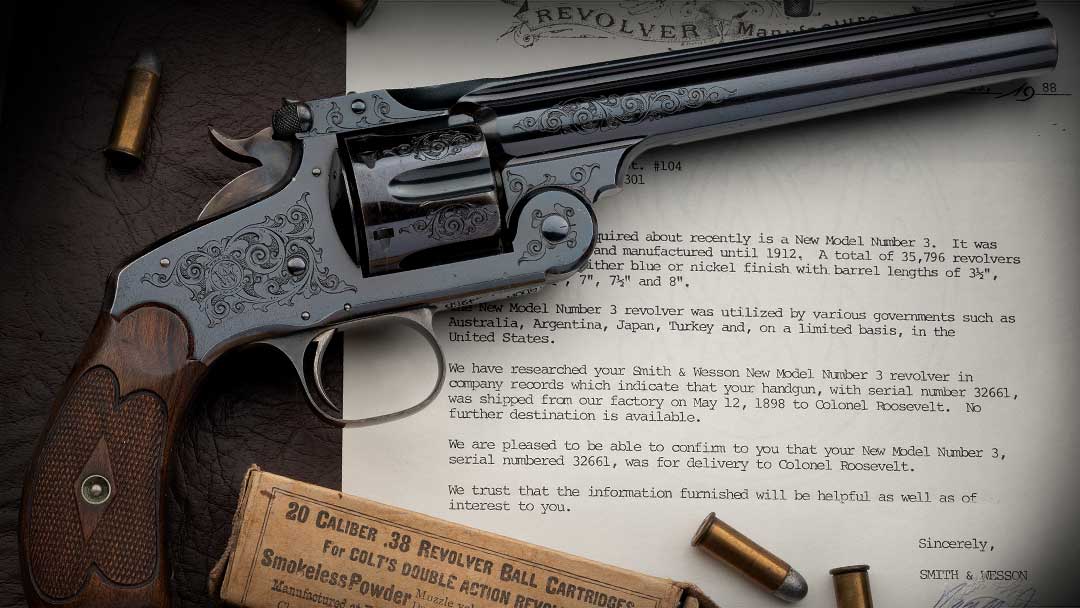 Roosevelt picked up this fantastic New Model No. 3 during the summer of 1898 on his way to train the Rough Riders in San Antonio, Texas, an exquisite-looking firearm.
There are scant few New Model No. 3 revolvers chambered in this cartridge. However, this revolver was shipped in 1898 right at the beginning of the Spanish-American War, and a .38 Long Colt chambered Smith & Wesson New Model No. 3 would thus be an excellent choice as a sidearm for an American officer. This revolver happens to be documented as shipped to the most famous of all Spanish-American War officers: Lt. Colonel Theodore Roosevelt of the Rough Riders.
Leader of the Rough Riders
It comes with a factory letter confirming by serial number that it was shipped to "Colonel Roosevelt" on May 12, 1898. Having shipped to Theodore Roosevelt already makes this gun something incredibly extraordinary and valuable, but the date is also particularly notable. It was the same day Roosevelt left for San Antonio to train the Rough Riders, as well as the same day as the bombardment of San Juan where Roosevelt and the 1st U.S. Volunteer Cavalry would go on to etch their names in the history books.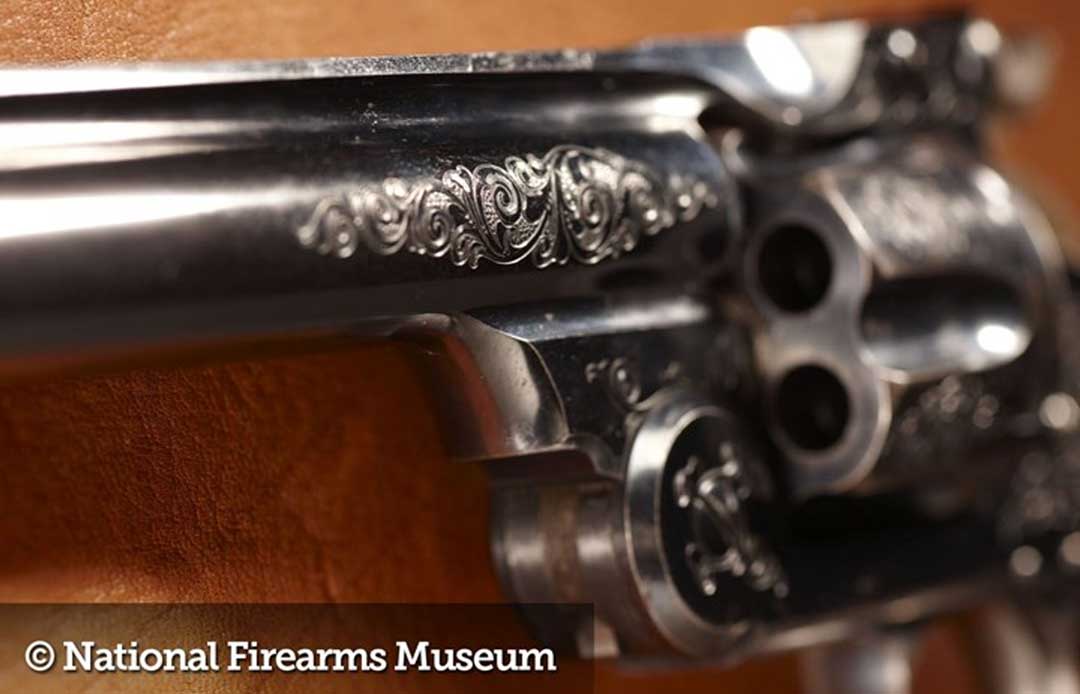 Note the small caliber of the cylinder in this photo from the Roosevelt revolver's time on display at the National Firearms Museum in 1998-2013.
At the beginning of the Spanish-American War, Theodore Roosevelt was Assistant Secretary of the Navy, but he resigned in order to take a more active part in the war. Roosevelt wanted to be part of the action despite many urging him to remain at the safety of his post in Washington. He was officially commissioned as a lieutenant colonel in the 1st U.S. Volunteer Cavalry on May 6, 1898.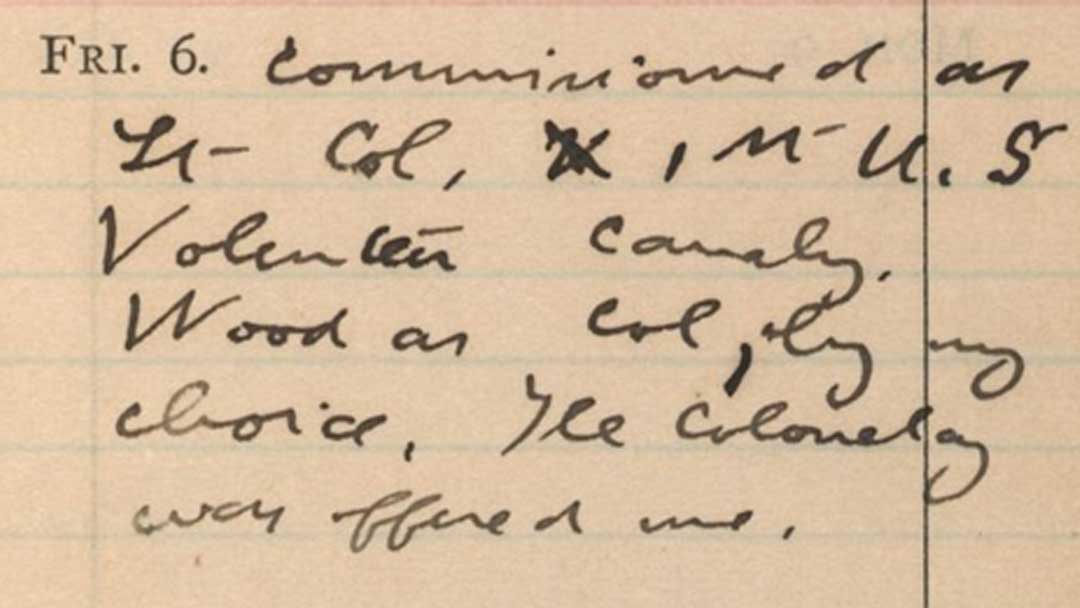 Theodore Roosevelt's diary entry noting his commission into the 1st U.S. Volunteer Cavalry.
Newspaper reports indicated Theodore Roosevelt was originally expected in Texas within just a few days after he officially joined, but he was delayed and instead left on the 12th and arrived in San Antonio on the 15th. This is confirmed both in period newspapers and in Roosevelt's personal diary.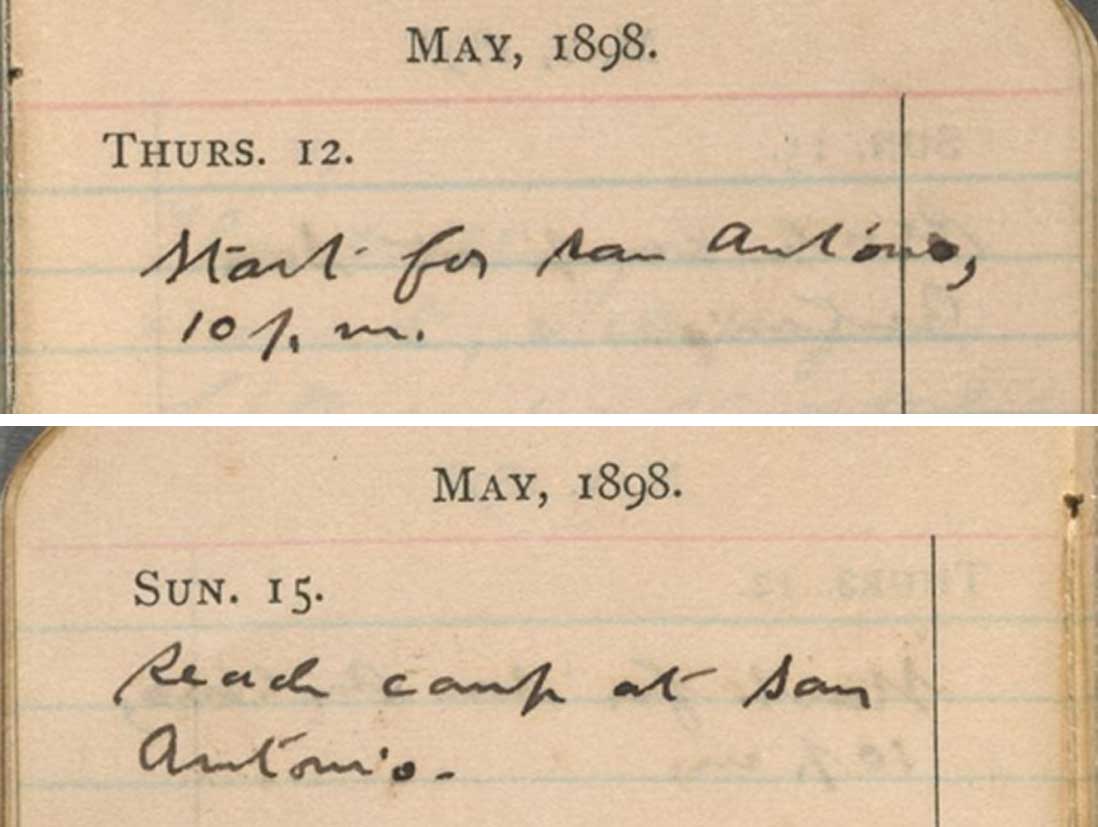 Roosevelt's diary entries for May 12th and 15th note his departure for Texas and his arrival at the camp in San Antonio. Images courtesy of the Theodore Roosevelt Center.
Exactly where the revolver was being shipped to Roosevelt is not clear in the records. Given he was expected to be in Texas prior to May 12, it may have been sent to San Antonio. Alternatively, it may have been shipped to Roosevelt's office in Washington, D.C., Sagamore Hill, or perhaps even Tampa in expectation of the Rough Riders' departure for Cuba. At San Antonio, Roosevelt and the Rough Riders trained in cavalry tactics. The unit was led by Colonel Leonard Wood (1860-1927), a friend of Roosevelt's with experience serving in the Indian Wars as an officer and surgeon and with political connections as the personal physician of Presidents Cleveland and McKinley.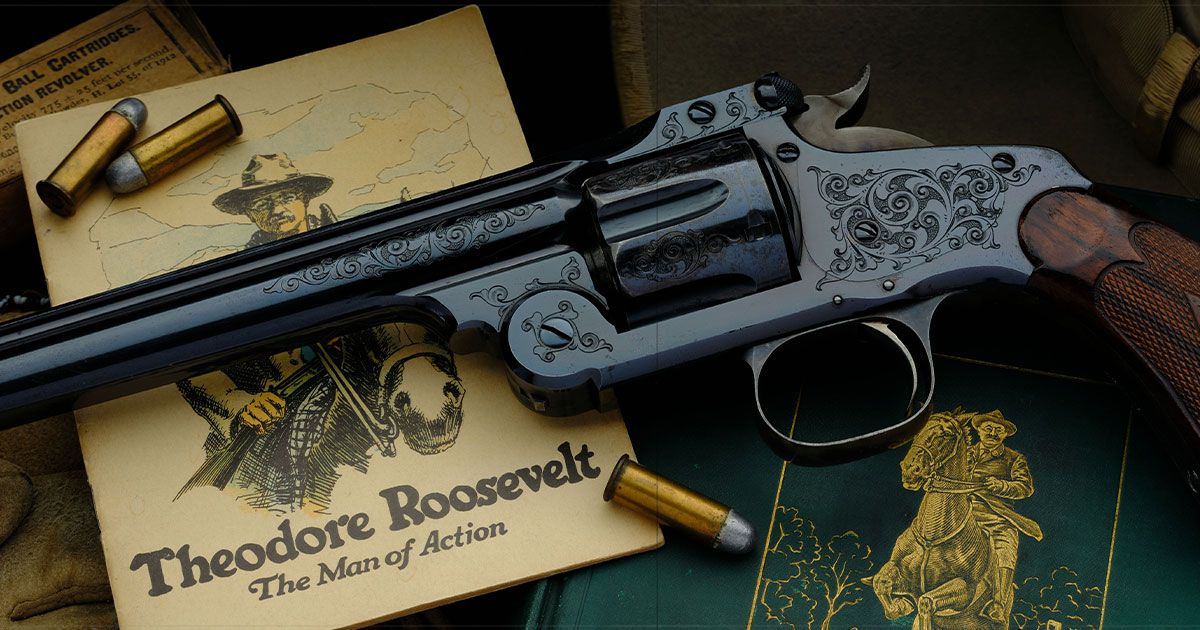 A Roosevelt gun with a story to tell.
The Rough Riders were formed of men from many walks of life from both the East and West, from farm hands to the highly educated gentlemen, but the recruits from the Southwest and Indian Territory gained a lot of attention and made up the bulk of the unit. Some had fought in foreign wars in the service of other countries. American newspapers widely reported the affairs of "Teddy" Roosevelt and his eclectic group of "Rough Riders." While he never liked the "Teddy" nickname, he embraced the latter for his diverse troopers. The name was inspired by William F. Cody's popular show "Buffalo Bill's Wild West and Congress of Rough Riders of the World."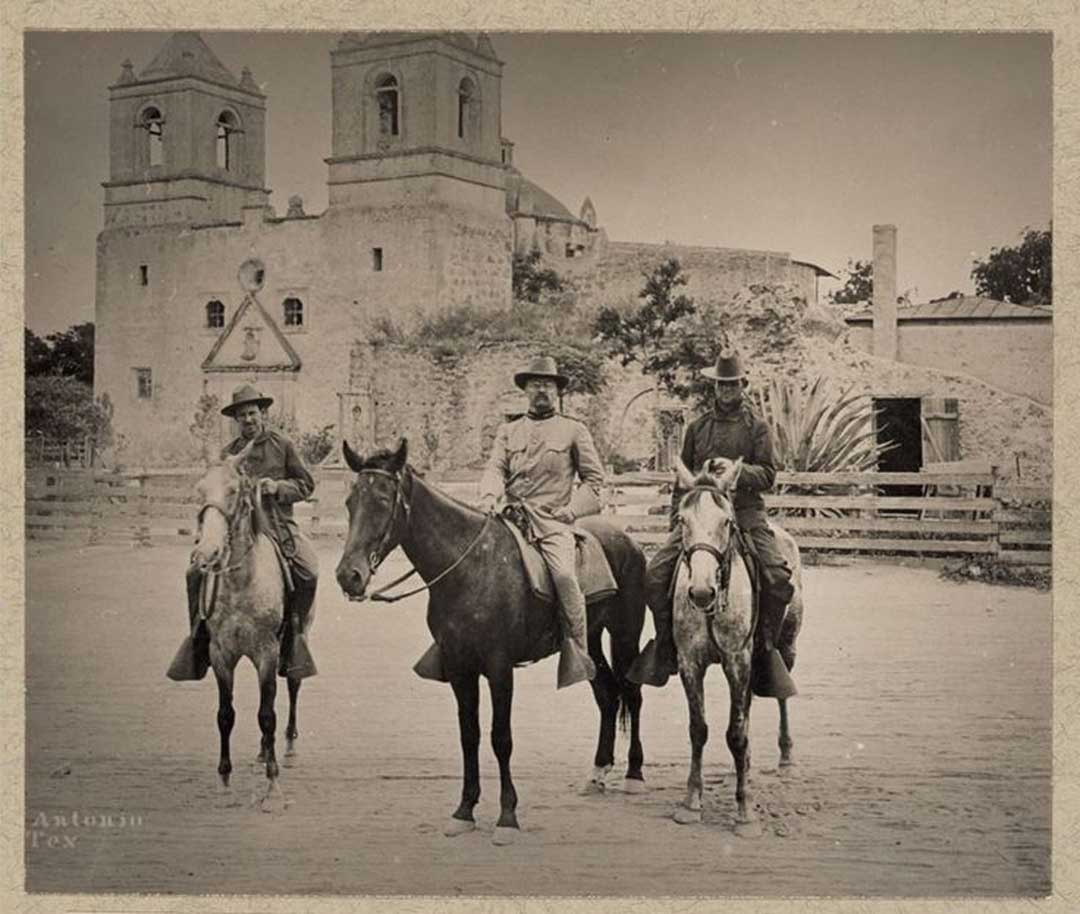 Theodore Roosevelt in San Antonio. Image courtesy of San Antonio Uncovered.
Theodore Roosevelt goes to War
Roosevelt and Wood used their influence to ensure their volunteers were armed with Model 1896 Krag-Jorgensen carbines rather than outdated Springfield trapdoors, and they were issued Colt Single Action Army revolvers for their sidearms. Theodore Roosevelt certainly appears to have intended to carry this stunning revolver as his sidearm. Instead, he carried a Colt Model 1892 double action revolver recovered from the USS Maine, a symbolic gesture given the sinking of the Maine was widely blamed on the Spanish and had helped propel the U.S. into war.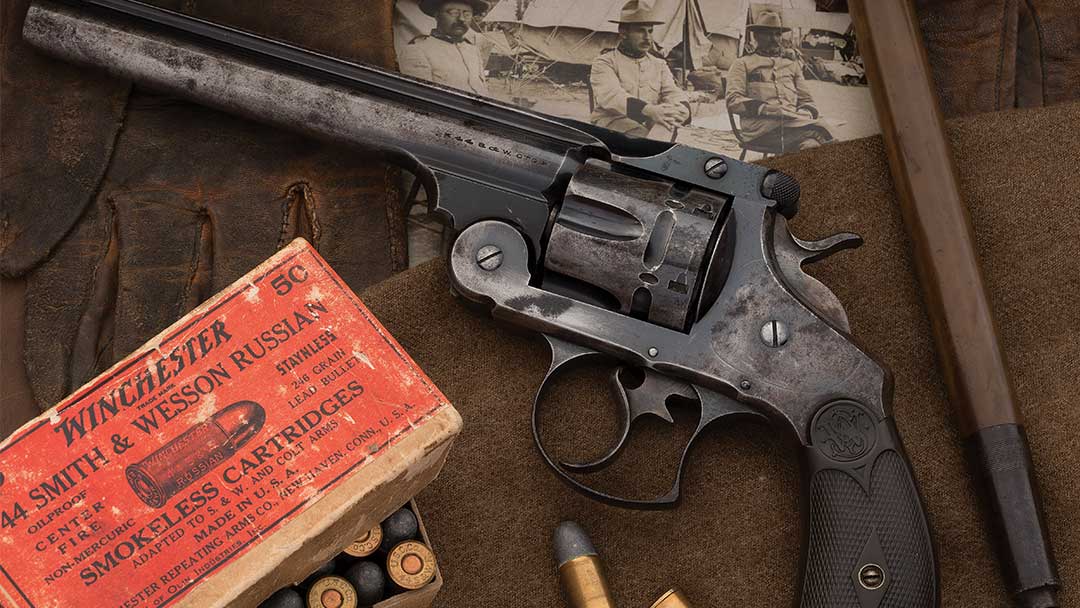 Leonard Wood's Smith & Wesson .44 double action First Model Revolver documented as shipped to Wood in 1905 while he was military governor of Moro Province during the Moro Rebellion is also featured in the December 9-11 Premier Firearms Auction.
The Rough Riders left for Tampa, Florida, near the end of the month and arrived on June 2. Logistical problems led to only eight of the unit's twelve companies departing from Florida for Cuba. They set foot in Cuba on June 23 and were engaged in the Battle of Las Guasimas the following day. On July 1, 1898, Theodore Roosevelt led the Rough Riders at the Battle of San Juan Hill. Wood was in command at Las Guasimas but had been quickly promoted to brigade command when the former commander fell ill. Thus, at the San Juan Hill, Wood was in command of the 2nd Cavalry Brigade of the 5th Army Corps while Roosevelt was in command of the Rough Riders.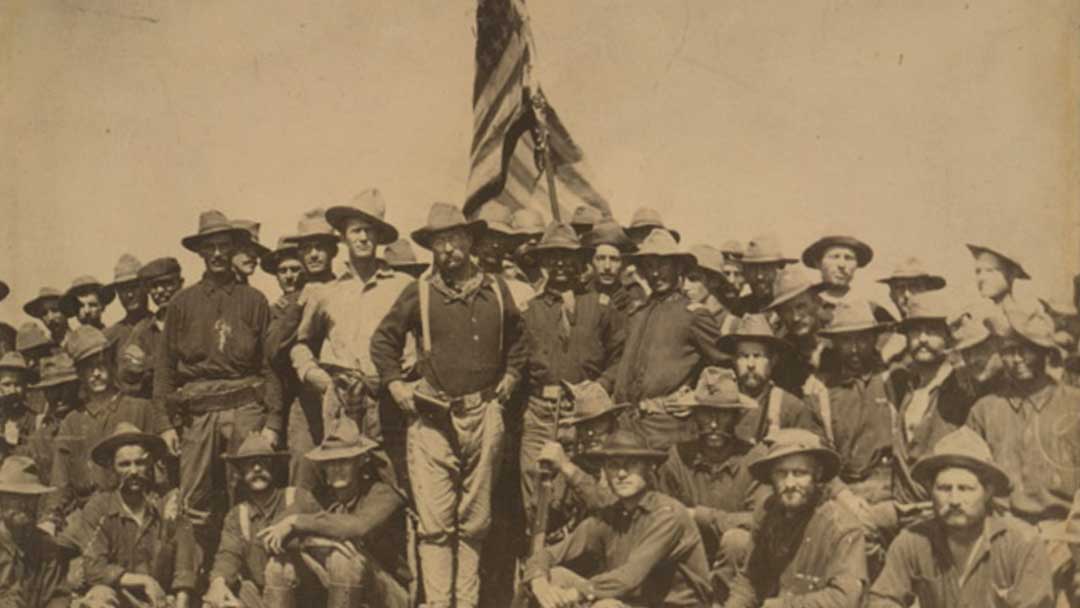 Cropped in photograph of Theodore Roosevelt and the Rough Riders on Kettle Hill. Image courtesy of the Library of Congress.
Though they were intended to serve as cavalry, the Rough Riders fought dismounted. Colonel Roosevelt led the men in their charge up Kettle Hill. Their charge became one of the most memorable events in Roosevelt's life. He was already a well-known figure prior to the war, but San Juan Hill helped propel him to the governorship of New York afterward, then the vice presidency, and ultimately the presidency in short order.
On July 1, the Spanish troops Roosevelt and his men faced were heavily outnumbered, but they held the high ground, and the Americans were forced to charge uphill while exposed to Spanish fire to drive them out. Roosevelt, the Rough Riders, the 3rd U.S. Cavalry, and the Buffalo Soldiers of the 10th U.S. Cavalry assaulted Kettle Hill on the right of the battlefield supported by suppressing fire from Gatling guns. They charged up the hill taking losses from both Spanish fire and the heat. The 10th Cavalry were the first to reach the top.
After reaching the top, Roosevelt wanted to continue on and move to support the troops on San Juan Hill. After rounding up some men to continue on, he was instead ordered back to defend Kettle Hill which was soon counterattacked by the Spanish. The Gatling guns again proved significant in stopping the Spanish attack, and when the day was done, Colonel Roosevelt and the U.S. Cavalry had secured victory, but that victory came at a cost; over 200 Americans were killed and another 1,000 were wounded.
Colonel Roosevelt Returns
Though the various units fought admirably together to take both Kettle Hill and San Juan Hill, the Rough Riders and Colonel Roosevelt received much more attention than the Buffalo Soldiers both in the period and ever since. Of all the men who fought at San Juan Hill, and in the war in general, none was to become as famous as Colonel Roosevelt. He was eventually awarded the Medal of Honor in 2001 for his actions that day. When he did not have a lofty title, he preferred to be called Colonel Roosevelt for many years to come.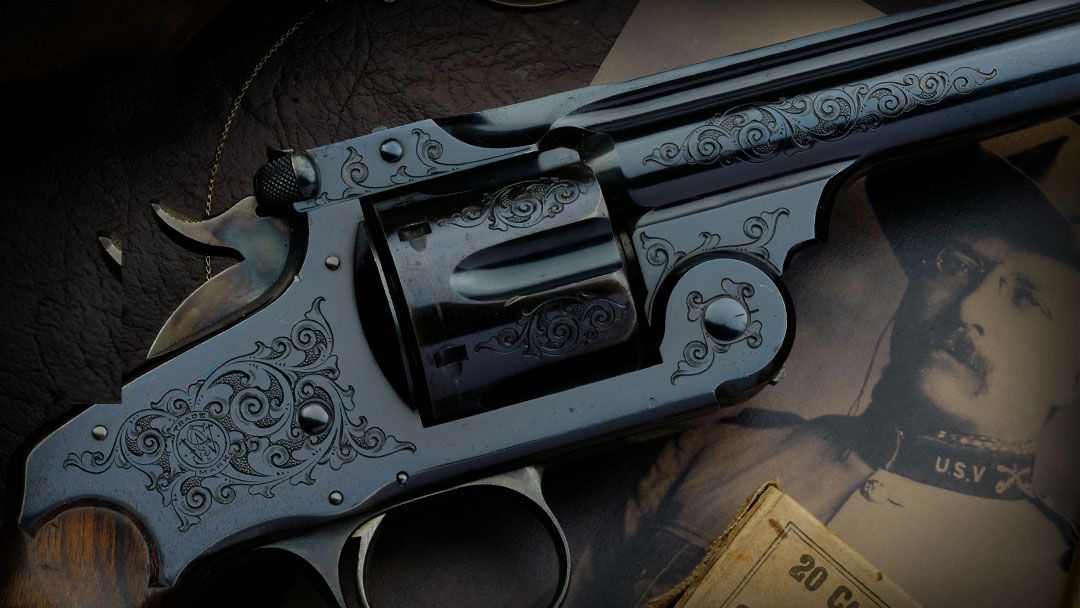 Affidavits are included with this revolver, stating that Mike Berkshire of Palm Beach, Florida, "reported buying the revolver from the descendants of the bodyguard or valet of President Theodore Roosevelt, who had represented to Mr. Berkshire that the revolver had been a present from Pres. Roosevelt to their ancestor."
Roosevelt returned home to New York and then ran for governor as a Republican in 1898 and won. His victory thus placed him at the head of the most populous state in the country at the time, but his reformist ways soon brought him into conflict with the state's political leaders. To get rid of Roosevelt, they maneuvered successfully to get him nominated as the party's vice presidential candidate in 1900. They did not intend for him to have power and influence, but this soon changed when President McKinley was mortally wounded by an assassin's bullet at the Pan-American Exposition in Buffalo, New York. Roosevelt thus went from Assistant Secretary of the Navy, a relatively inconsequential position, in 1898 to the leader of the Republican Party and the country by 1901.
A Theodore Roosevelt Gun
Documentation has not been found detailing where this revolver was during this period, but there are important clues based on its provenance. The included documentation includes a statement from Jeffery Faintich in which he states that Mike Berkshire of Palm Beach, Florida, "reported buying the revolver from the descendants of the bodyguard or valet of President Theodore Roosevelt, who had represented to Mr. Berkshire that the revolver had been a present from Pres. Roosevelt to their ancestor." Precisely who that was is unfortunately not recorded in the documents available to us, but James E. Amos is the best-known and most likely candidate.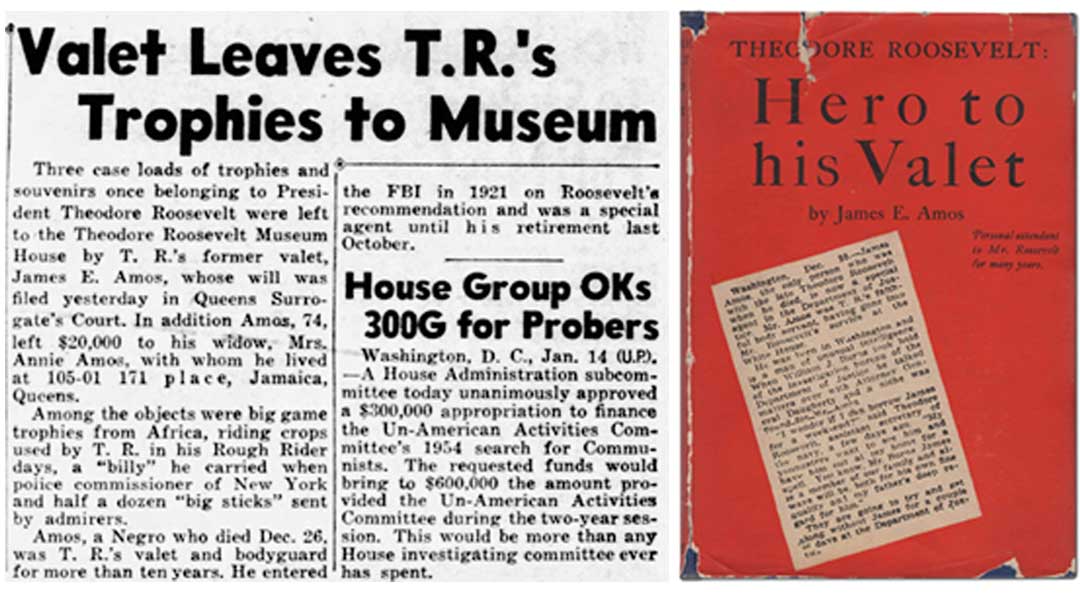 James Amos: From Roosevelt Valet to FBI Agent. Images courtesy of the Theodore Roosevelt Center.
Amos was very close with Roosevelt and his family and was by Roosevelt's bedside shortly before he died. Significantly, in his book Theodore Roosevelt: Hero to his Valet on page 151, he recorded, "While President he often went armed. I have in my home now a large revolver that Mr. Roosevelt placed at the side of his bed every night while in the White House. It was given me by Mrs. Roosevelt after his death."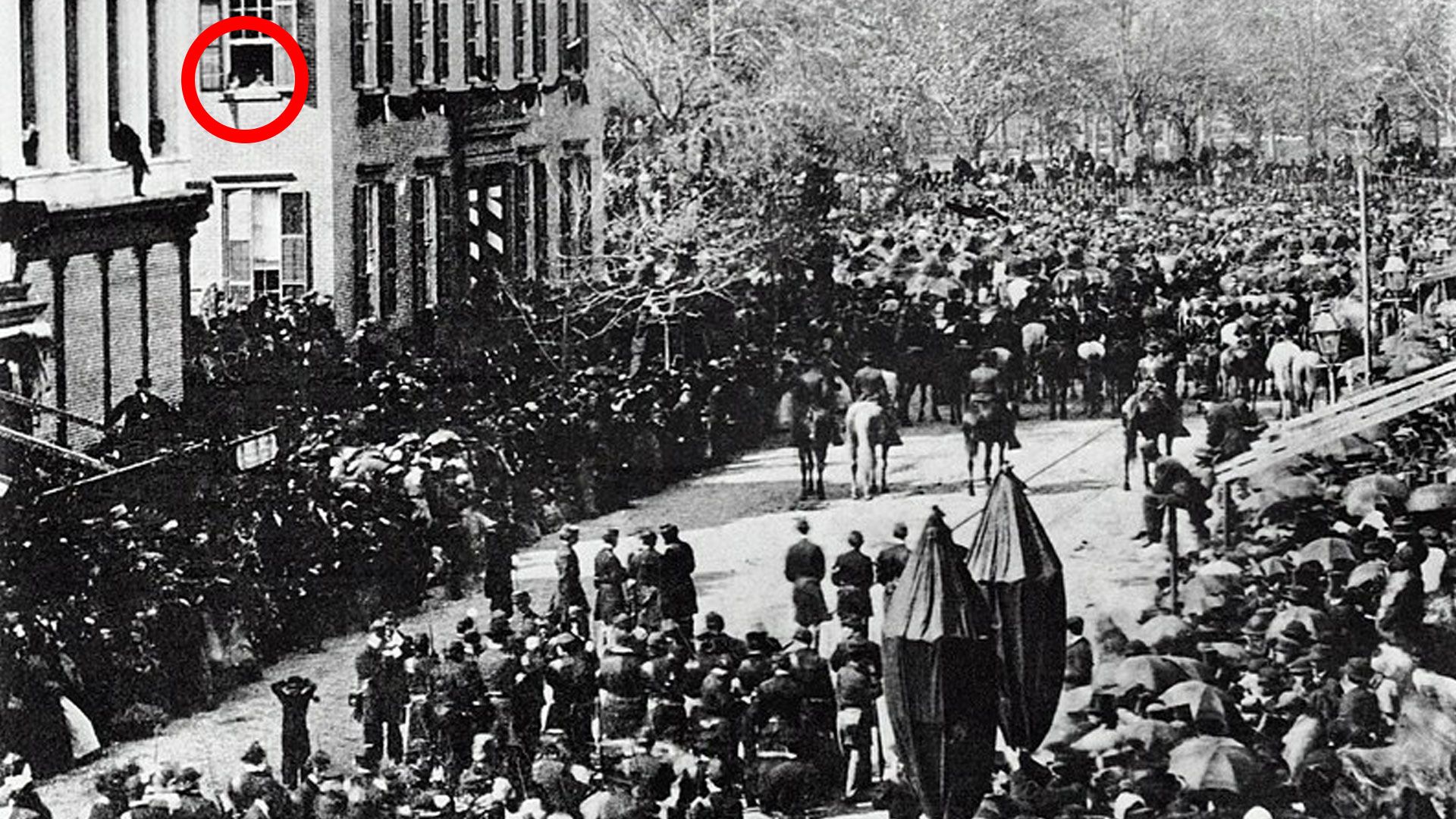 When he was still a sickly young boy, Theodore Roosevelt watched as Abraham Lincoln's funeral procession passed by his grandfather's mansion in New York City on April 25, 1865. Roosevelt can be seen looking out from the window. Image courtesy of the National Archives.
Amos's father was born into slavery and fought with the U.S. Colored Troops during the Civil War and was a Washington, D.C., police officer when he met Roosevelt while he was riding his horse. James was initially hired to help care for Roosevelt's children but quickly moved up and soon became Roosevelt's valet/bodyguard and also became a close friend of both the president and his family. He later worked as a private detective as well as for the U.S. Customs and the Interior Department, but remained in contact with the former president and returned to work for him. The Theodore Roosevelt Center noted Roosevelt called Amos "the best shot that  I have ever seen" and indicated he "offered advice on Roosevelt's gun collection and purchased and tested all of his firearms."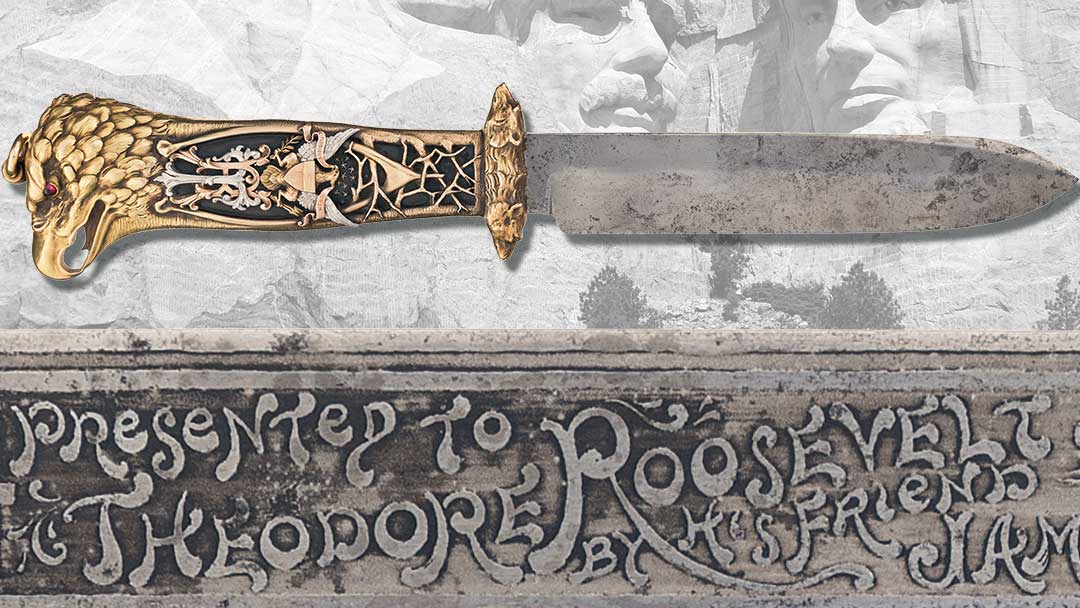 This incredible hunting knife presented to President Theodore Roosevelt by James W. Gerard was passed down through generations of the Roosevelt family before selling for a record setting $414,000 at Rock Island Auction Company back in September 2016.
Use as a nightstand gun would explain how this revolver has survived in such exceptional condition. It would not have seen use and would have been protected from the elements. The idea of a president keeping a revolver by his bedside in the White House may seem very strange today, but the executive was far less secure than it is today, and for a man like Roosevelt, being armed was the norm. Having watched President Abraham Lincoln's funeral procession after he was assassinated in 1865 and having become president because President McKinley was shot, Roosevelt fully understood that his life was continuously at risk.
President Theodore Roosevelt
As president, Roosevelt was both popular and controversial. His dinner with Booker T. Washington at the White House marked the first time an African-American had been openly an equal guest at the White House and was met with serious hostility, particularly in the Democratic-controlled South with some politicians calling for violence.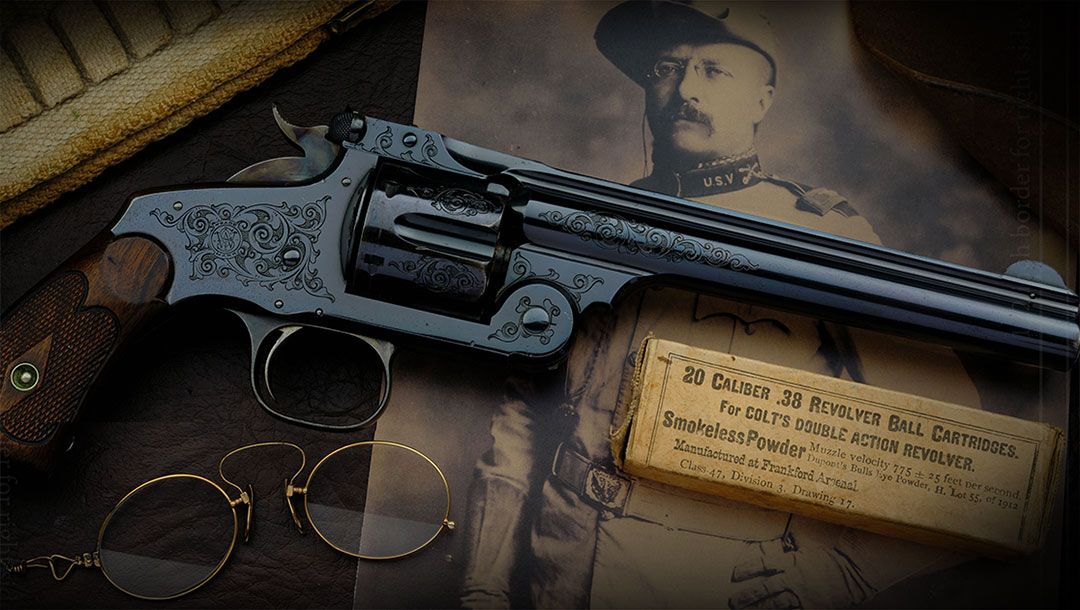 According to Amos's book, Roosevelt kept a large revolver at the side of his bed that was bequeathed to Amos after Roosevelt's death. If this Smith & Wesson did indeed serve as Roosevelt's bedstand gun, that would certainly help explain how the revolver has remained in such extraordinary condition.
On many issues, Roosevelt quickly earned a reputation as a progressive leader. He established himself as a serious regulator of big business by breaking up trusts, negotiating for better prices and pay, and passing laws to ensure safer food and medicine. Furthermore, Roosevelt's efforts resulted in preserving over 1/4 of a billion acres in National Parks, National Monuments, and National Forests and reserves, cementing himself as one of the foremost conservationists in American history.
The Bull Moose Rides On
After leaving the White House, firearms continued to play a significant role in Roosevelt's life. He and his son Kermit participated in the Smithsonian-Roosevelt African Expedition which is recorded in his book "African Game Trails." During the expedition, they killed over 11,000 animals, including 512 big game animals, for preservation and scientific study back in the U.S. He then toured Europe before returning home.
Once stateside, Roosevelt clashed with President William H. Taft, his longtime friend and hand-picked successor, after Taft broke from Roosevelt's progressive policies, particularly on conservation. The growing schism within the Republican Party led to Roosevelt running as the presidential candidate of the newly found Progressive Party in 1912.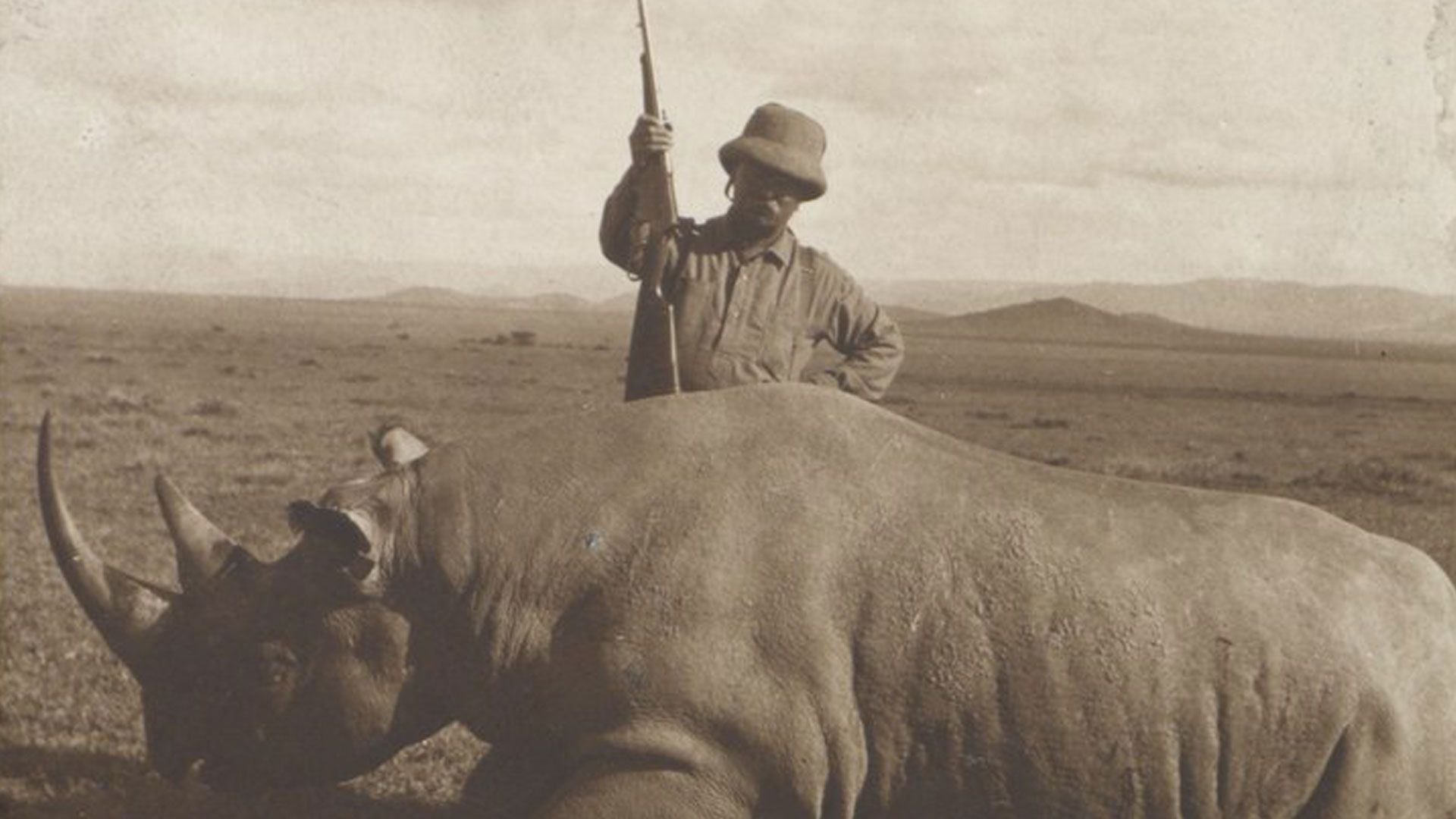 Theodore Roosevelt hunting big game.
During the campaign, Roosevelt was shot in Milwaukee, Wisconsin. Despite being shot in the chest, Roosevelt assessed his own wound and went on to give his 90 minute speech, living up to his manly reputation. He opened his speech with: "Ladies and gentlemen, I don't know whether you fully understand that I have just been shot, but it takes more than that to kill a Bull Moose." While Amos was not present during the shooting, he was with Roosevelt while he was recovering and helped nurse former president back into health. As he recuperated, Roosevelt noted "I'm fit as a bull moose." Soon the Progressive Party was nicknamed the Bull Moose Party. The split between the Republicans and the Progressives essentially tossed the election to Woodrow Wilson and the Democrats.
This classic factory-engraved Colt SAA revolver was ordered for Theodore Roosevelt around his 54th birthday just days before he was shot while campaigning for the presidency as the Progressive Party candidate in 1912. It sold at Rock Island Auction Company in December 2020 for $1,466,250.
After his defeat, Roosevelt traveled to South America where he and his son Kermit participated in the dangerous "River of Doubt" expedition, aka the Roosevelt-Rondon Scientific Expedition. He planned to bring back examples of various animals for scientific study at the Smithsonian, but the expedition went poorly. Three members of the expedition died, and their boats were overturned leading to the loss of many of their supplies and their scientific specimens.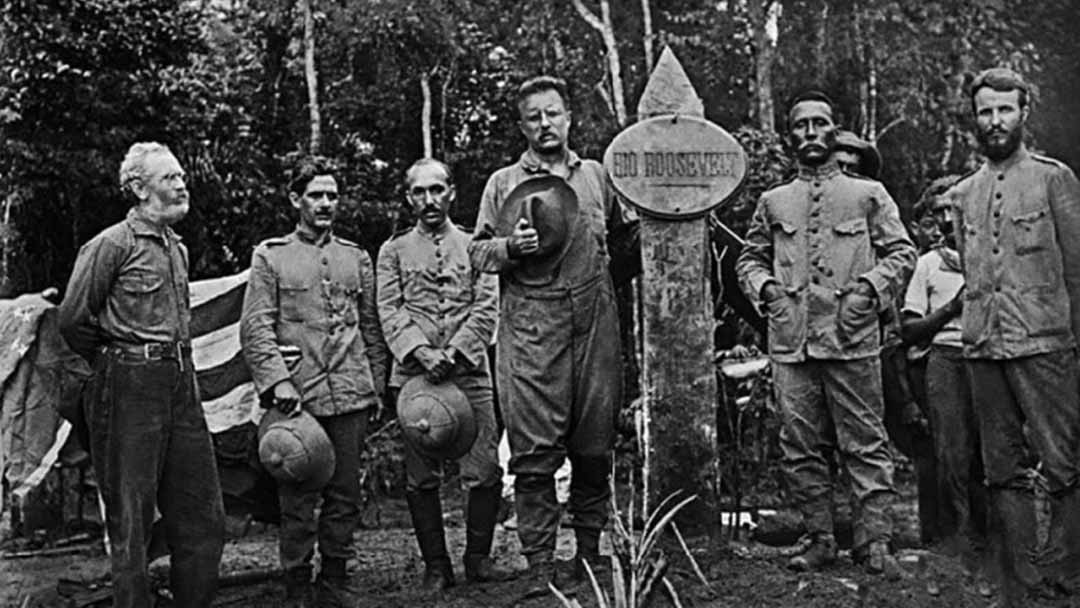 President Theodore Roosevelt stands next to a marker with the new name of the River of Doubt, Rio Roosevelt, or Roosevelt River. Naturalist George Cherrie is on far left. To the right of the marker is Col. Candido Rondon, who co-led the expedition, and Kermit Roosevelt, the president's son.
Of the 3 expedition members that died, one was abandoned after murdering another, and nearly everyone contracted malaria. Roosevelt himself at one point asked to be left behind for dead as he languished from an infected wound on his leg as well as malaria, but Kermit would not leave his father behind. Though he made it back to New York, he never fully recovered his trademark vigor. Nonetheless, when World War I broke out, Roosevelt was authorized to raise volunteers but was stopped by President Wilson. His son Quentin served as a pilot and was shot down and killed.
The Legacy of Theodore Roosevelt
The loss of Roosevelt's son and the lasting effects of his adventure in South America took a heavy toll, but he is widely believed to have been preparing for another presidential campaign in 1920. Roosevelt began experiencing breathing problems on the evening of January 5, 1919. Among those who attended him was his old friend and valet James Amos. When Roosevelt went to bed he asked Amos, "Please put out that light, James." He died in his sleep early the next morning. Vice President Thomas R. Marshall famously remarked, "Death had to take Roosevelt sleeping, for if he had been awake, there would have been a fight."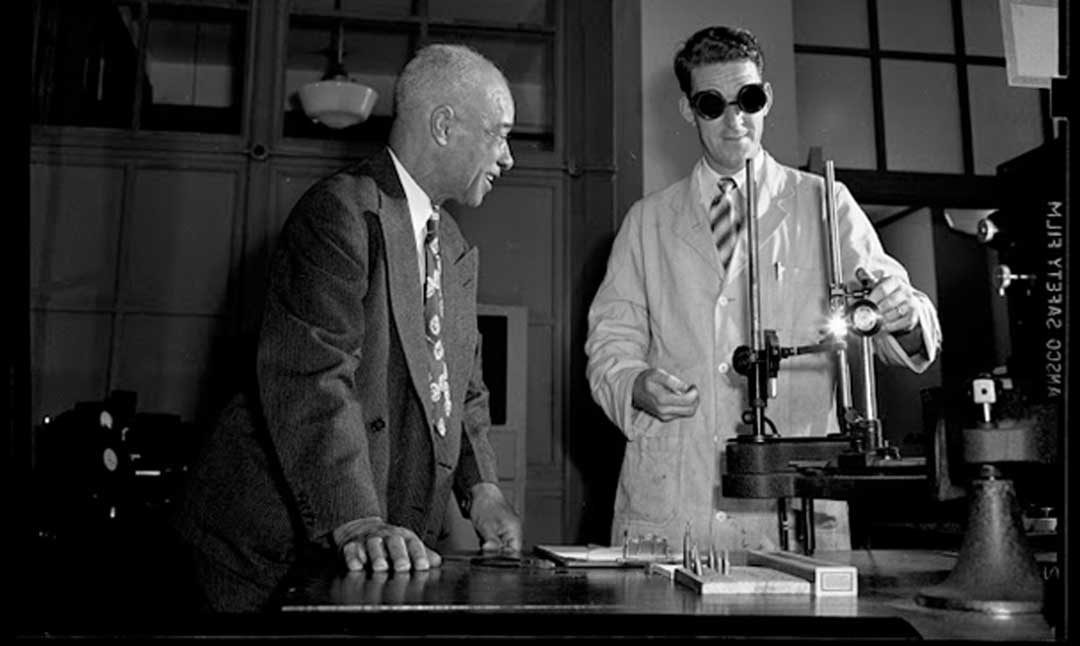 After his work for Roosevelt, James E. Amos (left) went on to be one of the first African American FBI agents and longest serving. He worked for the FBI from 1921 until just two months before his death in 1953. Image courtesy of the Smithsonian Collections Blog.
While Theodore Roosevelt passed into history, Amos was just getting started. He went on to be one of the first and longest-serving African-American FBI agents, serving from 1921-1953. When Amos died, he left behind a variety of Roosevelt's hunting trophies and other memorabilia to the Theodore Roosevelt Museum House at Sagamore Hill. This Theodore Roosevelt gun, perhaps a particularly, cherished and person heirloom, may have remained in his family. As one of the very few presidential firearms in private hands, this national treasure will be available during Rock Island Auction Company's Dec. 9-11 Premier Auction and represents an unprecedented opportunity to own not only an iconic in gun collecting but a legacy piece from one of America's giants.
This Theodore Roosevelt gun comes to us from Jim Supica, Director of the NRA Museums from 2008 to 2020. The revolver was loaned by Supica to the NRA National Firearms Museum c. 1998-2013 and then the National Sporting Arms Museum from 2013-2022, and has been featured in several publications.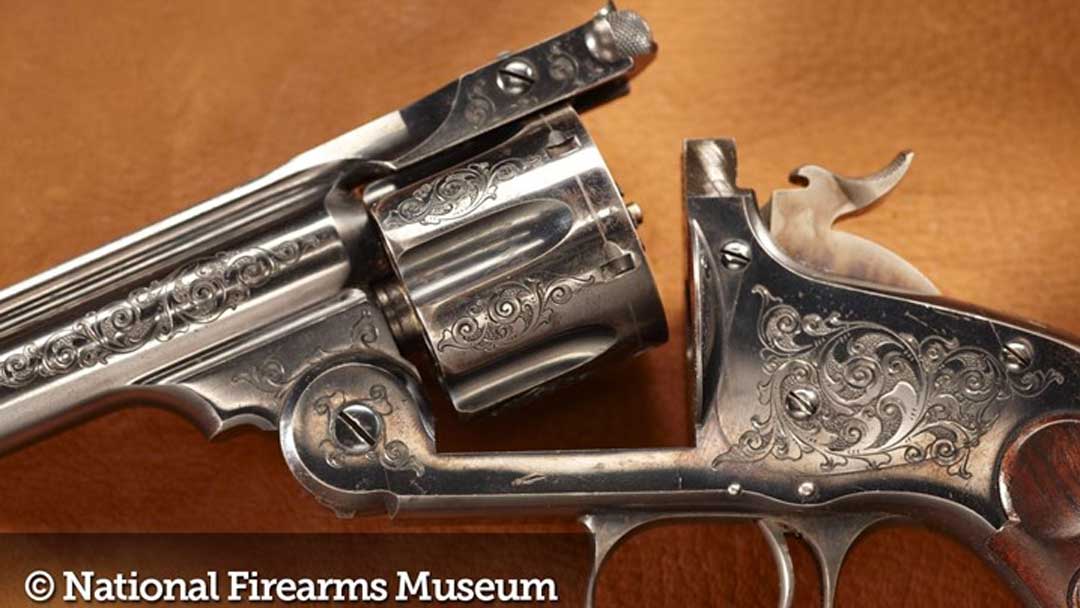 After spending five years in the National Firearms Museum, the Theodore Roosevelt revolver was subsequently displayed at the National Sporting Arms Museum from 2013-2022.
As Theodore Roosevelt's extraordinary life demonstrates, some men truly do live up to the legend. Subscribe to the weekly Rock Island Auction newsletter to receive new gun blogs and gun videos on some of the biggest names in American and world history. From Ulysses S. Grant's Remington Revolvers, the Napoleon garniture, and Alexander Hamilton's Revolutionary War flintlock pistols and epaulets, we cover some of the finest firearms and the legends who carried them.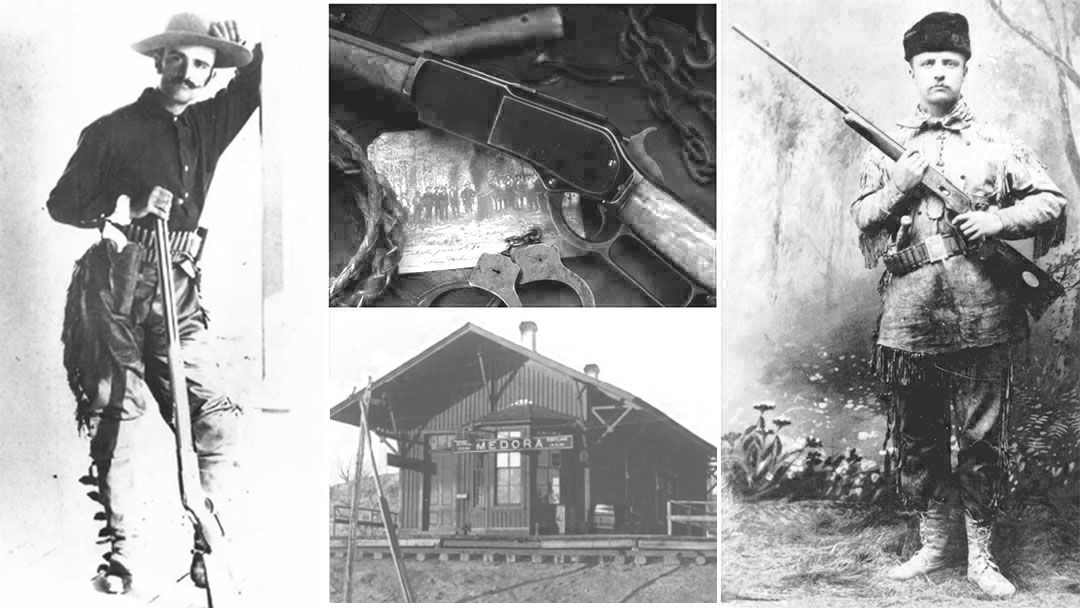 In the 1880s, Roosevelt clashed with Winchester totting frenchman Marquis de Morès in the Badlands of North Dakota.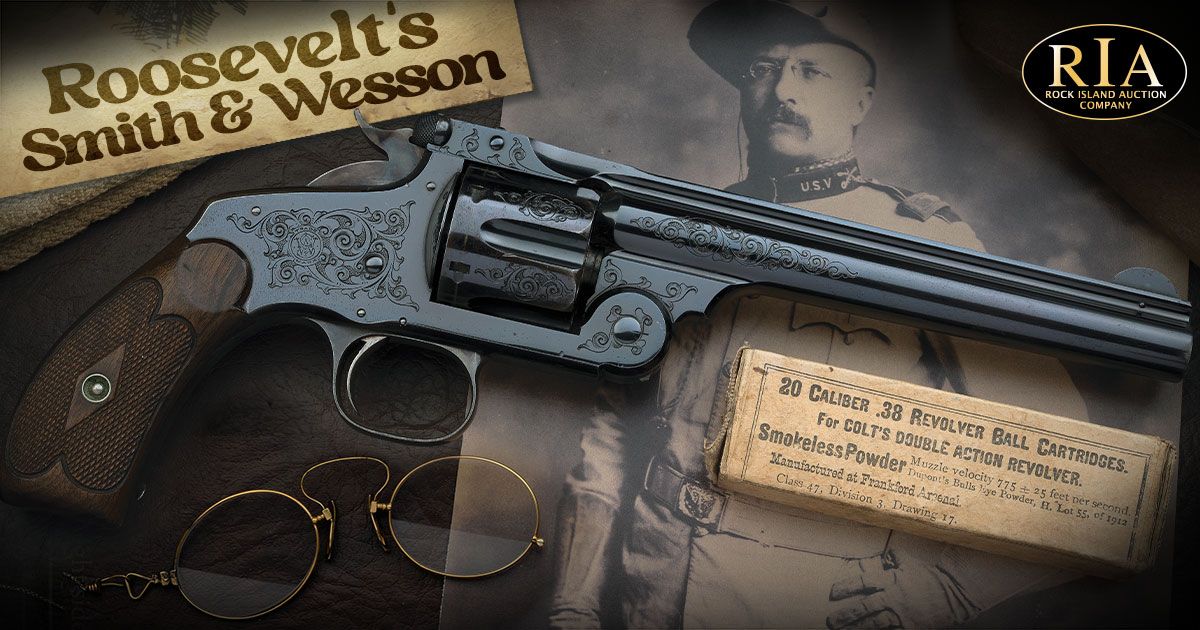 Rock Island Auction Company