When it comes to American lever action rifles, Winchesters reign supreme. They are among the most iconic and collectible American firearms of all time, especially the Winchester Model 1873 in .44-40 W.C.F., and few are more desirable than the exceedingly rare One of One Thousand. James D. Gordon in his book 'Winchester's New Model of 1873: A Tribute' wrote, "To the collector of early Winchesters, the Model 1873 'One of a Thousand' has long been the epitome of desirable guns."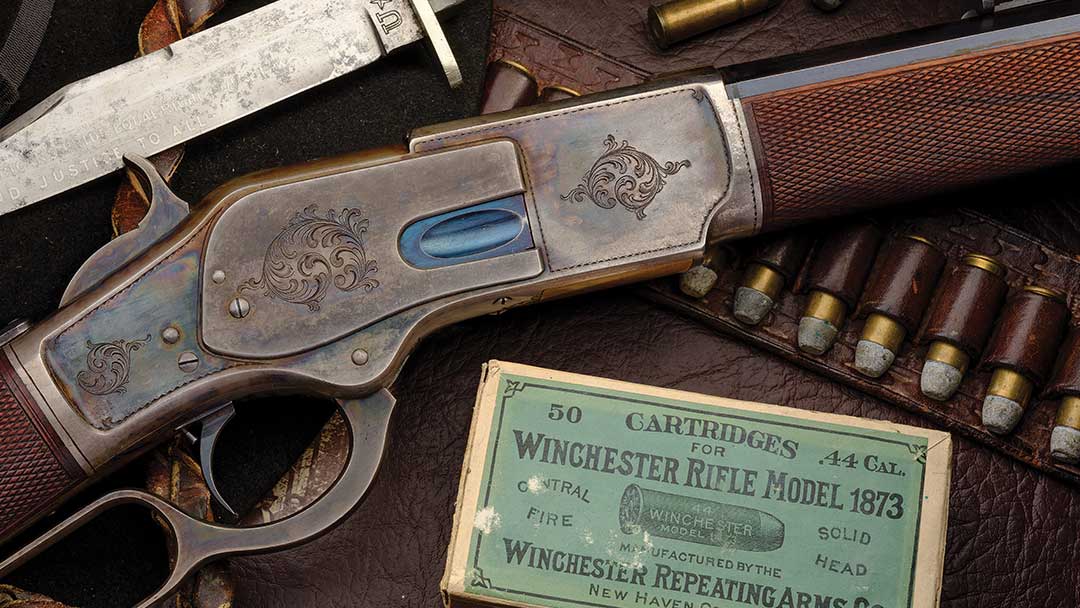 A historically significant, factory documented "One of One Thousand" Winchester Model 1873 lever rifle ordered by "Mr. Montana" Granville Stuart and inscribed for his brother and fellow pioneer Thomas Stuart in 1875. One of the headline pieces in Rock Island Auction's 2023 December Premier sale.
If the scarce One of One Thousand rifles are one of the epitome of desirable guns, Thomas Stuart's incredible rifle has to be at the pinnacle of the most desirable One of One Thousands. This elite Winchester includes everything a collector could want: immense rarity, extremely high condition, exceptional quality, and a documented connection to the Montana frontier starting with its special order by "Mr. Montana" himself, Granville Stuart, followed by its historic factory inscription for his younger brother and fellow pioneer Thomas, and the rifle's publication in several notable collecting books.
In nearly a decade of cataloging antique and historic firearms for Rock Island Auction Company, I have had the pleasure of working with several One of One Thousand and One of One Hundred Winchester Model 1873 and Model 1876 rifles, including Granville Stuart's One of One Thousand Model 1873 that was this rifle's counterpart, but none has come close to surpassing Thomas Stuart's rifle in terms of overall quality and condition.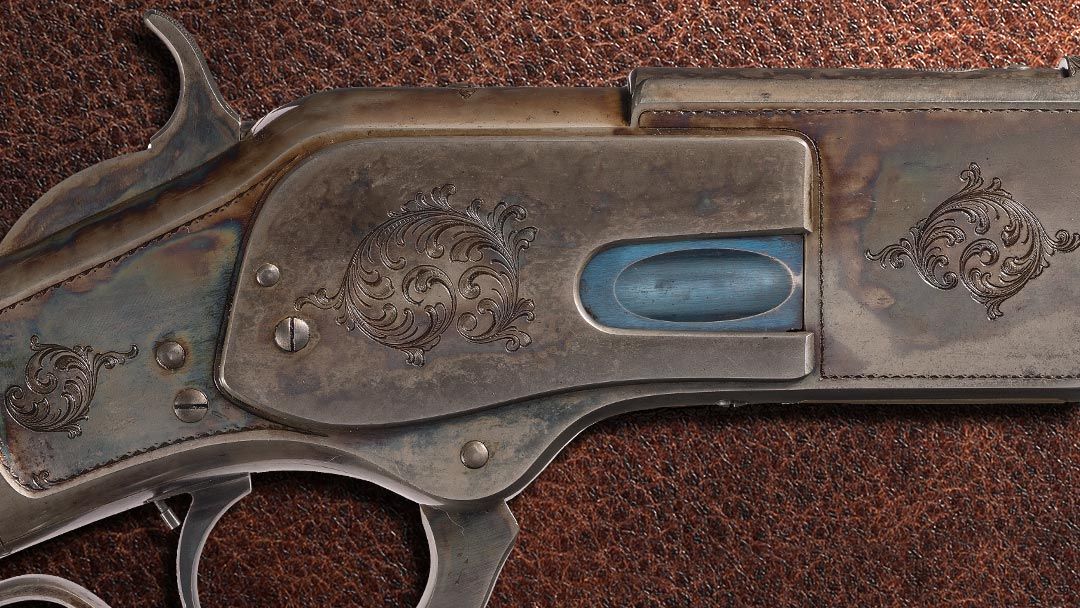 In a December Premier Auction filled with legacy guns, investment-grade arms, and museum-worthy masterworks, Thomas Stuart's Winchester 1 of 1000 ranks as one of the elite offerings. Available this December.
Winchester's One of One Thousand Rifle
Winchester's One of One Thousand and One of One Hundred program was announced in 1873 and then more fully explained in the company's 1875 catalog under the headline "Variety of Arms." The details of this section are covered in depth in Edmund E. Lewis' book 'The Story of the Winchester 1 of 1000 and 1 of 100 Rifles.' Winchester's advertising helps show why men like Granville and Thomas Stuart would have been drawn to order these expensive rifles for use on the Montana frontier:
"Every Sporting Rifle we make will be proved and shot at a target, and the target will be numbered to correspond with the barrel and be attached to it. When one hundred barrels are thus proved, the one making the best target will be selected and set aside, and another hundred proved in the same way, and so on until one thousand have been tested and ten targets selected with the barrels with which they were made. They will then be made up into Guns, in which each part is selected with the utmost care and finished in the finest manner. They will then be again subjected to trials for accuracy, and the best of the ten selected and marked 'One of a thousand,' the price of which will be $80.00 to $100.00. The other nine will be marked 'one of a hundred,' and the price will be from $60.00 to $75.00 each. Sportsmen will readily see that this severe process of gleaning will be a slow and expensive one, and the result be but a limited number of choice Guns, and that orders should be given in advance of their wants, or patience exercised with the necessary delay of filling them."
For comparison, a regular Model 1873 cost only $50 when the rifles first debuted.
Ordered by Granville Stuart, this exceptional Winchester Model 1873 "One of One Thousand" rifle is one of the finest examples of this exceptionally rare genre. Available this December.
Winchester only manufactured 132 of these 1 of 1000 rifles in the 1870s before scrapping the program. Many of them have long since been lost. In 1997, James D. Gordon only knew of 57 surviving examples when he wrote his two volumes on the Model 1873, and that was long after the famous campaign to seek these rifles out during the production of the movie "Winchester '73" starring James Stewart. Perhaps some are still waiting to be discovered in some forgotten gulch out on the frontier or tucked away in a private family collection passed down from one generation to the next, but the number will always be very limited, and it would be nearly impossible to surpass Thomas Stuart's 1 of 1000.
The Stuart Brothers' One of One Thousand Rifles
Given its history and exceptional condition, it is no surprise that Thomas' rifle has been featured in several publications, including: 'The Story of the Winchester 1 of 1000 and 1 of 100 Rifles' by Lewis on page 30, 'Winchester: The Golden Age of American Gunmaking and the Winchester 1 of 1000' by Wilson on page 64, 'Winchester: An American Legend' by Wilson on page 49, and 'Winchester's New Model of 1873: A Tribute Volume II' by Gordon on 385 and 388.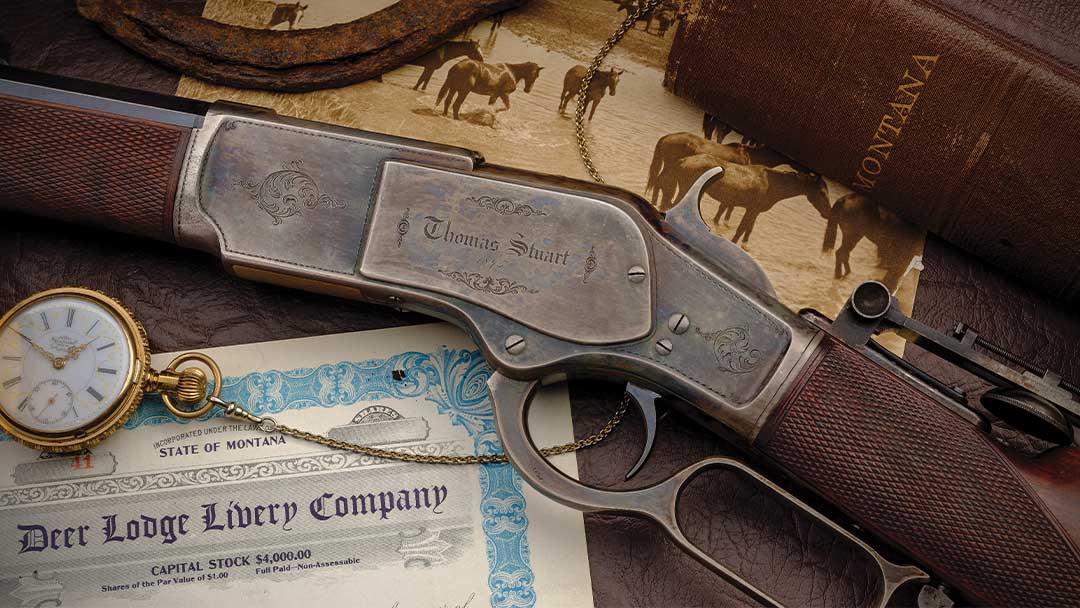 Thomas Stuart's extraordinarily fine, factory engraved "One of One Thousand" Winchester Model 1873 is a well-documented piece of the American West and hails from the legendary Mac McCroskie Collection. Available this December.
In the first of these books, Lewis writes, "The story of Granville Stuart is, in many ways, the story of the Montana Territory and the fledgling state of Montana," and, "His elegant rifle, along with his brother Thomas' rifle, are the only ones to have the Style Three barrel inscription. At the time the Stuart rifles were produced, the 'standard' type of barrel inscription was the Arabic 1 of 1000."
The special markings and the later Style Four markings are based on Granville Stuart's complaints about two earlier Winchester One of One Thousand rifles he rejected and his specifications for what the new rifles should look like. The Stuart brothers' "Third Style" rifles are also distinct from later versions since their upper left and right barrel flats are not engraved. Thus, this incredible Model 1873 is one of only two One of One Thousand rifles to have the "Style Three" barrel inscription.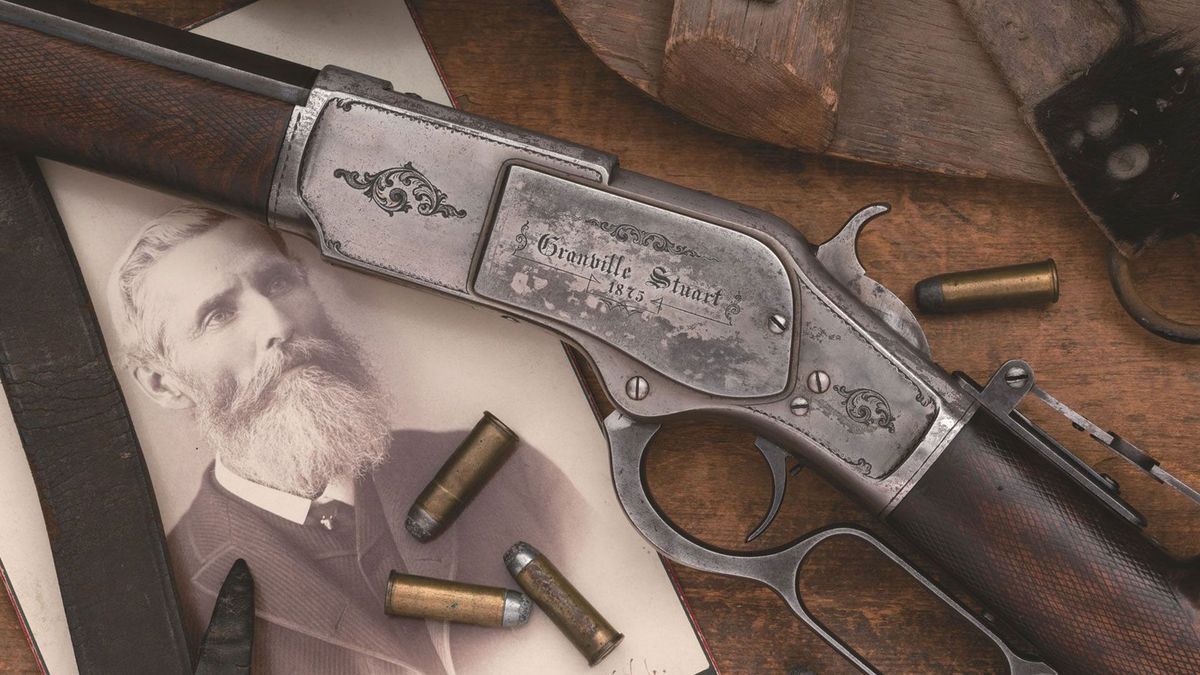 Granville Stuart's matching One of One Thousand Winchester Model 1873 lever action rifle was sold by Rock Island Auction Co. from the famous Montana collection of John Fox in December 2020 for $345,000. While his rifle was a beautiful piece of frontier history, his brother Thomas' rifle is even more immaculate.
In his book, Model 1873 expert Gordon writes, "Few historic guns have as much interesting documentation as serial number 5611 and 7282, both 1 of 1000s." That documentation is shown in some of the publications noted and also accompanied Granville Stuart's rifle when I researched and cataloged his rifle as part of the John Fox Collection sold by Rock Island Auction Company in December of 2020. The documentation shows exactly what the Montana pioneer was looking for when ordering rifles for himself and his brother.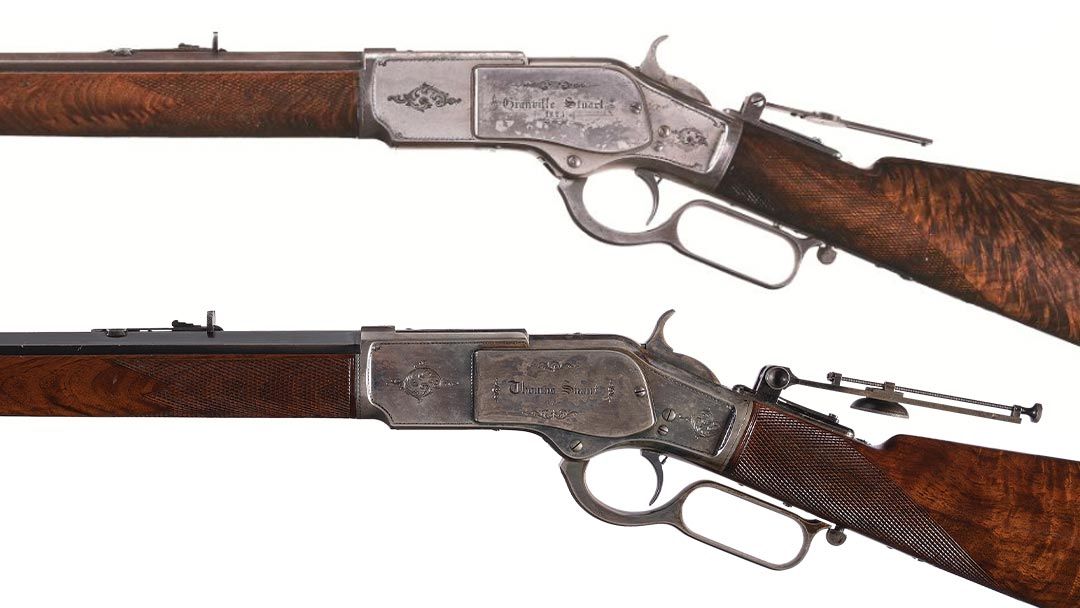 (Top) Granville Stuart's 1 of 1000 rifle. (Bottom) Thomas Stuart's 1 of 1000 rifle.
Granville Stuart's original order from October 22, 1874, had requested: "Two of your One in a Thousand Rifles, 24 inch, Octagon barrels, set triggers, & finely engraved, in fact the finest guns made by you, but not plated, Model of 1873, (center fire) fitted with hunting sights, and also peep rear sight, with Beach front sight. Also wiping rod and all appurtenances & leather case for each, full length of the gun." Stuart added, "If these guns are as accurate as they should be . . . and as well finished as described, I think many can be sold in this territory." On November 15, 1874, he noted that his goal was to get rifles "in superior finish" and desired the rifles be "as nearly absolutely accurate as you can make them" since they intended to use them in shooting matches. A ledger from May 1875 lists "for 'One of a thousand' Winchester rifle 122.50." among other expenditures including ammunition.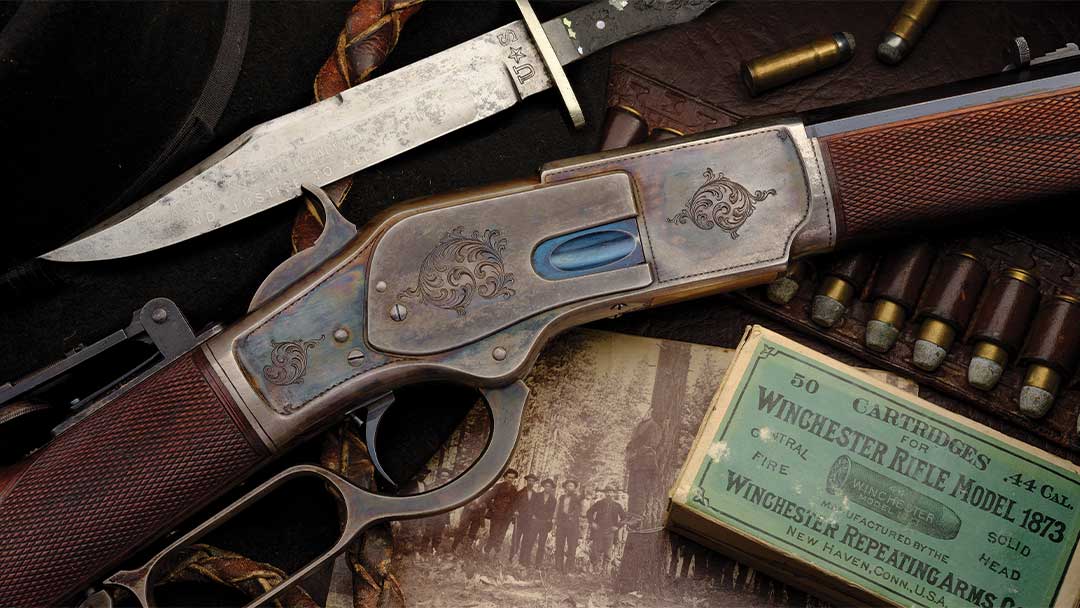 The Thomas Stuart Winchester 1 of 1000, the rifle of a frontier lawman, miner, and pioneer. Available this December.
After receiving the first two rifles, Granville Stuart wrote back to Winchester on May 20th, 1875, stating "The two 1 of 1000 rifles order[ed] by me arrived in good order but I am disappointed in them because you did not send such as I ordered, nor do you give any explanation why you did not follow the terms of the order." After repeating the above order, he notes that Winchester had initially said they could not send a One of One Thousand meeting his specification for some months but could send "a very fine gun, finished in accordance with my instructions."
He wrote back telling them he wanted nothing but One of One Thousand Rifles and repeated that he wanted,
"two of your very finest finished (not plated) one of a thousand rifles. Now with the exception of the wood in the Model 1873, I do not see that the guns are any better finished your common ones, there is not a single line of engraving on them, and you did not send a hunting front sight nor a Beach front sight, nor did you send the leather cases, and although you state the sights are adjusted to 1000 yards, yet I find upon [inspection] that their greatest range is only 850 yards."
He notes that he has "some cause to be dissatisfied with" Winchester's handling of his order but did note that his rifle "shoots remarkably well."
Stuart requested replacements for the first two rifles and ultimately sent them back. He noted in a letter on June 14, 1875, that the new rifles should come with both hunting sights and globe and peep sights and the latter graduated out to 1000 yards and,
"on some appropriate place on this latter engrave in fancy text surrounded by a wreath of flowers my name and date this, 'Granville Stuart 1875' and on the other 'Thomas Stuart 1875' in same styles. The guns of course to be 'one of a thousand,' engraved and finished in your best style. I also want the words 'One of a Thousand' in fancy letters and surrounded by a wreath or other appropriate border for the figures on those guns you sent before, '1 of 1000' are neither neat nor of a handsome appearance."
In this last statement, you can clearly credit Granville Stuart with the origin of the distinctive Third Style inscription on the Stuart brother's rifles and the Fourth Style that followed.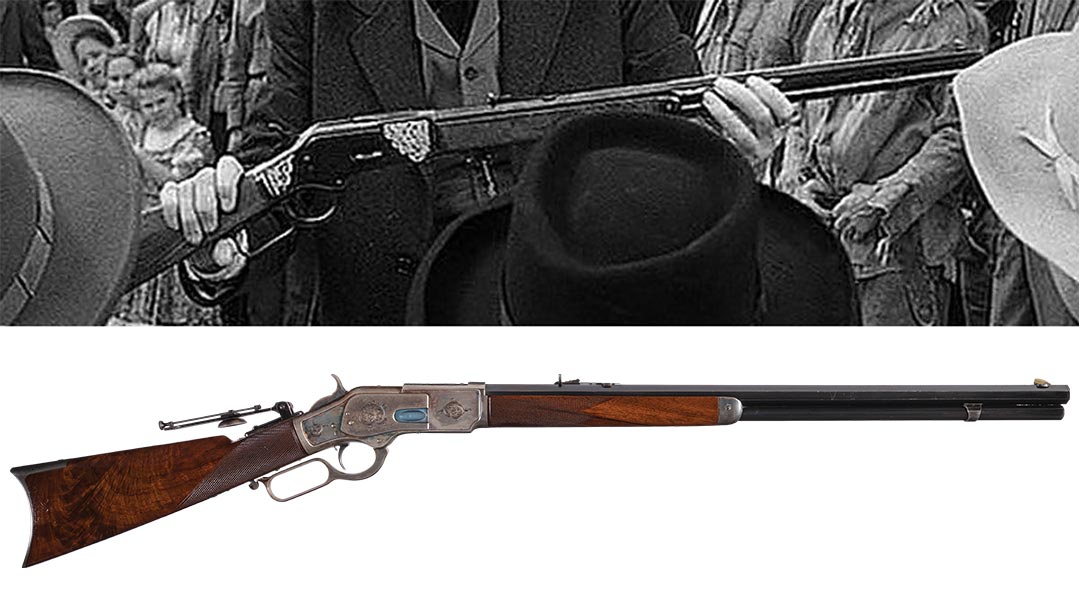 The 1 of 1000 rifle featured in the movie, engraved by John Kusmit, a student of George Ulrich (top), compared to Montana pioneer Thomas Stuart's 1 of 1000 (bottom). The rifles ordered for the Stuart brothers could very well have inspired one of film's most famous guns.
Thomas Stuart's One of One Thousand Winchester Model 1873 Lever Action Rifle
A copy of a factory letter for Granville Stuart's rifle is included with Thomas' rifle and lists it as 1 of 1000 rifle with an octagon barrel, set trigger, XXXX checkered stock, Vernier peep and wind gauge sights, casehardened finish, and Granville Stuart engraving. It was received in the warehouse on August 13, 1875, and shipped on August 21, 1875, in order 3514, which is the same order number listed on the ledger entry for Thomas Stuart's rifle as shown in Gordon's book. When sending the replacement rifles, Winchester aimed to please the Stuart brothers, and they succeeded.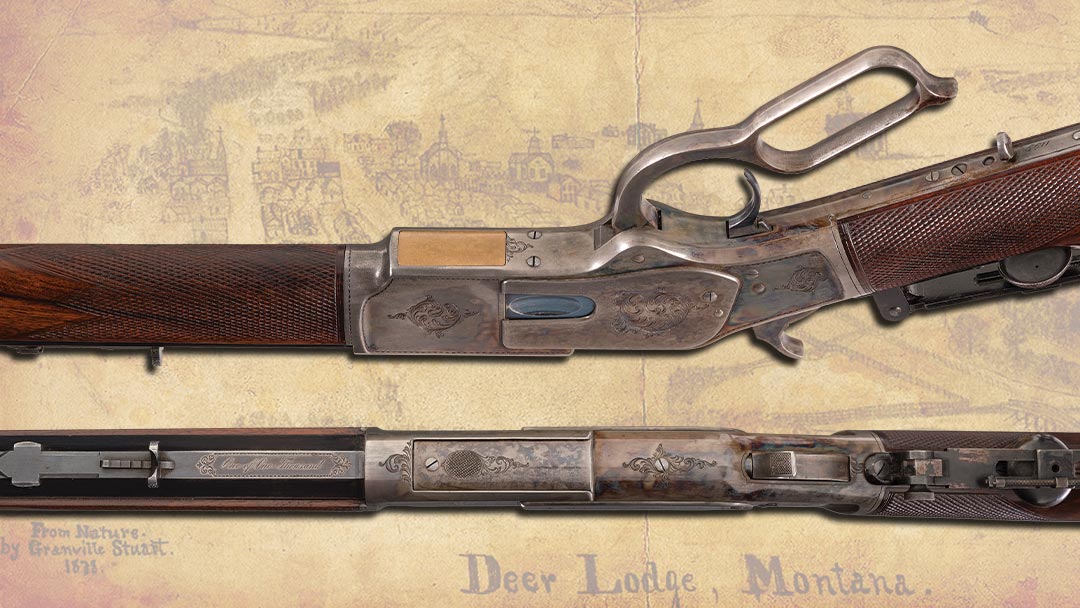 Thomas Stuart's Winchester 1 of 1000 includes a number of custom features requested by his brother. Available this December.
On September 6, 1875, Granville wrote to them stating the rifles "which arrived yesterday are perfect in every particular, they are far superior to any rifle made, except for very long range shooting, and I am not sure that I will not make even that exception for today at my first trial of my gun I made 45 out of a possible 60 at 500 yards, and I expect to be able to reach 55 at my next trial. When I get it down to a scratch, I will send you some of my scores."
In basic form, Thomas Stuart's rifle is a classic Winchester Model 1873 sporting rifle with a 24 ⅜ inch barrel chambered in .44-40 W.C.F. but it is certainly far from a standard rifle. The barrel has an inlaid silver band at the muzzle, a dovetailed brass blade front sight, an adjustable sporting rear sight, and the distinctive "Third Style" "One of One Thousand" in script engraving in a decorative banner with floral finials on top of the barrel at the breech followed by another inlaid silver band. An inscription on the rifle's left side plate reads, 'Thomas Stuart/1875" and is accented by scroll and geometric line engraving.
Thomas Stuart: Miner and Pioneer
The Stuart brothers led remarkable lives that parallel the history of the American West. They were gold miners, Montana pioneers, ranchers, vigilantes, and community leaders in the town of Deer Lodge, the territory's second oldest town. Granville Stuart is the most famous of the brothers and has been called the "Father of Montana" and "Mr. Montana" and was a nationally known figure in his own time that lived the most notable years of his life as a pioneer in Montana in the second half of the 19th century.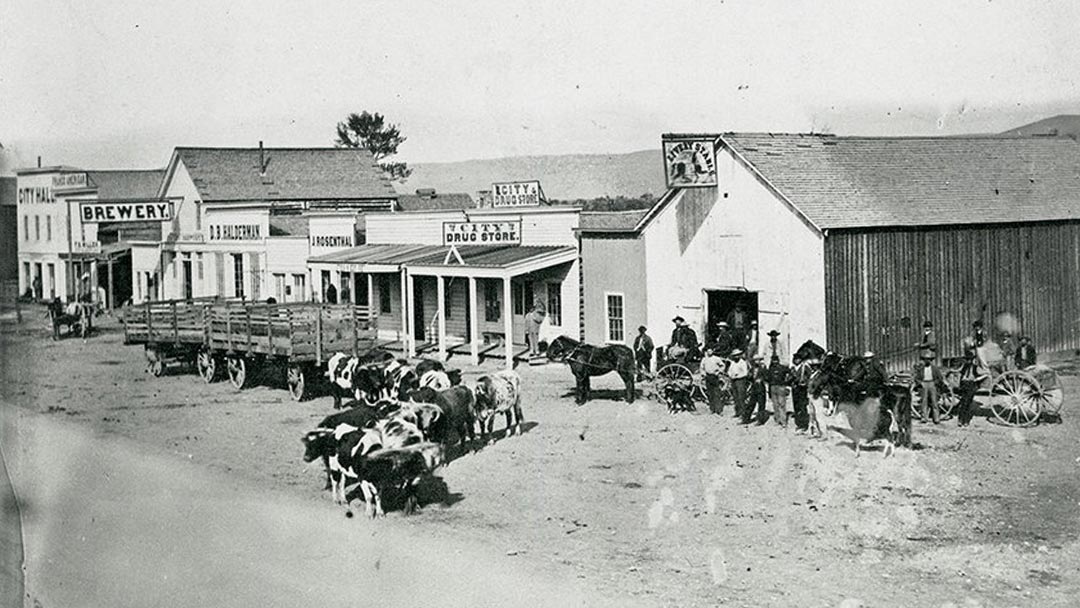 Deer Lodge, Montana, as it looked in the 1860s when Thomas Stuart first came into town after traveling from Colorado to Idaho and then to Deer Lodge to see his older brothers and their gold finds. The photo is from the Montana State Library which notes that this block was destroyed by a fire in 1872.
Granville Stuart's life story was a grand adventure with gold, shootouts, travels through dangerous conditions, conflicts with Native Americans, and even years spent in faraway lands that feel like a tale you might have heard before in a Western. Thomas and his brothers were very much part of that story and had numerous adventures of their own.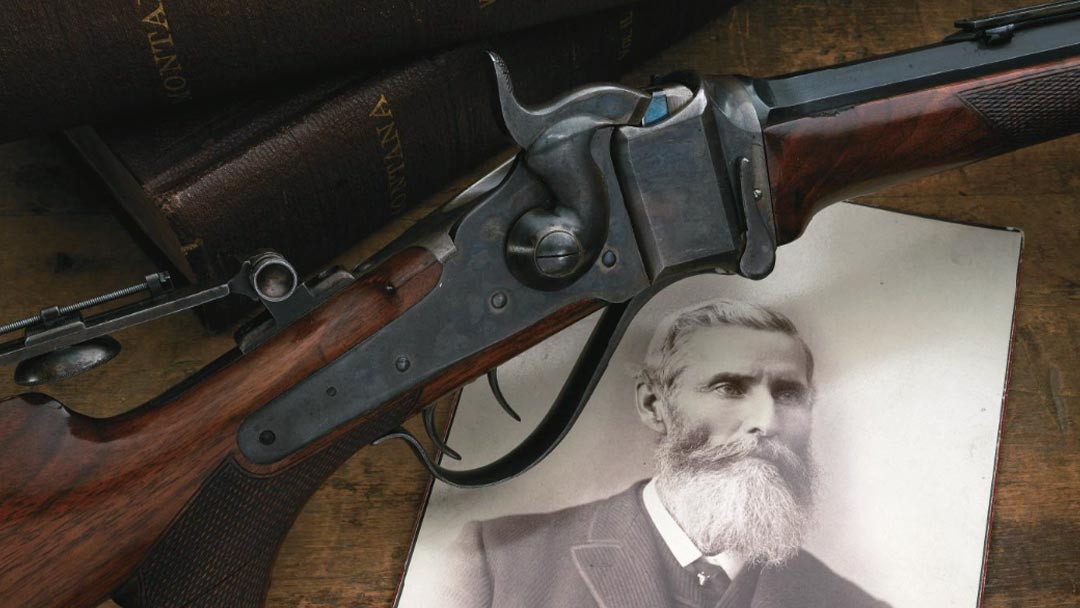 In a 1875 competition, Granville Stuart won this rifle as the leader of the Deer Lodge team. It was sold by Rock Island Auction Co. in December 2020 for an impressive $51,750.
Thomas Stuart (1839-1915) was cut from much of the same cloth as his older brothers and was also an influential pioneer in the Montana Territory, especially Deer Lodge in western Montana. Thomas was the son of Robert and Nancy Stuart and was born in Iowa and grew up in Muscatine County just to the west of our Rock Island, Illinois, facility with his older brothers James (1832-1873), Granville (1834-1918), and Samuel (1836-1909). Robert, Granville, and James Stuart went to California in search of gold in 1852, and Thomas didn't see Granville or James again for more than a decade.
Thomas Stuart headed west in the early 1860s and mined in Colorado. Granville wrote to tell Thomas of his gold discoveries in the Alder Gulch, Montana, which induced Thomas and his other mining friends to join Granville. This surge of mining interest led to a Montana gold rush in 1862. Some sources say he was met with hostile Indians during his journey which caused him to end up temporarily in Boise, Idaho. Others say he headed to Boise first intentionally to mine there and then left the following spring. The Society of Montana Pioneers indicates he then traveled across the mountains via the Camas Prairie and Lava Bed trail and arrived at the Alder Gulch in May of 1864.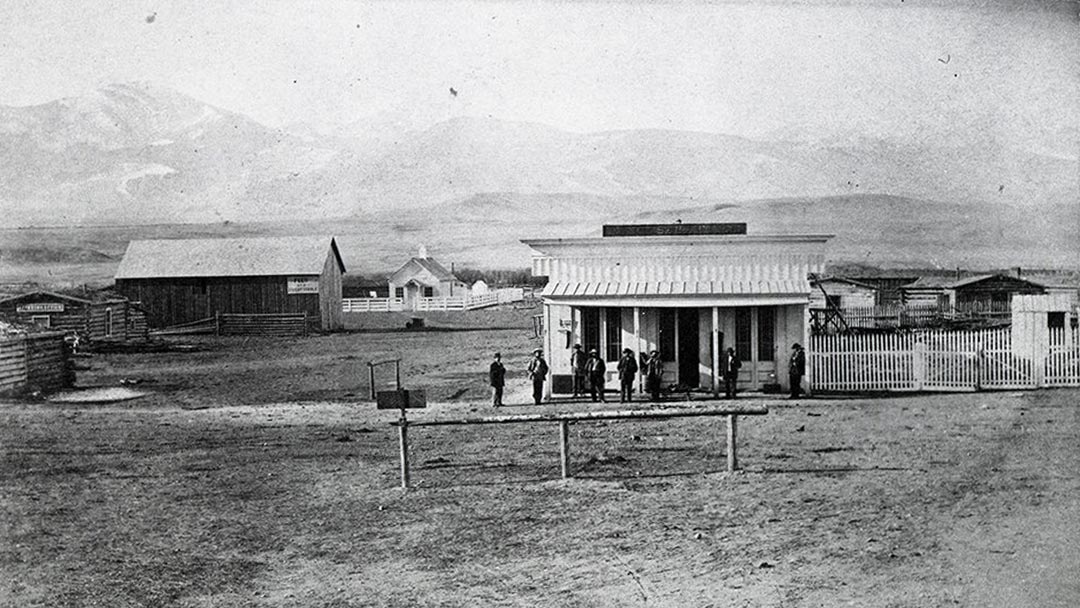 A group of men in front of a store in Deer Lodge, Montana Territory, taken by A.F. Thrasher in 1867. Could the Stuart brothers be among the men?
After arriving in Montana, Thomas Stuart worked in the Dance, Stuart & Co. store with his eldest brother James and also prospected with Granville while continuing to work as a miner. He married the following November to Ellen Armell (1853-1934) of French-Canadian and Piegan ancestry whose father was the agent at the Big Timber Indian Agency. In 1870, they were living southeast of Deer Lodge, likely on one of his claims, and soon made good money from high-grade ore at the Lower Boulder and Pioneer sites. In fact, he was doing well enough to loan Granville $1000, employ numerous servants, and expand into horse breeding.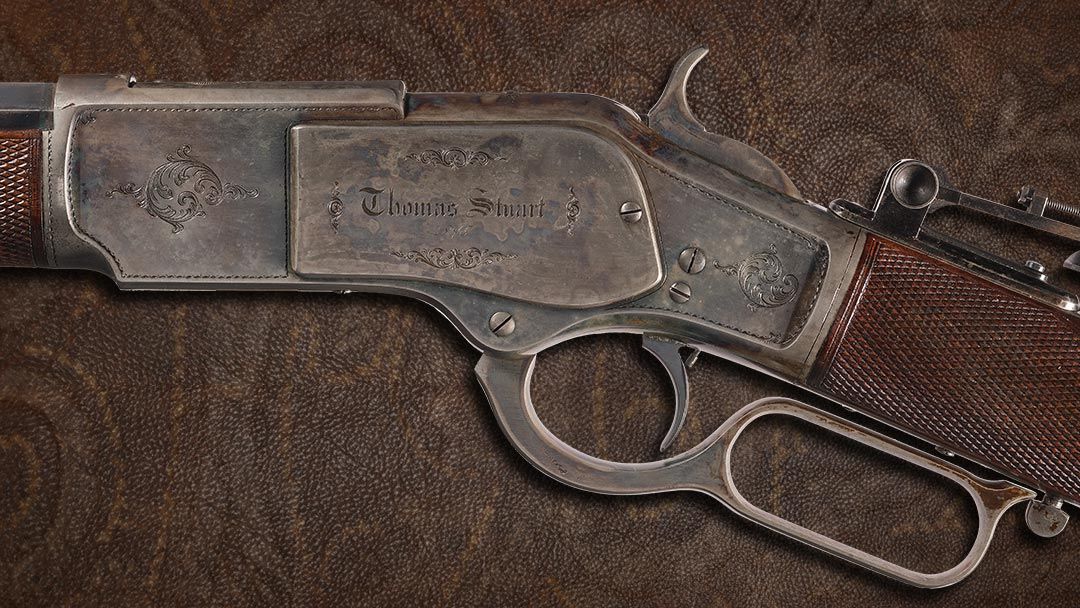 This exceptional Winchester 1 of 1000 rifle has "Thomas Stuart/1875" inscribed on the left side plate accented by scroll and geometric line engraving. Available this December.
When their eldest brother James died in 1873, Granville and Thomas traveled 500 miles to bring his remains back for burial in Deer Lodge. With the loss of their eldest brother, Granville became the family patriarch and grew even closer to his youngest brother Thomas as demonstrated by the gift of this Winchester rifle and their continued business connections.
The Marksmanship of Thomas Stuart
Of the two Stuart brothers, Thomas appears to have been the better marksman based on his performance in two historic shooting matches in 1875, the same year this Winchester rifle shipped. On October 8, 1875, the New North-West reported the scores from the match between the Deer Lodge team led by Granville Stuart and Samuel T. Hauser's Helena team. In the 1000 yard match, Thomas shot the best with a score of 28 to Granville's 24. The best score on the Helena team was 22. In the 500 yard match for the Creedmoor rifle, Thomas was again the best marksman with a score of 56. Granville and the best competitor on the other team each scored 51. With the Stuart brothers' marksmanship, the Deer Lodge men brought home both prizes from the territorial fair.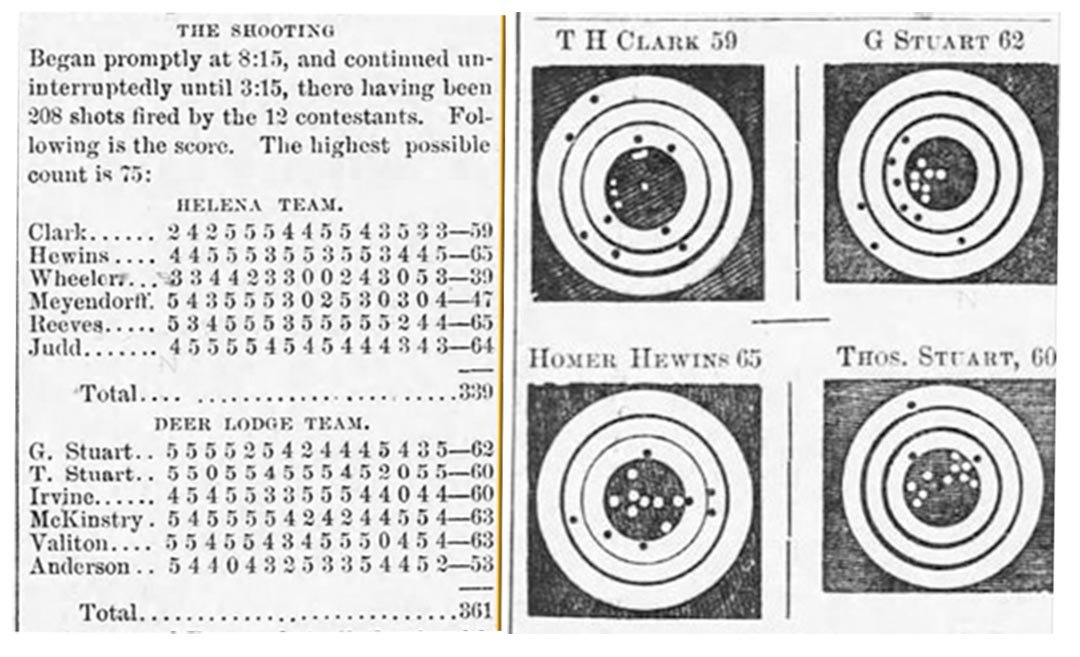 The scores and some of the targets from the 1876 match were shown in the April 28, 1876, issue of The New North-West newspaper in Deer Lodge, Montana. Thomas clearly had the better group of the two Stuart brothers, but had two bad cartridges.
In a match the following spring between the two teams, Granville bested Thomas by two points, and their team again beat the Helena marksmen in terms of overall team score, but two of the Helena marksmen ultimately had a head-to-head to determine the overall winner. Granville is noted to have been shooting his Sharps Creedmoor Rifle won by the team in 1875 while Thomas was using a Sharps sporting rifle and is noted as having two defective cartridges resulting in two zeros. Of the shots fired, if you drop those two shots, he again outshot Granville, and that becomes clear when you see the targets that were reproduced in the newspaper. Only three of Thomas' shots are outside the black, two in the ring just outside, and one high.
The Winchester rifle of Old West marksman Thomas Stuart. Available this December.
Given Thomas' loan to Granville, perhaps the rifle was a thank you gift from his older brother, but it may have also been paid for by Thomas himself given he was the more financially stable of the brothers and Granville simply handled the order. From Granville's writing, it appears they had planned to use them in rifle matches, but they continued to use their trusty Sharps rifles, which is logical given single shot rifleswere the standard for long-range competition.
Thomas Stuart: A Frontier Legacy
In 1875, Thomas was also one of the members of the Pioneer Co. mining operation. Like his older brother, Thomas served in various local civic offices and organizations, including the Masons and as the secretary and a board member of the Montana Collegiate Institute, and donated $5,000 for the building of St. Mary's Catholic School despite being a Presbyterian.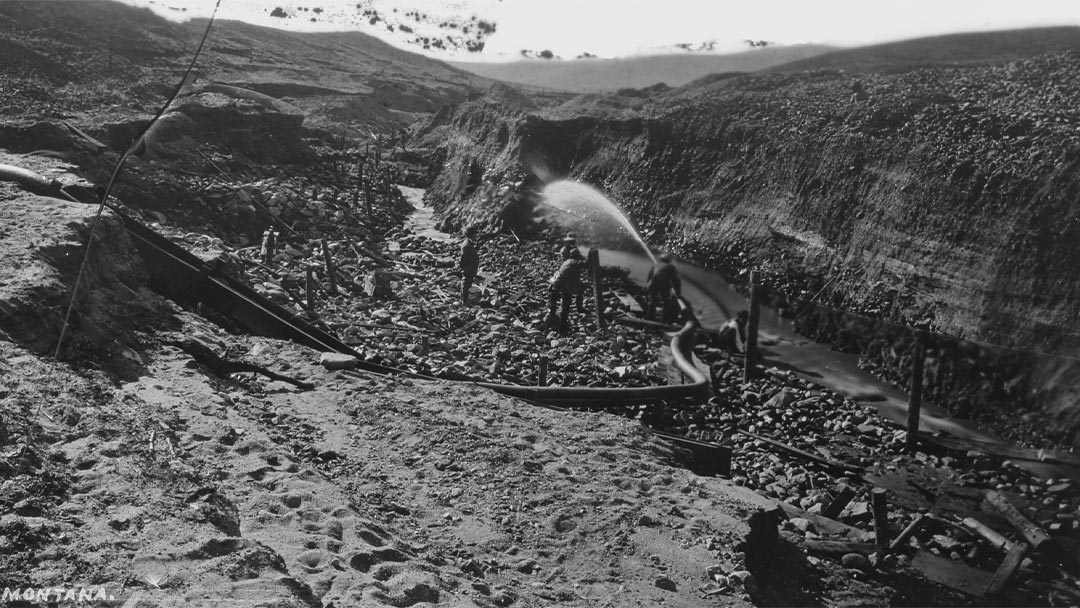 "Hydraulic Gold Mining in Montana" by William Henry Jackson shows mining at Alder Gulch in 1871. Thomas Stuart may be among the men shown.
In 1877, Thomas led the Deer Lodge Volunteers during the Nez Perce War in defense of the territory which also led to some controversy in the newspapers over General Oliver O. Howard's criticism of the volunteers. Thomas purchased land in 1880 from Colonel J.C. Thornton and established a homestead near the north of town. On November 9, 1883, the New North-West newspaper advertised Thomas' horses and separately noted that "One of the best Horse Farms in the Territory is that of Thomas Stuart, Deer Lodge. His stock is unexcelled, Live Oak and his progeny having first rank wherever known." It also noted that a couple of Conrad Kohr's horses along with several of Granville Stuart's had been stolen. The next summer, Stuart's vigilante group, "Stuart's Stranglers", meted out frontier justice to suspected rustlers, killing at least 20 in extrajudicial gun fights and lynchings.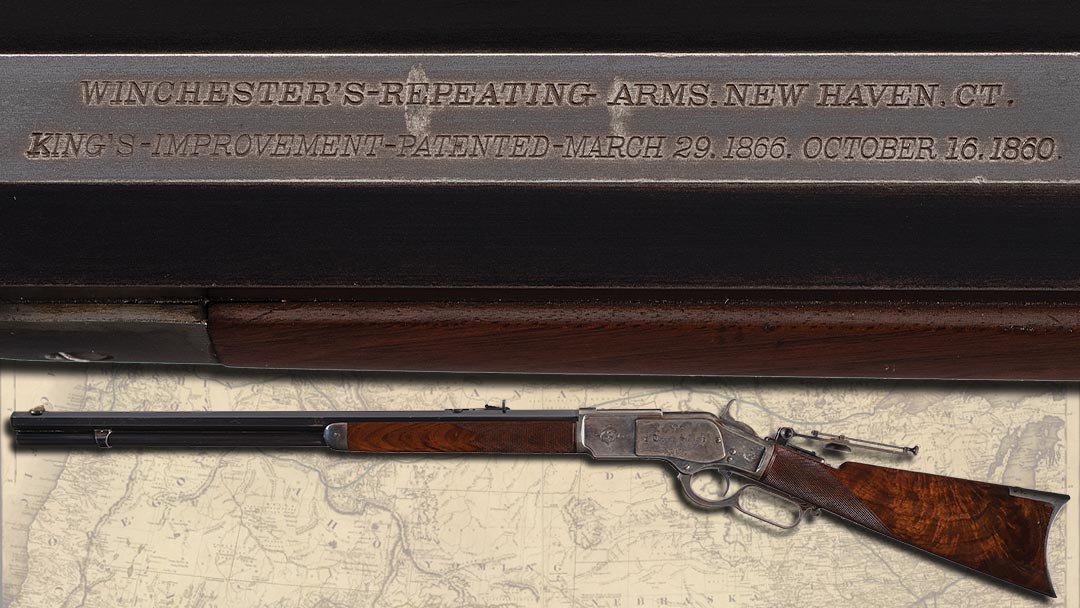 Thomas Stuart's Winchester 1 of 1000 features an inlaid silver band at the muzzle, a dovetailed brass blade front sight, an adjustable sporting rear sight, and a border around the hammer well terminating in a scroll accent ahead of the adjustable peep rear sight. The stock and forearm are checkered, and the deluxe walnut buttstock has absolutely exceptional figuring. The stock compartment contains a takedown cleaning rod. Available this December.
Thomas Stuart's involvement in the vigilante activities of Granville and the "Stuart Stranglers" is not clear. He was an actual lawman as Deer Lodge's night marshal for a decade, so he might have stayed out of it. 1884 was also a terrible year for his family in a fashion all too common on the frontier: he and his wife lost three of their children to diphtheria within one month early in the year. On April 5, 1884, he sold his 160 acres to Conrad Kohrs and John Bielenberg, the biggest cattle ranchers in the territory, and then moved into a house owned by Granville in Deer Lodge. Thomas worked for Kohrs & Bielenberg off and on for many years.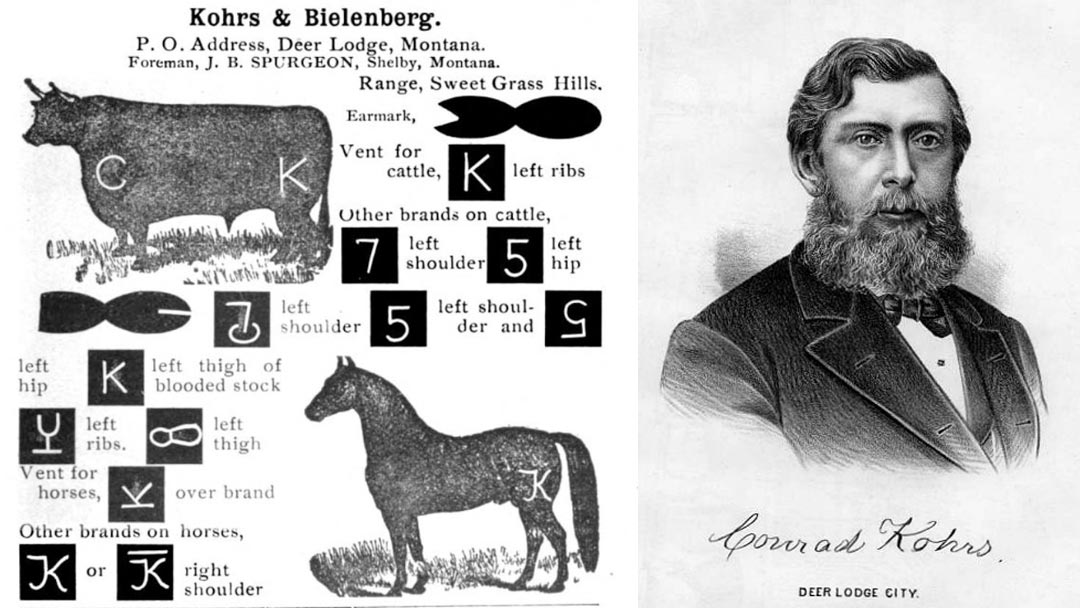 (Left) The cattle brands for Kohrs' & Bielenberg as shown in the Montana Stock Growers' Association's brand book for 1899. (Right) A portrait of Conrad Kohrs, a famed Montana cattle baron and politician. Some of Kohrs's land belonged to Thomas Stuart originally, and he continued to work for Kohrs & Bilenberg for many years.
In 1885, the Montana Stock Growers Association was formed and headed by Granville, and through his brother's influence and his own experience with livestock, Thomas was appointed to the position of territorial veterinary surgeon despite lacking the appropriate credentials. He soon resigned to allow Dr. George H. Keefer to take the role but was later appointed deputy surgeon. Thomas also continued to buy and sell mining claims with Granville in the 1880s and 1890s. He died suddenly in 1915 while caring for his horses, and his funeral was held at the local Masonic Hall. Thomas Stuart was survived by two sons and three daughters as well as his wife.
A Winchester One of One Thousand from the Montana Frontier
As noted above, Thomas Stuart's rifle remained in incredible condition as it changed hands in the century since his death and has been featured in several notable publications as part of the famous McCroskie Collection. It was no doubt one of Mac McCroskie's most incredible finds, a true testament given how many world-class Winchesters Mr. McCroskie collected during his lifetime.
While Granville Stuart's writings and fame have helped keep the name of Thomas Stuart alive, this incredible Winchester 1 of 1000 rifle is a physical representation of the younger Stuart's frontier legacy and a true treasure of the American West. Available this December.
Both One of One Thousand Model 1873 rifles ordered by Granville Stuart are two of the most significant American frontier artifacts the author has had the pleasure to work with. Thomas Stuart's rifle in particular stands out, possessing everything one could want in an antique Winchester, and the Stuart family's story is truly an integral part of the American West, especially the Rocky Mountains in the late 19th century.
Stuart's Winchester is available as part of Rock Island Auction Company's December 8 – 10 Premier Firearms Auction, the company's inaugural auction event in its new state-of-the-art facility at 3600 Harwood Rd., Bedford, Texas, a celebration of arms collecting at the highest level of the pursuit.
Select Sources and Further Reading:
● As Big as the West: The Pioneer Life of Granville Stuart by Clyde A..Milner II and Carol A. O'Connor
● "The Guns of Granville Stuart and the Stuart Stranglers" by Seth Isaacson for the Rock Island Auction Company Blog
● The Story of the Winchester 1 of 1000 and 1 of 100 Rifle by Edmund E. Lewis
● Winchester: The Golden Age of American Gunmaking and the Winchester 1 of 1000 by R.L. Wilson
● Winchester: An American Legend by R.L. Wilson
● Winchester's New Model of 1873: A Tribute. Volume I & II by James D. Gordon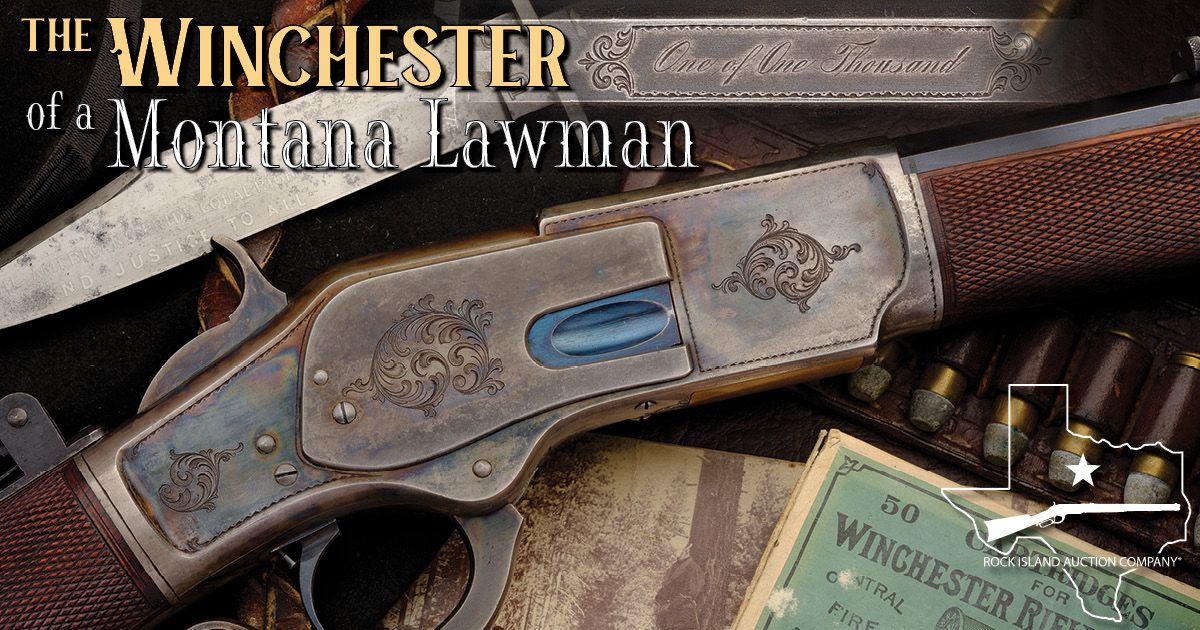 Rock Island Auction Company