As with any type of collectible, the firearms world has a vast number of unique niches which some arms collectors seek to build collections around. Some look for high-condition examples of old designs, others look to build a collection consisting of oddities and rarities. Here at Rock Island Auction we see it all; and are often able to cater to the tastes of any collector.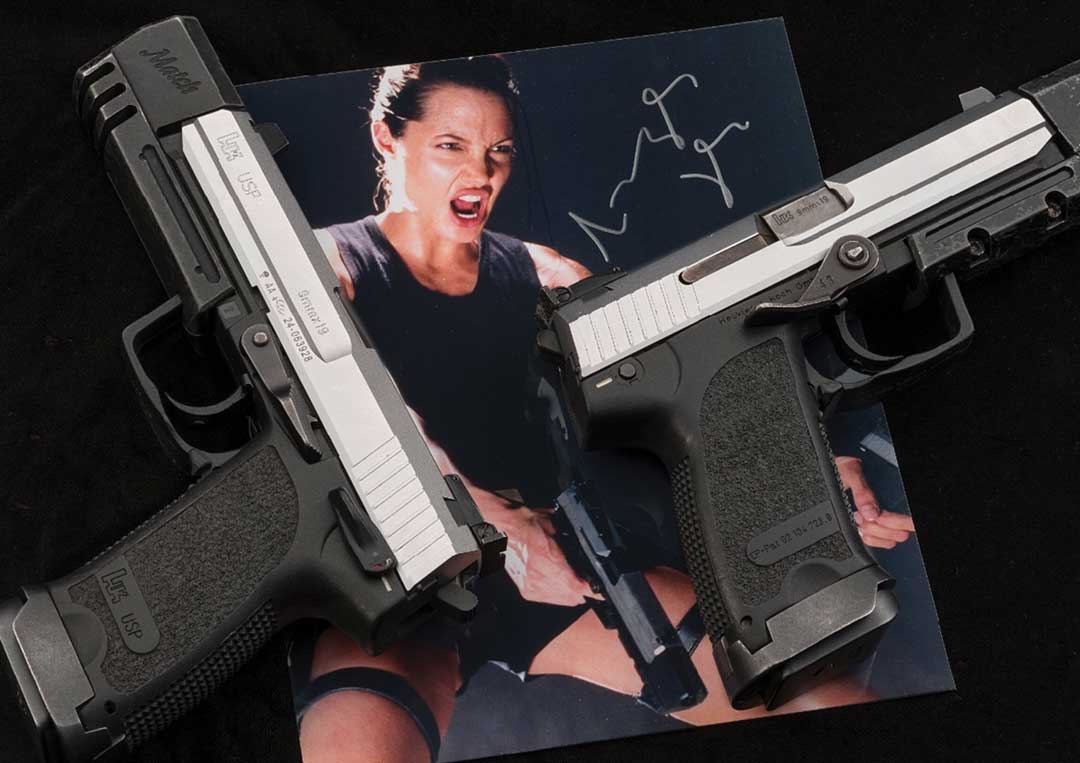 Documented brace of H&K USP 9 match semi-automatic pistols as documented from the London-based prop house Baptys & Co. as Angelina Jolie's on-screen "hero" pistols from the 2001 film Lara Croft: Tomb Raider. Includes a Lara Croft photograph signed by Angelina Jolie.
Rock Island Auction Company's August 26 – 28 Premier Auction is no different, though two lots stand out for collectors of a very particular type of item: film-used firearms. There is no doubt readers are by now familiar with the Han Solo blaster in this sale, a piece which brings a smile to my face as a lifelong Star Wars aficionado (or zealot depending on who you ask), but there is one other lot in this sale sure to raise some eyebrows. I am of course talking about Lot 1248, a seemingly innocuous pair of Heckler & Koch USP Match pistols.
These pistols are no ordinary HKs though: they were used by Angelina Jolie in the 2001 film rendition of the classic Tomb Raider videogame. Converted to fire blanks (for use on a film set), Lara Croft's H&K USP Match pistols are highly recognizable with their flared magwells, ambidextrous slide releases, and chunky compensators.
Perhaps the two most famous Tomb Raider guns. Angelina Jolie stars in the title role of 2001's Lara Croft: Tomb Raider.
The Guns of Tomb Raider
First released in 1996, Tomb Raider was a groundbreaking video game in both its story and mechanics. Reviewers praised the game's map design, controls, and capable female protagonist at a time when characters like Duke Nukem were the norm. In the game, Lara Croft doesn't wield USP Matchs, but what appear to be Browning Hi-Powers. Good choice, Ms. Croft.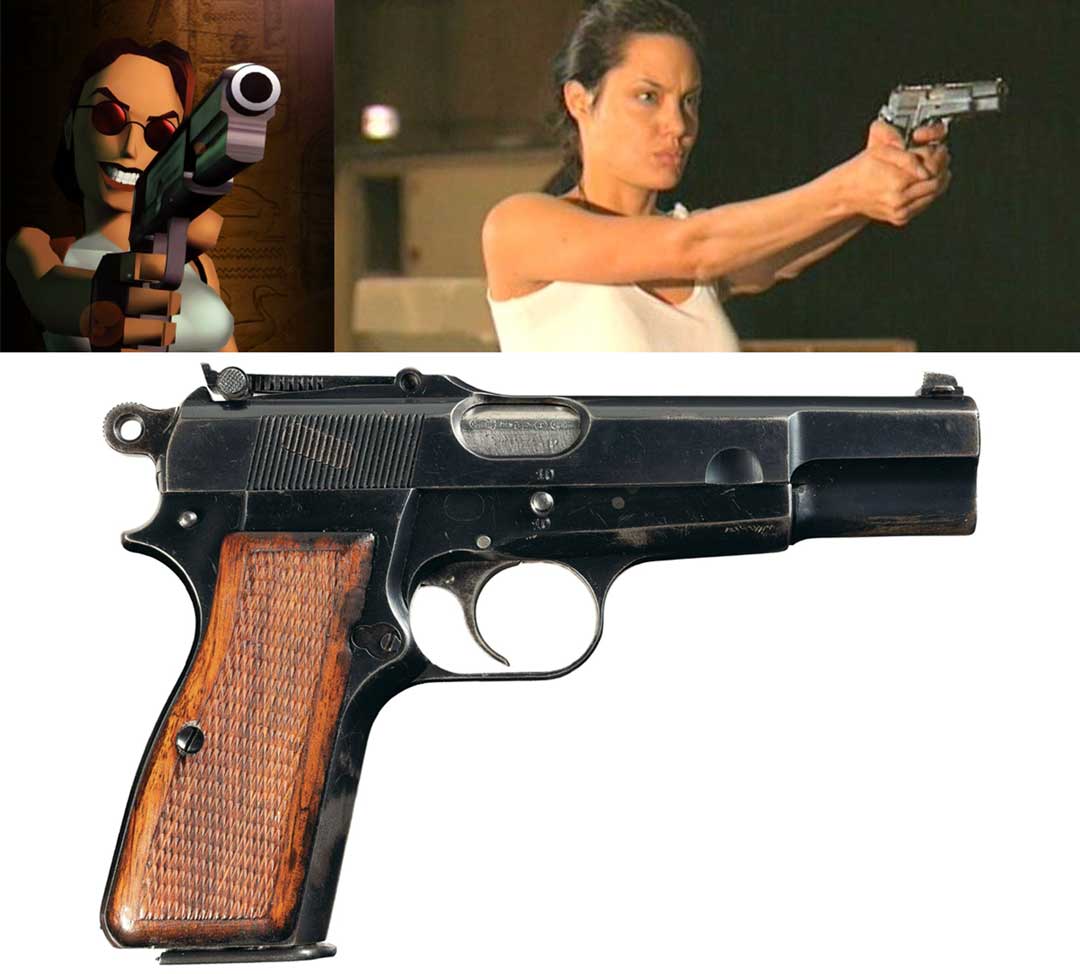 When it comes to Tomb Raider guns, the Browning Hi-Power is a series staple.
Fans will recall other Tomb Raider guns like the Ingram M10 and the Desert Eagle. As more games were released, a plethora of popular firearms would be introduced including the AK-47, the SPAS-12, and the UZI. Some HK guns make an appearance in the series before the film adaptation, one of the most recognizable being the MP5. Considering the action-packed nature of the series, it makes sense to include lots of great guns for Lara Croft (and her adversaries) to use.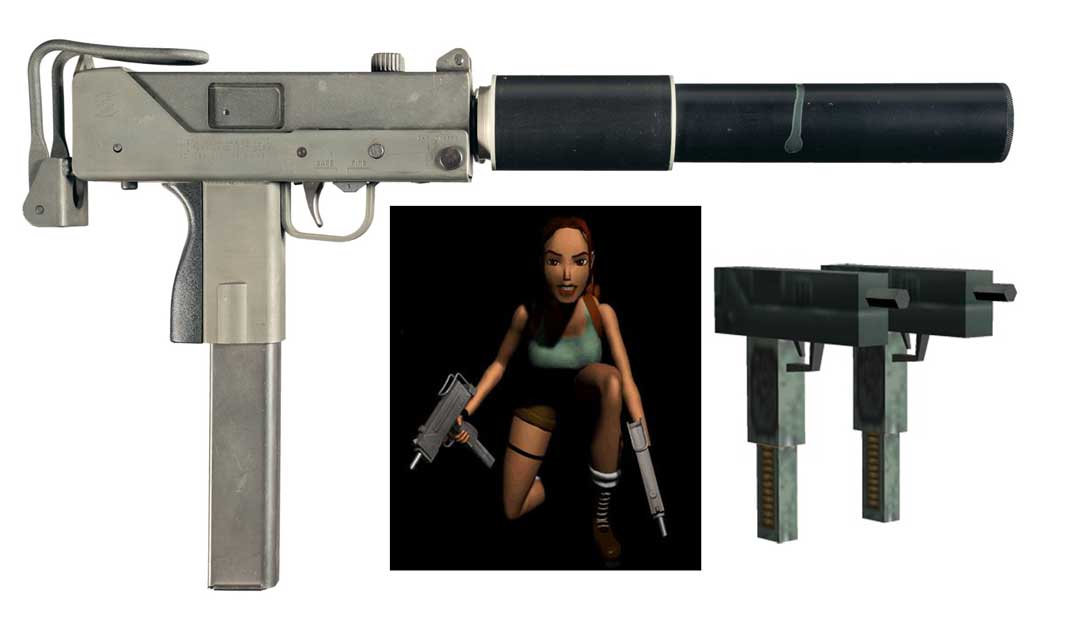 The M10, another classic Tomb Raider gun.
Lara Croft: Tomb Raider
In my opinion, the 2001 Tomb Raider film remains one of the absolute best movie adaptations done for a videogame series, a genre which by and large tend to be…well, terrible. Lara Croft: Tomb Raider is definitely a product of early 2000's Hollywood with its high BPM soundtrack and gratuitous use of cuts, but it works for the movie. According to the consignor, the pistols were rented from the famed Bapty & Co. prop house for use in the Tomb Raider film.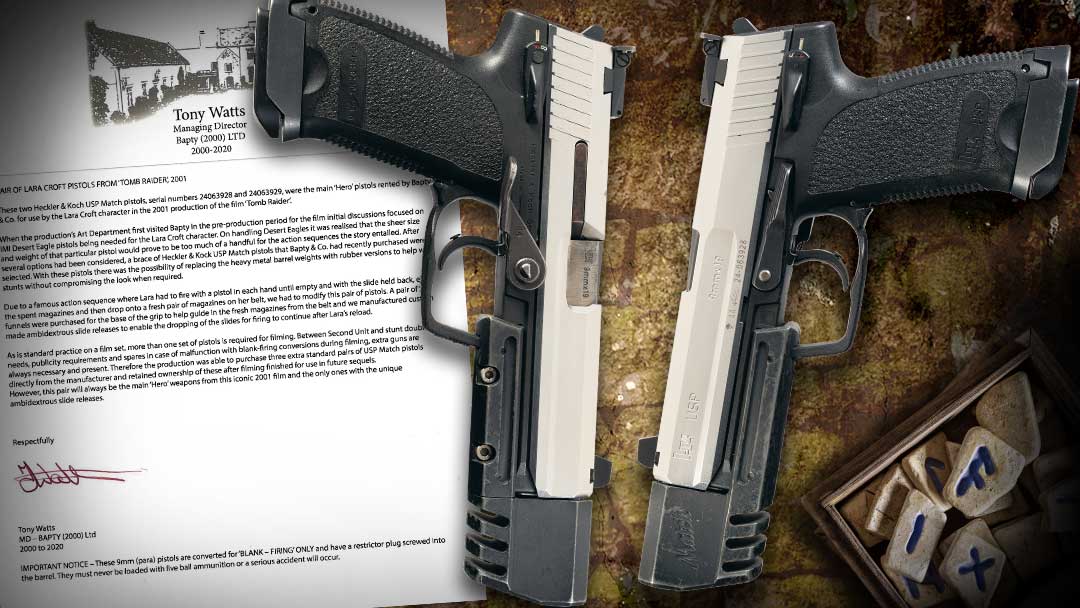 These pistols included a letter of provenance from Tony Watts, which states: "These two Heckler & Koch USP Match pistols, serial numbers 24-063928 and 24-063929, were the main "Hero" pistols rented by Bapty & Co. for use by the Lara Croft character in the 2001 production of the film 'Tomb Raider'."
Originally, the IMI Desert Eagle was the choice for Lara Croft's sidearm, but upon inspection the producers realized that the Desert Eagle's brick-like dimensions wouldn't work out well for the high-paced action sequences in which they would be utilized. The USP Match is still a formidable gun in terms of size, which worked in their favor on the silver screen as they are difficult to ignore as Angelina Jolie uses them effectively to mow down henchmen within sites of antiquity. The iconic Tomb Raider guns are clearly visible in the first 10 minutes of the movie as Lara takes on a robot named Simon during a training session. There were other pairs of USPs used during filming, particularly for stunt sequences, but the consecutively numbered set up for sale at Rock Island Auction Company are the pair most often seen on screen.
It goes without saying that not every character in Lara Croft: Tomb Raider is packing a USP Match, and viewers with a keen eye will catch several awesome guns being utilized throughout the film. Once I decided I would be writing a piece on the Lara Croft pistols, I thought it prudent to sit down and watch the movie for the first time in, well, years.  I paid close attention during two of the most intense action sequences (that involve firearms) and made efforts to identify as many of the guns on screen as I could.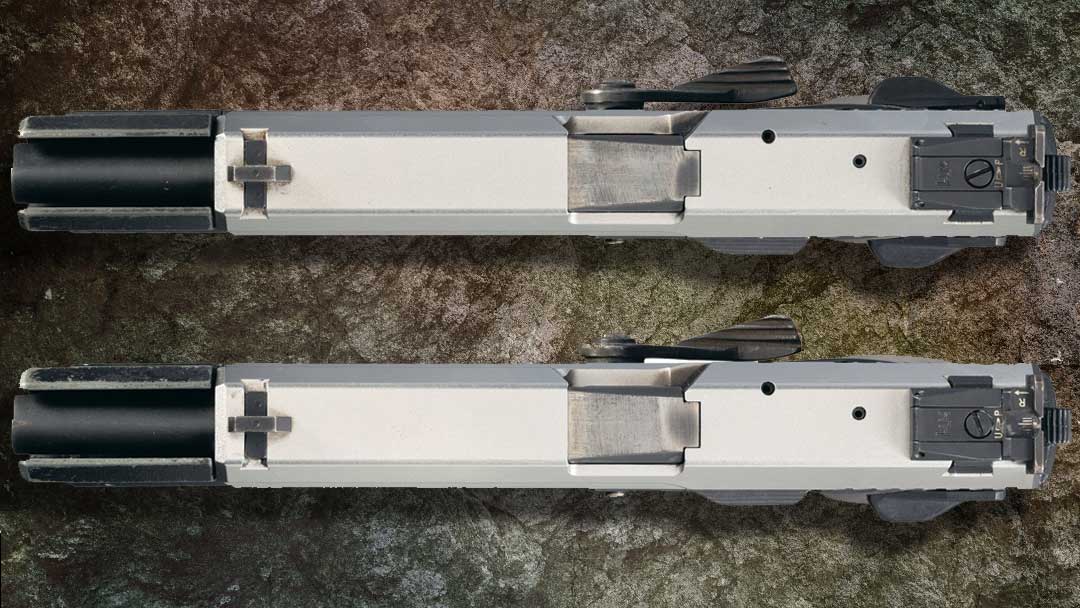 Consecutively serialized Heckler & Koch USP 9 Match pistols, each fitted with tall blade front sights, adjustable notch rear sights, one with an ambidextrous thumb safety, and both an ambidextrous magazine release that has been fitted with a custom extended slide release on the right side of the frame.
Admittedly, I do feel as though I'm skirting a fine line between gun-talk and a plot synopsis so I won't be getting too deep in the plot so far-in as character names and the sort. That said, at the time of this writing, Lara Croft: Tomb Raider can be streamed on HBO Max and I highly recommend sitting down to watch it, maybe there's a gun in there I missed. Below are my breakdowns of what I noticed in these scenes.
Tomb Raider Guns: The Croft Mansion Raid
Early on in the movie, agents acting under the main antagonist Manfred Powell conduct a raid on the Croft Mansion in order to steal an important relic. Immediately, HK fanboys such as myself will notice the troops are armed with the HK G36. As Americans, HK hasn't exactly been forthcoming with American releases of some of their flagship systems so American shooters are left with the SL8, which is the closest we can get to a proper G36 although externally it is different.
A company known as Tommy Built Tactical does sell conversion kits to give your SL8 a proper G36 look. As Lara Croft fights through her mansion, she ends up in her garage/armory (and my new life-goal) and attempts to arm herself before her assailants arrive. Upon opening her armory door, a Steyr TMP and a few MP5 submachine guns are clear on screen.
The Croft mansion is located in England, so it makes sense that thus far most of the weapons seen are of European origin. That is until Hillary the butler loads up a nickel plated Remington 870 shotgun and demonstrates that butlers can also double as adept security. Later in this scene, we see Lara utilizing one of the Steyr TMPs from the back of a motorcycle indoors. This entire sequence is hectic, exciting, and probably has a year's salary worth of ammunition fired. Oh, and as the fallout is getting cleaned up they are listening to Missy Elliot, which I appreciated.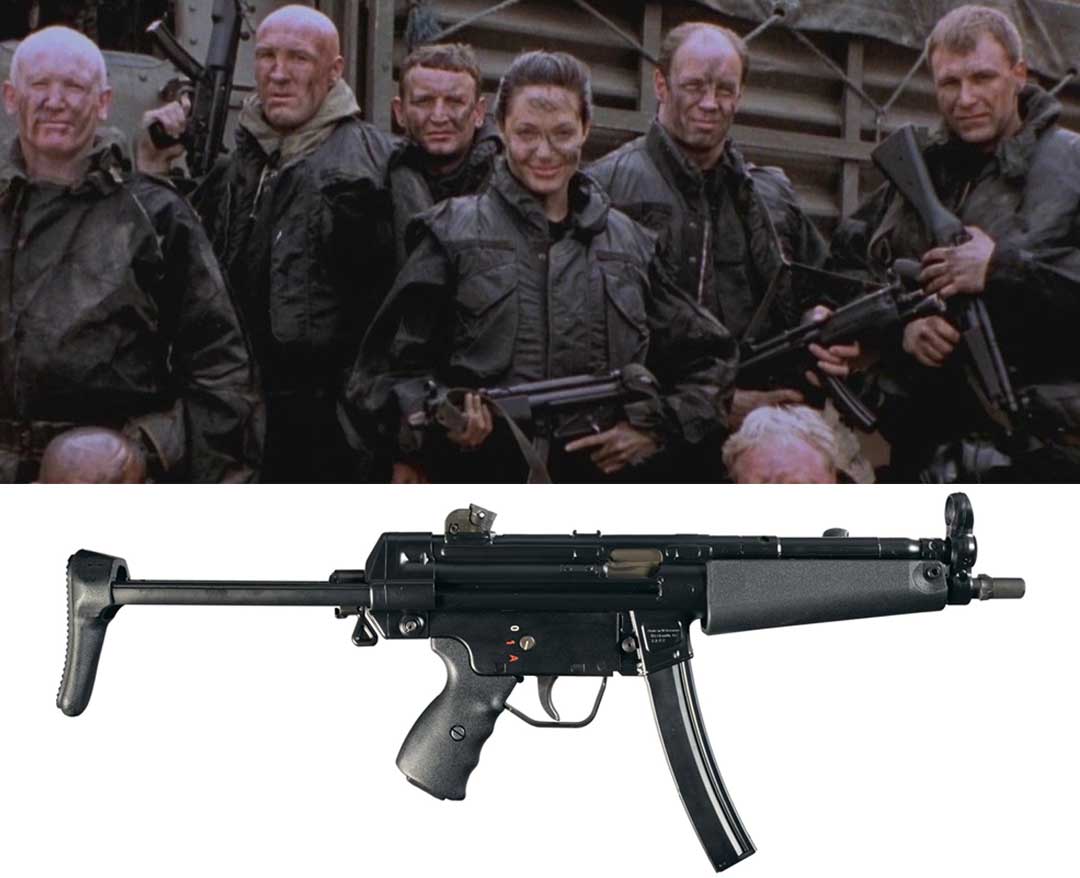 The German MP5 is not only a popular Tomb Raider gun, it's one of the most recognizable firearms around the world today.
The Tomb of the Dancing Light
Our next big showdown takes place in Cambodia at "The Tomb of the Dancing Light." Immediately I was excited to see mercenaries wearing Tiger Stripe camouflage. I doubt it was an intentional shout-out to Tiger Stripe-clad SOG troops who operated in Cambodia during the Vietnam War, but I'm going to let myself believe it was. It is during this scene that everybody's favorite pair of USPs make their second appearance in the movie to great effect when the bullets start flying. Lara utilizes a unique pair of holsters for both the pistols and her magazines, allowing her to reload while keeping both pistols in her hands. This would be difficult if the pistols didn't utilize ambidextrous slide releases: which these do as you can see in our catalog description for the lot.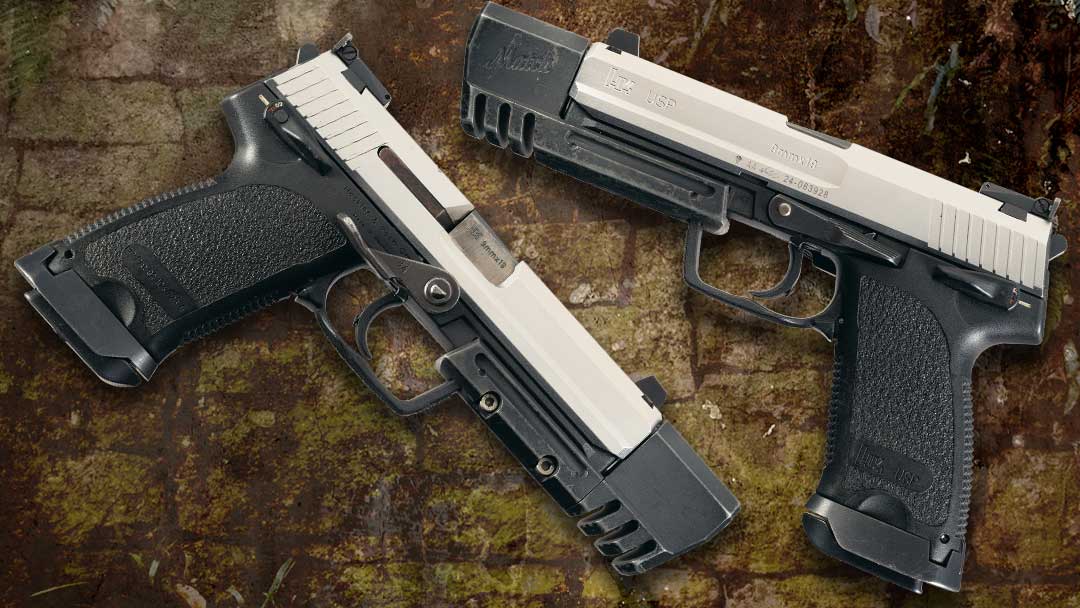 Lara Croft's H&Ks, the signature guns from the original Tomb Raider film and one of pop culture's most famous braces of pistols.
Most of the mercenaries are still carrying G36's but a few AK-47's can be seen as well. Towards the end of this scene Lara has a staredown with protagonist/antagonist Alex West (Daniel Craig) who is toting an AK himself before she jumps off a waterfall in true action movie protagonist fashion.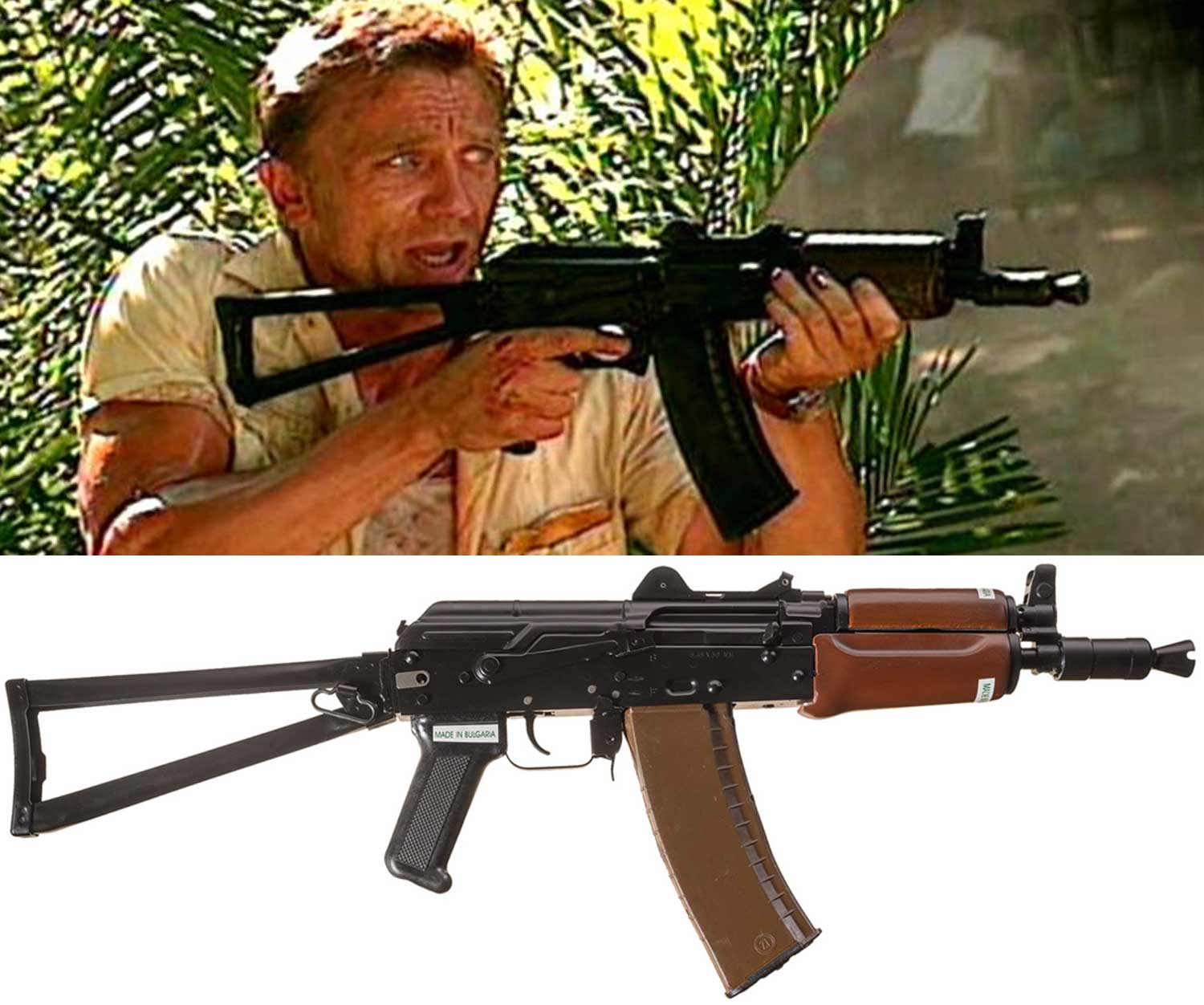 Daniel Craig as Alex West armed with an AKS rifle. Semiautomatic AK-47 variants and their less frequent fully automatic cousins can be found at Rock Island Auction Company.
I remember seeing Lara Croft: Tomb Raider in the theater when I was around 8 and thinking "this is the best movie of all time." Based on my recent viewing I have to say: it has aged well. Best movie of all time? No, that's obviously Red Dawn, but it is a great movie featuring stellar visuals and a lot of really cool guns. If you would like to get your hands on a piece of cinematic history, then check out our website and peruse our catalog. All of our gun auctions are packed with an unrivaled selection of firearms for all tastes. Bidding on Lara Croft's pistols is a once in a lifetime opportunity though, make sure you don't miss out!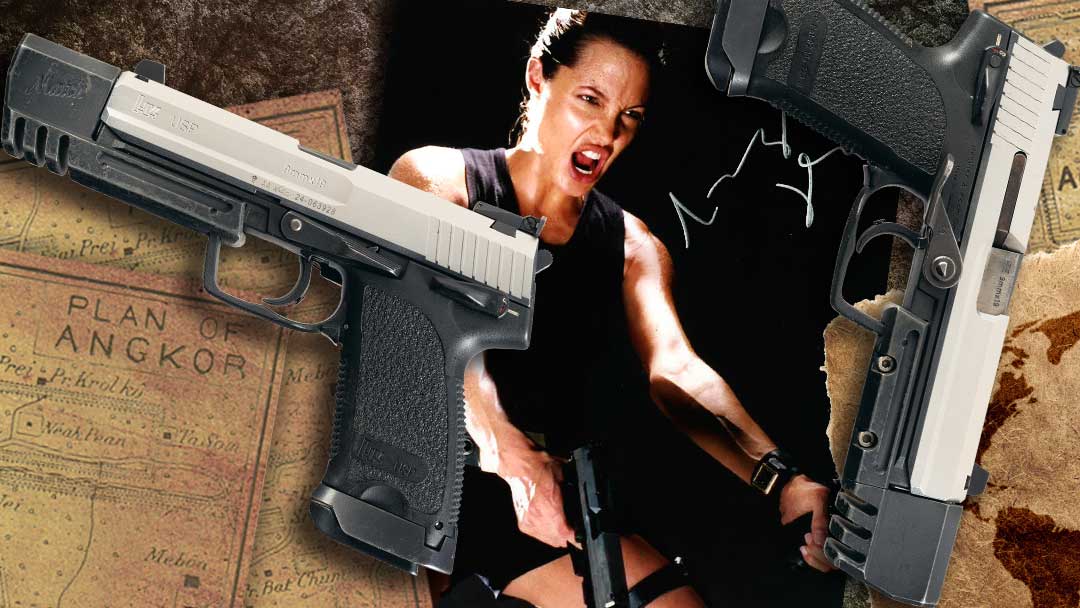 Lara Croft's H&Ks, one of pop culture's most famous brace of pistols.
Lara Croft has become a beloved heroine to millions of gamers and move-goers around the world, and her pair of Tomb Raider guns are one of the most unique and recognizable pistols in modern cinema. Guns from popular film and television properties are hot items in the collecting community right now, and Rock Island Auction Company's August 26 – 28 also features another Hollywood holy grail with Han Solo's DL-44 heavy blaster featured in Star Wars: A New Hope. This is the blaster used in filming the near entirety of the 1977 blockbuster.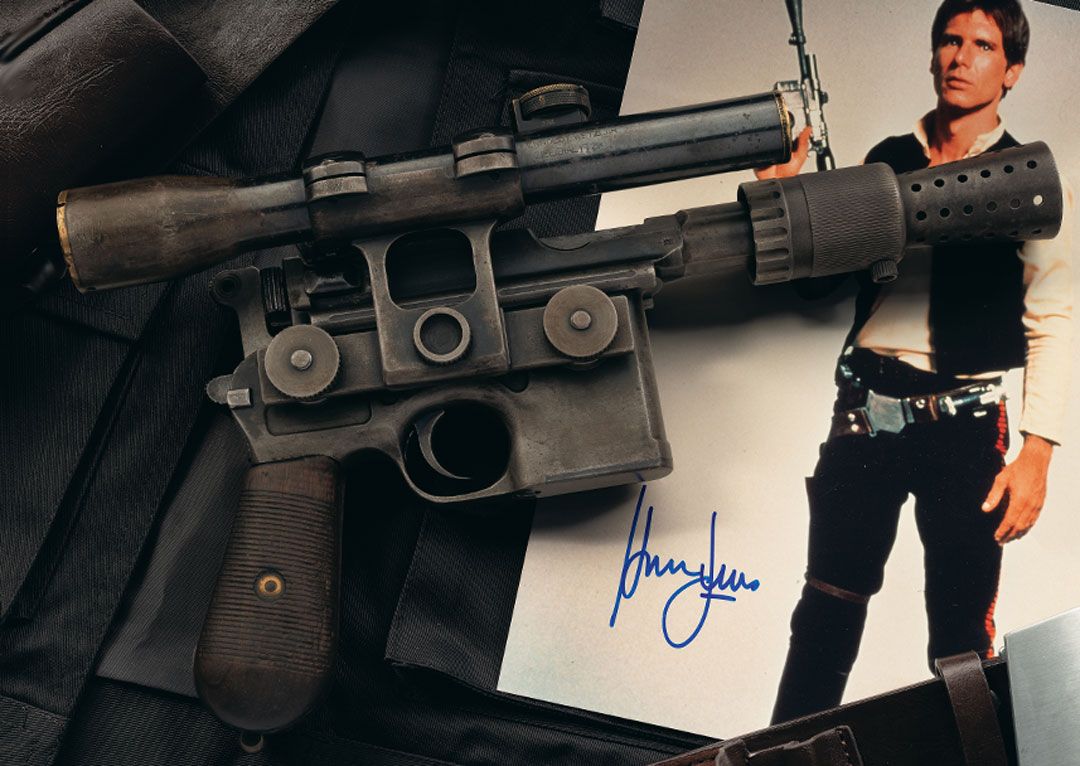 Han Solo's blaster, a modified Mauser C96 broomhandle, is one of the most famous guns in Hollywood history.
Every week, the Rock Island Auction newsletter offers our readers new gun blogs and gun videos on a range of fascinating topics, including the guns of pop culture. From hit films like Winchester 73, True Grit, and Quigley Down Under, to recent television properties like Peaky Blinders, Yellowstone, the Walking Dead, 1883, Outlander, and more, we take a deeper dive into the greatest guns of Hollywood.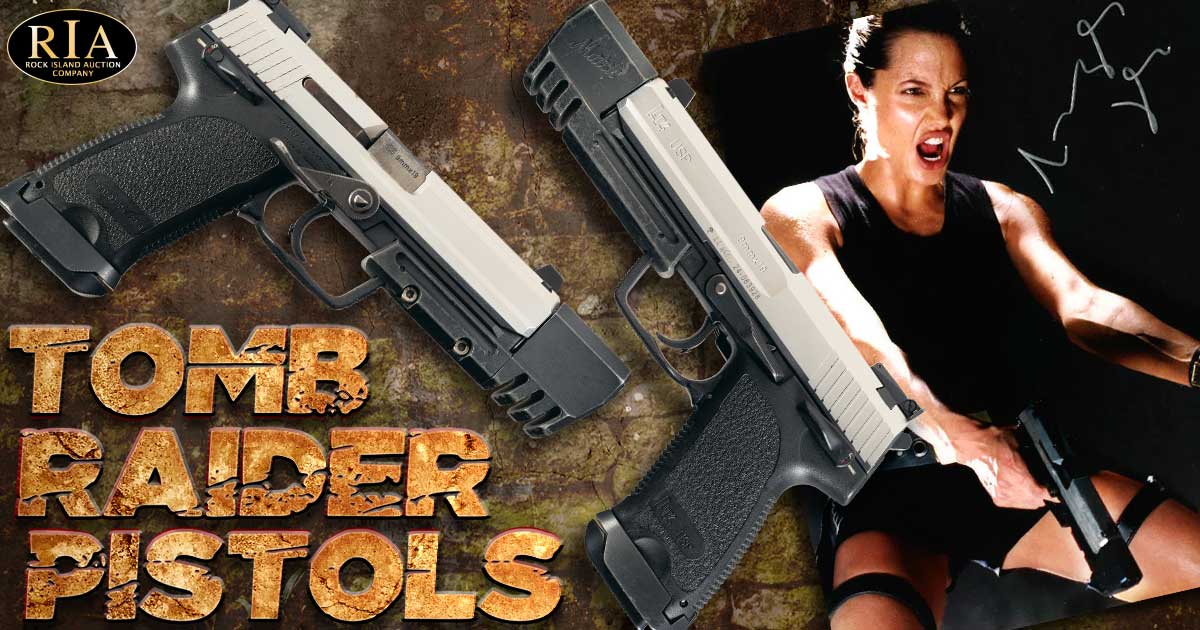 Rock Island Auction Company