Two presidents, a silver screen smuggler, and an icon of the Wild West led the charge to another industry-defining year for the world's number one firearms auction house. Rock Island Auction brought in more than $100 million for the second year in a row, with more than 40 lots achieving six-figure price tags in the company's 2022 auctions.
The gun market continues to thrive as fine arms collectors seek out the best of the best, and the high level of competition for these top-tier offerings is reflected by three ties in our list of top ten guns of 2022. History, craftsmanship, and exceptional significance came together on this assemblage of truly astonishing pieces that crossed the podium over the last 12 months. The top 10 guns sold by Rock Island Auction in 2022 are:
10. Factory Gold Engraved Winchester Model 1866 Lever Action Rifle: $264,375
It wouldn't be a Rock Island Auction Company top 10 gun list without some of the finest Winchesters in the arms collecting pursuit, and this factory relief panel scene Master engraved and Gold plated exhibition Model 1866 checks all the right boxes. This extraordinary rifle is attributed to both the 1876 Centennial Exhibition in Philadelphia and the 1878 Exposition Universelle in Paris and may have also been displayed at earlier events.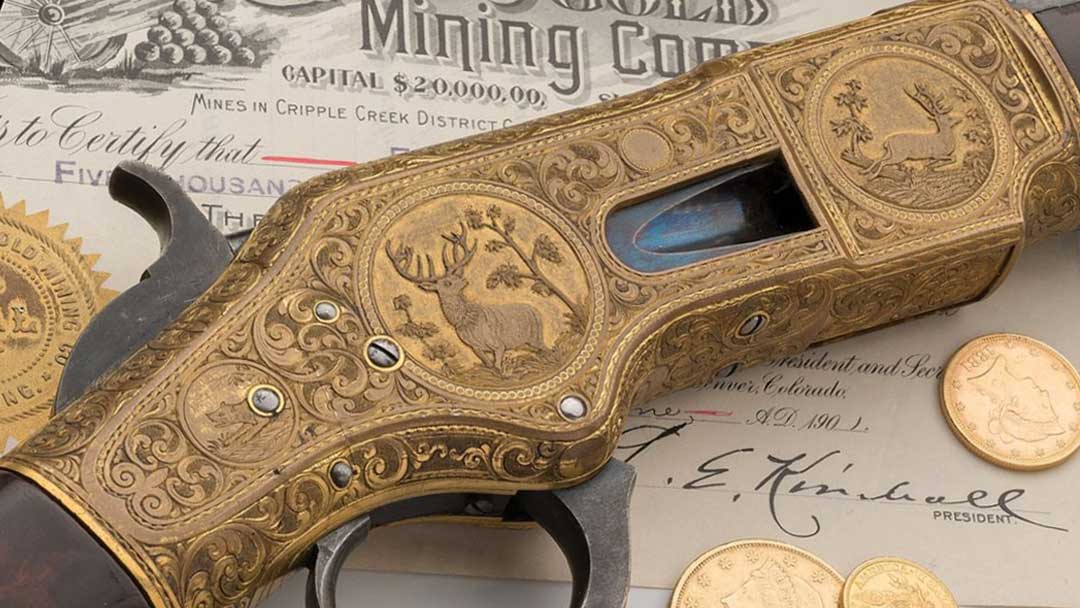 The combination of relief and incised engraved panel scenes on this elite Winchester 66 rifle is spectacular to behold. It is possible the rifle remained in Europe after the 1878 Exposition Universelle in Paris and may have been sold or presented to an Englishman during or following the event. Other rifles from the exhibitions clearly ended up in South America and some have turned up in India.
9A. Engraved Cased Colt Model 1877 Lightning Double Action Revolver: $323,125
Two exquisite revolvers tie for number 9 on our list. While the Colt Single Action Army often takes the spotlight, Rock Island Auction's top ten guns of 2022 includes perhaps the finest Colt Model 1877 Lightning revolveraround. A truly fresh piece on the collecting scene, this stunning Cuno Helfricht engraved Colt Lightning revolver had never before been publicly sold, photographed, or featured in a book or magazine, and arms collectors took notice.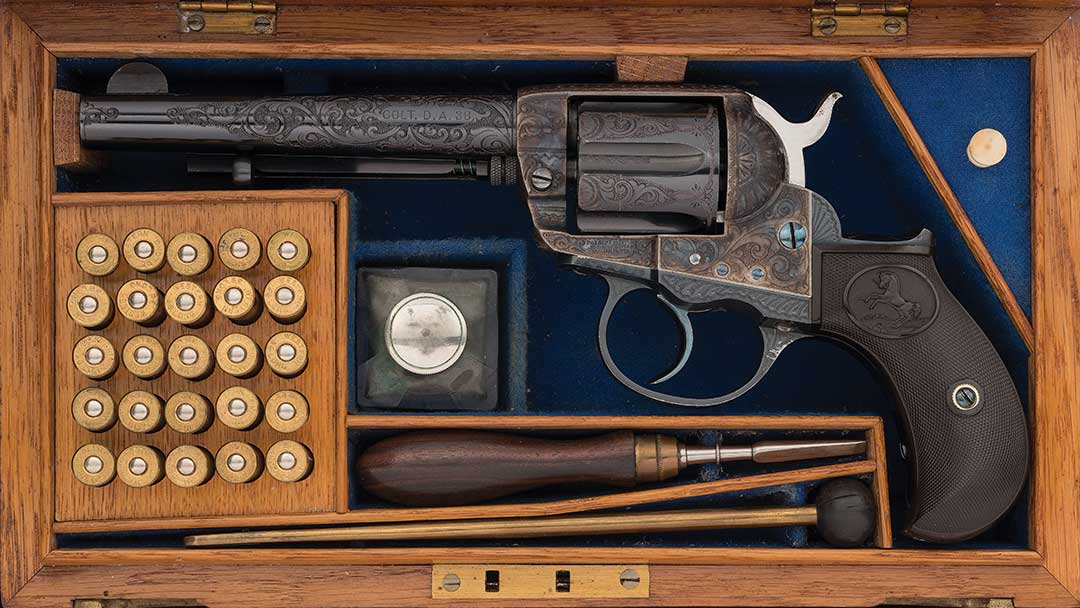 Because the Colt Lightning was convenient for carrying and was capable of being fired rapidly, they were widely used in the late 19th century. Famous figures of the West like Billy the Kid, John Wesley Hardin, Granville Stuart, and Doc Holiday toted this model, but hard use and a delicate hammer and trigger meant few Colt Lightning revolvers survived in such exceptional condition. This magnificent example features nearly full coverage deluxe factory engraving throughout and retains 98% of its original finish, a remarkable level of condition that earned the gun nearly three times its high estimate in RIAC's December 2022 Preimier Auction.
9B. McClatchie's Presentation Engraved Colt 1855 Root Revolver: $323,125
The McClatchie Root, a factory-engraved Colt 1855 Sidehammer Pocket revolver presented to Samuel Colt's timekeeper, is a masterpiece on all counts. Declaring any gun "mint condition" is not a claim taken lightly at Rock Island Auction Company, but the McClatchie Root has been lauded for its quality by countless collectors, writers, and firearms historians over the decades.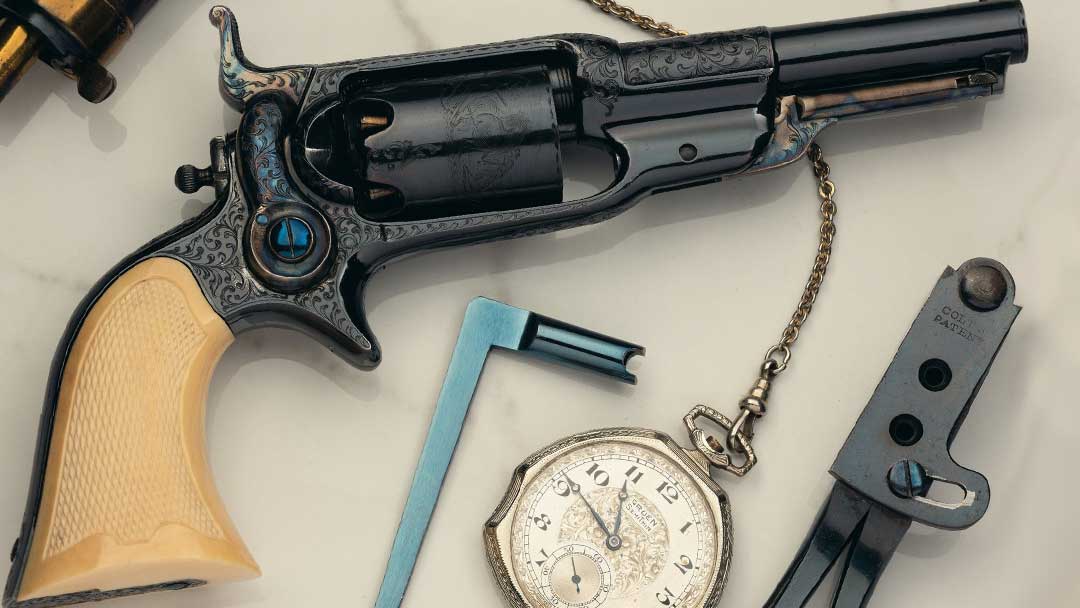 After his retirement, James McClatchie was presented this gorgeous embellished revolver in thanks for his service.
"With Compliments of Col. Colt" is one of the most revered phrases in gun collecting, as it designates an official presentation piece from Samuel Colt. While James McClatchie may not be as known to history as many Colt presentation recipients, he was a significant figure in the success of Colt's Hartford factory operation. The phenomenal Colt 1855 Sidehammer Pocket revolver that bears  McClatchie's name has been immortalized in print and is widely recognized as one of the finest guns in antique arms collecting.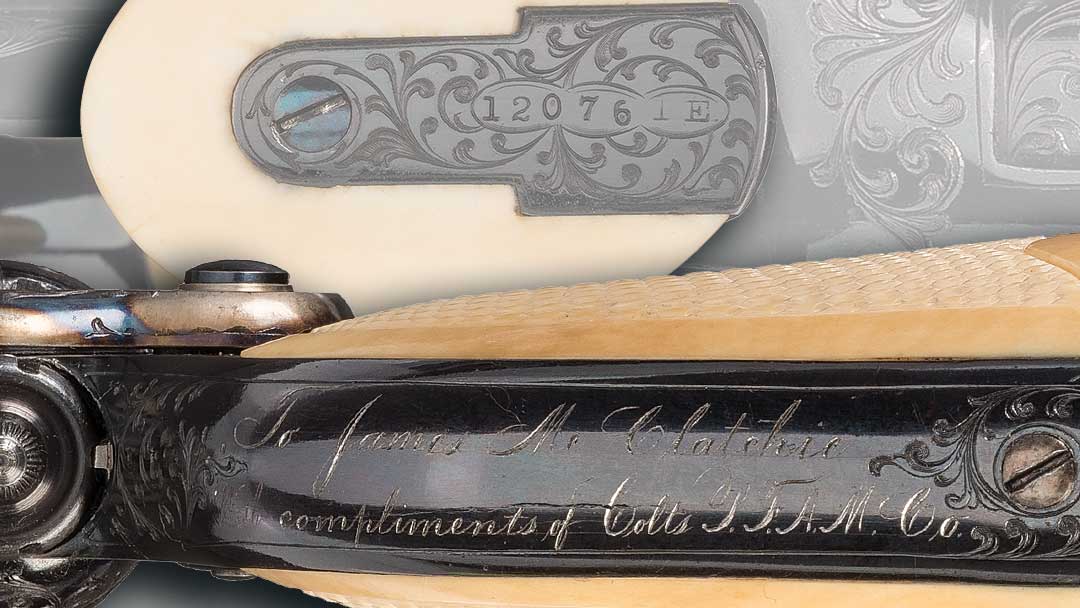 An elegant banner is engraved around the main serial number on the butt, 12076IE, with the suffix "IE" denoting the specially checkered antique ivory grip and engraving by the factory.
8. Wilbur Glahn Engraved and Gold Inlaid Colt Single Action Army: $411,250
With its factory engraving from Master Engraver Wilbur Glahn, four gold inlays, a steer-carved grip, and its original box, this extraordinary Colt Single Action Army ranks among the rarest and most desirable of Colt revolvers known.
A phenomenal Wilbur Glahn factory documented First Generation Colt SAA with a raised relief carved steer head grip.
According to writer Corky Ullom's research in the Winter 2007 issue of "The Rampant Colt," there were only fifteen gold inlaid pre-war Single Action Colts and only two in .44-40 caliber. This "ultimate rarity" was manufactured in 1929 and letters in .44-40 with a 5 1/2 inch barrel, with grips of "Ivory with carved steer head motif on one side and the initials 'E.A.T.' in relief on the other side. Combined with fantastic factory engraving, superb condition, and gold inlay, and you have one of the finest-looking guns of 2022.
7A. "One of One Thousand" Winchester Model 1873 Lever Action Rifle: $440,625
The "One of One Thousand" rifles of the Model 1873 Winchester are extraordinarily rare. In 1950, Universal Pictures released the film 'Winchester 73', a tale that charts the journey of a Winchester 1 of 1000 across the Old West. The movie sparked a renewed interest in the gun-collecting pursuit, helping elevate its iconic namesake rifle to one of the most sought-after guns in the world, such as the fantastic example below.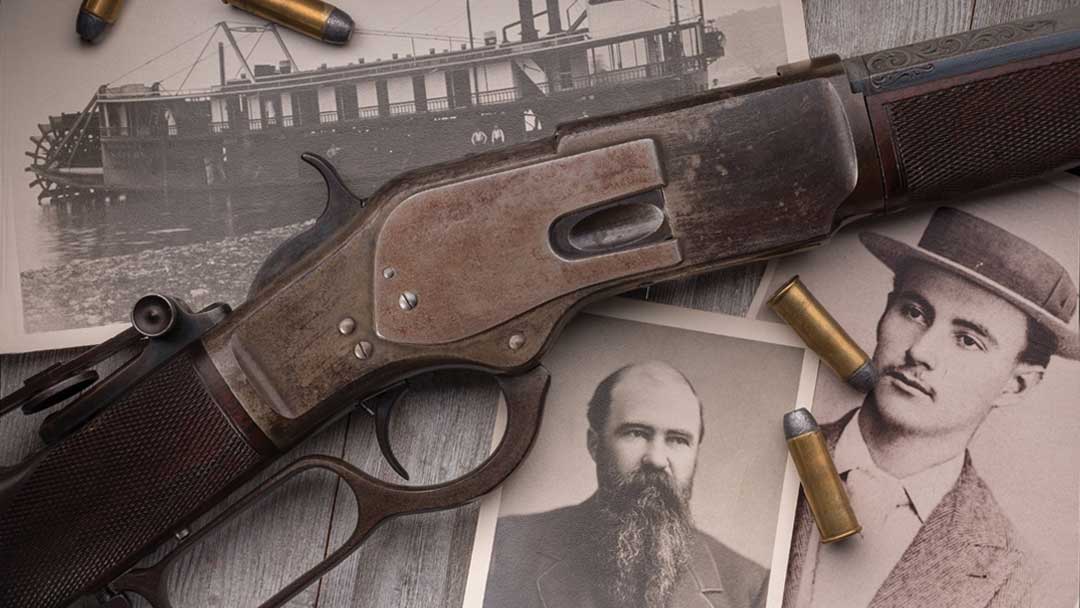 There were only 132 One of One Thousand rifles produced in the Winchester 1873 Model.
This exceptional Winchester One of One Thousand Model 1873 was a treasure passed from Mr. George Winan to his son. George Winans captained steamboats on the Mississippi River from 1856 to 1916. His son, Earl Winans, was gifted the rifle for his 16th birthday in 1887 and valued the gun so much that he "only used it for target practice." The family's care for the heirloom rifle has resulted in a piece that survives in outstanding condition today and earns a worthy spot as one of the top ten guns of 2022.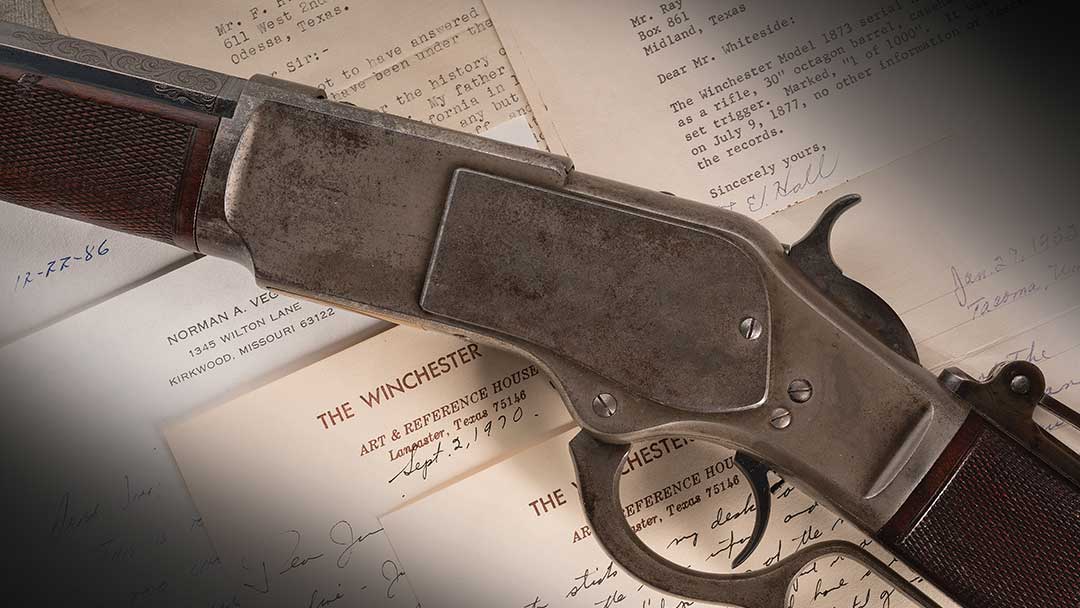 A standard Winchester 1873 might cost around $50, but a One of One Thousand could range between $80 to $100 depending on the additional custom features. For comparison, an acre of farmland in Kansas cost $13 or less in 1876.
7B. Winchester Model 1873 "One of One Hundred" Lever Action Rifle: $440,625
With close ties to the "One of One Thousand" rifles, the Model 1873 "One of One Hundred" Winchesters are far rarer with only eight manufactured. They represent one of the most elusive variations of special order Winchesters.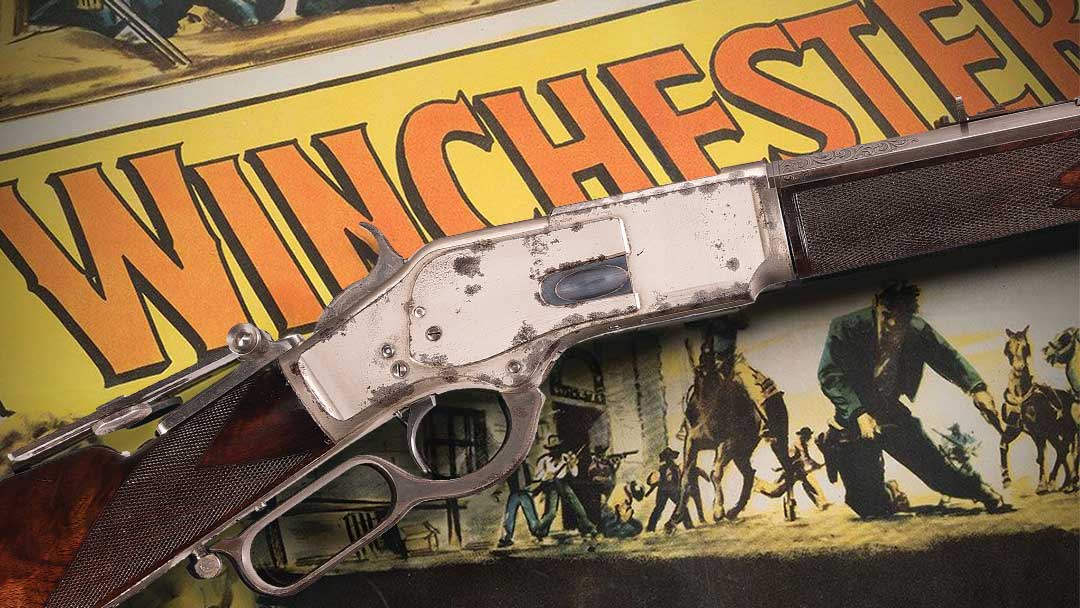 Perhaps the most coveted variation of the Winchester 1873 rifle, all Winchester "One of One Hundred" rifles are viewed as crown jewels in arms collecting.
In "The Story of Winchester 1 of 1000 and 1 of 100 Rifles," Author Edmund E. Lewis writes that this rifle was purchased from Winchester in 1876 by a Dr. Fred Shurtleff. "The doctor was originally from Boston, Massachusetts, and later migrated West as a young man. At one time, he became both the sheriff and the coroner of a small frontier town."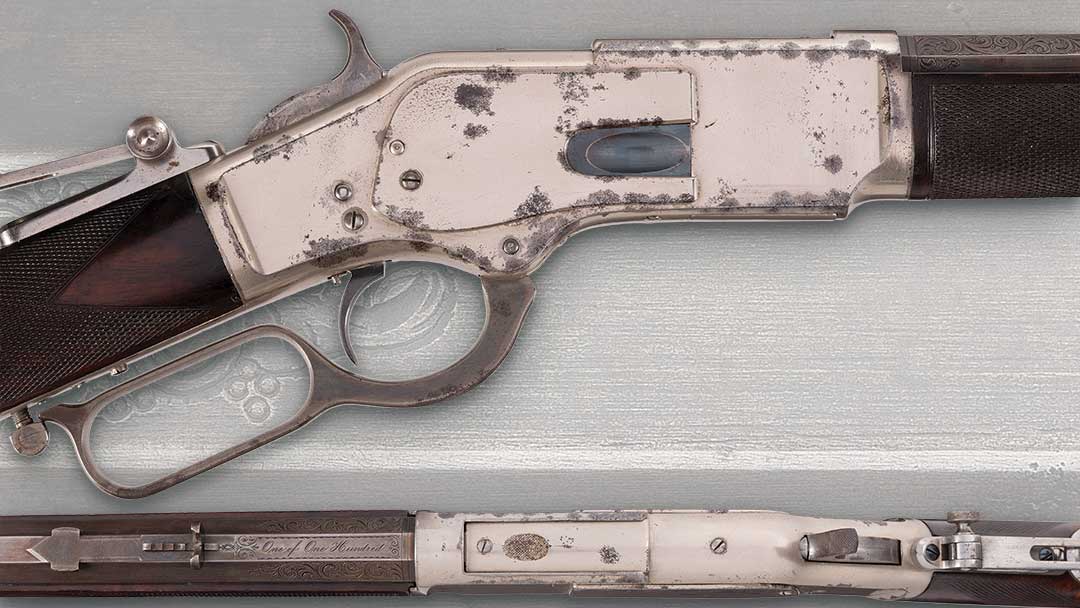 The Winchester One of One Hundred, only one of two with nickel finish.
This scarce Winchester bears the marks of an Old West gun that was used and cherished by its owner and reflects the depth and quality of the top-tier firearms offered by Rock Island Auction Company in 2022.
6. Colt Model 1847 Walker Revolver Inscribed "F.H. Kennedy": $499,375
A Colt Walker is always going to turn heads, and the example sold in Rock Island Auction's May 2022 Premier more than lived up to the legend. Often called the magnums of their day, the Colt Walker was the quintessential big iron revolver of the mid-19th century. The massive horse pistol's .44 caliber ball and 60-grain maximum powder load was a significantly higher charge than any other black powder wheelgun, even dwarfing their impressive Dragoon successors.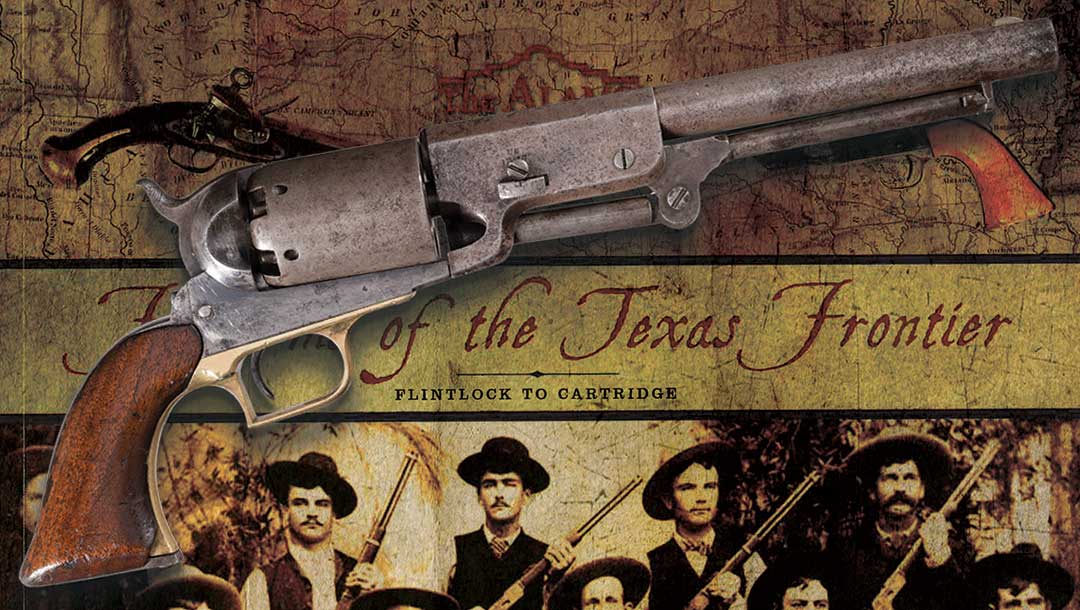 Author John Galle notes that this Walker revolver is "the only Walker that I know of that has been carried in the Mexican War (98% probability) and the Civil War."
The Walker's stopping power was one of the features requested by Captain Samuel Hamilton Walker when he commissioned Colt to design a weapon that would aid the Texas Rangers on the battlefield. Samuel Colt scaled up his Paterson design and delivered a true powerhouse of a gun. Only 1,000 U.S. martial contract Colt Walker revolvers were manufactured in 1847, and after the Mexican-American War ended, most of the surviving Colt Walkers were returned to government arsenals in Texas. This historic example was from the batch marked for Samuel Walker's own company.
Of the 191 Walker revolvers turned in by Hays's men, only 82 were recorded as remaining serviceable. Many of the Walkers used during the Mexican-American War and in fights with Native Americans in the late 1840s were shipped to the San Antonio Ordnance Depot and were subsequently captured by the Confederacy at the beginning of the Civil War and then issued to Confederate cavalry units. Truly a Colt with a tale or two to tell, and a worthy entry on RIAC's list of top ten guns of 2022.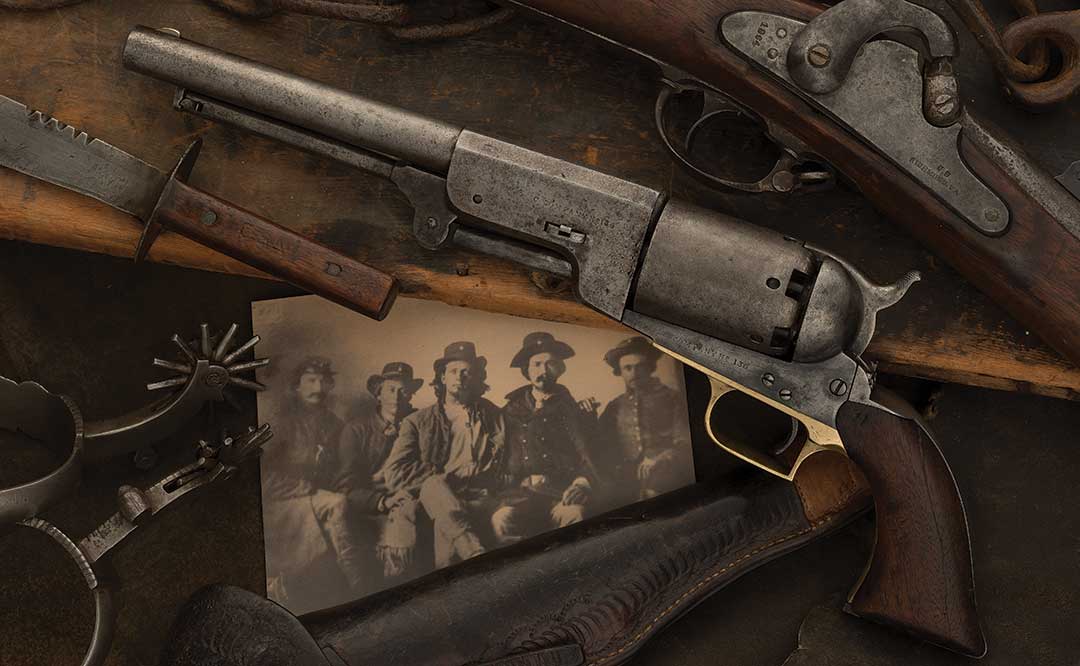 Rare and historic C Company U.S. Colt Model 1847 Walker percussion revolver inscribed for Terry's Texas Ranger "F.H. Kennedy."
5. Engraved Colt 1851 Navy Revolver Attributed to Wild Bill Hickok: $616,875
Known as one of the great gunfighters, lawmen, and subject of numerous dime store novels, James Butler "Wild Bill" Hickok is a name synonymous with the American West. Wild Bill earned a reputation as a talented gunfighter, and a pair of ivory-gripped Colt 1851 Navy revolvers became the weapons most closely associated with Hickok's legendary persona.
The  Colt 1851 Navy offered by Rock Island Auction Company had graced many museums and been included in several books by notable experts in the field before finding its way to the podium in May. The pistol's mate remains in the Cody Firearms Museum, and both Navy Colts possess all the correct features that Hickok preferred including ivory grips and late factory "vine scroll" engraving patterns.
From books and movies to annual celebrations like Deadwood's Wild Bill Days, Hickok's legend lives on, and the scarce few Wild Bill Hickok attributed guns rank among the most desirable firearms in the collecting pursuit. It's no surprise such a storied revolver achieved such a worthy stop on our list of top 10 guns of 2022.
4A. Finest Known "Lot Five" Ainsworth Inspected U.S. Cavalry Model Colt Single Action Army Revolver, Documented as a Battlefield Pick-Up: $763,750
The next three guns have tied for fourth place, and each one could headline an auction on its own. First, we have a high-condition Colt Single Action Army that took the collecting community by storm. This "Lot Five" Ainsworth inspected U.S. Cavalry Model is attributed to the 7th Cavalry and documented as battlefield pick up after the Battle of Little Bighorn. Yes, you read that right.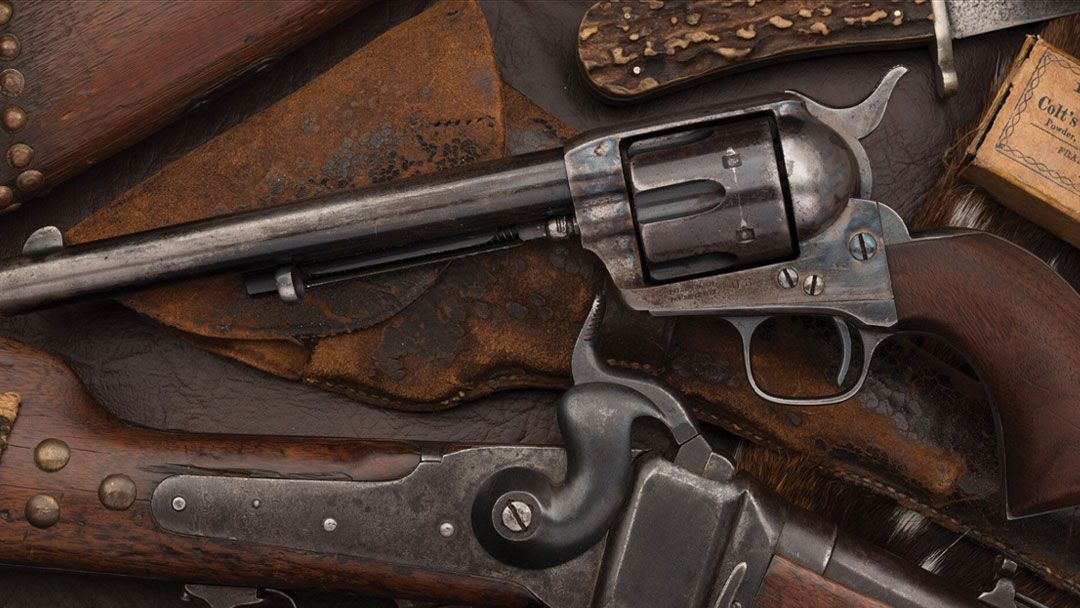 The Battle of the Little Bighorn, the Battle of the Greasy Grass, Custer's Last Stand, the Custer Massacre – all are many names describing the same pivotal moment in American history. Artifacts retrieved from that hallowed battlefield are supreme rarities.
John A. Kopec, a premier Colt SAA expert, examined this extraordinary revolver and concluded, "We have truly enjoyed reviewing this very significant 'Custer-Era' revolver, and believe that it may be the finest representation of a 'Lot-Five' revolver we have ever had the privilege to examine."
Of the 12,500 Ainsworth-inspected Colt SAA revolvers, only 1,285 are known today, and the number associated with the Little Bighorn are fewer still. With such an impressive combination of traits, it's no surprise that this museum-worthy Colt displayed a strong showing on not only the top guns of 2022 list, but became one of the top Colt SAA's ever auctioned.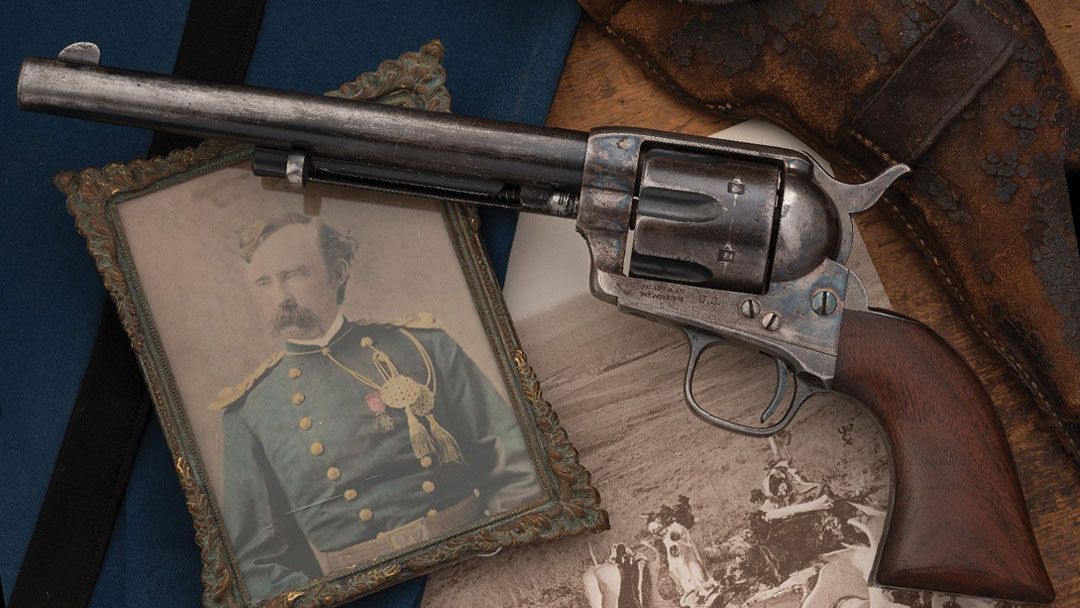 Historic, finest Known "Lot Five" Ainsworth inspected Custer Battle U.S. Cavalry Model Colt Single Action Army revolver with holster and Kopec Gold Seal letter, one of Rock Island Auction's most expensive guns.
4B. Winchester "One of One Hundred" Model 1873: $767,750
Next, we have the last produced Winchester "One of One Hundred" Model 1873 rifles. This old gun accompanied its owner on a dangerous Amazon expedition and has a remarkable story to go along with its pedigree.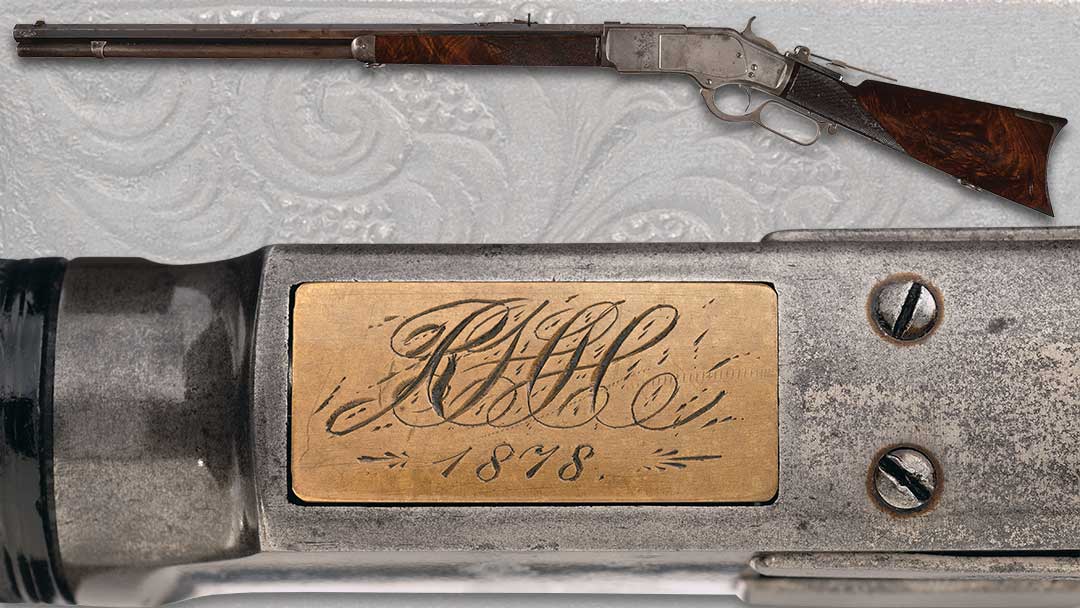 Mr. Robert Hopewell Hepburn's monogram and year of purchase are forever engraved on the bottom of the rifle's elevator.
Mr. Robert Hopewell "Hope" Hepburn was an engineer who joined the "Collins Expedition". This early attempt to connect Bolivia to the Atlantic Ocean Railroad in Brazil was fraught with peril, and Hepburn's Winchester 1873 One of One Hundred accompanied him as he sailed over 3,800 miles by tugboat and braved the treacherous Amazon River.
Dubbed "The gun that won the West", the Winchester '73 was a working gun, and Hepburn's written account of his adventure in the Amazon describes the rugged rifle in action. In Hepburn's manuscript, he recounts numerous times when firearms were employed for hunting and discouraging both alligators and aggressive tribesmen. On protecting the local workers, Hepburn notes, "They would not return to their camp the next morning unless escorted by an armed guard, so we accompanied them with our Winchesters and skirmished in, among, around, and beyond their shacks… The Indians rarely attempted an attack on a number of armed men."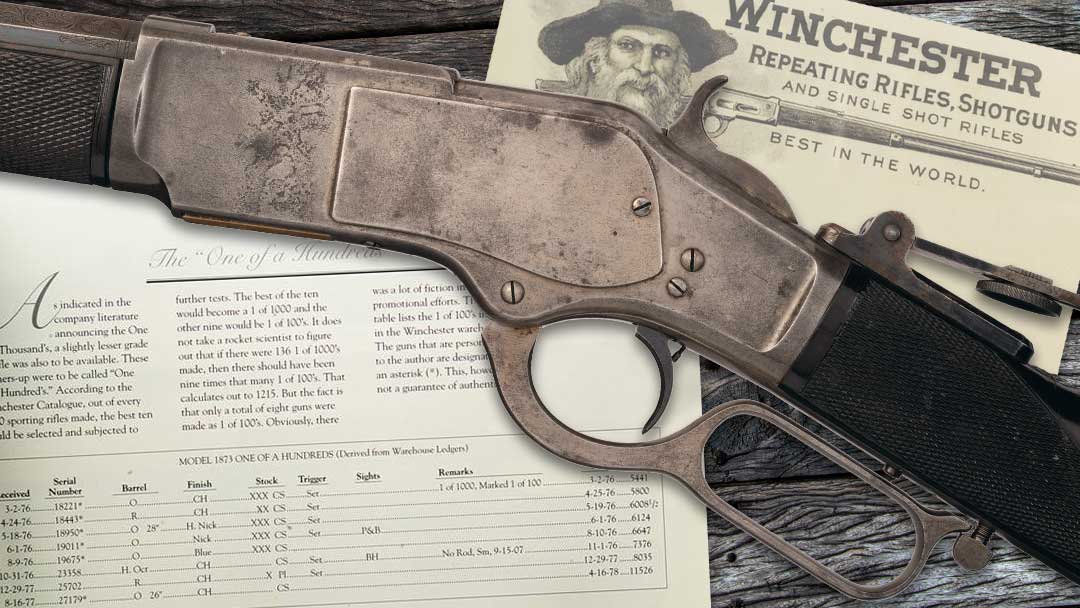 This rifle is illustrated and described on pages 113-118 of "The Story of the Winchester 1 of 1000 and 1 of 100 Rifles" by Edmund E. Lewis.
A gun produced during the frontier era is one thing, but this rifle participated in the exploration that defined the late 19th century. It traveled, fought, and helped deliver its owner home again amid overwhelming odds. With its immense providence and colorful history, it's no surprise to find this totemic Winchester ranking high on the top ten guns of 2022.
4C. 1891 Production Colt Cavalry Model Revolver: $763,750
A stunning time capsule of condition, this Rinaldo A Carr inspected Colt SAA Cavalry Model looks as spectacular today as it did when it was manufactured in 1891. This extraordinary revolver remains in "as issued" and unfired condition with 99% plus original high polish blue and vivid casehardened finishes.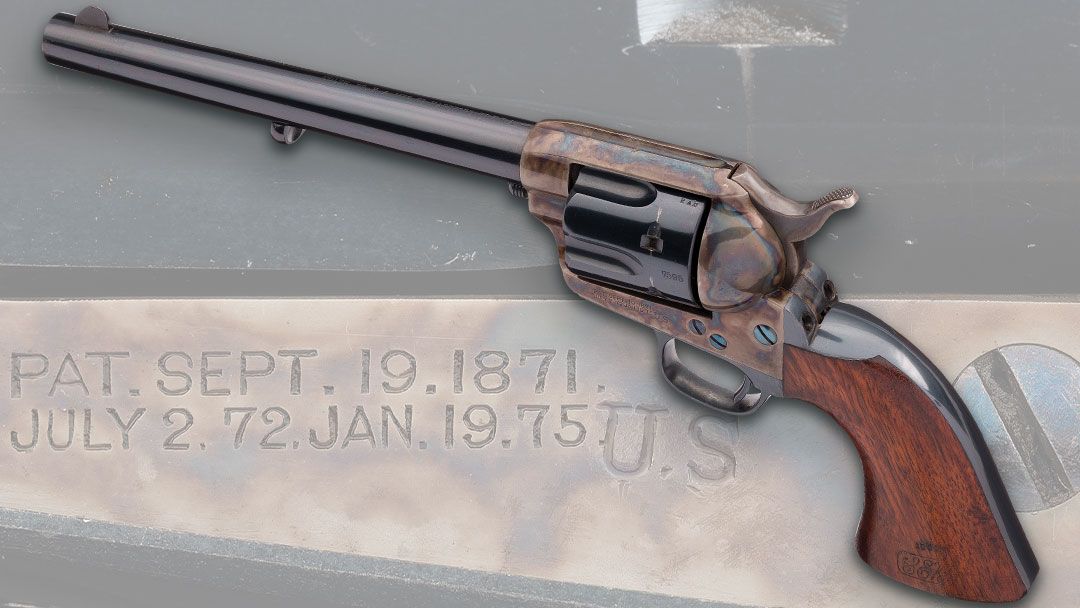 A 1891 production Colt Single Action Army Cavalry Model in near mint condition.
This Colt is an absolute miracle gun. The accompanying factory letter confirms this revolver was delivered to the U.S. government inspector at the Colt plant on January 20, 1891 in a shipment of 200 guns. The walnut grip features the inspection date "1891" above Capt. Stanhope E. Blunt's script letter cartouche on the left side and Rinaldo A. Carr's script letter cartouche on the right side.
We leave you with renowned Colt author and expert John Kopec's final thoughts that best summarize this time capsule quality firearm: "This revolver remains today in unbelievable unfired and basically 'untouched' condition. It is just really difficult for us to imagine how this revolver has survived through the years in this spectacular condition."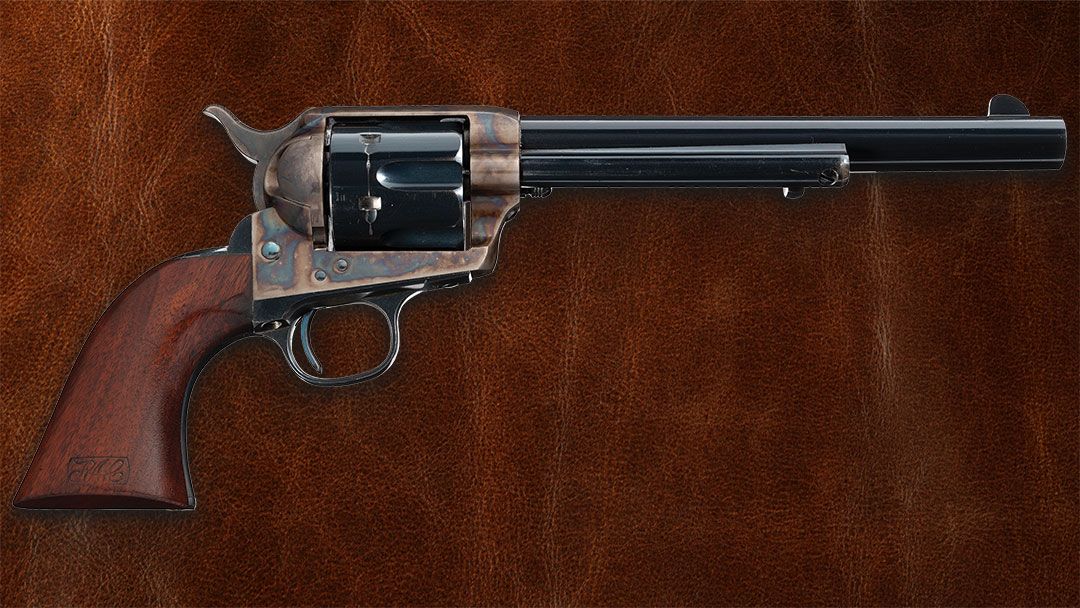 Unaltered, original finish, all original parts, spectacular overall condition. Truly a miracle gun.
3. Documented Colonel Theodore Roosevelt Smith & Wesson No. 3: $910,625
Theodore Roosevelt's Smith & Wesson revolver has everything going for it: condition, rarity, beauty, and historic provenance to one of the giants in American history. What more could a gun collector want?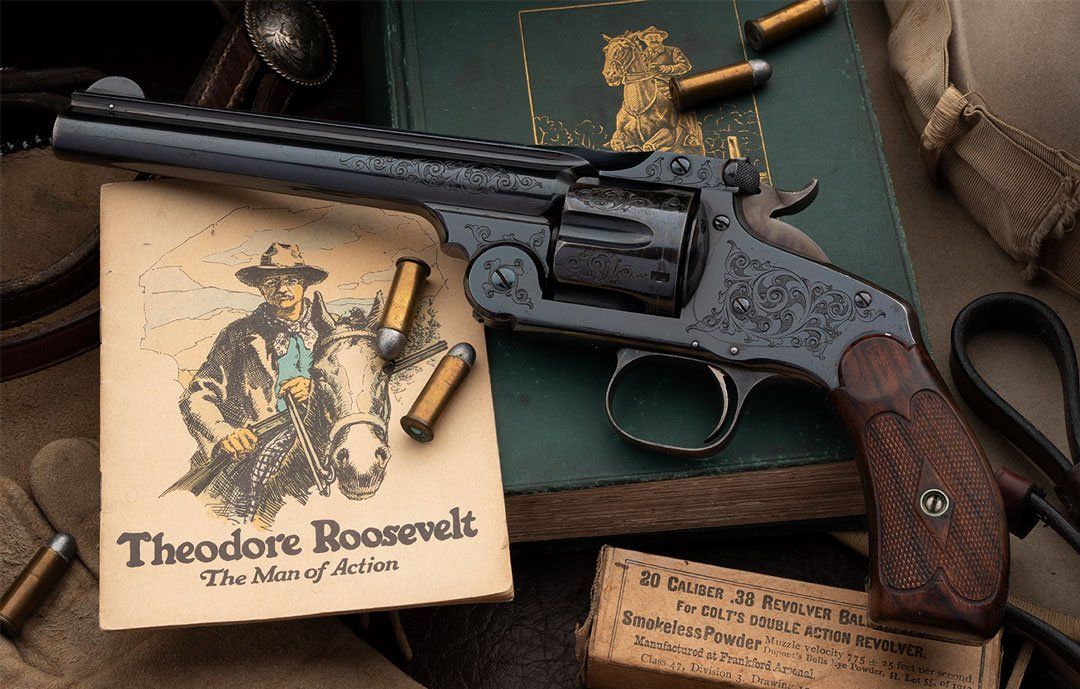 An American gun from one of the most American legends of all time, an engraved Smith & Wesson New Model No 3 revolver documented to the future 26th president of the United States, Theodore Roosevelt.
An absolute national treasure, Theodore Roosevelt's engraved Smith and Wesson New Model No. 3 revolver ranks high on the pantheon of fine and historic firearms. The 26th President of the United States was most known for sporting arms, so this revolver, intended to serve as Roosevelt's military sidearm, is particularly notable and stands as the very definition of a legacy gun.
In a factory letter, Roosevelt's remarkable revolver is confirmed by serial number as shipped to "Colonel Roosevelt" on May 12, 1898, the same day Roosevelt left for San Antonio to train the Rough Riders. In addition to the gun's oustanding provenance, Theodore Roosevelt's stunning Smith and Wesson New Model No. 3 features incredible engraving and includes an immensely scarce chambering for the model: .38 Long Colt. This was the U.S. service cartridge at the time, and Roosevelt's revolver is one of a scant few New Model No. 3s known in this configuration.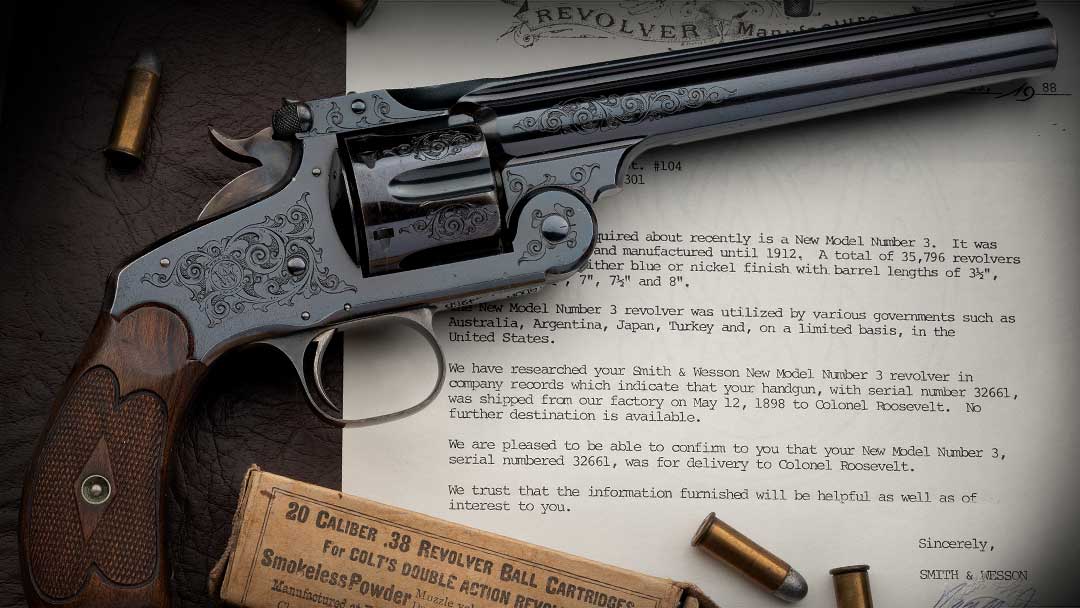 Roosevelt picked up this revolver during the summer of 1898 on his way to train the Rough Riders in San Antonio, Texas.
2. Han Solo's BlasTech DL-44 Heavy Blaster from "Star Wars: A New Hope": $1,057,500
The archetype BlasTech DL-44 Heavy Blaster wielded by Han Solo against the Empire in "Star Wars: A New Hope," as recognizable a part of the film franchise as a lightsaber or TIE fighter, arrived from a galaxy far, far away to headline Rock Island Auction Company's August 2022 Premier Firearms Auction.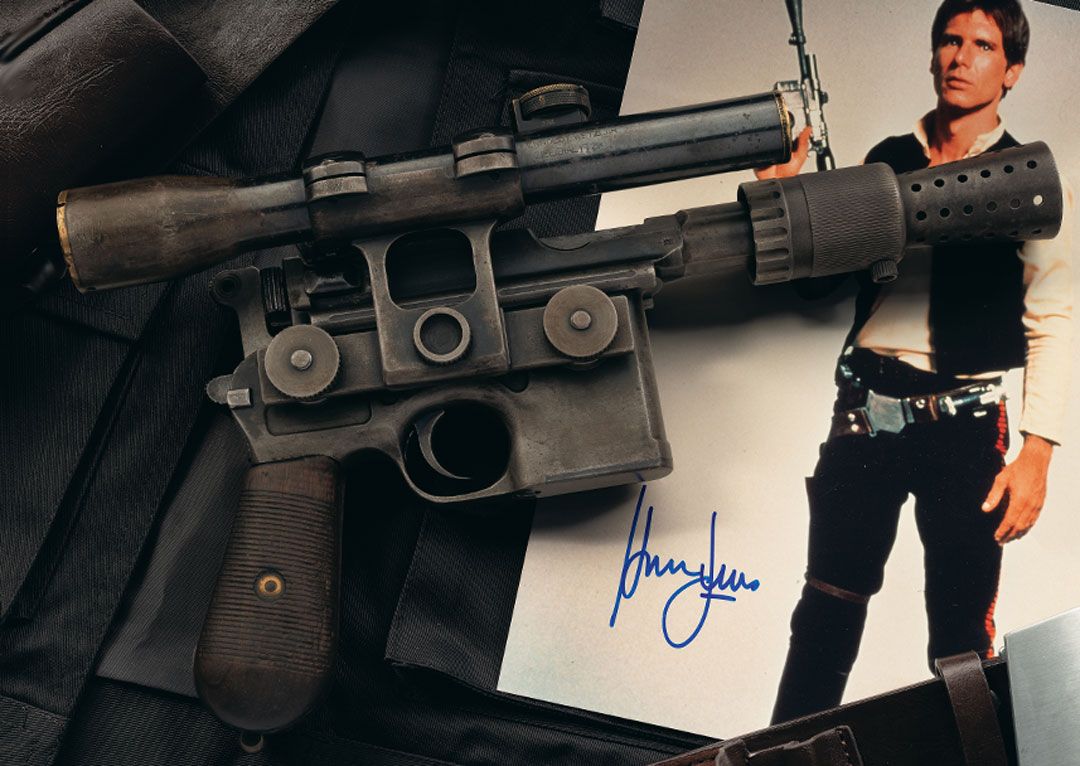 The only surviving Han Solo blaster in "Star Wars: A New Hope" led an out-of-this-world auction lineup.
Star Wars fans refer to Han Solo's blaster, one of the defining weapons in cinematic history, as the "Hero" prop from "A New Hope." Roger Christian, set decorator for "A New Hope," told Esquire magazine that he wanted Han Solo's blaster to look like a western gun. To achieve this "lived-in" look, the Mauser C96 broomhandle pistol that served as the base of Solo's blaster was modified with a World War 2-era scope and the muzzle from an airplane-mounted machine gun.
All three of the Han Solo DL-44 blasters created for the original "Star Wars" were previously considered missing and presumed lost forever, requiring new prop blasters to be built for "The Empire Strikes Back" and "Return of the Jedi." The sole surviving example of the original three used for filming led to a surge of worldwide interest and became one of Rock Island Auction's top guns to cross the podium in 2022.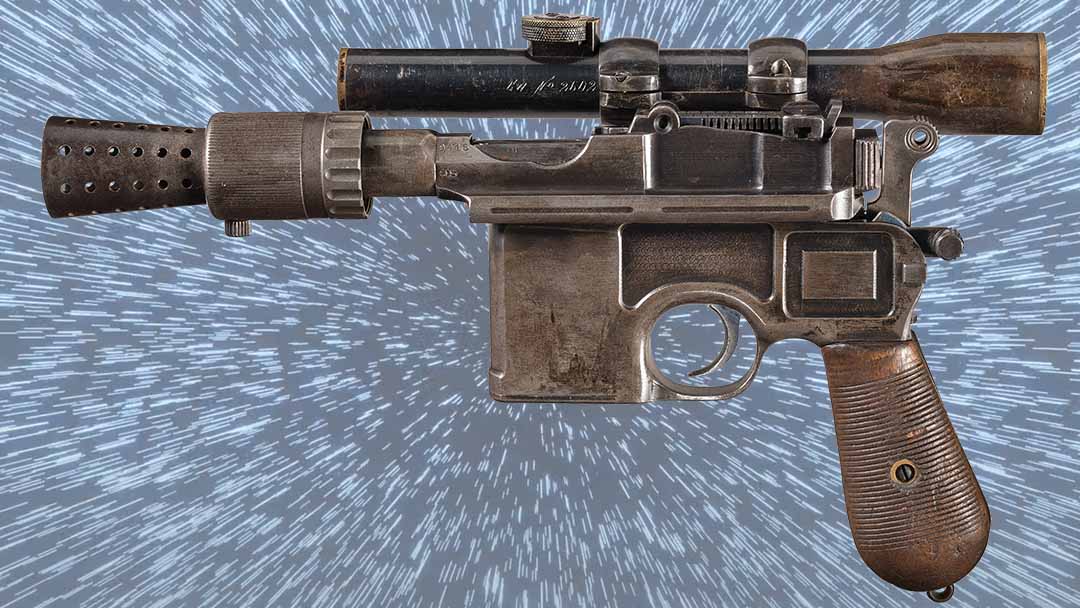 From a galaxy far, far away, the only surviving Han Solo blaster from "Star Wars: A New Hope".
1. Gen. Ulysses S. Grant's Cased Remington New Model Army Revolvers: $5,170,000
The man who won the Civil War was destined to command the highest spot on the list of top guns of 2022. Ulysses S. Grant's New Model Army Remington revolvers, presented to the Civil War general and eventual President of the United States, are an American treasure in the same lofty echelon as President Abraham Lincoln's engraved Henry Rifle or President George Washington's flintlock pistols. They were likely presented to General Grant after he captured Vicksburg on the Fourth of July in 1863 and thus secured the length of the Mississippi River for the Union.
Grant's Remingtons, numbered 1 and 2 are arguably the most significant firearms discovered from the Civil War. The exquisite revolvers had remained hidden from the modern world until their 2018 unveiling at the Las Vegas Antique Arms Show. Currently, these firearms constitute the most elaborate and historically significant known set of revolvers manufactured during the Civil War.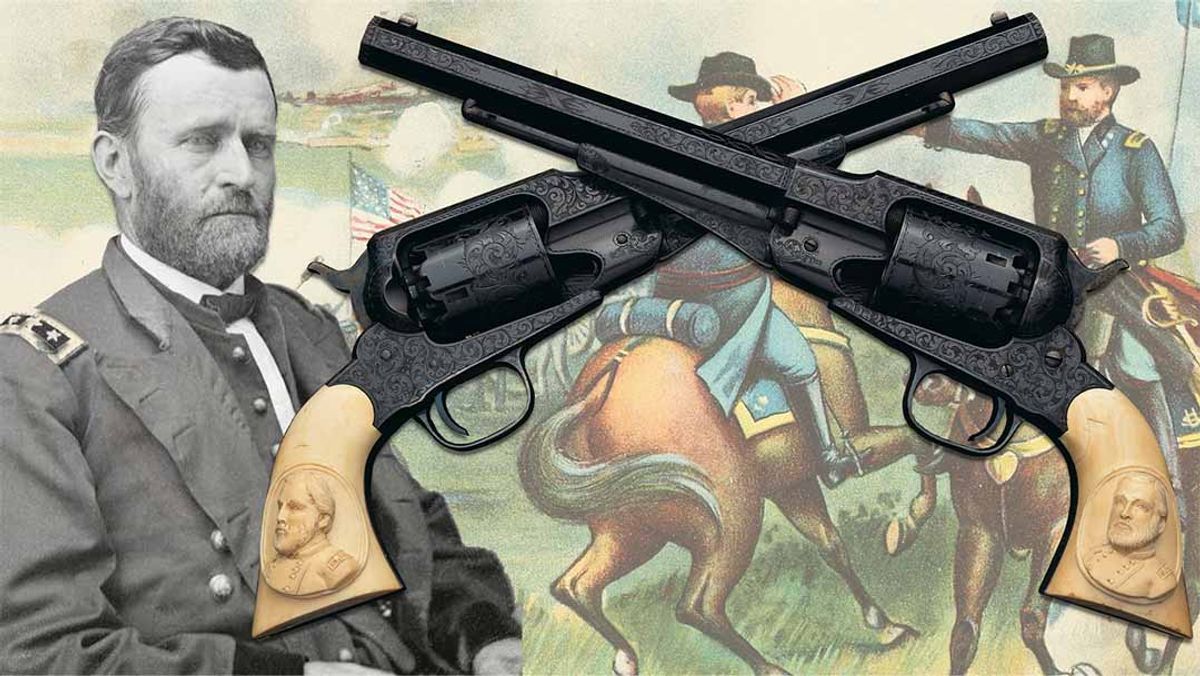 "Items owned by Grant are among the most desirable 19th-century American artifacts, particularly artifacts presented to, owned by, or used by General Grant during the Civil War," said Kevin Hogan, President of Rock Island Auction Company. "They're significant works of American art, a powerful piece of American history, and completely fresh to market. It's an incredibly exciting time to be a fine arms collector."
This historic set is covered with the artistry of L. D. Nimschke, one of the most renowned master engravers of the 19th century, and features grips carved with Grant's portrait. Grant's Remington revolvers represent the highest level of the fine arms collecting pursuit and found a price worthy of their legendary stature with the number one firearms auction house in the world, Rock Island Auction Company.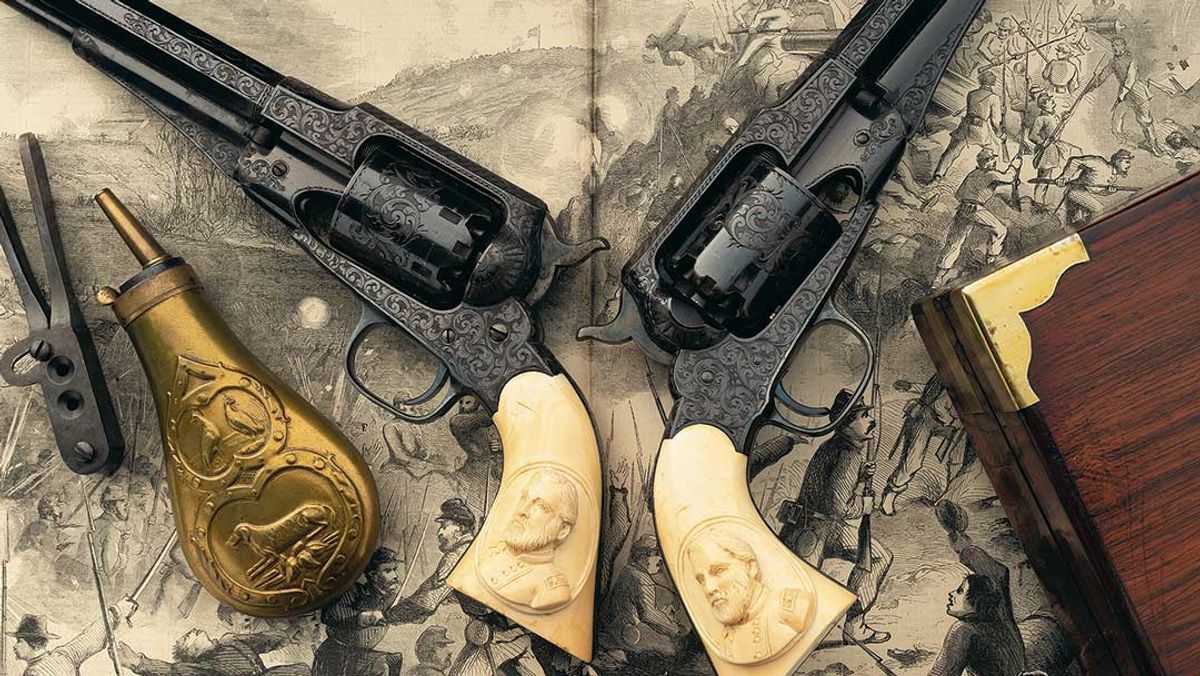 Grant's Remingtons: the most expensive guns ever sold at Rock Island Auction Company.
Top Guns of 2023?
2022 continued an amazing stretch of firearm sales at Rock Island Auction Company. The market for collectible firearms continues to soar and unearth new fresh-to-market treasures, which RIAC takes great pride in offering to its ever expanding clientele. Looking ahead, the next Premier Firearms Auction is May 13-15, 2023 and already features a fantastic slate of pinnacle firearms that will find their way to next year's top 10 list.
Every genre in the collectible arms field has seen explosive growth in recent years, from the legacy pieces featured here to the affordable antiques and modern classics for the everyday collector offered in Rock Island Auction Company's Sporting & Collector and Arms & Accessories Auction. Keep an eye out for more information on 2023's exciting slate of auction events and subscribe to the weekly Rock Island Auction newsletter to receive new gun blogs and gun videos on the finest firearms in the industry.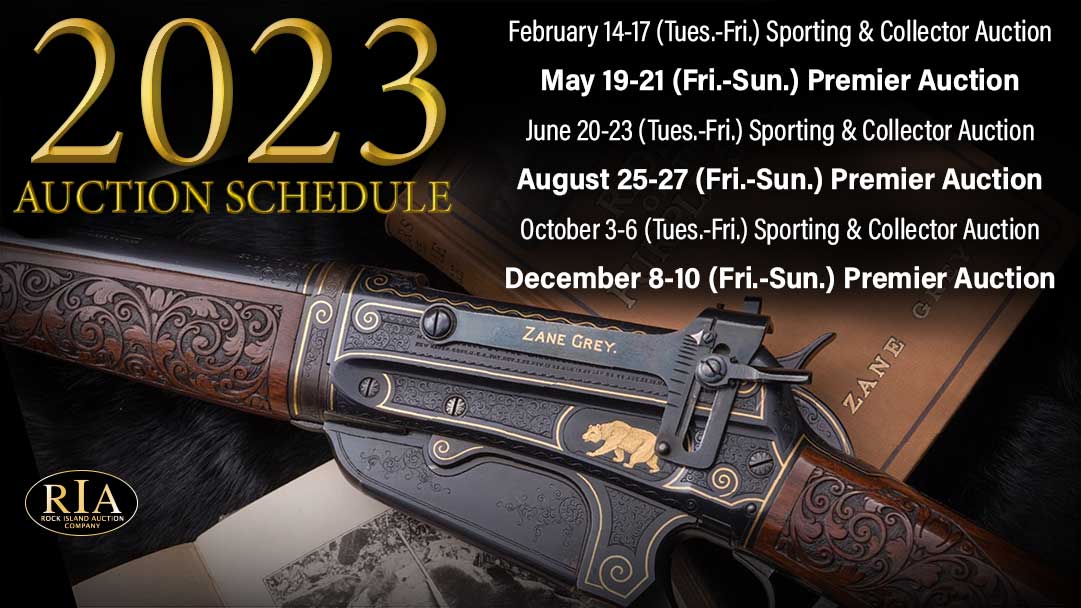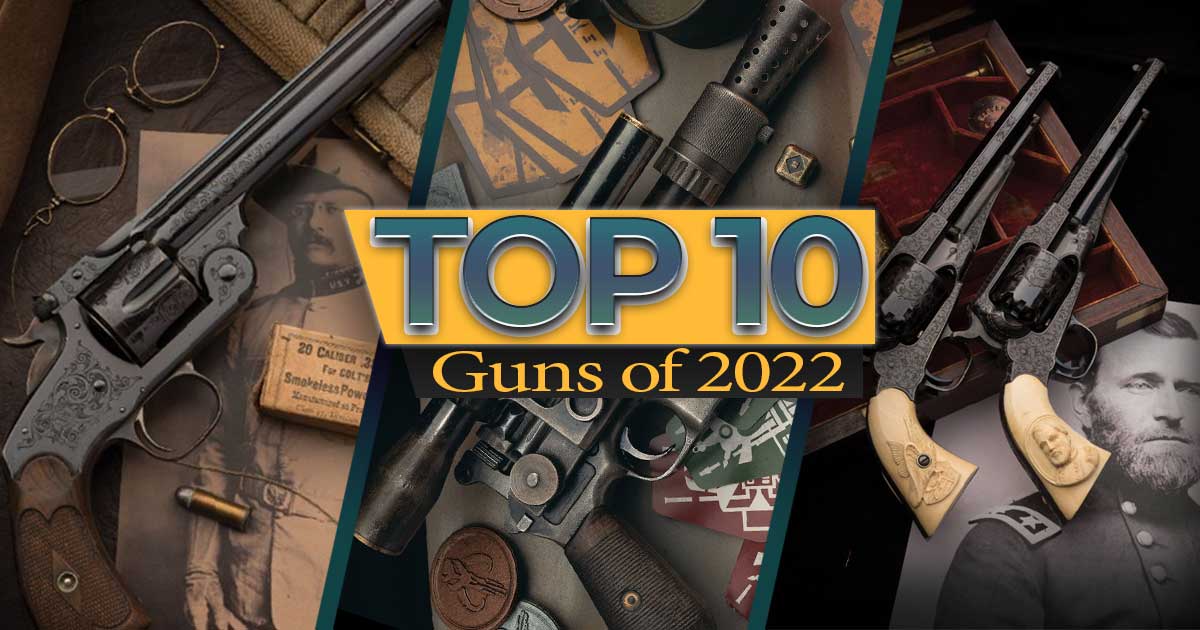 Rock Island Auction Company