If you love firearms, you probably have a mixed relationship with Hollywood given its penchant for using the wrong guns, not showing them being used in realistic or safe ways, and the film industry's frequent intrusive involvement in political discourse concerning firearms in America.
Hollywood's inconsistencies and anachronisms are especially evident when it comes to muzzleloading firearms. Don't get me started on the use of any generic "flintlock" in pirate movies and shows like Pirates of the Caribbean and Black Sails, or using a pair of "Queen Anne" style pistols as dueling pistols in the popular series Outlander. I will say, I enjoyed Black Sails and the ongoing 'Outlander' series. Both are fun pseudo-historical/alternative history adventures, but if they got the guns right, they'd be that much better. (Feel free to reach out to me for guidance, Starz!)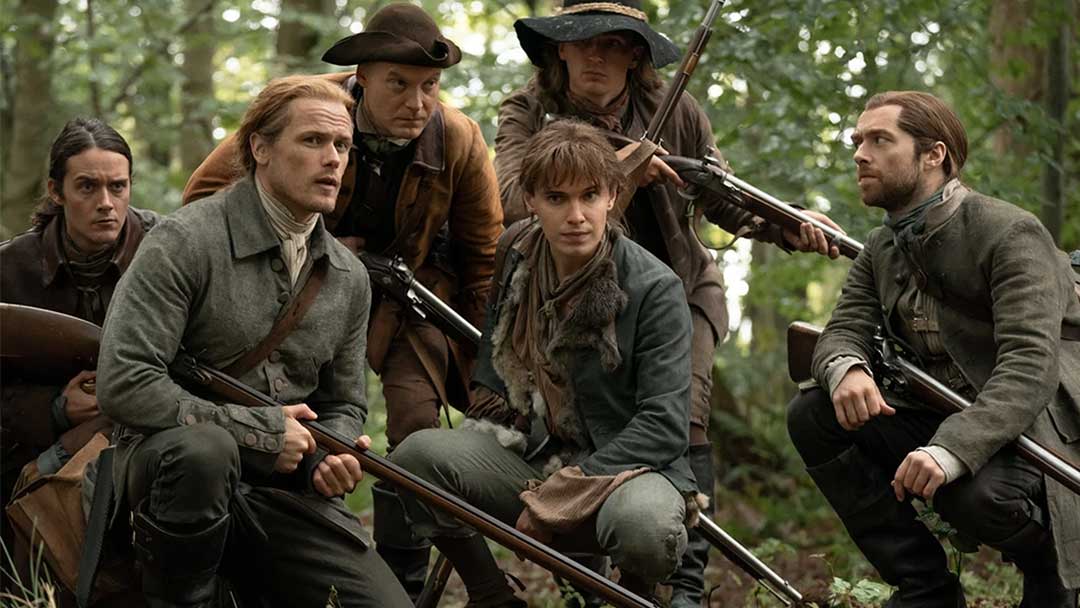 The popular 'Outlander' series on the Starz network takes place in the mid to late 18th century and features a number of interesting muzzleloaders.
All problems and politics aside, no one can deny Hollywood's influence on the gun industry and American gun culture. Would the Colt Single Action Army, Winchester Model 1873, etc. still be in production and incredibly popular if it wasn't for the westerns? They would likely have an incredible place in history and be loved by diehard gun collectors, but their fan base would not be nearly as broad. The same can be said for a number of firearms that got popularity boosts from movies and television.
Muzzleloaders on the Silver Screen
Films like Jeremiah Johnson and tv series featuring Davy Crockett, Daniel Boone, and other frontier figures have increased interest in traditional muzzleloading and American history, but many online have claimed Hollywood's and video games creators' obsession with modern firearms have been pushing out interest in traditional firearms. I'm not sure that is the case, as there have been some great movies, tv series, and video games over the last 20 or 30 years that have featured plenty of antique and muzzleloading firearms. Admittedly though, men like Davy Crockett, Kit Carson, and Daniel Boone aren't as frequently the heroes of modern cinema.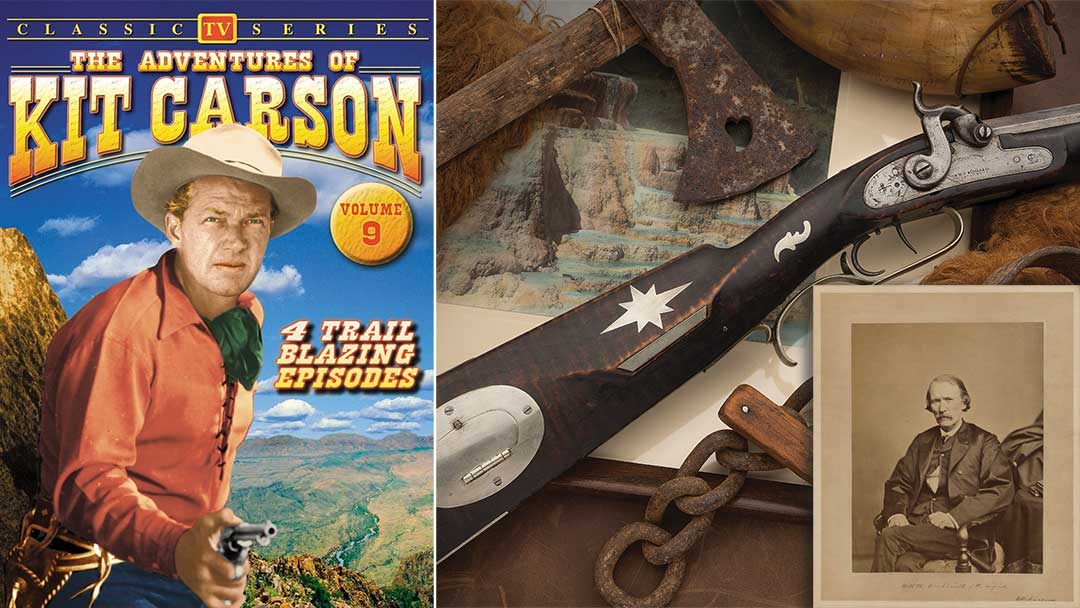 Hollywood's portrayal of frontier legends like Kit Carson is often drastically wrong, from appearance, era, and the type of firearms he would have carried. A historic presentation German silver mounted David Leonard Ohio percussion half-stock rifle inscribed to Kit Carson is available this May at RIAC.
Below are my top five movies with plenty of muzzleloading firearms in action that have come out within my lifetime along with some information on some of the guns used. Leave your top five in the comments below. Warning: spoilers ahead.
The Last of the Mohicans
Let's start off with a classic and what happens to be the first chronologically. First off, if you haven't read any of the books from James Fenimore Cooper's Leatherstocking Tales, I highly recommend you do. They are a lot of fun to read. I particularly liked The Deerslayer: The First War Path, a prequel to The Last of the Mohicans: A Narrative of 1757. As a film based on a novel set in the French and Indian War, 'The Last of the Mohicans' has a lot of gunplay.
The film's main hero, Hawkeye, is armed with a classic American longrifle/Kentucky rifle throughout the story. He's an exceptional shot, though sadly his rifle style isn't exactly period accurate.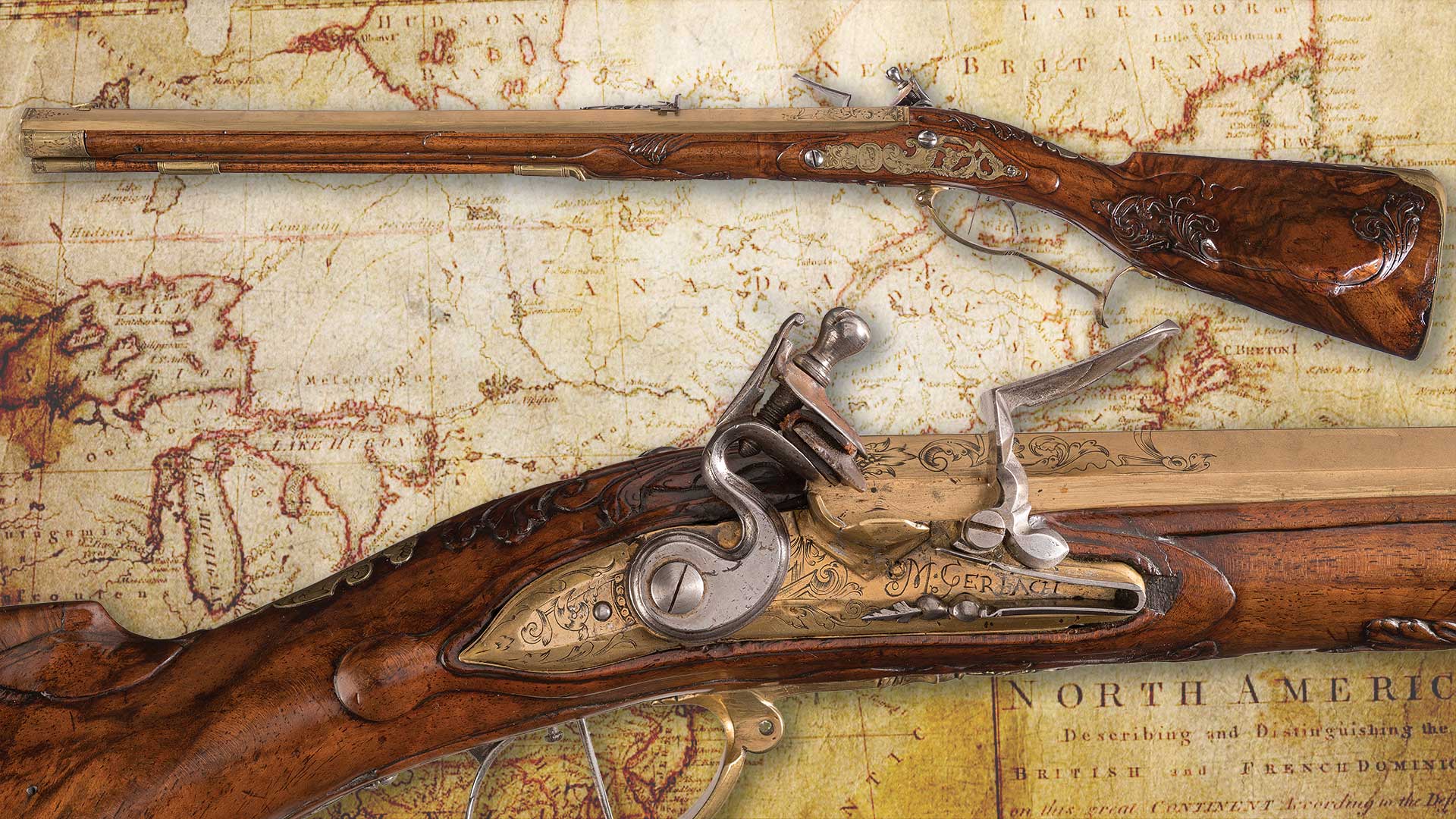 German Jaeger rifles, the ancestor to the American long rifles, have much shorter barrels than Hawkeye's "Killdeer." Available this May.
Hawkeye's famous "Killdeer" rifle was crafted for the film by contemporary gunmaker Wayne Watson. Jim Chambers, John Bivins, Bob Harn, and Mike Ehinger also sold rifles for candidates to be "Killdeer." Chambers' rifle was reported to have been used by Uncas in the film instead and is a more realistic rifle for the period.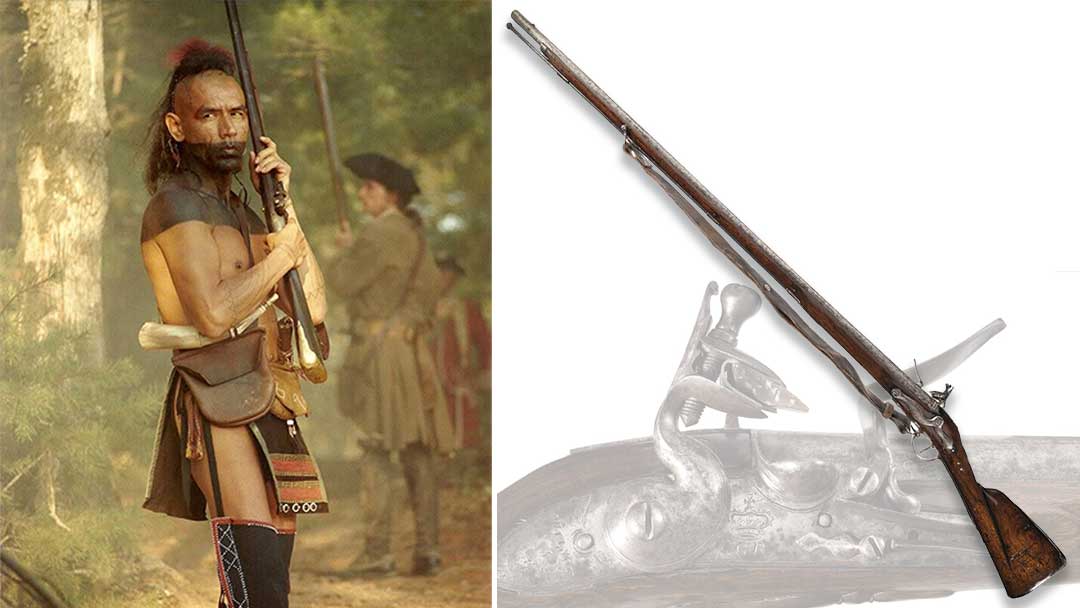 Wes Studi is great as the villain Magua. He has a Brown Bess musket.
The British troops and some of the Hurons and Mohicans have Brown Bess muskets, some of the Native Americans have trade guns, and the French have mostly Charleville muskets. There is even one scene that includes a very rarely seen flintlock hand mortar or grenade launcher, an interesting addition.
The Revenant
I was really excited about this film set in 1823. The story of Hugh Glass is one of the most intense tales of the fur trade. While the story and scenery for The Revenant stray far from the true story (it's based in part on the novel of the same name), it is a great tale of survival and revenge, and it is beautifully shot. Plus, there is some excellent action and a fair variety of flintlocks in the hands of a talented cast.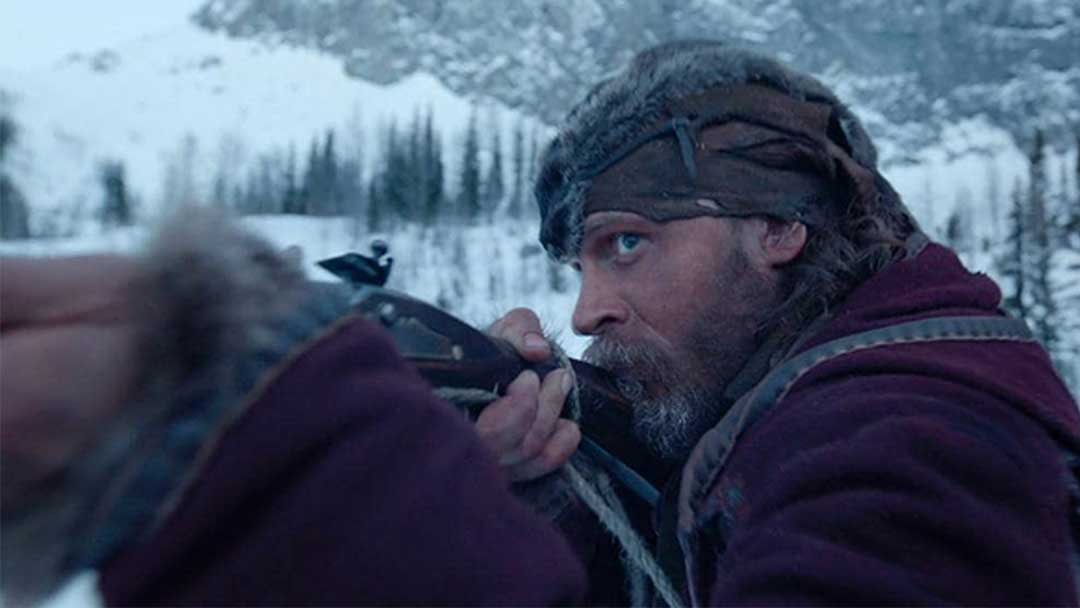 Hugh Glass' rifle in Tom Hardy's hands as the villain Fitzgerald.
Hugh Glass's rifle for the film was based on rifles by John Shuler of Bucks County, Pennsylvania (active c. 1800-1822), and built by Ron Luckenbill who actually made two identical rifles. The production company had them cut down to a shorter length. They are a realistic option for Hugh Glass to have had in 1823.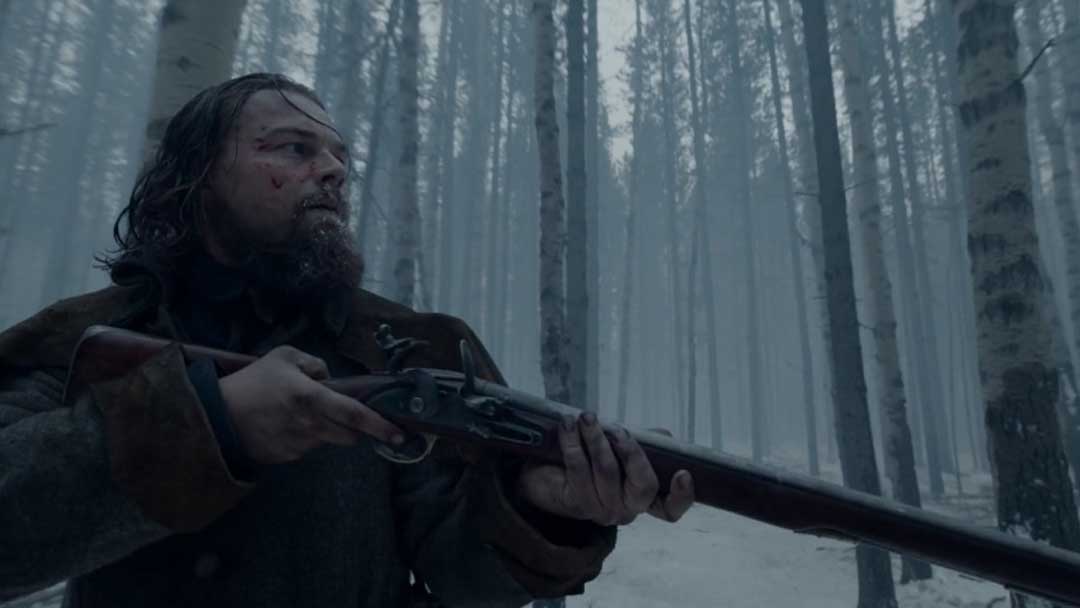 The side plate gives this short musket being used by Leonardo DiCaprio as Hugh Glass away as a Pedersoli Brown Bess Trade Gun.
Most of the other guns used in The Revenant appear to be muzzleloaders from Pedersoli. Glass and other characters in the film also use "Brown Bess Trade Guns" and "Indian Trade Muskets." While not accurate reproductions, they stand-in for the real North West Trade Guns of the fur trade. The pistol used by Glass is a "Kentucky Pistol."  Bridger has a "Frontier Rifle" or the similar "Blue Ridge." Again, not an exact replica of a period rifle but close enough for Hollywood. The other equipment used in the film is also well done including the use of "cow knee" lock covers to keep the rain out of their powder.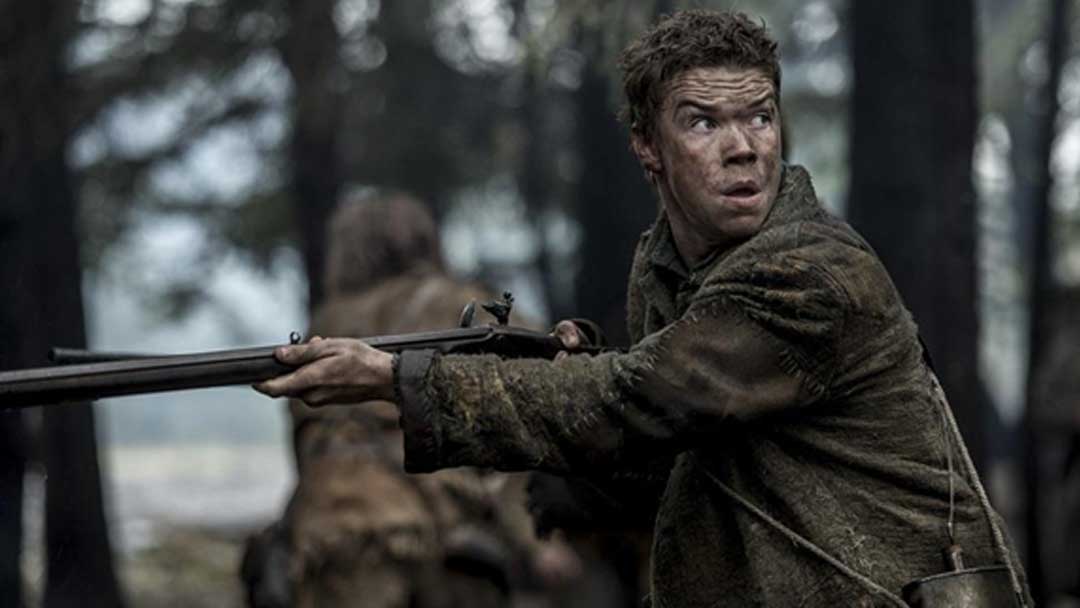 The single lock screw and profile of Jim Bridger's rifle indicates it is a Pedersoli Frontier or the Cabela's version called the Blue Ridge.
The Patriot
Alright, as a historian, The Patriot admittedly drives me nuts at times; between the incorrect battles, the ludicrous long-range pistol shot fired by Colonel Tavington, not making Benjamin Martin a slave owner (a fault even Mel Gibson has been vocal about), the severely negative portrayal of the British and Loyalists while the Patriots can basically do no wrong aside from some racism they quickly resolve, overplaying the role of American guerrilla tactics, etc. are all foolish oversights by the creators that threaten to shatter an audience's suspension of disbelief.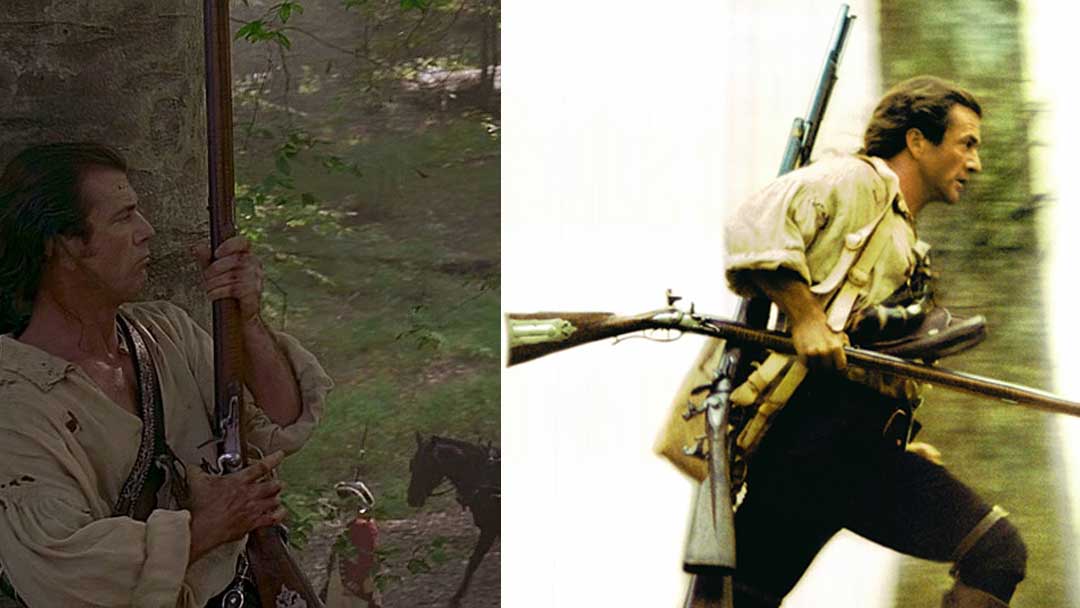 Quite the load out: the Frank House rifle plus two Brown Bess muskets it looks like. His two young sons are right behind him with another rifle and a Mike Brooks fowling piece in this scene.)
All that said, the movie is still a load of fun and has some excellent muzzleloading gunplay and some real-period tactics. The fact that the movie came out when I was still too young to know most of the major inaccuracies helps. The ambush scene towards the beginning is excellent, the final battle while a conglomeration of Cowpens and Guilford Courthouse is exciting, and who doesn't love a movie where the American Patriots emerge victorious over the most powerful empire on Earth and gain independence?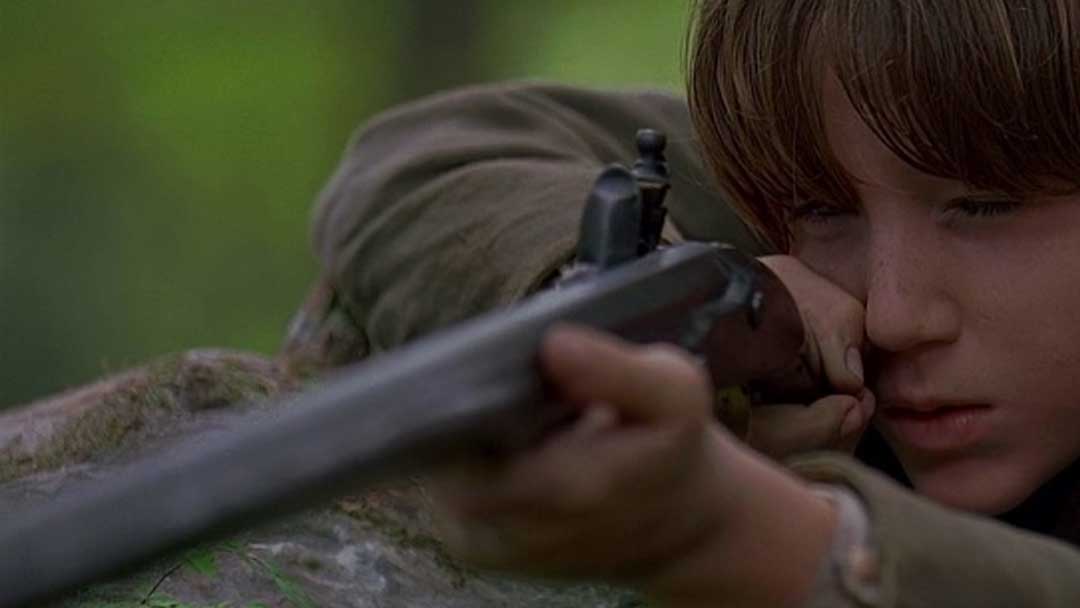 "Aim small, miss small." How many of us still think this when we are out shooting muzzleloaders?
Several of the patriot guns in the movie were by highly respected contemporary gunmaker Frank House who was hired to make and source guns for the film and to train the actors how to use them properly. One of the guns he picked for the film is an English fowler by Mike Brooks of Iowa. It is carried by Gabriel (portrayed by Heath Ledger) at the beginning of the film and then used by his brother Nathan in the famous ambush scene that leads to Gabriel's rescue, and again by Nathan later when hiding under the table at his aunt's house.
The militiamen also carry Charleville muskets and some other appropriate firearms for the period, and the British naturally mainly have Brown Bess muskets.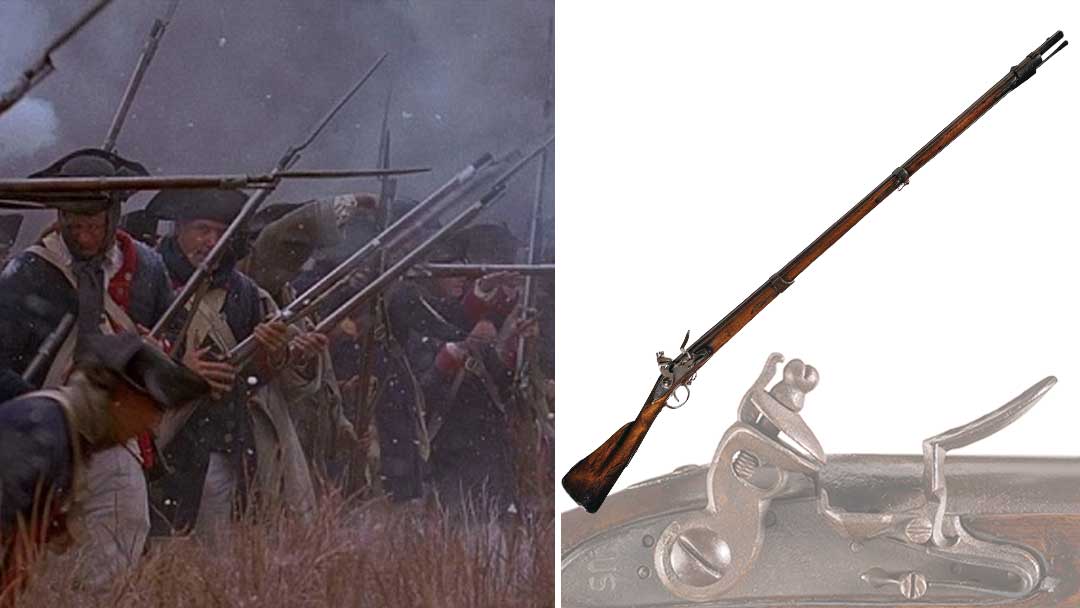 Desirable "US" surcharged Revolutionary War era French "Charleville" Model 1766 flintlock musket, available this May.
Free State of Jones
This movie got some flak from critics for being a "white savior" film, but it was a lot more than that if you watched it without trying to find something to complain about. For one, while Newton Knight is cast as the main character and hero, African American characters like Rachel and Moses are clearly heroes of the film, too, and are shown to be far from helpless.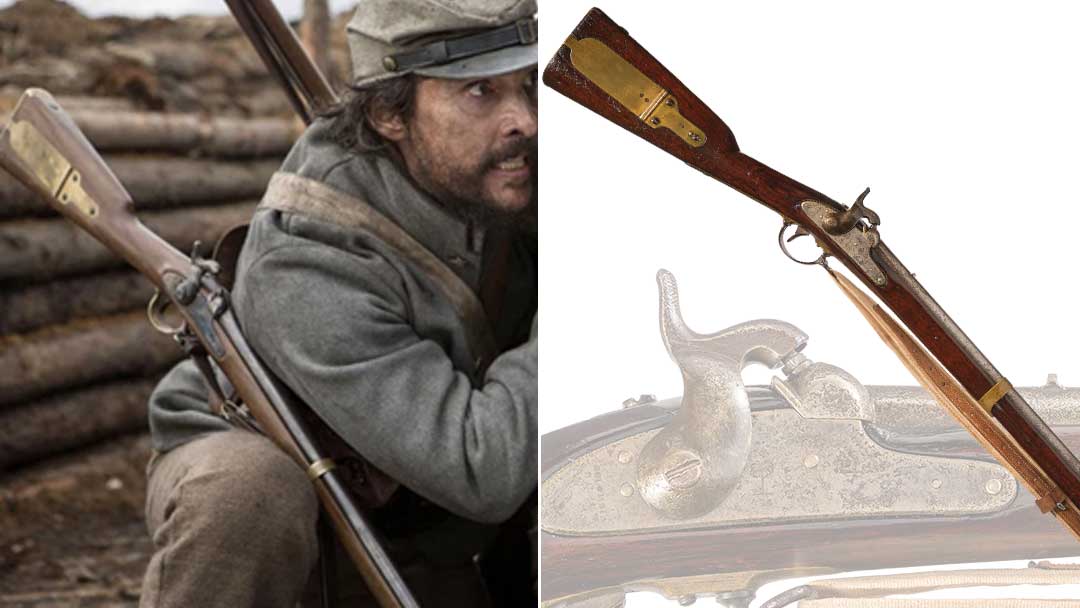 Early in the film we get a look at one of my favorite U.S. military rifles: the Model 1841 "Mississippi Rifle." Many of these rifles were used in the Civil War, often after being updated to .58 caliber and modified to take bayonets.
Plus, there are lots of muzzleloaders, and it's based on a compelling and relatively untold true story of a multi-racial force of southerners fighting against the Confederacy.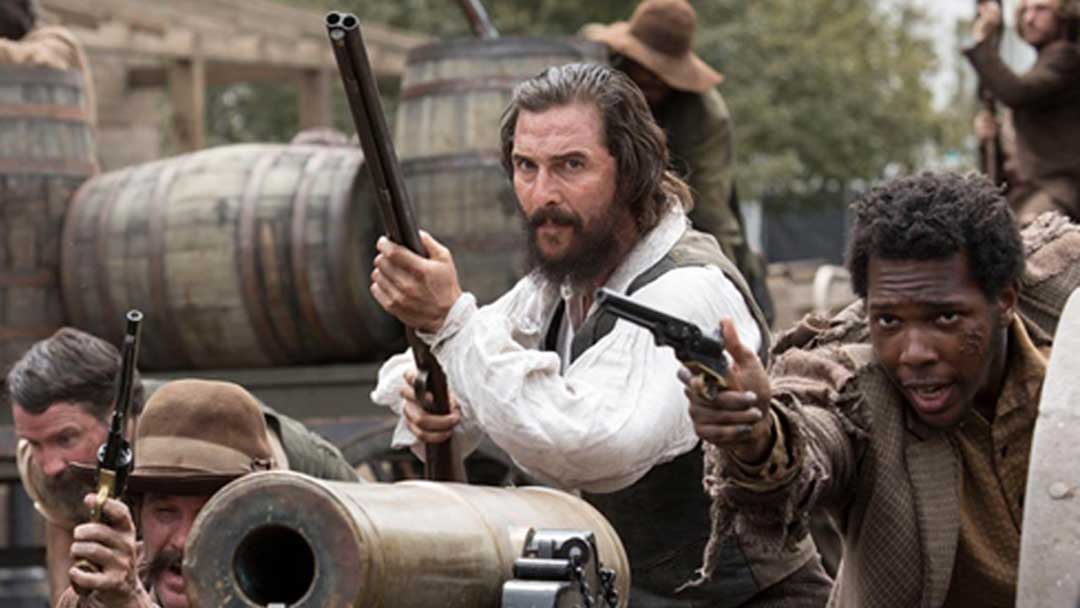 Knight's "army" and other civilians are mostly armed with Pedersoli double barrel percussion shotguns along with a few percussion rifle-muskets and cap and ball revolvers.
Sure, more movies like 'Harriet' should definitely be made to show more African American historical heroes, but this movie was a great story that showed a variety of people of different backgrounds coming together in defiance of the Confederate elite. What's not to love?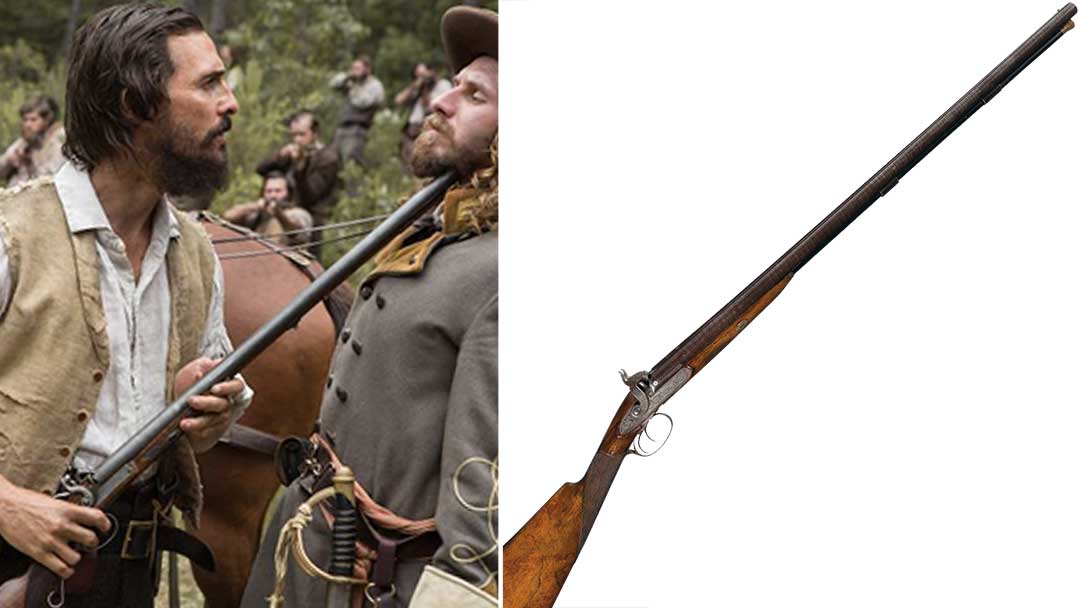 The shotgun used by Matthew McConaughey through much of the movie is a Pedersoli "Old English" model chosen based on Newton Knight's real-life reputation for being handy with a scatter gun. The image on the right is a historic example that's available this May.
The Alamo
I actually didn't watch this movie for the first time until last year because it was one of the biggest box office flops of all time when it came out while I was in high school. But it was on one night during the early days of the pandemic when we were cooped up at home, so I gave it a shot. I liked it a lot more than the classic version by John Wayne thanks to its better acting, better guns, and a more realistic telling of the story.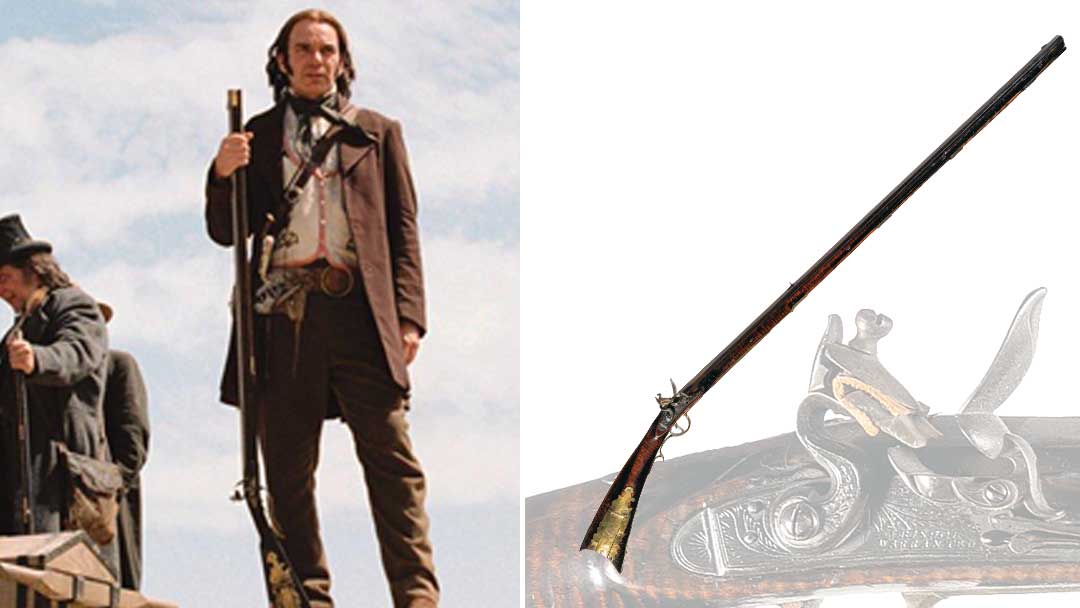 The rifle used by Billy Bob Thorton as Davy Crockett was made by Mike Branson, similar to this historic Jacob Dickert Lancaster flintlock American long rifle (right) available this May.
It was an entertaining movie for sure. One of the main criticisms I recall hearing was that the movie gets slow at times (which would be accurate for the events), but I didn't find myself bored, and the large number of muzzleloading firearms used throughout the movie definitely kept my attention.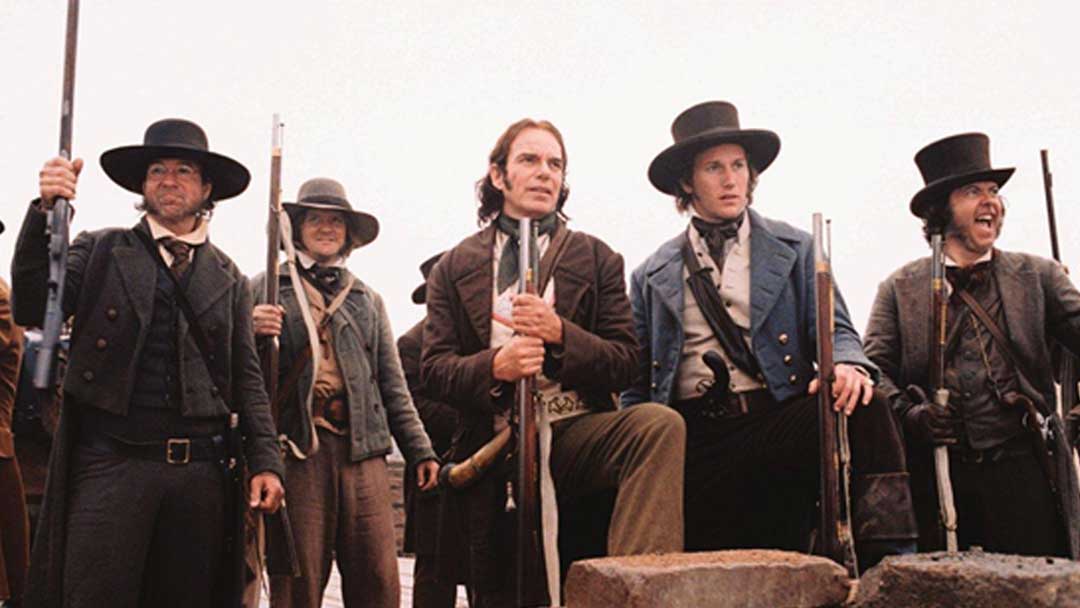 Brown Bess muskets are widely used by both sides throughout the film as seen in this image. Patrick Wilson as William B. Travis and Dennis Quade as Sam Houston have "Hawken" pistols by Bob Lienemann and Joe Corley tucked in their belts at different points in the film.
Many of the accouterments in the film were made by contemporary artisan Ken Scott, and muzzleloaders by Mike Branson, Jack Brooks, Joe Corley, and Bob Lienemann are used throughout. Some of the actors in the film are clearly familiar and comfortable with flintlocks, and the gunplay throughout is exciting, including in the Battle of San Jacinto at the end of the film.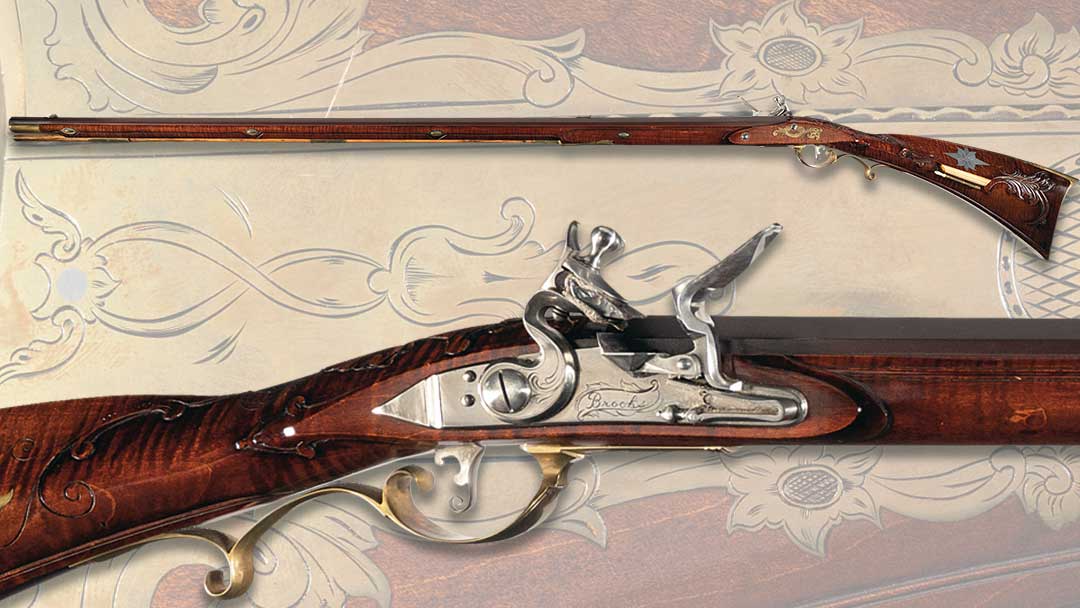 'The Alamo' producers reached out to contemporary flintlock gunmakers like Jack S. Brooks to design the long rifles for the film. This engraved, silver inlaid, carved Jack S. Brooks rifle is available this May..
Muzzleloaders in Movies
What did I leave off the list that you would have included? Let me know. I'm always happy to see another movie or TV series with muzzleloaders, especially if they actually do a good job with weapon selection and use.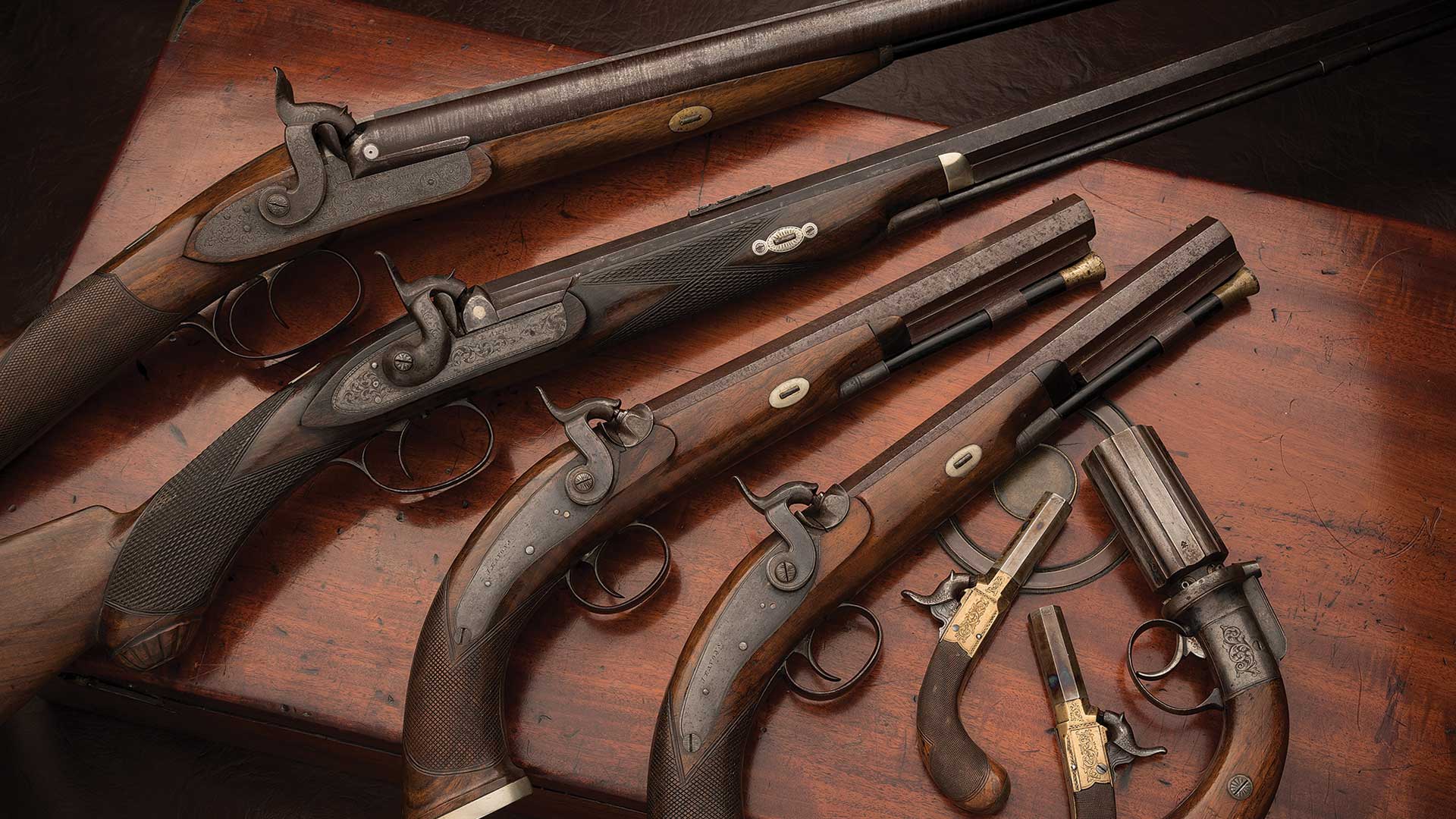 Incredibly scarce cased seven-piece garniture of engraved English percussion firearms. Available this May.
You can find a variety of original period muzzleloaders in our Premier and Sporting & Collector auctions throughout the year, along with a selection of reproduction muzzleloaders in our Arms & Accessories Day sales. Custom-built rifles, both built from kits and the plank builds, are primarily found in our Sporting & Collector sales, but you'll also find some examples in our Premier Firearms sales, including guns from the same men that supplied some of the films in my list.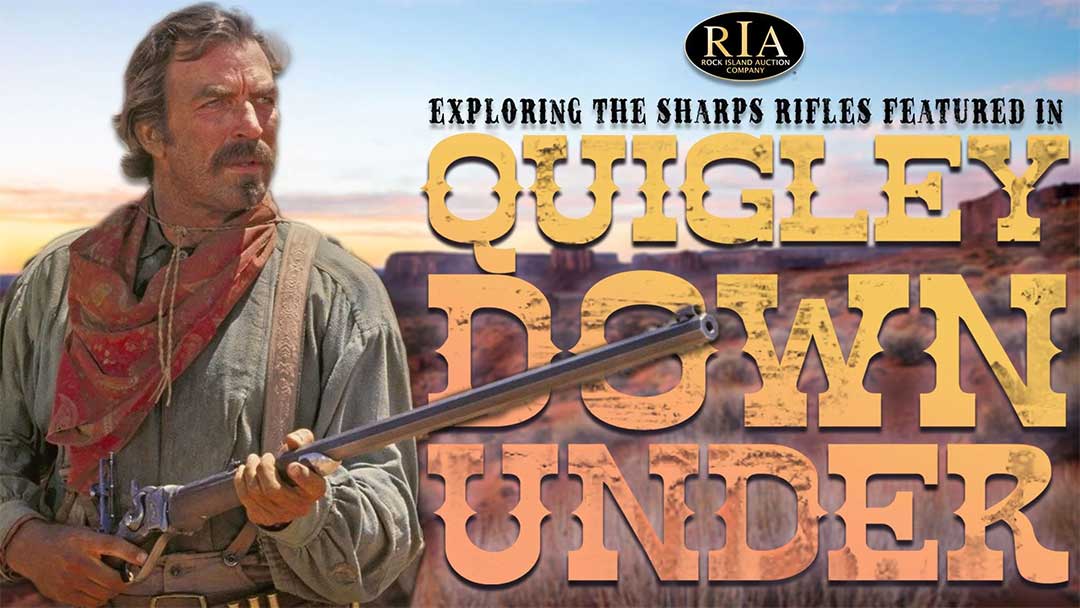 The author examines another famous silver screen gun, the Sharps rifle in 'Quigley Down Under.
Sources:
https://www.bgdailynews.com/news/woodbury-man-makes-his-mark-in-patriot/article_5b2d1b61-b85d-54a0-8132-4f7881ca4df8.html
https://americanshootingjournal.com/exclusive-interview-with-frank-and-lally-house/
https://americanlongrifles.org/forum/index.php?topic=63048.0
https://americanfrontierart.blogspot.com/p/crockett-pouch-for-movie-alamo.html
https://americanlongrifles.org/forum/index.php?topic=67933.msg681327#msg681327
https://www.thefreelibrary.com/The+most+famous+rifle+of+Texas!+Recreating+Colonel+Crockett%27s+rifle…-a0110470560
https://americanlongrifles.org/forum/index.php?topic=67933.0
http://www.recreatinghistory.com/?page_id=1132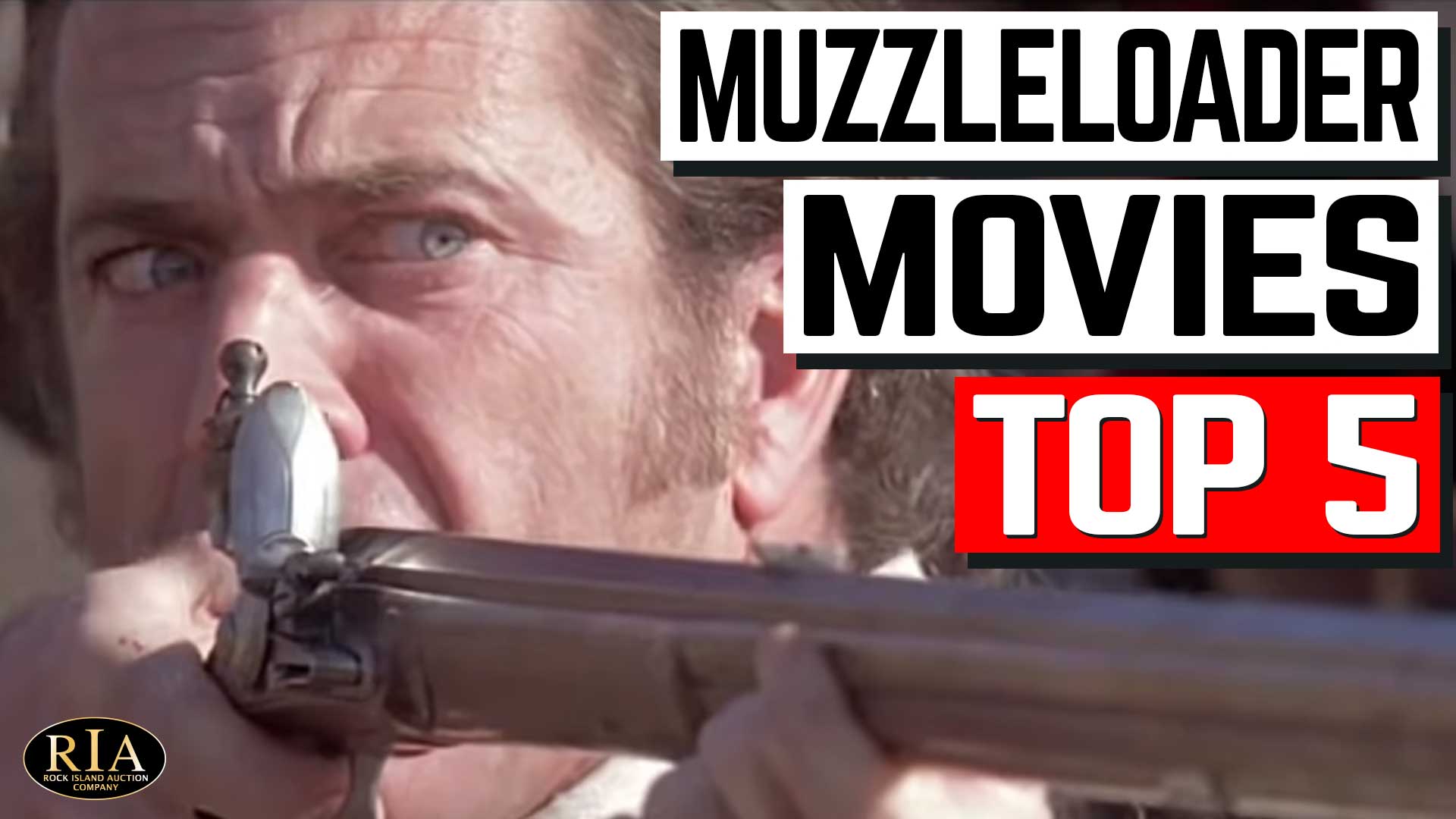 Rock Island Auction Company