Birmingham gun maker William Tranter manufactured a double action revolver that featured an early version with double triggers that were considered second only to the guns of Robert Adams in quality and accuracy among British gun manufacturers, with some finding their way into Confederate hands.
Tranter revolvers found some popularity in Australia where they were carried by Bushrangers (a.k.a. outlaws) and adventurers alike, and a cased double action revolver presented to Confederate General J.E.B. Stuart by his chief of staff is in the Smithsonian Institution. Several cased Tranter double action revolvers achieved fine realized prices in the recently completed Premier Auction while several examples of this fascinating British percussion revolver will be on offer in Rock Island Auction Company's upcoming Sporting & Collector Auction, June 21-23.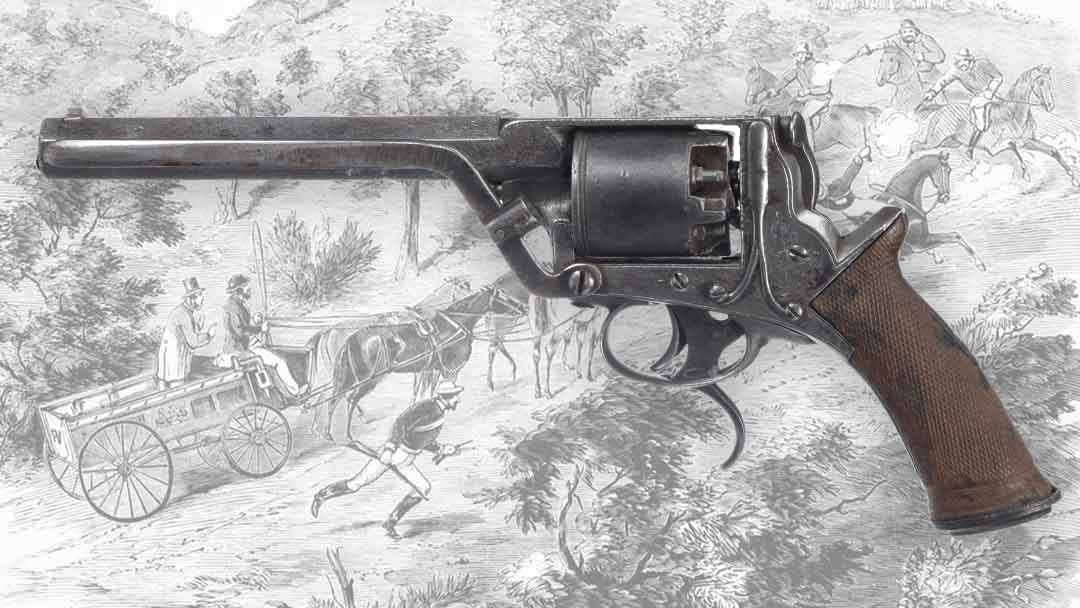 The extended trigger located below the trigger guard makes this early double action Tranter revolver iconic. This firearm will be available in the June 21-23 Sporting & Collector Auction.
William Tranter, Gun Maker
The son of a blacksmith, Tranter was born in 1816, the oldest boy among nine children. He apprenticed with a Birmingham gunsmith in 1830 at the age of 14 and stayed with the business until 1839 when he bought out another gun maker's business thanks to a small inheritance from an uncle.
Tranter earned his first patent in 1849 for a pepperbox mechanism, followed by a "self-cocking" mechanism for a revolver in 1853. Tranter called the self-cocking mechanism his "hesitating mechanism." By that same year, Tranter's company had made 8,000 of the extremely popular Adams revolvers on license and had a facility with shops, sheds, and steam machinery.
Tranter secured the first rimfire revolver patent in England in 1863, the same year he completed construction on a new factory called "The Tranter Gun and Pistol Factory" in Birmingham that produced 20 different cartridge revolvers and pistols of his own designs, from his early double trigger guns to later single trigger guns with a spur on the hammer. He had a government contract to manufacture Snider rifles and also contract manufactured for other companies that didn't have the production facilities.
Tranter's company also made percussion revolving rifles, and as a founder-shareholder of The Birmingham Small Arms Company Limited and member of the Birmingham Small Arms Trade Association, his connections kept his factory busy.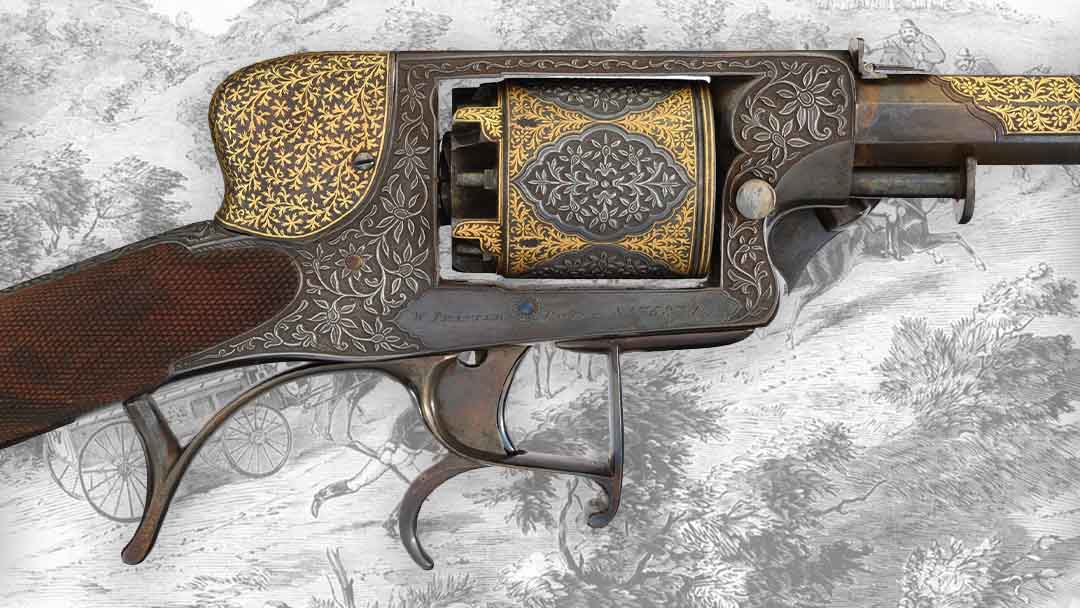 This extremely rare revolving rifle is a variation of William Tranter's third model double trigger design and has his patented loading lever fitted via a screw on the front of the frame on the left. it features gold koftgari designs in three panels on the barrel, around the cylinder, the hammer shroud, the top strap, and the tang of the buttplate and has relief chiseled floral scroll patterns on the barrel, cylinder, frame, and buttplate heightened with silver. It crossed the podium for $32,313 in Rock Island Auction Company's recently completed May Premier Auction.
Tranter won a government contract to make solid frame .450 caliber center fire revolvers for the British Army in 1878. He retired in 1885 after filing 24 patent applications in his career. William Tranter died in 1890 at the age of 73, and by the turn of the century, Tranter's factory, located on four acres, would no longer be a gun making facility but be used to produce motor vehicle tires.
Tranter Revolver, a Double Action Revolver Design
Tranter's early double action percussion revolvers, first made in about 1856, were manufactured using Robert Adams' solid one-piece frame and barrel machined from a single forging while adding Tranter's double action improvements. His self-cocking system for the double action revolver included two triggers.
Tranter extended a trigger through a slot cut in the trigger guard. By pulling the extended trigger, the gun came to full cock and could be fired as a single action using the front trigger, and when both the triggers are pulled simultaneously the gun is fired through the double action.
One critic of the double action said, "nobody can be expected to play the cornet-a̍-piston in the midst of a hand-to-hand tussle." However, users found the Tranter revolver's action effective with a rate of fire that matched the Adams and better accuracy than a Colt single action revolver.
This cased Tranter revolver is dated to the 1850s. The case contains several bullets, a cap tin, lubricant tin, mold, screwdriver, nipple wrench, small bag shaped flask, cleaning rod, oiler, and an 1861 half penny.
Tranter revolvers had bore diameters of 120 (.338 caliber), 80 (.380 caliber), 54 (.442 caliber), 38 (.506 caliber, and 24 (.577 caliber). The double action revolvers were also offered in multiple barrel lengths, from 6 3/4 inches to 3 3/4 inches. The gun maker manufactured Adams revolver frames under license through 1865. Having the manufacturing capacity, Tranter continued to make the frame after the patent expired that year. He also made a version of the Beaumont-Adams revolver that was referred to as the Tranter/Adams/Kerr revolver.
The double action revolvers were referred to by model number based on the type of loading lever they had. The bullet had to be rammed into the cylinder with some force, requiring the loading lever. Model 1's loading lever was unattached. The Model 2 had a loading lever that attached by a hook on the barrel. The loading lever on the Model 3 was attached by a screw to the barrel.
Tranter went to a single trigger – dubbed the Model 4 — after the adoption of the Beaumont-Adams by the British government in 1856. The gun manufacturer couldn't stop manufacturing the double trigger revolvers because of their popularity, and Tranter continued to manufacture both types through 1863.
The Model 1879 Tranter revolver was a sturdy, hinged-framed, self-extracting gun that was chambered in .450 center fire. A thumb-activated pivoted hook locked the barrel and frame together. It also had a second lock as a notch on the hammer that latched when it fell upon firing.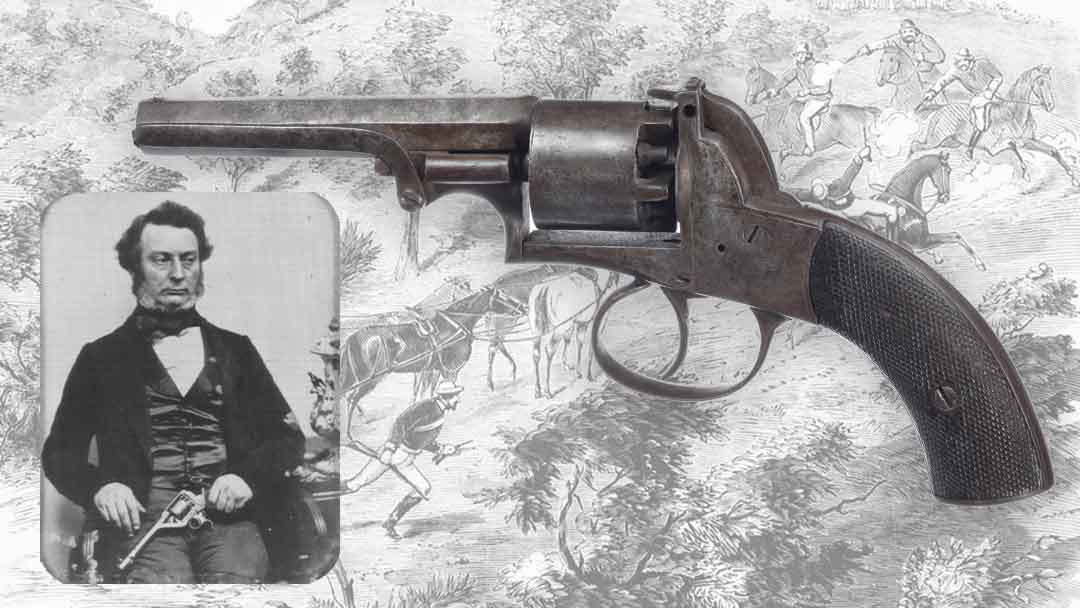 This London-proofed Tranter style revolver features light floral scroll engraving, and is part of a lot in the June 21-23 Sporting & Collector Auction that includes a Tranter revolver. At left is gun maker William Tranter holding one of his namesake revolvers.
Who used the Tranter Revolver?
The short answer to who used the Tranter revolver is Confederates as well as Australian outlaws and explorers.
The Tranter revolver found its way into Confederate hands during the Civil War though it wasn't considered a primary handgun for the Confederacy and Tranter had no contract with the Confederate government. Hyde and Goodrich, of New Orleans, imported the double action revolvers before the war started, and Tranter revolvers were also imported on a limited basis by other southern firms.
One firm in Columbia, S.C., advertised in the Richmond Dispatch on March 10, 1863 about the recent arrival of six "Tranters' fine revolving pistols, 80 and 120 bore, price $220 each." By comparison, the United States Ordnance Department paid $17.69 per gun for a Colt Model 1860 Army revolver. A civilian Model 1860 cost $20 – pricey at the time, but that price dropped to $14.50 by 1865, the year the Civil War ended.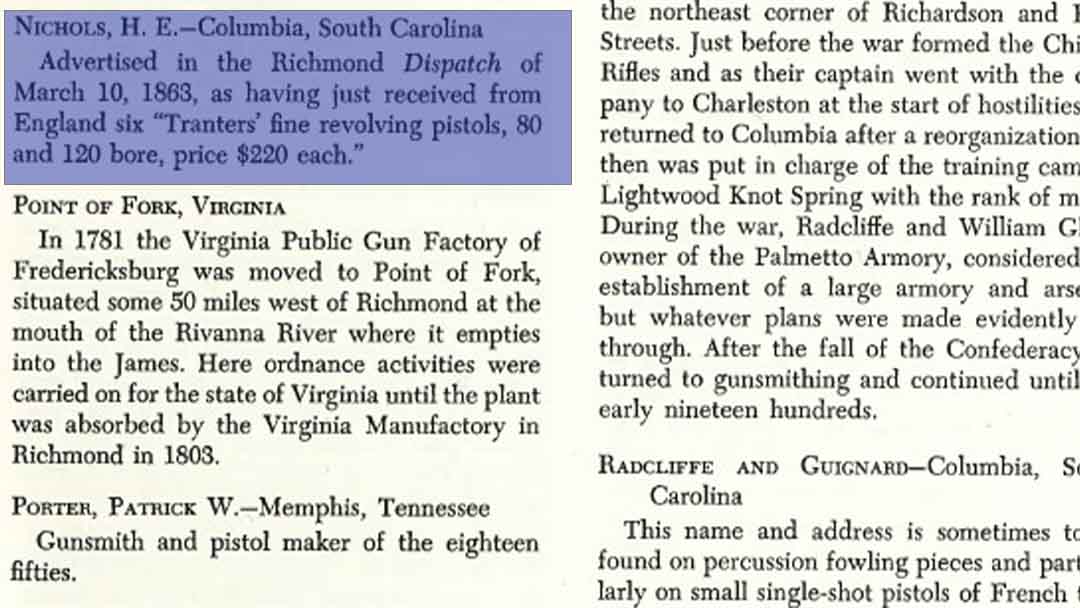 This screenshot of "Confederate Handguns" by William A. Albaugh, Hugh Benet Jr., and Edward N. Simmons, quotes the Richmond Dispatch advertisement pricing a Tranter revolver at $220. A civilian model of the Colt Model 1860 was about $20 during the American Civil War, dropping to $14.50 by 1865.
A Tranter revolver presented to Confederate General J.E.B. Stuart is part of the collection of the Smithsonian Institute. The double action revolver was presented shortly after the Battle of Chancellorsville to Stuart by Major Heroes Von Borcke, a Prussian officer who served as his chief of staff.
In the Land Down Under, both sides of the law used Tranter revolvers. In the 1860s, the New South Wales Police issued Tranter revolvers and revolving rifles. A number of bushrangers – the Australian term for bandits – carried Tranter's double action revolver, including Ben Hall, a popular outlaw whose gang was known for its generosity and for riding stolen race horses that could outrun the police horses.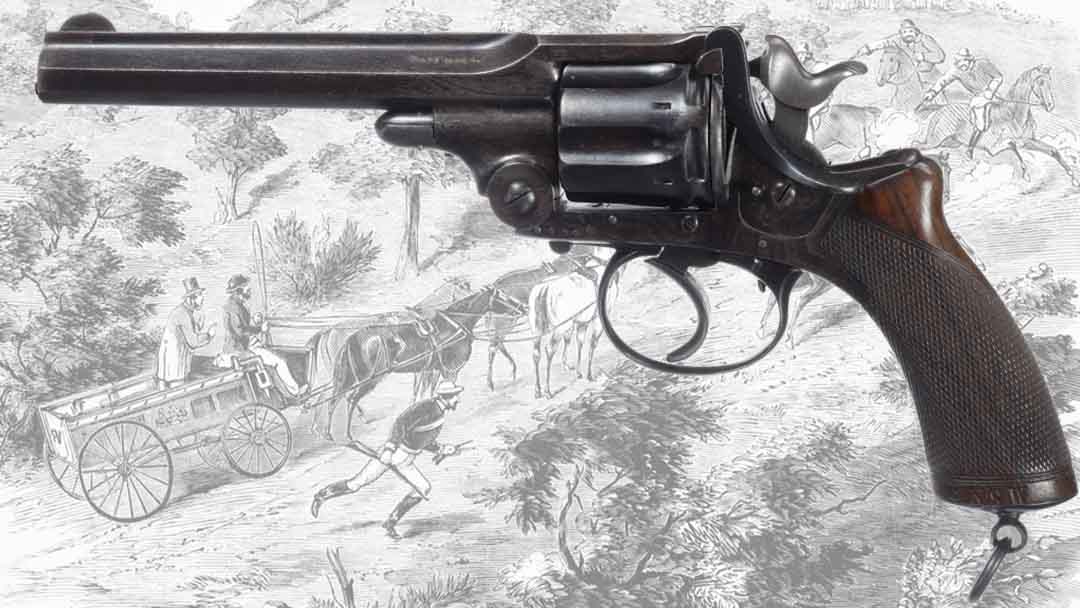 This Tranter revolver is a Model 1879 Top Break double action revolver. It is stamped "BNSW" (Bank of New South Wales) on the bottom edge of either side of the checkered walnut grip. This gun was owned by author Ron Stewart who wrote "The Firearms of William Tranter Birmingham Gunmaker" and is featured in the book.
In one anecdote about Hall and his gang, they rode into the New South Wales town of Bathurst to visit the gun shop and see the latest Tranter offerings. The gun smith replied that they had none but he offered the Colt handguns he had. The outlaws told him the Tranter revolvers they carried were better and left.
Explorer Robert O'Hara Burke who traversed the interior of Australia from south to north, carried Tranter revolvers given to him when he left the Victoria police, and the brothers Alexander and Frank Lacelles Jardine who explored along the northeast coast in their 1864 expedition, fought off hundreds of natives thanks in part of their Tranter revolvers.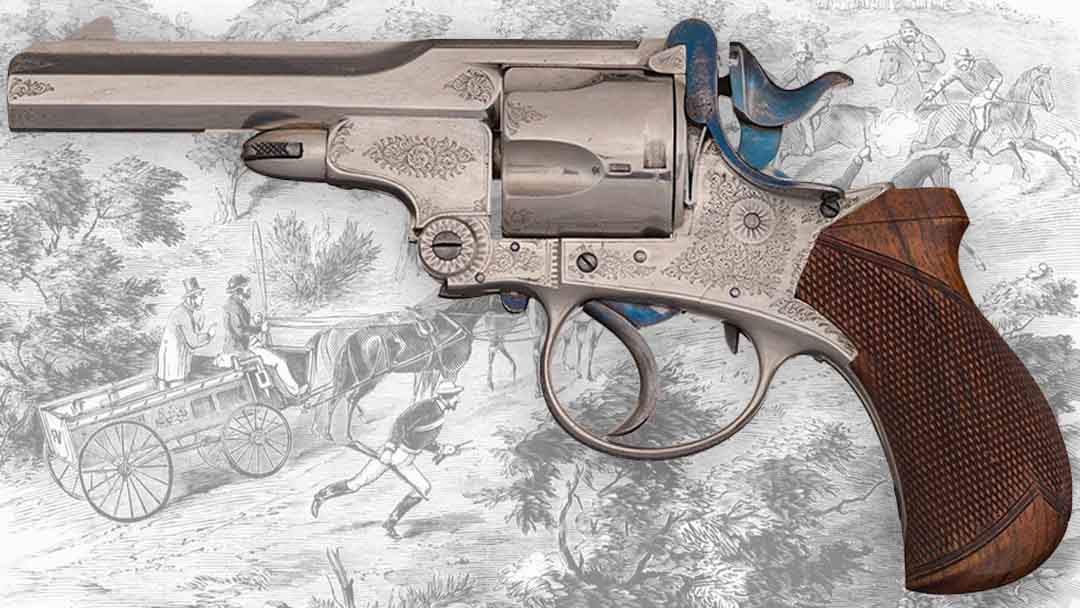 This Tranter Model 1879 double action revolver was made for William Pinkerton, the son of Allan Pinkerton, the founder of the Pinkerton Detective Agency. It sold at Rock Island Auction Company in 2018 for $80,500.
Scottish-born Allan Pinkerton, who founded the Pinkerton Detective Agency, also carried Tranter revolvers and armed his men with them. In 2018, Rock Island Auction Company sold a double action revolver made by Thomas Tranter that was given to William A. Pinkerton. William Pinkerton along with his brother Robert took over the agency after their father's death.
Tranter Revolver for Sale
The Tranter revolver in its multiple variations was known as a well-made, accurate gun with its unique two-trigger design overseen by William Tranter, the Birmingham gun maker who was highly influential in British gun manufacturing. Rock Island Auction's June 21-23 Sporting & Collector Auction offers several opportunities at varying price points for collectors looking to acquire these interesting and noteworthy firearms.
Sources:
The Revolver 1865-1888, by A.W. F. Taylerson
English Pistols and Revolvers, by John Nigel George
The Firearms Technology Museum
Wheelgun Wednesday: A look at the Tranter, by The Firearms Blog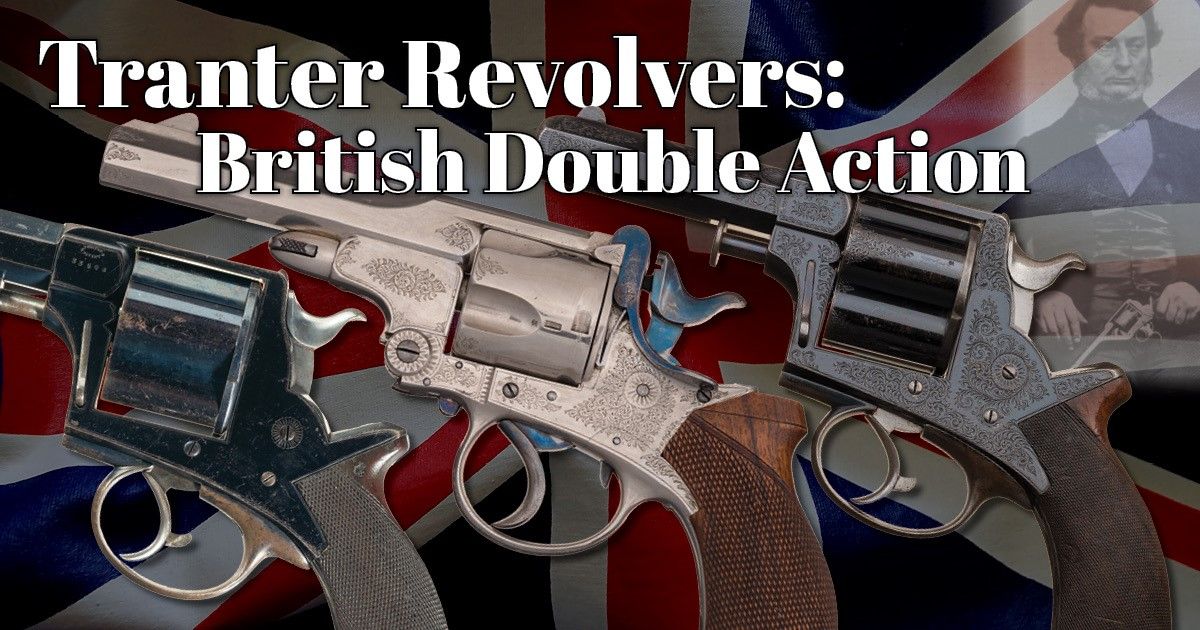 Rock Island Auction Company