Rock Island Auction Company's May Premier Auction, with a record-setting sale of a pair of revolvers owned by Ulysses S. Grant,  realized $28.2 million, the second best total in company history.
With eye-popping results from its Premier Auctions, Rock Island Auction set an industry record of $121 million in sales in 2021. The company's trio of Premier Auctions took in $30 million (May), $24 million (September), and $25.2 million (December), respectively, and the first of 2022 stands proudly near the top.
The results of last weekend's auction show what has long been known by collectors, that Rock Island Auction Company is where you want to consign and where you will find the finest firearms available. The rarified results makes one think the August and December Premier auctions will follow the same remarkable path.
Grant's Remington New Model Army revolvers, only unveiled at the 2018 Las Vegas Antique Arms Show after being hidden away from the public for a century, sold for $5.17 million on the opening day of the auction, shattering Rock Island Auction Company's previous high sale of $2.875 million set in December 2021 for a garniture of six arms presented to Napoleon Bonaparte.
The lineup of historic and modern firearms and militaria for the auction was loaded, from the medals of World War II heroes to finely conditioned Confederate Civil War pistols, and intricately engraved shotguns, from ever-popular Class III items to matchlocks. As always the Colt pistols and Winchester long guns were enough to awe the most eager and veteran collectors with rare models, gold inlays, and stunning conditions.
May 12 Preview Day
Entering RIAC's Preview Hall ahead of a Premier Auction is like walking into the finest firearms museum, where all the items on offer are on display and available for close examination. Along with Grant's pistols, a Lot Five Colt Single Action Army documented as a battlefield pickup from the Little Bighorn and a Colt 1851 Navy revolver of Wild Bill Hickok's, visitors could also get an eyeful of Smith & Wessons of Elmer Keith and Theodore Roosevelt alongside other well-preserved antique and modern weapons.
The brilliant photographs and presentation of the three-volume auction catalog are remarkable but the chance to see these firearms up close — and in many cases, touch, is an opportunity any gun enthusiast or history buff shouldn't pass up.
Day 1
Long guns set the tone early, with a pair of true icons leading the way. The extremely rare Winchester "One of One Hundred Model 1873 lever action rifle and brilliantly conditioned New Haven Arms Company Henry lever action rifle came across the podium within the day's first 20 lots.
The Winchester "One of One Hundred" Model 1873 lever action rifle traveled down the Amazon River and is the last "One of One Hundred" Model 1873 manufactured. This impressive piece showed its value and rarity, earning $763,750.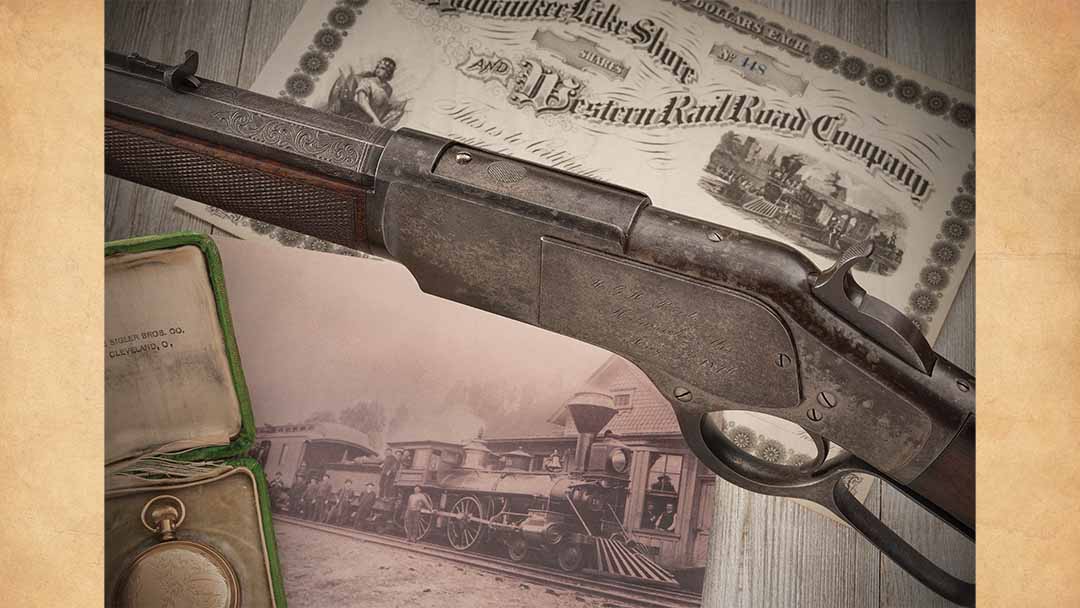 The eighth and final "One of One Hundred" Winchester Model 1873 Lever Action, one of six known, realized $763,750.
The New Haven Arms Company Henry lever action rifle, with its phenomenal condition, one of 1,300 made in the first year of production, hammered for $223,250. Its distinctive gunmetal "brass" frame, blued barrel and tubular magazine, casehardened hammer, trigger, and lever are in outstanding original condition.
The opportunity to bid on Grant's revolvers was the marquee moment of the day. RIAC President Kevin Hogan said Grant's Remington revolvers were likely being sold publicly for the first and last time. Bids for the cased pair of guns opened at $800,000 and quickly skyrocketed to the stratospheric final tally of $5.17 million with Hogan's call of "Sold!"
The L.D. Nimschke engraved pistols of the Civil War hero and 18th President are breathtakingly beautiful. Numbered 1 and 2, the encased presentation pair have a brilliant blued finish with grips featuring an eagle and flags on one side and Grant's likeness in uniform on the other side.
Not long after, a phenomenal and fresh Wilbur Glahn engraved and gold inlaid Colt Single Action Army roared across the podium and winged past its high estimate of $250,000 by drawing $411,250. The one-of-a-kind revolver definitely turned heads as one of only 15 gold inlaid pre-war Single Action Army revolvers and one of two chambered in .44-40.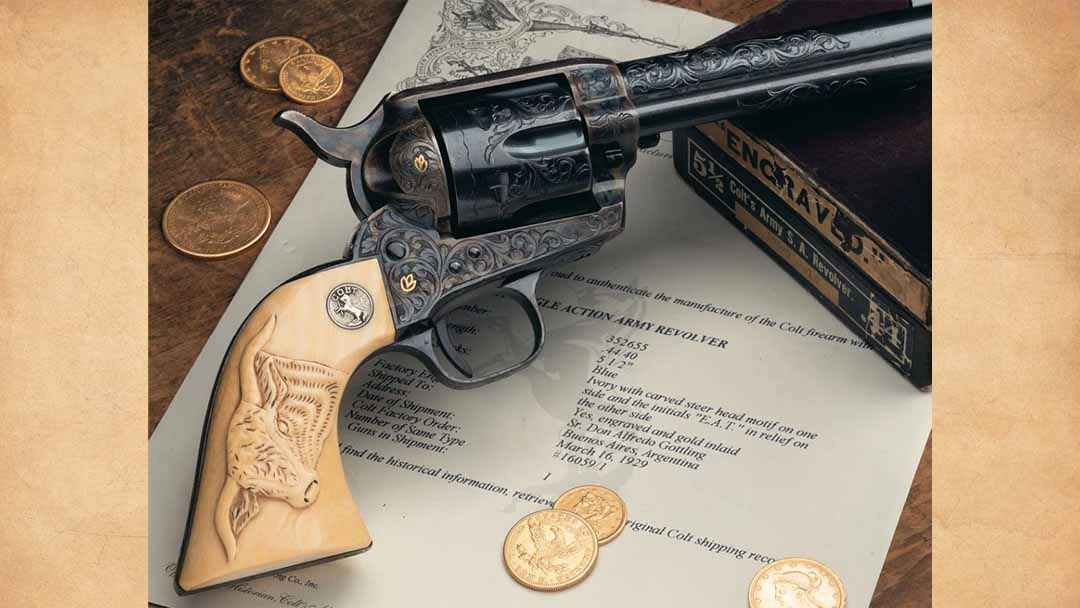 This fresh and phenomenal engraved and gold inlaid Colt Single Action Army drew a high bid of $411,250.
A revolver from the other side of the Civil War, an exceptionally rare Confederate Dance & Brothers revolver, also impressed on day one, bringing in $199,750. The gun, attributed to a private in a Texas cavalry unit, is among what is believed to be less than 400 made. This revolver bears the serial number 324, and is an outstanding firearm with an even gray-brown patina and its markings on the frame remain sharp, while the walnut grips retain nearly all of the high polish finish.
A two-digit serial number 21 U.S. Colt Model 1911 jumped well over its high estimate, drawing $152,750.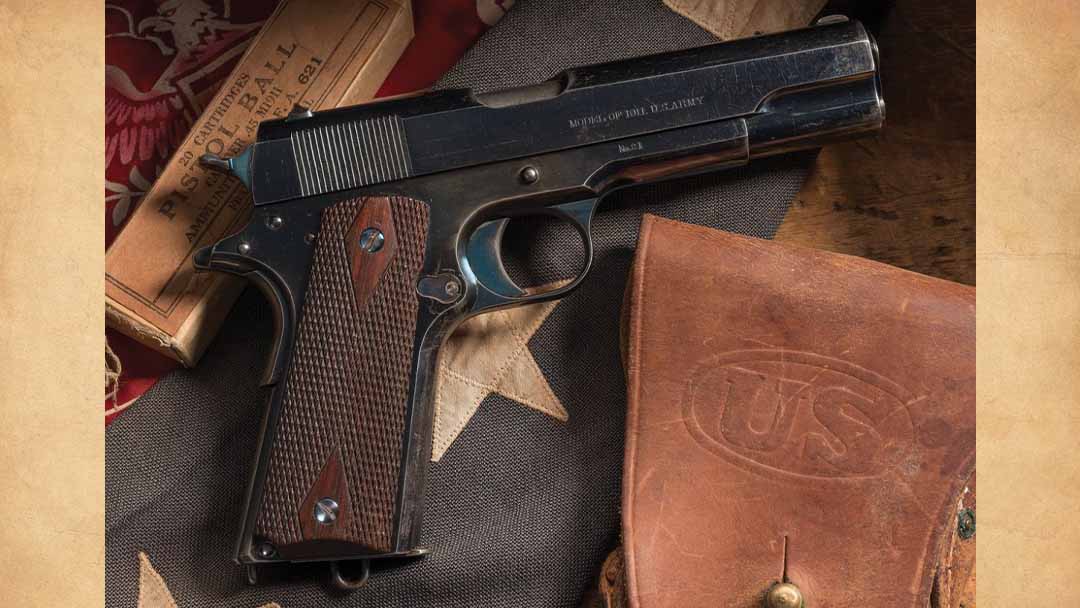 This U.S. Colt Model 1911, made in the first production year with Serial Number 21, earned $152,750 at auction.
A Rudolph J. Kornbrath engraved gold inlaid Colt Officers Model revolver also kept pace with the bigger sellers on the day, bringing in $129,250. The gun, made for world record-setting marksman Dr. Charles H. Wilson and featuring highly detailed floral scroll patterns and Wilson's initials monogrammed in gold, outperformed its high estimate by nearly $45,000.
Day 2
The second day of the Premier Auction dawned with an outstanding lineup of historic Colt revolvers and Winchester lever actions along with some terrifically engraved shotguns. The day also brought with it the opportunity for Class III offerings, flintlocks, and World War II firearms.
A Lot Five Ainsworth Inspected U.S. Colt Cavalry Single Action Army documented as a battlefield pickup at the Little Bighorn that respected Colt historian John Kopec described as the "finest representation of a `Lot-Five' revolver we have ever had the privilege to examine" led the way on day two, hammered for $763,750.
Colts owned the day. A Colt Model 1847 Walker revolver inscribed "F.H. Kennedy," went for $499,375. Kennedy fought for the Confederacy in the 8th Texas Cavalry, Terry's Texas Rangers, and the revolver retains traces of its blue finish and is in very good condition for a weapon carried to try to slow Sherman's "March to the Sea."
A "One of One Thousand" Winchester Model 1873 lever action rifle  hammered for $440,625. The iconic gun, owned by a Mississippi riverboat captain, has a 30-inch octagon barrel, casehardened finish, checkered stock and set trigger, and an amazing history, owned by a man who plied America's mightiest river and served in the Wisconsin statehouse.
In keeping with long guns, the masterfully engraved gold plated exhibition Winchester Model 1866 Lever Action rifle pulled $264,375. The gun, produced in 1872, was used as an international exhibition piece. Winchester is known to have exhibited finely engraved Winchesters at the Philadelphia Centennial Exhibition of 1876 as well as the Exposition Universelle in Paris in 1878. The magnificent engraving includes floral scrolling, stags, waterfoul, and small game.
A pair of beautiful long guns, but this time shotguns rather than Winchesters, proved to be among the top sellers on Day 2. The Ken Hunt engraved J. Purdey & Sons 28 Bore Sidelock shotgun collected $235,000. This outstanding long gun is a piece of high art with the casehardened round bar sidelock, top lever, and trigger guard serving as the canvas. The engraving offers an array of game birds, like quail, teal, pheasant, and ruffled grouse taking flight as well as scenes of bird dogs flushing game.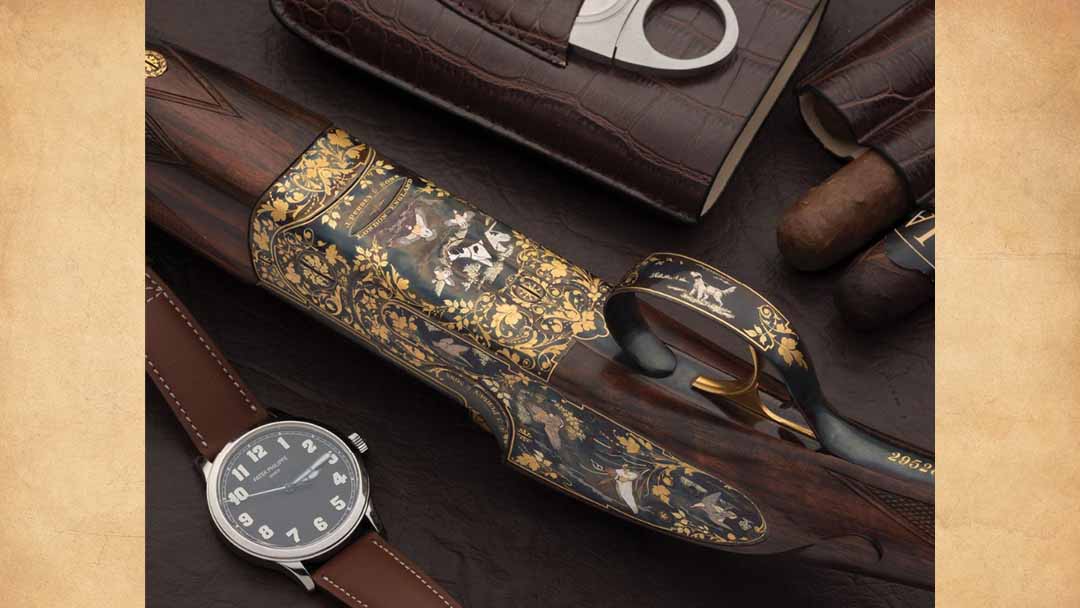 This brilliantly engraved J. Purdey & Sons 28 Bore Sidelock shotgun engraved by Ken Hunt collected $235,000 at auction.
A Brown Brothers engraved P.V. Nelson Over/Under Shotgun, with stunning Rococo style Greco-Roman fantasy themed engraving matched the J. Purdey & Son, drawing $235,000. This masterpiece displays full coverage scroll and scenes from mythology, like Meleager and Atalanta, Neptune, and Zeus.
Day 3
Bidders were wild about Wild Bill Hickok and the engraved Colt 1851 revolver attributed to him, gaveling for $616,875. The pistol, exhibited alongside its mate in the Cody Firearms Museum, is a gunfighter's gun, sporting ivory grips and late factory "vine scroll" engraving patterns. It provided a rare opportunity to acquire a piece of Wild West history.
Colts ran rampant on Day 3. An excellent condition and Henry Nettleton-inspected Single Action Army made in 1878 but never issued by the military, landed a high bid of $152,750. Colt expert Jon Kopec described the revolver as being in "remarkable condition" with 98 percent of its blue/casehardened finish.
A Gustave Young engraved Colt Model 1849 Pocket revolver provided a scarce opportunity for an exceptionally fine revolver with detailed and finely-crafted engraving, realizing $76,375.
A couple of extremely rare punt guns, though not top dollar items still drew interest. The first mega fowler, a Thomas Bland 4 Bore double barrel lightweight punt gun soared over its high estimate to realize $29,375 while a massive and engraved Holland & Holland Screw Breach punt gun brought in $23,500.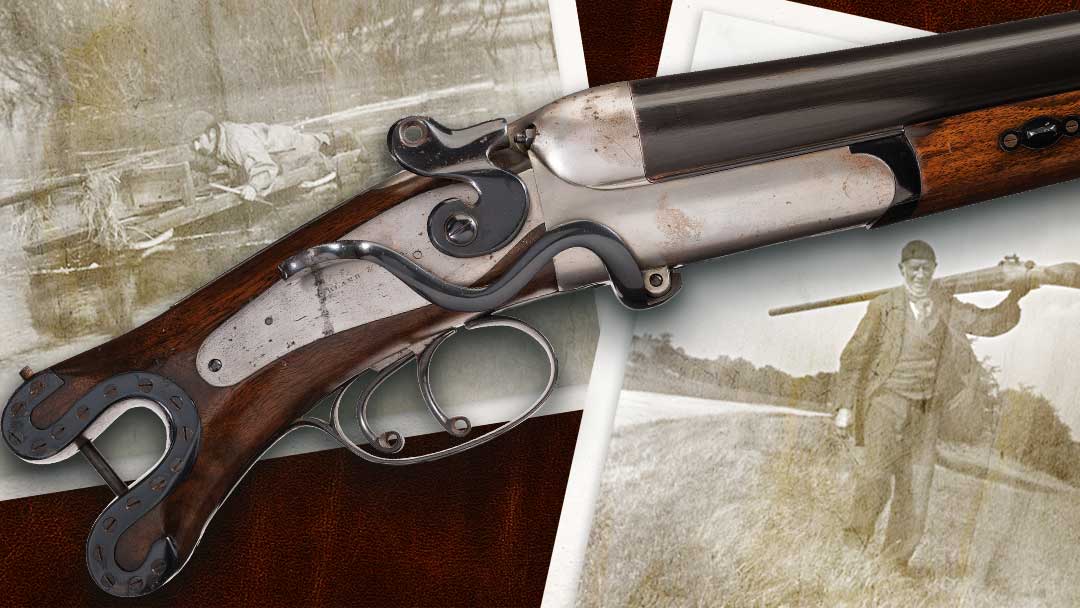 One of two mega fowlers, this Thomas Bland 4 Bore Double Barrel lightweight punt gun found a price of $29,375 at auction.
Up Next
Rock Island Auction has a slate of Arms and Accessories and Sporting and Collector auctions scheduled throughout the year with three scheduled over the next month alone! Catalogs for those auctions can be found here.
A preview of the August 26-28 Premier Auction will be available soon, continuing to provide out-of-this-world opportunities for collectors that make Rock Island Auction Company's offerings the very best in the world and earning results like the outstanding $28.2 million realized in our May Premier Auction.
Rock Island Auction Company