Volusia County Florida was a rough and tumble place at the close of the 20th century where Sheriff Jeff Kurtz was known alternatively as the "brave little sheriff" and "the best detective in Florida."
Kurtz, who was appointed sheriff in 1891, arrested train robbers, hoodlums, and murderers during his tenure, filling the jail to the point that prisoners had to be transferred to jails in other counties. For foiling crimes on trains he was often well rewarded.
One such reward, a "soft shipped" New York engraved antique first generation Colt Single Action revolver with the grip inscribed "Presented to Jeff Kurtz by the Southern Ex. Co. Vigilante 1892" will be available in Rock Island Auction Company's Premier Auction May 19-21.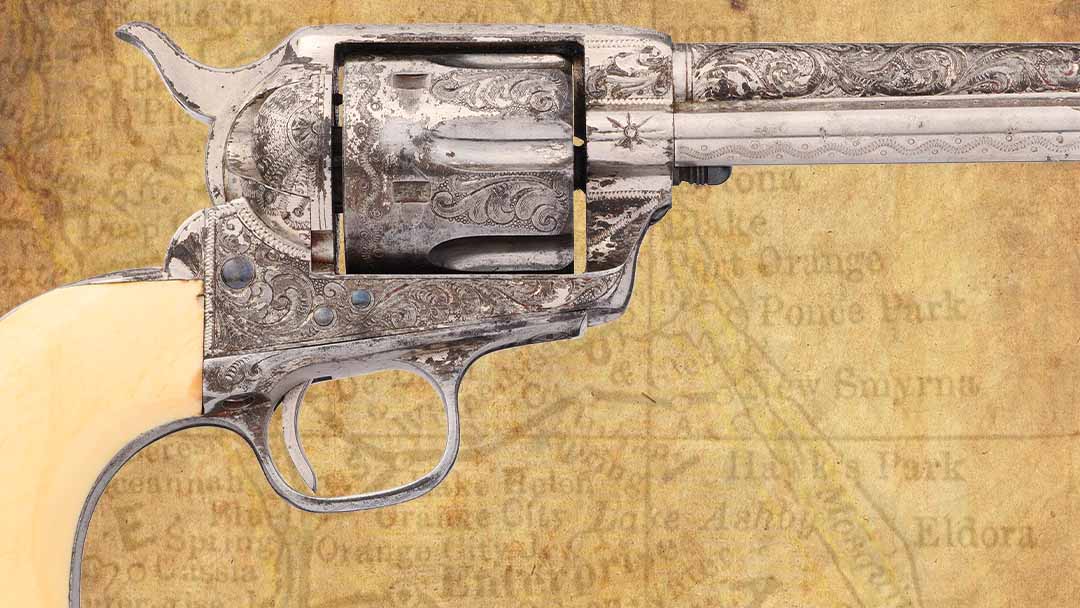 This engraved, nickel-plated first generation Colt Single Action Army was given to Volusia Sheriff Jeff Kurtz in 1892. Presented to him by Southern Express Railroad, it will be available in Rock Island Auction Company's May 19-21 Premier Auction.
Before Becoming Volusia Sheriff
The son of a rebel and great grandson of a revolutionary, Kurtz was born in Virginia in 1861 shortly after the first shots of the Civil War. His full name was Jefferson Davis Kurtz, named for the Confederate president. His father Robert Kurtz served in the Marion Rifles of the Fifth Virginia Regiment during the Civil War. His great grandfather was a bodyguard for General Daniel Morgan, commander of Morgan's Riflemen during the American Revolution.
Jeff Kurtz lived in Texas for a time in the early 1880s before arriving in DeLand, Florida in 1887 where he became a Volusia County Sheriff deputy. In 1891 when the sheriff resigned, Kurtz was appointed as the county's sheriff. He was 30 years old, and the next year he won election as sheriff.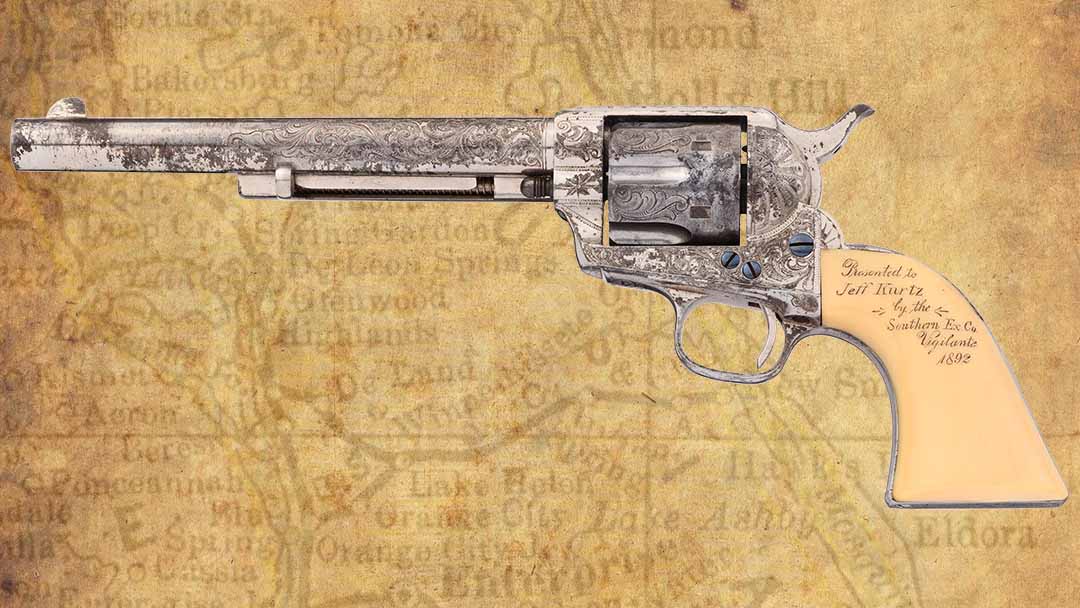 This first generation Colt Single Action Army was shipped with a 7 1/2 inch barrel and a "soft finish" for engraving to be done later. The gun was sent to Hartley & Graham of New York.
Volusia Sheriff Jeff Kurtz
Kurtz was described as "short, wiry, strong and handsome," and despite his short stature was "fast with his fists and his gun." He quickly developed a reputation as a fugitive tracker. Two of his brothers, Charles Kurtz and Robert Kurtz Jr., as well as a nephew served as deputies for Volusia County.
In May 1892, during the robbery of a Southern Express Company train, a company agent was shot and killed and another shot twice and seriously wounded. The robbers fled the scene and were pursued by Sheriff Kurtz and other lawmen. Though no account of the incident's conclusion is available, the date engraved on the grip of Kurtz's ornate Colt Single Action Army's would lead one to believe that justice won out.
The ivory grips on Kurtz's highly embellished revolver read "Presented to Jeff Kurtz by the Southern Ex. Co. Vigilante 1892" `with black enamel fill. The Colt revolver was shipped in .45 caliber with a 7 1/2-inch barrel with a "soft finish" to Hartley & Graham of New York City, one of the largest retailers of Colt firearms in the country at the time.  A revolver with a soft finish doesn't have the final finish in order for engraving to be done outside the factory, according to the Colt factory letter that accompanies the gun.
The revolver shows classic L.D. Nimschke style engraving, with scroll patterns, beaded backgrounds, wavy line designs, accents, and "Nimschke stars," and floral/fan patterns on the recoil shield and loading gate. The gun received a nickel finish and has nitre blue screws.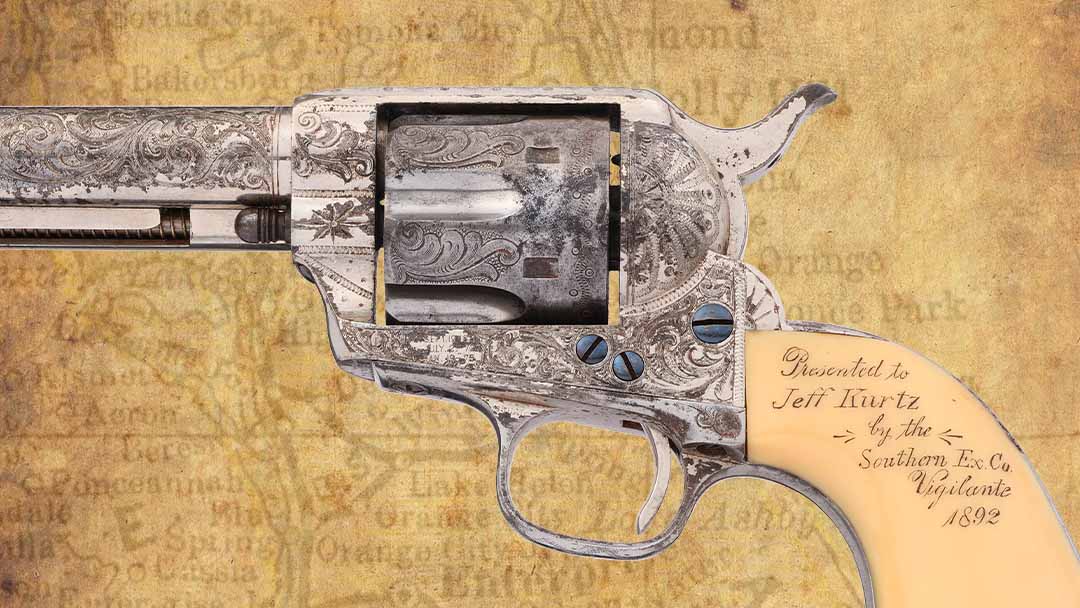 The closeup of Sheriff Jeff Kurtz's Colt Single Action Army shows the inscription on the ivory grips and the ornate engraving.
Southern Express
Adams Express initially began as an express service between New York City and Boston, but by 1854 had expanded throughout the southeast, Pennsylvania, Maryland, and Ohio. In 1861, Henry Bradley Plant was a Connecticut native transplanted to Georgia where he served as an agent for Adams Express. As the Civil War loomed, Plant bought the southern rail system and named it the Southern Express Company.
After the war, as lawlessness ruled, Southern Express advised its agents, messengers, and passengers to arm themselves against robberies. The company provided legal assistance in case of a self-defense fatality, and rewarded those who thwarted criminal behavior, like Volusia Sheriff Jeff Kurtz.
Volusia Sheriff Fatally Shot
On April 25, 1895, Putnam County Sheriff J.W. Hagan responded to an early morning pay dispute on the East Coast Line Railroad that left his brother with minor gunshot wounds. Hagan would need help arresting the suspect so he called the Volusia County Sheriff, Jeff Kurtz. Kurtz agreed and hopped a train to Ormond Beach where he arrived around noon. By 3 p.m., the two sheriffs and one of Hagan's deputies located the suspect at a cabin near Ormond Beach.
The two sheriffs decided to keep watch outside the cabin while the deputy was sent to fetch an arrest warrant. The deputy's return was delayed and the two lawmen outside the cabin became concerned that impending darkness would let their suspect slip away. They decided to act.
Hagan, the Putnam County Sheriff, approached the house from the front, while Kurtz, the Volusia Sheriff went to the back of the cabin.  The suspect spotted Kurtz moving along the side of the house and fired a rifle at him. The bullet grazed Kurtz's chest. He returned fire but was hit with a second bullet to the left side of his chest. Kurtz got off another shot and wounded the suspect.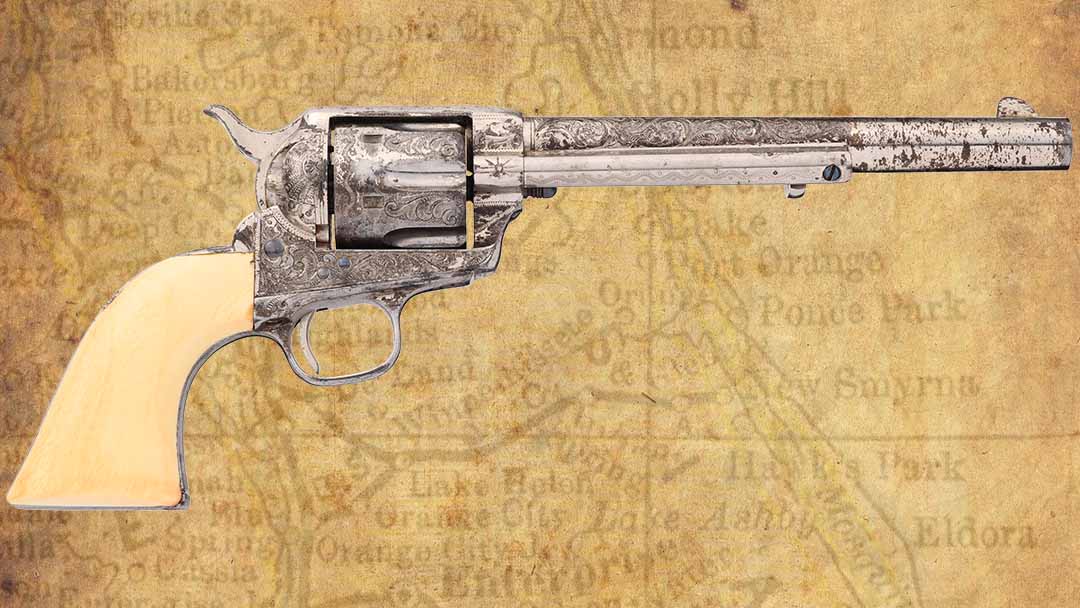 Volusia Sheriff Jeff Kurtz was shot while assisting the apprehension of a fugitive in 1895. This Colt Single Action Army revolver was presented to him by Southern Express Railroad.
The Volusia Sheriff yelled out a warning to Hagan that he was shot. The suspect shot at and barely missed Hagan as he came to Kurtz's aid. Hagan got off a shot that left the suspect lying on the floor of the cabin but trying to fire again. Hagan fired twice more, hitting the suspect who died at the scene.
Reaching Kurtz, the Putnam County Sheriff asked Kurtz how badly wounded he was. "He's got me. I'm done for," Kurtz replied. Two men arrived at the scene allowing Hagan to run for a doctor. He and the doctor returned within 20 minutes but Kurtz died as they arrived.
Mourners lined the road traveled by the wagon carrying Kurtz back to DeLand. Following a funeral service, Kurtz body was shipped to his hometown of Winchester, Virginia for burial. Kurtz's final trip was paid for by Southern Express Company for his service "running down the Monroe Junction train robbers" several years earlier. After another funeral service in Winchester, Jeff Kurtz was buried at the cemetery next to his mother.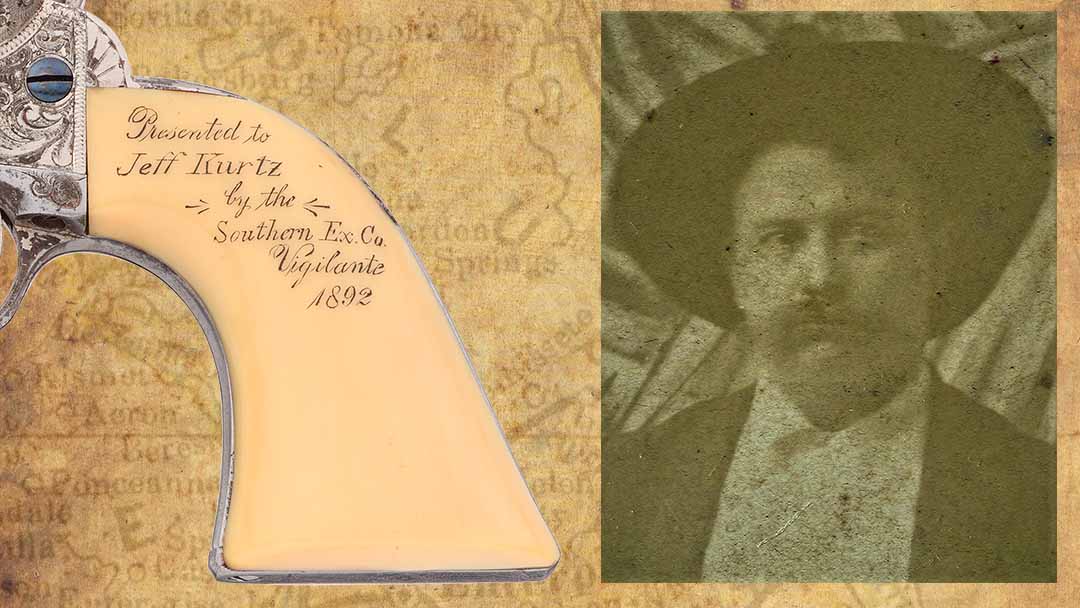 Described as "fast with his fists and his gun," Sheriff Jeff Kurtz was one of the best fugitive trackers in Florida.
A Sad Coda to Volusia Sheriff Kurtz
Just over three years later, in December 1898, 22-year-old Deputy William Kurtz Kremer, Jeff Kurtz's nephew, arrived at a domestic violence incident on his first day on the job for the Volusia Sheriff Department. Stationed outside the house, twin brothers wanted for robbing trains and post offices saw the rookie deputy as they tried to get out a side door. They shot Kremer dead.
On Sept. 3, 1907, Volusia Sheriff Deputy Charles Kurtz, Jeff Kurtz's brother, decided to move a prisoner suspected of a brutal rape to a more secure jail in Daytona Beach to avoid a lynching. As the deputy and his prisoner headed toward Daytona Beach, a plank on a bridge they had to cross had to be put back in place. As Charles Kurtz bent down, his revolver fell and fired when it hit the ground. The bullet caught Kurtz in the aorta, killing him immediately.
The names of Volusia Sheriff Jefferson Davis Kurtz, Deputy William Kurtz Kremer, and Deputy Charles Kurtz are today among the names on the Volusia County Sheriff memorial.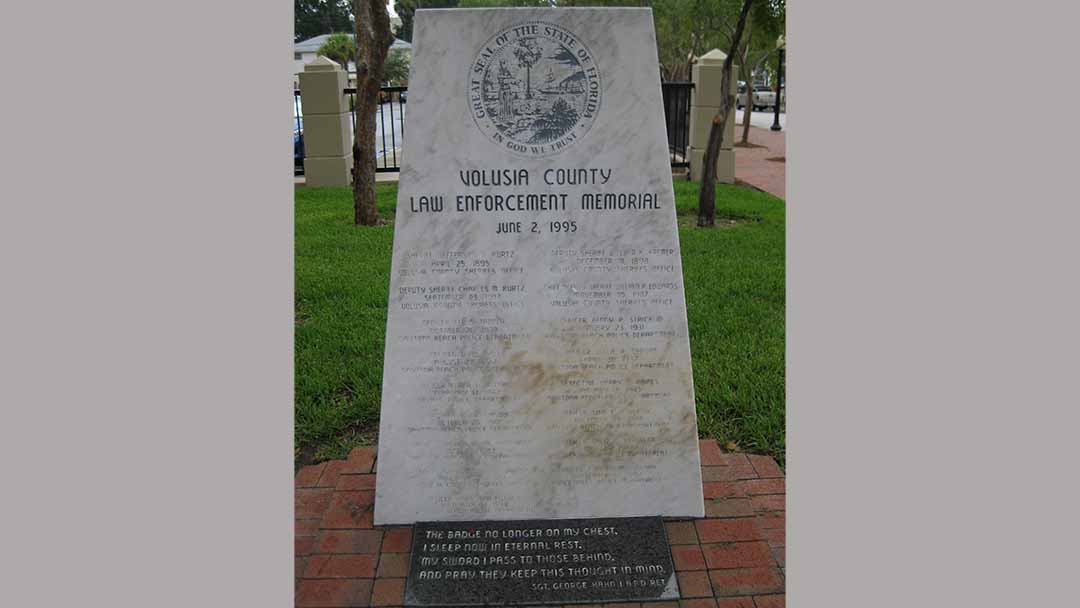 The memorial is difficult to read, but Sheriff Jeff Kurtz, his brother, Charles Kurtz, and nephew, William Kurtz Kremer, are listed on the Volusia County law enforcement memorial.
Volusia Sheriff Jeff Kurtz's Revolver
The brilliantly embellished first generation Colt Single Action Army revolver with ivory grips inscribed "Presented to Jeff Kurtz by the Southern Ex. Co. Vigilante 1892" checks a number of boxes for collectors, with its outstanding nickel finish, nitre blue screws, and being shipped to Hartley & Graham of New York City, but it goes beyond that.
This gun belonged to a law man who battled bank robbers and tracked fugitives. Rock Island Auction Company has offered the weapons of lawmen in the past, but this antique Colt Single Action Army is the legacy of a brave and talented sheriff who answered a call from a fellow sheriff and was shot down while trying to assist in the arrest of a dangerous suspect. The nickel-plated revolver of Volusia Sheriff Jefferson Davis Kurtz is available in Rock Island Auction Company's Premier Auction, May 19-21.
Sources:
Family Ties Include Death While on Duty, by Mike Lafferty, Orlando Sentinel
"Forgotten Heroes: Police Officers Killed in Early Florida, 1840-1925" by Dr. William Wilbanks
The Southern Express Company: A Georgia Corporation, by Dudley S. Johnson, Georgia Historical Quarterly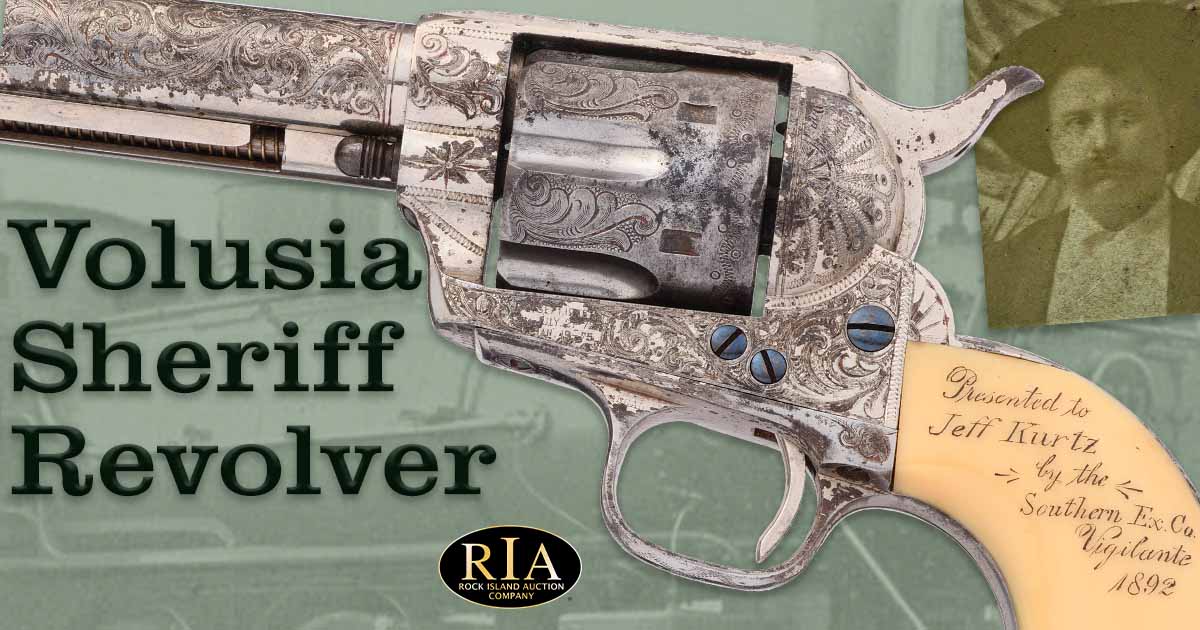 Rock Island Auction Company